Woods Eye View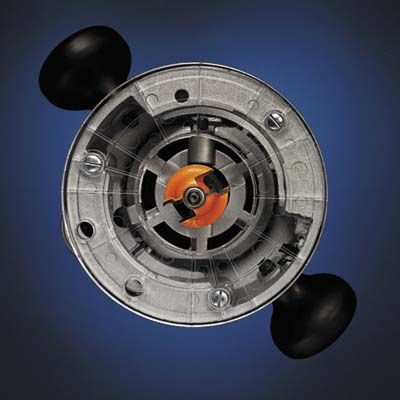 You're forgiven for being a little intimidated by routers. Their powerful motors whirl razor-sharp bits up to 500 times a second, and not too quietly, either. The old ones bucked like bulls when you switched them on and required two wrenches to wrestle bits in and out of the collet. Even so, woodworkers revered them as the most versatile power tool in the shop, capable of plowing out perfect dadoes and dovetails—not to mention ogees, rabbets, and flutes—faster than you can say carbide-tipped bullnose bit.
You don't have to be building a Queen Anne sideboard to appreciate a router. It'll also cut grooves for weatherstripping windows, create decorative moldings, or round over a rough deck rail. Many new routers, like the ones in this roundup, have reduced the scare factor with shudder-free starting, one-wrench bit changes, and adjustable speeds to avoid burning or tearing the work. And where you once had to choose between fixed-base models (perfect for edge work) and ones that "plunged" (great for mortising), combo kits offer one motor and both types of bases. So face your fear, grab both handles, and go for it. You'll be glad you did.
This is where the action is, on a router's underside, where the bit protrudes from the base. On the flip side is a powerful electric motor that can spin the bit at ferocious speeds of 20,000 rpm or more.
Little Workhorse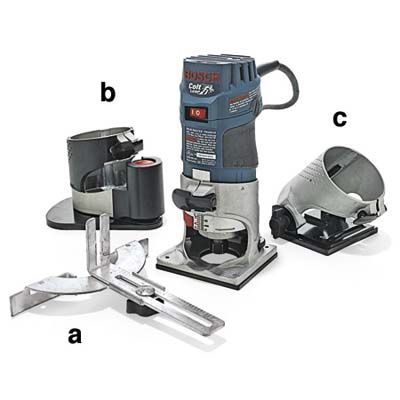 About as big around as a beer can and just as easy to grip, the Colt laminate-trimming kit includes (a) an edge guide for straight grooves, (b) an offset adapter for reaching into corners, and (c) a tilt base to make beveled edges with a straight bit. The 1-hp motor maxes out at 35,000 rpm—enough for light-duty jobs like dressing up shelf edges.
3 pounds, about $174, Bosch Tools
Digital Depth Dial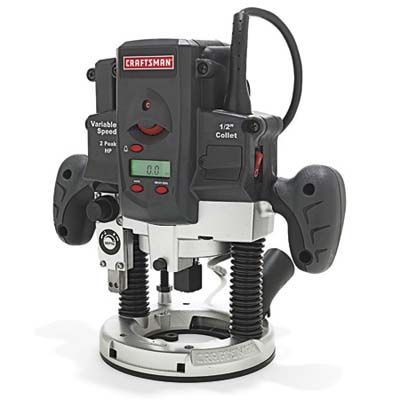 The digital depth readout on this plunge router, precise to 1/64 inch, lets you go back and forth between settings with no loss of precision. Switches are thoughtfully placed so you can hit the power or change speeds without taking your hands off the tool.
2 hp, 8 pounds, about $140,
The Ultimate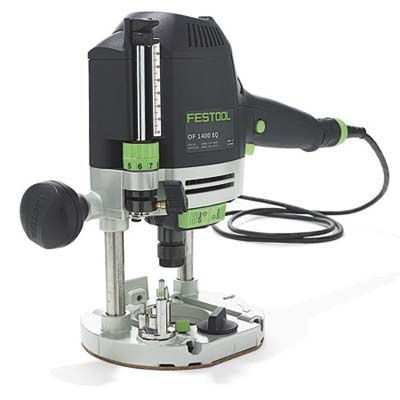 This top-of-the-line plunge router—rugged enough for the busy workshop that puts a
high demand on tools—has more standout features than we have room to mention, including a power cord that detaches to protect it from damage in storage, a ratcheting one-wrench bit-change system, and dust collection that's so efficient you may wonder if the tool's actually making a cut.
About 2 hp,
10 pounds, about $395,
Two in One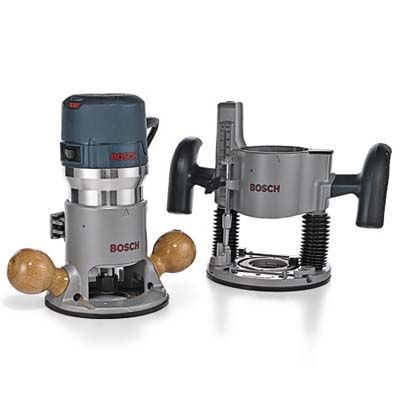 Router combo kits offer one motor with two interchangeable bases: fixed and plunge. Do decorative edgework with the fixed base, then slip the motor into the plunge base to make mortise cuts.
2¼ hp, 7 3/4 pounds (fixed base), 9 pounds (plunge), about $200, Bosch Tools
Jobsite Tough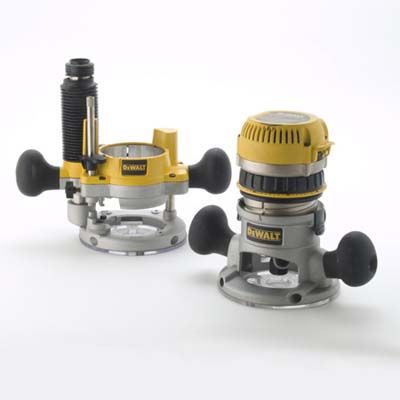 The no-nonsense DeWalt router combo kit switches between fixed and plunge
bases via a clamp, with no tools necessary. Intuitive and tough, the plunge
base descends smoothly when rounding over deck rails. For more precise work,
a micro-adjusting knob sets depth in increments of 1/64-inch. A detachable
power cord helps the tool store easily in its case, and eliminating the
often-strained permanent cord connection makes the tool more resistant to
damage.
2¼ hp, 8 pounds (fixed), 9 pounds (plunge), about $230, Dewalt
Beginner's Basics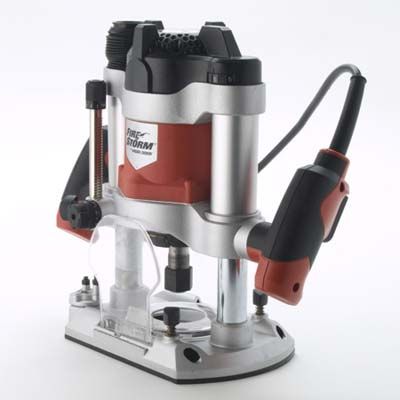 You might be suspicious of the low price on this Black & Decker plunge
model. But if you can get past your preconceptions, you'll recognize this
entry-level package is a steal. The 12-amp router adequately cuts simple
edges and plunges, you get both ¼-inch and ½-inch collets, and an opening on
one of the plunge columns is shop-vac ready for simple dust collection. Best
of all: it includes an edge guide, an essential accessory that often comes
with an added cost.
2 hp, 10½ pounds (plunge), about $90, Black & Decker
Affordable Combo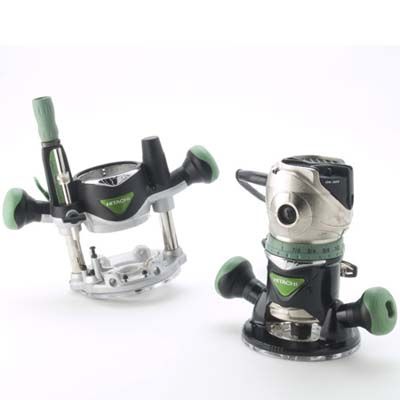 The Hitachi combo kit includes a fixed and plunge base for its 2¼-hp
motor, at a price slightly lower than the Bosch 1617, a model widely
believed to be standard-bearer of the current field. In the savings, you
give up a few minor perks. This one has a slightly jerkier start than the
Bosch, and it's a little heavier for use as a freehand, plunge model. As a
bonus, though, it's relatively quiet at 80 Db, and includes a set of
template guides—very useful when laying out Soss hinge mortises and other
cuts at multiple depths.
7.3 pounds (fixed base), 9.9 pounds (plunge), about $140, Hitachi Poer Tools
Unique Features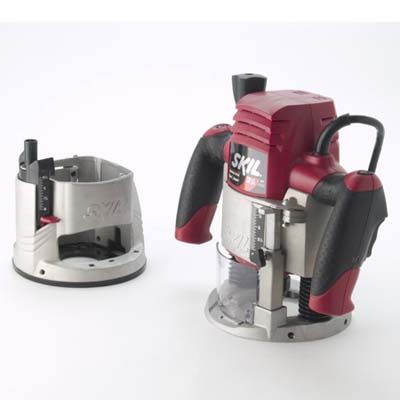 The Skil router combo kit is not exactly top-of-the-line, but it comes as a
bargain and with a few features of which the higher-end models should take
note. First, its switch placement is very reassuring to the novice—you can
easily grip both oversized handles, press the two-finger trigger, and allow
the bit to come to a stop before ever taking a hand off the tool. The
work-illuminating LED is a nice thought; unfortunately, the base on this
model is black plastic, rather than clear.
2¼ hp, 8 pounds (fixed base), 9 pounds (plunge), about $90, Skil Tools
Router Table Ready
What to Look For
Soft start: A router that kicks when you start it is unnerving. The best ones ramp up to speed smoothly when you hit the power.
Variable speed: The ability to adjust rpm to the size of your bit or the hardness of the wood is a big plus. Better routers, like cars, rev up and down smoothly without a hitch.
One-wrench bit change: A button holds the collet steady while you wrench the bit loose—much easier than using two wrenches.
Dust collection: Look for a port for a shop vac. A plastic shroud to contain the dust near the bit is an added bonus.
Clear base: It's easier to see where to stop and start.
Router-table compatibility: Milling trim is a snap if a router can easily be flipped over and mounted
to a table.
½-inch collets: A router's collet is the equivalent of a chuck on a drill. A router that can handle ½-inch bits will be bigger and heavier than one that handles only ¼-inch bits, but the bigger, more costly bits are sturdier and steadier performers at high rpm.
Removable power cord: This feature saves it from being strained while in storage.
This tool's removable base attaches easily to a router table, so you can feed the wood to the bit in a controlled way. It also comes with a long-handled knob for making fine (slow) and coarse (rapid) depth adjustments from above the table. 2¼ hp, 9 pounds (fixed base), 11¼ pounds (plunge), about $280, Delta Porter Cable
Bunches of Bits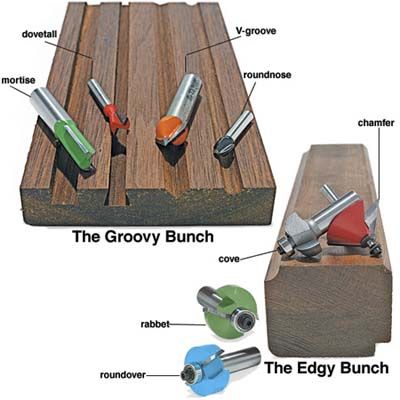 Router bits come in two varieties: ones that form edges and ones that make grooves. Many edge-forming bits have a roller bearing that keeps the bit lined up with the edge of a board or template as the cut is made. When using groove-forming bits, an edge guide or clamped straightedge keeps the base in line as you push the router over the work. Without these bearings or guides, a router will wander, no matter how hard you try to keep it straight.
Bits can get pricey—some big ones go for about $50 a piece—but a good basic lineup, like the ones above, can be had for about $100 or less. Look for carbide-tipped bits, which last longer and stay sharper than ones made of high-speed steel. Bits with ¼-inch shanks cost less and can handle small work, but a good ½-inch bit is stronger and generally makes a better investment, if your router's collet is big enough to handle it.