Versatile Workhorse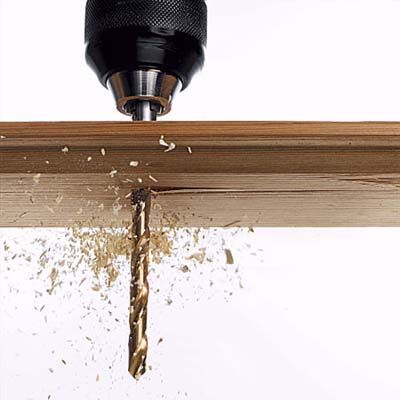 The familiar twist bit is used for drilling holes up to half an inch in diameter in most
any material. Tough titanium nitride coats this high-speed steel bit, so it resists rust, spins with less friction, and holds
an edge longer than uncoated or black-oxide-coated steel. $3.30 for the 1/4-inch shown; in sizes from 1/16 to 1/2 inch; stanleypta.com
Brad Point (for wood, laminates, plastic)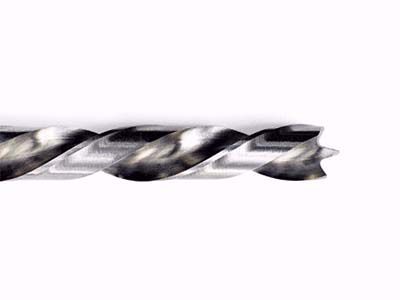 The point keeps the bit centered until the cutting flute engage with the surface. The beautifully machined bit shown here drills more quickly and cleanly than run-of-the-mill brad points because its chisel-edge tip bores its own hole. $25 for the 1/2-inch shown; 3/16 to 1/2 inch; woodcraft.com
What a Bore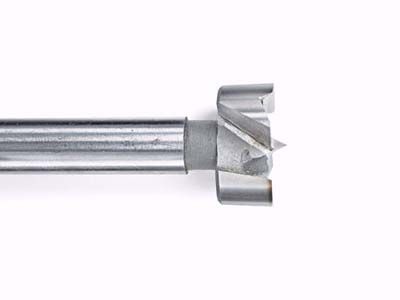 Woodworkers will appreciate this bit, which slowly bores flat-bottomed holes with clean sides, just the thing for mortising door hinges or recessing a bolt head when framing a deck.
$7.40 for the 1-inch shown; 1/4 to 21/8 inch; Lee Valley
Spade (for wood)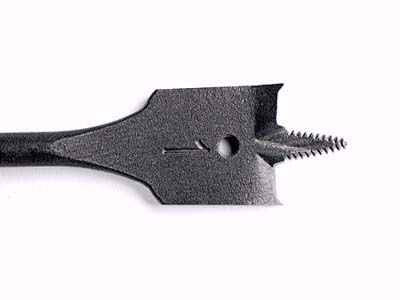 These are good for making rough-edged holes in framing for plumbing and electrical lines, but most require constant pressure or they stop digging. This spade bit is different: With its threaded tip and angled spurs, it pulls itself through wood; you just pull the drill's trigger. About $3 for the 1-inch ­shown; 1/4 inch to 11/2 inch; boschtools.com
Cobalt Twist (for stainless steel, cast iron)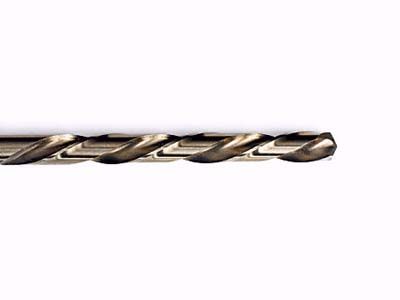 Most twist bits can drill into mild steel and other thin metals, but you'll need this alloy to plow through more stubborn materials. Drilling into steel can push a bit's temperatures to 1,100 degrees; cobalt dissipates heat so efficiently that the cutting edge stays cool and sharp. $5 for the 1/4-inch shown; 1/16 to 1/2 inch; craftsman.com
Spear Point (for glass or tile)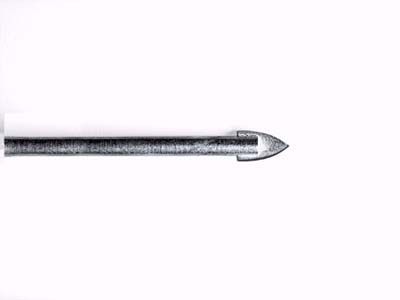 A sharp carbide point scours smooth holes in hard ceramic or glass. To stop it from skittering across the surface when you start, press the chucked bit against the glaze or glass until it makes a tiny divot, then start the drill and proceed at a slow pace. $4 for the 1/4-inch shown; 1/8 to 1/2 inch; stanleypta.com
Masonry (for stone, brick, plaster, metals)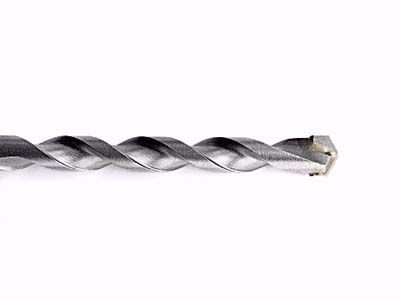 The signature winged tip—a piece of solid tungsten carbide—can penetrate concrete block, limestone, and slate. The shaft is made with durable spring steel to withstand shocks when drilling hard, thick materials. $25 for a set of five; 1/8 to 5/16 inch; irwin.com
Special-Purpose Bits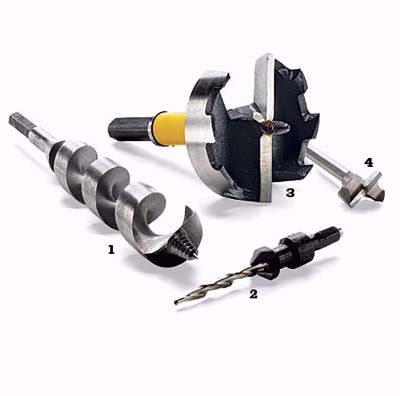 These wood borers come in handy when you need holes that are extra big, extra long, curved, or super-precise1. Ship Auger
Its corkscrew shape bores clean holes for pipes or wires or the rebar in landscape ties. A screw tip pulls along the single cutting edge, which is rugged enough to slice through nails and staples. Chips exit easily from the bit's hollow center. $25 for the 1-inch shown; 1/4 inch to 11/2 inch; 71/2 inches long; irwin.com
2. Tapered
Designed to drill the perfect pilot hole for wood screws, which have tapering shanks. An integral countersink digs a cone-shaped recess for the screwhead. You can adjust how much the bit projects past the countersink to suit screws of different lengths. $7 for the #12 shown; #6, #8, #10, #12 wood-screw sizes; wolfcraft.com
3. Multi-spur
Multiple cutting edges aggressively shave wood for the big holes you need to install door locks or thread pipe through framing. To muscle this bit through lumber, you'll need a corded drill (or at least an 18-volt cordless),with side handle to cope with the torque. $25 for the 29/16 shown; 1 inch
to 29/16 inch; dewalt.com
4. Cornering
Sporting six separate cutting surfaces, this bit can carve a curved hole, useful for running wire or PEX tubing. Start by drilling straight into the wood at medium spee then slowly angle the bit any way you wish and let its side cutters gouge out the curve. $60
for a set of four; 5/8 to 1 inch; rockler.com
A Better Way to Hold a Bit
Compared with the common round-shank bit, a six-sided hex-shank bit fits firmly in a drill chuck's jaws and won't slip in high-torque situations. If the drill is fitted with a quick-change hex-shank adapter, which uses retractable ball bearings to grip the bit at an indent in the shank, you can quickly switch hex bits without ever touching the chuck. Just pull the adapter back to release the ball-bearing grip on the old bit, insert a new one, then push the adapter forward to re-engage the bearings. For a similar model, try the Stanley Fast Change Connecter, ST-05780; stanleypta.com.