Surefooted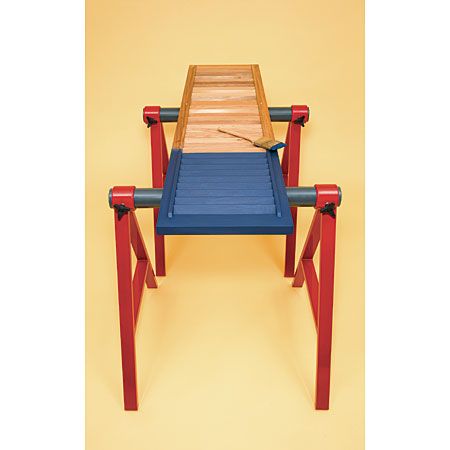 Shared by all the trades, the sawhorse carries the weight of an entire house. These sturdy trestles shoulder framing lumber, lengths of pipe, or drywall panels, or become a table for mitering trim, tossing tools, or serving lunch.
Pictured is the Stud Horse. Round PVC rails allow this sawhorse to adjust to uneven terrain: Simply loosen the bolts holding the rail to the legs—made of welded, powder-coated steel—and pivot them until they're stable. You can also slide the legs along the rail to fit tightly against the workpiece and hold it in place. 13 lb.; 32 1/2 in. high; 4,000-lb. capacity; $100; theultimatesawhorse.com
Note: Capacity and price are for pairs of sawhorses; weight is for a single horse.
Five Easy Pieces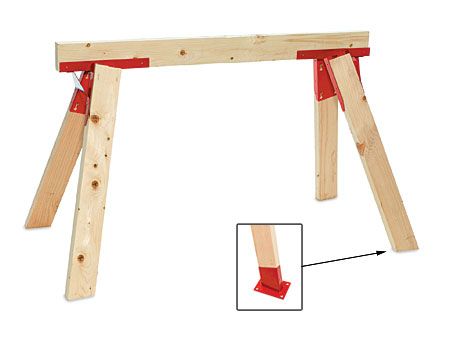 If you're a diehard do-it-yourselfer, sawhorse brackets save a lot of the cutting and fastening. With Super Hoss's 18-gauge steel brackets, all you need are five pieces of scrap 2×4 and some deck screws. The legs splay outward, which reduces sideways wobble. With the optional steel feet (inset picture), you don't even need to miter them. Up to 4,000-lb. capacity, depending on assembly method; $60 (four brackets); american-ingenuity.com/superhoss
Folds Flat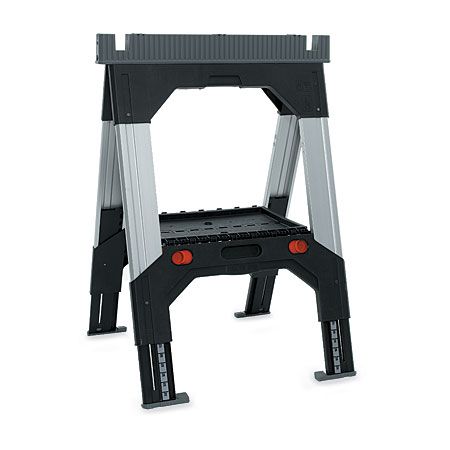 The plastic Fat Max is loaded with built-in versatility: aluminum legs that telescope independently from 32 to 39 inches, a top rail with a V-cut to cradle pipe and two slots
to fit a transverse pair of 2xs, and the whole thing folds flat so it doesn't take up much room in the garage. When open, a tray between the legs can hold a can of paint or a circular saw. 11 lb.; 27 in. long; 2,500-lb. capacity; $60; stanleytools.com
Instant Assembly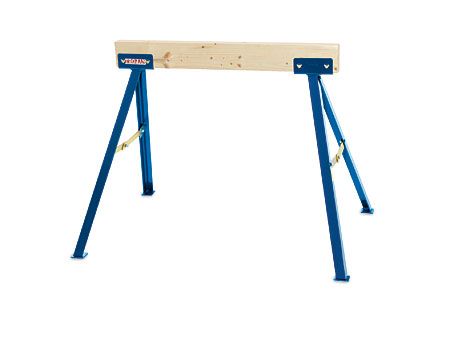 Each Trojan sawhorse has a pair of hinged, painted steel legs that bite into the sides of a scrap lumber rail; no fasteners needed. It gets our nod because it's utterly simple, yet amazingly strong—a pair made with 32-inch-long 2x4s will hold up to 6,000 pounds. Plus, when you're done, the legs fold tight enough to fit easily in a broom closet. 16 lb. plus lumber; 27 in. high (also available in 35 in.); $57; trojantools.com
Adjustable Height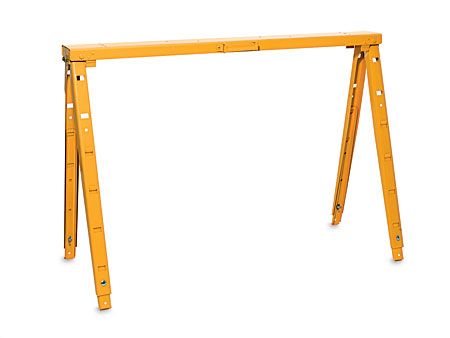 Each leg on the Crawford adjusts independently from 25 to 34 inches, a boon on bad terrain or for a household with users of varying heights. The capacity of this steel horse gets smaller as it gets taller: 2,400 pounds at the lowest setting, 800 at the highest. 32 lb.; 38 in. long; $32-$38 a pair; lehighgroup.com
Long Rail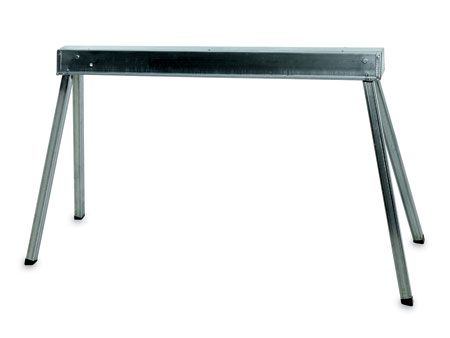 The no-slip, nylon-tipped legs of the galvanized-steel StableMate pivot and lock into position with a satisfying click for rock-solid support, then fold up into the rail
for compact storage. The 42-inch-long rail easily supports full-size plywood sheets and comes with holes for attaching sacrificial wood strips so your saw blades won't accidentally cut into metal. 20 lb.; 30 in. high (also available in 36 in.); 2,000-lb. capacity, $70 a pair; fultoncorp.com
Soft Saddle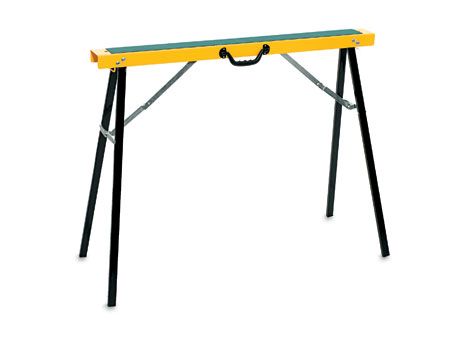 Woodcraft's painted steel rail is covered with a thin cushion of textured rubber that also keeps workpieces from sliding or being scratched, just the thing for anyone assembling or installing cabinetry. When folded, a pair of horses fits together into a compact package and are carried by a single, comfortable handle. 25 lb.; 32 1/2 in. high; 39 in. long; 1,500-lb. capacity; $80 a pair; woodcraft.com