TOH Tested: Portable Table Saws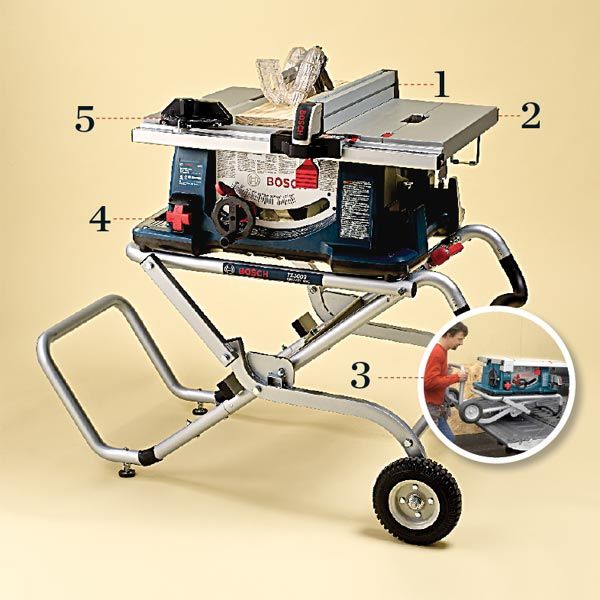 These rolling workhorses with 10-inch blades have the power to rip plywood and the finesse to cut miters and dadoes. Here are five of the latest models, ranging from high-end pro to bargain DIY.
What to look for
1. A solid fence for accurate rip cuts
2. A table extension to support sheet goods
3. A collapsible stand with wheels
4. A big, easy-to-reach shutoff switch
5. A no-slop miter gauge for precise crosscuts
Bosch 4100-09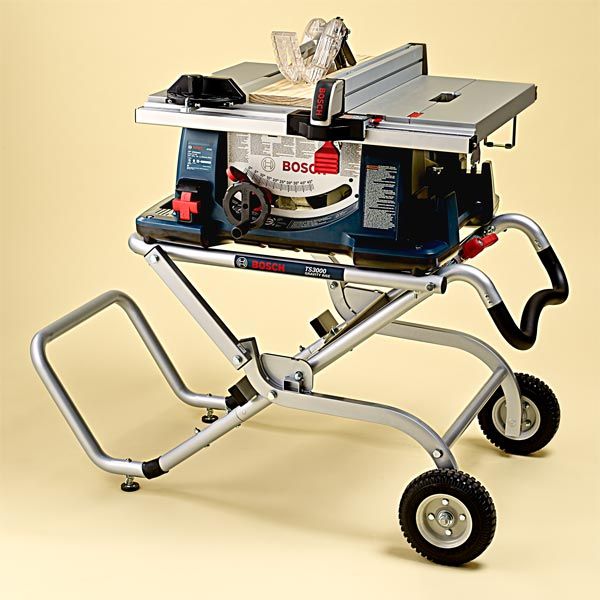 About $550; boschtools.com
This overachiever cut through soggy pressure-treated lumber without flinching, and the fence clamps solidly in place, inspiring confidence on rip cuts. The stand unfolds with the twist of a handle, raising the saw to a comfortable working height of 38 inches. And changing blades was a snap, thanks to the arbor stop that locks the blade in place. We only wish the blade cut deep enough to get through a 4×4 in one pass.
Fine print: 106 pounds; 15-amp, 3,650-rpm motor. Max rip: 25 inches. Max blade height: 3⅜ inches
Jet JBTS 10MJS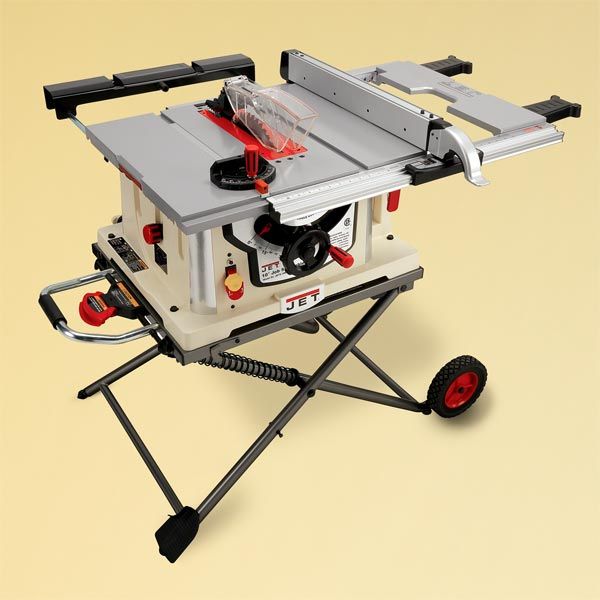 About $670; jettools.com
We loved the way the spring-loaded stand popped up in a single, smooth motion and how lumber glided across this saw's ultraslick table. The fence and controls have the quality feel you'd expect in a nicely engineered tool. Imagine our surprise, then, when the motor bogged down on a regular 2×4. But once we replaced the substandard stock blade, this saw cut like a champ.
Fine print: 90 pounds; 15-amp, 4,000-rpm motor. Max rip: 25 inches. Max blade height: 3 1/16 inches
Rockwell RK7241S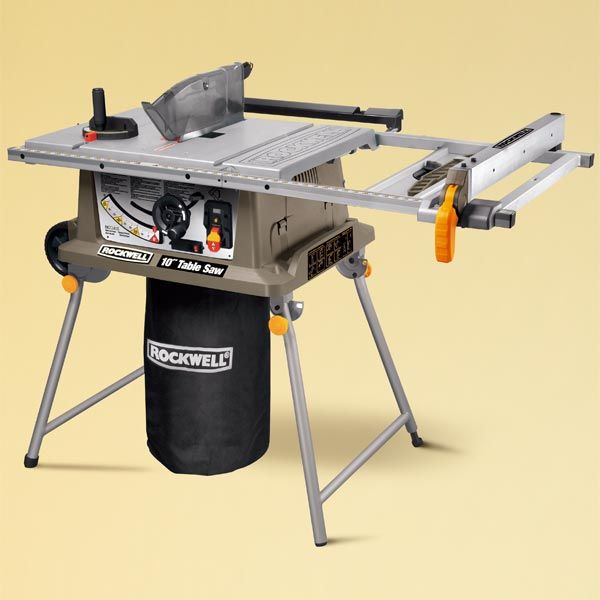 About $400; rockwelltools.com
This saw's extension table unfolds—the others' slide out—to accommodate impressive 30-inch-wide rip cuts. The unique undermount dust bag is very effective. A laser projects the blade's cutline no matter the angle, a feature we found handy on cloudy days (we couldn't see it in the sun). The wheels are on the saw, not the stand, so you have to fold the stand when you want to roll it. We ended up dragging it around.
Fine print: 74 pounds; 15-amp, 4,800-rpm motor. Max rip: 30 inches. Max blade height: 3 9/16 inches
DeWalt DW745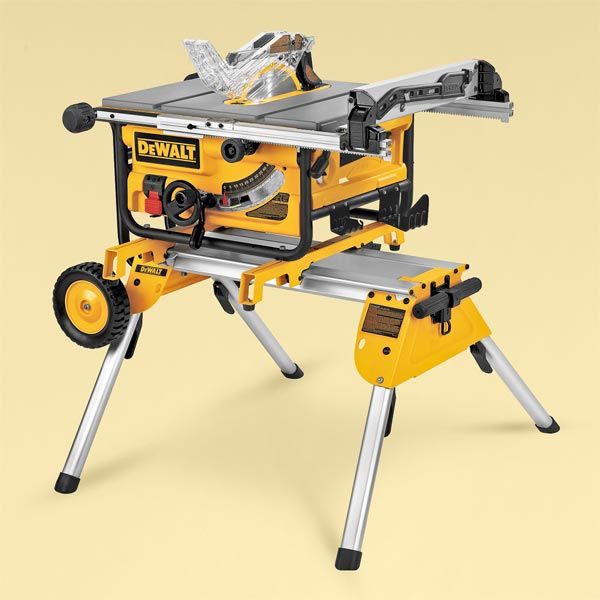 About $370. Rolling stand: add about $170; dewalt.com
This little fella has plenty of cutting oomph, and its unique rack-and-pinion adjustment keeps the fence parallel with the blade wherever you lock it down. The trade-off is that it doesn't extend far enough to rip a full sheet of plywood in half. Still, this is a great saw for quick setups and slightly smaller tasks.
Fine print: 78 pounds; 15-amp, 3,850-rpm motor. Max rip: 20 inches. Max blade height: 3⅜ inches
Ryobi RTS31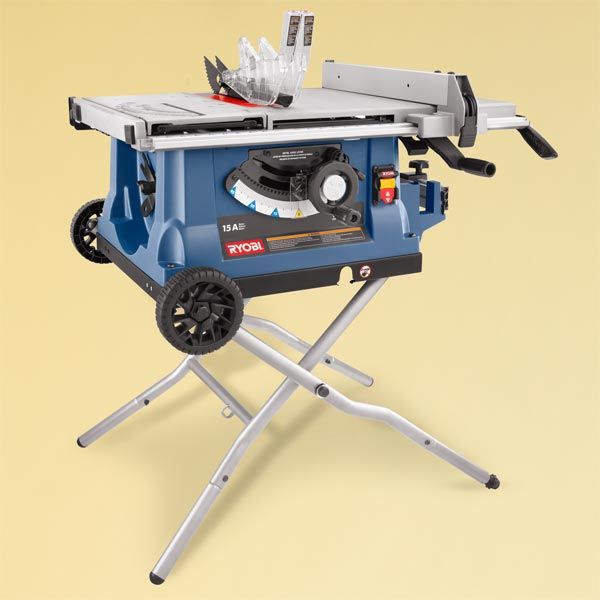 About $300; ryobitools.com
This saw shredded everything we pushed through it, providing loads of power at a low price. We knocked out 31-inch rips, the widest of all the saws. Half of the table slides out, which is helpful during crosscuts, but that half sits slightly higher than the fixed half, so ripping accuracy suffered. And we prefer slotted miter gauges, such as those on the other saws. Like the Rockwell, the wheels are on the saw, not the stand.
Fine print: 66 pounds; 15-amp, 5,000-rpm motor. Max rip: 31 inches. Max blade height: 3½ inches
Makita 2705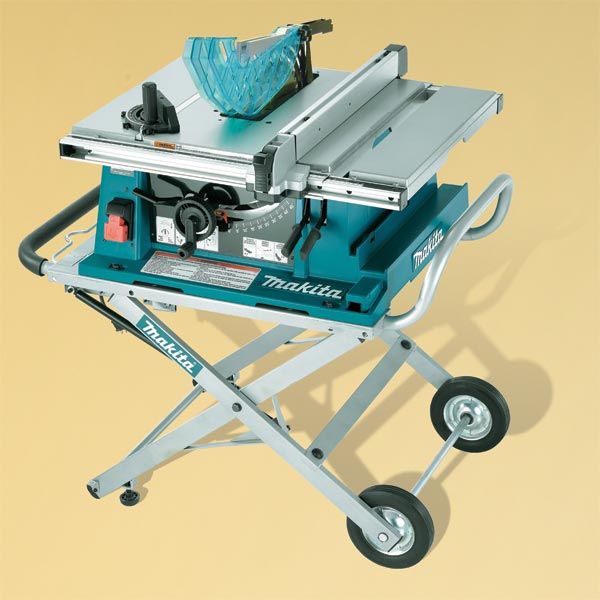 About $530. Rolling stand: add $300; makitausa.com
Strong and accurate, this saw chewed through wood and the fence has zero slop. The stand required almost no assembly, and no instructions were needed to operate it. Too bad it's about a $300 add-on. The riving knife can be adjusted with a rear-mounted lever—a handy feature when cutting rabbets and dadoes—but blade changes are slow because the throat plate is screwed down instead of spring-clipped as on the other saws. Also, locking in the blade angle is tricky.
Fine print: 135 pounds; 15-amp, 4,800-rpm motor. Max rip: 25 inches. Max blade height: 3 9/16 inches
Craftsman 28463
About $290; craftsman.com
This no-frills saw is a little too light-duty for the job site—the motor struggled with 2× stock—but it might be a nice addition to someone's garage. Although the spring-loaded stand isn't as sturdy as some others, setting it up is quick and easy. The dust bag is a nice addition, as is the blade-angle gauge on the tabletop. Unfortunately, the fence on our saw had a 1/16-inch bow in it, so getting it parallel to the blade was difficult, to say the least.
Fine print: 61 pounds; 15-amp, 5,000-rpm motor. Max rip: 24 inches. Max blade height: 3 inches
Porter-Cable PCB220TS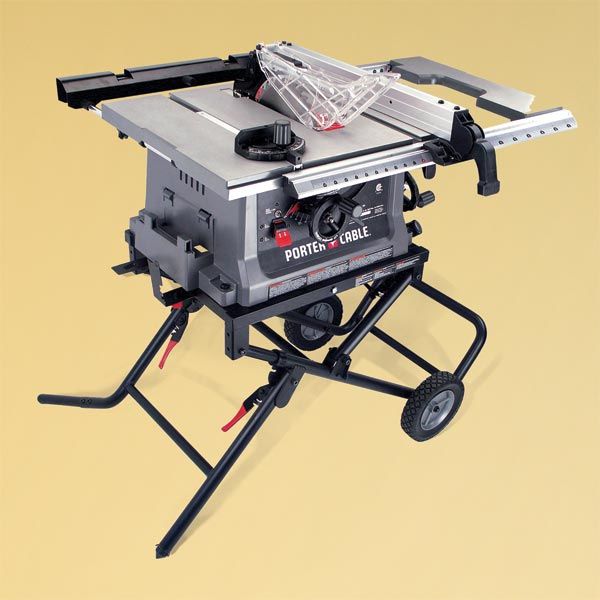 About $280; portercable.com
This saw nicely delivers all the basic necessities: a powerful motor, a beefy fence, and a wide tabletop. And, in an unusual arrangement that also makes perfect sense, the blade-angle adjustment is on the side of the saw, separate from the height adjustment at the front of the saw. But then, strangely, the knob that locks in the angle is behind the height control, making it tough to get at. And the stand is needlessly complicated and difficult to fold without consulting the instruction manual.
Fine print: 74 pounds; 15-amp, 5,000-rpm motor. Max rip: 24½ inches. Max blade height: 3 inches
Ridgid 4510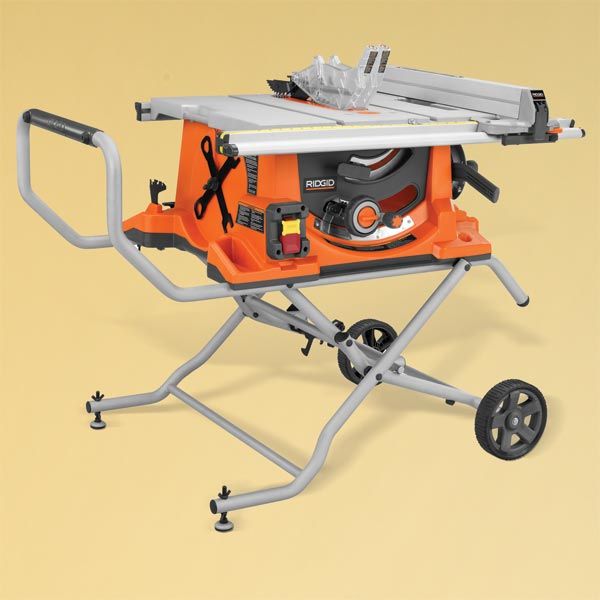 About $500; ridgid.com
You get a lot for your money with this big saw: a table that covers lots of real estate, a blade that cruises through wet lumber like a knife through Jell-O, a chunky fence that fits the table like a glove, and a stand built for serious off-roading (it has the highest ground clearance of the bunch). We also liked the onboard storage for all the accessories, and its quiet motor made it the quietest saw we tested. The downside: The measurement guide is nothing more than a length of tape measure snapped into place.
Fine print: 94 pounds; 15-amp, 4,400-rpm motor. Max rip: 25 inches. Max blade height: 3½ inches. A serious saw that keeps fingers safe
SawStop CNS175-SFA30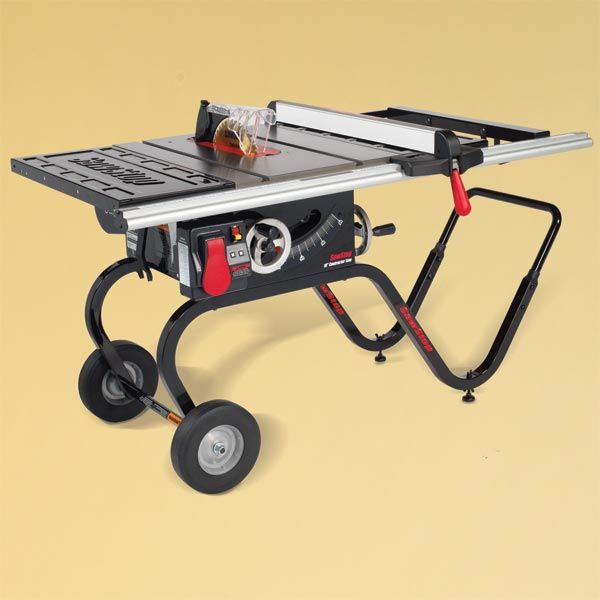 About $1,750. Contractor stand: add about $300; sawstop.com
Each year, more than 40,000 people are injured while using a table saw. And 4,000 of those injuries—an average of 10 per day—are amputations. The SawStop, which gets its name from the blade brake that resides beneath the table, is engineered to prevent those kinds of serious injuries. If a finger (or some other conductive material) breaks the constant flow of current running through the blade, the brake thrusts itself into the blade and halts its spin in 3 to 5 milliseconds. This destroys the brake and the blade but leaves digits intact. No other saw offers such a limb-saving safety feature. We didn't actually test this feature ourselves—replacement brakes cost about $70, and good 10-inch saw blades aren't cheap either—but there are plenty of table-saw safety demonstrations on the Web.
Cutting wet or pressure-treated wood will also trip the brake, so the saw has an override switch for those occasions. As soon as you engage it, this saw is as dangerous as any other. You don't have to remember to turn off the switch; the brake automatically reengages every time you turn the saw on.
Besides the safety technology, we were hoping that a saw costing this much would perform at a different level than the others. It certainly does. The SawStop is fitted with a cast-iron table, a massive belt-drive motor—the other saw motors are direct-drive—and enough electronics to rewire C-3PO. And at 280 pounds, it was a bear to move, even with its rolling stand. Putting all the pieces together was time-consuming, but once it's done, you've got a serious saw. Adjustments turn smoothly, and the blade stays put when you're done. The fence is the best of the bunch, sliding easily on its rails and locking down exactly parallel to the blade.
Fine print: 280 pounds; 15-amp, 4,000-rpm motor. Max rip: 30½ inches. Max blade height: 3⅛ inches
Accuracy check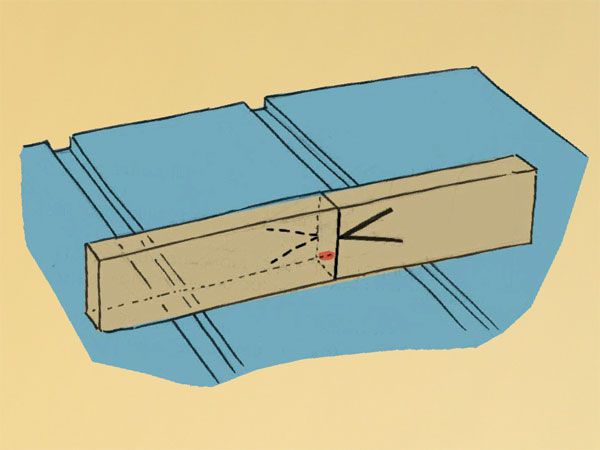 Don't assume that a saw will make accurate cuts right out of the box.
Crosscuts: Set the miter gauge at 90 degrees, mark an X on a board, and crosscut through the X. Now flip the right-hand piece so that its marked side faces the opposite way. Butt the cut ends together, and set both pieces on edge on the saw table. If there's a gap at the joint, adjust the gauge and repeat the test until the gap disappears.
Rip cuts: Slide the edge of a straight ¾-inch-thick board into the table's miter slot. Place a block of wood next to the board, and slide the fence against the block and lock it down. If the block doesn't slide freely between, and remain in contact with, both the fence and the board over the fence's entire length, adjust the fence and try again.
Technique for Safe Ripping: Before You Start, Always…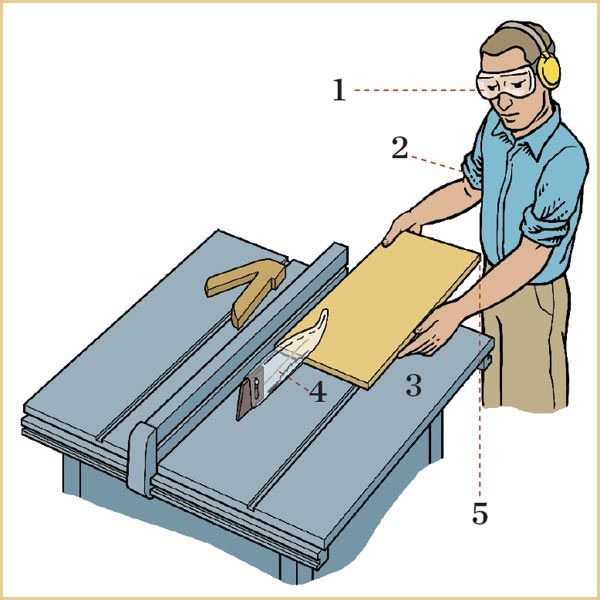 1. Put on eye and ear protection.
2. Roll up sleeves, tuck in shirt.
3. Remove any clutter from tabletop and underfoot, and make sure saw is stable.
4. Set blade ¼-inch higher than thickness of wood.
5. Stand to one side of workpiece and blade.
Technique for Safe Ripping: As You're Ripping…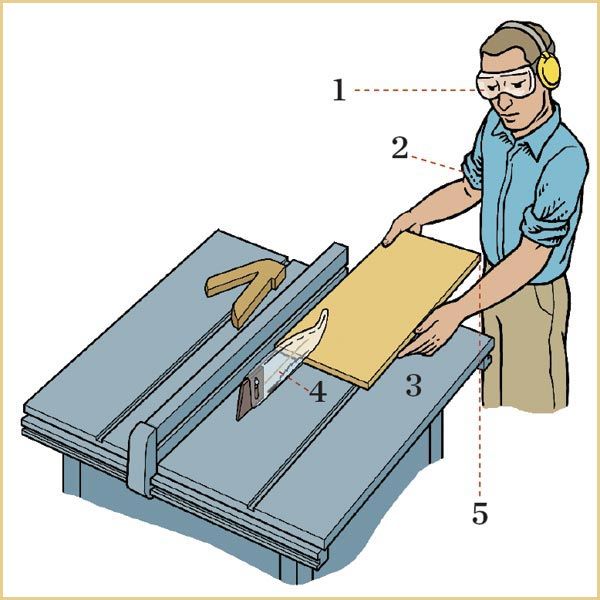 1. If motor strains, don't force wood through blade. Shut off saw, and try new piece or new blade.
2. Whenever blade is less than 6 inches from fence, use push stick. Otherwise, hook fingers of pushing hand over fence to keep them clear of blade.
3. Watch kerf where wood exits blade. If it gets pinched, immediately stop saw and get new workpiece.
4. Always guide workpiece using fence. Never cut freehand.
5. Hold your control hand in one location, between you and blade, bracing workpiece against fence as you feed it through blade with other hand.
TOH Tip: Before every rip cut, measure the distance from the fence to the miter slot, front and back. If the measurements are the same, kickback is far less likely. – Norm Abram, TOH master carpenter