Seasoned Staff and Stock
The best hardware stores have exactly what you need to finish a project—and all the curious enticements to start three new ones. They've got the knowledgeable staff to help you get out the door but also the nail buckets, hinge rooms, apothecary drawers, and chock-a-block aisles to draw you back in with the lure of discovering a latch you've never imagined or a salvaged glass doorknob that hasn't turned a spindle in over a century. Their inventories surprise not only their customers but also their owners. Take Garber's, perhaps New York City's oldest hardware store, where co-owner Nathaniel Garber Schoen once opened a small cabinet to discover buckshot sold by his great-great-grandfather, from a time when you could hunt waterfowl in northern Manhattan. Like the other four stores here, Garber's has helped countless customers fix household problems—and also procrastinate, inviting them, as we are you, to browse all their enchanting wares.
Garber Hardware
New York, New York
Since opening, in 1884, the store has been able to adapt to the needs of an ever-changing neighborhood. It has sold paint to generations of local artists, including Roy Lichtenstein.
Garber Hardware: Obscure Stock Items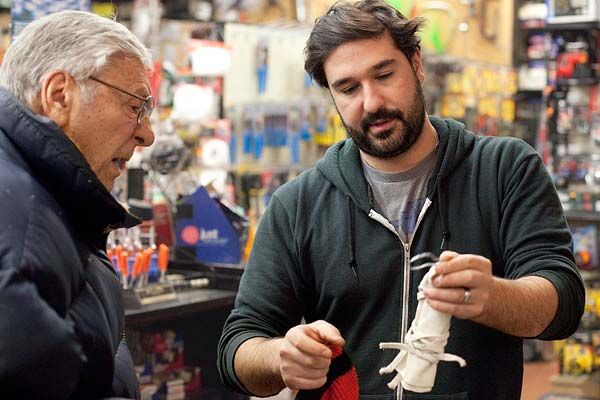 Fifth-generation co-owner Nathaniel Garber Schoen, right, is happy to stock obscure items for regular customers. "If something gets on our shelves, it'll pretty much stay there forever," he says.
Support your hometown hardware store by adding your photos to a gallery at FlashStock.
Garber Hardware: Horseshoe Legacy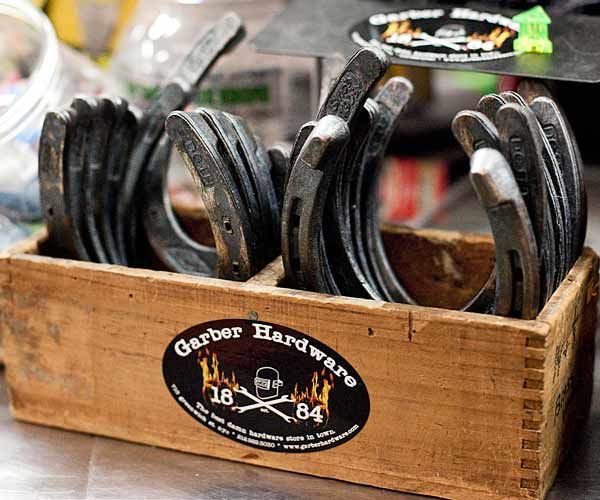 When Garber's opened, horseshoes were likely a cornerstone of the business. It still sells them, but Schoen suspects today's customer uses them as decor—nobody comes in needing a complete set of four.
Chagrin Hardware: Town Hub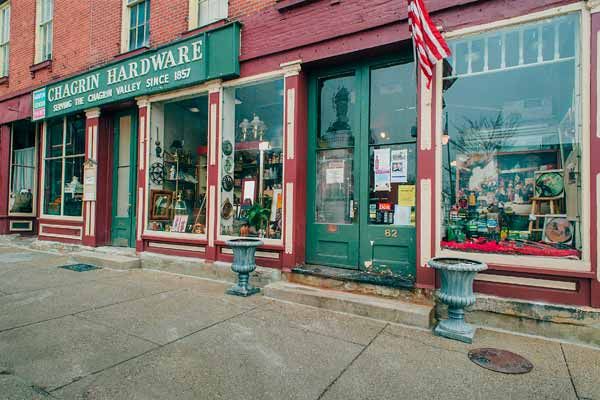 Chagrin Falls, Ohio
Established in 1857, this town hub still occupies its same spot on North Main.
Chagrin Hardware: Unique Organization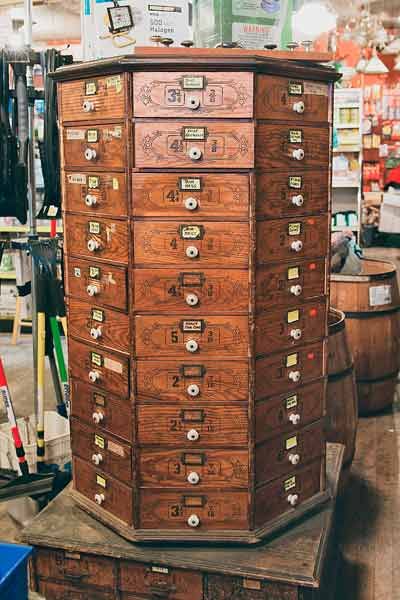 An octagonal chest organizes items such as brads and sash clips by ascending size.
Chagrin Hardware: Family Business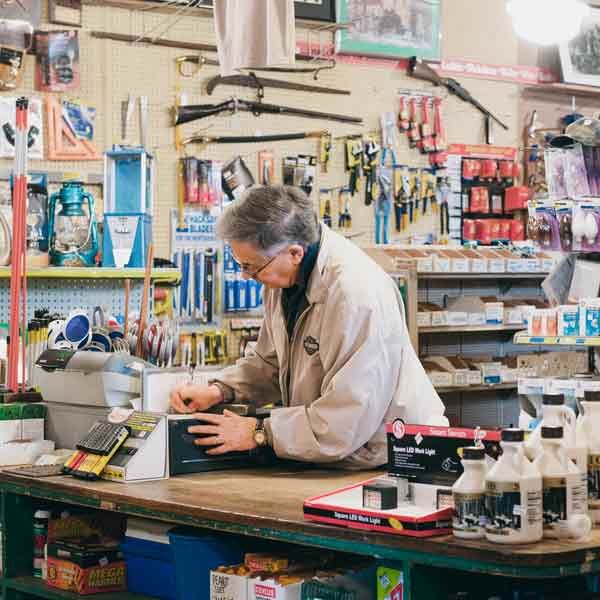 Co-owner Steve Shutts, whose family bought the business in the 1920s, got his start here in the fourth grade. "My first job was cleaning a vintage wooden ice box," he says. "I did such a nice job, Dad upped the price by $5."
Chagrin Hardware: Baby Scale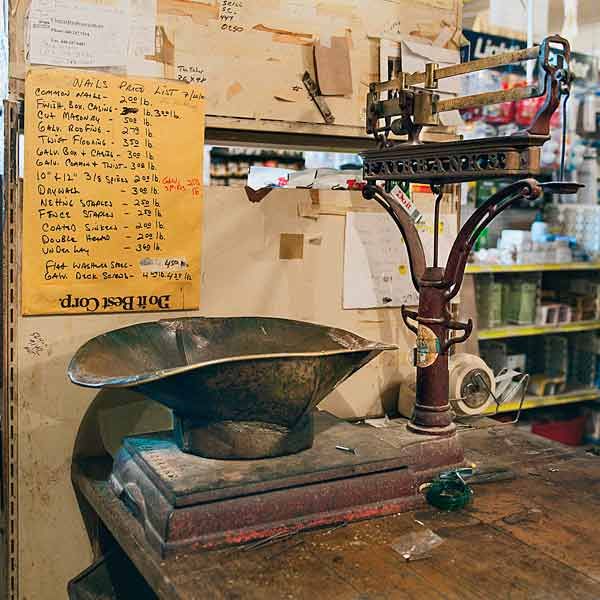 As a rite of passage, generations of local families have photographed their newborn babies in the bulk scale; its accuracy continually mystifies county inspectors.
Placerville Hardware: Gold Prospecting History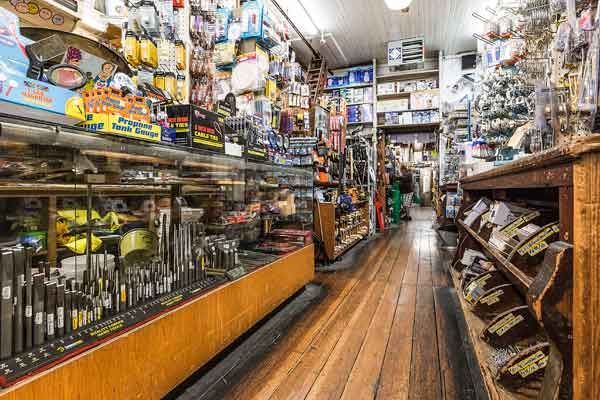 Placerville, California
Nestled in the foothills of the Sierra Nevada mountains, the store opened in 1852 to cater to gold prospectors. The original countertop remains, featuring slots where customers could drop gold nuggets to be weighed and bartered for shovels, mining pans, and TNT, which they could pick up as a bundle on their way out, like a bag of ice at the supermarket.
Placerville Hardware: Original Ledgers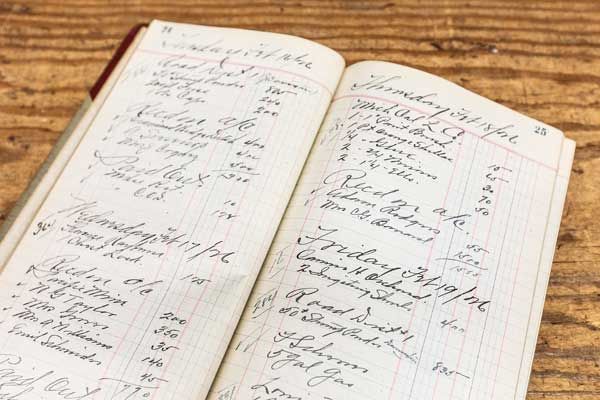 Dozens of ledgers from the early days recall a time when every transaction was recorded by hand.
Placerville Hardware: Apothecary Drawers
Many of the apothecary drawers contain the same items they held 160 years ago, though mattocks have been replaced by black zip ties.
Placerville Hardware: Extensive Hardware Selection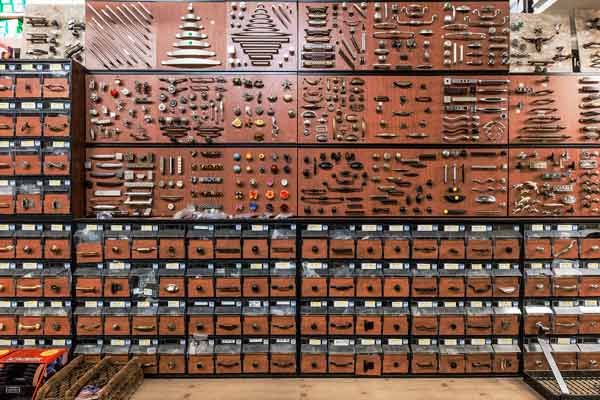 Along with a palpable dose of nostalgia, the store offers a towering selection of hardware, including hundreds of knobs and handles.
Hippo Hardware & Trading Company: Reclaimed Stock Items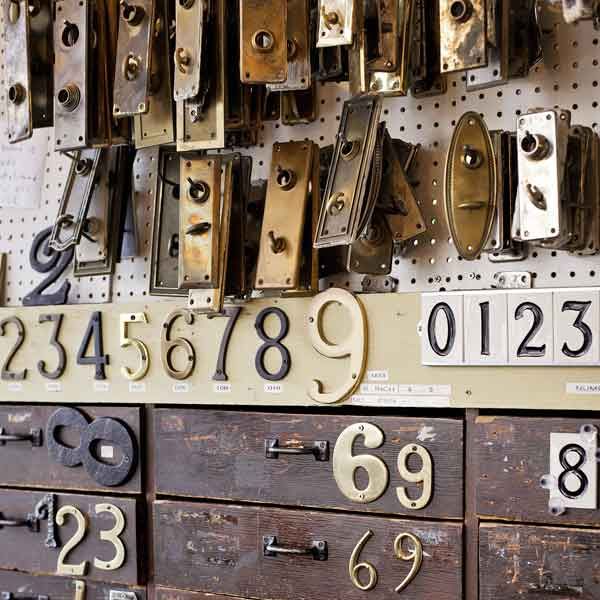 Portland, Oregon
Housed inside a former auto repair shop, the labyrinthine store stocks thousands of reclaimed items, including ceramic house numbers originally issued by the City of Portland.
Hippo Hardware & Trading Company: Salvage Friendly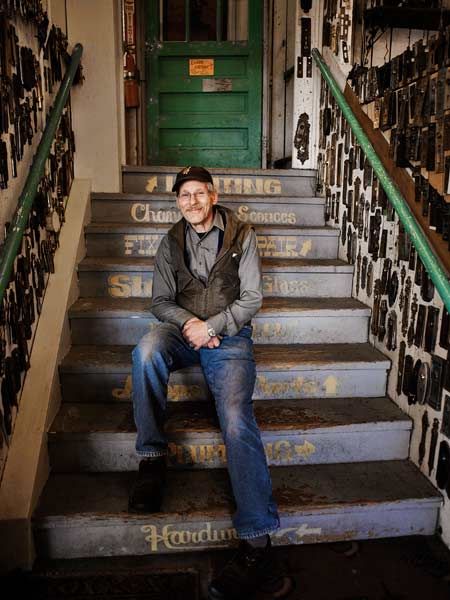 About 30 percent of the inventory is new items, but as co-owner Steven Miller says, "Our main goal has always been keeping salvageable materials out of landfills and helping people solve problems."
Hippo Hardware & Trading Company: Period Lighting Selection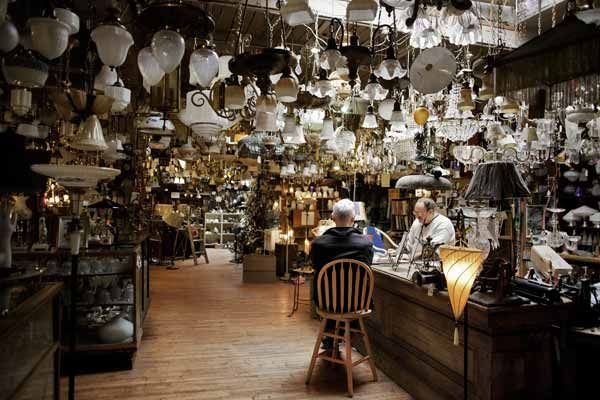 The vast lighting department occupies a third of the space and attracts customers from all over—some as far away as Japan—looking to rebuild period lamps and even lighthouse lanterns. Behind the counter, co-owner Stephen Oppenheim rewires one of Hippo's 5,000 fixtures.
McGuckin Hardware: Customer Focus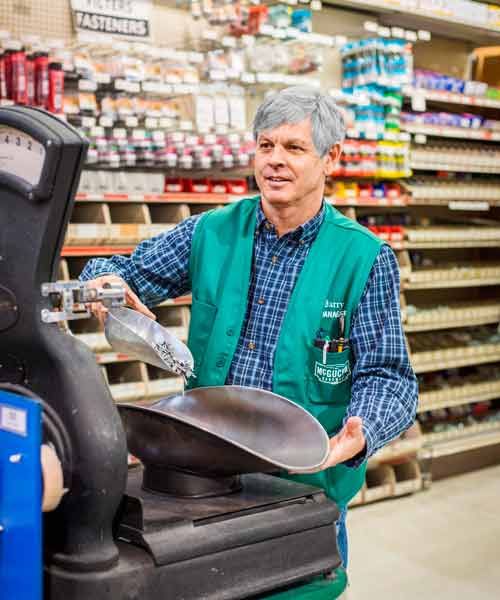 Boulder, Colorado
"We stock over one million fasteners, but I'm happy to sell you a single nail or screw," says store president Barry Hight, grandson of the founder. That spirit has helped the store maintain its focus on individual customers, even as it grew from a modest 2,000-square-foot shop in 1955 to the 60,000-square-foot emporium it is today.
McGuckin Hardware: Large Inventory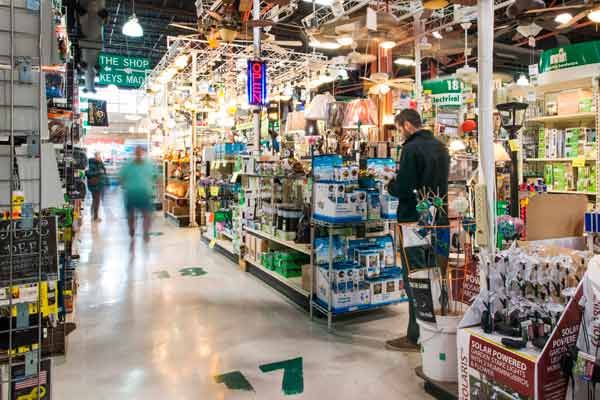 The staff prides itself on knowing the ins and outs of McGuckin's 200,000-item inventory.
McGuckin Hardware: Range of Agrarian Supplies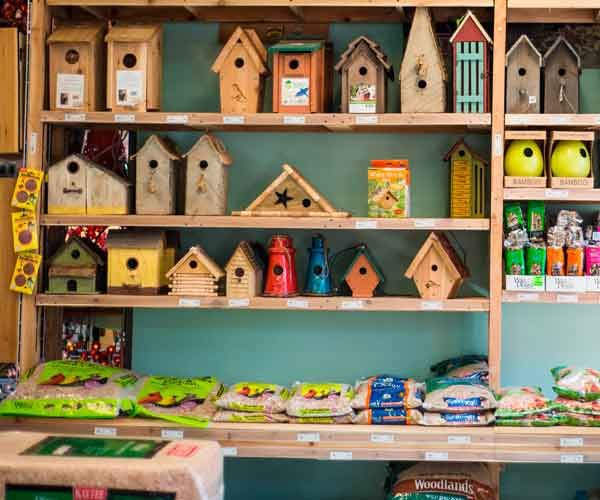 In the omnibus feed and floral department, you'll find birdhouses alongside supplies for agrarian operations of any size: chicken coops and beehive boxes for the urban farmer, as well as slop buckets and muck rakes for the rancher raising livestock.
Crest Hardware: Artist Displays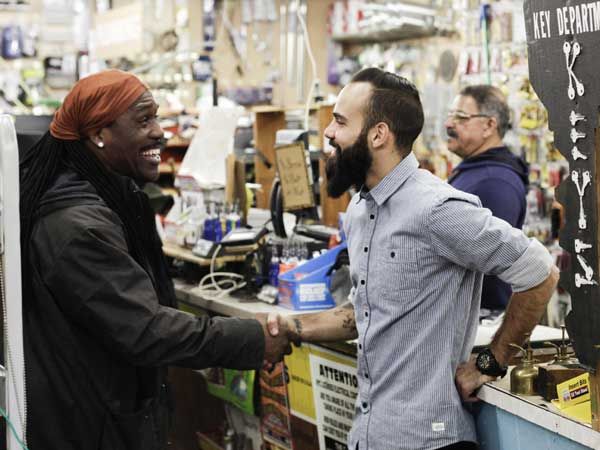 Brooklyn, New York
Owner Joe Franquinha (with beard) remembers when his father first allowed local artists to display their work on the shelves of the family's store. "My dad figured people would appreciate the art and then see the products we were selling," he says. "They did."
Crest Hardware: Large Seed and Soil Selection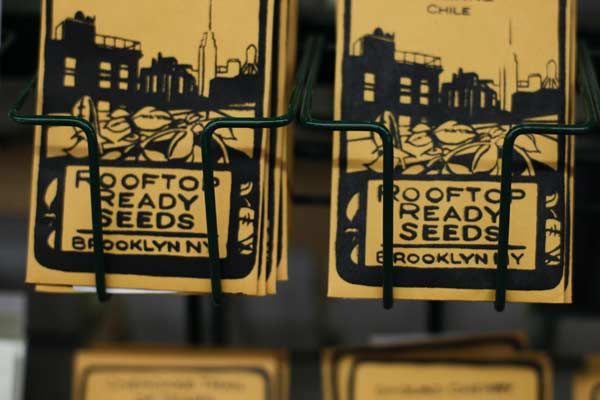 Machete in hand, Joe hacked his way through 5,000 square feet of thorny weeds behind the shop to expand the gardening department in 2009. Crest now carries a wide array of seeds and soil, some of which is produced in Brooklyn.
Crest Hardware: Typical Hardware Selection, Too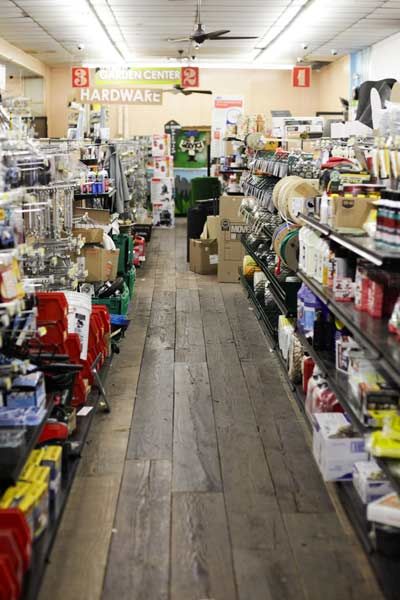 Besides art and seeds, of course, the store has a generous offering of pipe fittings, electrical components, paint, and more.
Lehman's: Parking for Amish Buggies
Kidron, Ohio
When Jay Lehman opened for business in 1955, he catered to the local Amish population. "I admired them and wanted to preserve their way of life," he says. They still park their buggies outside the shop.
Lehman's: Original Store Exterior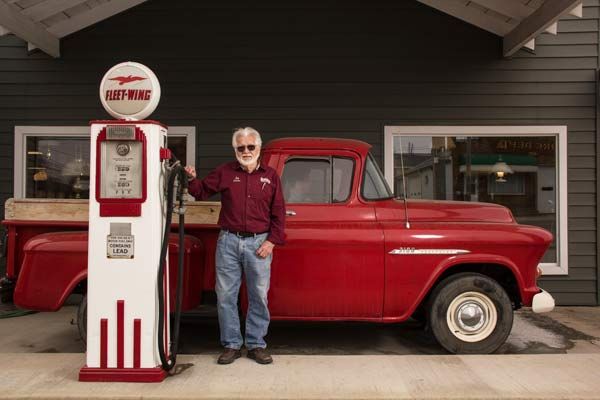 The Lehman family reconstructed the original exterior of the store for its 55th anniversary. The truck, a '55 Chevy, was a gift from Jay's children.
Lehman's: Variety of Large Stock Items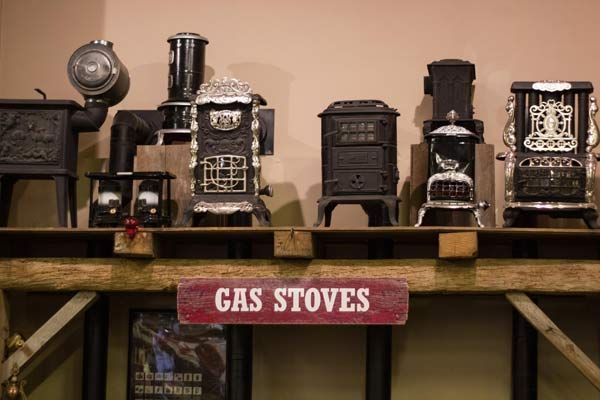 In addition to smaller wares like saws and cut steel nails, the store stocks large items, including dozens of wood and gas stoves, as well as gas-powered refrigerators.
Lehman's: Vintage Tractor Parts Display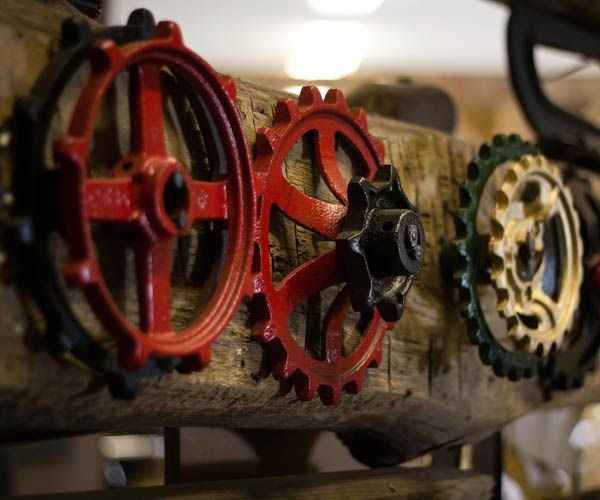 In his spare time, Jay restores vintage tractor parts. Favorites are displayed on this beam in the store's lobby.