Multitaskers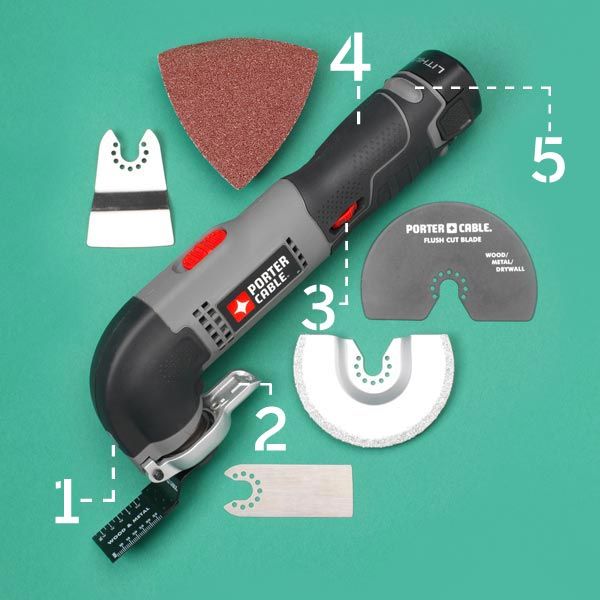 These lightweight variable-speed multitaskers reach into tight spaces to sand, saw, scrape, and grind wood; cut metal; and remove grout.
What to look for
1. An LED to illuminate dark corners.
2. An easy way to swap blades, like this tool-free lever.
3. A handy variable-speed dial.
4. A slim shape with a tactile grip.
5. Rubbery bumpers to protect your workpieces.
Attachments: Clockwise from top left: paint/adhesive scraper, sanding pad, semicircular saw blade, carbide-grit grout remover, caulk scraper, plunge-cut blade
Porter-Cable PCL120MTC-2
Changing attachments or altering their angle couldn't be easier. Instead of loosening a hex bolt, just squeeze a spring lever to open the toothed jaws, then let go to get a bite on the blade. A slender body masks real brawn: This beast was one of two tools able to plunge-cut a notch in ¾-inch oak flooring. The tool is encased in plenty of rubber to protect your mitts and your workpiece. We also like that the LED blinks to signal a spent battery.
About $100; 2 pounds; Porter-Cable
Fine print:
11¼ inches long,
7,500-15,000 oscillations per minute (opm),
two 1.3-amp-hour lithium-ion batteries,
seven attachments
Milwaukee 2426-22 M12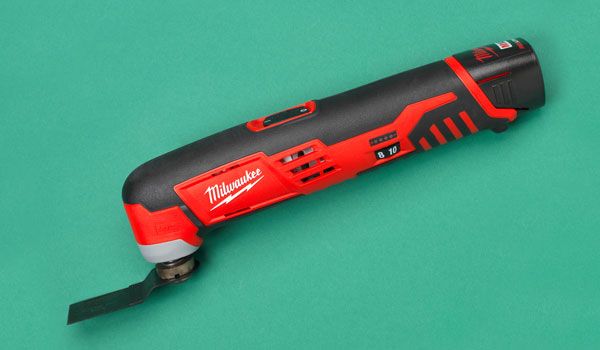 This dynamo led the class in run time and aced our cutting tests. Its soft-start feature provided great control, but we were frustrated by the slow two-piece screw-and-washer blade clamp and the stiff variable-speed dial. The narrow body, fine for small hands, could still use side cushioning to protect work surfaces. The kit is limited but does include an adapter to accept other brands' accessories.
About $149; 2.1 pounds; Milwaukee
Fine print:
10⅞ inches long,
5,000-20,000 opm,
two 1.5-amp-hour lithium-ion batteries,
two attachments
Bosch PS50-2A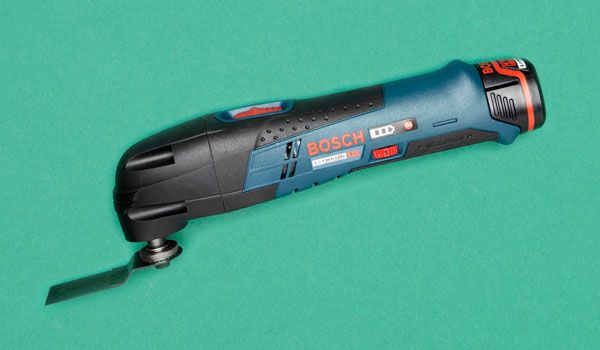 Thanks partly to an ergonomic shape sheathed in lots of grippy rubber, the Max Multi-X is a comfortable tool with the least amount of vibration of any we tested. There's no LED, but the big white sanding pad makes it easier to see the pad's edge, even in dark corners. Fitted with a plunge-cut blade, the tool blazed through poplar but, to our surprise, bogged down when we sank it into oak.
About $159; 2.2 pounds; Bosch
Fine print:
11 inches long,
5,000-20,000 opm,
two 1.3-amp-hour lithium-ion batteries,
two attachments
Rockwell RK2514K2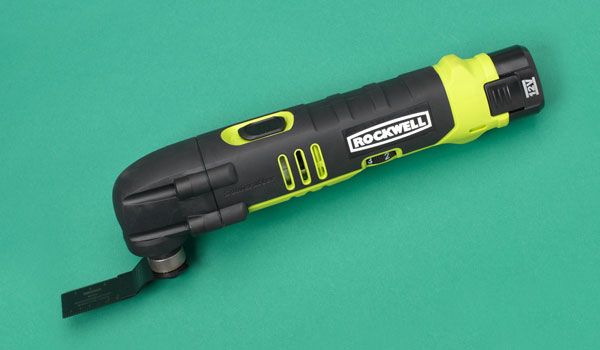 While lacking brute cutting strength, it turned in a better-than-average sanding performance. This was the quietest tool we tested, whispering while it worked, and it came with the most-comprehensive collection of accessories and features, including a vacuum port, a universal clamp that lets you use any brand's blade, and an LED aimed, thoughtfully, to illuminate the surface just in front of the pad.
About $140; 2.25 pounds; Rockwell
Fine print:
11¼ inches long,
5,000-20,000 opm,
two 1.3-amp-hour lithium-ion batteries,
seven attachments
Craftsman G2 30566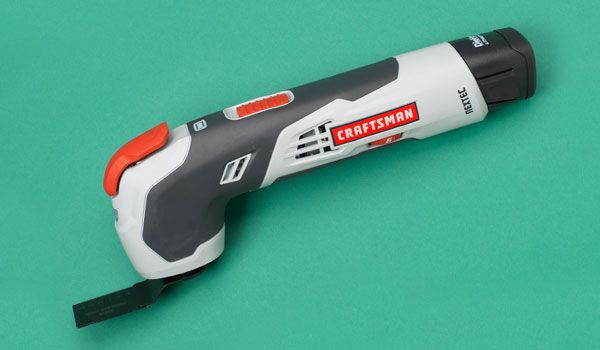 You get power—it did well in our oak-cutting test—but its high starting speed makes precise cuts difficult. The tool-free clamp is a big plus when changing attachments, but mind your fingers—the cam lever snaps down hard and fast. Also, mind your ears, as this was the loudest of the bunch. It comes with only one battery, but you can get a 25 percent charge in 3 minutes flat if you press the charger's quick boost button.
About $85; 2.3 pounds; Craftsman
Fine print:
10 inches long,
7,500-15,000 opm,
one 1.3-amp-hour lithium-ion battery,
six attachments
Dremel 8300-01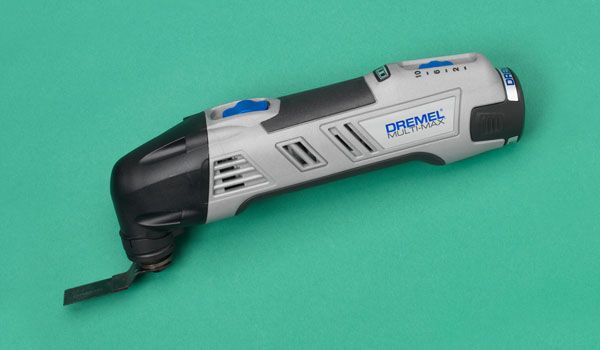 The Multi-Max is the lightest tool in the bunch, and its starting speed means easy-to-control cutting action. It nearly completed the oak-notching test with its narrow, ¾-inch-wide flush-cut blade. Nearly. It lacks stamina, finishing dead last in our sanding test. The washer-and-screw blade clamp was way too fussy, and we found it hard to get used to the speed-control lever. We would prefer a dial, like the ones on the other tools.
About $118; 1.82 pounds; Dremel
Fine print:
10¼ inches long,
3,000-21,000 opm,
Two 1.3 amp-hour lithium-ion batteries,
three attachments
Multipurpose Oscillating Tools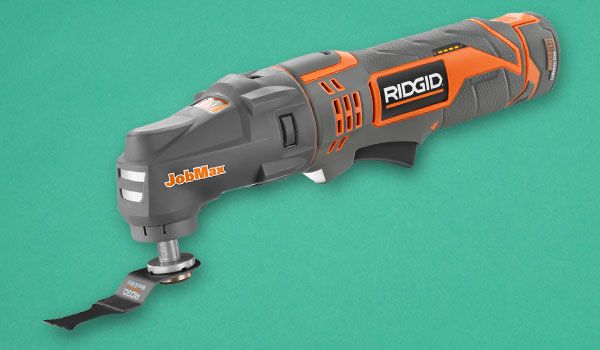 These tools have interchangeable heads, which allows you to alter their function from drill/driver to impact driver to jigsaw to oscillating tool to reciprocating saw—to name just a few—all while using the same battery pack and motor. When equipped with an oscillating head, they utilize the same attachments that fit the single-purpose tools in this review. We tested only the oscillating function here.
Ridgid R82236
The JobMax did very well in the cutting tests: It managed to complete our notch test in oak—something only two of the dedicated oscillating tools could accomplish—in part because of its souped-up lithium-ion battery. The variable speed is controlled by a trigger, not a dial, a feature familiar to anyone who has used a drill/driver. This trigger makes cutting a straight line easier than with any other tool, but sanding anything for more than a few minutes induces finger cramps—it's painful. On the plus side, it has an LED to light up the work area and it operates very smoothly, with minimal vibration.
About $100; 2.2 pounds; Ridgid
Fine print:
13 5/16-inches long,
0-20,000 opm,
One 1.5-amp-hour lithium-ion battery,
three attachments
Black & Decker BDCDMT112
(Tested with oscillating-tool attachment BDCMTO)
The Matrix is the only tool with the pistol-grip shape of a drill/driver. It's a fine configuration while sanding, but the offset handle makes vertical plunge-cutting very uncomfortable. While it has the same easy-to-use blade-change lever as the Porter-Cable, the hand-numbing vibration was worse than any other tool, and it underperformed in both the sanding and recharge tests.
About $90; 2.6 pounds; Black & Decker
Fine print:
10⅞-inches long,
0-14,500 opm,
one 1.1-amp-hour battery,
two attachments
Battery Test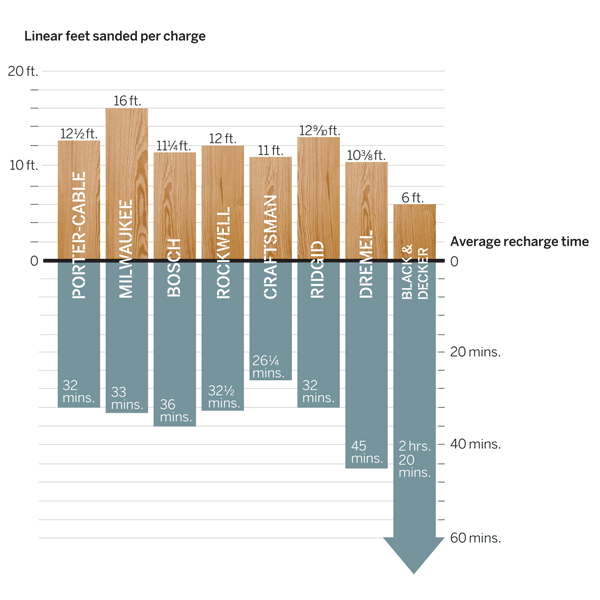 We measured how many linear feet of 1×3 primed pine each tool could sand bare with one sheet of 60-grit paper before the battery died. Then we timed how long it took to fully recharge the battery.
Technique: Sand a Corner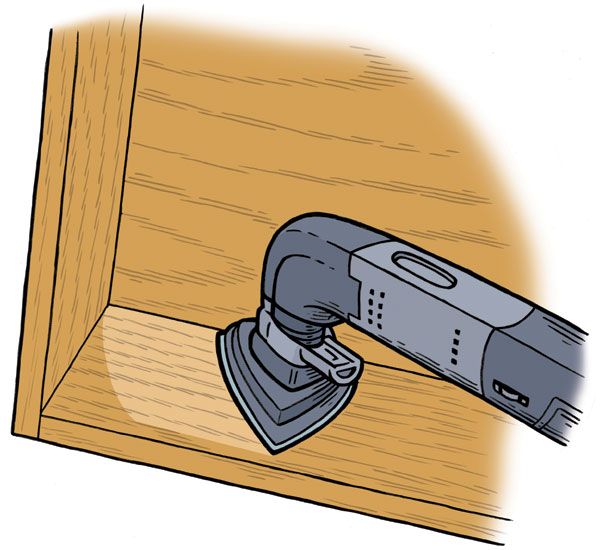 Set the speed to low. Start the tool off the work, and when it's up to speed, lay the pad flat on the work in the corner and move the tool back and forth with the grain. Don't tip or press down on the pad, and make sure to lift it off the work before turning off the tool.
Technique: Undercut Trim for Flooring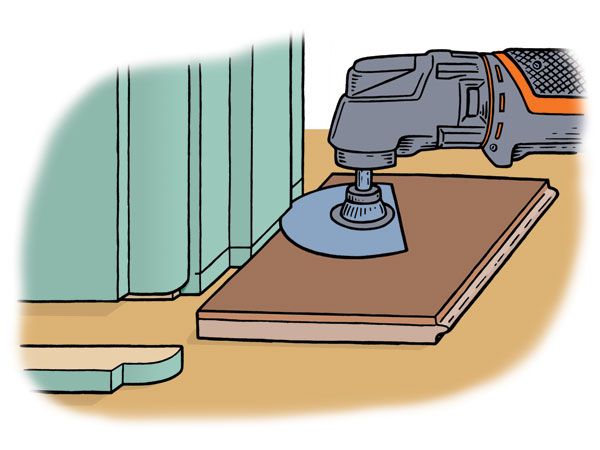 Snug a scrap piece of flooring against the casing, as shown, and place a flush-cut saw blade flat against the scrap. Score the casing on low. Make more light passes, ramping up the speed each time, until you cut through the trim.
Tip: "You can't push the saw blades for these tools too hard or you'll end up with sloppy cuts and worn teeth. It's better to take your time and make shallow passes."
—Tom Silva, This Old House general contractor
Attachments: Caulk Knife
The double-edged 2¼-inch blade cleanly knifes through stubborn old sealant.
About $13; Bosch
Attachments: Swing Blade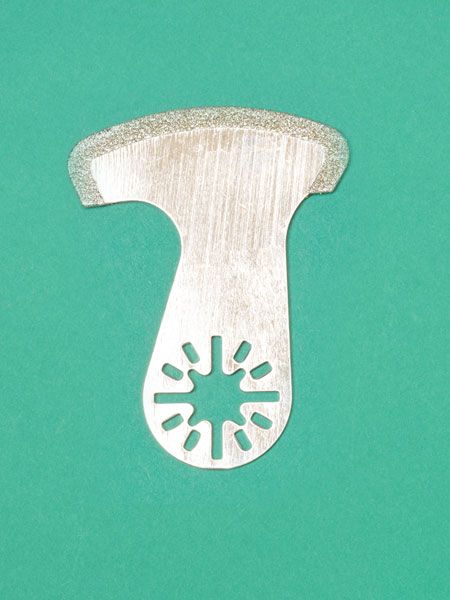 Its diamonds cut grout without wearing out; its shape lets it get into tight corners.
About $12; Multi Fit Blades
Attachments: Multiflex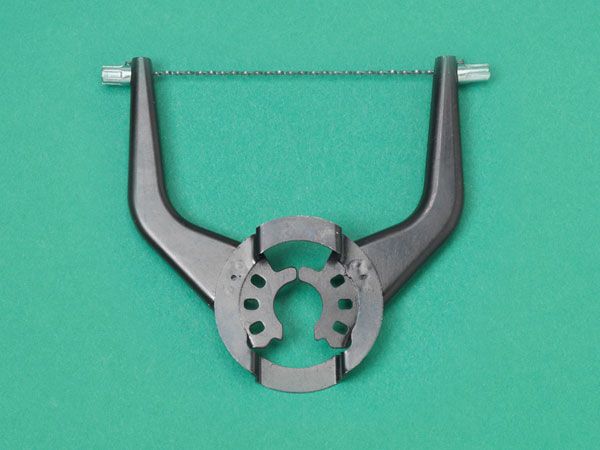 A yoke with a spiral blade enables you to cut curves or copes in wood or plastic.
About $20; Dremel