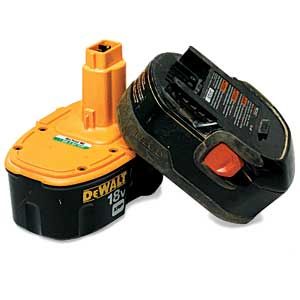 Most trash haulers won't take rechargeable batteries from cordless drill/drivers, circular saws, and the like because they contain heavy metals that need special recycling. But Call2Recycle, a national collection program, maintains a network of about 30,000 retail stores that serve as drop-off spots for old rechargeables, including Target and Home Depot. Here's how to find one.
1. Locate a drop-off site. Go to Call2Recycle.org, or dial their hotline at 800-8-BATTERY.
2. Call ahead. It's worth ringing the store to find out where to take your batteries once you arrive. That way you can avoid waiting in line at the information desk. Large home and electronics retailers are often your best bets, because they sell lots of items that use rechargeable batteries.
3. Have a backup plan. If Call2Recycle doesn't list a drop-off site near you, try calling 800-CLEAN-UP, a hotline set up by a nonprofit called Earth911, which lists recycling resources. If all else fails, call your local department of sanitation. Some will pick up rechargeables on electronics-collection days, or they can refer you to another collection spot.
TOH Reader Tip
"Stick a piece of tape to a rechargeable battery you've just juiced up. That way, you'll know it's ready to go." —Robert Lynch, Braintree, Mass.