This article appeared in the Summer 2023 issue of This Old House Magazine. Click here to learn how to subscribe.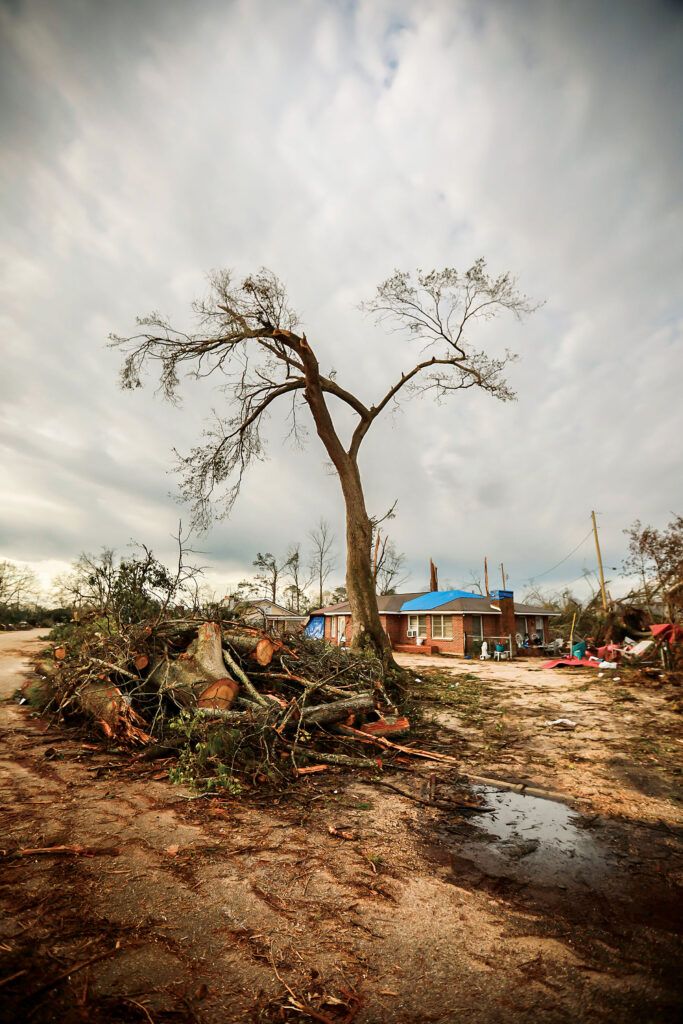 Crushed rooftops, homes engulfed in debris and filth, huge trees downed side- ways. Nothing can prepare you for arriving at a disaster scene. I was already nervous when I joined Team Rubicon (TR) in Fort Myers, Florida, after Hurricane Ian. I knew that I would mostly be working alongside veterans, people who had spent years volunteering to serve their country and were now volunteering to rebuild lives. I wasn't sure how I could contribute. But I soon realized the most important thing was a desire to help people put their homes back together. I had that desire, and the TR volunteers—known as Greyshirts for their T-shirt uniforms—filled in the rest.
Standing before a tangle of debris, we put our backs into swamping, pulling sawn tree limbs to the curb. Climbing onto roofs for tarping, we covered hole to stop water ingress. Wearing Tyvek suits in extreme heat and humidity, we spent short bursts of time mucking, dragging soaked belongings and mildewed house parts to the curb. Later, I earned certification as a Sawyer 1, able to use a chainsaw to cut up fallen trees.
After six months and many ops, documented in a new TV series, Team Rubicon, streaming on The Roku Channel, I'm overwhelmed with how impressive the TR organization is and the caliber of the people I met. I've done some of the hardest work of my life. And I have loved it.
A Days Work in a Life of Purpose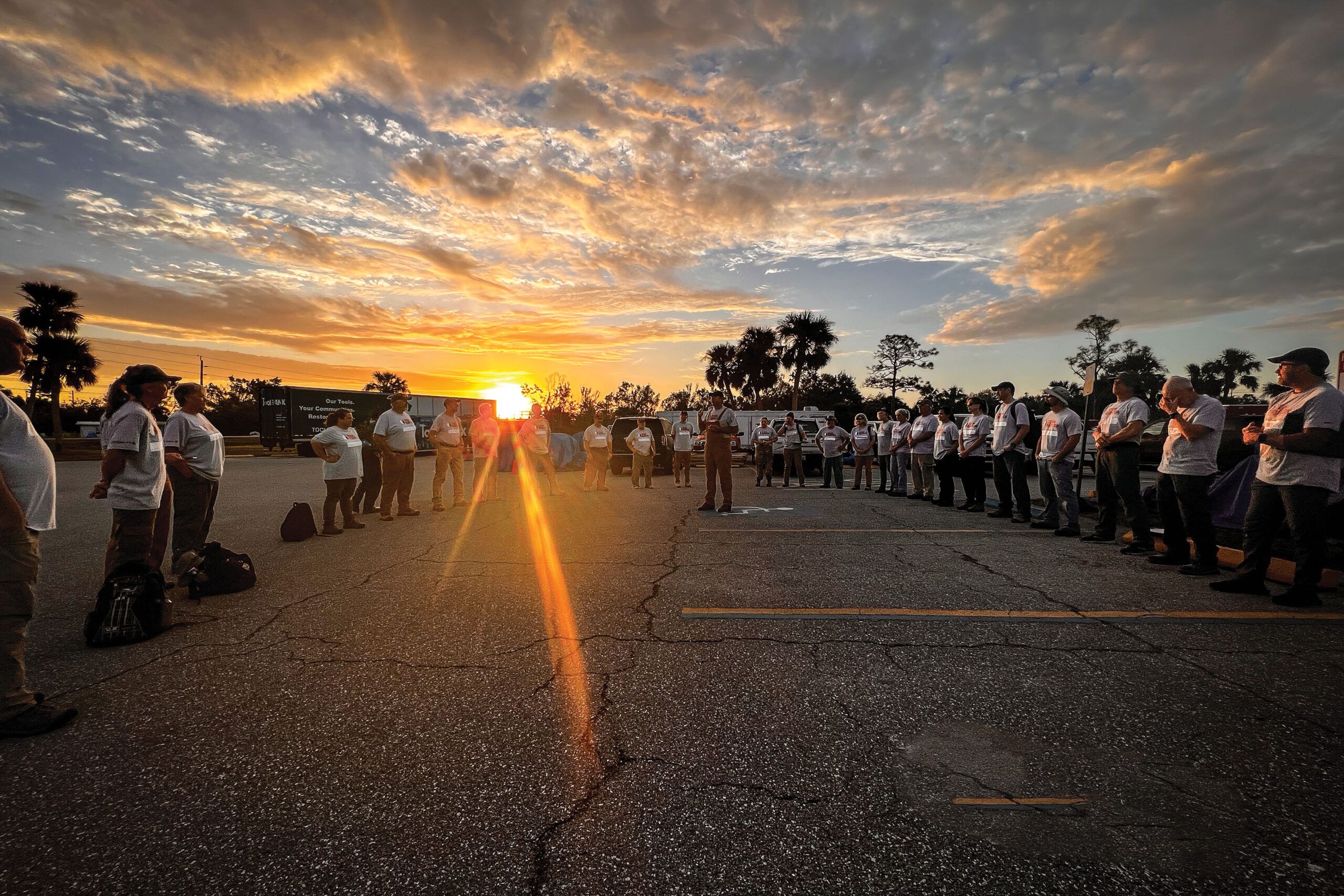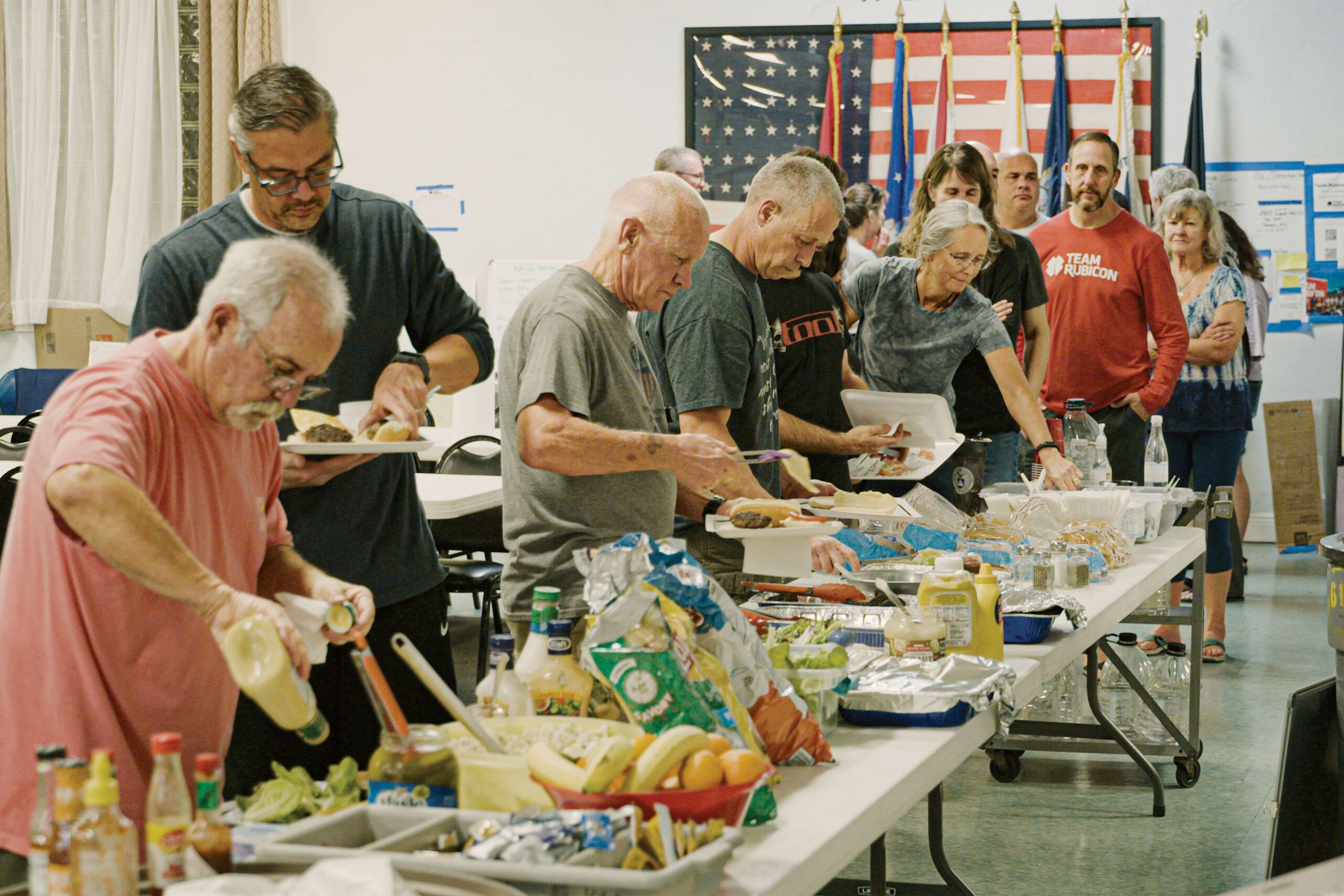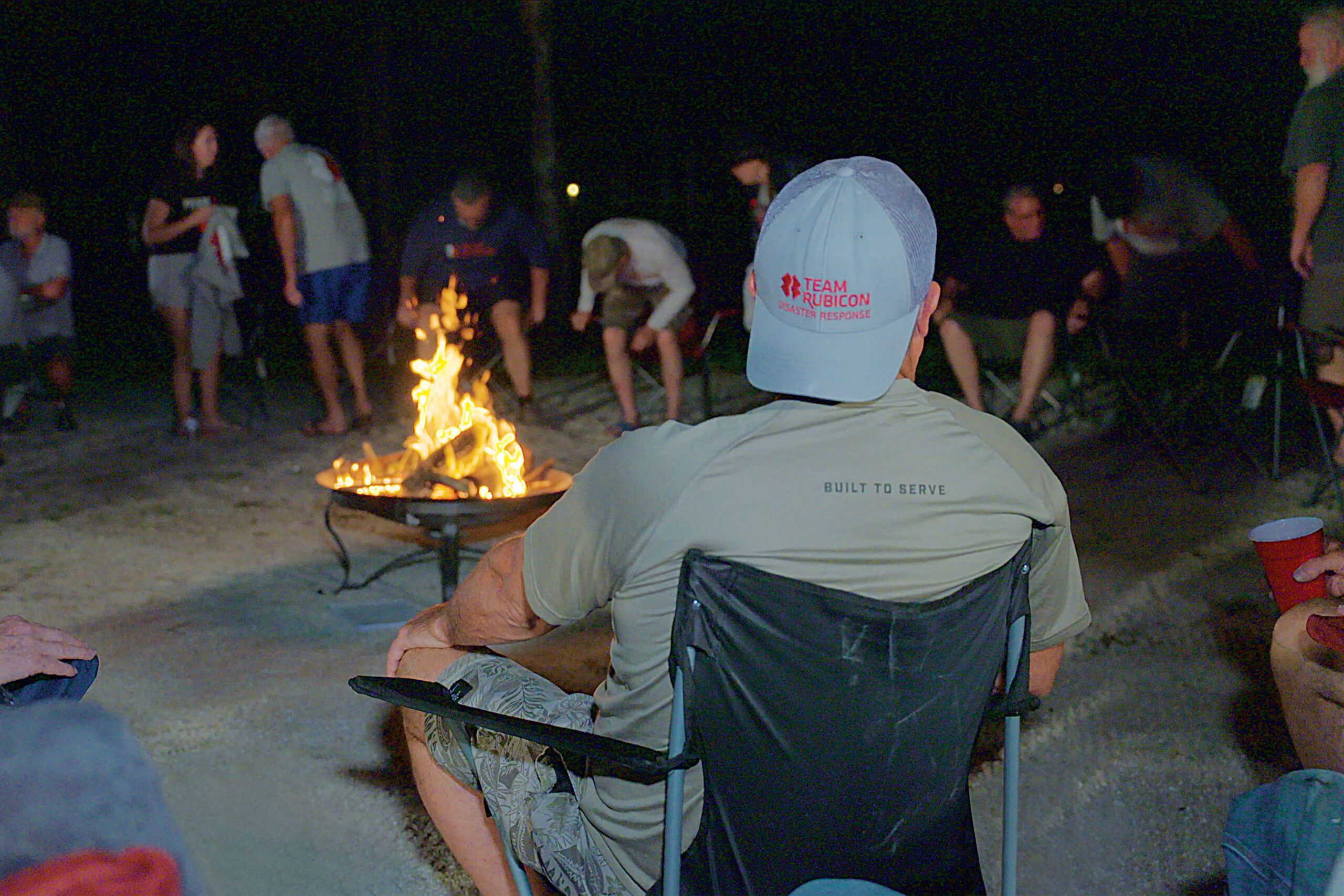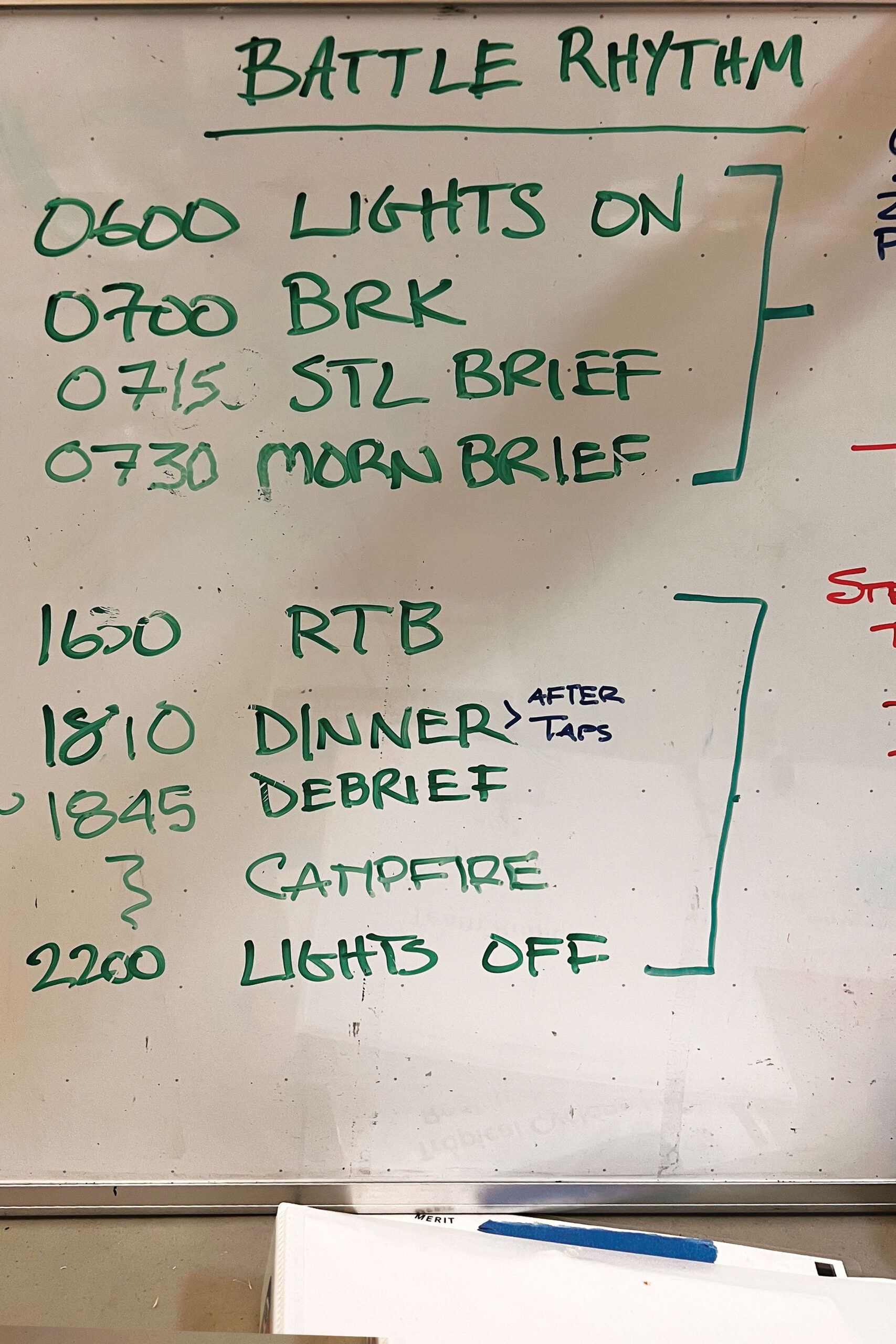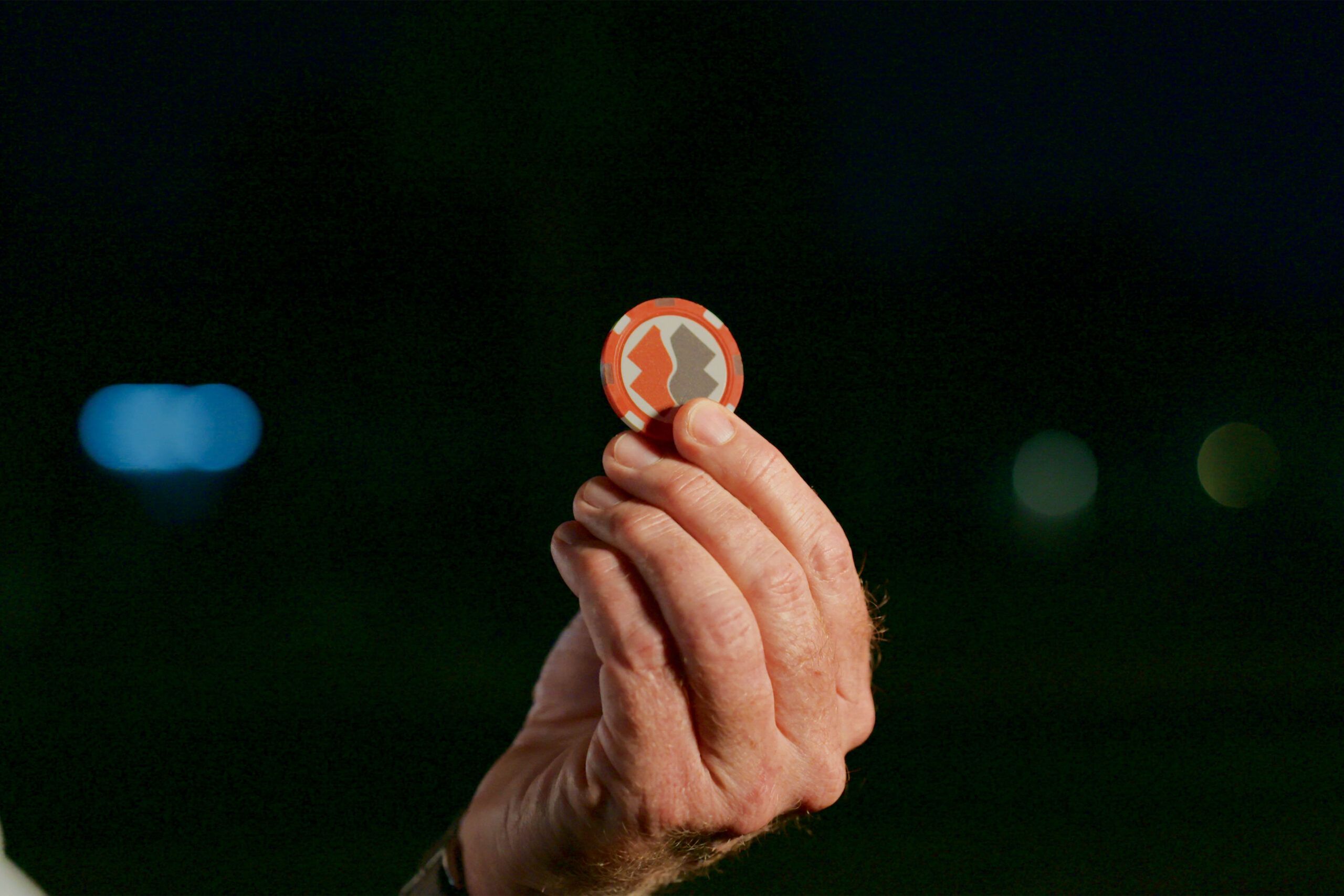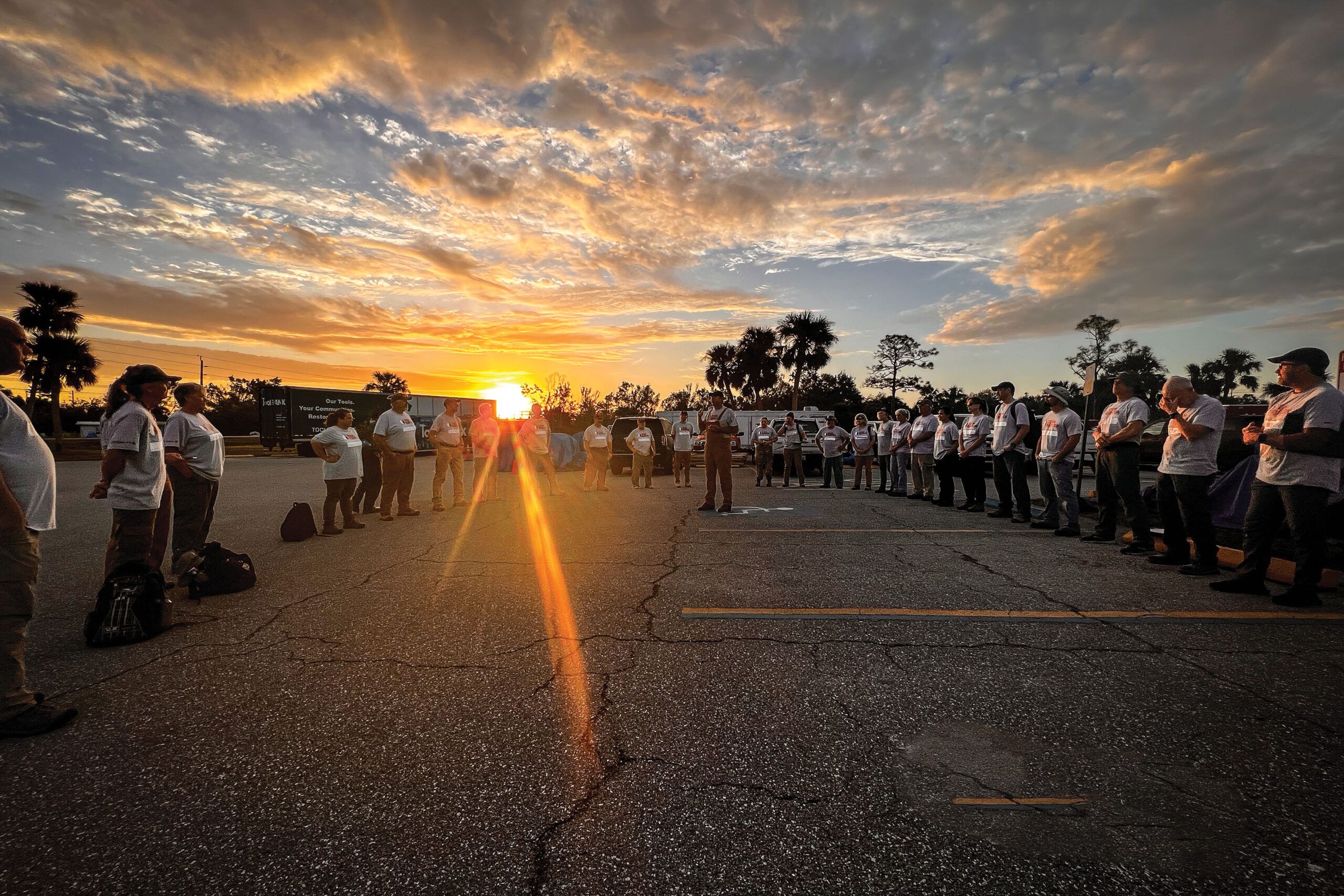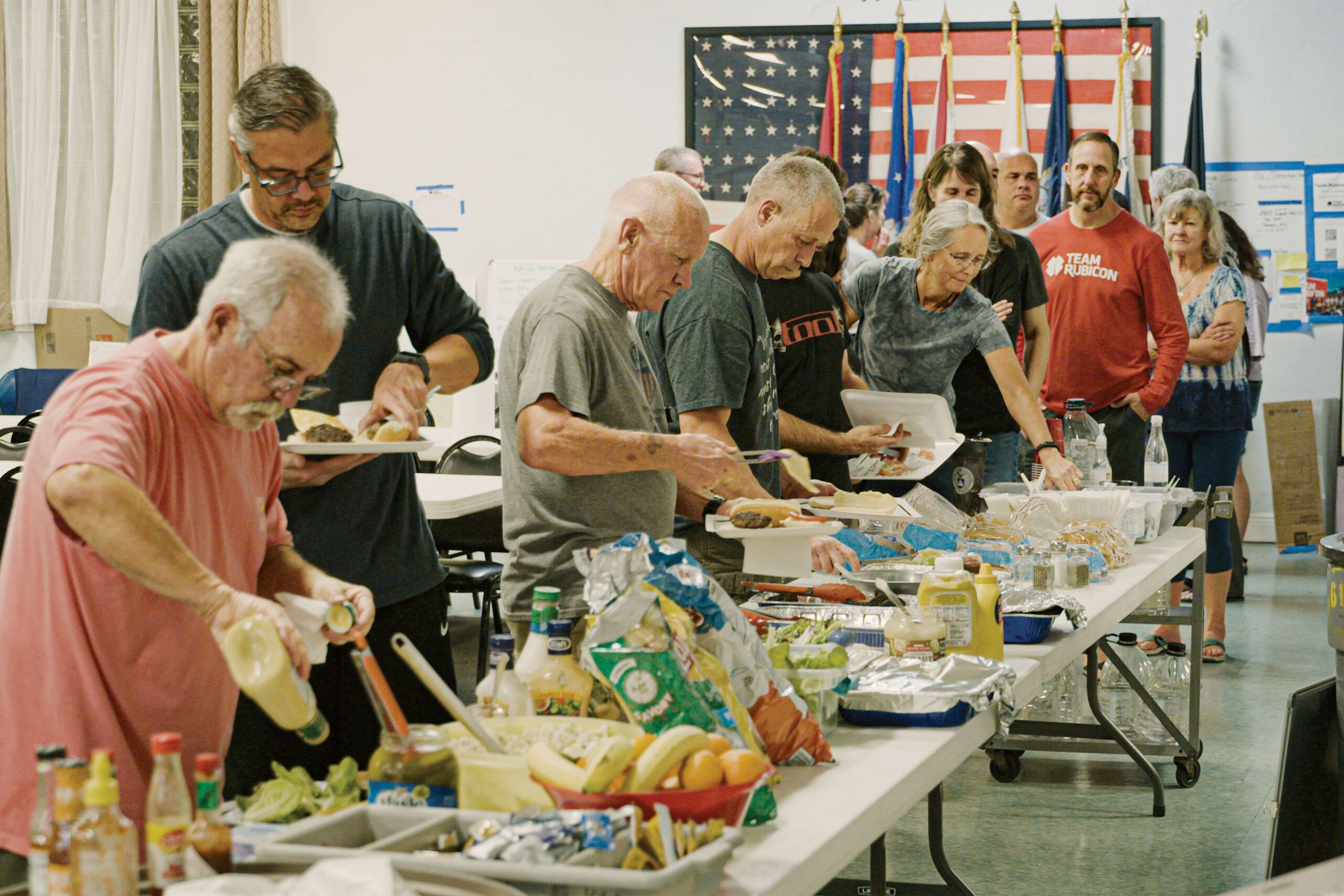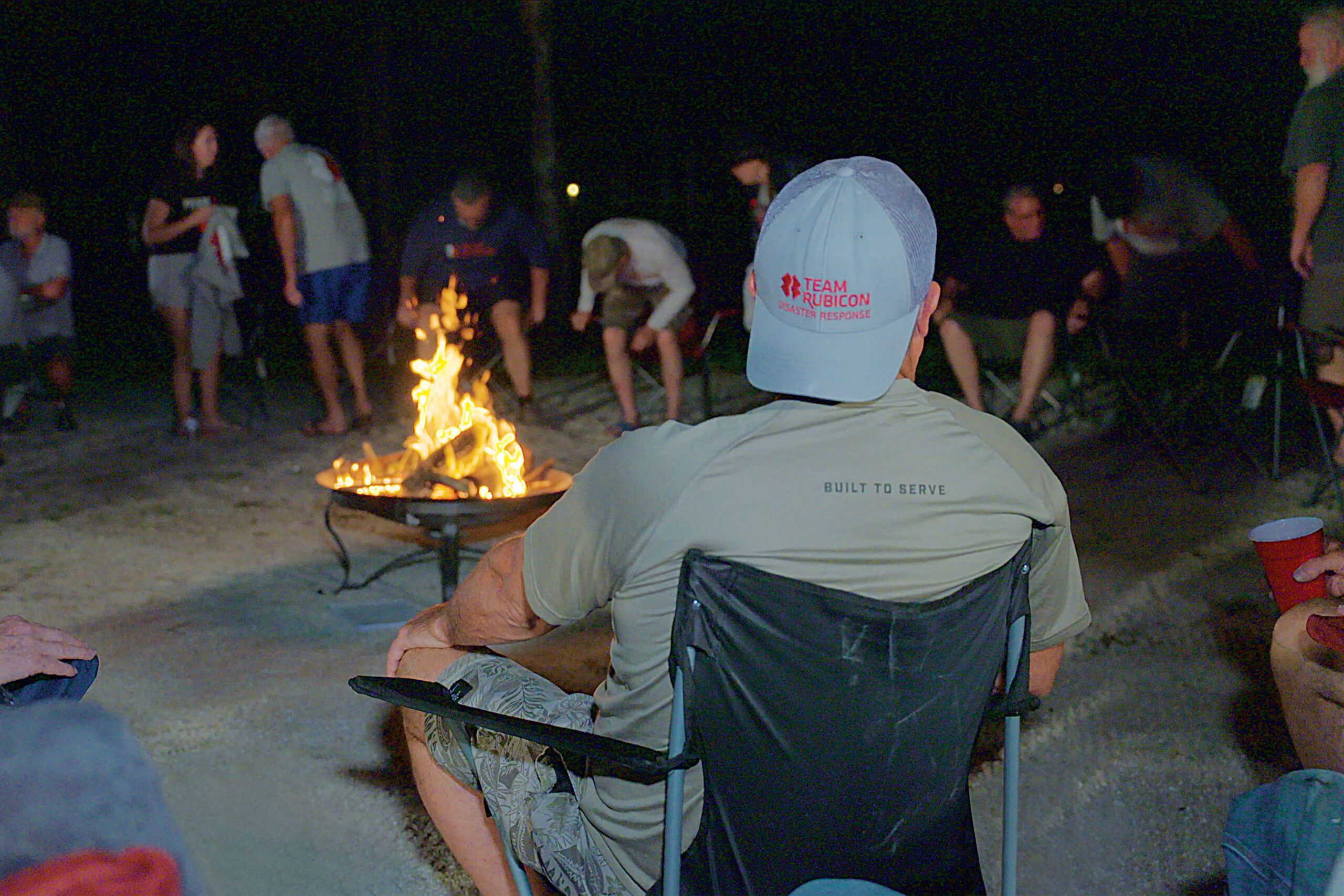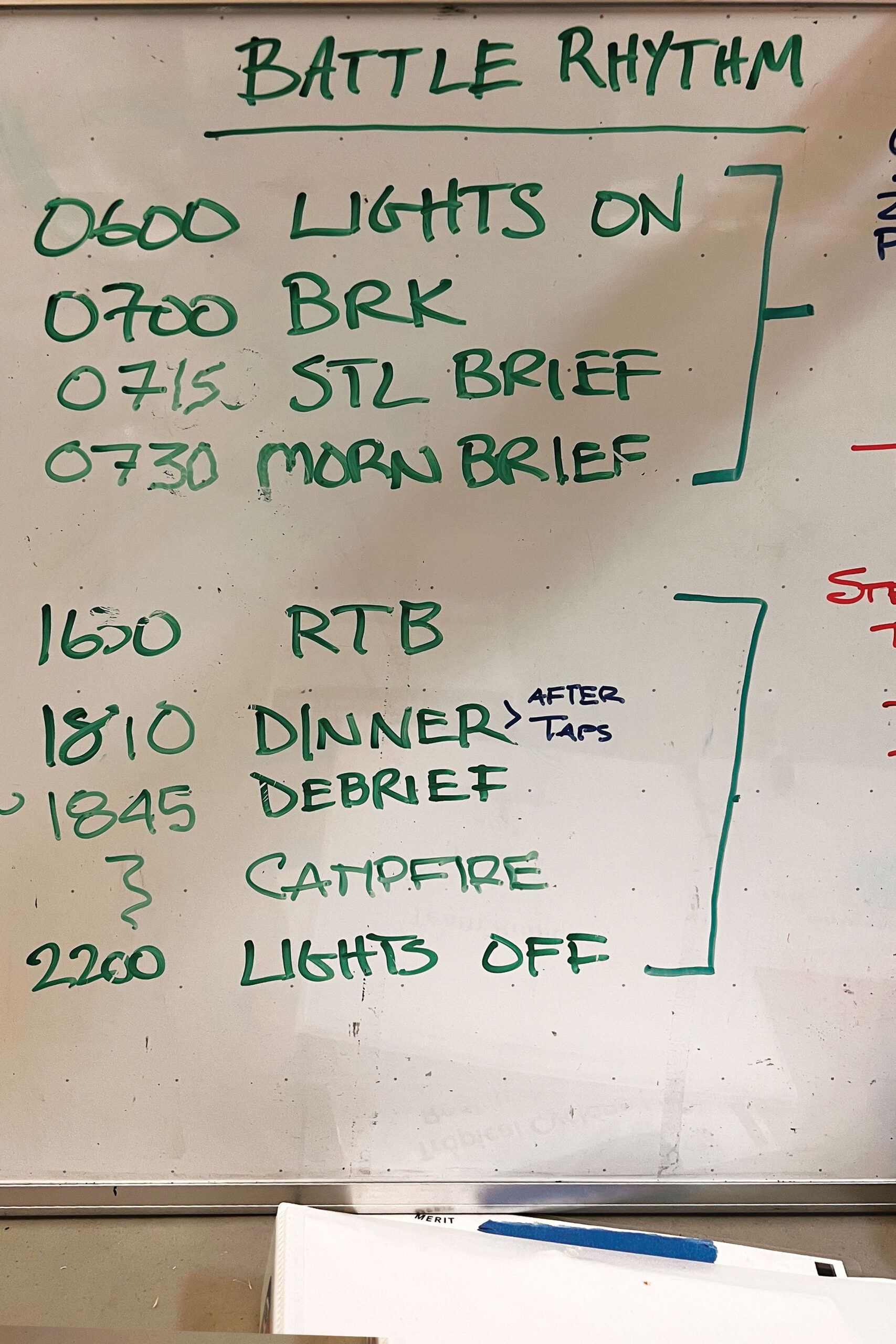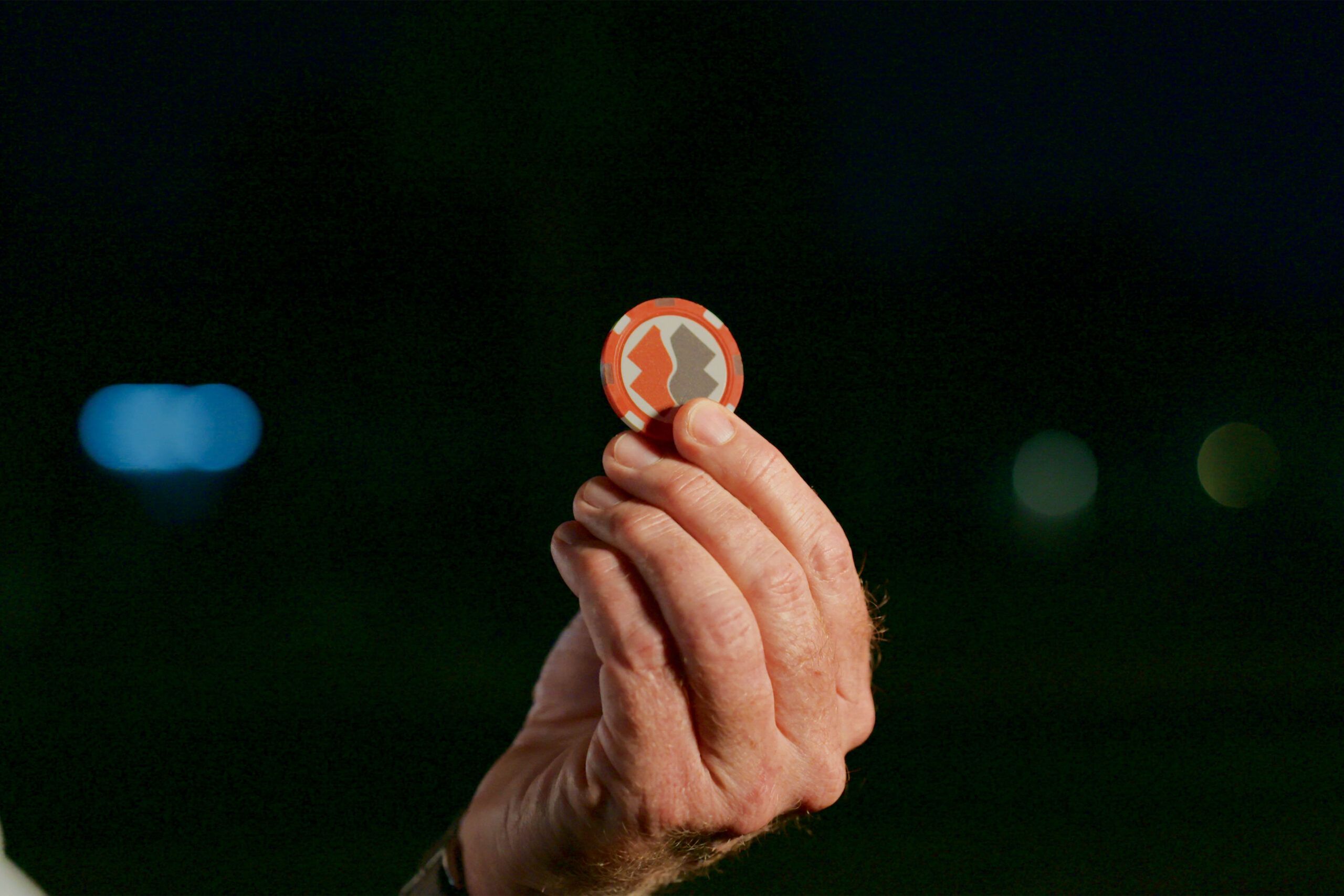 Every Team Rubicon operation, or op, follows a daily schedule that keeps the army of volunteer Greyshirts organized. It starts with a 6 A.M. wake-up, breakfast, and a morning meeting to receive orders for the day (1). After a day of exhausting, often emotionally charged work, it's back to base camp and the dinner chow line (2). Each dayends with a chance to share a story and unwind, usually around a campfire (3).

For the volunteers, this schedule is known as the "Battle Rhythm" (4), and there's a reason. The organization owes itsstart to military veterans. In 2010, former Marine Jake Wood, fresh from his service, rallied three buddies to help earthquake victims in Haiti. This dedicated cadre of four dubbed themselves "Team Rubicon" when they crossed from the Dominican Republic into Haiti by land, since the airports had closed. Without knowing it, they were launching a movement.

Thirteen years later, Team Rubicon has a roster of more than 150,000 volunteers, 70 percent of them veterans, and leads more than 100 disaster-response ops annually. The group's military DNA has proved to be the core of its success. "The veteran brings skills, leadership, safety, and process adherence—all incredibly important as you move through a disaster zone," says Art delaCruz, a Navy vet and Team Rubicon's CEO. He adds that the group's aid is more in demand than ever: "In 1980, the mean time between billion-dollar disasters was 83 days. By the end of 2022, it was 18 days."

Not only is the disaster-response work transformative for those whose homes have been damaged, but volunteering also helps veterans, some of whom struggle with reentry into civilian life. "Many Greyshirts say the daily routine and the ability to help others turned their lives around," says Kevin O'Connor, host of the Team Rubicon streaming series, who has done the meaningful work alongside them—with a few surprises. At one campfire, he was singled out for exceptional work with a Team Rubicon tradition, the gifting of a challenge coin (5). "I wasn't expecting it, I don't know if I deserved it, but I was proud to receive it," says Kevin. "And I'm proud to be a Greyshirt.

By Jill Connors