Hallway Helpers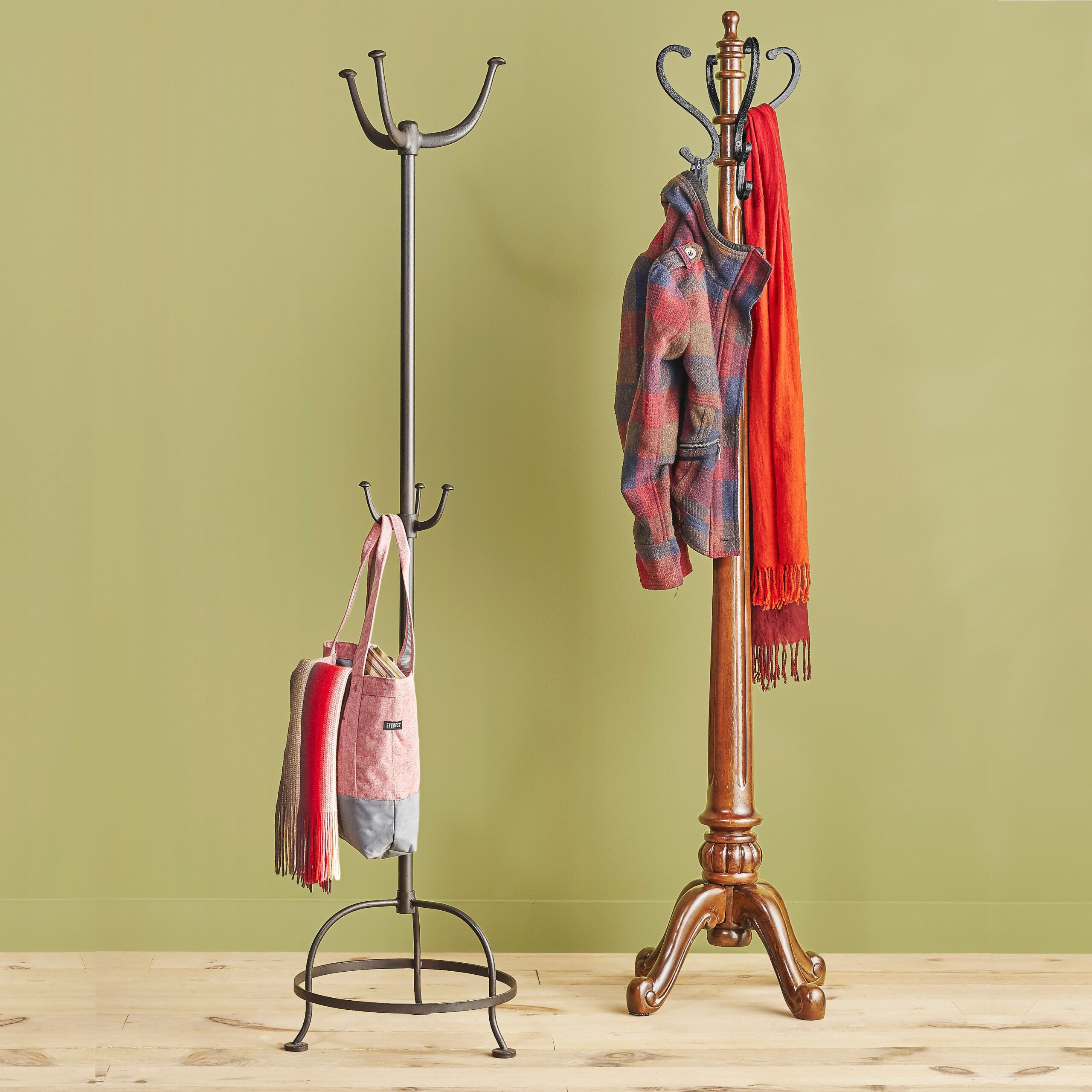 Old houses have many charms, but closet space isn't one of them. Wall-mount coatracks were standard until the mid-19th century, when elaborate entry built-ins with hooks, mirrors, drawers, and even benches became must-haves for well-to-do homeowners. (Callers needed a place to sit while waiting to be shown in, after all.)
That level of formality didn't last, but the idea of having a way station for outerwear did. The freestanding coat tree is a pared-down version of those Victorian-era built-ins, and by 1920 had become an entryway staple.
Lately, coat trees are seeing a resurgence as homeowners use them in tandem with coat closets: Out-of-season gear gets hidden away, while everyday essentials stand at the ready, on hooks large and small. Here, 10 trees to hang your hat (and coat) on.
Heavy Metal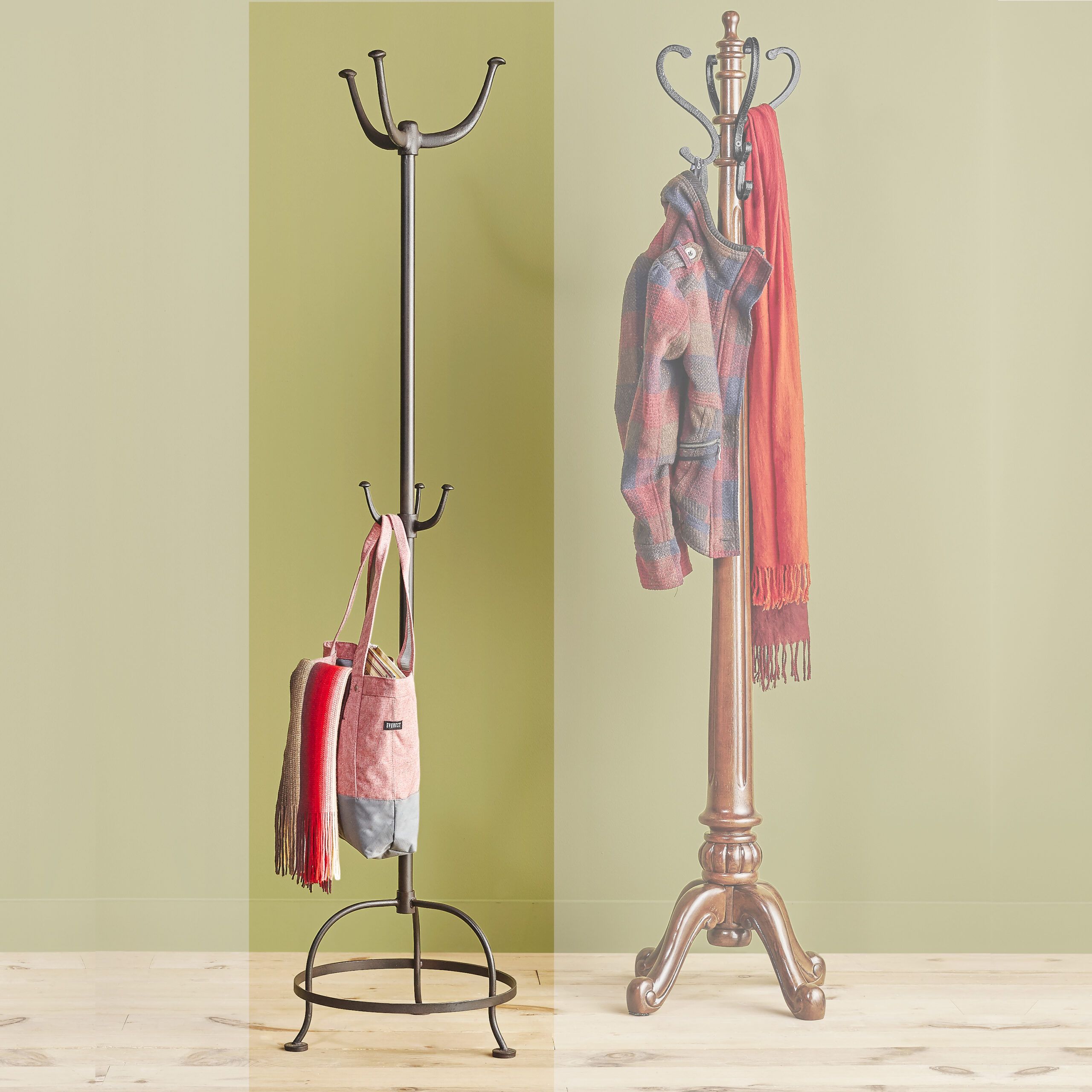 POTTERY BARN
Size: 67″ H × 15″ W × 15″ D
Highlights: A rough texture and a nearly black bronze finish give this steel tree the look of a hand-forged piece.
Cost: $99; Pottery Barn
Royal Treatment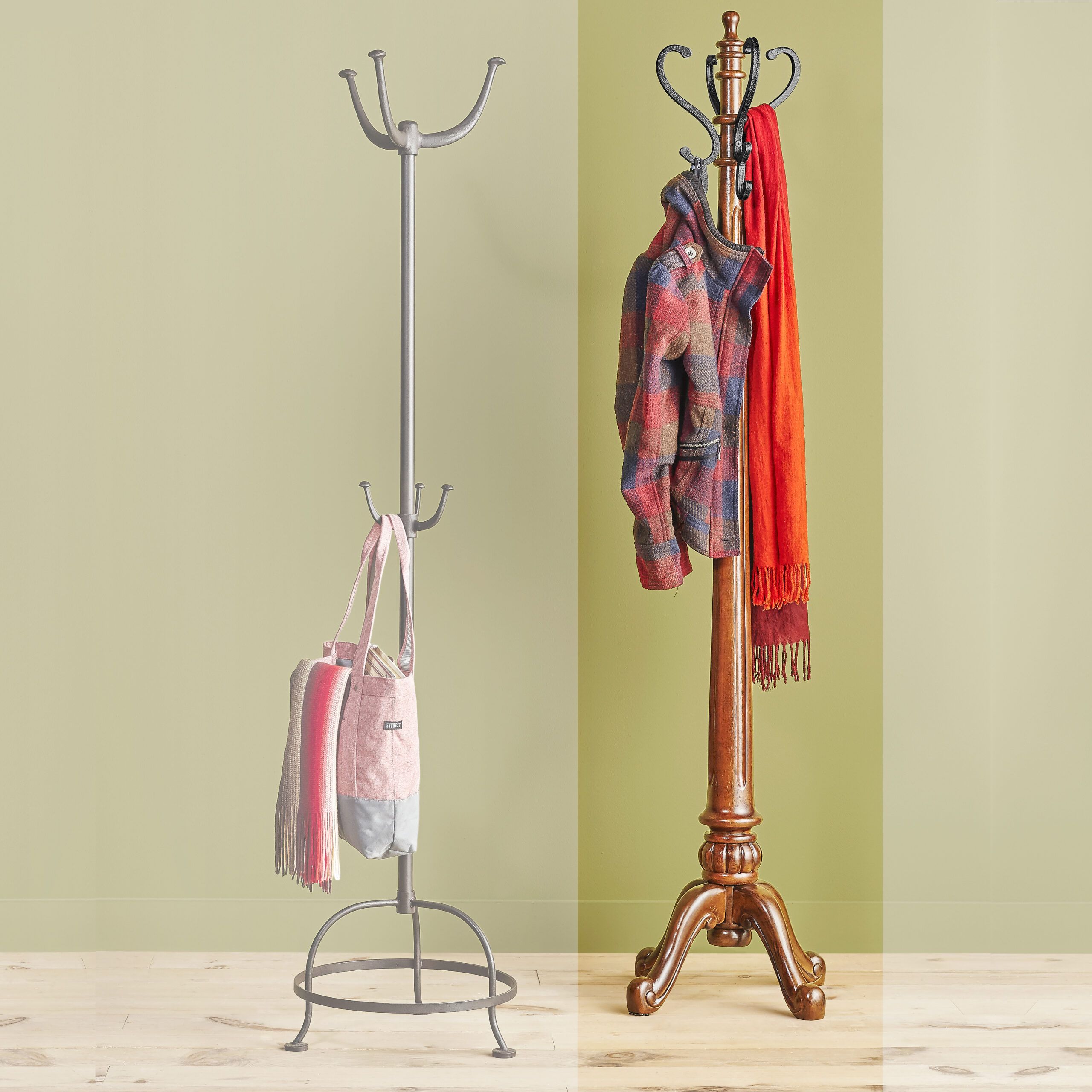 JOSS & MAIN
Size: 72.13″ H × 19″ W × 19″ D
Highlights: Queen Anne-style legs and hooks with a dark brass finish add antique flair.
Cost: $129; Joss & Main
On a Curve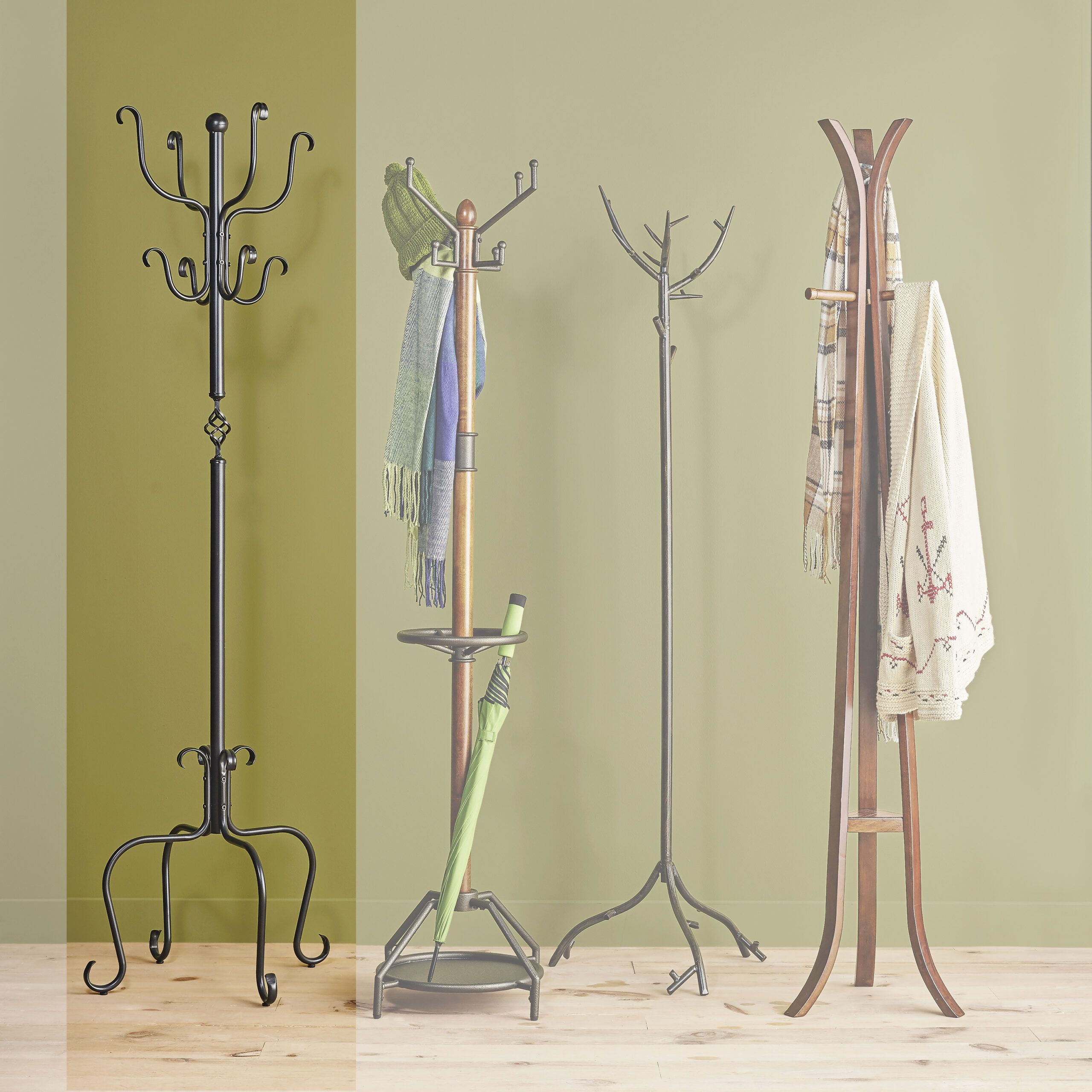 MONARCH SPECIALTIES
Size: 74″ H × 21″ W × 21″ D
Highlights: Snaking hooks that curl at the ends help collars keep their shape and give this hammered-steel tree a distinctive silhouette.
Cost: $37; Hayneedle
High and Dry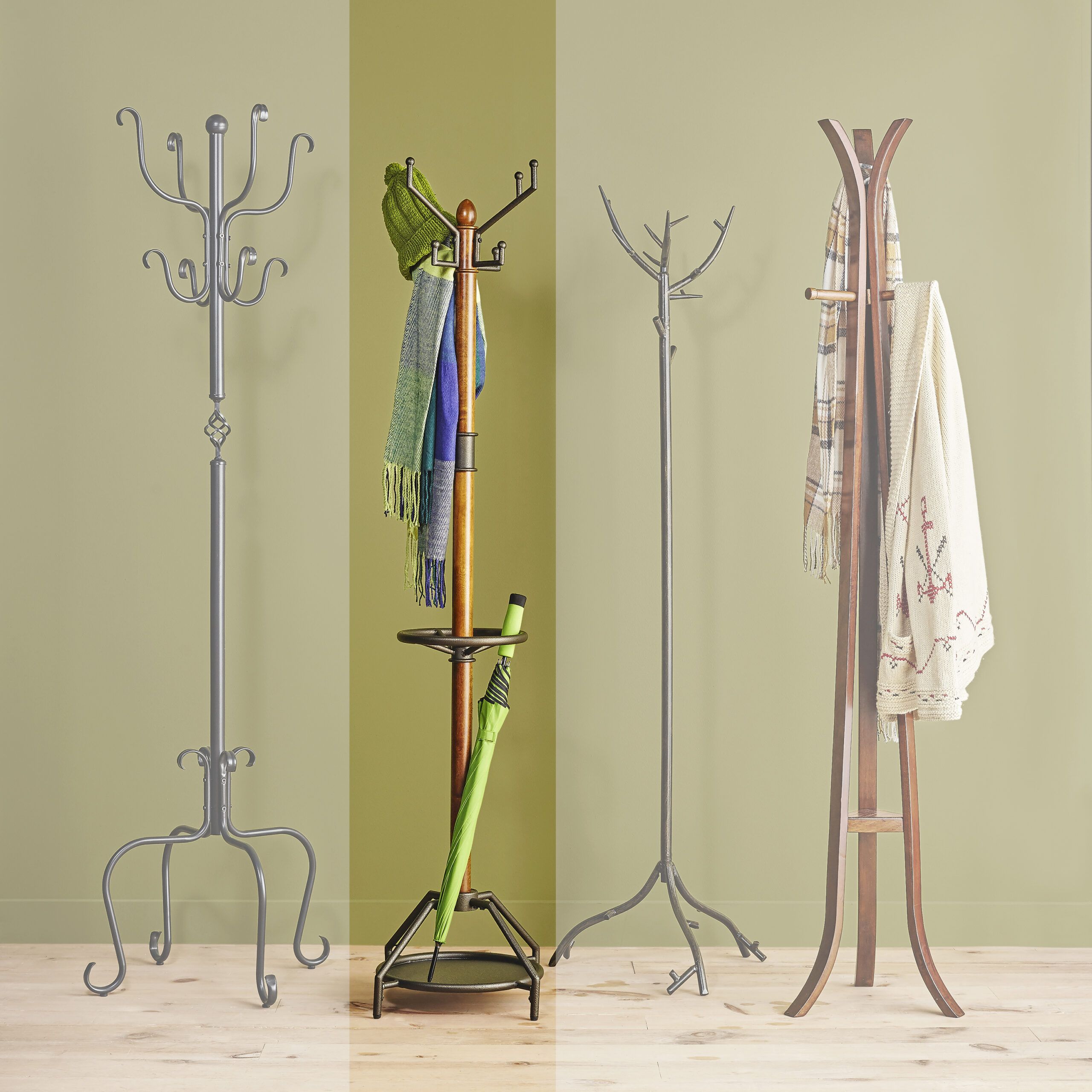 BED, BATH & BEYOND
Size: 74″ H × 22″ W × 22″ D
Highlights: A platform mounted on this coat tree's legs stops wet umbrellas from dripping on the floor.
Similar to shown: $60; Overstock
Branching Out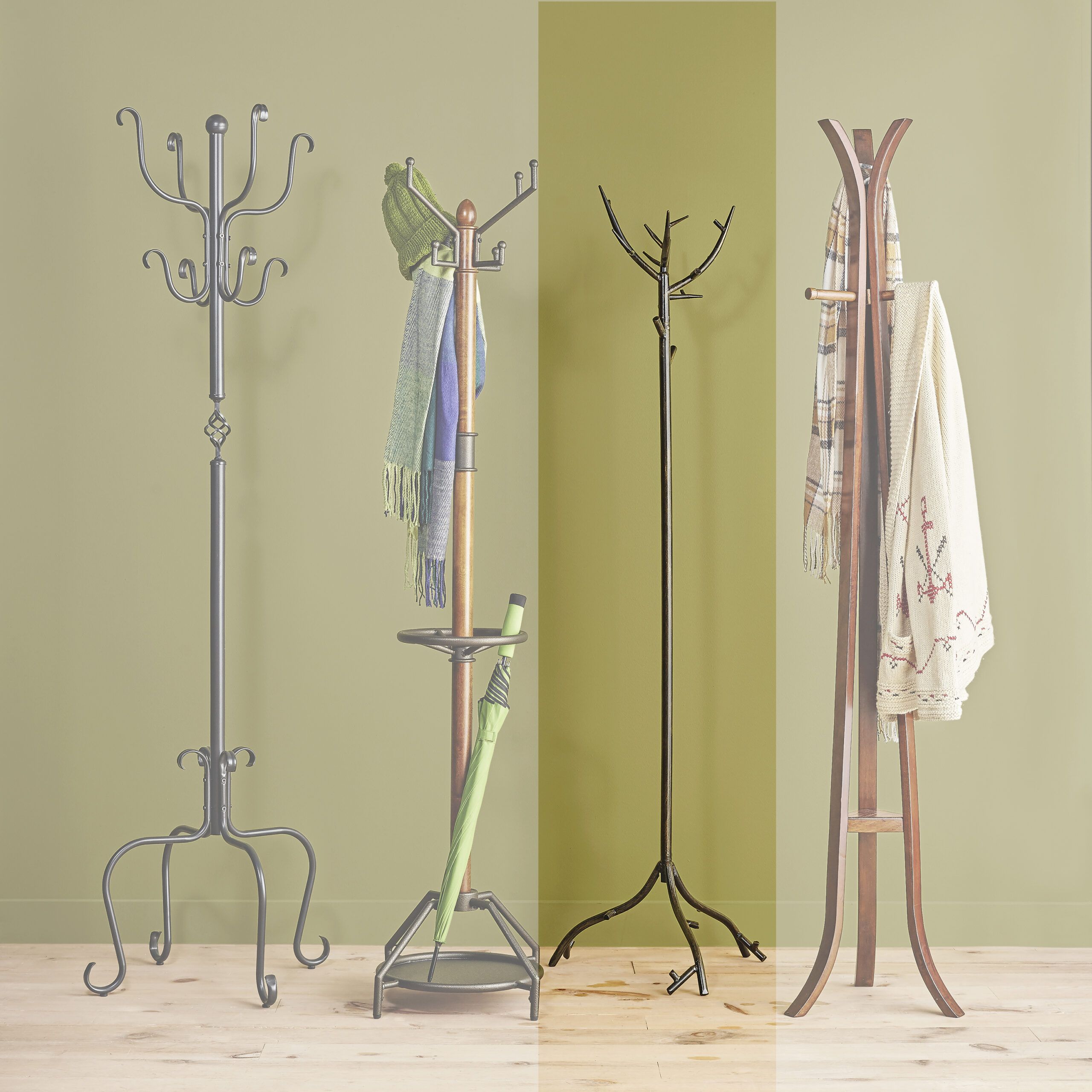 GRANDIN ROAD
Size: 69 1⁄4″ H × 19 3⁄4″ W × 19 3⁄4″ D
Highlights: This organic-looking cast-metal piece takes the "tree" idea quite literally, with a mix of pointed and "sawed off" hooks.
Cost: $99; Grandin Road
Sleek and Chic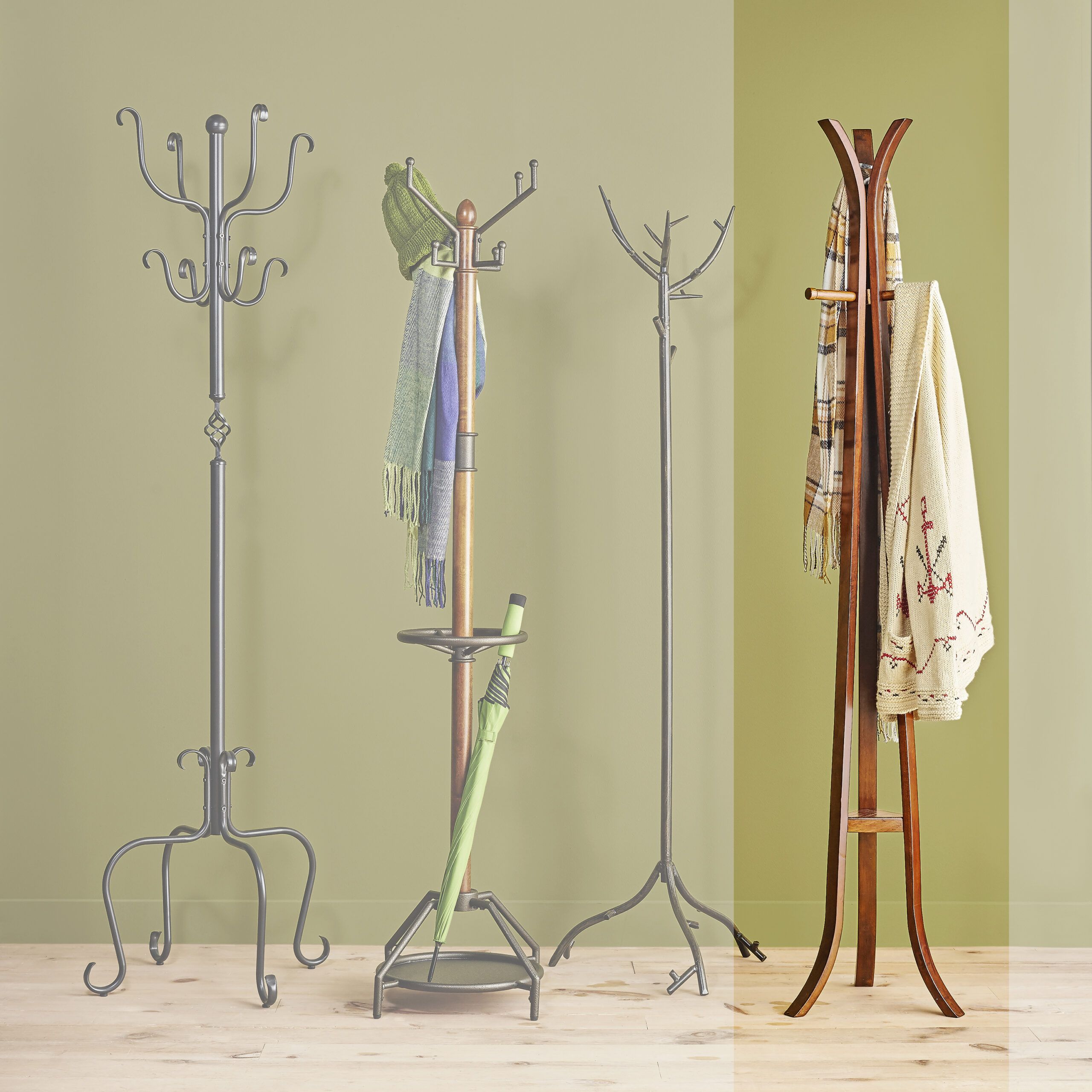 MERCURY ROW
Size: 72″ H × 19″ W × 19″ D
Highlights: Contemporary at first glance, this tree's clean lines and dark finish would look at home in a traditional setting, like a Craftsman, too.
Cost: $102; Wayfair
Colonial Classic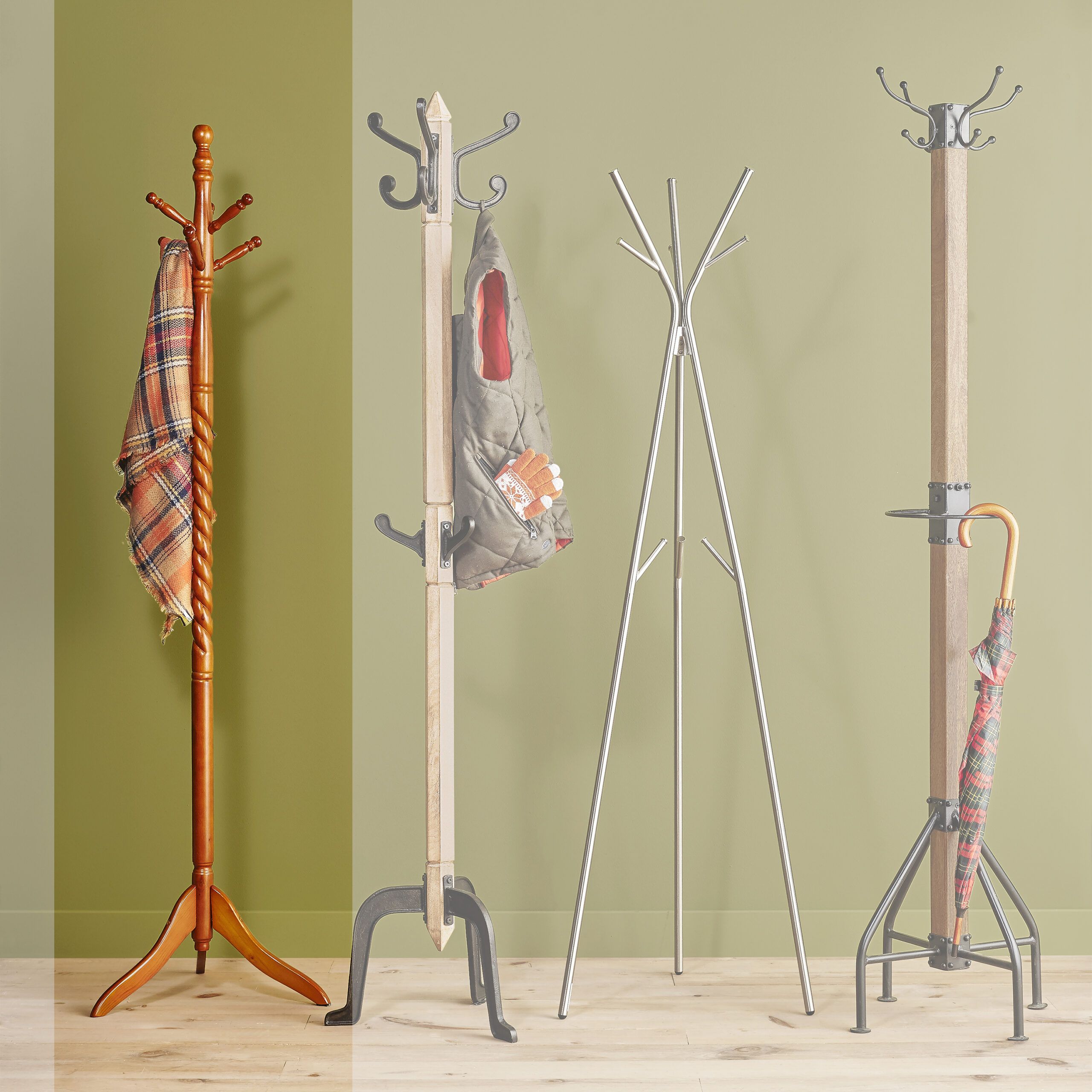 FRENCHI HOME FURNISHINGS
Size: 72″ H × 19½" W × 19½" D
Highlights: With turned details and a warm oak finish, this tree's modest scale is ideal for a small space.
Cost: $22; Home Depot
Rustic Style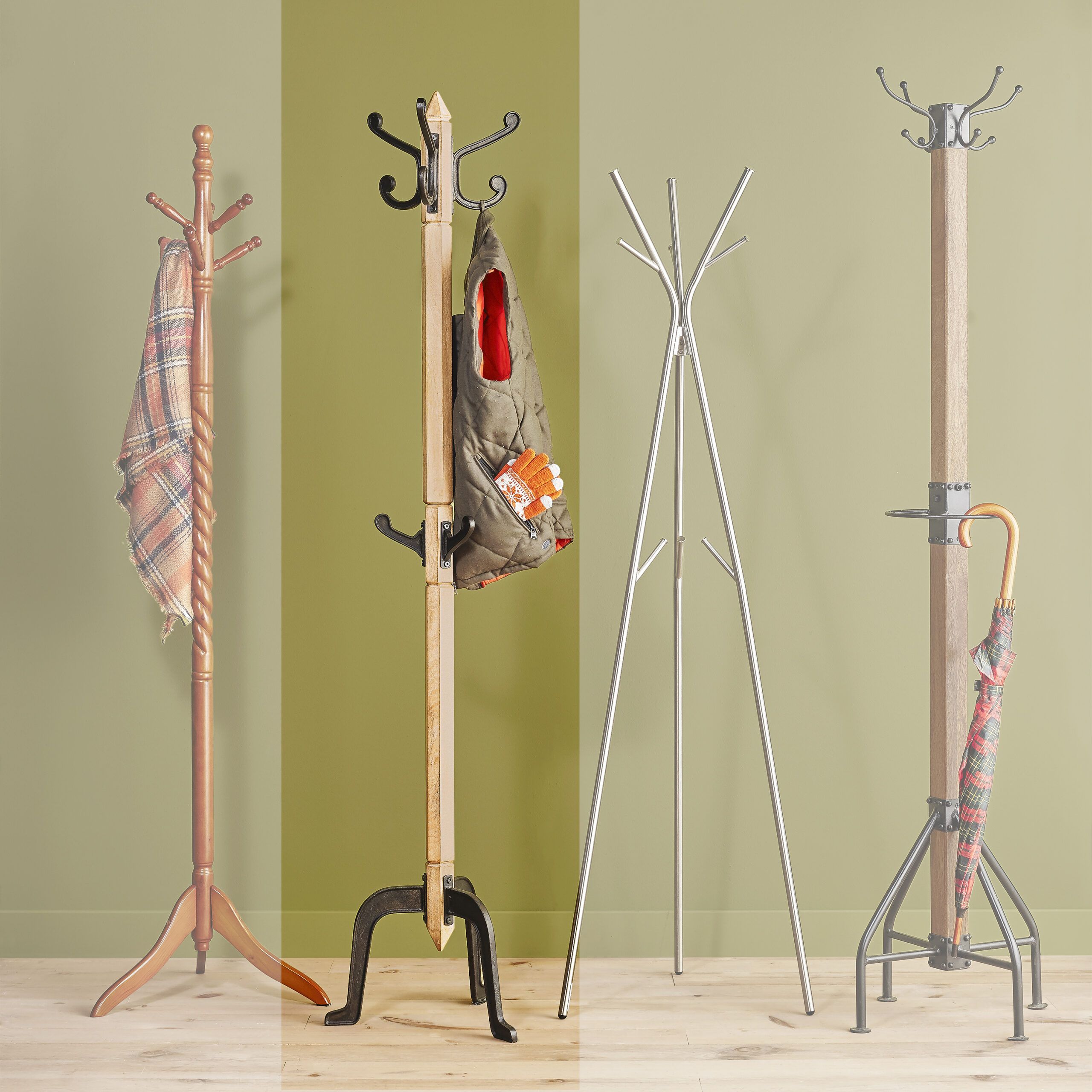 PIER 1 IMPORTS
Size: 72″ H × 15 3⁄4″ W × 15 3⁄4″ D
Highlights: Oversize harness-style hooks with a nearly black finish contrast with light-colored mango wood in this handsome version.
Cost: $180; Pier 1
Shine On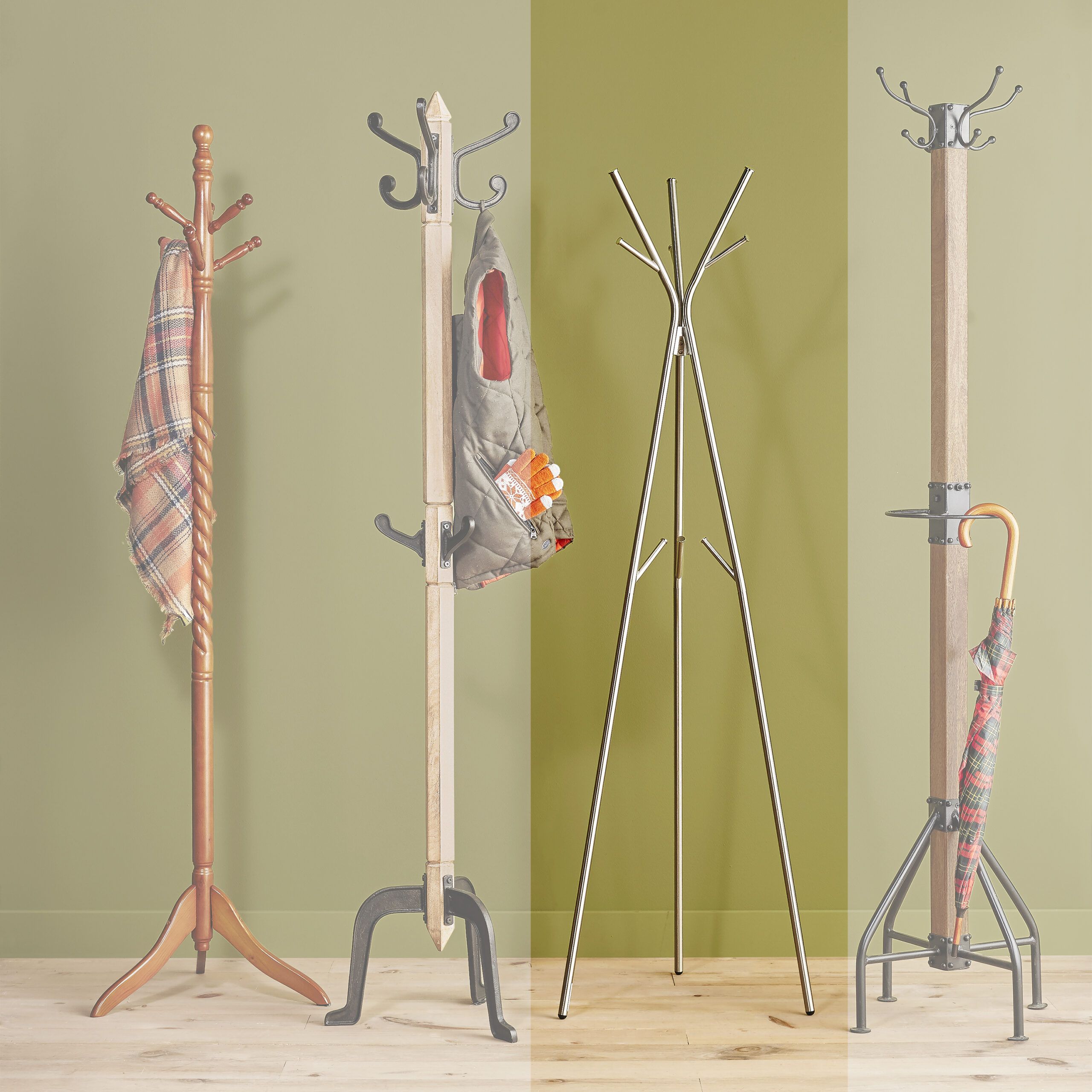 IKEA
Size: 66 7⁄8″ H × 21 5⁄8″ W × 21 5⁄8″ D
Highlights: A brushed-nickel finish enhances this streamlined steel tree; inward-facing lower hooks neatly corral smaller items in a dedicated space.
Cost: $25; IKEA
Tall Order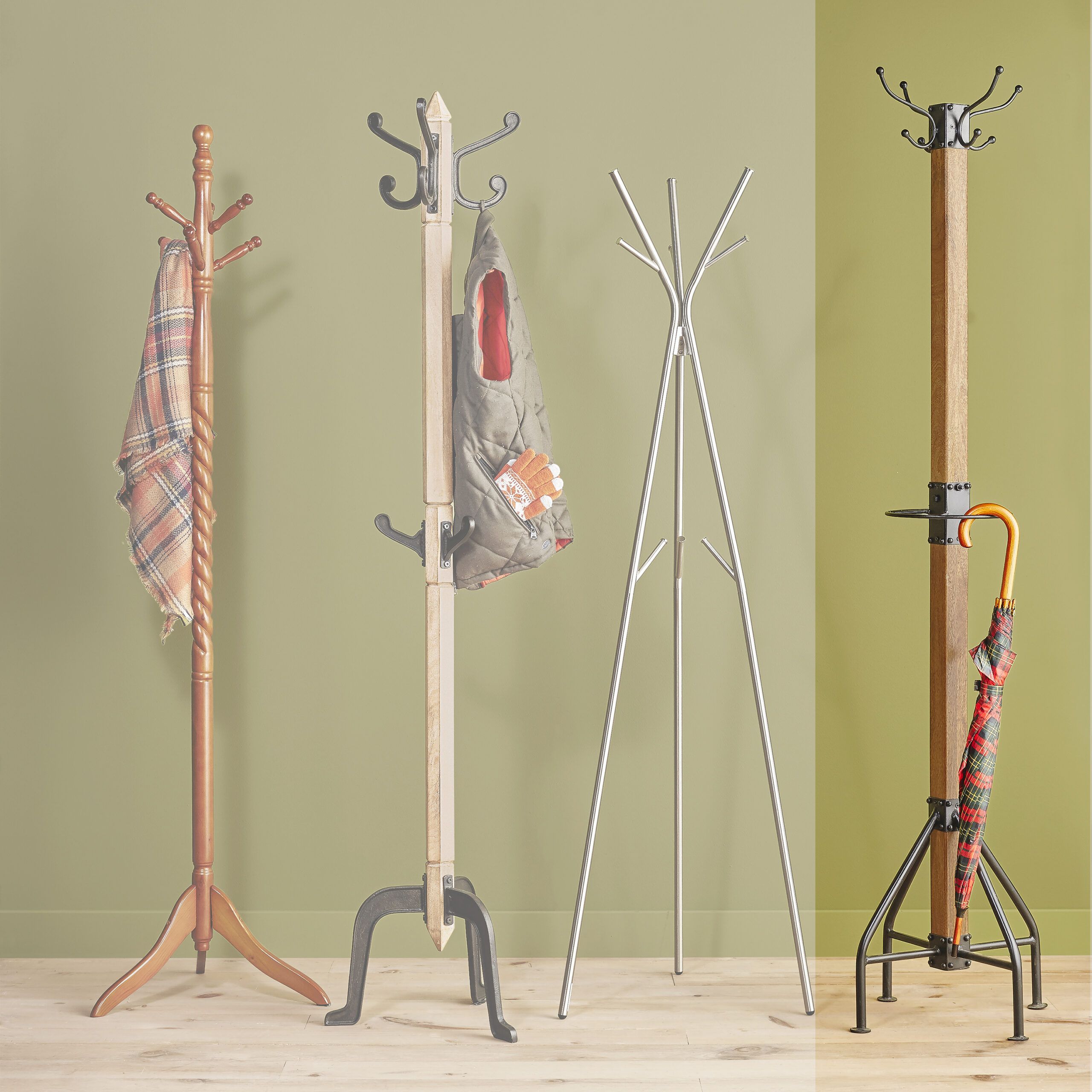 BIRCH LANE
Size: 74″ H × 18″ W × 18″ D
Highlights: Chunky metal accents and naturally weathered reclaimed wood give this especially tall coat tree an industrial appearance.
Cost: $143; Birch Lane