Holiday decorating can go from fun to frustrating in no time flat. And putting it all away can really be the pits.
To help you get it done, we've gathered a few clever storage solutions and some pro organizational tips from Lea Schneider, author of Growing Up Organized and a member of The National Association of Professional Organizers.
"If you take the time to stow decorations properly after the busy holiday season passes, next year will be easier," Schneider says. Here's how to store fragile holiday items, and save yourself a few headaches (untangling! dusting!) next holiday season, too.
How to Store Holiday Decorations
1. Artificial Tree Storage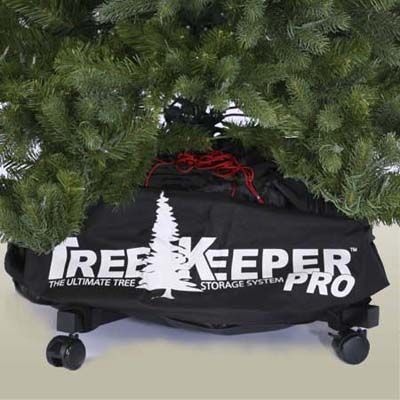 Artificial trees can last years and years with the proper care. Schneider suggests that you think about the weight of the tree before determining where to store it. "Most artificial trees are too heavy to wrestle into a trap-door attic or lug up a set of stairs. Consider storing the tree on the same floor as it is used, perhaps in an adjacent garage, storage room or closet," she advises.
A rolling case is a great option for easy moving. If you have the space, you can really save time next year by storing your tree without dismantling it. TreeKeeper bags with rolling bases are available in a variety of sizes. A heavy-duty plastic hook allows you to hang the bag from rafters in the corner of your attic.
About $160; TreeKeeper
2. Best Way to Store Christmas Lights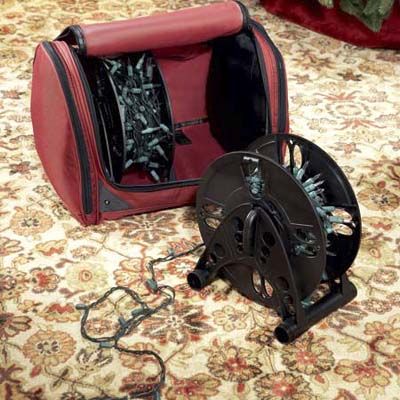 In a battle between a decorator and a wad of tangled lights, the lights will almost always win. The best way to store Christmas lights so they remain tangle free is to "Use a piece of masking tape and a permanent marker to label each strand. Your note can indicate how long it is or where it was used for easy replacement next year," advises Schneider.
Once that's taken care of, wrap the stands securely to prevent bulb breakage and tangling. The case shown here provides 2 reels inside of an insulated, zippered bag. Each reel holds up to 100 feet of lights and the removable spools make it safe and easy to maneuver around your tree or entry garland when relighting.
About $40; Christmas Lights Etc
3. Store Christmas Ornaments in an Ornament Chest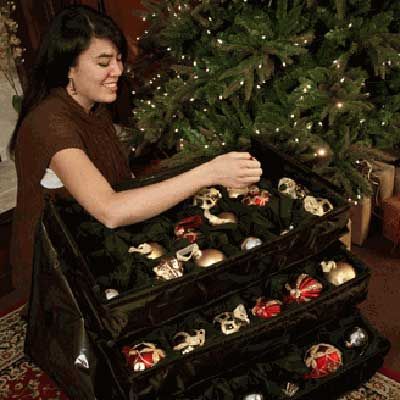 "Use an ornament container designed with layers and fill empty space around the ornament with tissue paper to prevent movement," says Schneider. The three lightweight, fabric-lined trays in this chest feature handles for easy access to each layer and plenty of padding. The tray dividers can be reconfigured to accommodate ornaments of just about any size.
About $105; Organize.com
4. Wrapping Paper Storage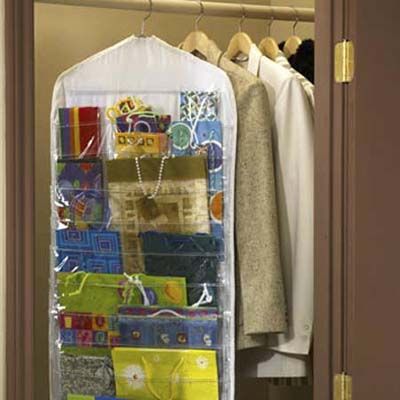 If you can't devote a small permanent area to crafts and gift preparations, put all your wrapping paper into an under-the-bed or hanging storage system. The Wrapping Storage Chest from Organize.com features inside pockets and compartments, as well as handles for easy pulling and carrying.
No room under the bed? Hang an organizer in a guest room closet. The Gift Wrap Organizer, also available from Organize.com, hangs when it's stored, then opens to a standing tabletop position when you're ready to wrap. This space-saving option for closets protects folded wrapping paper sheets, tissue paper, greeting cards, gift tags, and bags.
About $25; Organize.com or you can find a similar product for around $20 at Amazon
5. Holiday Villages and Collectible Storage Case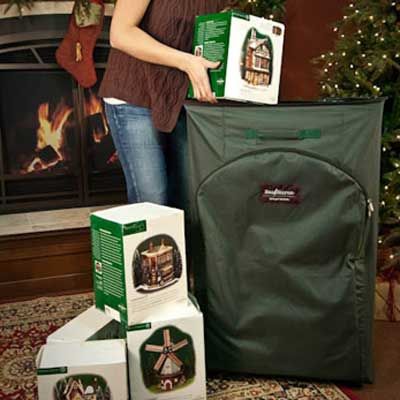 Schneider suggests that villages should be stored "in one or two cases or tubs by packing the buildings in first, then placing any snow, ground, landscaping or lighting on the top so that you can open the tub and immediately begin building next year."
If you pack your containers with what you'll need first on top, you can unpack and decorate as you go along instead of having to unload an entire case before getting started. Makes sense since this also puts heavier items toward the bottom and lighter components above. This bag holds up to 20 boxed village components, and features rear wheels and padded handles for safe, easy moving of all your little breakable houses at once.
About $89 on Amazon.com
6. Out-of-the-Way Elevated Storage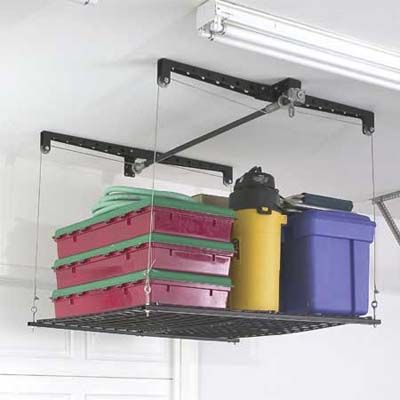 You've packed your holiday away into containers. Now what? "Try to sort decorations into a few categories, like indoor and outdoor so that you can decorate an area at a time without having to empty all your boxes at once," advises Schneider.
Then, anchor this system to your garage or attic rafters and stow your seasonal items here so you won't be tripping over them to get to your floaties and boogie boards in the summer. The sturdy lift features heavy-duty steel support beams and can hold up to 250 pounds worth of stuff. Hand-crank operation allows you to bring the shelf down to you for packing, then return it to it's overhead—and out-of-the-way—position.
About $185; ProStor Heavy Lift
7. Tarnish-Proof Silver Ornaments and Flatware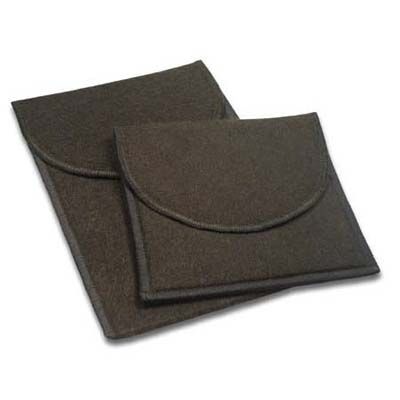 Store your silver with care and save yourself loads of polishing next year. Silver Guard provides a few different ways you can protect decorations and other seasonal silver items: Pouches made entirely of tarnish-preventing Pacific Silvercloth are available in over 40 sizes, and can be custom made.
You can also put 3M Anti-Tarnish Strips into a sealed enclosure along with metal items to keep them shiny for next year. Or you can, modify a container you already have by picking up a roll of Pacific Silvercloth and making your own custom lining.
Prices vary; SilverGuard.com
8. Hooks, Hangers, and Other Small Things Case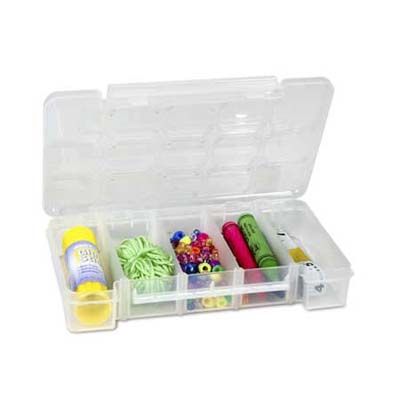 Having a few extra ornament hangers, twist ties and Zip ties on hand never hurts. This customizable 5-compartment storage case is meant to hold school supplies, but having one for your holiday small parts isn't a bad idea. The polypropylene case features adjustable dividers to accommodate any of your holiday decorating small parts, like those metal hooks you usually find scattered at the bottom of your ornament boxes.
About $4; Organize.com
9. Stacking Ribbon Dispenser Box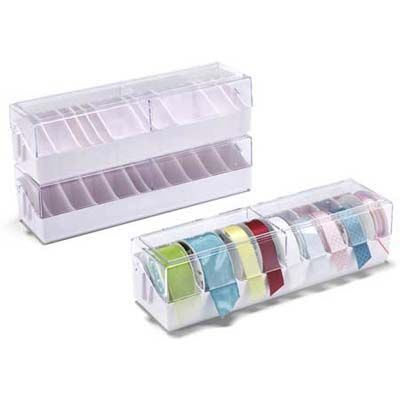 This case features adjustable interior dividers to hold ribbon spools if various widths. The case will keep your trimmings pristine and wrinkle-free, while making it easy for you to see what you have left over from last season. You can also opt to keep these out for use on birthday packages throughout the year, as side openings make the container a nifty dispenser, too.
About $12; Container Store
10. Crush-Proof Wreath Case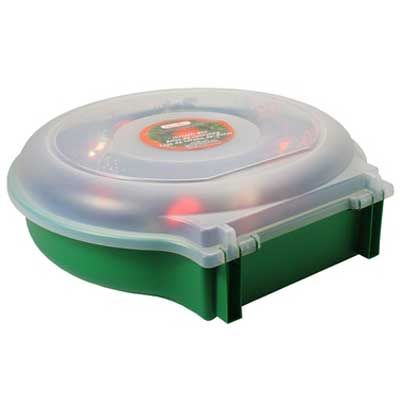 Fragile wreaths of dried berries and twigs could make it another year if they're stored carefully. Meanwhile, artificial wreaths can stay decorated and fluffy for next year. "If your wreath is particularly large or heavily decorated, consider wrapping it loosely in plastic and hanging it from a nail on an attic rafter or wall peg," advises Schneider.
You can also try one of these crush-proof containers. They may take up more space than their softer storage counterparts, but they'll do a better job protecting what's inside. They can be stacked, or hung on walls by mounting holes on the back.
About $19 for a similar product; Amazon.com
11. Stash Tree Skirts, Table Cloths, and Other Seasonal Linens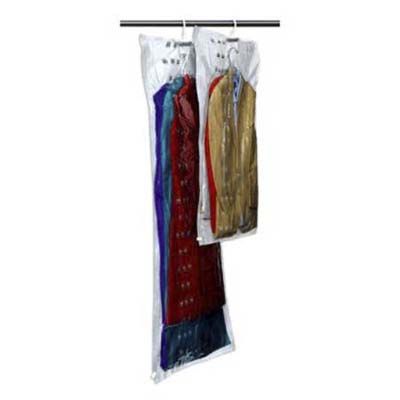 Keep your poinsettia-patterned tablecloths and heirloom tree skirt safe from moisture, mold, moths, and dust by storing them in a hanging vacuum-storage bag. Sure, the airtight space-savers are meant to compress up to 10 garments, but no reason you can't fold and hang clean seasonal linens, including plush winter throws, too. Next year, you'll unseal items that are as fresh as they were the day you stored them.
About $10-20; Bed Bath & Beyond