Built-in Spaces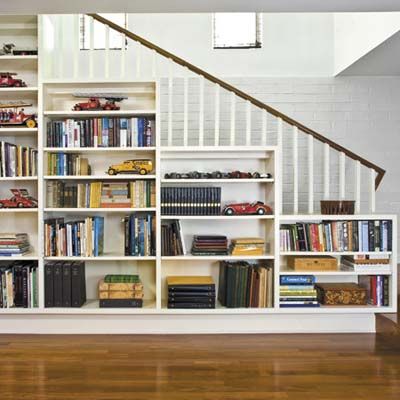 Nothing puts your square footage to better use than a built-in. Whether that means a desk framed within a seldom-used closet or a bookcase tucked into a niche beside the fireplace, built-ins maximize every available inch in your floor plan. They handily transform the dead zones under stairs and below windows into functional space and help you get organized by adding new storage options without adding on to your house. You can design them to tie in with other architectural elements in the room, such as crown molding and wainscoting. Fitted with doors, they help maintain the integrity of period interiors by concealing modern amenities like computer workstations or a mini fridge in a wet bar. You don't have to spend a fortune to get those good looks and the improved functionality, either. We'll show you a portfolio of carpenter-crafted and DIY designs, all to help you bring a sense of order and distinction to your rooms.
Here, bookshelf units of descending height cleverly make use of the otherwise dead space along a basement-level staircase. Constructed of solid 1½-inch lumber, the shelves are sturdy enough to support heavy loads of art and reference books along with display items.
Homework Alcove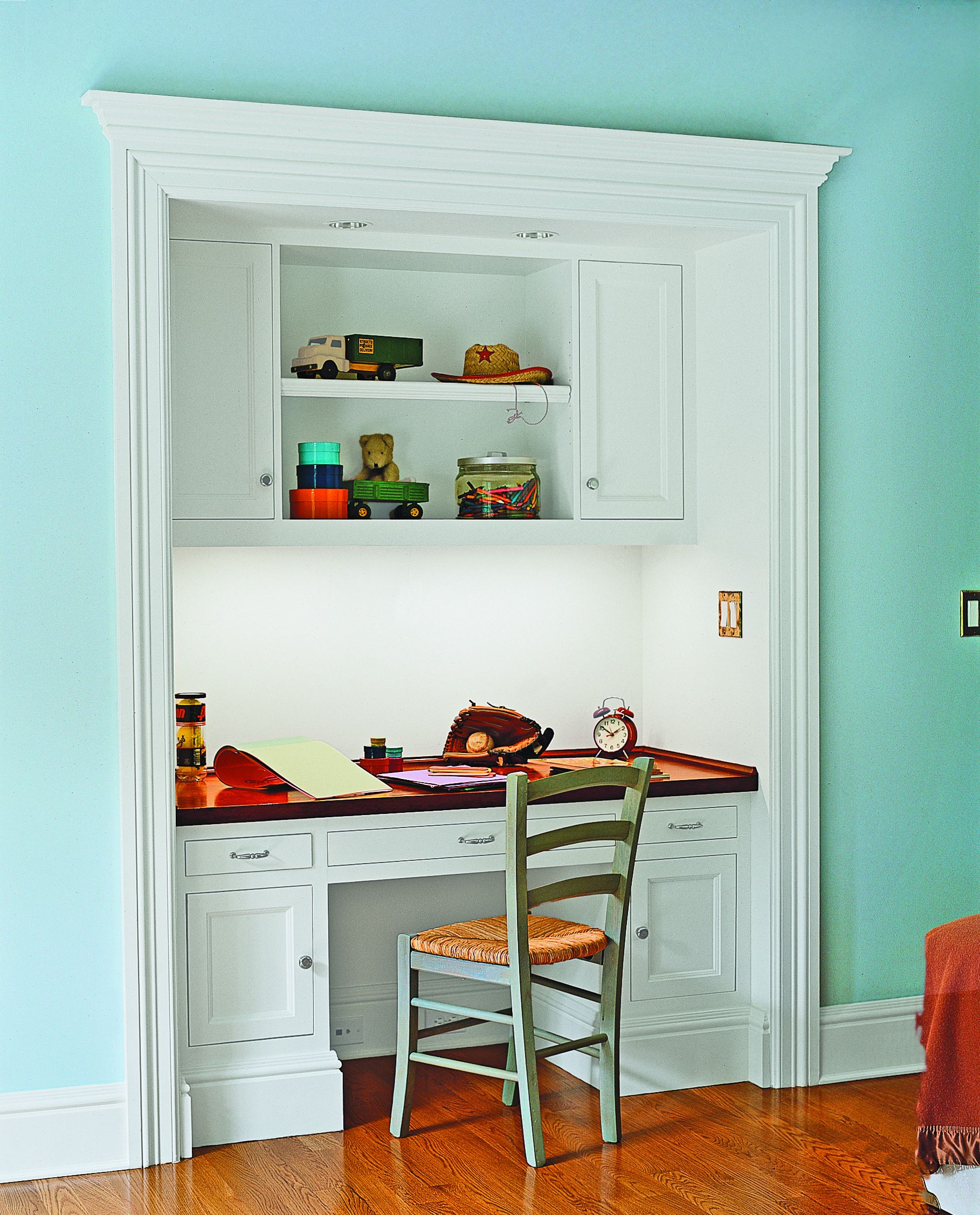 Recessed built-ins require more planning and construction than ones that attach directly to the wall, but they are the best choice for conserving precious floor space. This homework station in a boy's bedroom was designed by architect Jay Haverson to fit inside an alcove between a clothes closet and a bathroom. In new construction like this, framing out the area is simple. To retrofit an existing bedroom for a built-in desk, you could colonize a closet or steal space from an adjoining room for a bumpout. For a child's room, build with an eye toward the future: The desk is sized just right for a youngster, about 27 inches off the ground, as opposed to 30 inches for adults. In a few years, though, the top of the desk can be raised and mounted on fillers. "It's a nice, basic amenity to have in a bedroom," Haverson says of the built-in homework station, but the same setup also works well in a home office or den.
IDEA: Save desk space by building in lights, such as recessed cans or the pucks used here. Use high-intensity, long-lasting xenon bulbs, and position the light switch within arm's reach. Don't forget to include power outlets and phone and data lines nearby.
Integral Bar Cabinet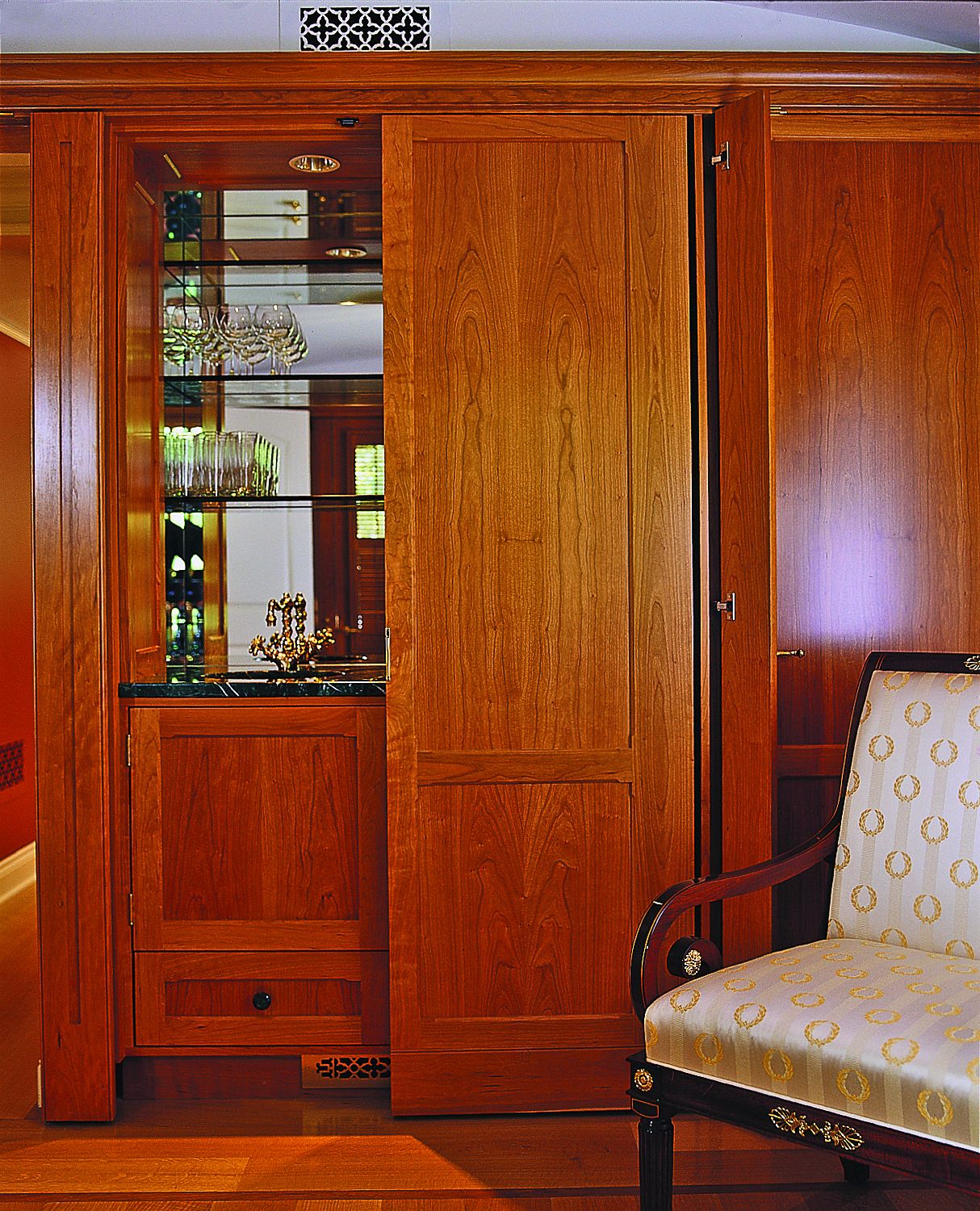 Built-ins concealed behind doors offer the perfect hideaway for food and beverage prep or work areas that might otherwise mar the appearance of stylish living spaces. Case in point is this wet bar designed by architect Stuart Disston for a clubby sitting room. When not in use, the bar's mini fridge, sink, glasses, and half-empty booze bottles are completely hidden behind doors that mimic the surrounding cherry wall paneling. Come cocktail time, the doors open out into the room, slide back into recesses flanking either side of the bar, and then disappear behind hinged trim boards that close snugly over the openings.
IDEA: Use the back walls of built-ins to boost aesthetics and function. The mirrored panel above adds depth to both the bar and the room. A cork back in a built-in desk (see photo at right) is ideal for tacking up notes and pictures.
Stand-up Desk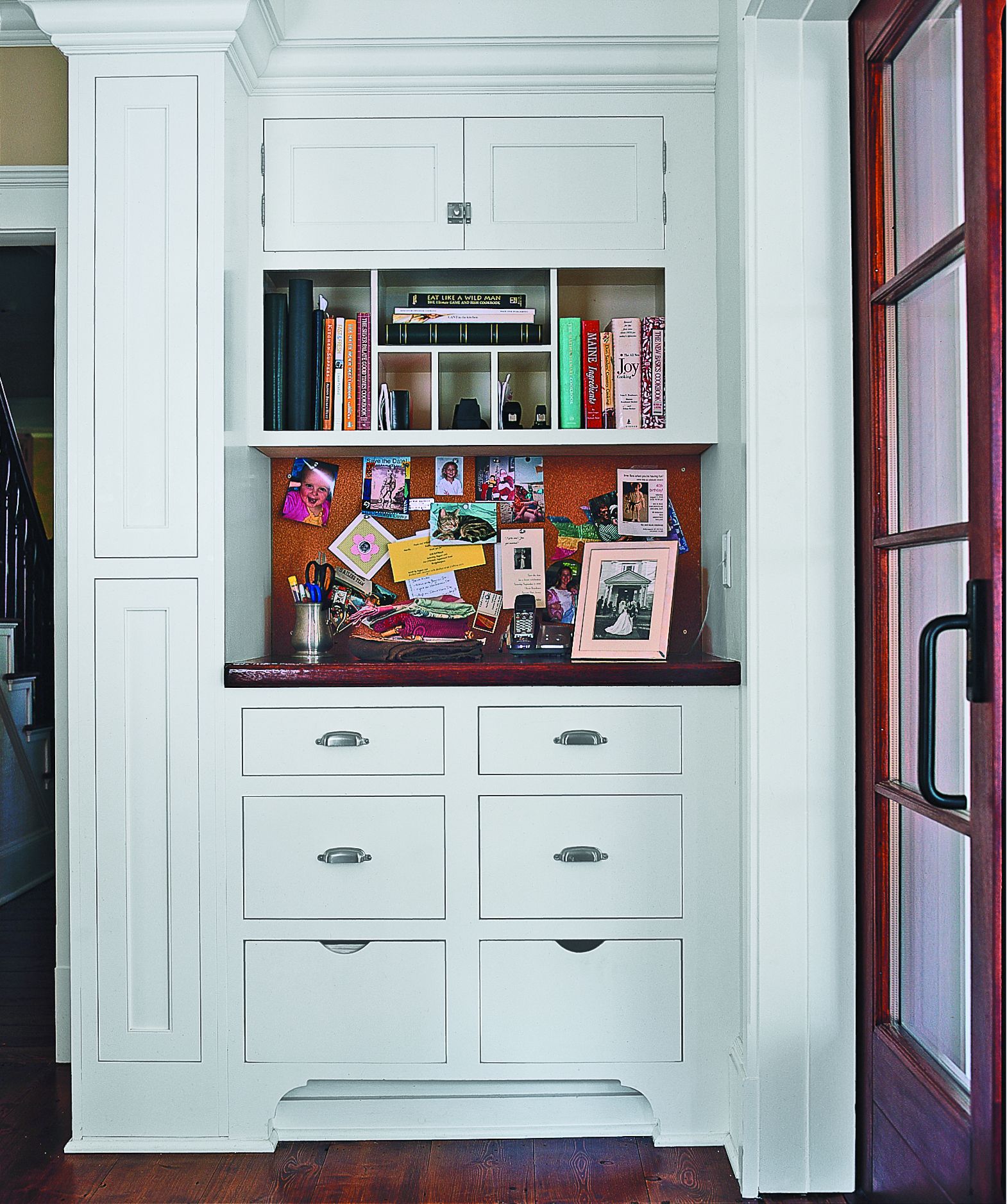 The ability to tailor built-ins to suit your particular needs and floor plan gives them a functional advantage over store-bought furniture. Instead of a space-hogging sit-down desk for this kitchen office, designer Scott W. Smith tucked a stand-up command center into a narrow sliver of wall between the hallway into the room and doors leading to a screened-in porch. Eliminating the need for a chair kept the high-traffic area clear of obstacles and also freed up room for three rows of drawers under a 36-inch-high, stained-wood countertop. The top drawers hold office supplies, the middle ones are for hanging files, and the bottom ones stow newspapers and catalogs until they're ready to be dumped into the recycling bin. Cubbies above the desktop are for organizing mail and cookbooks, and the latched doors up top hide phone books. Floor-to-ceiling shelves on the hallway side of the built-in create even more usable space, while a recessed toekick on the kitchen-facing side helps give the entire piece an elegant, furniturelike look.
IDEA: The beauty of built-ins is that you can customize them to work best for the people who will use them most. Thirty-six inches is standard counter height for a stand-up desk, but you can vary the height so it's comfortable for you.
Under-Window Cabinet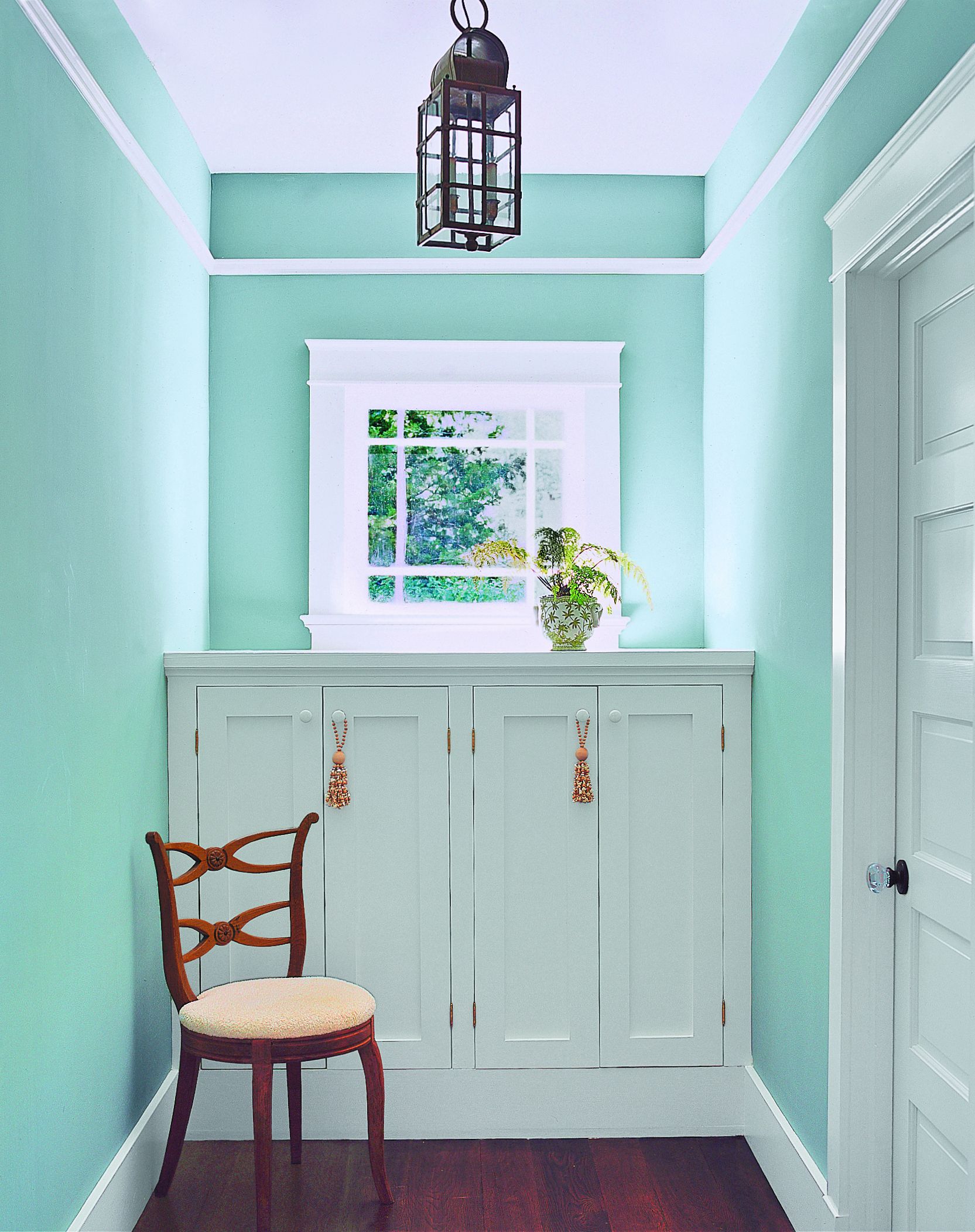 The area below a window—often given over to houseplants and little else—presents an excellent opportunity for creative built-ins. Anthony Vermandois, the architect for this 1920s Craftsman-style bungalow renovation, singles out the window- cabinet pairing as "a mutual coming together" that turns dead space into usable square footage. The chest-high cabinets provide plenty of space for storing family china. Positioned directly under the sill, they add visual heft to what the designer considered to be an overly small window that was the sole focal point at the end of a long hallway. A similar under-window cupboard could hold linens off a bedroom or extra towels and toiletries outside a bathroom. Without doors, a cabinet could be used to display books and pottery below the window on a large stair landing.
IDEA: For a snug fit between the unit and the wall, remove existing baseboards and crown molding before you install a built-in. For the truly integrated look seen here, extend new matching molding around the built-in wherever it intersects with the original trim.
Columned Room Divider
In cavernous family rooms, built-ins can graciously carve out more intimate spaces and designate zones for specific activities, from dining and lounging to working and entertaining. The owners of this Colonial Revival–style home wanted a portion of their large great room to serve as a kind of private living room and study where they could relax with a good book or catch up on office work. Rather than split the large space in two with a solid wall, architect Mark Hughes designed a less imposing columned divider with built-in bookshelves and cabinets. A wide, open area at the top preserves the great-room feeling without sacrificing the coziness of the separate living and working spaces. On the office side, study carrels and shelves hold a selection of the homeowners' weighty legal books (both are lawyers). On the living room side, the open cubbies are lined with natural cherry wood; the closed cabinets below hold more books and memorabilia.
IDEA: Use built-ins to mask structural members. The hollow wooden column seen at left perfectly conceals a 3-by-4-inch steel post that supports the ceiling's load and the master bathroom upstairs.
Stair-Wall Wine Cellar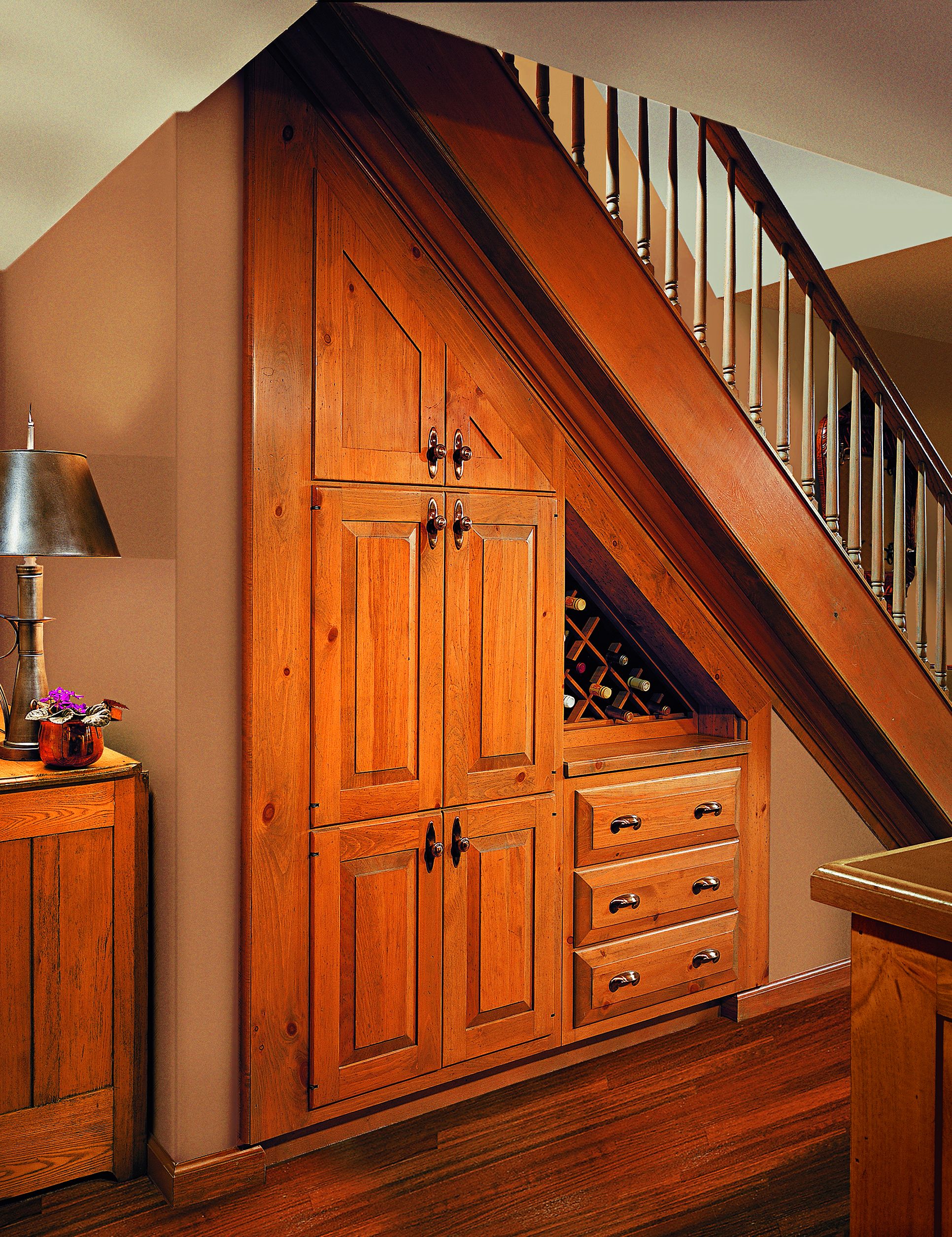 Unless you've got a Boy Wizard bunking under your stairs, chances are you're not putting the space to very good use. In this case, the kitchen designer made the neglected area a stylish focal point where the homeowners could store and display their favorite wines. Glass decanters and stemware are concealed within the stained-pine cabinetry, and paraphernalia like corkscrews and coasters live in the drawers. The triangular treatment looks difficult to design and install, but the majority of the space is occupied by standard rectangular cabinets and drawers. Only the top cabinet and bottle rack required special cuts and assembly. "Getting a proper fit all depends on how well you can measure and get the dimensions to work out," says John Troxell, director of design at Wood-Mode, the company that made the cabinets. Wide trim boards on the top and sides of the unit help hide any unsightly gaps or scribing where the cabinets were inserted into the wall cavity.
IDEA: Keep dust from collecting in glasses or stored china by using built-in cabinets with doors instead of open shelving. Choose from solid wood doors, ones fitted with glass panes—popular in kitchens—and hinged tempered-glass panels.
Fireplace Niche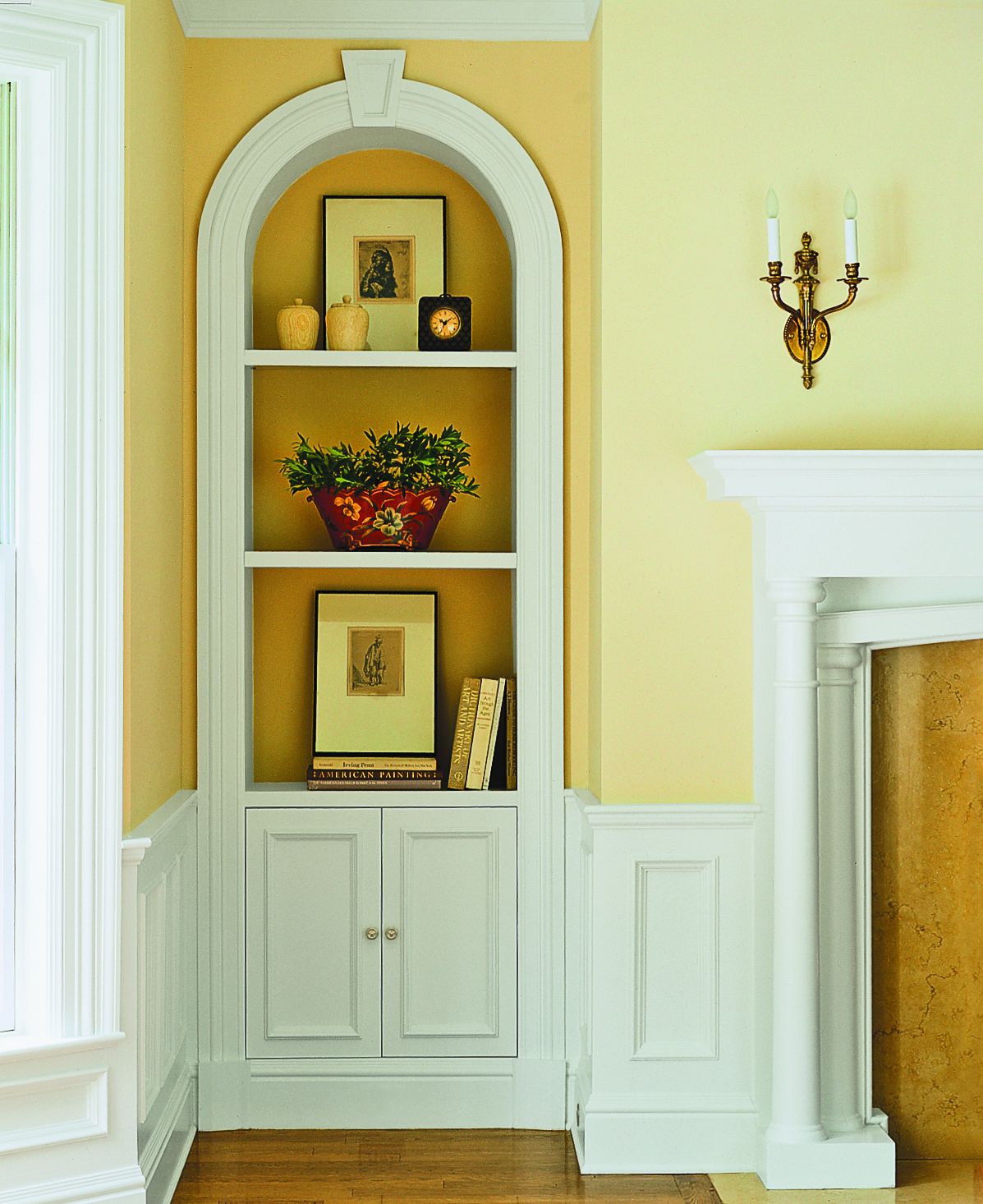 A chimney bumpout naturally creates recesses on either side that are ideal for built-in bookshelves and entertainment centers. For this niche beside a fireplace in a newly constructed home, architect Jay Haverson designed an open display case with a closed cabinet underneath. A neoclassical arched top is reminiscent of details found in early American interiors. The main difference is that the backs of those old niches were often curved like the inside of a barrel. But Haverson's clients wanted a squared-off back to hold books and other standard-size items. The cabinets below hide objects, like a box of long fireplace matches, that the homeowners wanted to keep handy but not out in the open.
IDEA: Construct a platform to raise built-in cabinets 2 to 4 inches off the floor so doors will swing freely on their hinges. This is especially important in old houses with uneven floors that can cause doors to stick.
Mudroom Bench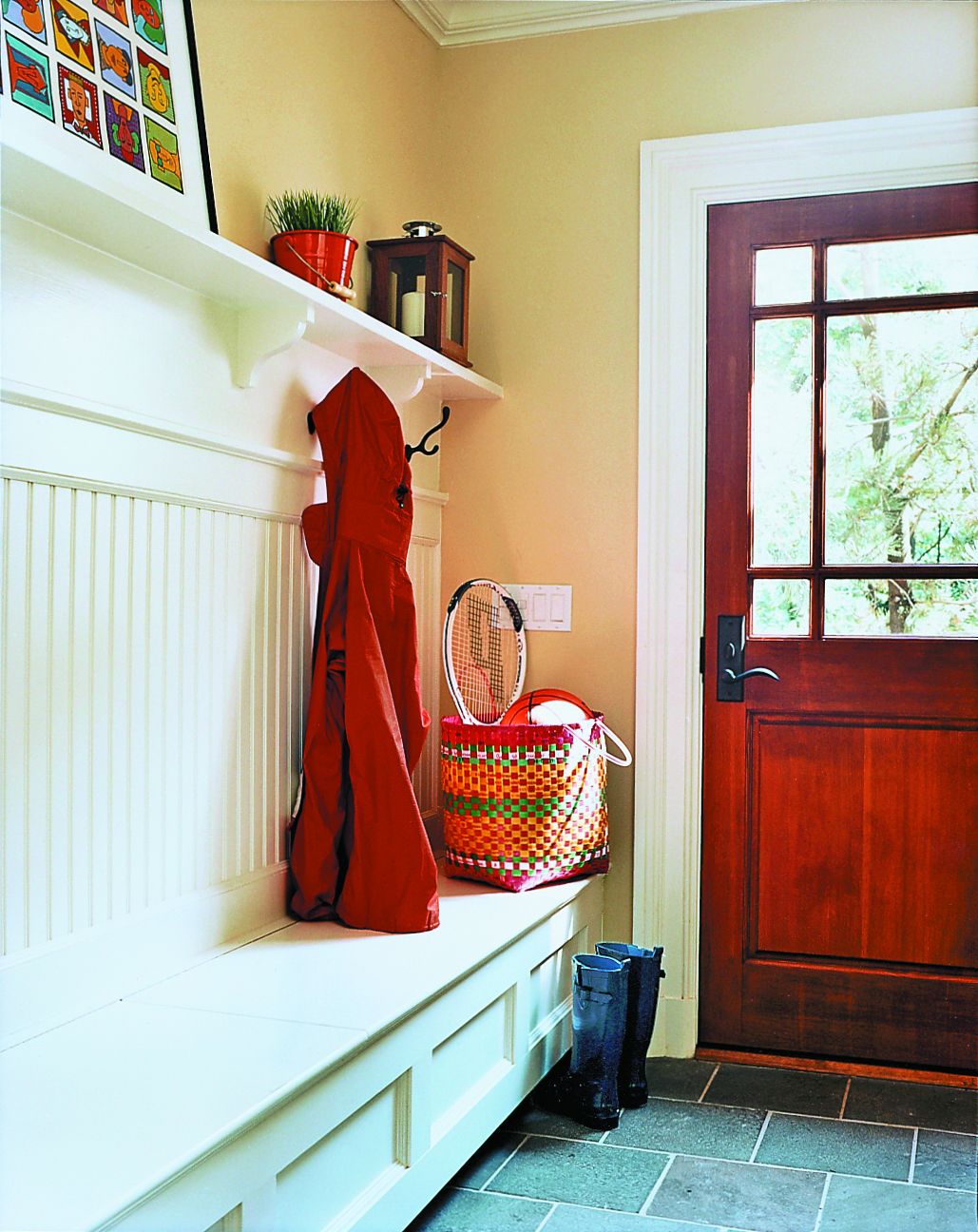 Entries to any home are unfortunate magnets for clutter. The trick to mudroom organization is providing storage options for gear throughout the seasons. As part of the renovation of a 1908 home, architect Carol Kurth used built-ins to create a drop-off point for whatever the homeowners' children could truck in or out. The adjacent door leads not only to the driveway but also to the family's pool, so Kurth designed a hinged-top bench with an inside cavity that's large enough to hold soccer balls, ice skates, and swim gear. A sliver of space under the bench lets the family slip the tips of their shoes or boots underneath to keep them from spreading out across the floor. The homeowners currently use the top shelf for display, but its 12-inch depth can easily accommodate storage bins or baskets. The hooks are for hanging jackets, umbrellas, and pet leashes.
IDEA: Choose durable oil-based paints instead of latex for any surface that is going to take a beating, such as frequently used shelving and benches.
Wall-Ordered Wardrobe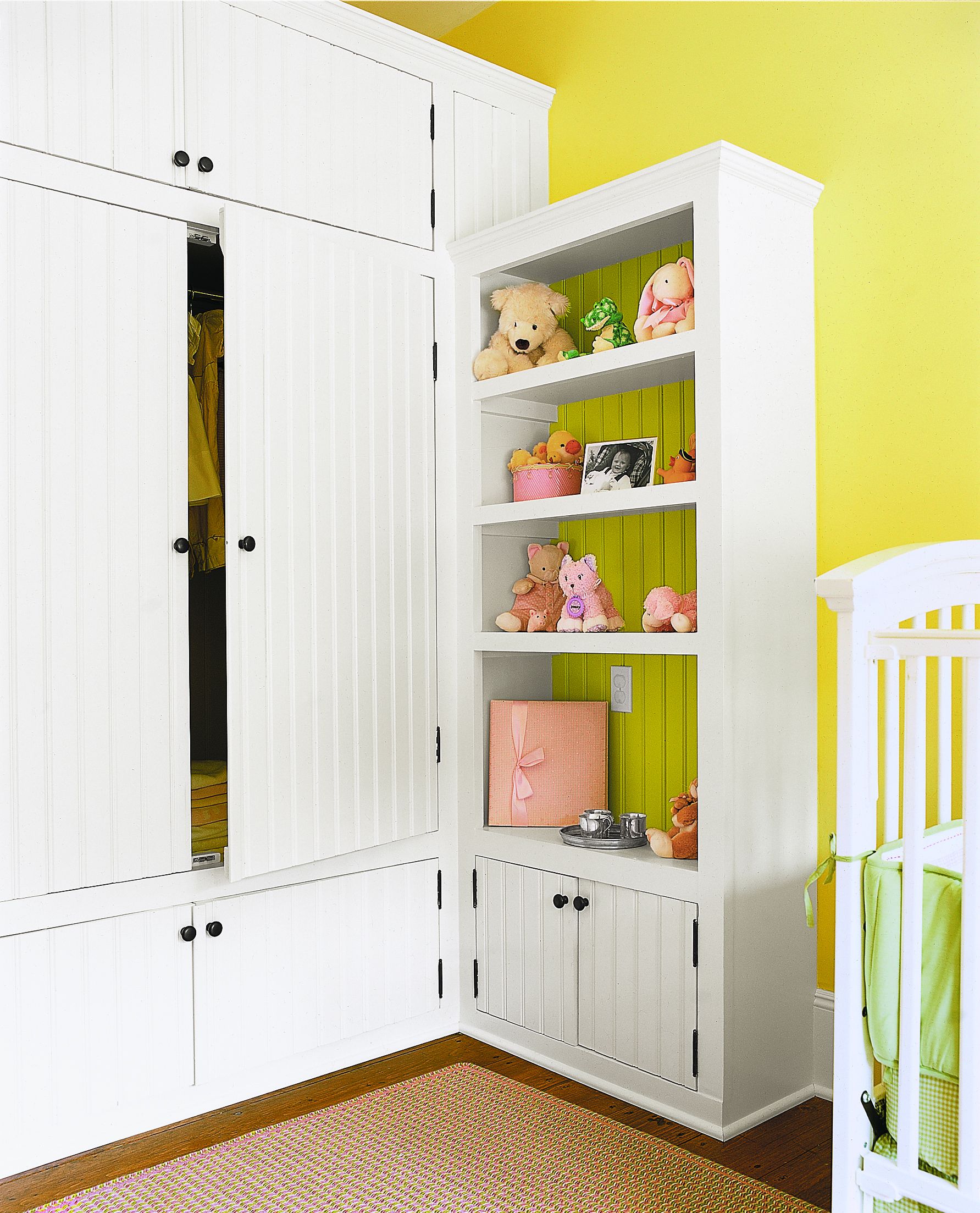 Bedrooms in old houses often lack a proper closet, and this 1880s Folk Victorian farmhouse was no different. A time-honored solution is to build a floor-to-ceiling wardrobe that spans the length of a single wall, but that approach can look monolithic, while also eating up usable floor space. For this child's room, architect Anthony Vermandois broke with tradition by claiming a corner—unexploited real estate in most rooms—to build a wardrobe with an adjoining, stepped-down shelving unit that tops out before reaching the ceiling. "It's a closet that doesn't gobble up all the visual space," he says. And the varying heights make the single built-in look more like two individual pieces of furniture. The wardrobe is 24 inches deep to accommodate standard clothes hangers, but for a similar cabinet in a hallway to hold linens, a shallower 16- or 20-inch depth will do.
IDEA: Construct built-ins with materials that are appropriate to the age and style of the house in which they are installed. The wardrobe below is made from a rustic-looking beadboard paneling that's perfectly suited to an old farmhouse.
Dressing-Room Shelving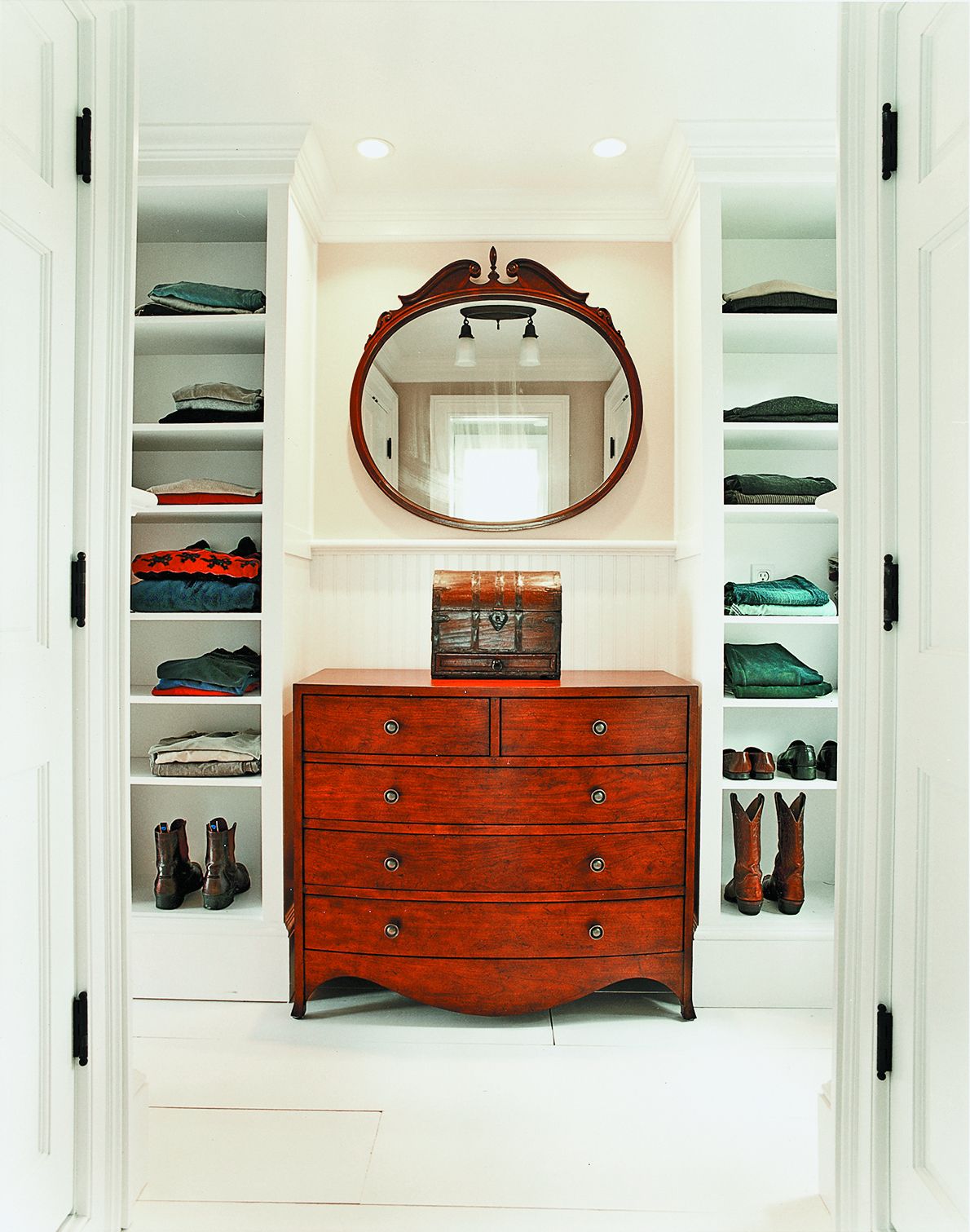 Built-ins that create an alcove for freestanding furniture can give pride of place to a new home-theater setup or call attention to the craftsmanship of a fine antique. During the renovation of an 1840s farmhouse, the homeowners asked designers Rick and Liz O'Leary to integrate a handsome chest of drawers into the master bedroom's walk-in closet. The O'Learys responded with a pair of tall shelving units that flank the chest, framing it with just two inches of clearance on either side to give the piece a sense of permanence in the room. The same approach in a master bathroom, with built-in shelving around a vanity table, could provide close-at-hand storage for towels and toiletries, eliminating the need for a medicine cabinet over the sink.
IDEA: Design clothing storage for specific functions. A 10-inch-wide shelf is ideal for men's shoes, while 8 inches is typically the max required for women's. Allow 12 inches for folded shirts and sweaters.