Built-in Solutions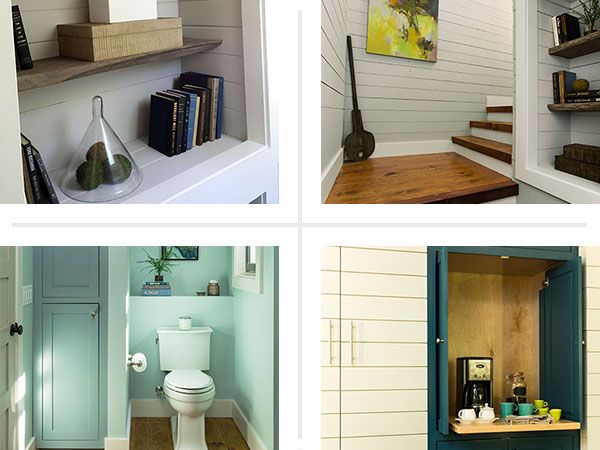 Clever storage, nifty niches, and built-in seating tap every extra sliver of space in the Cottage at Cloudland Station. Read on for tips you can apply in your own house.
Art Alcove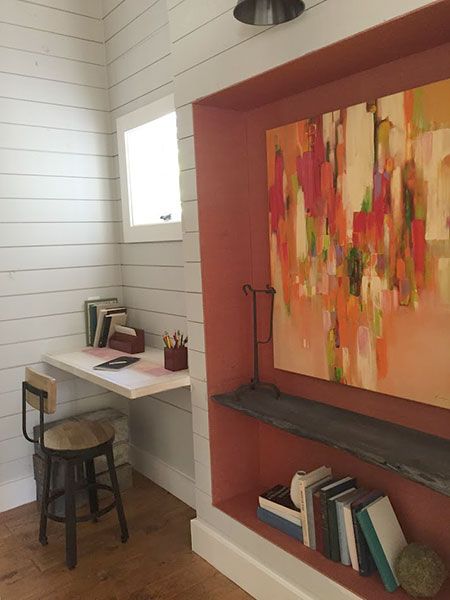 An upstairs hall recess, lined with sisal wall paper and finished with a shelf, offers a place to spotlight art.
Tip: "Combining different textures—like wood and fabric—adds depth and character," says interior designer Yvonne McFadden.
Found Space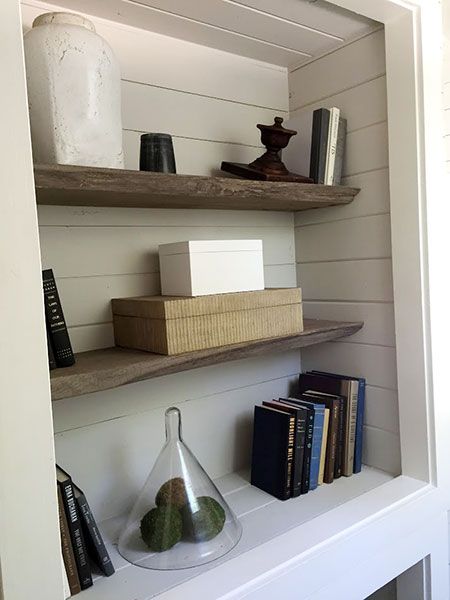 "Don't overlook the nooks and crannies," says lead designer and developer John Tatum. "A lot can be done when they are the focus. They tend to create the inner charm and warmth of a cottage."
Tip: Carve out space between wall studs to create niches for displaying collectibles. Most are spaced 16″ across and, depending on the size of your studs, will give you a space between 3½" and 5½" deep. If you want a wider niche, or you'd like to create a pass-through wall, you'll have to cut back a stud or more and add a support header and footer.
Watch This Old House general contractor Tom Silva open up a load-bearing wall to build a pass-through between a kitchen and family room.
Everything in Its Place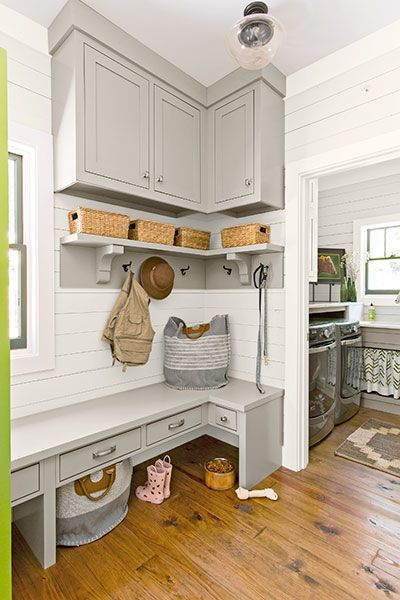 A thoughtful mix of cabinets, drawers, and hooks organizes inhabitants of all ages in the mudroom. The built-in bench, open below, handles just-shed shoes.
Tip: Choose built-in cabinets and shelves instead of furniture in tight spaces. Even shallow units, such as these mudroom cabinets, can store a lot. Consider, too, adding some handy accessories, like baskets, that will keep your mudroom even more organized.
Savvy Space Savers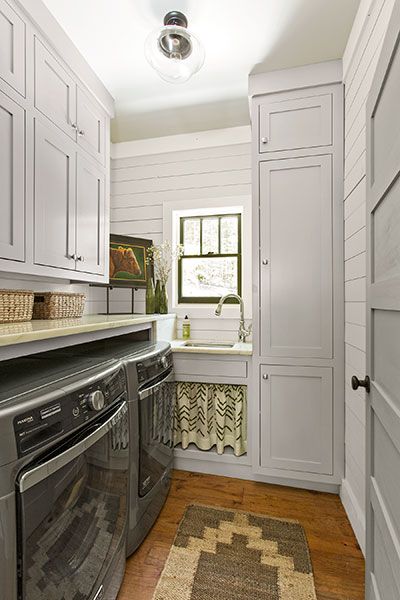 Seven cabinets, some floor-to-ceiling, keep the compact laundry room tidy. A counter for folding spans the washer and dryer. The sink can serve as a hand-washing and hand-laundering station or a place for potting plants.
Tip: Take built-ins all the way up to the ceiling or install in a corner to take advantage of otherwise overlooked space. The top cabinet in the laundry room holds bulk items that require infrequent access.
Wall-Mounted Cubbies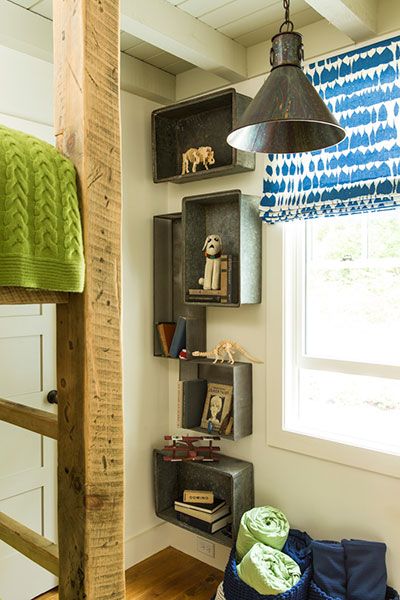 Vintage metal bins affixed to the wall display toys and collectibles while keeping floor space clear. A flexible knitted basket serves as storage for additional towels and linens.
Tip: Flea markets and thrift stores are great sources for lightweight boxes, crates, and bins in varying shapes that can add a personalized touch to your decor while giving you space to show off your collections.
Small Bath Solution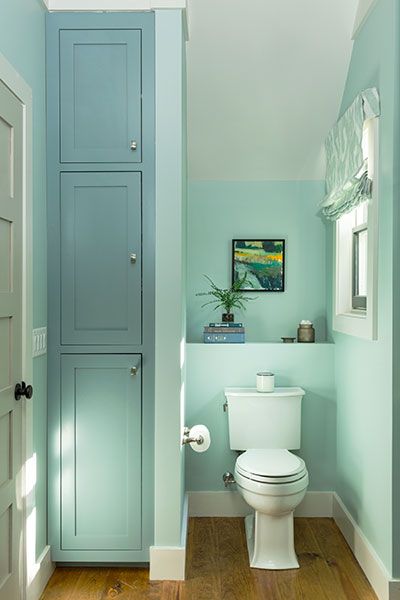 A partial wall in the downstairs bath creates a water closet on one side and a storage area on the other. A small shelf behind the toilet holds decorative items and bath accessories.
Tip: If you're really tight on space, consider open shelves, which neatly stow towels and toiletries within easy reach without adding another door swing in the room.
Nifty Niche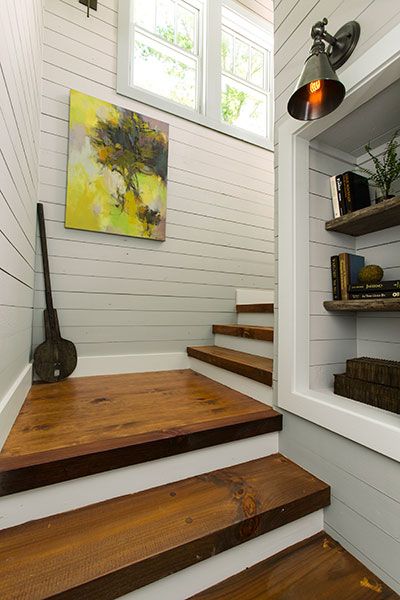 A wall in the stairwell reclaims dead space thanks to a niche fitted with three reclaimed-wood shelves and a sconce to light a display of collections or books.
Tip: No room for a separate library in your house? Consider lining a wall in a stairwell—or the space beneath it—with built-in shelves to house your favorite books. Click here for more space-saving storage ideas.
Structural Dividers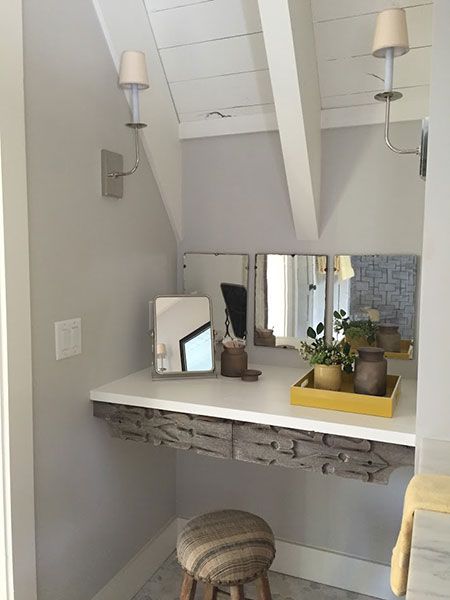 Partition walls create natural divisions for various areas in the bath, including an alcove for a vanity table, whose apron is made from two pieces of a salvaged door.
Tip: Use built-ins to mask—or play up—architectural features. Here, a shelf and mirror installed between partition walls create a grooming area.
Coffee Station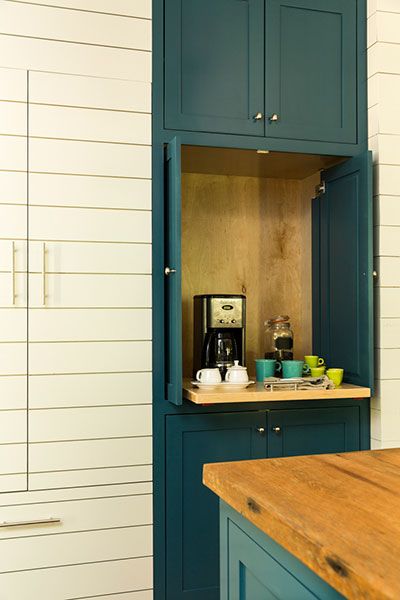 A pull-out shelf in the built-in pantry next to the shiplap-covered refrigerator houses a coffee station that can be tucked away easily when not in use.
Tip: Turn your kitchen into an after-party destination with a coffee station. Even during cleanup, the host won't miss a minute of conversation, as dirty mugs go straight from table to sink to cabinet. A pull-out shelf like this is surprisingly easy to install; check out our simplified how-to instructions.
Versatile Seating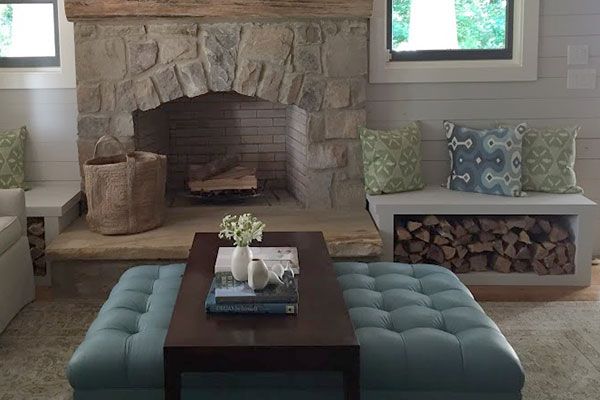 The raised hearth's flagstone slab offers extra seating, as do benches built on either side that also store firewood.
Tip: Stacking wood neatly near the fireplace not only means fewer trips outside, but also adds texture and warmth to a room.