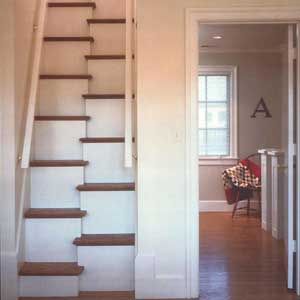 For spatial frugality, nothing short of a ladder can compete with the alternate-tread stair. The tread depth and the rise from step to step is the same as on a normal stair, but because half of each tread is omitted, the run is reduced by half. It's as if the staircase had been compressed from front to back.
Architect Anne Lewis incorporated this stair in a house she designed in the Palisades neighborhood of Washington, D.C. "We had to scramble for every square inch of space," she says, so the client's study was built as a loft tucked under the peak of the roof and overlooking the master bedroom. The stair links the two spaces without sacrificing a precious closet.
Mastering the alternate-tread stair takes some practice, says Lewis, because you always have to start with the same foot — the left, in this case. "But once you're used to the motion, it's certainly much more elegant — and safer — than climbing a ladder." Plus, you can go down these stairs facing forward, something you could never do on a ladder.
Still, Lewis doesn't recommend the design for any stair that will be heavily traveled. Neither do the building codes. They generally limit alternate-tread stairs to use for access to lofts and mezzanines, if they address them at all. Obtaining approval for a set will usually be a matter of negotiation with your local inspector.