Individuals with mobility issues have specific needs that many non-disabled people don't fully realize. While a typical home can include stairs, thresholds, uneven floors, tubs, and tall appliances, these features can make moving around difficult and unsafe for those who experience mobility challenges.
For Michelle Werner and Billy Lester of Lexington, Massachusetts, these standard features create dangerous and difficult barriers for their 13-year-old son, Caffrey. Inspired by their story, the team at This Old House wanted to document the renovation of their house to highlight accessibility features that will give Caffrey full access to his home. As we get started on this project, we wanted to take the time to share more information about Caffrey's disease, called Duchenne muscular dystrophy.
Caffrey's Challenges
Even when Caffrey was a baby, Michelle and Billy noticed that he was slow to reach the physical milestones, such as rolling over, sitting up, and other gross motor skills, at the expected stages. At around 9 months old, Caffrey was diagnosed with hypertonia, which causes low muscle tone. His doctor told Billy and Michelle that their son would catch up to his peers in his own time.
As the years progressed, Caffrey continued to struggle to meet milestones, including activities like riding a bike. After many additional trips to specialists and pediatricians and undergoing several medical tests, Caffrey was officially diagnosed with Duchenne muscular dystrophy when he was around 10 years old.
What is Duchenne Muscular Dystrophy?
Duchenne muscular dystrophy (DMD) is a rare genetic disorder that causes progressive muscle degeneration and affects fewer than 50,000 people in the U.S., according to the Genetic and Rare Diseases Information Center.
In a typical body, whenever muscles are used—whether during exercising, walking, or even simple bodily functions like breathing or pumping blood—tissues break down. To repair themselves, muscle fibers require a protein called dystrophin. Dystrophin is missing in individuals who have DMD, which prevents their muscles from functioning or repairing themselves properly.
With this degenerative disease, the muscles lose strength, function, and flexibility over time. Eventually, as the critical muscles weaken, people with DMD find walking, standing, or breathing harder to do. These are the challenges that Caffrey faces, and because of his initial diagnosis of hypertonia, the early therapy he received may have caused the disease to progress more rapidly. Another unfortunate consequence is that he was unable to enter clinical trials at 10 years old.
A Family in Transition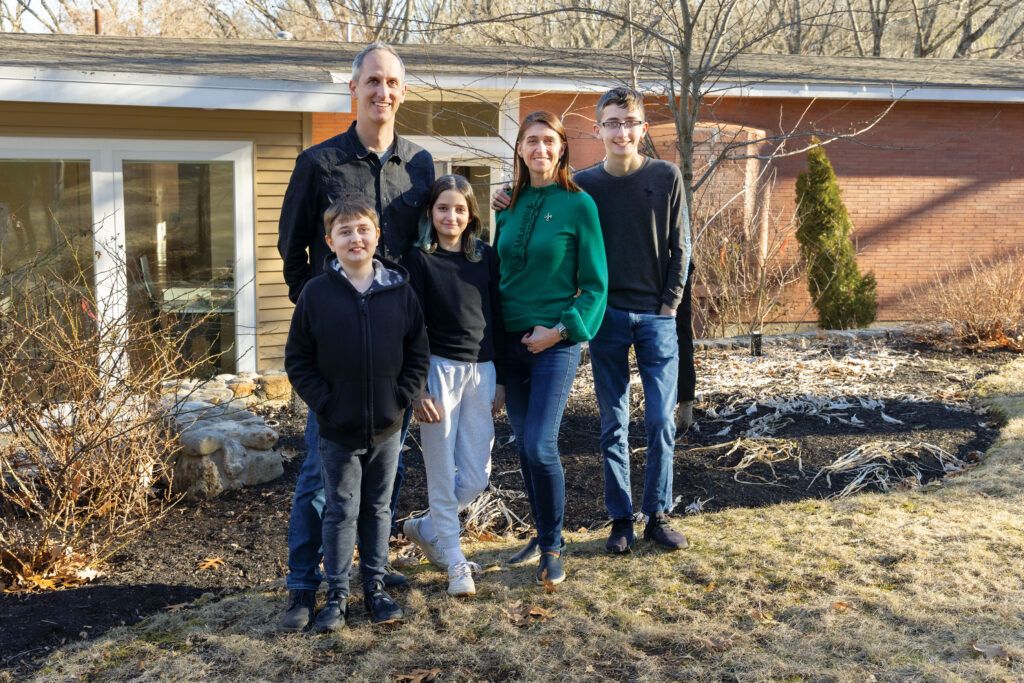 When Michelle changed careers from pharmaceuticals to biotech, the family moved from New Jersey to be close to the Cambridge, Massachusetts area, which is a hub for biotech companies. They bought a spacious midcentury modern-style home in nearby Lexington, Massachusetts. While the home has plenty of room for the family's three children, the design of the house presents some accessibility issues.
The challenges with the house
Originally built in 1960, the family's home saw several additions over the years. The sprawling house left the home feeling disjointed and lacking much flow or cohesiveness from one addition to the next. For instance, the addition of the three-car garage with a primary suite above it is on the other side of the house from the kids' bedrooms.
But the home's additions also hugely impact Caffrey and his daily life. Floor heights change frequently when moving from space to space, creating tall thresholds that Caffrey's condition will thwart him from navigating. Caffrey is also expected to be wheelchair-bound within a year, preventing him from moving from floor to floor via stairs. While Billy happily carries him now, the wheelchair will soon make this impossible.
Then, there are all the small details that will affect his day-to-day living. Light switches, faucets, and doors will become difficult for Caffrey to operate, removing any chance of independence he may have within his own home.
The improvements on the horizon
Recognizing that Caffrey and his family have specific needs, the architects at Ruhl Jahnes and Silva Brothers Construction are stepping up to change their home—and their lives—in the process. There are many modifications on the docket to improve the entire flow of the home, most of which will make Caffrey's life a bit easier as he deals with the challenges of Duchenne muscular dystrophy.
A relocated and improved the entryway to the home, with access to the front door by a covered outdoor ramp.
All exterior doors will have flush thresholds leading to the outside.
The outdoor family space will be a smooth, flat, easily navigated surface.
A small outdoor hydrotherapy pool with a lift system will be installed out back.
The kitchen will be expanded, giving Caffrey full access to all the appliances.
A curbless shower and grab bars in his bathroom will make the space more accessible for Caffrey to preserve some of his independence.
Adding a new primary suite in the back will allow the parents to be closer to Caffrey.
An elevator gives full access to the lower-level family area, where the kids hang out.
The addition of smart home technology in the form of smart switches and automatic lighting, motion-activated faucets, motorized doors, and other upgrades will allow Caffrey to navigate the home safely as his condition progresses.
Watch Caffrey's Home Renovation on This Old House
Watch season 45 of This Old House as the team works to make a mid-century home more accessible. Between the significant structural renovations and the implementation of the latest in accessibility and technology, this family of five will soon be able to live, work, and play together.
Season 45 of This Old House is now airing on PBS (check your local listings) and streaming free on The Roku Channel.