This article appeared in the Summer 2022 issue of This Old House Magazine. Click here to learn how to subscribe.
Whether attached to the house or freestanding, covered in vines or clean and modern, a pergola is an architectural feature that provides a welcome sense of enclosure outdoors, carving out an inviting retreat that allows in fresh air, gentle breezes, and dappled sunlight.
"A pergola creates a sense of place and sets the stage for relaxing and entertaining," says TOH landscape contractor Jenn Nawada.
What is a Pergola?
In its most basic form, a pergola consists of posts topped by beams and rafters, with room-sized proportions and a ceiling height of 8 to 12 feet. Set on a deck or patio and connected to the house, it can define a convenient area for alfresco dining or shield an outdoor kitchen from the elements.
Anchored in the yard, it can frame a fire-pit seating area, shelter poolside lounge chairs, create a garden destination, or serve as a passageway from one garden room to another. Whether it's a DIY project or a custom installation, there's a wide variety of materials, styles, and extras to choose from. Here's how to plan a pergola project.
Material Considerations for a Pergola
A pergola will integrate seamlessly into your home if it echoes the architecture of your house. Just pick the look and level of maintenance that's right for you.
Wood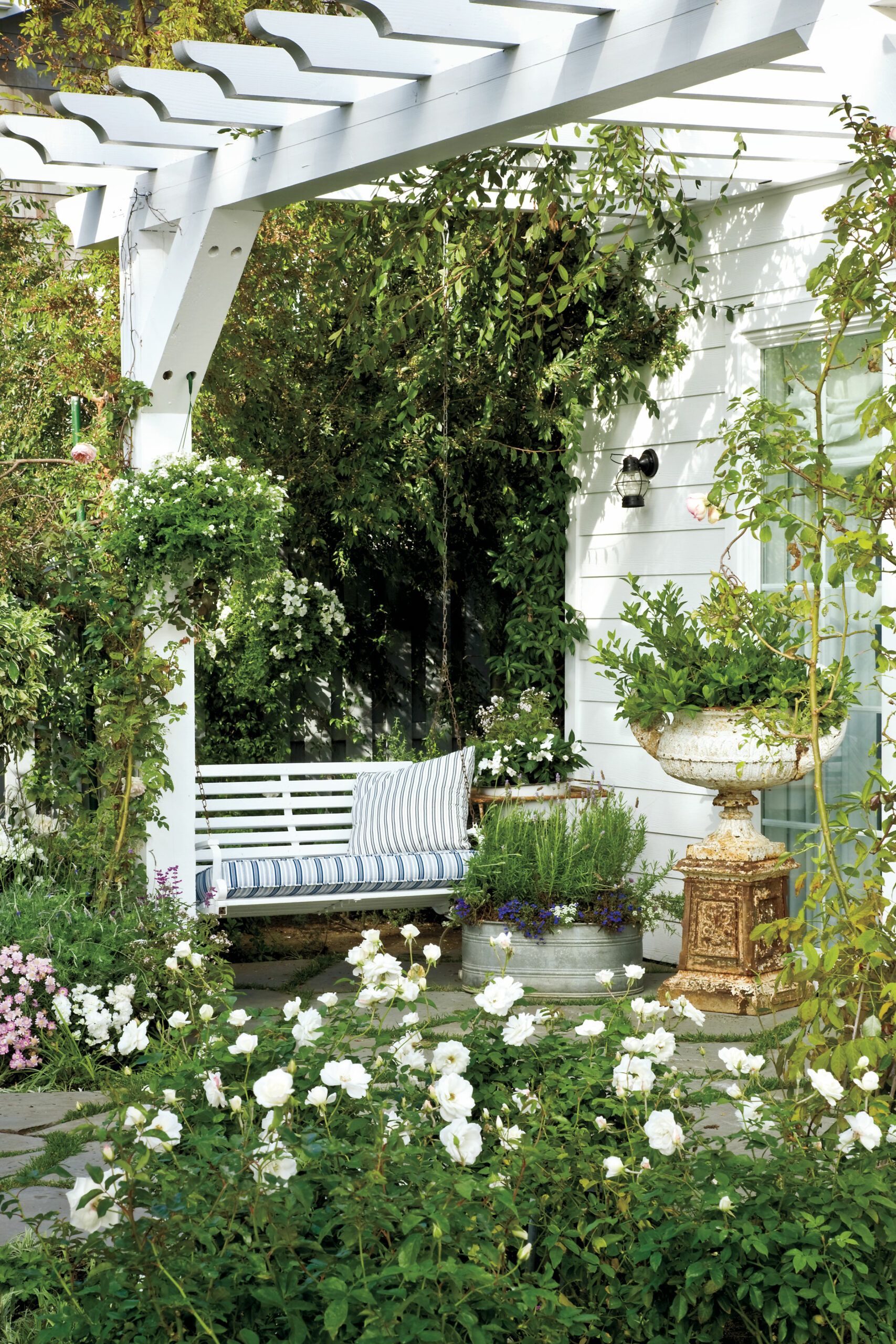 Readily available at home centers and lumberyards, wood can be used to create a wide range of styles, from rustic to modern, and it's easy to repair. Available species depend on your location and include low-cost pressure-treated pine; durable cedar, redwood, and Douglas fir; and handsome tropical hardwoods such as mahogany and ipe, which can also be wrapped around pressure-treated lumber.
Skip painting wood, as it will eventually peel and become a maintenance headache, especially if you grow vines on your pergola. Solid stain is a better choice but will fade and require recoating every few years.
To help protect uncoated wood from moisture and UV damage, apply a clear protectant like Penofin's Ultra Premium Red Label Penetrating Oil Finish (penofin.com), made from Brazilian rosewood oil, at least every couple of years.
Cost: $ (pressure-treated pine) to $$$ (tropical hardwood)
Vinyl
Hollow tubular vinyl is available in the form of ready-to-assemble pergola kits and offered semi-custom by some fence companies, landscape contractors, and online pergola suppliers. It is low-cost and never needs painting or staining, and the only maintenance it requires is washing, at least once a year.
But its distinct glossy finish means it can't quite replicate the look of wood. And if it gets damaged, it can't be repaired; it will need to be replaced with a matching piece, which may be hard to source. For that reason, it's a good idea to purchase extra parts, such as rafters.
Cost: $
Cellular PVC and Composites
These two man-made products offer the low-maintenance benefits of vinyl but with a matte look that's more like wood.
Cellular PVC (polyvinyl chloride) is vinyl that has been whipped up with air. Composites combine wood fibers with plastic resins. Both are extruded to form solid members that can be cut and shaped like wood. They aren't as strong as wood, however, so some products are reinforced with a core of aluminum tubing.
Cellular PVC comes in white only; composites are available in a range of through-color options. Unfortunately, both can be difficult to source in large dimensions for beams and posts, unless you're buying a kit.
Cost: $$$
Metal
Metal pergolas are available as ready-to-assemble kits, or they can be custom fabricated in a metal shop. Low-maintenance aluminum and steel pergolas have a modern look, will never rot, and require virtually no maintenance.
Typically powder-coated, aluminum comes in a wide range of colors. Steel can be powder coated or galvanized, or made from an alloy that requires no protective coating—either stainless or Corten steel (a.k.a. weathering steel).
Corten steel develops a layer of rust as it's exposed to the elements, which actually adds to its durability and offers a striking rustic appearance, though it can leave stains along its drip lines as it oxidizes. Steel posts and beams are often combined with wood rafters for an industrial look.
Cost: $$$
What Are the Parts of a Pergola?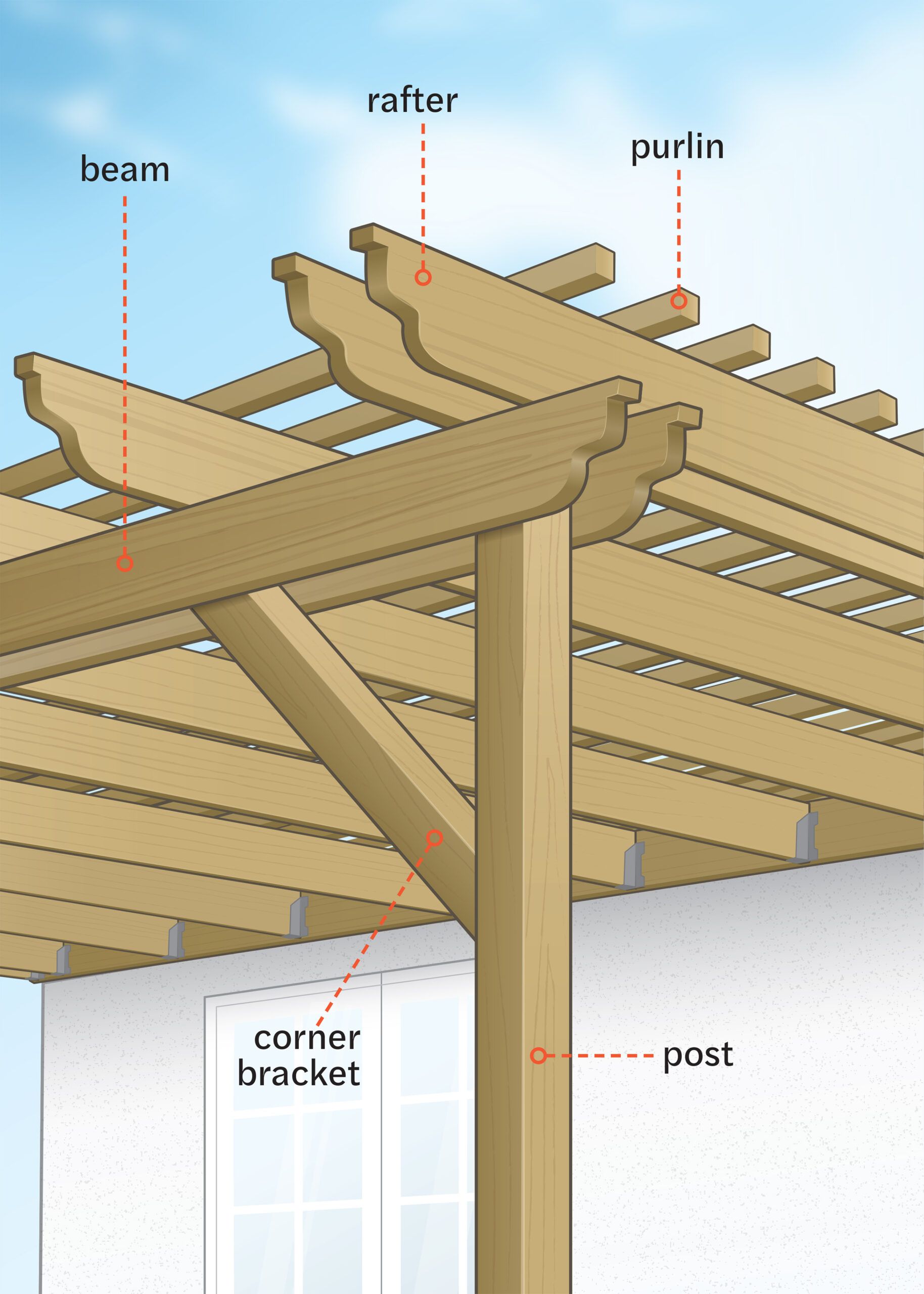 A pergola is defined by its simple, functional form, which is made up of the following parts.
Post—typically 6×6 or 8×8
Beam—paired 2×10s may be attached on either side of the post (shown); single 4×10s, 6×10s, or 8×12s may be used for a timber-frame look
Rafter—the same size or slightly smaller than the beams
Purlin—optional, generally smaller than the rafters and closely spaced to add shade
Corner bracket—optional; runs diagonally between a post and a beam to add extra support
Ways to Anchor a Pergola
A pergola's posts need to support the weight of the structure—including vines or statement lighting hanging from the top—while also withstanding wind shears and frost heaves that can lift them out of the ground. That's why just attaching a pergola to an existing concrete patio with metal brackets isn't the best approach.
"A concrete slab or paver patio isn't designed to handle vertical loads and will likely crack," says David Doyle, principal at Summit Outdoor Living in Fort Collins, CO. Here are the best ways to fasten the posts to terra firma.
DIY-friendly:
Concrete and crushed stone
The classic technique for setting posts—and also the simplest and most affordable—is a hole filled with concrete. The posts should go below the frost line in your area, to account for the ground shifting as it freezes.
To help mitigate post rot, lay down and tamp a 4-inch bed of coarse aggregate at the bottom of the hole. Crushed stone is typical, but it has sharp edges that interlock when compacted, so TOH general contractor Tom Silva recommends pea stone instead—it won't lock together and will drain better as a result.
If you'd rather avoid the mess of mixing concrete and the wait for it to cure, fence-post foam is another option. "It's a two-part product: You break the seal between the two sides of the package, shake it up, and dump it into the hole," says Tom. It expands and locks the post in place in seconds—so fast that you need to have the post braced, plumb, and level already
Good in high-water-table areas:
Concrete footings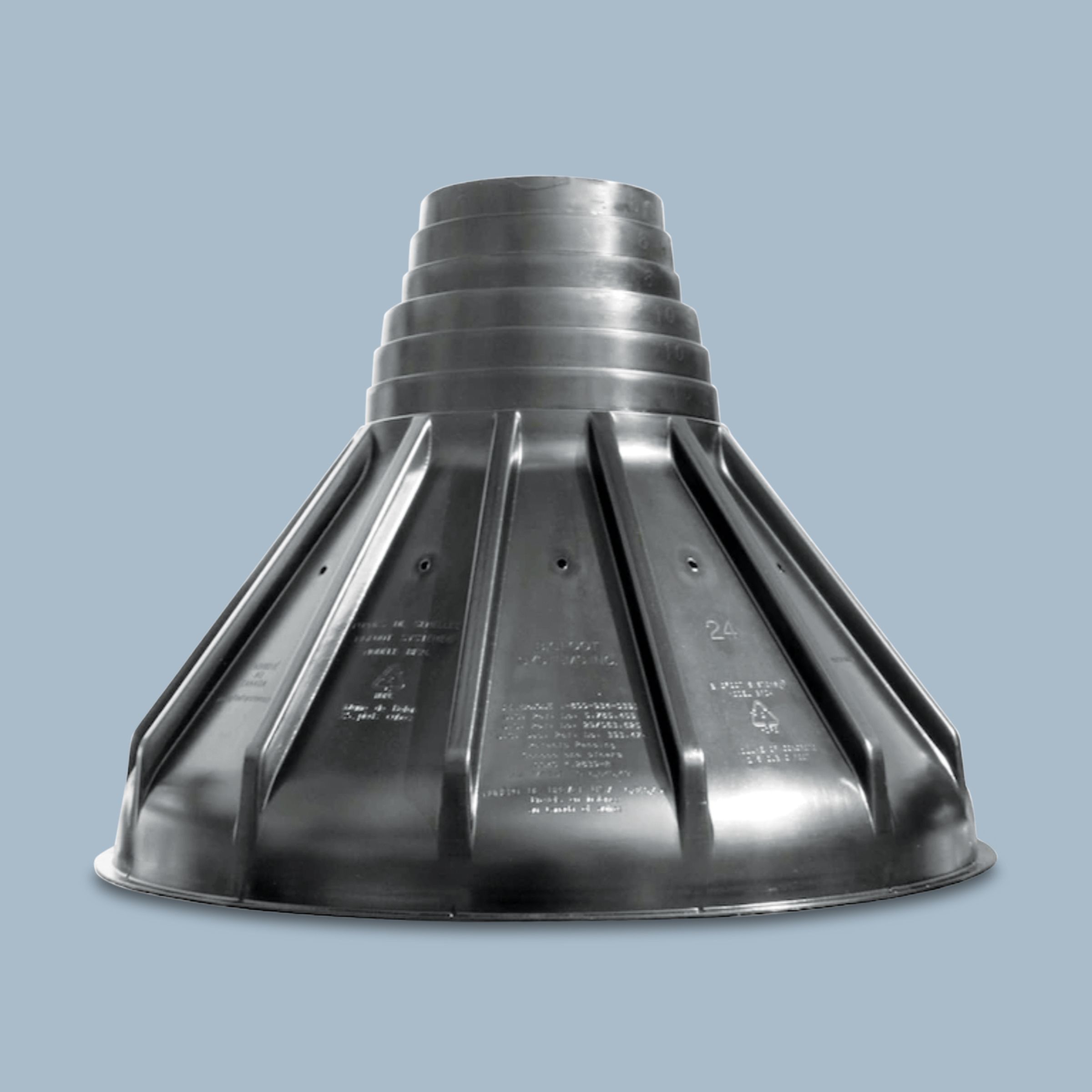 These keep posts out of the ground and away from damaging groundwater. There are cardboard tubes designed for pouring them, but tapered plastic forms are better choices—their smooth surfaces reduce adfreeze, a process that causes frozen soil to adhere to and press against the sides of a post, potentially loosening it, says Dr. Alan Lutenegger, an engineering professor emeritus at the University of Massachusetts Amherst.
Place your form in the stone-filled hole, backfill around it, fill it with concrete, and top it with a post bracket set into the wet concrete. The footings can end at ground level or come up a few feet and get surrounded with brick or stone.
A time-saver, but more expensive:
Precast concrete piers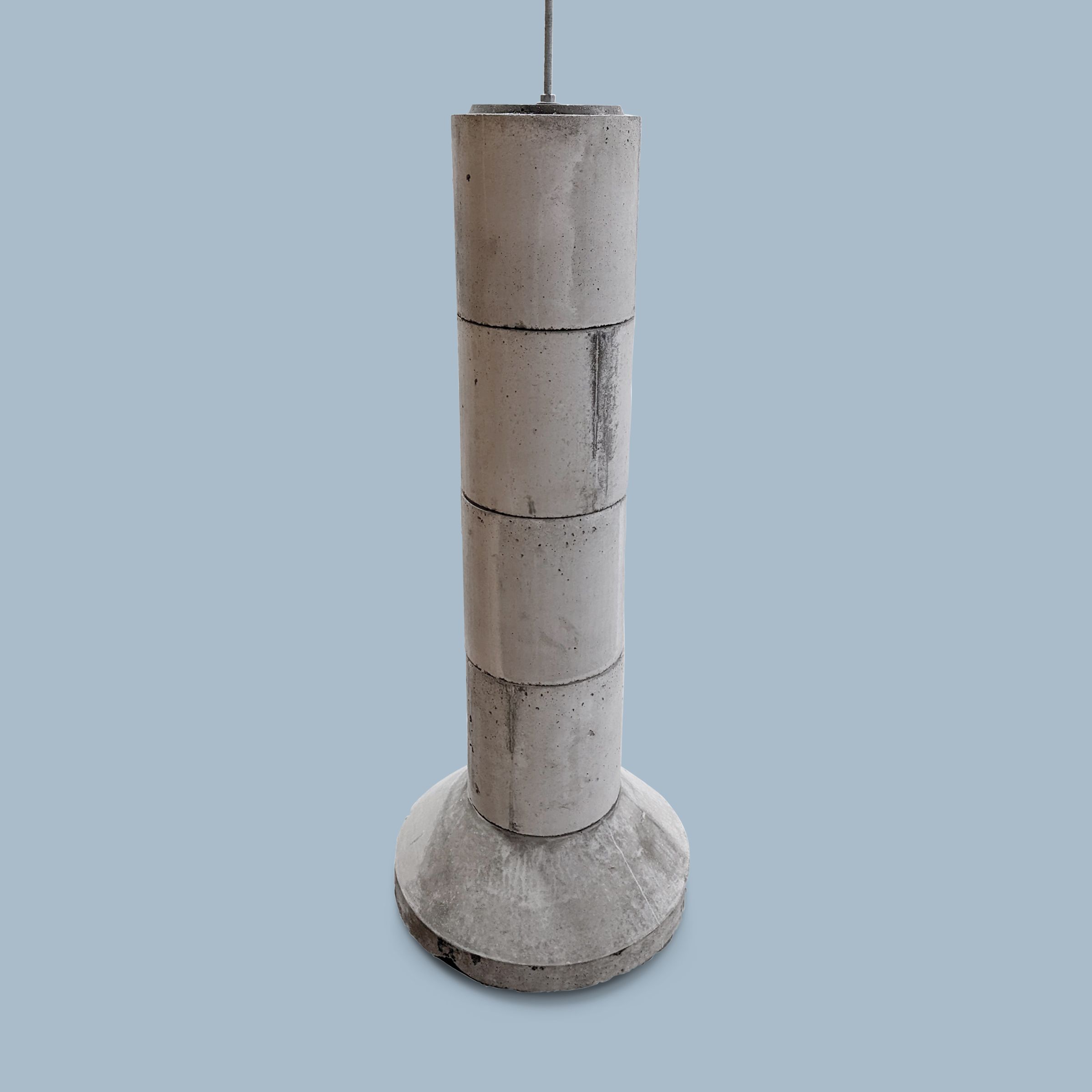 An alternative to mixing concrete, precast piers are constructed as one piece or in stackable concrete sections that lock together with a threaded rod that runs through their centers.
The bases are set in holes filled with tamped stone, and the pergola posts attach to metal plates on the tops of the piers. While the materials cost for precast piers may be three times that of poured footings, they are a significant time-saver.
No digging required:
Ground screws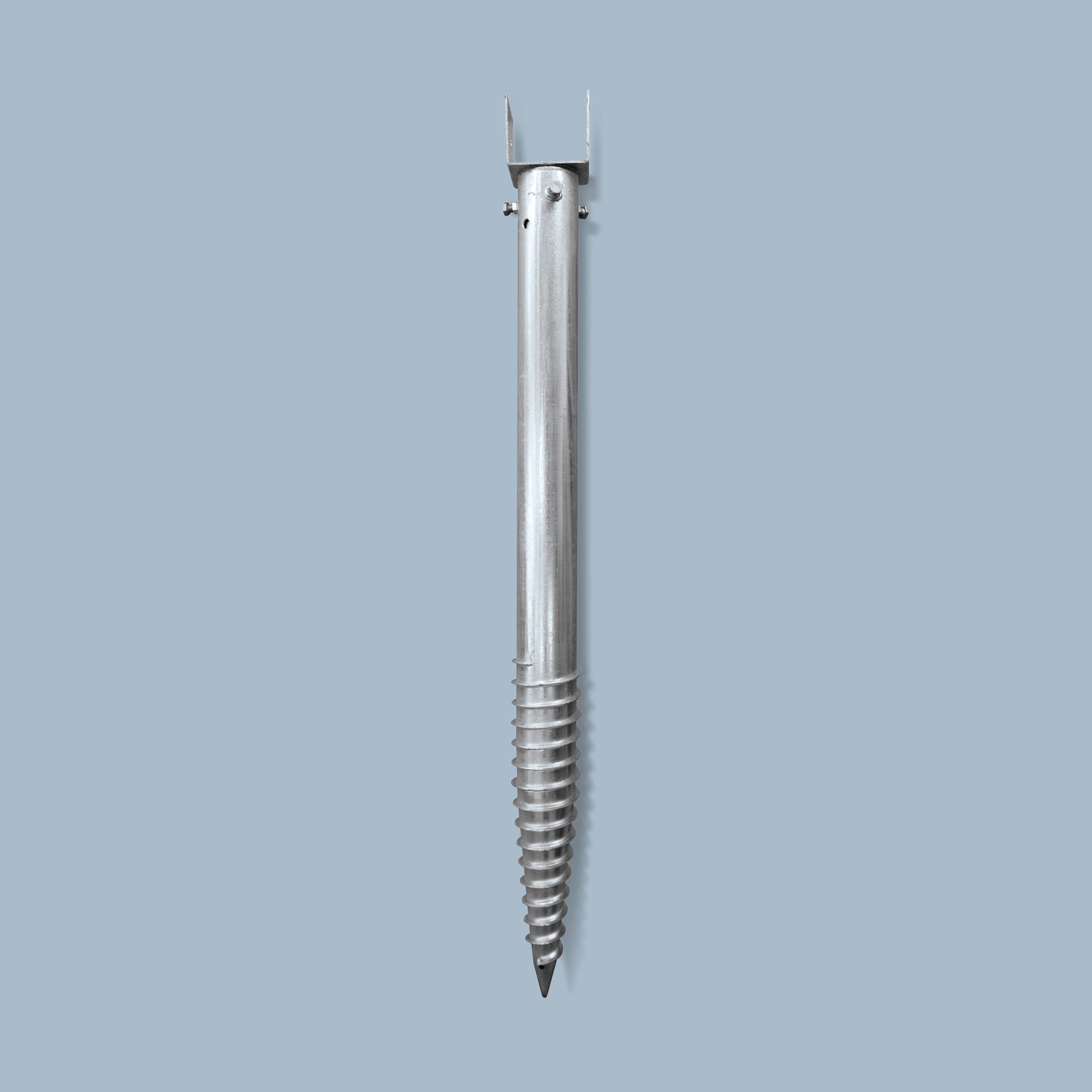 Made from a pipe about 3 to 4 1/2 inches across and 5 feet long, this galvanized fastener threads into the ground like a self-tapping wood screw. It provides a tight hold without any disturbance to the yard.
You'll need an experienced contractor to install the screws using a hydraulic low-speed, high-torque motor designed for the job, which takes no more than a minute per screw.
"Ground screws will outperform any of the concrete or foam options, and they are removable if you want to take the pergola with you when you move," says Lutenegger. "But they're not a good choice in cold climates, because the screw can be dislodged by adfreeze if not sunk sufficiently deep."
Shown: American Ground Screw Model 3; americangroundscrew.com
DIY Pergola Options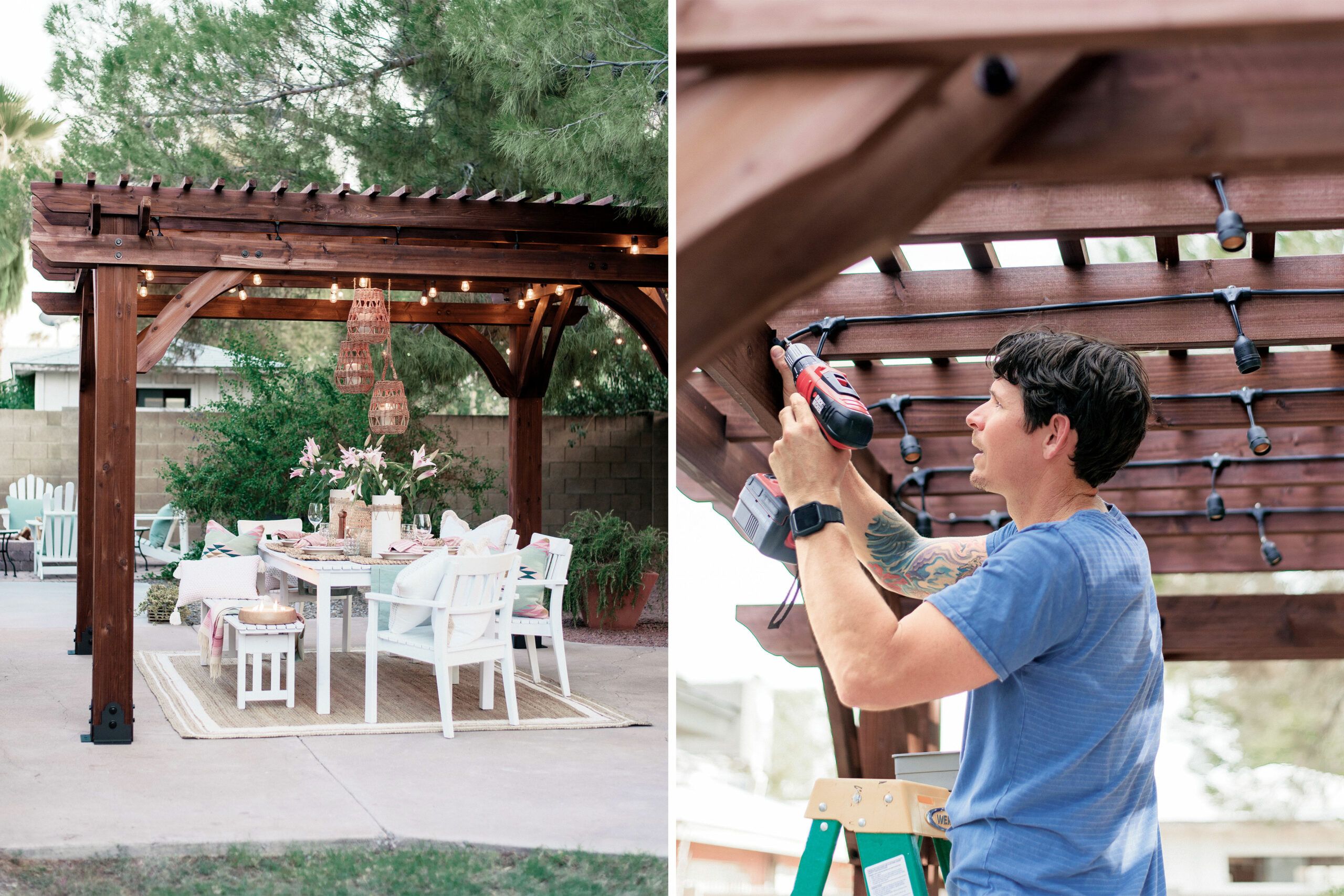 Pergola kits
If you don't need a custom size or look, buying a pergola as a kit will greatly simplify the job. Everything is precut and predrilled, and the hardware is provided—all you do is assemble the parts. What's more, the kits come in a range of materials that would otherwise be difficult to source for a DIY pergola, including aluminum, steel, composite, and vinyl.
Brands like Toja Grid and Backyard Discovery are available at home centers and typically range from 8-by-8 feet to 16-by-12 feet, and from about $1,000 to $8,000, depending on the size and materials used.
Customizable kits can be purchased from a fence company or specialty supplier; Walpole Outdoors, for example, offers cellular PVC kits in custom sizes starting at around $8,400 (walpoleoutdoors.com).
Online planning tools
For help building your own pergola, check out Simpson Strong-Tie's Pergola Planner (strongtie.com), an online tool that allows you to design a wood pergola and see a 3D rendering of it in your yard.
The company sells beefy plates, straps, and hangers that simplify the construction process; they come in contemporary or Mission styles and lend an industrial look to the pergola. OZCO Building Products (ozcobp.com) also makes burly-looking metal pergola brackets.
Attaching a Pergola to Your House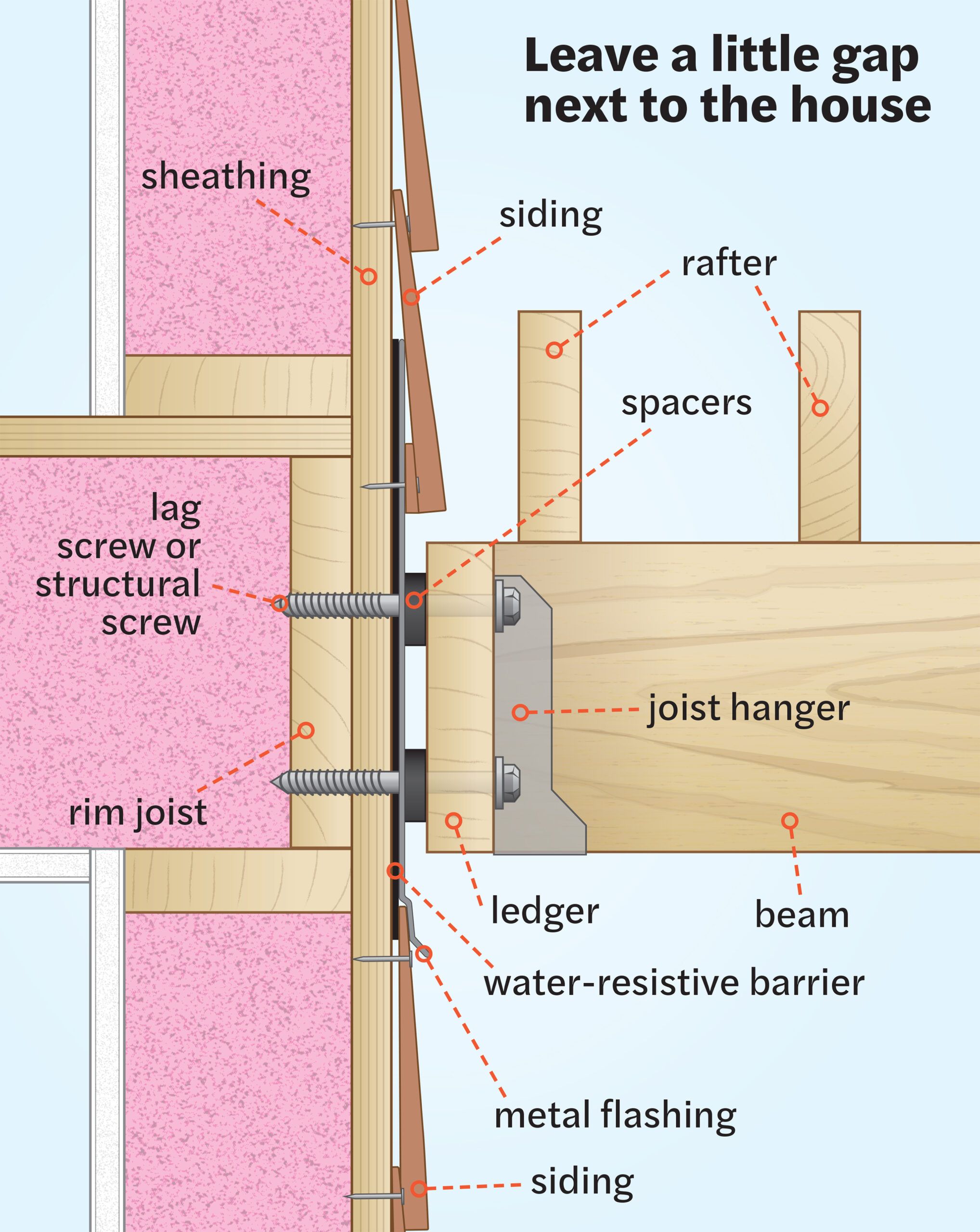 Affixing a pergola to the house integrates it into the architecture and allows for optimal indoor-outdoor flow. Code requires that an attached pergola be fastened to the second-floor rim joist, the framing member that sits on top of the wall and holds the floor joists. It may not be possible to attach a pergola if your yard is sloped or if the house has just one story.
An attached pergola hangs from a ledger board that is secured to the rim joist with lag screws or structural screws. To ensure that the ledger doesn't allow water to reach the sheathing and foster rot, the siding is removed from the area (it will be patched back later), and a water-resistive barrier (WRB) is applied over the exposed sheathing.
This barrier membrane, which seals around the screws to prevent water from reaching the house framing, is then covered with metal flashing, to protect the WRB from the sun.
Tom often installs his ledgers with spacers—black plastic washers that sit between the ledger and rim joist. They create a ½-to-5/8-inch gap for water to drain through and air to circulate. The WRB and metal flashing also cover the area just below the ledger. When replacing the siding under the pergola, make sure its top edges overlap the membrane and are overlapped by the flashing.
Tips for Adding Greenery to Your Pergola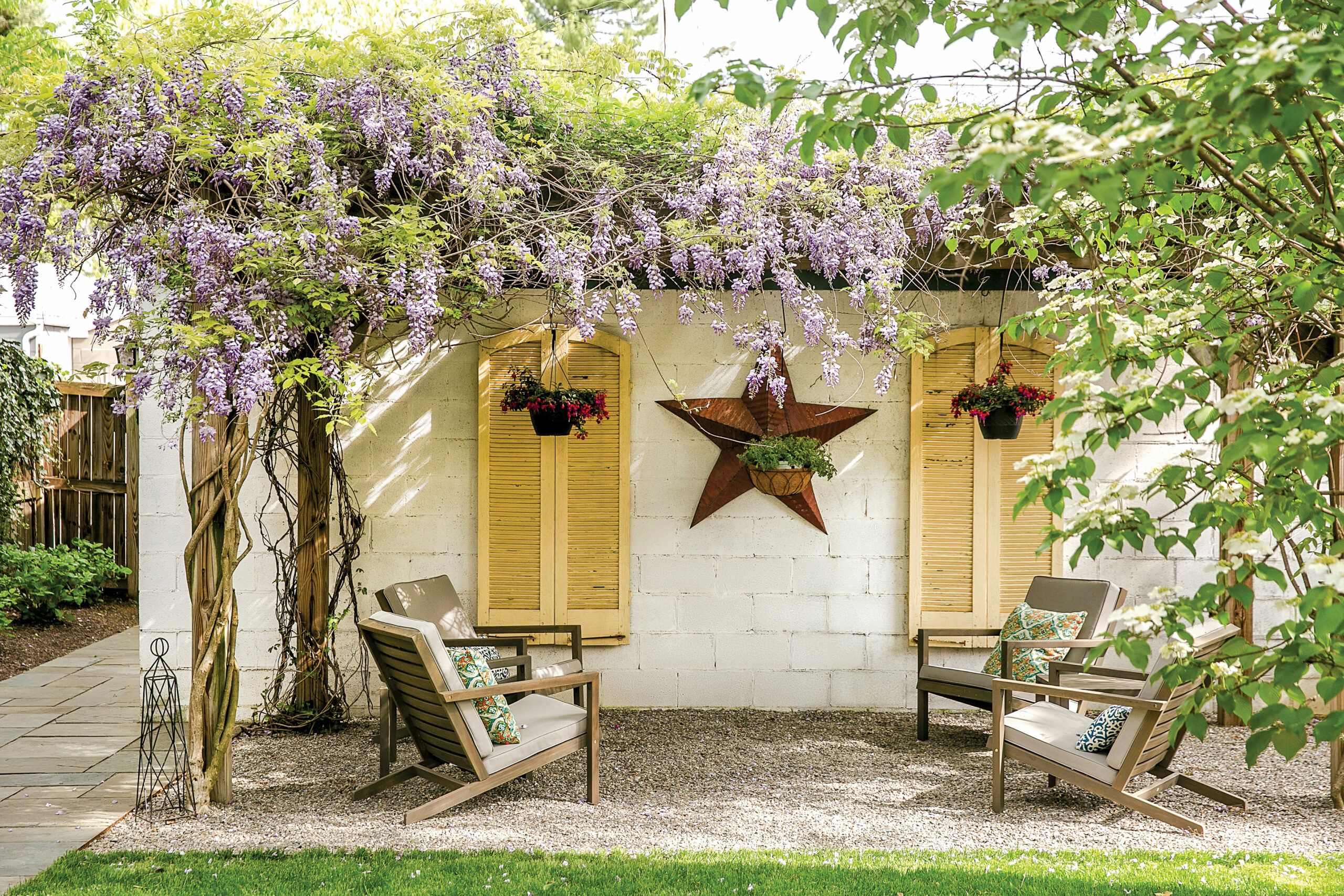 Covering your pergola with plants and flowers lowers the temperature underneath—not just because of the increased shade but because plants cool the air as moisture evaporates from their foliage. Here's Jenn's advice for growing success:
Offer support. Set up a wire grid or wood lattice to give twining vines, such as wisteria, grapevine, and bougainvillea, something to grow on.
Consider a plant wall. To filter unwanted views, increase the sense of enclosure, or just add a lush touch, create a green screen. Install sturdy wood lattice or stainless steel cable railing between wood posts; then plant vines along the bottom, and weave them up and through as they grow.
Keep clinging vines in check. Aggressive growers that adhere via suckers (like Virginia creeper and creeping fig) or with aerial roots (such as climbing hydrangea, euonymus, and trumpet vine) can damage woodwork—and the house, if they grow onto it. "These fast-growing vines achieve coverage quickly, but they don't stop growing after they cover the pergola," says Jenn. "Regular maintenance pruning is essential."
Nice-to-Have Upgrades
Consider these add-ons to boost the comfort and function of your pergola retreat.
Privacy measures
To shield prying eyes and screen unwanted sight lines:
To block the view from the street or neighboring yards, screen unsightly views, and create privacy, add a vertical component to the pergola. This can be as simple as fabric curtains, an airy wood lattice, a slatted wall, or a wire grid engulfed with climbing vines.
Lights, fans, and more
To add electricity:
Solar-powered lighting systems and ceiling fans are low-voltage and therefore DIY-friendly, but they don't offer nearly the oomph—or unlimited run time—of hardwired fixtures. For a full range of lighting, fans, heating, sound systems, and outlets, call in a licensed electrician.
The wiring should be encased in galvanized conduit—and can come out through the ledger on an attached pergola or up from the ground behind a post. From there the conduit can sit out of view on top of the rafters, with fixture wiring drilled down through—or all the wiring can be hidden inside dadoed grooves in timbers covered with wood panels.
Moveable shades
To have shade when you need it, and more sun when you want it:
Using larger rafters or more of them, adding purlins, or growing dense vines on top will increase shade underneath your pergola, but to truly block midday sun, you'll want fabric shades.
These can be fixed triangular shade sails or fabric rectangles stretched from post to post; another option is retractable shades that sit under the rafters or are custom-made to fit inside each rafter bay and can be adjusted manually or are motorized and operated by remote control. For sun coming in under the pergola roof, which can be a problem early and late in the day, try roll-up wood shades, curtains, or awnings.
Climate control
If a ceiling fan isn't sufficient:
A patio misting system connected to your yard's irrigation—and your household power supply—can send out aerosolized water droplets from the pergola top. The mist is so fine that it evaporates before it hits the ground or the people under the pergola, and can lower the air temperature by up to 30°F. The effect is diminished, however, on very humid days.