Patio Worth the View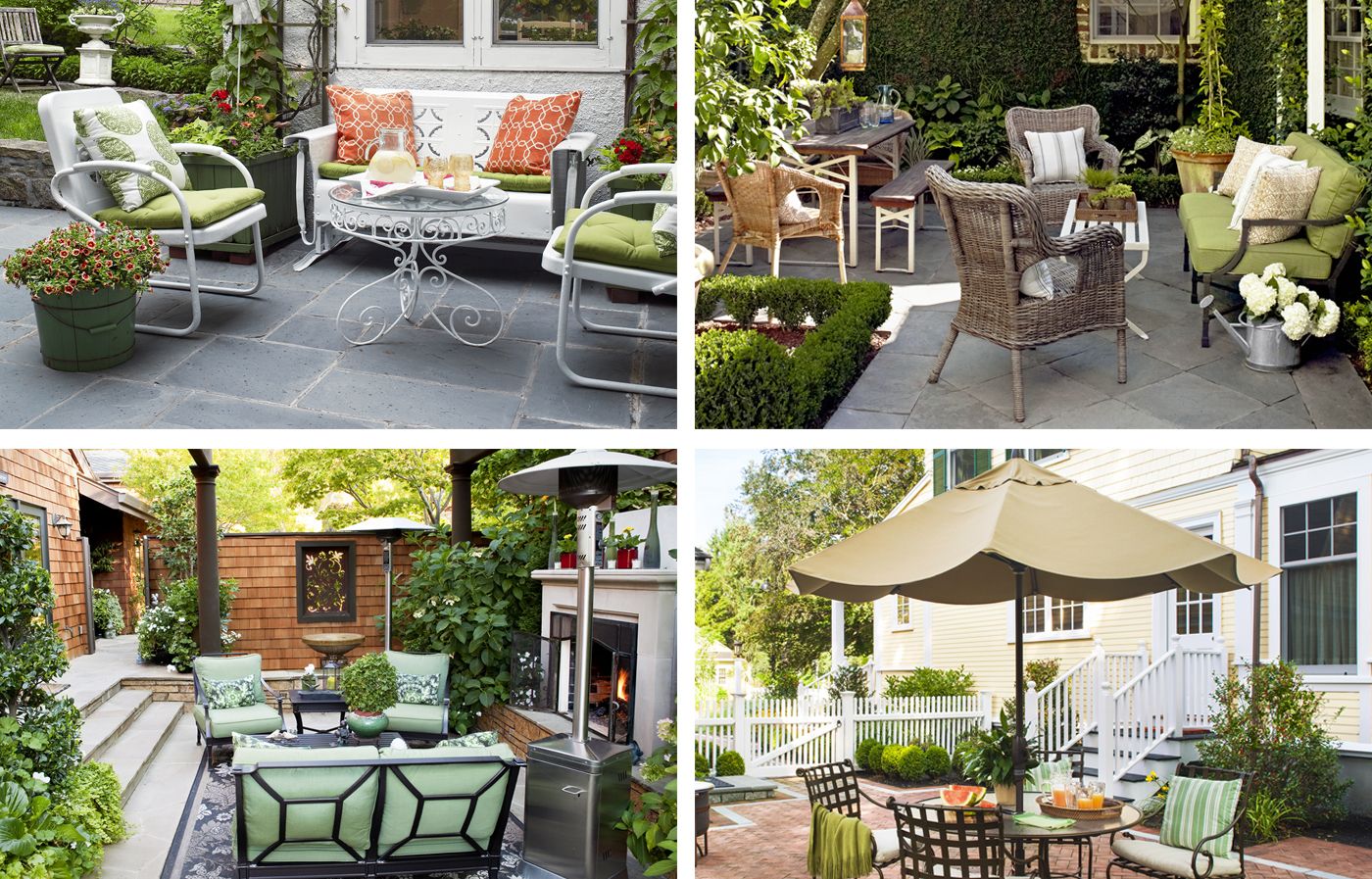 Let a fence, hedge, or facade serve as a wall, and a pergola, tree canopy, or wide umbrella as a roof. Then furnish your outdoor room for dining, entertaining, or gathering around a fire.
1. Play off the Architecture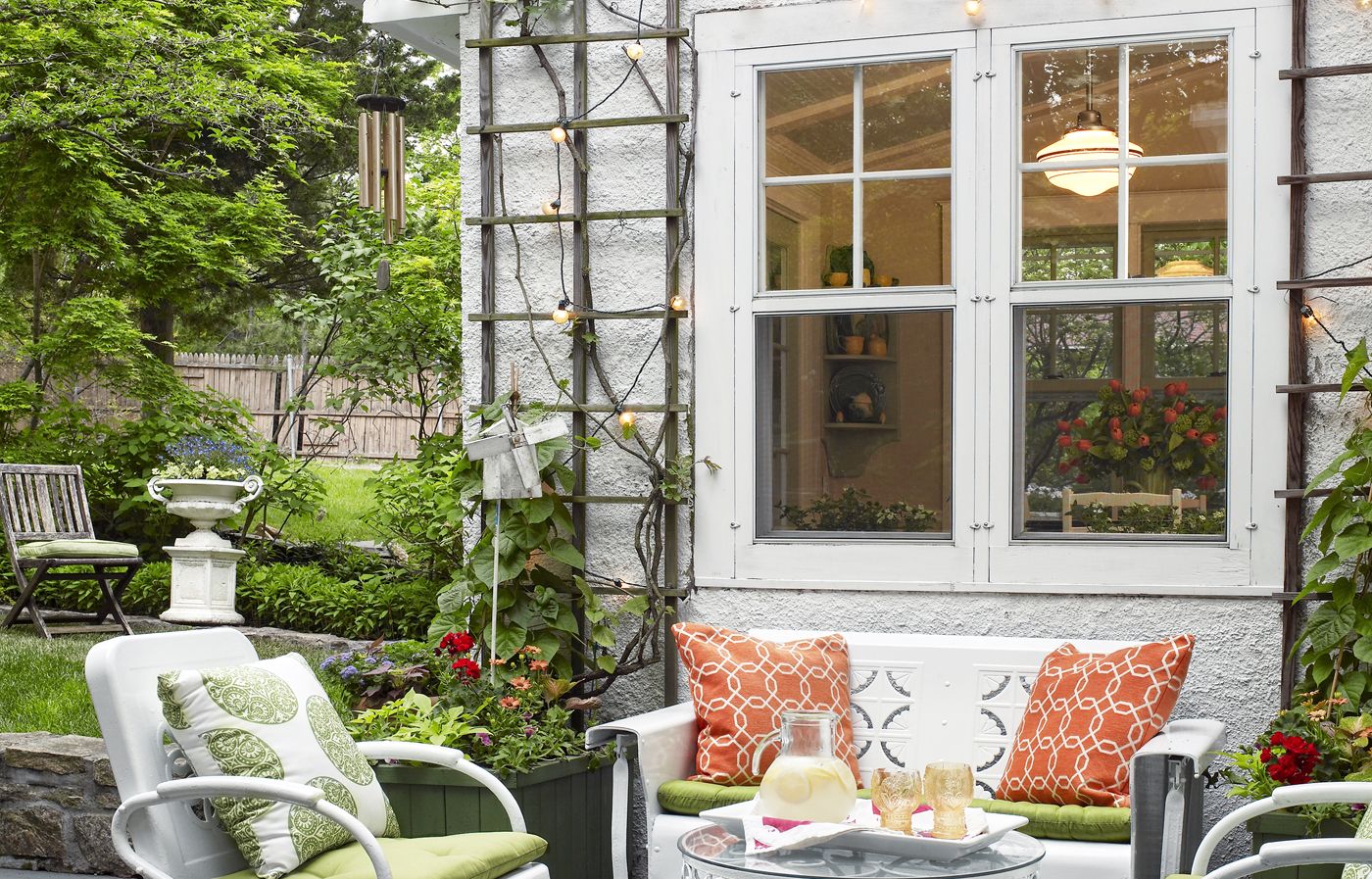 Like handsome shutters or a brightly painted door, a house's double-hung windows can offer a focal point, as here. At night they act as light boxes and cast an ambient glow.
2. Install a Little Lattice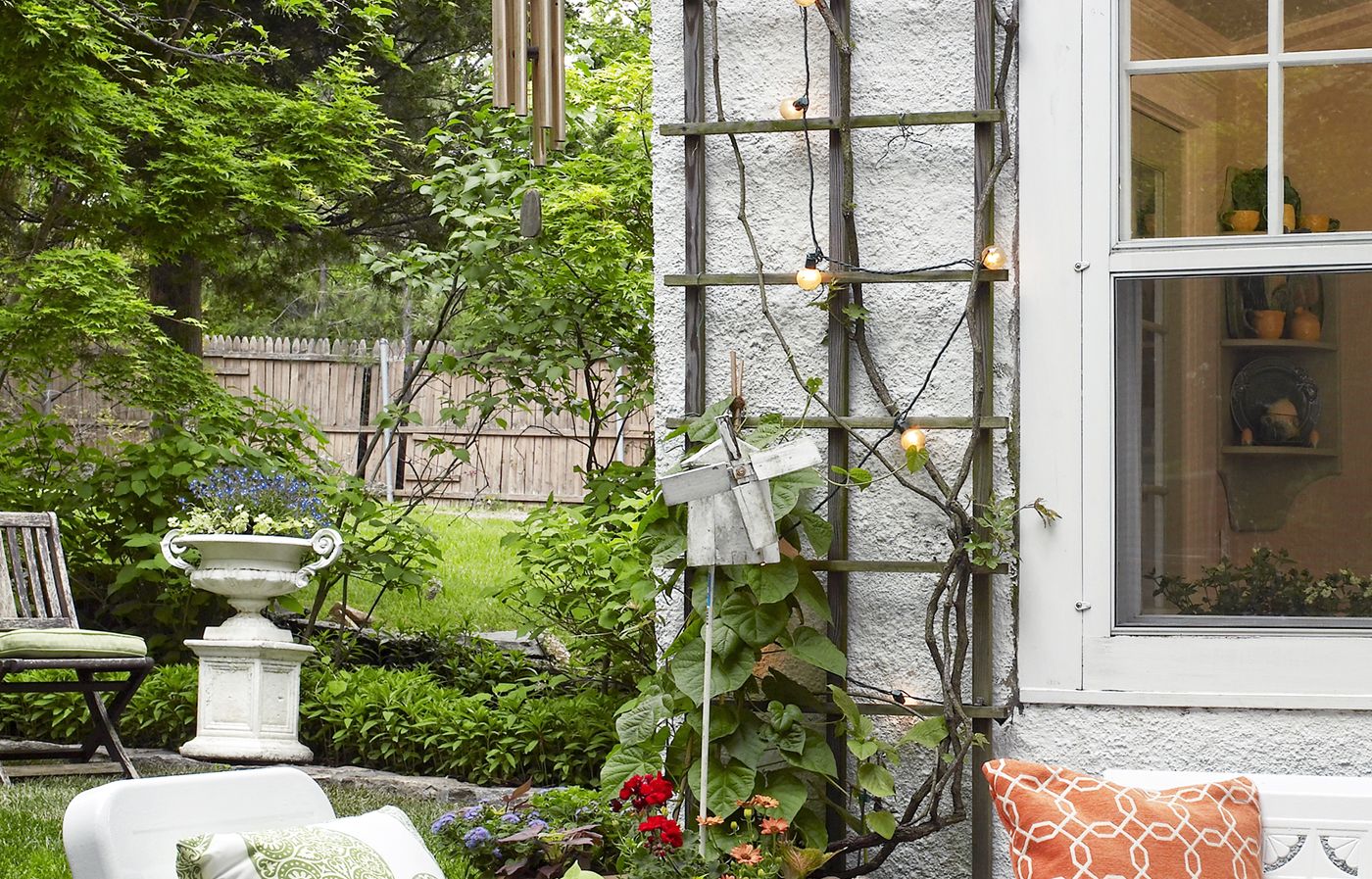 Here, trellises provide ladders for vines to scramble up while adding dimension and color to the white facade. Planters filled with high-contrast blooms amplify the layered look.
Similar to Shown: Cedar Trellis Screen Panel, about $166; Amazon
3. Make it Festive With String Lights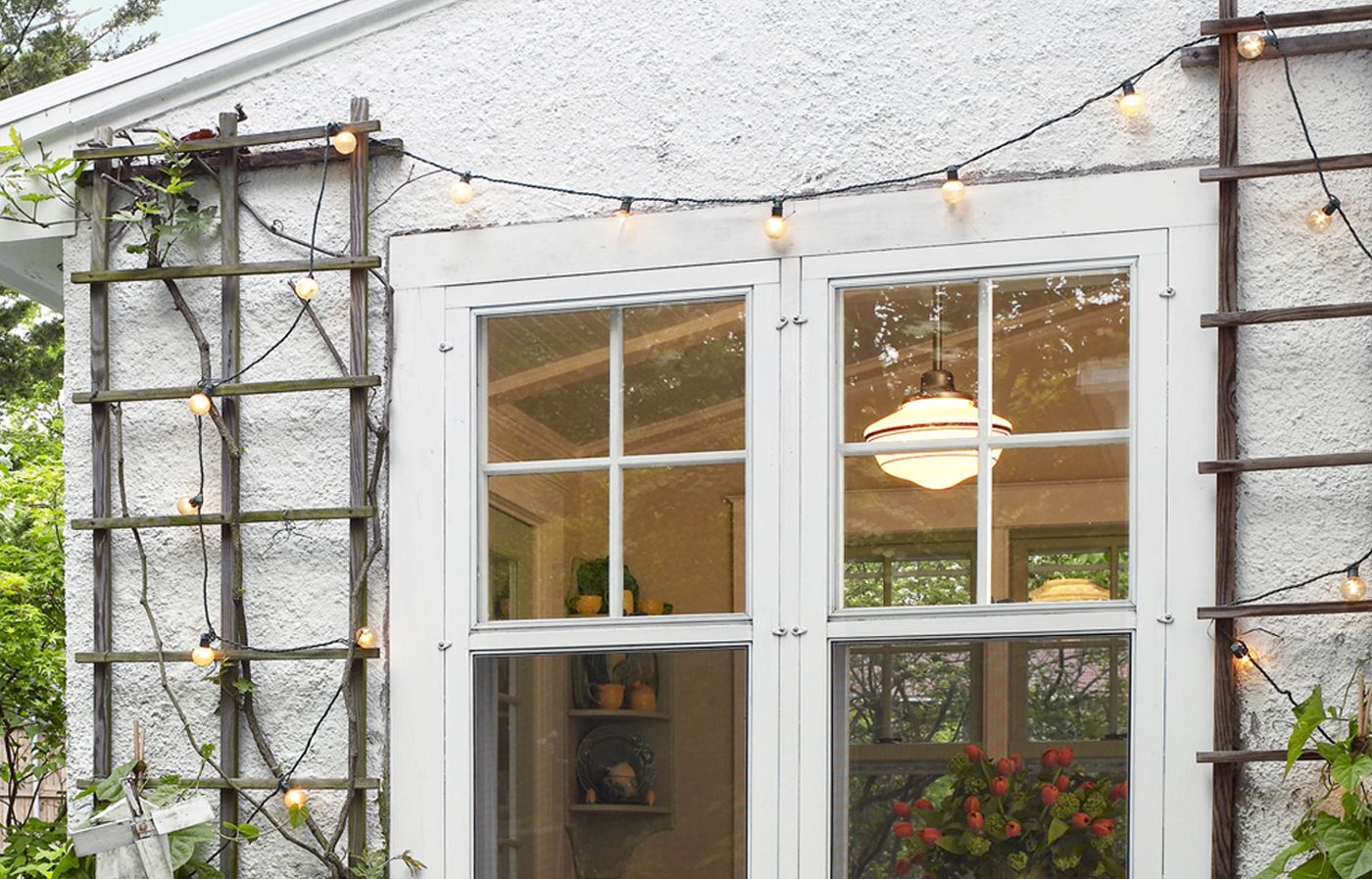 String lights are simple scene-setters—just plug and play! These outdoor-rated globes unite the trellises.
Similar to Shown: G50 15-foot String Light Set with 5-watt bulbs, about $26; partylights.com
4. Add Character With Vintage Furniture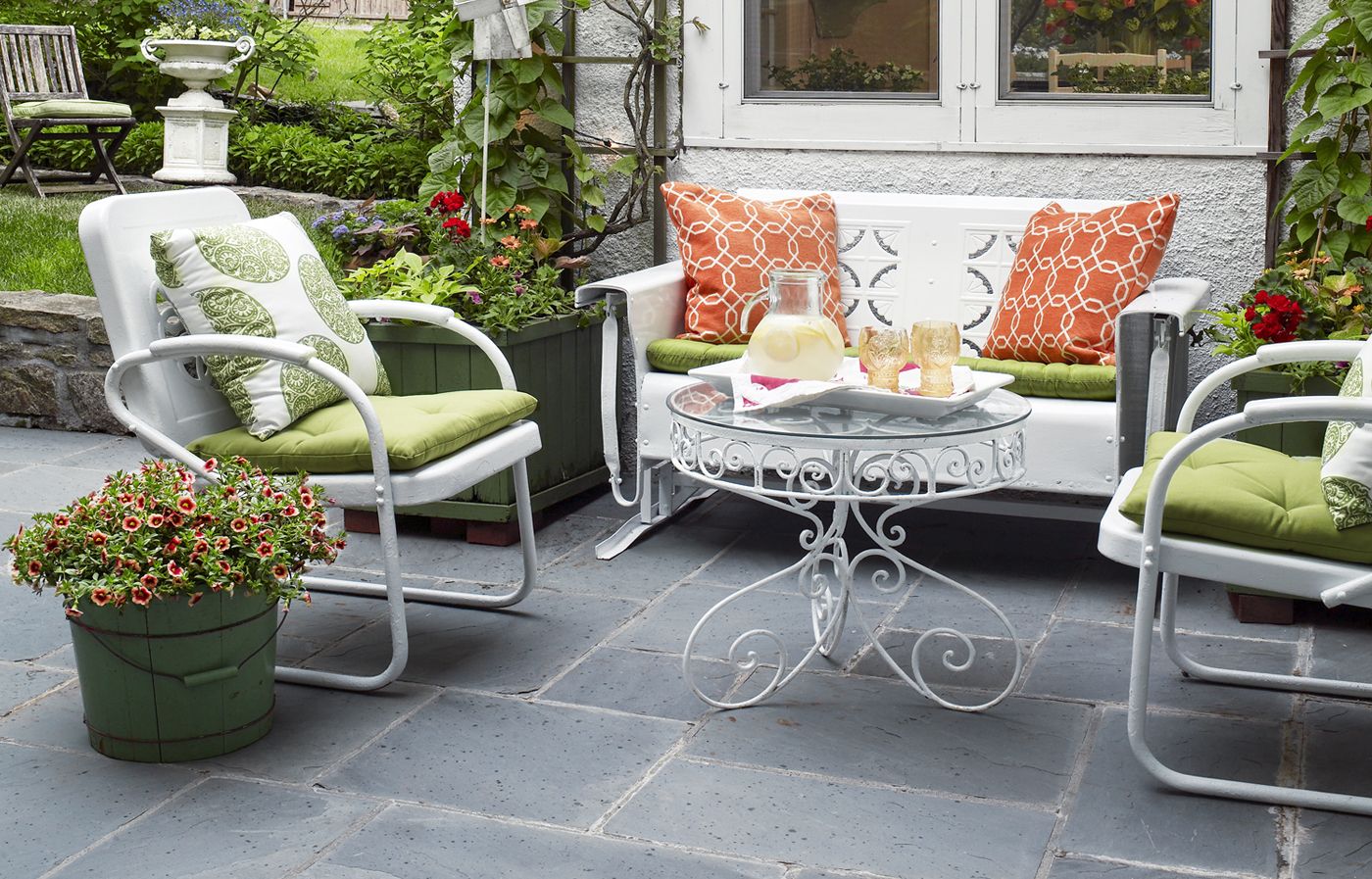 Flea markets and antiques shops offer thrifty vintage patio furniture, and often it needs just a light sanding and a couple of coats of paint. Refinished metal gliders like this 1940s two-seater go for $100 to $500 on eBay.com.
5. Choose Portable Pieces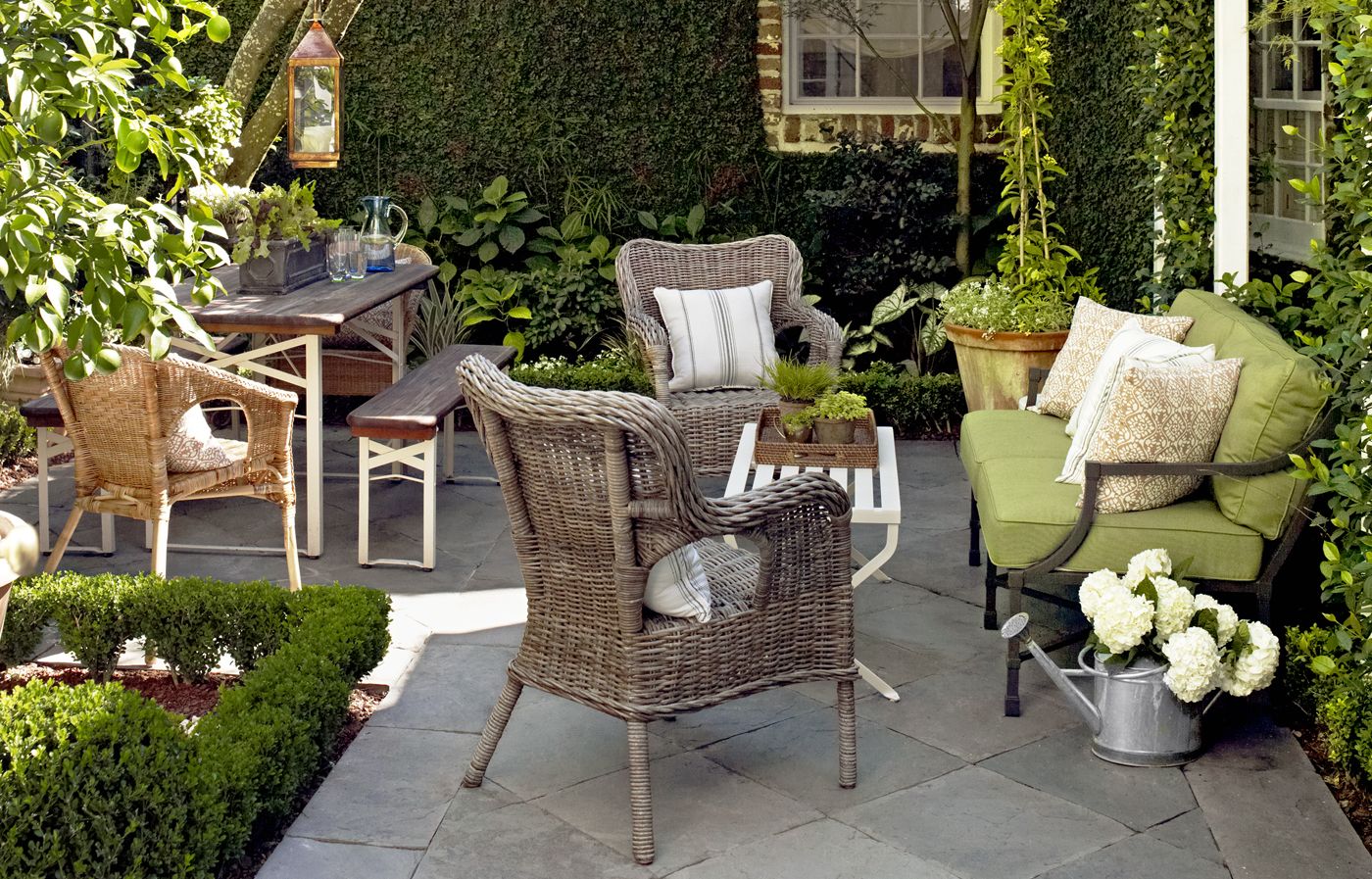 A folding table and folding benches transform a bare corner into a temporary dining room.
Similar to Shown: Beer Garden Outdoor Dining Collection in blue or red, about $510; World Market
6. Hang a No-Wire Fixture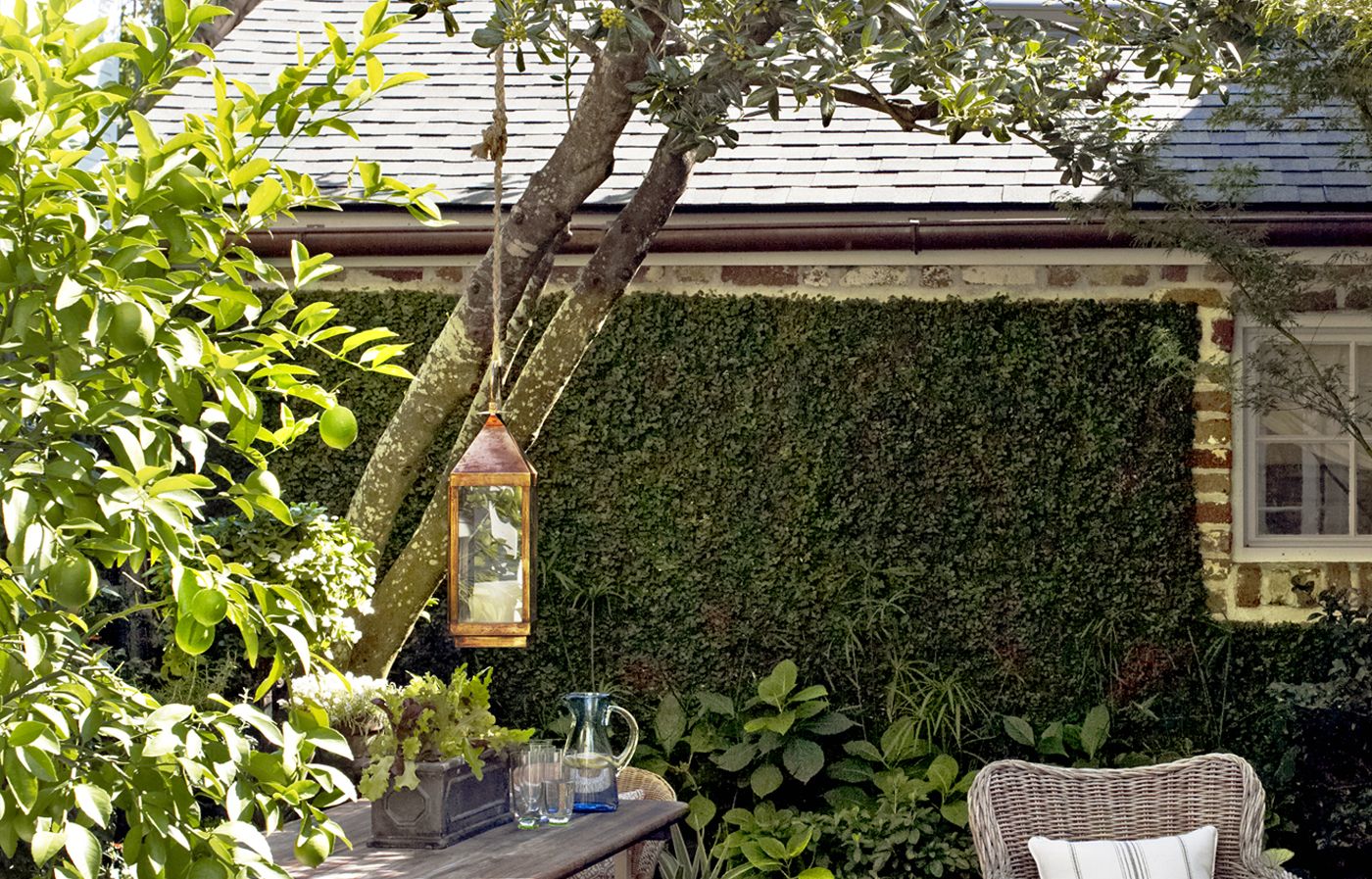 You don't need electricity to string up a patio pendant. Here, a candle lantern tethered to a rope is simply lashed to a tree branch.
Similar to Shown: LampLust Lantern, 18 nches high, about $65; Amazon
7. Cover Walls With Climbers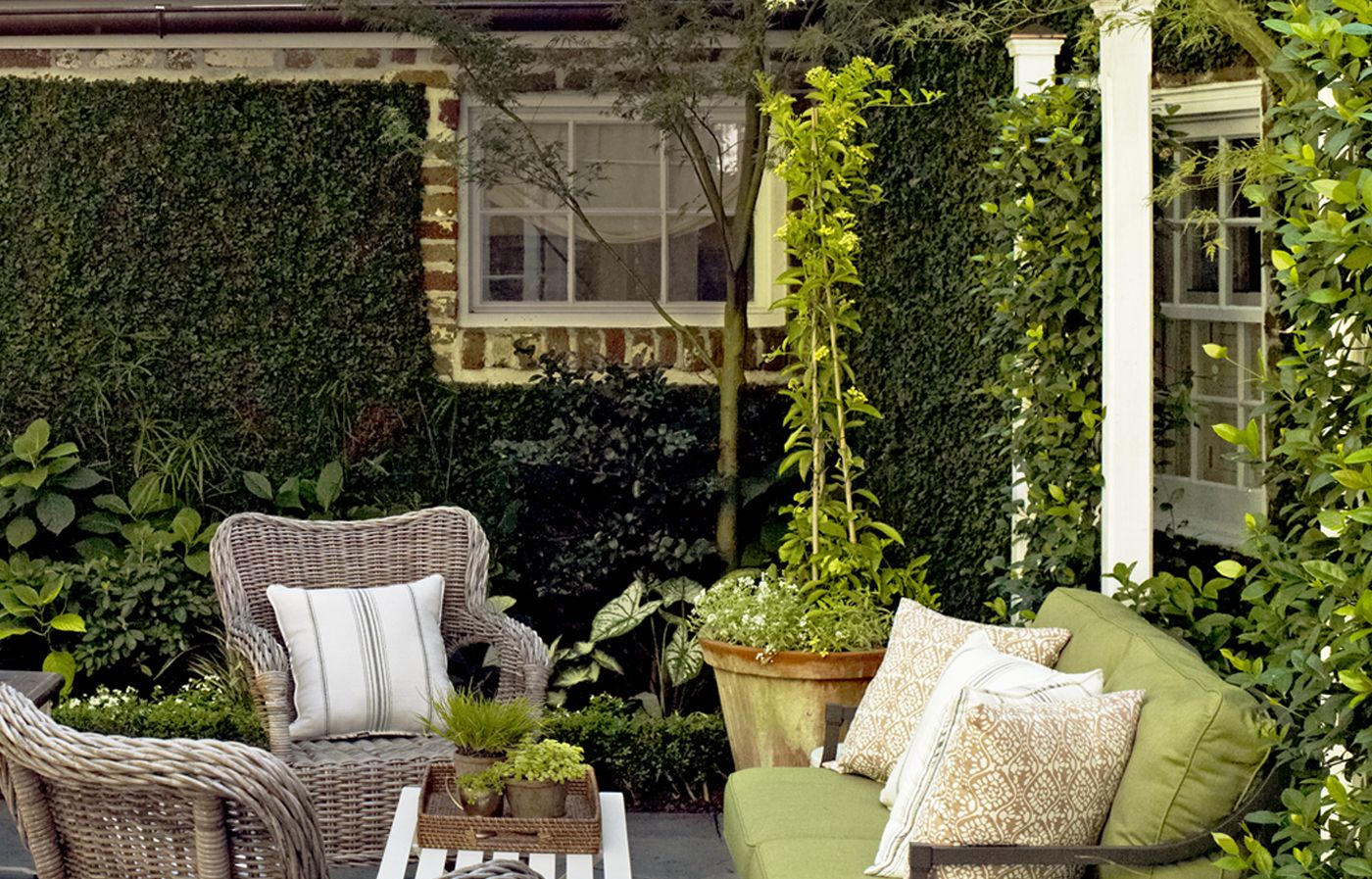 A vertical garden of evergreen vines softens the appearance of plain siding. Noninvasive creeping fig (Ficus pumila) masks brick on this South Carolina home. About $16 per plant; Brushwood Nursery
8. Create a Tray Garden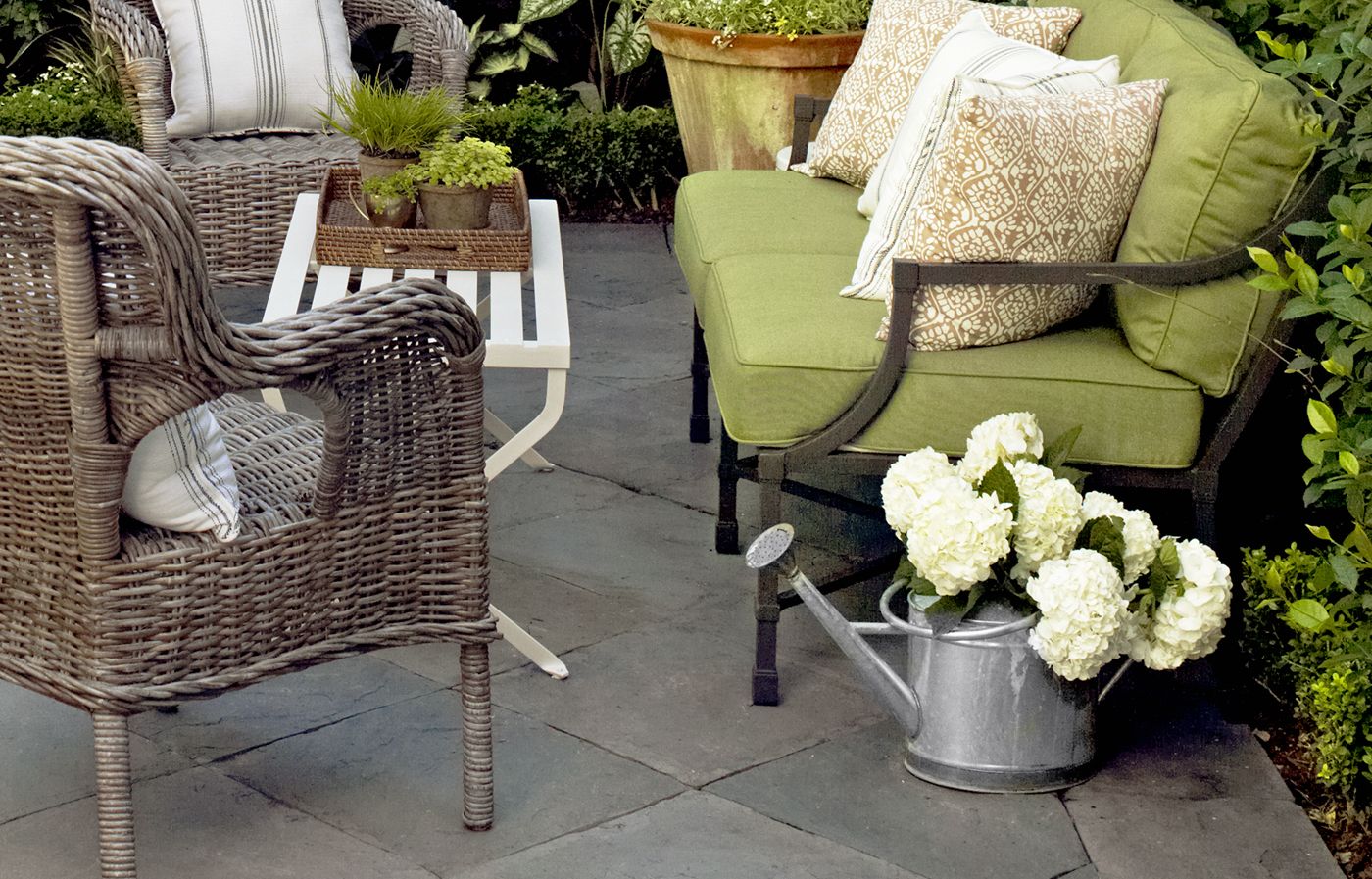 Small potted plants clustered on a tray are an all-weather decorative touch—and can easily be moved to make room for cocktails. Herbs de Provence 6-pack of potted herbs, about $43; Amazon
9. Turn up the Heat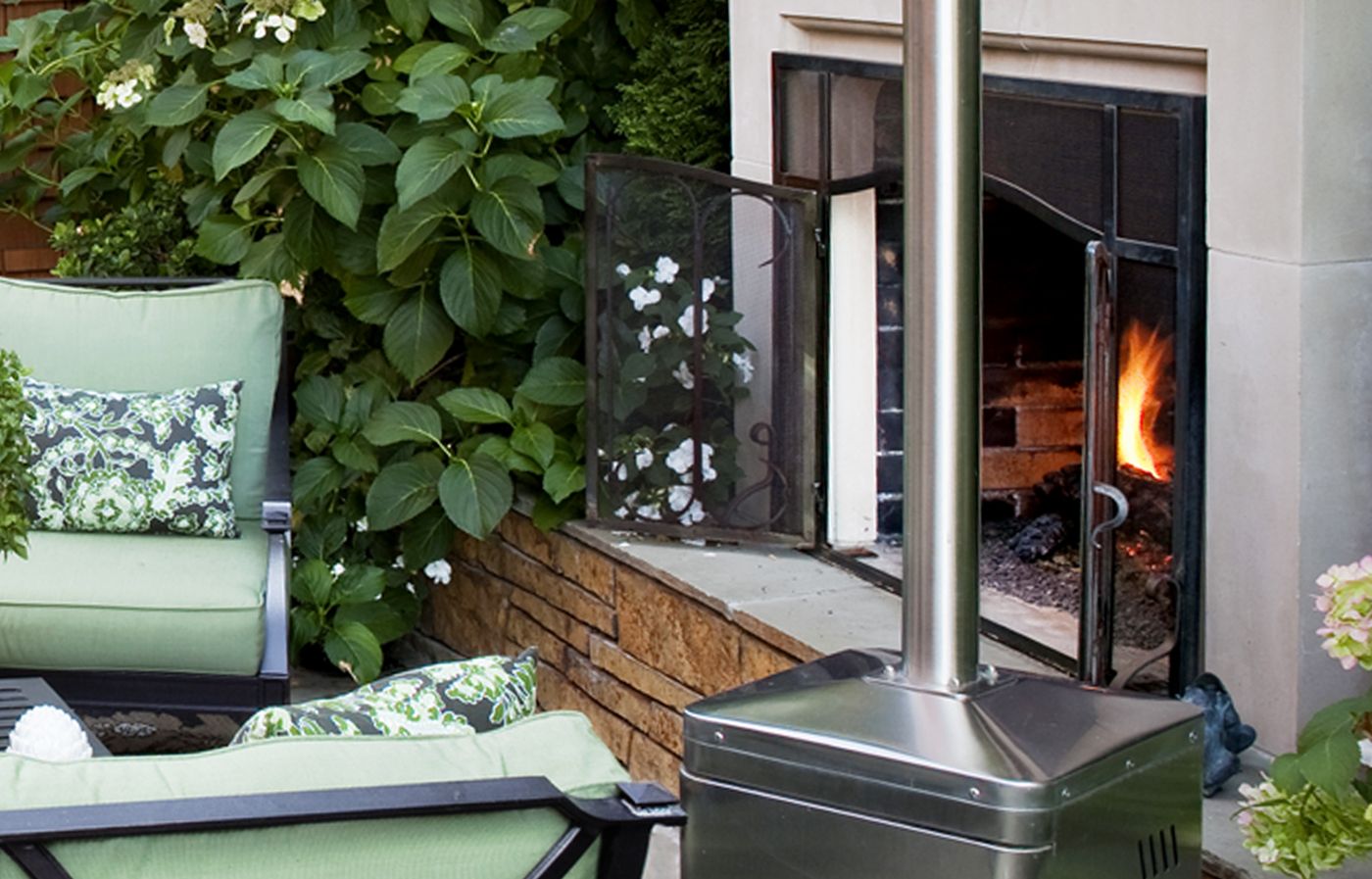 A crackling fire offers a snug spot for congregating on chilly nights. If space and budget allow, spring for a full-size fireplace like this wood-burning one, raised on a custom masonry hearth. A portable propane heater can boost the temperature as well.
For a similar effect: Chesterfield Grand Outdoor Fireplace, made of cast concrete and fiberglass composite, about $2,900; Fire Sense Tapered Patio Heater, $210; Amazon
10. Put a Roof on it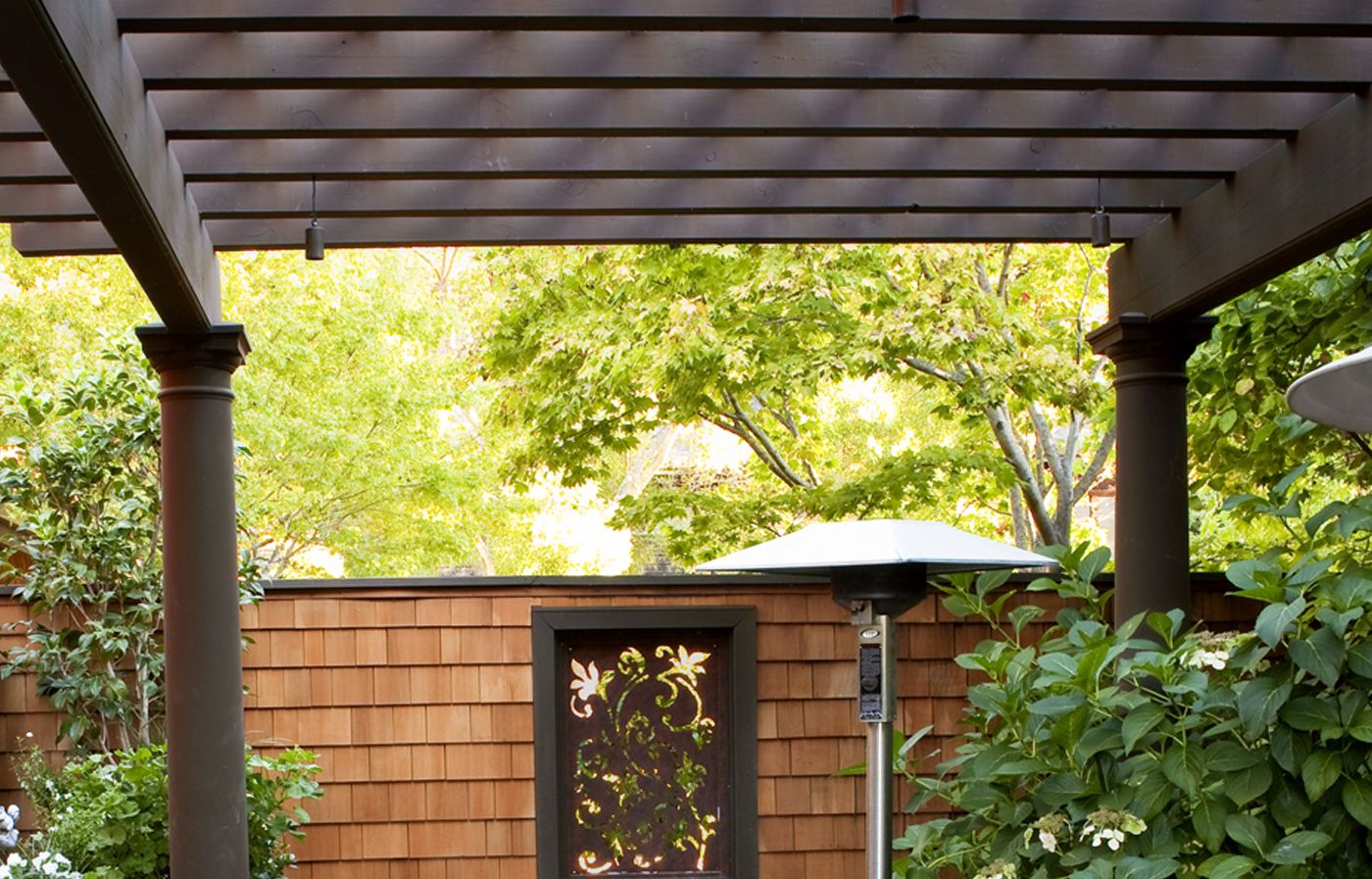 A pergola offers a bit of shade and a sense of enclosure while still letting in fresh air. This stained-wood version is custom, but you can build your own from a kit. The Suncast Cedar Pergola is a generous 10 by 12 feet and comes ready to assemble, no cutting required. About $1,300; Target
11. Add Running Water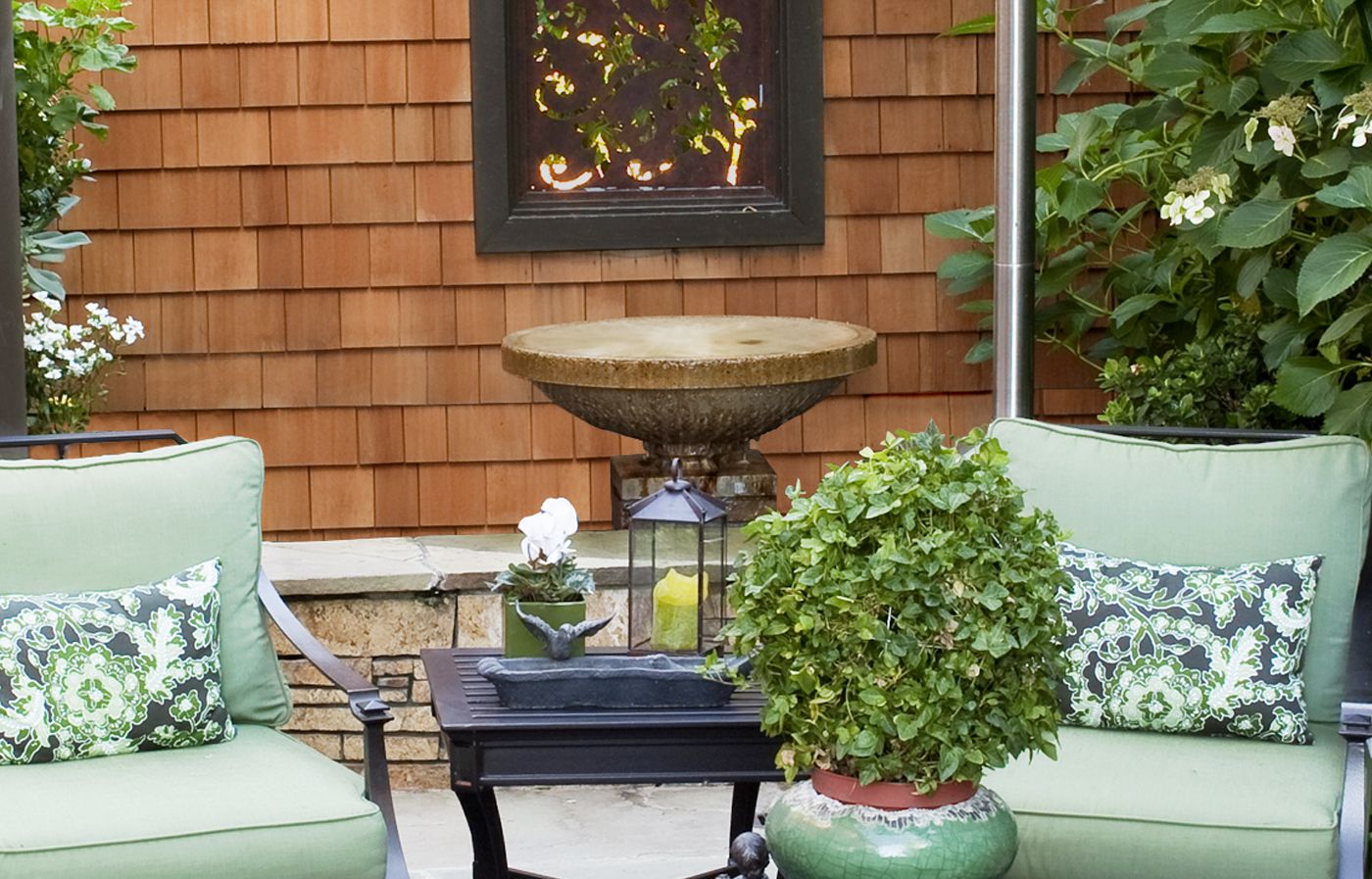 The sound of a fountain helps drown out lawn mowers, air conditioners, and passing cars and also creates a sense of calm. For masking white noise, fountains are most effective when paired with a barrier, such as this shingled partition wall.
Similar to Shown: Arcadian Single Fountain in Terracotta, about $220; Haddonstone
12. Put a Pattern Underfoot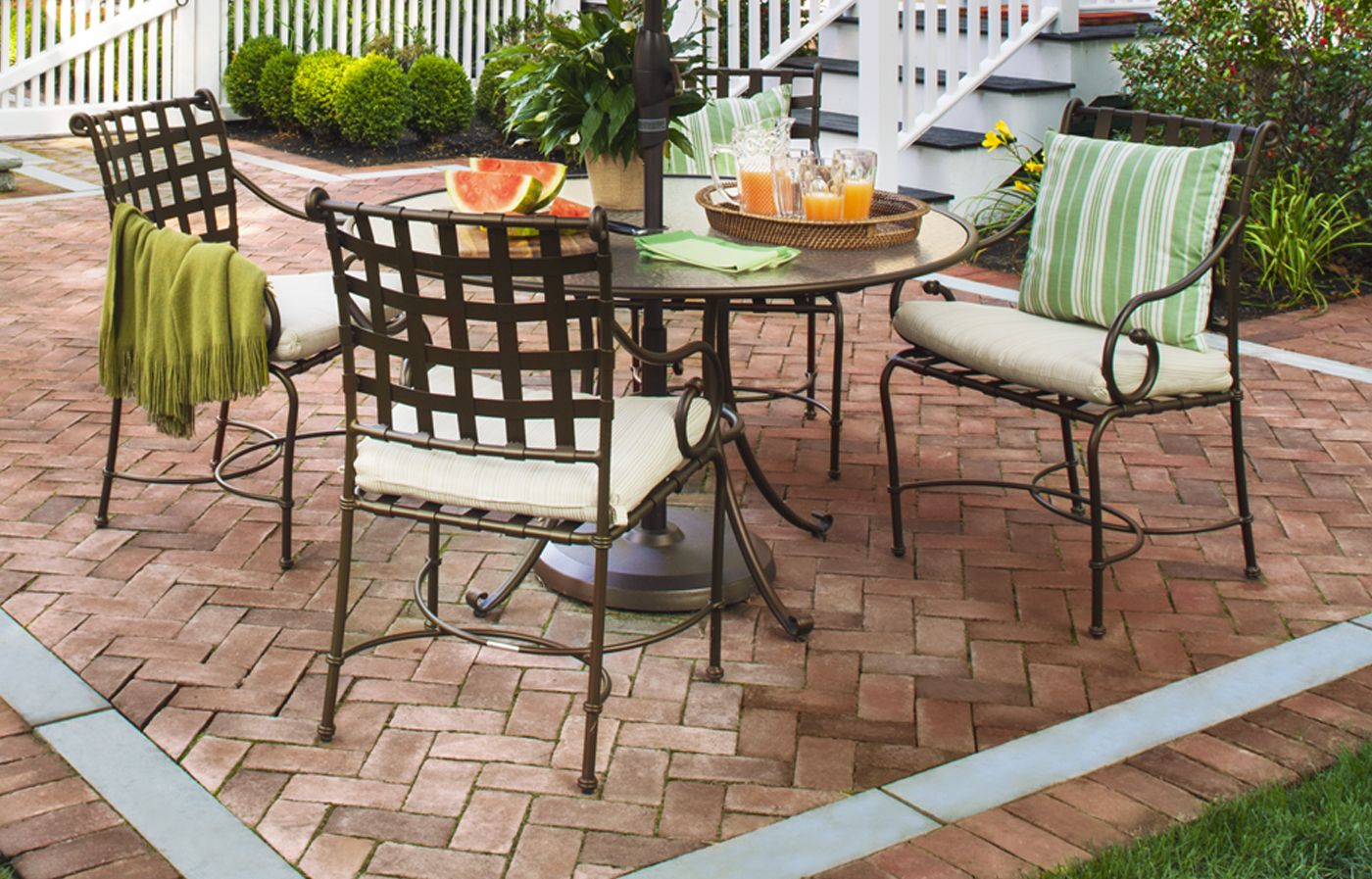 The way you lay a brick or paver floor sets the tone for your outdoor space. The bordered herringbone shown here works well in a large expanse and with a traditional house style. Find the best fit for your house among six popular patterns.
13. Make Shade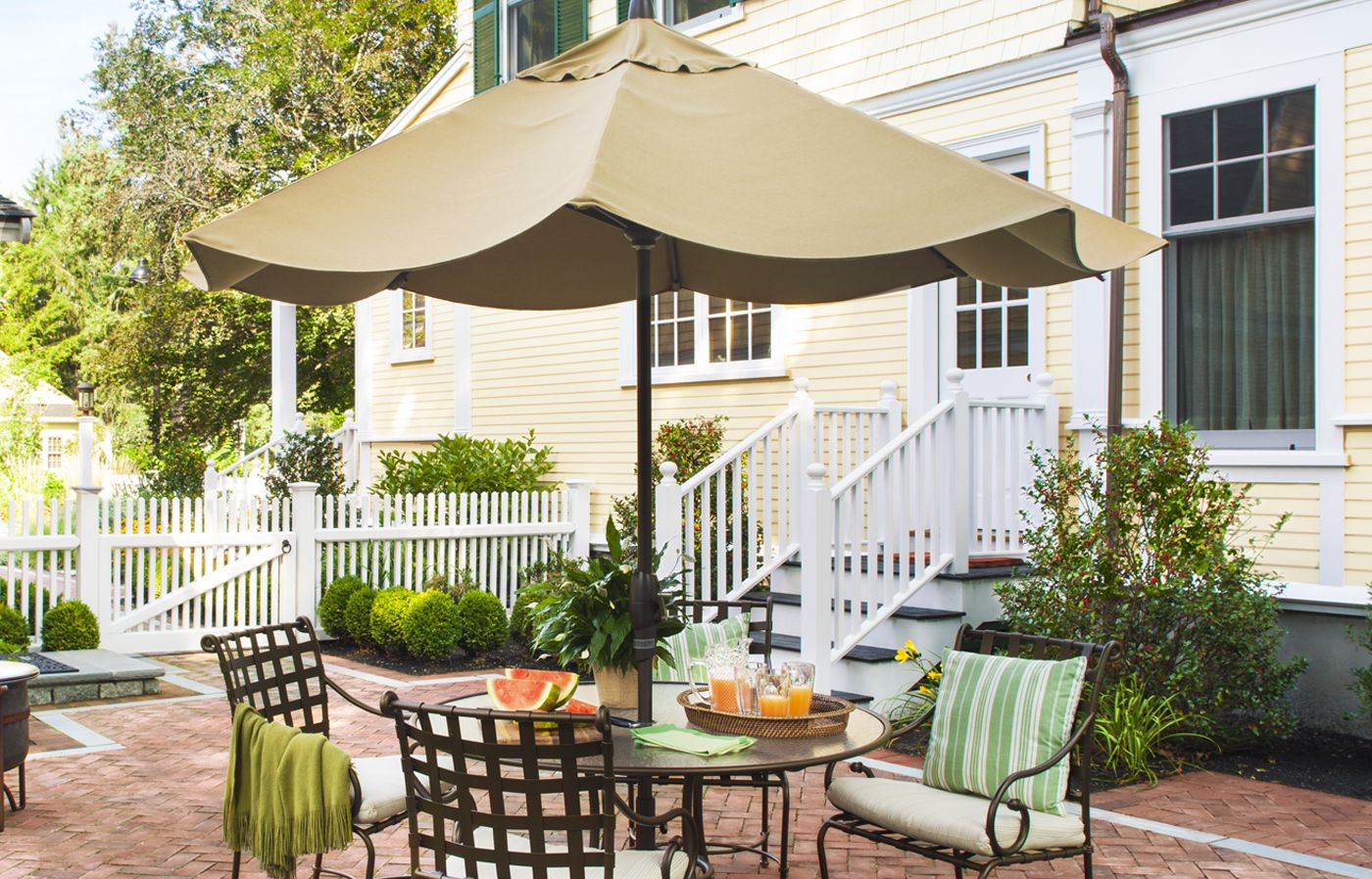 A market umbrella is the simplest way to beat the heat on an exposed patio. To shelter four chairs, choose a model 9 feet or larger that has a sturdy base to prevent tips; tough aluminum ribs to weather high winds; and a fade-resistant, UV-rated canopy. Similar to shown: 9′ Round Market Umbrella 43478, $150; Amazon
14. Fire up a Portable Pit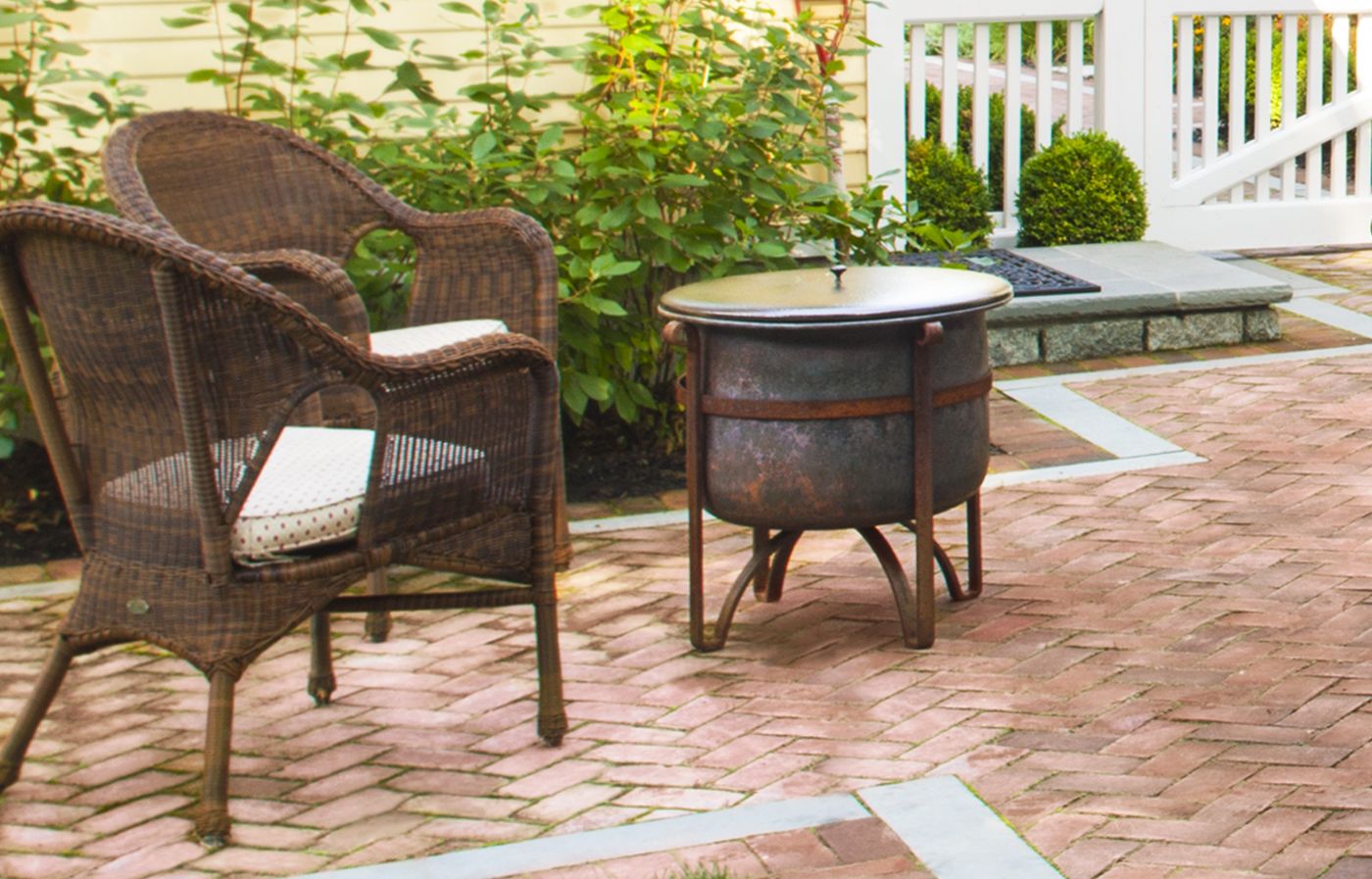 A store-bought fire bowl is an affordable alternative to a built-in fireplace, and you can move it around. This vessel-style pit has a lid, so it doubles as a table.
Similar to Shown: Similar to shown: Vivinhome Outdoor Fire pit; $170, Amazon