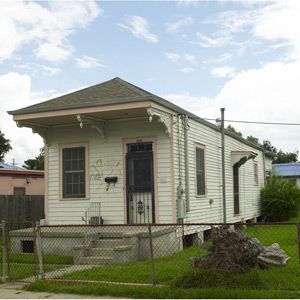 During the making of the This Old House New Orleans Rebuilds episodes, we found many worthy organizations working to provide housing solutions in the city. Many of them were featured on the show. To learn more about these remarkable groups, or to support their efforts, please visit their websites.
The Musicians' Village, conceived by Harry Connick Jr. and Branford Marsalis, will consist of 72 single-family, Habitat-constructed homes for New Orleans musicians displaced by Hurricane Katrina.
Habitat For Humanity – New Orleans Area
As the largest homebuilder currently in New Orleans, Habitat for Humanity is leading an unprecedented rebuilding effort. In 2008, NOAHH plans on building hundreds of new homes in Orleans, Jefferson, St. Bernard, and Plaquemines Parishes.
Global Green and Home Depot Foundation
Global Green USA is working with local and state authorities to implement green rebuilding policies in the wake of Hurricane Katrina.
With the support of Brad Pitt and lead funding from the Home Depot Foundation, Global Green USA is building the first sustainable low-income housing community in New Orleans's ravaged Ninth Ward.
The Preservation Resource Center is dedicated to preserving, restoring and revitalizing the historic architecture and neighborhoods of New Orleans through education, advocacy and rebuilding programs.
Operation Comeback is a program of the Preservation Resource Center dedicated to promoting the purchase and renovation of vacant historic properties working with dozens of neighborhood associations and community development corporations citywide to revitalize New Orleans.
Rebuilding Together New Orleans
After Hurricane Katrina, the Rebuilding Together New Orleans affiliate, in conjunction with the Preservation Resource Center, began repairing hurricane and flood damaged homes for the city's residents. Rebuilding Together has taken on the challenges of total renovation so that elderly and disabled homeowners can safely move back into their homes.
As more and more residents return home, many face the major decision of how to repair their houses. Where appropriate, Mercy Corps advocates for "deconstruction," or taking a home apart piece by piece to salvage reusable materials, recover items of historic value, and reclaim personal belongings if possible.
The Green Project resells high-quality, salvaged building materials at low cost to the community. They are dedicated to helping the environment by reducing the amount of usable materials placed in landfills or disposed of improperly.
Broadmoor Improvement Association
Established in 1930 , the Broadmoor Improvement Association (BIA) is one of the oldest neighborhood associations in New Orleans. Since Katrina, hundreds of neighborhood residents have joined together through the efforts of the BIA, to revive and rebuild their community. The residents of the Broadmoor neighborhood have produced a comprehensive redevelopment plan – one of the first in the city of New Orleans.
The focus of Cafe Reconcile is to provide at risk youth with the professional and interpersonal skills necessary to change the course of their lives. The program is conducted at the nonprofit Cafe Reconcile restaurant.
CrossRoads Missions seeks to meet the needs of families affected by Hurricane Katrina through the construction of homes in the Central City area. CrossRoads also provides supervision and on-site training of the Cafe Reconcile construction students at the work site.
Jericho Road Episcopal Housing Initiative
Jericho Road Episcopal Housing Initiative is a faith-based nonprofit organization providing affordable housing opportunities to working families and individuals' in New Orleans neighborhoods. Jericho Road volunteers are directed by CrossRoads and they work alongside youth from Cafe Reconcile, who are learning the construction trade.
Make It Right came out of Brad Pitt's efforts with Global Green. The mission is to build a neighborhood of safe and healthy homes that incorporate modern, high-quality design and construction while preserving the spirit of the Lower 9th Ward's culture.
The National Trust For Historic Preservation
The National Trust for Historic Preservation, the country's largest private, nonprofit preservation organization, has worked with the Preservation Resource Center to protect homes from erroneous demolitions after Katrina.
Neighborhood Housing Service is a Neighborworks program. NHS employs a holistic approach to revitalization, bringing lenders, government entities, and nonprofit providers together to both reduce the number of substandard and vacant houses in New Orleans and increase home ownership opportunities for families who might not normally qualify through traditional methods.
Holy Cross Neighborhood Association
The Holy Cross Neighborhood Association was established in the wake of Hurricane Katrina to serve as a clearinghouse for information; to preserve the neighborhood's cultural and architectural heritage; and to advocate for the community's and their neighbor's interests.
The Louisiana Serve Commission has established Volunteer Louisiana, a website and call center that matches volunteers with service opportunities throughout the state.