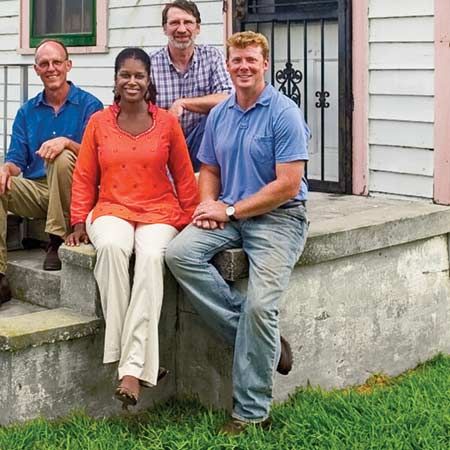 On the first day of filming the New Orleans project, This Old House master carpenter Norm Abram and host Kevin O'Connor sat for a photo with the homeowner and architect, and an eerie thing happened. An observer noticed it was September 10, the same date spray-painted on the house behind the group. It had been exactly two years since a search team had left its mark after Hurricane Katrina.
For the TOH crew, working in New Orleans was alternately defeating and rejuvenating. Like the locals or anyone else who's been to the city since 2005, they saw entire areas razed or, worse, left in a state of abandonment and collapse. "When you go from neighborhood to neighborhood and count the telephone poles and electrical wires that are still down, when you drive the pothole-covered streets, you see the magnitude of the devastation," says Kevin. "People need to stop wondering why, after two years, we still haven't finished rebuilding."
But that's not to say that the crew saw only bad. "The thing that impressed me overall was that the people we met were very determined to get their lives back," says Norm, who had returned for the first time since the show's 1991 project there. He and Kevin, who attended Mardi Gras, saw the lure of the old New Orleans—the music, the food, the culture—back in full swing. "Everyone has a story," says Norm. "But in spite of some of the harrowing tales, they're still helping their neighbors, they're still putting it together, they're still smiling." And that, they hope, will ultimately be the key to the city's revitalization.
While the house was being built, the show also chronicled the progress at Musician's Village, a Habitat for Humanity project (in conjunction with Harry Connick, Jr. and Branford Marsalis) focusing on constructing 72 homes for displaced musicians in the Upper Ninth Ward.
WANT TO REVISIT THIS PROJECT? Check out the BEFORE photos here and see the AFTER photos here.