A Guide to Your Options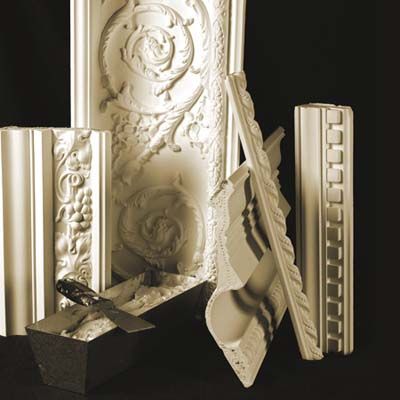 Installing crown molding is today's most-pursued architectural upgrade, meant to give plain walls depth and formality. But homeowners choosing their own crown are often stumped when faced with the variety of materials it comes in, from traditional plaster to high-tech flexible polymers. Here, we break down the choices and explain which type is right for your rooms.
Plaster
Best for: A grand interior, typically with plaster walls and a budget to match its high style.
Pros: Cast into elaborate profiles—some of which can't be milled out of wood—this elegant material's deep reveals can create intricate shadows. Plus, it won't shrink or warp.
Cons: There's no such thing as off-the-shelf here; all plaster crown is made to order and costly. It's also very heavy and easily cracked, and needs to be buttered on the back with fresh plaster for installation—not a DIY-friendly job.
From left: Grapevines, about $19*; oversize spiral rose vines, about $21; simulated built-up, about $22; rope detailing, about $7; toothy dentil, about $9; all from Hyde Park
* All prices per linear foot
Solid Wood
Best for: Most installations.
Pros: Like plaster, natural wood is a traditional material that is hard to imitate. Solid wood mills and carves into crisp edges, and hardwoods like oak and mahogany stain beautifully. Its color and grain patterns add warmth to a room. Wood comes in myriad simple stock profiles; more ornate reliefs can also be achieved by embossing wood composites onto solid wood.
Cons: Cutting and installing wood molding can vex even the most skilled carpenter, and the material can shrink and
swell with changes in the weather.
From left: (1) Dentil detailing, about $8; Ornamental Mouldings
(2) Maryland acanthus leaf, about $10; Inviting Home
(3) Hand-carved floral and dentil, about $18,
(4) Embossed wreath, about $11; both from Bendix Architectural
Solid Wood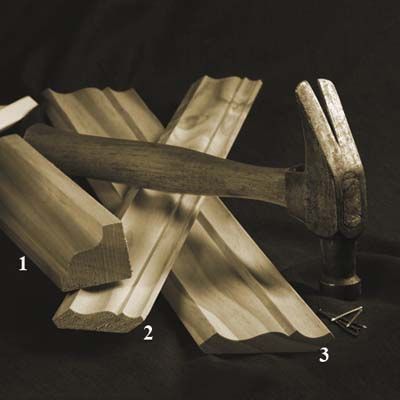 (1) Solid corner-fit crown, about $1; Dykes Lumber.
(2) EverTrue's small milled crown, about $1,
(3) EverTrue's medium milled crown, about $1.25; both through Lowes.
MDF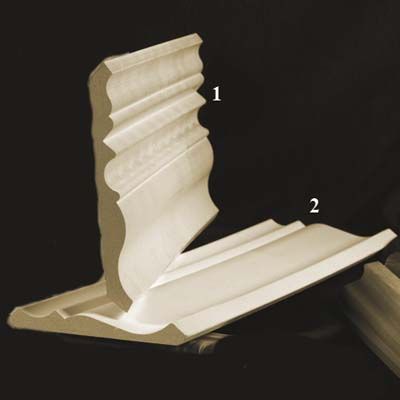 Best for: Rooms where trim is painted.
Pros: A composite material made from sawdust and resins, ultralight medium-density fiberboard (MDF) is a stable and low-cost alternative to solid wood. It comes in a wide range of stock profiles, some with a natural wood veneer suitable for staining.
Cons: Without veneers, MDF must be painted; cutting and installing poses the same challenges as solid wood, plus ultralight MDF is easier to dent or nick.
From left: (1) EverTrue's classic MDF ogee curves, about $15, (2) EverTrue's simplified MDF ogee profile, about $11; both through Lowes
Polyurethane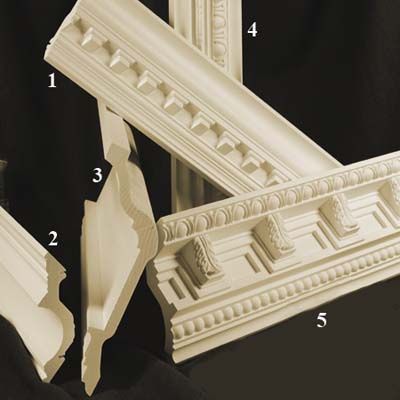 Best for: This product works in most installations.
Pros: Less expensive, more stable, and more rot- and insect-repellent than wood, this extruded product is an excellent imitation. It mills and cuts like pine, goes up with the same nails, and takes paint equally well. It also comes in elaborate, plasterlike profiles.
Cons: Slightly softer than wood, it dents easily (so it requires a light touch to install) and is only good for painted applications.
From left: (1) Concord dentil, about $3,
(2) Governor's Place cove, about $10,
(3) Tall Randal crown, about $16; all from Focal Point AP
(4) Egg and dart, about $3; Architectural Ornament
(5) Elaborate Georgian dentil, about $12; Inviting Home
PVC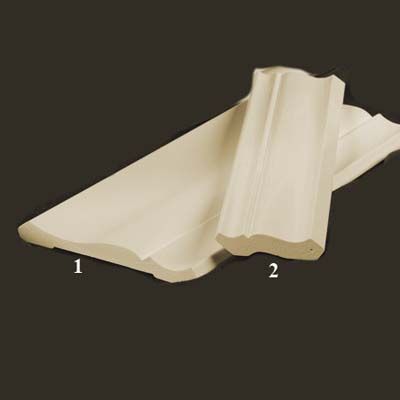 Best for: Bathrooms, exteriors, or anywhere moisture is a concern
and a simple profile is appropriate.
Pros: The plastic polymers in this product won't warp or rot, no matter how wet it gets.
Cons: The
way PVC is made limits profile options and precludes ornate designs altogether; its slick surface is difficult to paint neatly, but it needs paint in order to cover the plastic sheen.
From left: (1) Gossen's medium plain ogee, about $4,
(2) Gossen's small plain ogee, about $2; both through Nelstek
Flex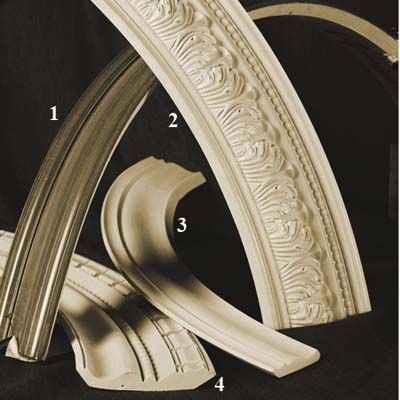 Best for: Curved walls and window bays.
Pros: This rubbery material comes in an array of profiles that can
bend around a curved wall without the need for relief cuts.
Cons: While less expensive than a custom carpentry job, flexible molding is still costly and must be special-ordered.
From left: (1) Unstained arch (shown stained), about $15; Flexible Moulding.
(2) Zago's overarching pearl and floral, about $7; Flexible Trim
(3) Zago's plain curving ogee, about $5; Flexible Trim
(4) Zago's pearl and dentil, about $6; Flexible Trim
Polystyrene
Best for: A quick room dress-up, sans power tools.
Pros: Perfect for the budget-minded and less-than-skilled installer, this light-as-air foam material can be cut with scissors or a knife and goes up with construction adhesive.
Cons: Plaster this isn't. The closer you get, the more you see its takeout-coffee-cup texture and less-than-crisp edges.
From left: (1) Popcorn-finish foam, about $1; Simple Crown
(2) Creative Crown's smooth-face dentil foam, about $2,
(3) Curving cove and ogee, about $1, and
(4) Solid corner crown, about $1; all through Foam Crown Molding
Parts Make a Whole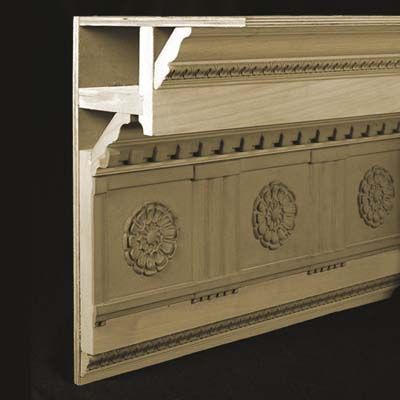 Unlike plaster or polyurethane, the most elaborate wood crown profiles are almost impossible to create out of a single board. So, many high-style crowns are assembled in layers to create a monolithic decoration. In addition to the crown at the top, the parts can include friezes, cove, and chair rail to extend the decoration. Support blocks and nailing strips hide behind and between the molding pieces to tie it all together. Shown: Greek Revival from White River Hardwoods, about $34; White River
A Matter of Proportion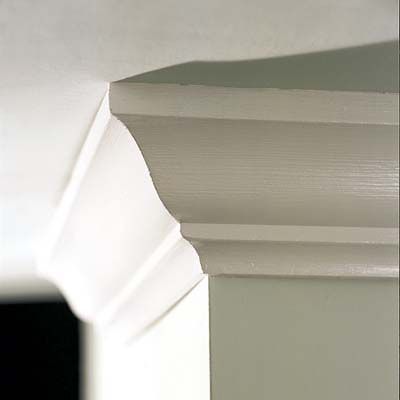 If crown molding isn't sized correctly in proportion to a wall's height, it can have a negative effect. "A molding that is too small can make the room feel top-heavy," says Joan Johnson, owner of White River Hardwoods, a molding manufacturer, "whereas a molding that is too large can bring the ceiling down and make the room feel closed in." The optimal sizes of the drop (the distance from the ceiling to the edge of the crown's lower flange) for various wall heights are as follows:
• 8-foot ceiling: 3- to 5-inch drop
• 9-foot ceiling: 5- to 10-inch drop
• 10- to 12-foot ceiling: 10- to 20-inch drop
• 16-foot ceiling: 18- to 25-inch drop