Chimneys usually climb higher than the rest of a house, so it's probably no surprise that they often support elaborate decorative details. The shape and size of a chimney is part function and part aesthetics. Here you will a variety of chimney designs and learn a few things about about how form affects function.
9 Chimney Designs
1. Separate Chimney Flues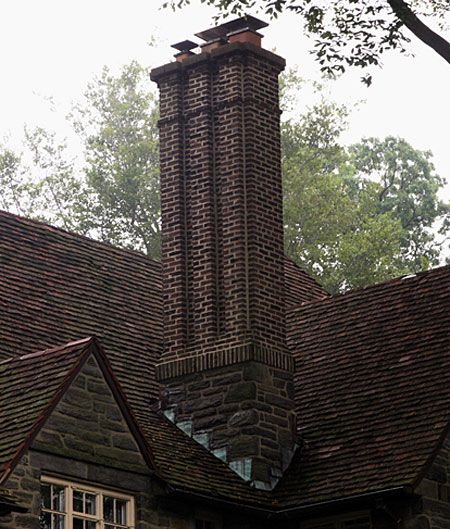 The channeled brickwork on this chimney hints that it serves three masters—fireplaces and/or fuel-burning heating systems—and the visible flues confirm this. Simple rain caps help keep moisture and rodents out while they direct the exhaust gas so that it doesn't waft down an adjoining flue back into the house.
2. Clay Flue Pots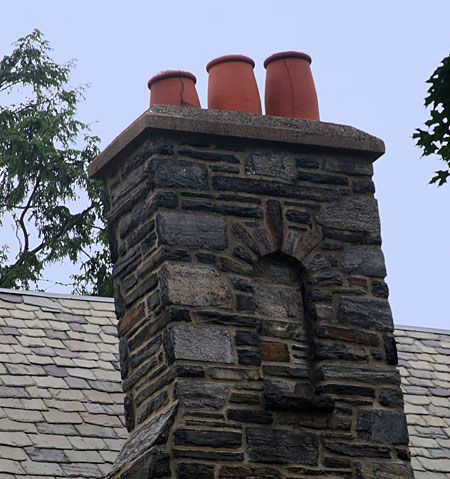 Three clay flue pots crown this stone chimney, adding a decorative touch and probably serving a practical purpose as well. When chimneys don't draw properly, it's sometimes because they are too short or too wide at the top. Adding chimney pots may keep smoke from wafting through the house because the pots add to the height and narrow the opening.
3. Quoins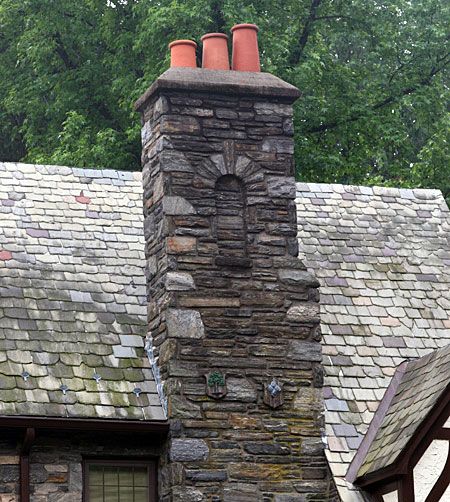 Stone chimneys, just like stone buildings, often sport quoins, dressed stones that march up each corner. Quoins are usually set so their wide and narrow faces alternate.
4. Brick Mortar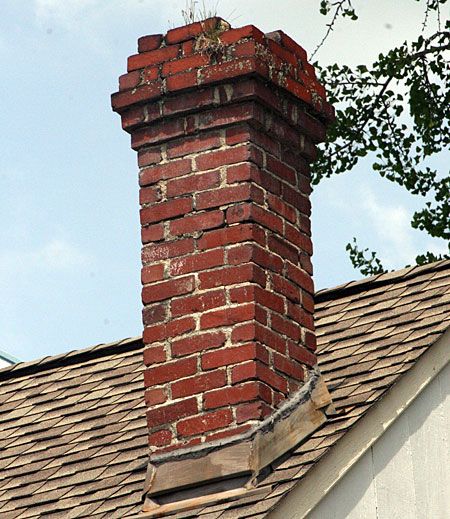 When masons build chimneys, they select mortar that is slightly softer than the brick. This way, if something has to give, it will be the mortar that suffers. The philosophy behind this is rooted in thrift: Mortar that crumbles can be repaired with simple repointing, while brick that breaks would need to be replaced, a labor-intensive job.
5. Paired Chimneys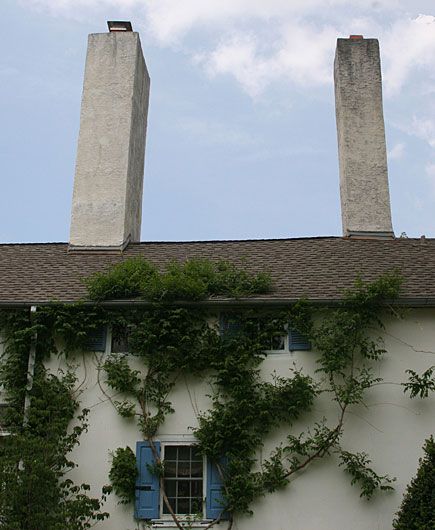 Double interior chimneys, such as those shown here, were often found on colonial houses built in the Georgian style. In the northern colonies, builders tended to locate chimneys toward the center of the house, where the warmth absorbed by the masonry would radiate out and keep rooms cozy during long winters. In southern colonies, chimneys were near end walls or even built outside the walls so the heat could dissipate.
6. House Geometry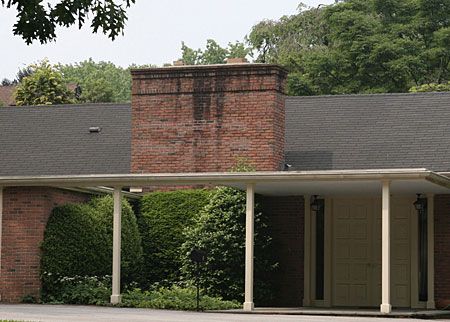 A beefy chimney dominates the front of this 1960s-era house. Note how the blocky shape echoes other geometric features visible from the street. The chimney's width, for example, is in proportion to the spacing between posts on the front porch and the width of the front door with surround. Most houses have a built-in geometry, which the chimney plays into.
7. Flashing Options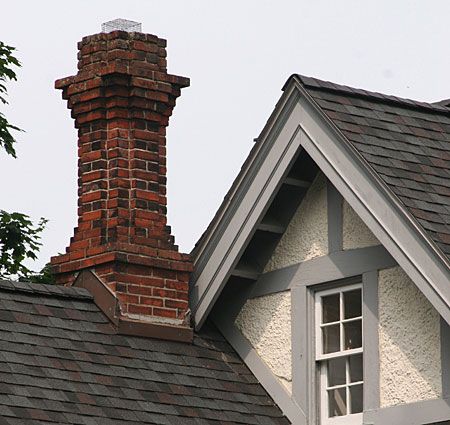 When a chimney rises from the very center of a house with a peaked roof, it penetrates both sloping sides of the roof. To keep water from seeping into the seam between brick and roof, the roofer used a straight flashing instead of the traditional stepped flashing—separate pieces that line up with each shingle course. Straight flashing like this works only for short sections.
8. A Play of Angles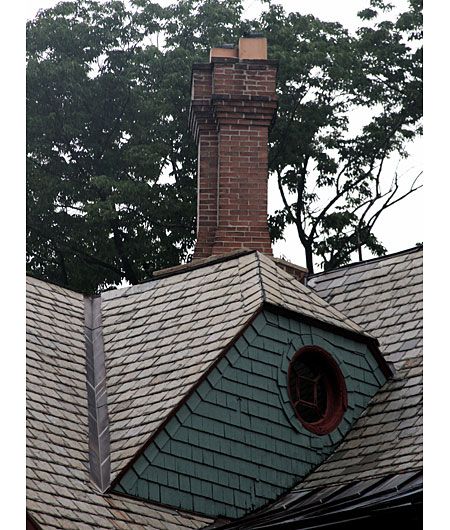 A roof with lots of interesting angles makes a good home for a chimney that's intricate as well. This chimney is set at a 45-degree angle to the base, crowned with several rows of corbeling. Some of the wood trim on the house is stained black, which makes it easier for someone standing on the ground to appreciate the care that went into building this beauty.
9. Curved Top Chimneys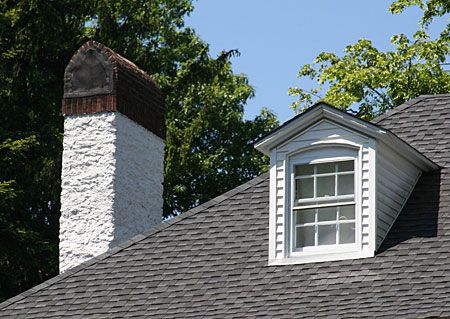 The mason who built this stucco-faced chimney created an arched cap to keep rainfall out. But that still left a couple of problems to be solved: confining sparks and keeping squirrels and other rodents out. Readymade screens and rain caps are one solution, but here they would have interfered with the design. Instead a simple piece of metal screen blocks the opening.