Geologic Wonder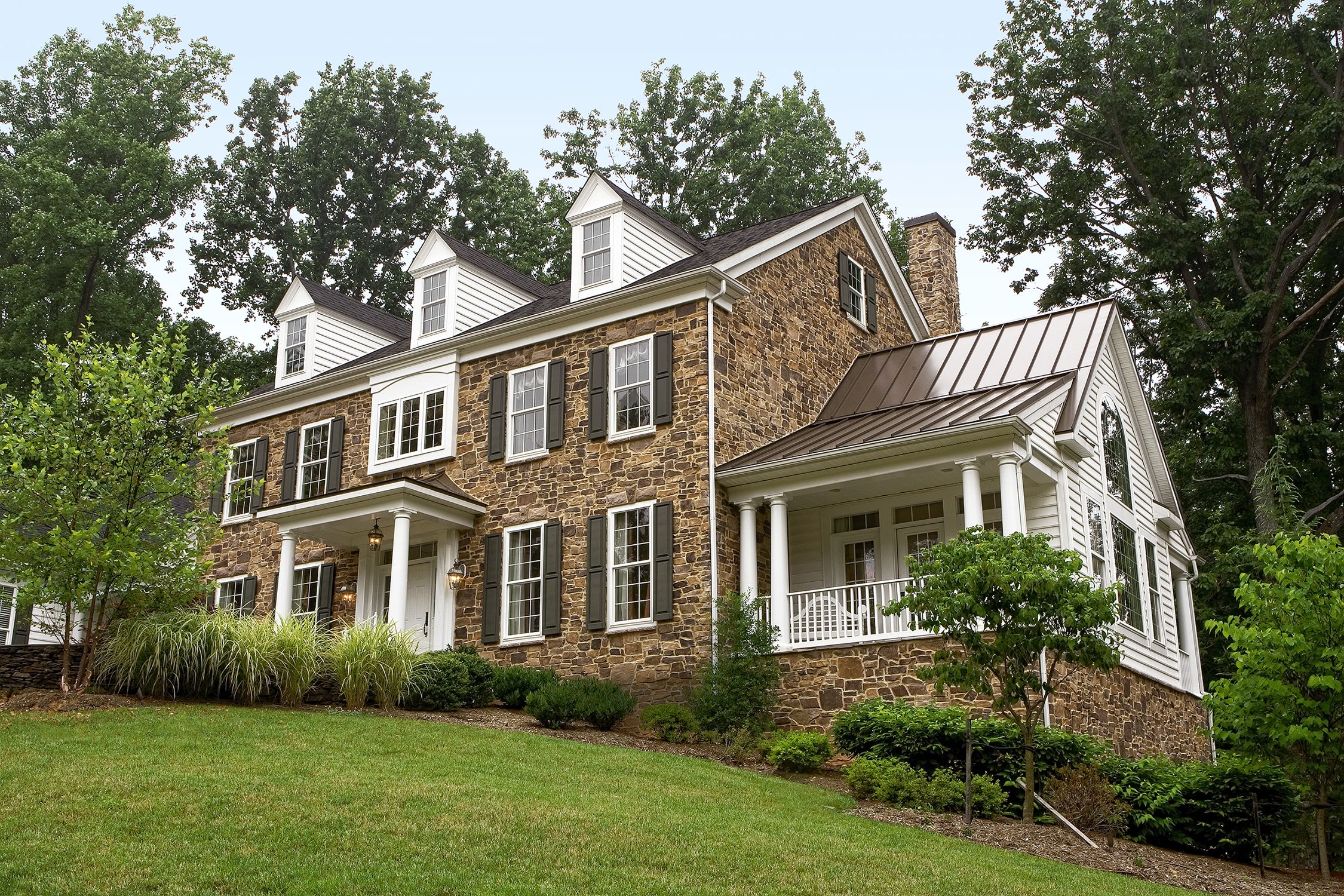 Mother Nature has been producing granite and river rock for millions of years, of course. And mankind has been experimenting with stone veneers since the Romans built the Coliseum. If you're not an emperor, though, adding such geologic wonders to your home's decor has always been a challenge. It once cost a small fortune to truck a few tons of rock to your front door. Installing it was labor-intensive. And, well, the DIY-friendly faux stone just didn't measure up to the real thing.
That's all changing, however. Natural stone can now be carved into thin slices that are light enough to transport almost anywhere. And cast, or faux, stone has received a major infusion of authenticity. Today, it's made from a concrete mixture that features a dozen or more pigments seamlessly blended together in molds produced from the contours of real stones. And by vibrating those molds during the manufacturing process, the final product is infused with color that runs throughout.
As a result, stone veneers are rapidly making their way into virtually every room in the house, in a sweeping range of styles. You'll find them popping up outdoors, too. From backyard kitchens to bathroom walls, rustic fireplaces to stylish dining rooms, lightweight veneers are remarkably versatile. Just take a look. You're bound to find something that suits your taste.
Shown: Given the myriad colors, shapes, and sizes of the fieldstone on this home, even someone with a well-trained eye would be surprised to learn that the facade is clad in cast stone. Custom-color fieldstone; find a local dealer on eldoradostone.com for pricing.
Beneath The Stone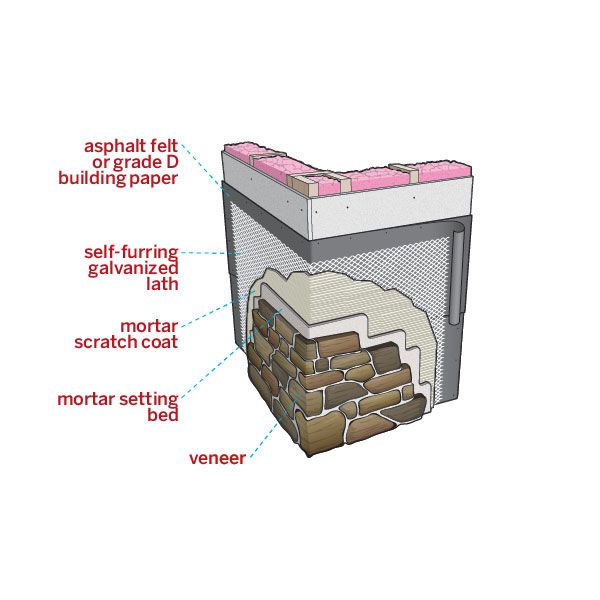 To protect your home from water damage—inside and out—a veneer installation requires a few layers of prep work.
Asphalt felt or grade D building paper acts as a moisture barrier against water and snow.
Self-furring galvanized lath helps support the mortar.
Mortar scratch coat helps support the stone.
Mortar setting bed bonds the stone to the scratch coat.
Veneer Looks like full-size stone but weighs much less.
Vitals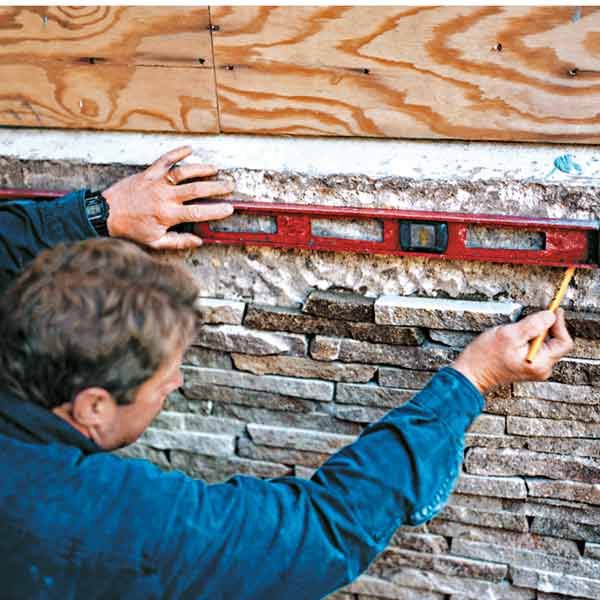 What's it made of?
If Mother Nature didn't create it, the stone is a mixture of portland cement, lightweight aggregate (such as pumice), and iron-oxide pigments shaped in a mold.
What's it cost?
Real stone can range from $7 to $19 per square foot. Cast stone will cost you $1.25 to $8. Expect to pay about $10 or more per square foot either way for a pro installation.
DIY or hire a pro?
If you've laid tile, you can handle most projects. Installing veneer on the exterior of a house is best left to a reputable expert.
How much care does it need?
A light dusting or a rinse with a hose is often enough. If need be, nicks in cast stone can be retouched with a color repair kit. To remove crystalline deposits, known as efflorescence, from cast stone, use a mild mixture of 5 parts water to 1 part white vinegar.
Man-Made Versus The Real Thing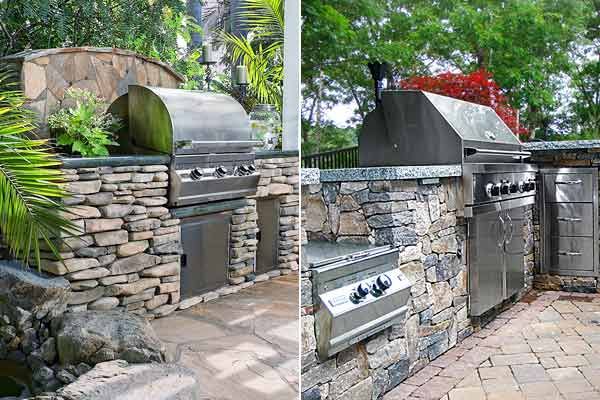 At first glance, it's not easy to spot the impostor in the pictures above. (Hint: Look at the one on the left.) But there are a few key differences between cast stone and its natural-born relative. Artificial stone is less expensive, significantly lighter, and quicker to install. But one good bump can reveal its weakness and spoil the facade. To be safe, keep a few extra pieces of veneer handy in the basement. Natural stone is simply that—rock that has been cut into a veneer ¾ inch to 1¼ inches thick and has all the shading, color, and flaws that come with eons of geologic pressure. It's more durable and more versatile, but it also costs more to purchase and takes longer to install.
Shown: Boston Blend Ashlar (left), $20 per square foot; stoneyard.com. Santa Cruz Coastal Ledge (right), $6-$8 per square foot; eldoradostone.com
Take Your Pick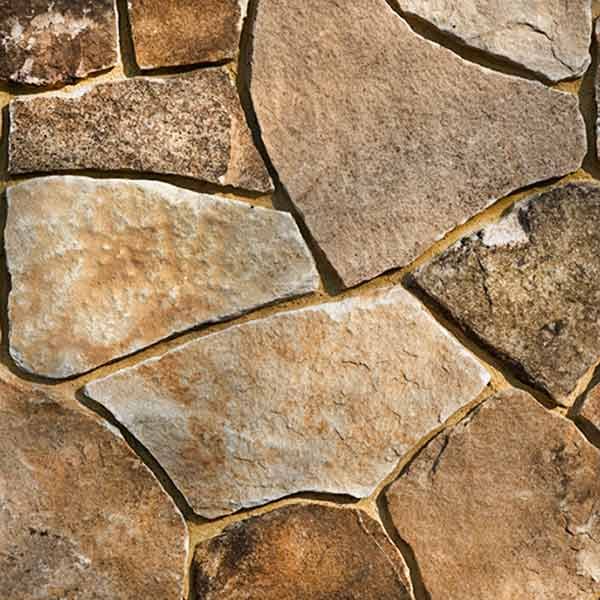 These days, veneer styles match stone from all over the world.
Natural: Classic
Priced to compete with cast stone, this quarried-fieldstone veneer comes in traditional shapes and sizes.
Hearthstead MasterCut, $6.85 per sq. ft.; charlesluck.com
Natural: Cubist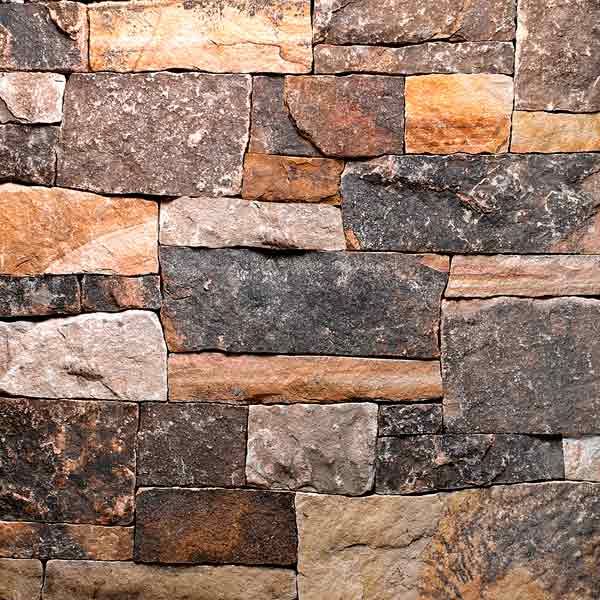 The precision cuts in this multi-colored fieldstone allow for lots of improv throughout the installation process.
Chestnut Grove MasterCut, $12 per sq. ft.; charlesluck.com
Natural: Stacked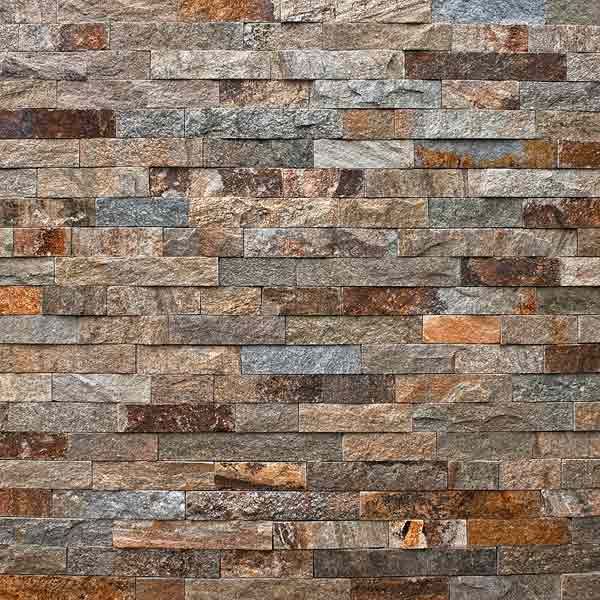 Tailor-made for a snug fit, this ledgestone is a cinch to layer. If it weren't for the raised edges and the variations in color, you'd barely notice the joints.
Bronze Drystack, $8-$9 per sq. ft.; nsvi.com
Natural: Mosaic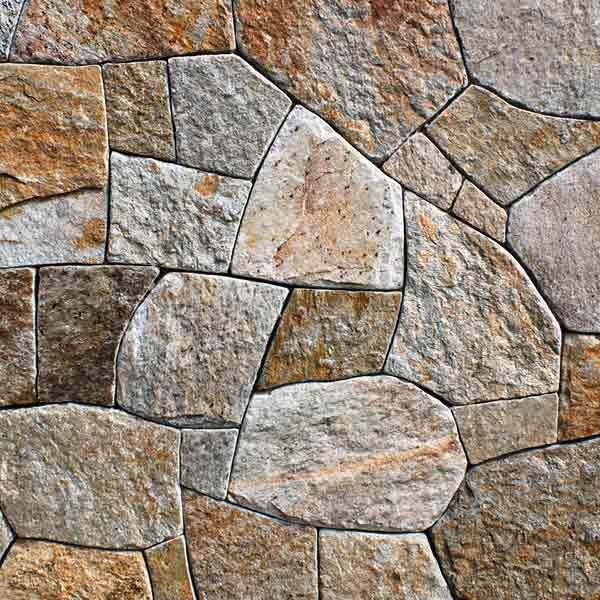 Only 1 inch thick, this veneer can be cut and shaped to create a bold dry-stacked pattern.
Colonial Tan Mosaic, $14 per sq. ft.; stoneyard.com
Natural: Earthy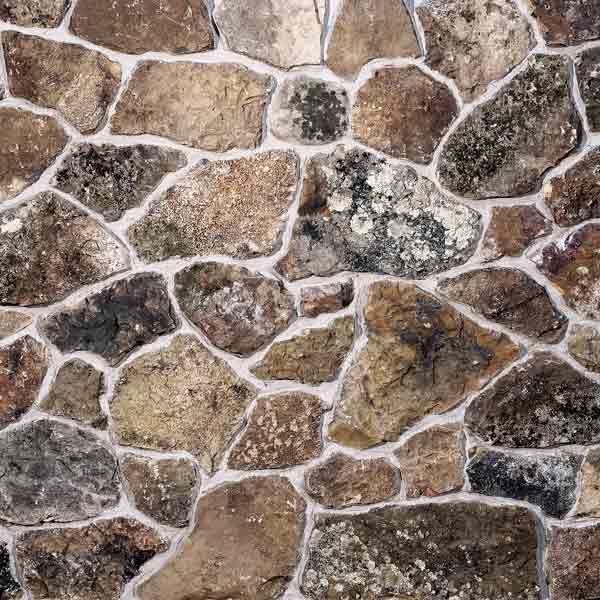 Traces of moss and lichen add to the natural beauty of these well-weathered stones.
Natural Aspen, $11-$12 per sq. ft.; nsvi.com
Natural: Mineral-Rich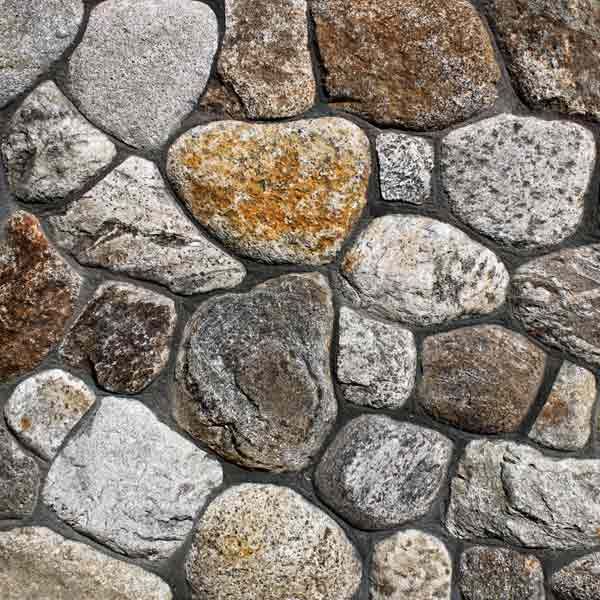 The smooth surface (complete with specks of gold and silver) and worn edges give this stone a rustic charm.
Colonial Tan Round, $17 per sq. ft.; stoneyard.com
Natural: Streaked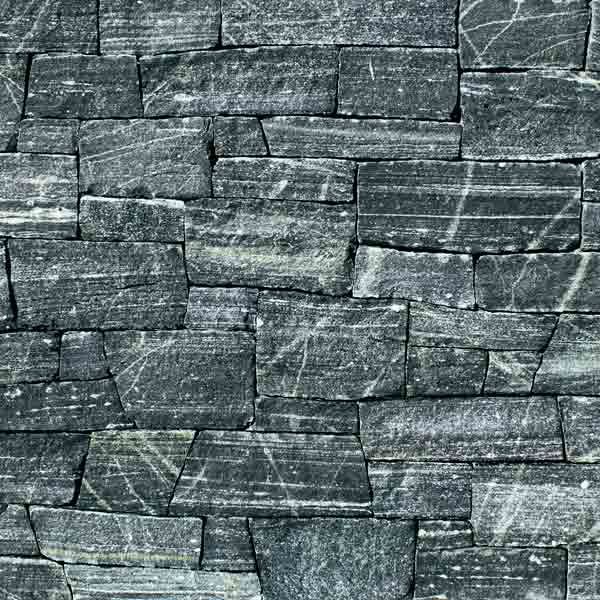 The green and white striations add an extra layer of character to these bricks of blue-gray stone.
Greenwich Gray Ledgestone, $19 per sq. ft.; stoneyard.com
Cast: Rounded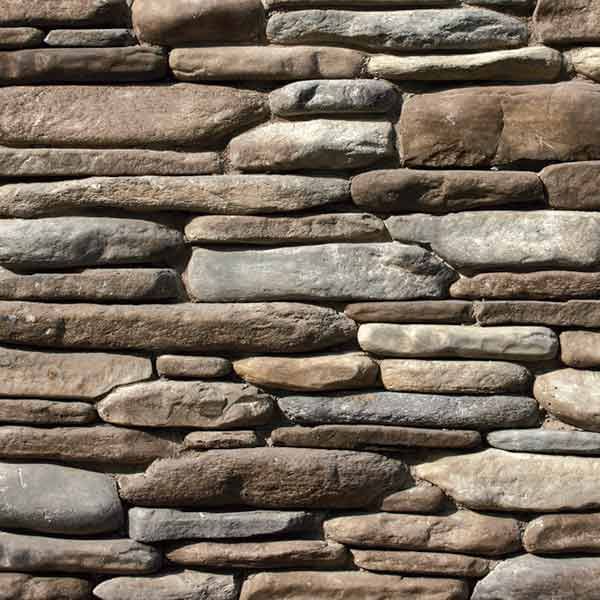 The worn edges and subtle color variations of this stone give it an inviting texture. Almost makes you want to run your hands along the wall.
Nottingham Tumbled Ledge, $3.50-$5.50 per sq. ft.; coronado.com
Cast: Rugged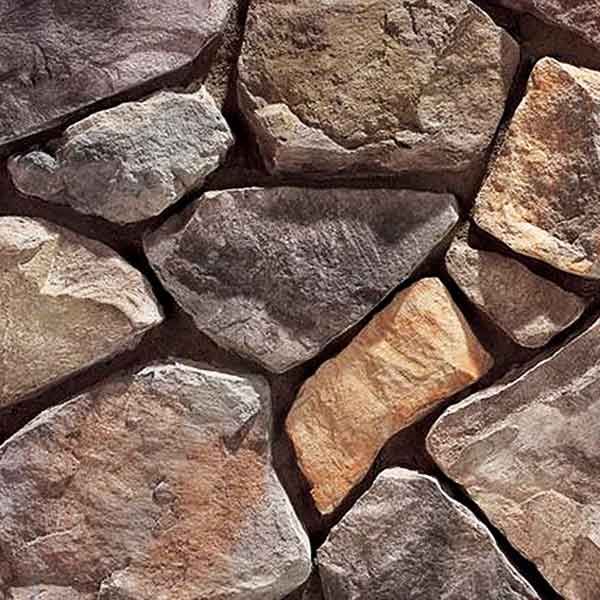 The uniquely shaped, rough-faced stones are infused with the vibrant colors of Italy's seaside cliffs.
Country Rubble, $5-$7 per sq. ft.; eldoradostone.com
Cast: River Rock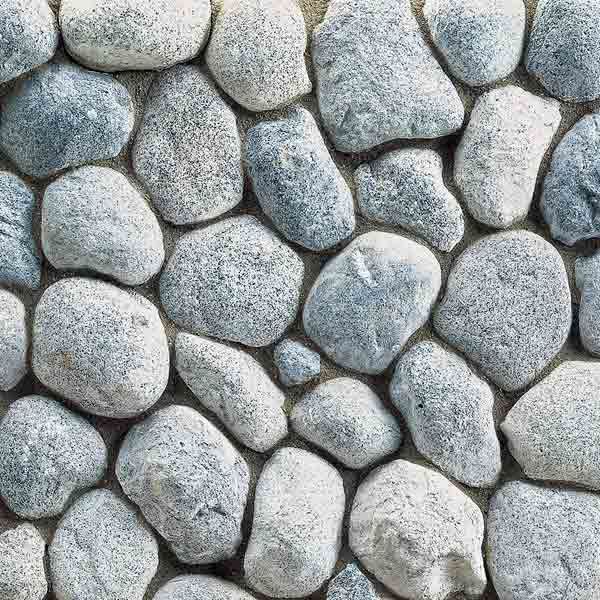 These speckled stones are so realistic, you can almost hear the rushing waters that would have polished them—if they were, indeed, real.
White Granite River Rock, $3.50-$5.50 per sq. ft.; coronado.com
Cast: Ashlar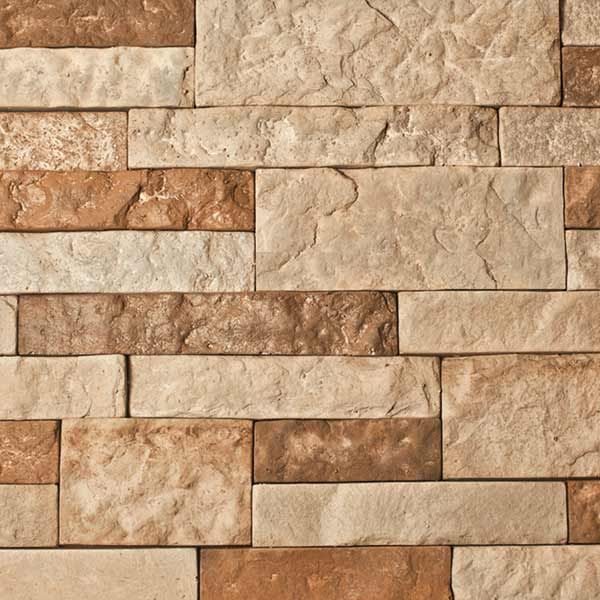 Made for quick-and-easy DIY, these ultralight veneers come prepackaged at the home center, 8 square feet to a box, and can be trimmed with a hacksaw. No grout necessary.
Autumn Mountain AirStone, $50 per carton; lowes.com
Cast: Chiseled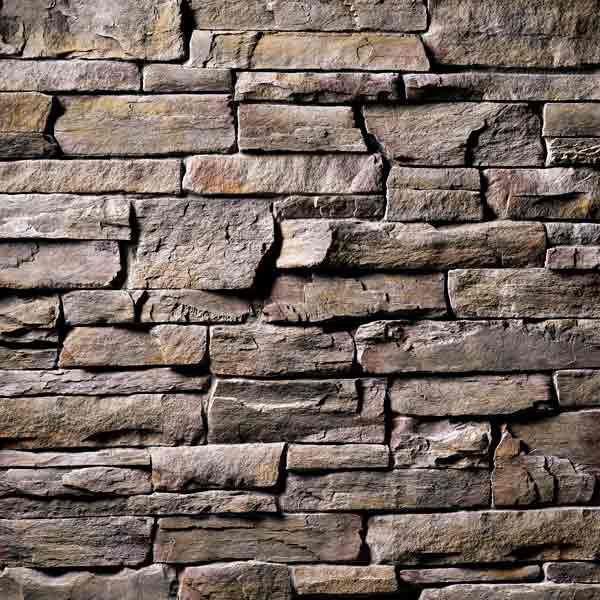 Thanks to lifelike molds and a rich palette, this cast stone is a rock-solid imitation of the real thing.
Eucalyptus Country Ledgestone, $6-$8 per sq. ft.; boralna.com
Cast: Rough-Cut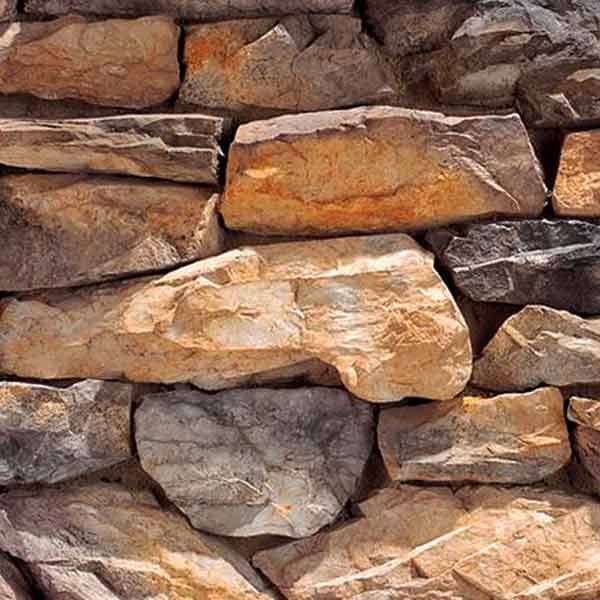 The golden glow and angular edges of this stone give it unique depth, adding extra dimension to your project.
Somerset Shadow Rock, $5-$7 per sq. ft.; eldoradostone.com
Cast: Impressionistic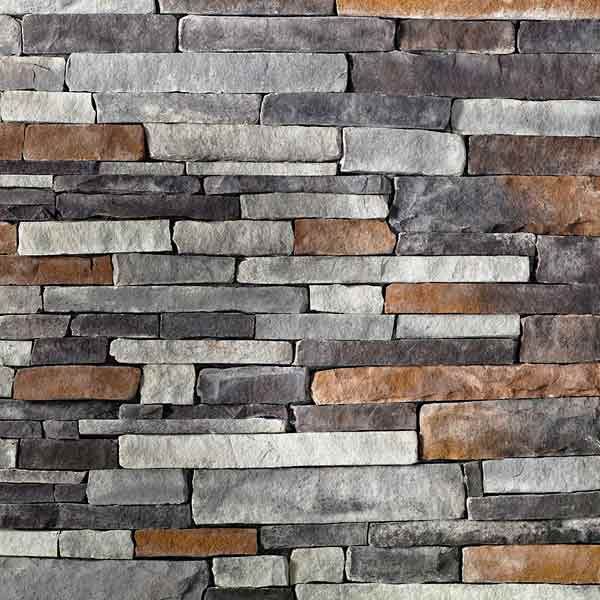 The dynamic colors quickly catch the eye, but the crisp lines in these slim ledgestone blocks provide a quiet sense of order.
Chisel Gray Stackstone, $6-$8 per sq. ft.; glengerybrick.com
Cost Calculator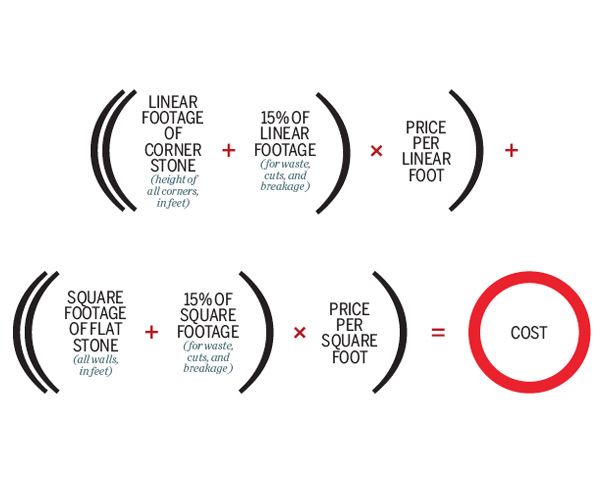 Veneer comes in corner pieces and flat pieces. The corner pieces are sold by the linear foot, the flat ones by the square foot. Using the dimensions of the project space, figure out how much of each item you'll need. Be sure to subtract the areas filled by doors, windows, fireplaces, etc.
Installation Tips for DIYers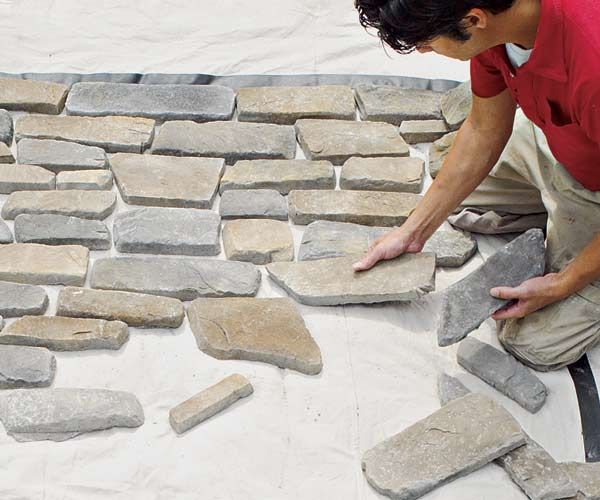 • Before you begin, check with a building inspector about local code requirements.
• Prior to installing the stone, map out a design on the ground. Be sure to choose veneer from different boxes to vary the shapes and colors.
• Install the corner pieces first, then work your way down from the top. This will prevent mortar from staining the stones below.
• If you discover a mortar drip on one of the stones, wait for it to dry before brushing it off with a whisk broom. Smears can permanently stain the stone.
• When possible, hide edges that you trimmed by pointing them up or down, above or below eye level.
Choose Your Grout Style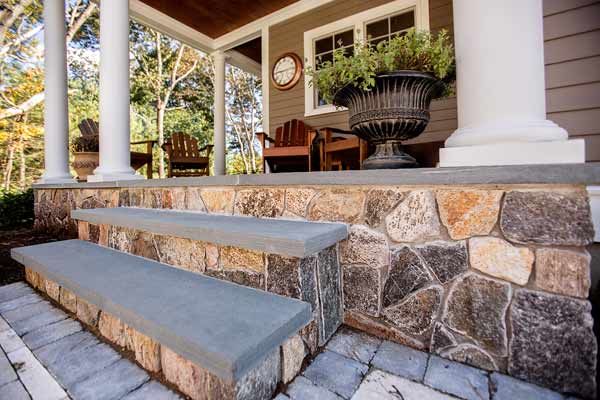 Besides sealing out moisture and insects, grout helps set the tone for a project. It all depends on how much, if any, you use. Consider these options
Standard
The stones are placed roughly a finger's width apart, leaving space for the grout to be piped between them. When the grout begins to dry, the joint is "raked" to create a concave look with consistent depth.
Shown: Boston Blend Mosaic, $14 per sq. ft.; stoneyard.com
Choose Your Grout Style: Overgrout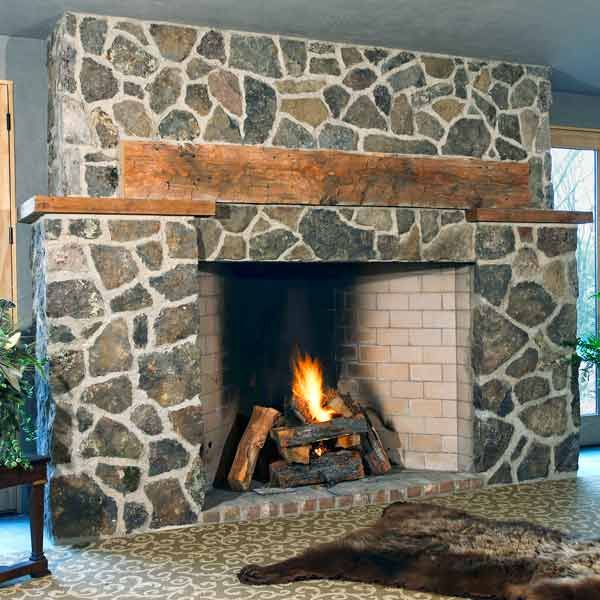 For a more rustic look, the grout is piped until it inches above the face of the stone. At job's end, the joints are wider and less uniform.
Shown: Aspen Fieldstone, $8-$12 per sq. ft.; nsvi.com
Choose Your Grout Style: Dry-Stack Joint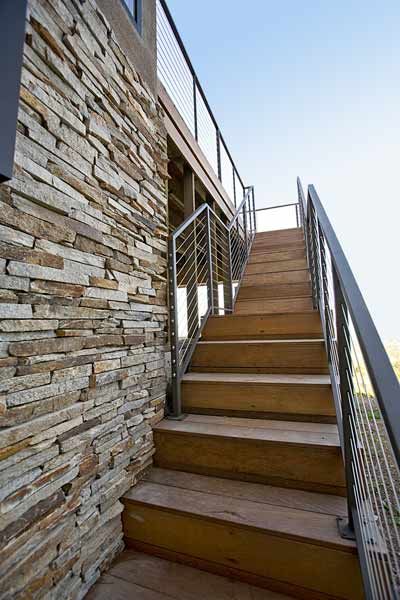 Layering the veneer like puzzle pieces eliminates the need for grout. Keep in mind, though, that this also takes away a line of defense against the elements.
Shown: Virginia Ledgestone, $9-$10 per sq. ft.; nsvi.com
How to Pick The Right Mortar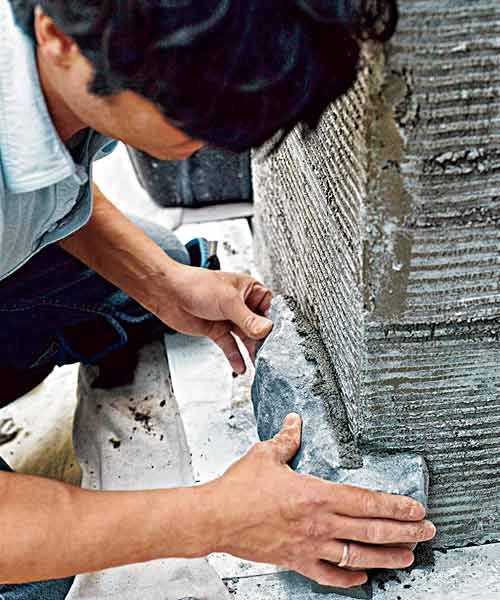 Unless you're a professional mason, it's wise to heed the manufacturer's suggestions. In general, type N mortar and the stickier type S give you the flexibility to place and adjust the veneer, but various additives can influence the set time, the water resistance, and the bond strength between the mortar, the stone, and the substrate. While considering the choices, inquire about color options, too. Many suppliers offer pigments that help you shade the mix to match the stone.
The Zen Look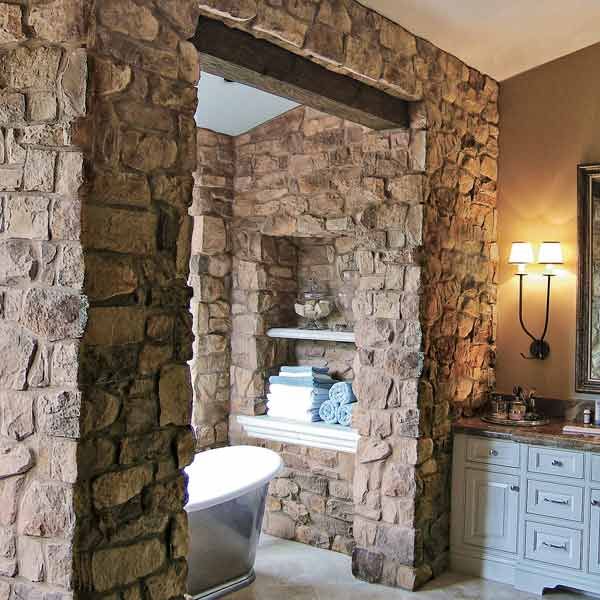 Think of it as an ideal way to give your bathroom the spa treatment. The stone's tranquil vibe sets your mind at ease.
Shown: French Country Villa, $3.50-$5.50 per sq. ft.; coronado.com
The Grand Entrance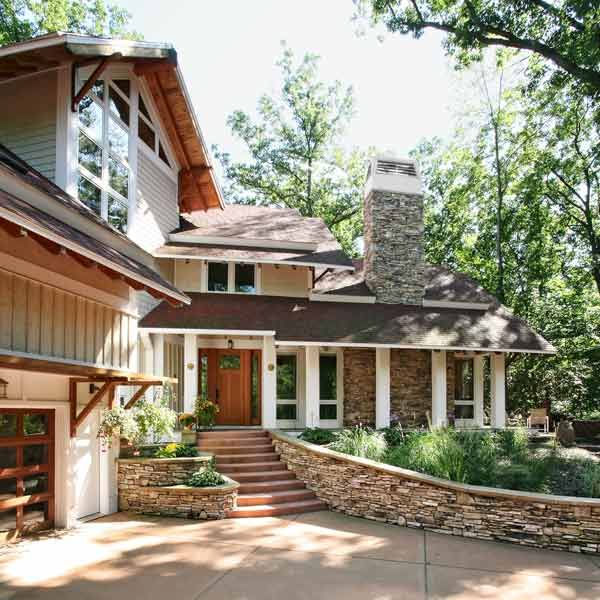 With the right touch, a stone veneer can make your humble home look more like a castle. A large stone chimney and sinuous stone walls are sure to draw admiring glances.
Similar to shown: Bucks County Country Ledge, $5-$7 per sq. ft.; boralna.com
The Sweet Spot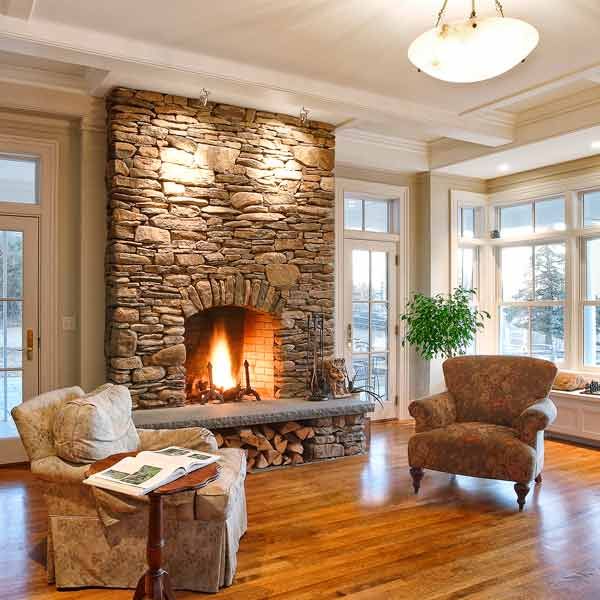 A well-placed column of stone, with or without a fireplace, brings the great outdoors into your living space.
Similar to shown: Rocky Mountain Ledgestone, $3.50-$5.50 per sq. ft.; coronado.com
Picture This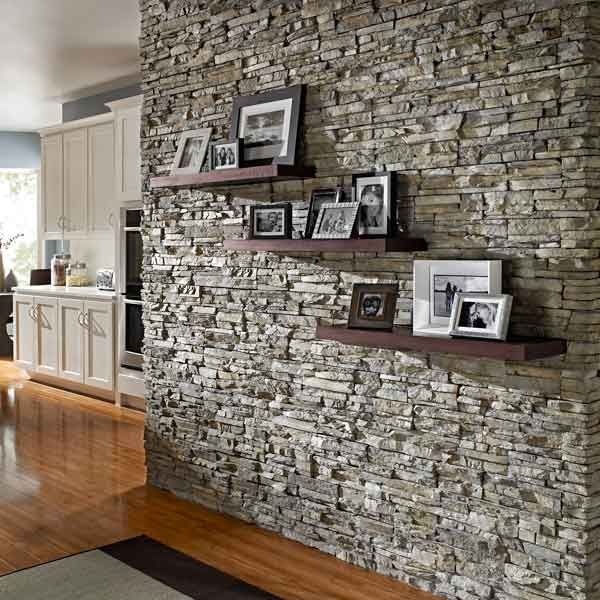 If the artwork's not bold enough to command the spotlight, let the wall itself do the talking.
Shown: Nantucket Stacked Stone, $6-$8 per sq. ft.; eldoradostone.com
High Drama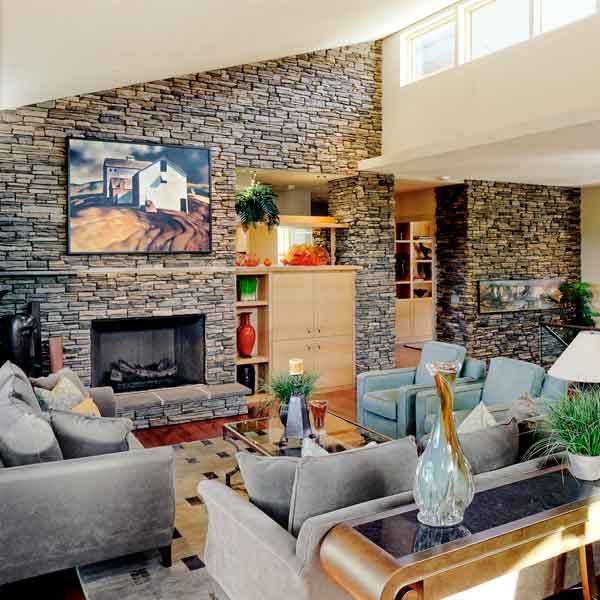 In a space that's nondescript or ill-defined, especially one with high ceilings, a wall of stone gives a room a welcome focal point.
Similar to shown: Pro Ledge Black Forest, $3.50-$5.50 per sq. ft.; coronado.com