Eight Great Patterns for a Pebble Mosaic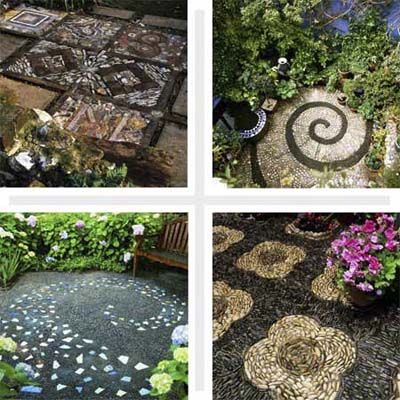 With myriad options for stone colors and sizes—not to mention endless variations in layout—the design of a pebble mosaic for your yard or garden is limited only by your imagination. If this outdoor project is on your to-do list this summer but you're looking for inspiration, here are a few fun examples to get you started. We hope the hardest part of the project is picking your favorite one.
Galaxy Swirls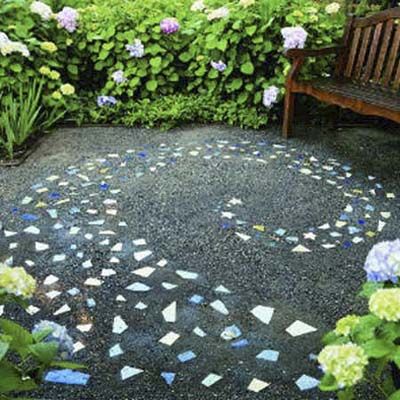 Here, broken ceramic tiles of different colors are added to a field of dark cobbles to create a celestial-inspired pattern. It adds an unexpected dimension of whimsy to a private sitting area, without robbing the secluded spot of its serenity.
Centered Spiral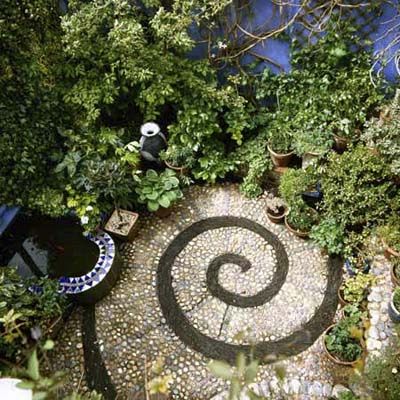 Lush foliage and a collection of container plants become a defined garden area with a focal point that spirals at your feet. Pebbles of the same size form this bold design, and although its color looks relatively uniform, the different-colored stones reveal themselves upon closer inspection.
Star Struck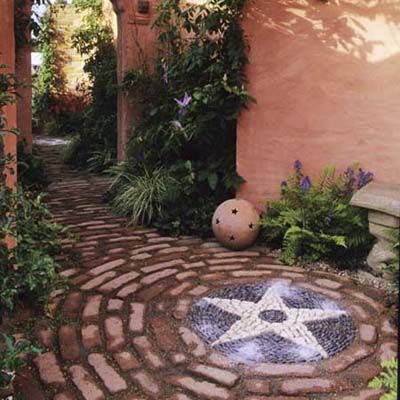 There's something cheery and patriotic about this straightforward pattern: a white star offset by dark cobbles and ringed by a simple brickwork edging. It makes a perfect little centerpiece for this walled-in garden.
Pebbled Pathway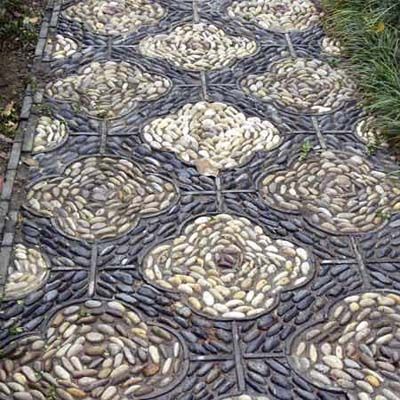 Cobbles installed in a repeating, runner-like pattern makes a simple walkway feel special. Here the stones are installed on edge, so make sure to pack them tightly together and vary their direction.
Stone Carpet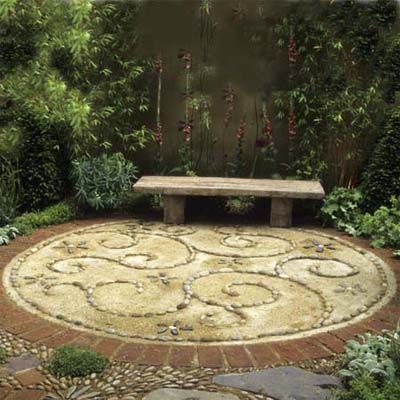 This simplified free-form design, with a ring of stones edged by brick and a few free-form shapes set in concrete, leaves lots of room for error—or "creativity," if you prefer. The finished mosaic acts as a permanent outdoor rug for this sitting area.
Patchwork Squares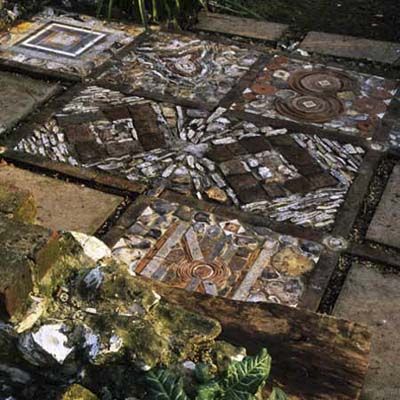 This pieced-together pattern fits the bill if you're going for an eclectic look. The squares add some pizzazz to an otherwise plain spot, and the mix of materials and small scale of the area make the various designs in each shape stand out on its own.
Cobbled Blooms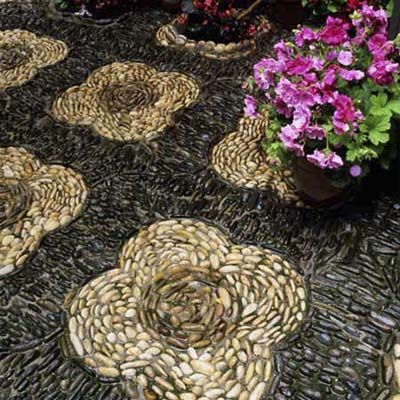 A playful floral pattern can feel too cute, but here its sweetness is nicely muted when done in tones of black, white, and sand. The shapes create a perfect backdrop for displaying colorful container plants.
Second Sun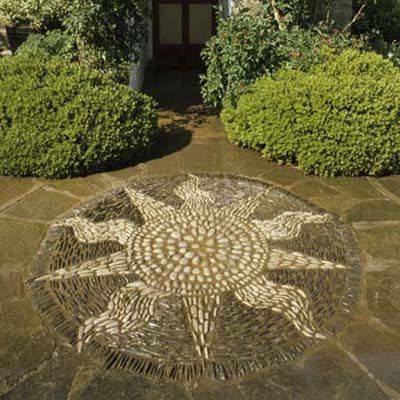 A cheery sun mosaic set close to an entryway is a great way to say "welcome to our home." Although sun motifs are common in outdoor décor, this oversized version is impressive in its intricacy, and makes a bold statement that your guests will remember for a long time.