Are your living room walls lackluster? Is your concrete patio an eyesore? If so, you're in good company: Even interior designers have style challenges like these­—and budgets that aren't bottomless.
We canvassed some of our favorite pros to see how they overcame problem areas at their own places without breaking the bank. The resulting projects aren't just handsome, they're also doable for the average DIYer.
"I'm not a handy person, so I had to start from scratch ­figuring out materials, watching YouTubes, and asking for advice at The Home Depot," says designer Max Humphrey, who gave a blah ranch interior his signature cabin-chic style.
Read on for the details—and for clever ways four more style experts transformed unremarkable home features into showstoppers.
"Tile" a concrete patio slab—with paint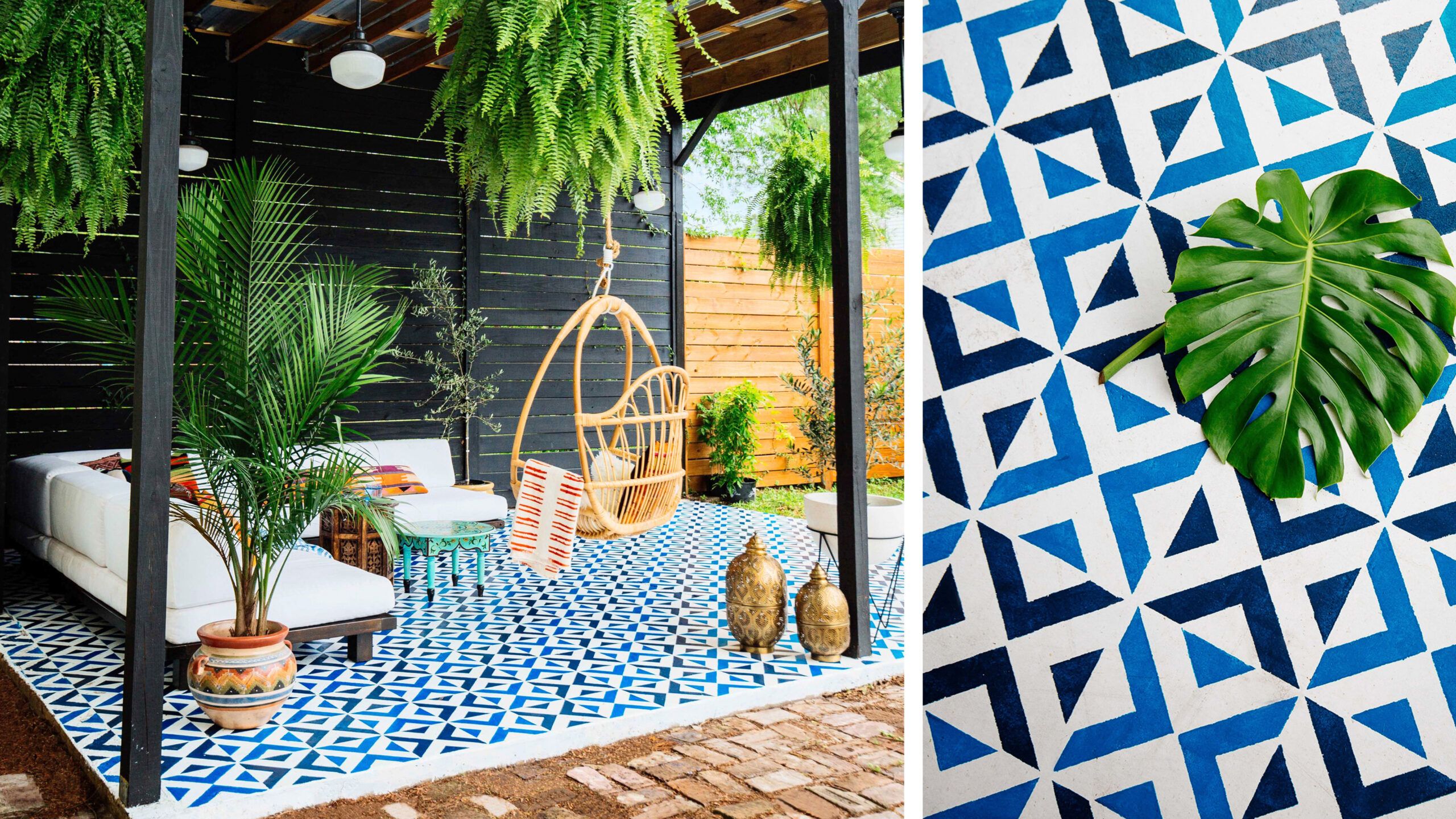 Using a Moroccan-tile-inspired stencil pattern (right), Dabito gave the concrete slab a bold makeover. The patio's new 11-foot-tall enclosure provides a reprieve from the New Orleans summer heat, while the slanted roof keeps rainwater from pooling. Staining the structure a flat black "gives it a dramatic, modern feel," he says. It also makes leafy green plants, and that colorful "tiled" floor, really pop.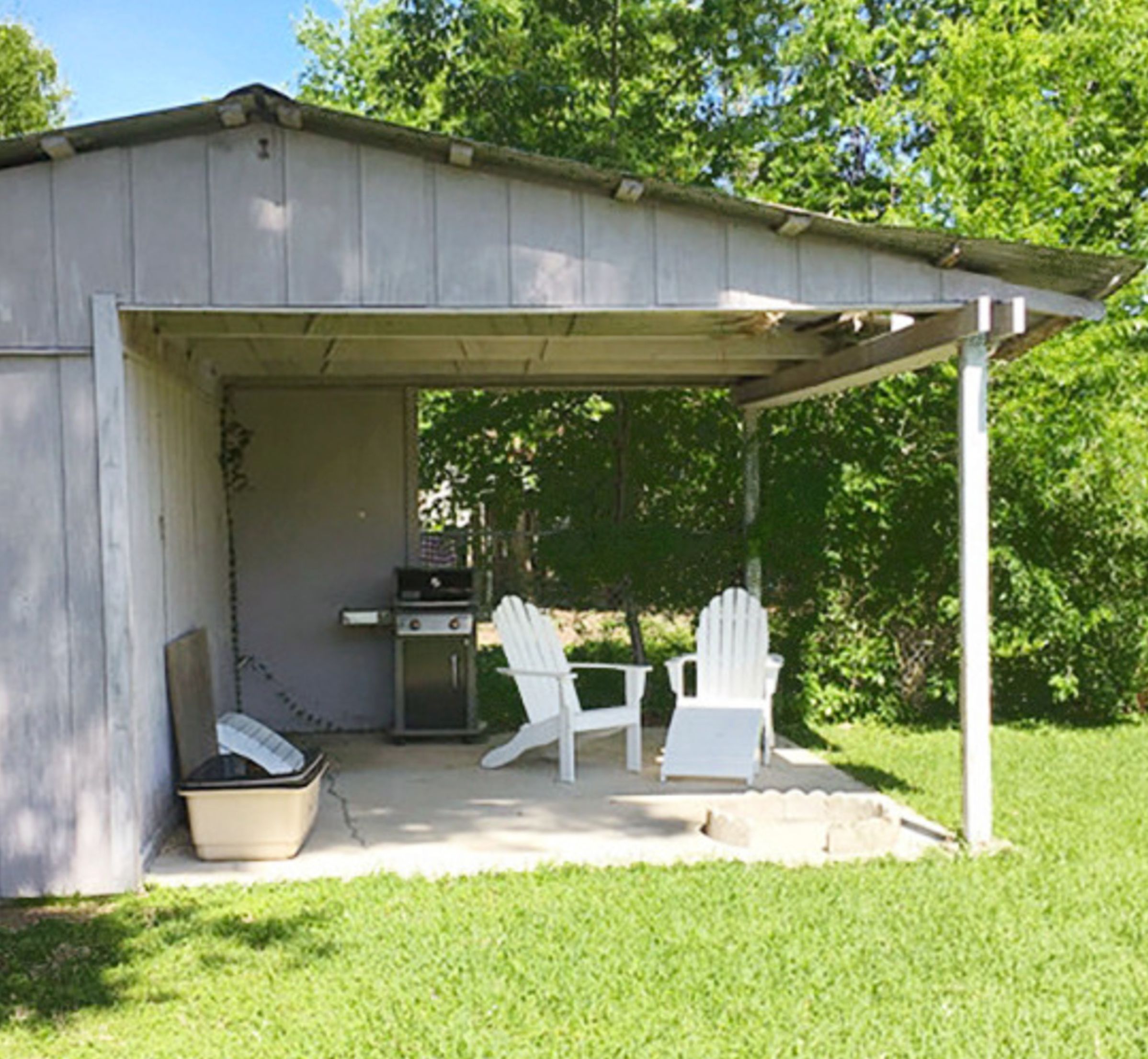 The challenge: Having just returned from a trip to Marrakech, Dabito, founder of creative studio Old Brand New, wanted to give his 1950s ranch house's outdoor space "something really bold and graphic that would make me feel like I was in a Moroccan oasis." After getting quotes to tile the 300-square-foot patio that hovered around $5,000 for cement tile alone, he landed on a more palatably priced alternative: tile-look stencil patterns he painted on himself in two days flat.
The how-to: After painting the slab with white porch enamel, he added two blue hues from Sherwin-Williams (Adriatic Sea and In the Navy) using stencils he found online (Inverted Tile Allover Stencil, $39; Cutting Edge Stencils) and a 4-inch roller. Then he coated the slab with a clear matte paver sealer. Though it shows some wear and tear, "it's a busy pattern—very forgiving and still very beautiful, even with its flaws," he says.
Cost: About $200 for stencils, paint, and sealer
Create a cozy cabin feel with wood paneling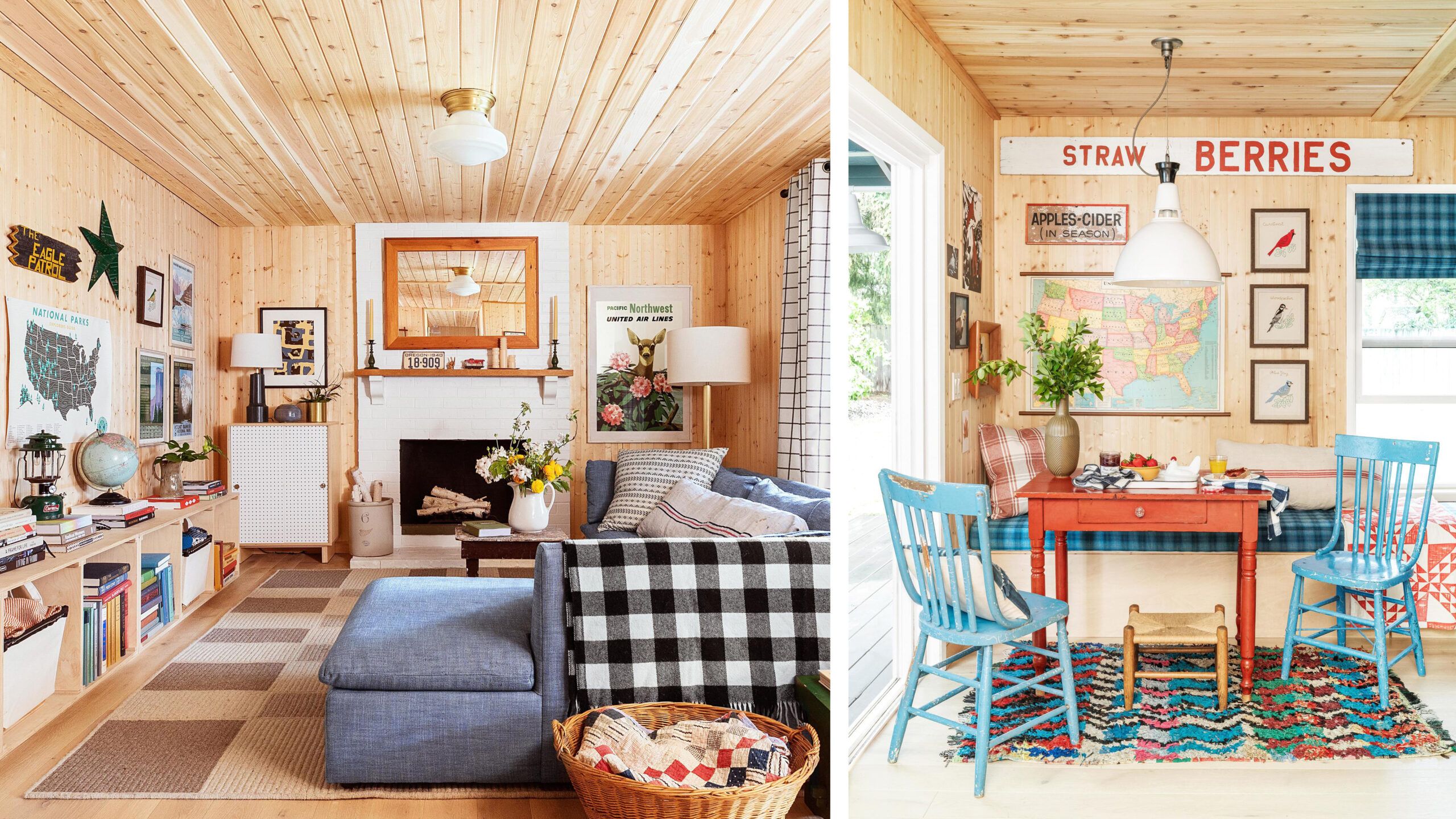 Shown left: Humphrey chose pine for the walls "because it's grayish and doesn't get too red. In theory, you'd use a water-based sealer on it so it doesn't turn color when the sun hits it. I didn't, just because I was lazy."
Shown right: The pine-paneled walls get a hit of color from a vintage desk used as a breakfast table and painted chairs from the 1920s. Amid the folk-art farm signs and schoolhouse-style map are three bird pieces—needlepoint that Humphrey found at a junk shop and had framed.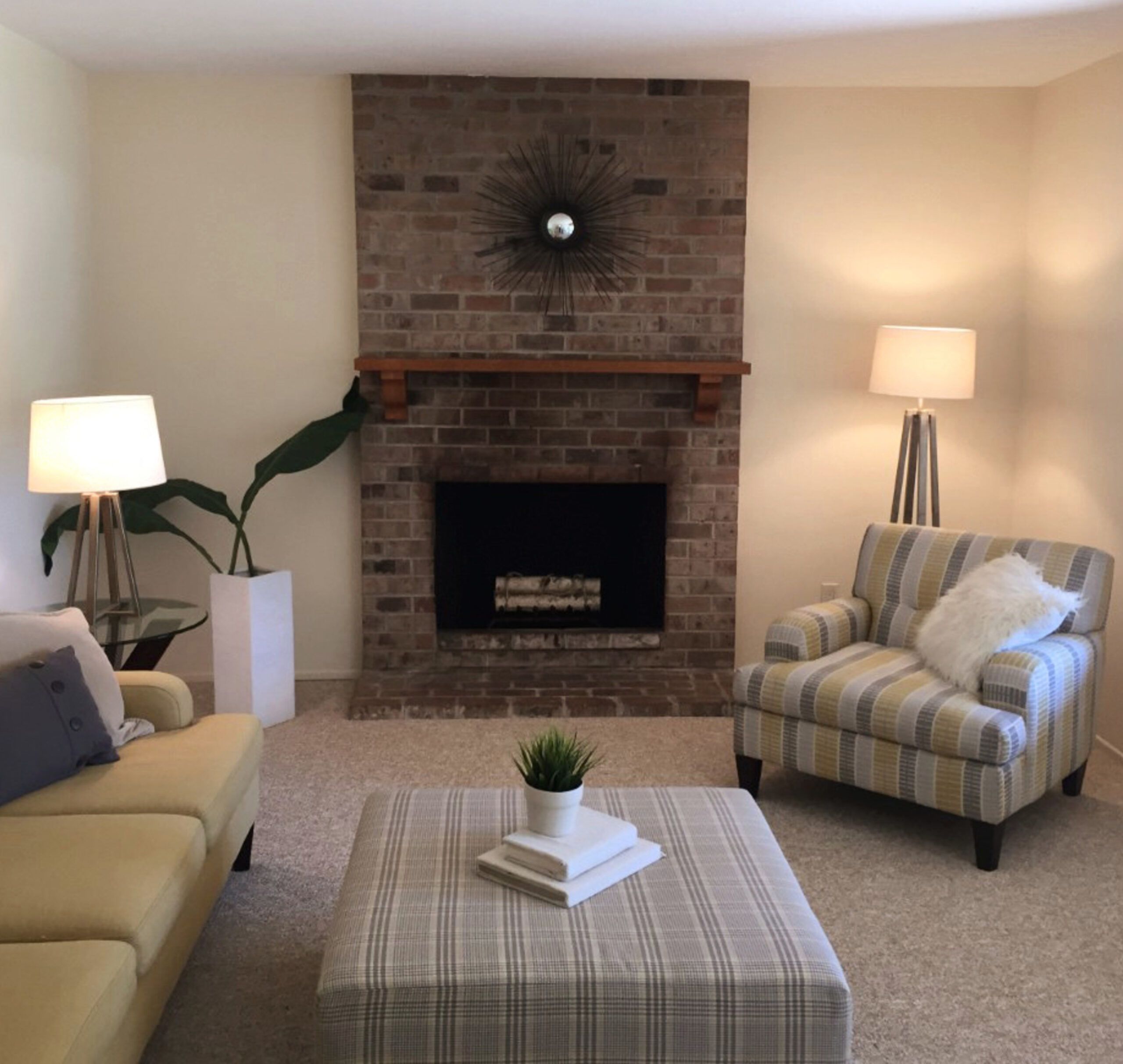 The challenge: The 1970s suburban ranch "was perfectly tasteful inside, just very vanilla for me," says Max Humphrey, author of Modern Americana (due out in April). After hiring a contractor to lay engineered white oak floors, he clad the walls with pine V-groove boards from the home center, and the ceiling with similar cedar boards. The effect is that of a cabin tucked away in the Pacific Northwest woods.
The how-to: "Since I wasn't ripping off drywall, I needed the thinnest wall paneling I could find so the doorframes would remain proud of the actual wall," Humphrey says. What he found at The Home Depot was 5/16 inch thick and 8 feet long (Hakwood Knotty Pine Edge V-Plank Kit, $66 per 3-pack).
Using Liquid Nails and a nail gun, he affixed the ceiling-height lengths of wood to the walls, no finishing needed. For the ceiling, he opted for thicker, 6-inch-wide planks (Pattern Stock Cedar Tongue and Groove Siding, $146 per 6-pack) to minimize seams, making sure to nail them securely to the ceiling joists.
Cost: About $4,000 for all but two small rooms in the 1,000-square-foot interior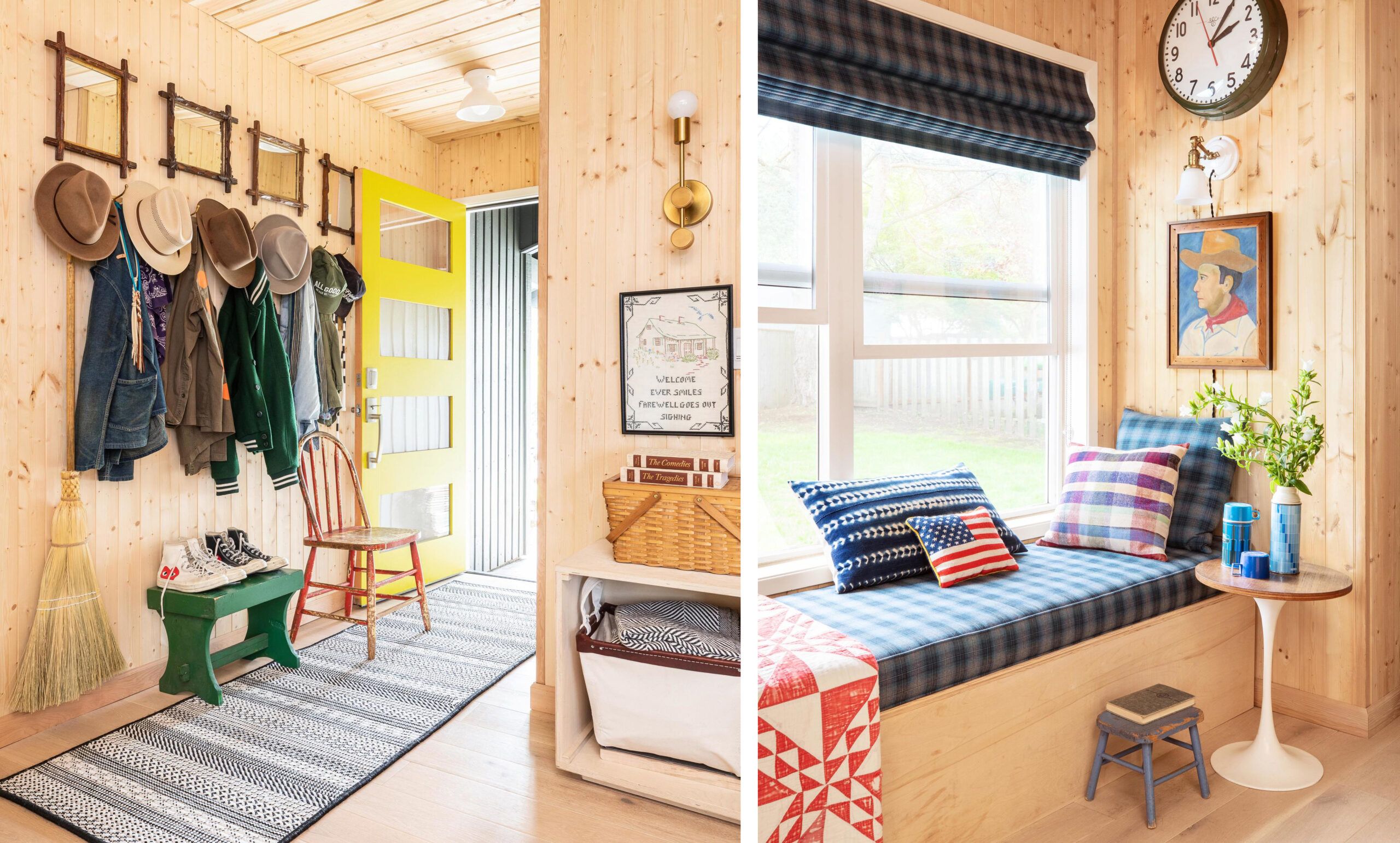 Shown left: In the entryway, tucked behind the outerwear, is a coatrack Humphrey fashioned from a piece of leftover ceiling material and brass hooks. He crafted the mirrors from vintage frames. The welcoming door color is Benjamin Moore's Chartreuse.
Shown right: Humphrey made the banquette in the dining nook out of finish plywood, then had it topped with custom cushions upholstered in Pendleton by Sunbrella fabric. He found the 1930s cowboy painting on Etsy. "My toddler thinks it's me, and I don't correct her."
Update Art Deco tilework with wallpaper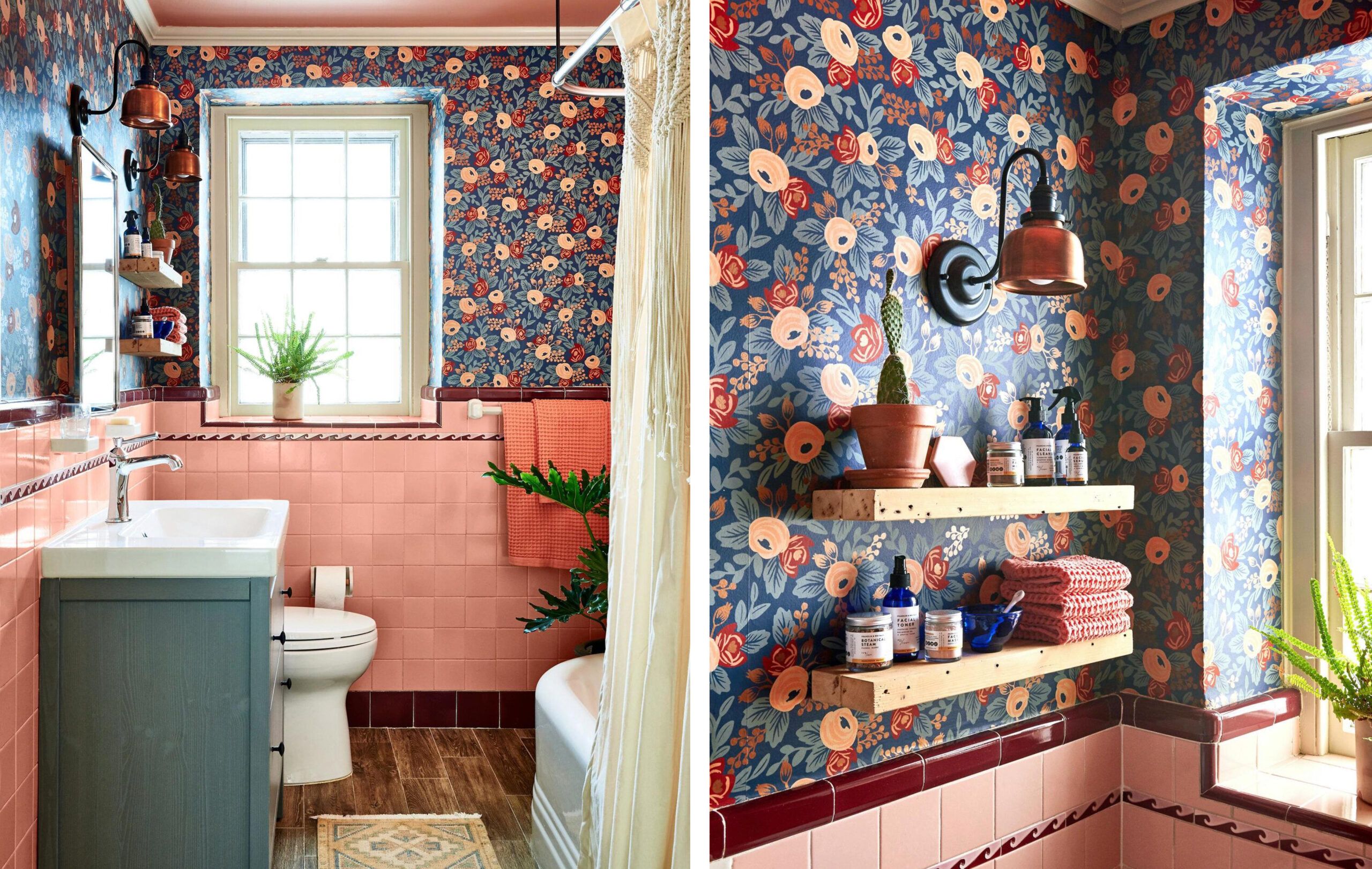 Shown left: A modern floral wallpaper that picks up the colors of the tile makes the walls feel cohesive, while an IKEA vanity and wood-plank floor tile update the space. "I love that we were able to keep the vintage tile because it tells the story of the house," Lewis says.
Shown right: Copper sconce lights from Barn Light Electric echo the coppery tone in the wallpaper. Like the floor tile, rustic floating shelves add a masculine element.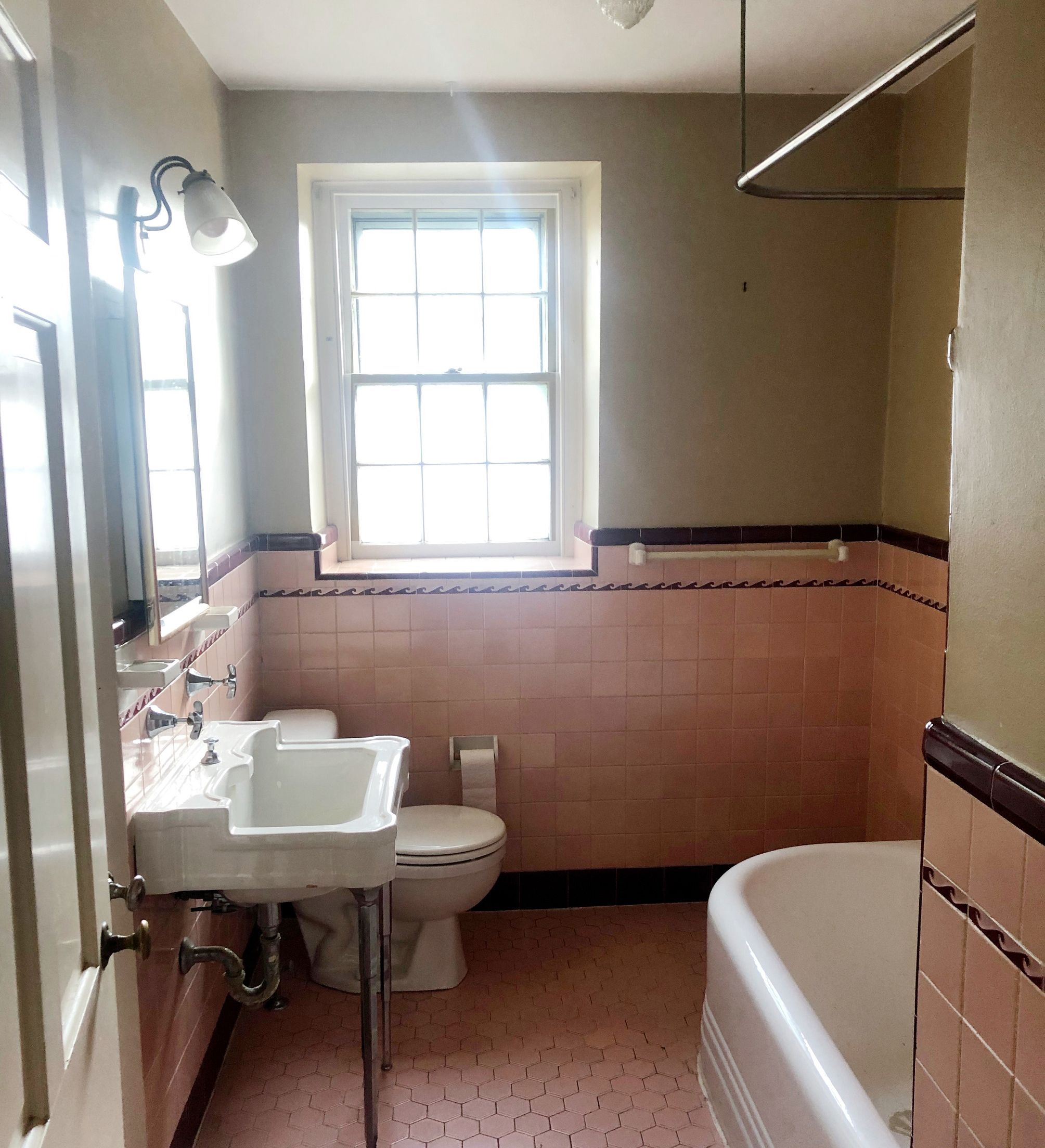 The challenge: When his family moved into a 1920s rowhouse three years ago, Sean Lewis balked a bit at one of the baths' peachy-pink and burgundy tile. "Over time, though, we fell in love with it," he says. Faulty plumbing meant renovating was a must, however, so they kept the original tub but modernized the space by bringing in a new toilet, a sink with storage, and wood-look floor tile. To make the Art Deco tile look intentional, Lewis chose a modern floral wallpaper from Rifle Paper Co. that echoes its colors for the upper half of the walls.
The how-to: Lewis and his mom hung the wallpaper (now discontinued), then he painted the stark white ceiling with Benjamin Moore's Peaches 'n Cream, "which pulled the whole thing together." Buying tile and hiring someone to demo the old and install the new "would have cost much, much more," he says.
Cost: About $400 for the wallpaper and paint
Add detail to walls with panel molding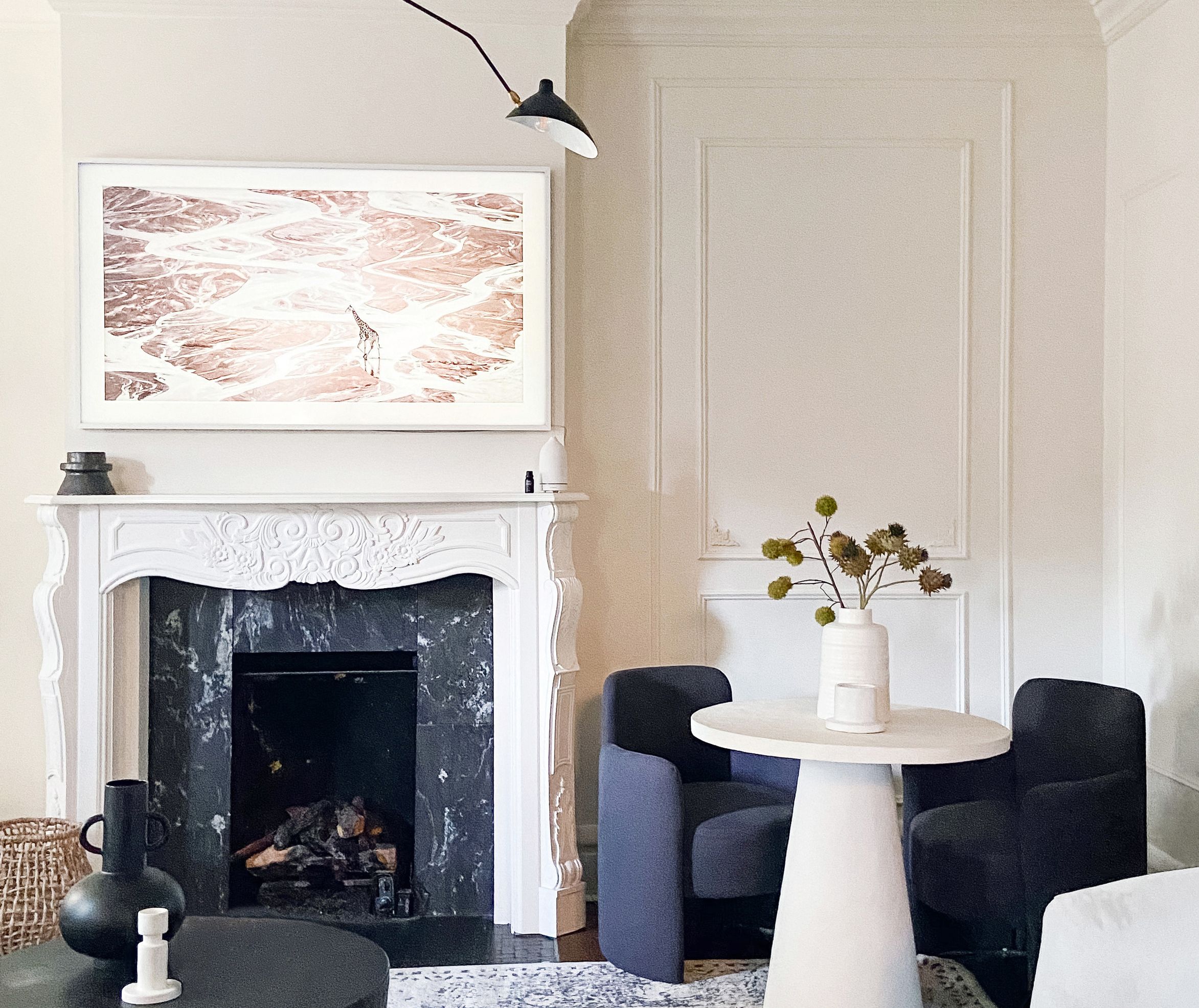 Inspired by 19th-century Parisian apartments, the duo enhanced the walls with MDF panel molding, then painted, for the look of fine plasterwork.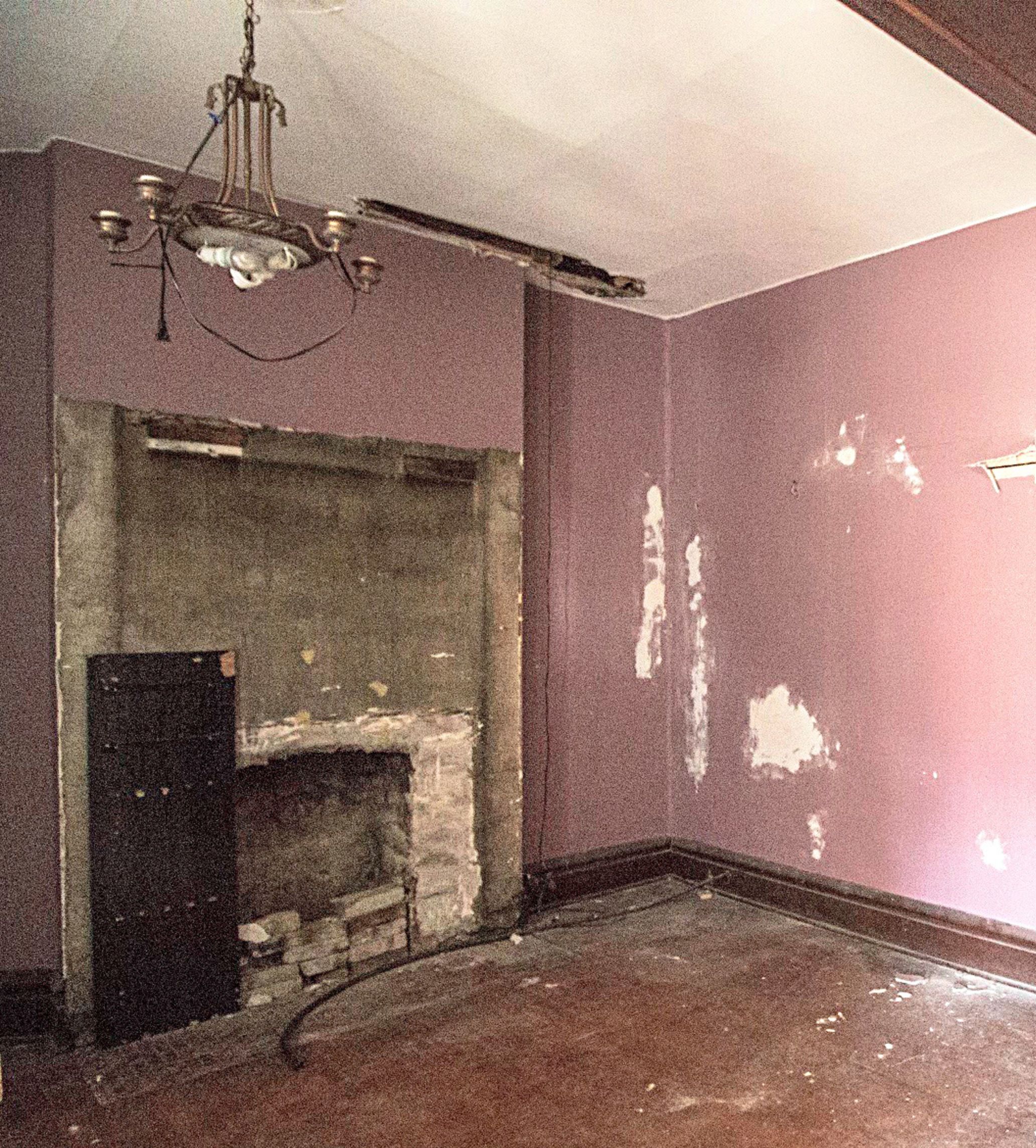 The challenge: Being blessed with 10-foot ceilings can be a problem when tall walls just look boring. That's how Mix Design Collective's Catherine and Bryan Williamson felt when refurbishing their Victorian-era house. "The character had been completely stripped out," Catherine says; the living room's plain walls lacked even a crown.
The how-to: To give the lofty space some elegant architectural detail, they used a nail gun and paint-ready MDF panel molding (Metrie's 11/8̋ French Curves Primed MDF Panel Mould, $14 for 12 feet; Zeskinds). They built wall frames, consistently spacing them out from corners, above base moldings, and below the slightly out-of-level ceiling edges, using windows, doors, and the fireplace as guides for how high and wide to make each one. After caulking, they painted the walls (and ceiling) with Behr's Exclusive Ivory in flat for a velvety finish.
Cost: $400 for the panel molding