Installing an artificial lawn yields permanent, low-maintenance perfection, dramatically increasing your home's curbside appeal. It also eliminates the need for a lawnmower and place to store it, along with the gasoline and oil you would have needed for its operation.
In many states with long periods of drought, watering your yard comes with hefty penalties and has prompted a shift to a more widely adopted use of artificial grass (alternately referred to as artificial turf). Advances in technology over the last couple decades have vastly expanded the options for homeowners who love vivid green but don't care for the upkeep of a living lawn.
An added benefit is that with regular cleaning, artificial turf can last as long as 20 years.
How to Install Artificial Turf
The first step in artificial turf installation is to remove the old grass. You'll need a way to dispose of it, the most efficient way being the use of a powered sod cutter, available for rent at most equipment rental shops. This device slices through the soil and grass to create an easy-to-remove roll.
If you're doing the work by hand with shovels, a pickaxe, and a wheelbarrow, break apart the lawn in stages to maintain a steady depth of at least four inches. You can opt to use the debris elsewhere or rent a dumpster to haul it away. If you're installing artificial turf in a new construction project, ask the contractor to grade the underlying soil a minimum of four inches below walkways and sidewalks.
The next and perhaps most critical step is to install a base layer of mixed rock over the earth. Since the artificial turf will be a fairly thin top layer, putting in a thick layer of compacted crushed miscellaneous base material ensures the longevity of the turf by keeping it smooth and flat.
Once you've spread the crushed base material evenly across the area, compress it with a barrel roller or slide compactor (also available at equipment rental shops) to achieve a level surface.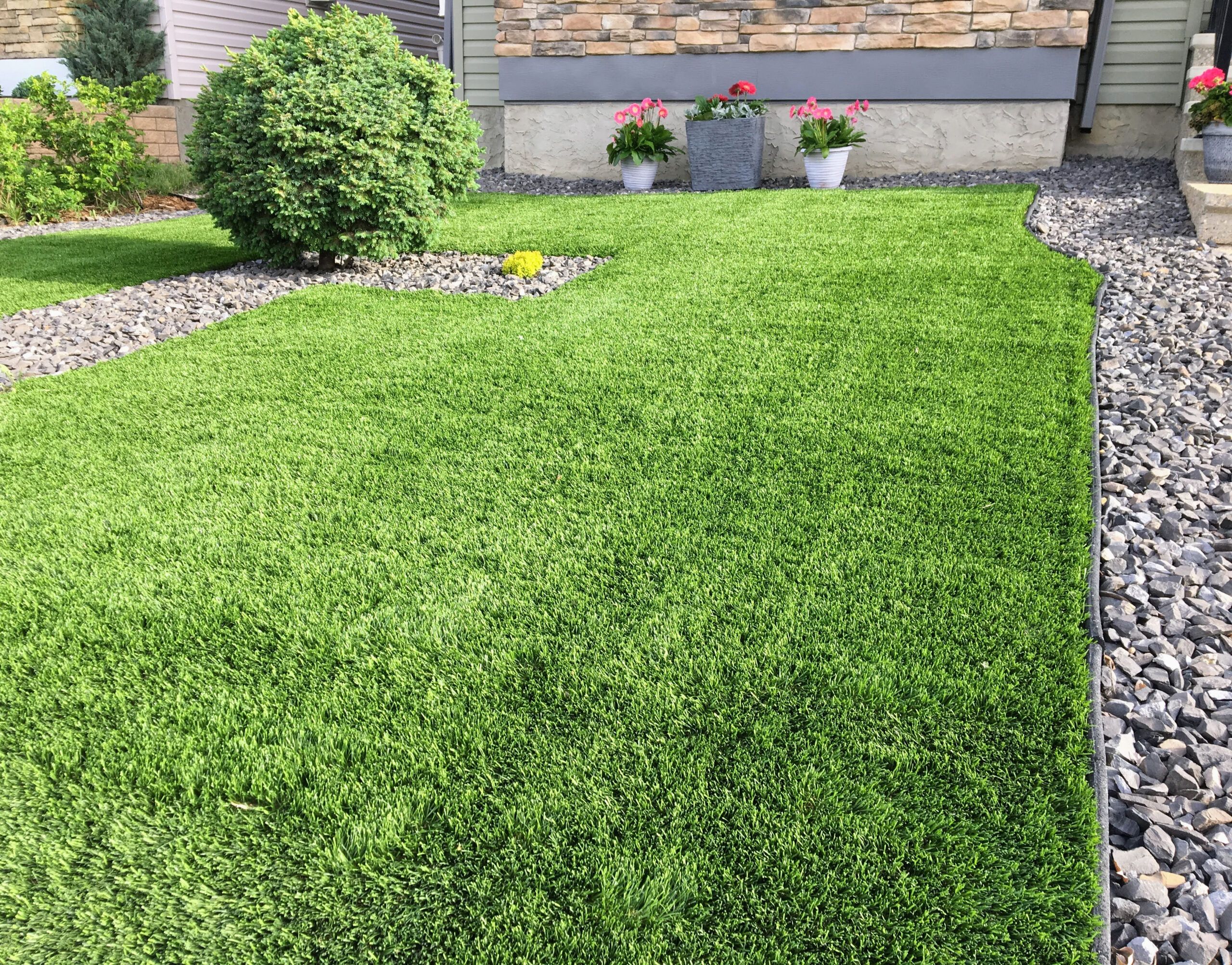 Steps for Laying Artificial Turf
When you're ready to lay the artificial turf, unroll it and let it set in the sun for half a day. This allows the roll to acclimate, a helpful pre-installation step.
Next, carefully rough-cut the turf with a razor knife to fit the dimensions, leaving a little extra for final adjustments, and secure it in place.
Install common 60D nails three to four inches apart along one end and stretch the entire piece taut, then start working down the sides and center, keeping the edge nails three to four inches apart and the center sections 12 to 24 inches apart while not sinking the nail head so much that the turf puckers down. If more than one section is needed to cover the entire lawn, be sure to orient the seams in the same direction for uniformity.
The last step is to apply the desired infill and sweep it into the artificial turf. Infill, required for all artificial turf installations, is a fine granular material like sand or rubber that protects the mesh backing of the artificial turf from the elements and helps the turf stand up to abuse by providing ballast.
Using a garden spreader, evenly infill across the top of the turf to the manufacturer's specifications. If pets will be using the turf and you want to keep it sanitary, install an infill layer of Zeolite, which helps eliminate odors and controls ammonia breakdown.
This final infill layer can be installed by hand with a stiff broom but more commonly is forced into the surface by a power sweeper to work the material down into the turf.
How Much Does Artificial Turf Cost?
Estimate between $6 to $10 per square foot of material costs for artificial turf if you're installing it yourself. National averages for installed turf, including labor costs, range anywhere from $6 to $20 per square foot.
Variations in material quality, manufacturing systems, and job size will affect the final cost.
How to Clean Artificial Turf
Regularly sweeping with a stiff broom or soft rake will keep the artificial turf free of debris like leaves and sticks. If you live in a dusty environment, a regular rinse with a garden hose will also keep the blades looking fresh and new.
A yearly deep cleaning regime with a power broom is the best way to achieve 10 to 20 years of artificial turf performance for heavily used yards.