It's no surprise the National Association of Home Builders found that 85 percent of home buyers considered a kitchen pantry "essential" or "desirable." Behind closed doors—or perhaps concealed by a pullout mechanism—this storage spot is your kitchen's secret weapon. Arranging it properly will help you speed through meal planning and prep since you'll know where all your food staples are and be able to access them easily.
A cluttered or chaotic pantry, alas, can be a total twilight zone, where simply grabbing a snack can feel daunting. So invest in a few targeted products and set aside some time (an afternoon ought to do it) to make the perfectly organized pantry a priority. For assistance, follow this step-by-step guide.
Steps for Organizing a Pantry
Measure your pantry
Measure your pantry's storage capacity, including the distance between shelves, so you can purchase products to maximize it.
Think about the types of food storage you need for your space. Shelf risers or inserts can make two or three shelves out of one, and there are lots of designs, from tiered models to those that attach beneath a shelf; this unit, created for cans, offers an alternative to the risky practice of can stacking (risky, indeed, unless you want that lentil soup crashing down on your toe!) A rotating turntable (a.k.a. a lazy Susan) works wonders in corners; this two-tiered adjustable unit is a versatile choice.
Empty it entirely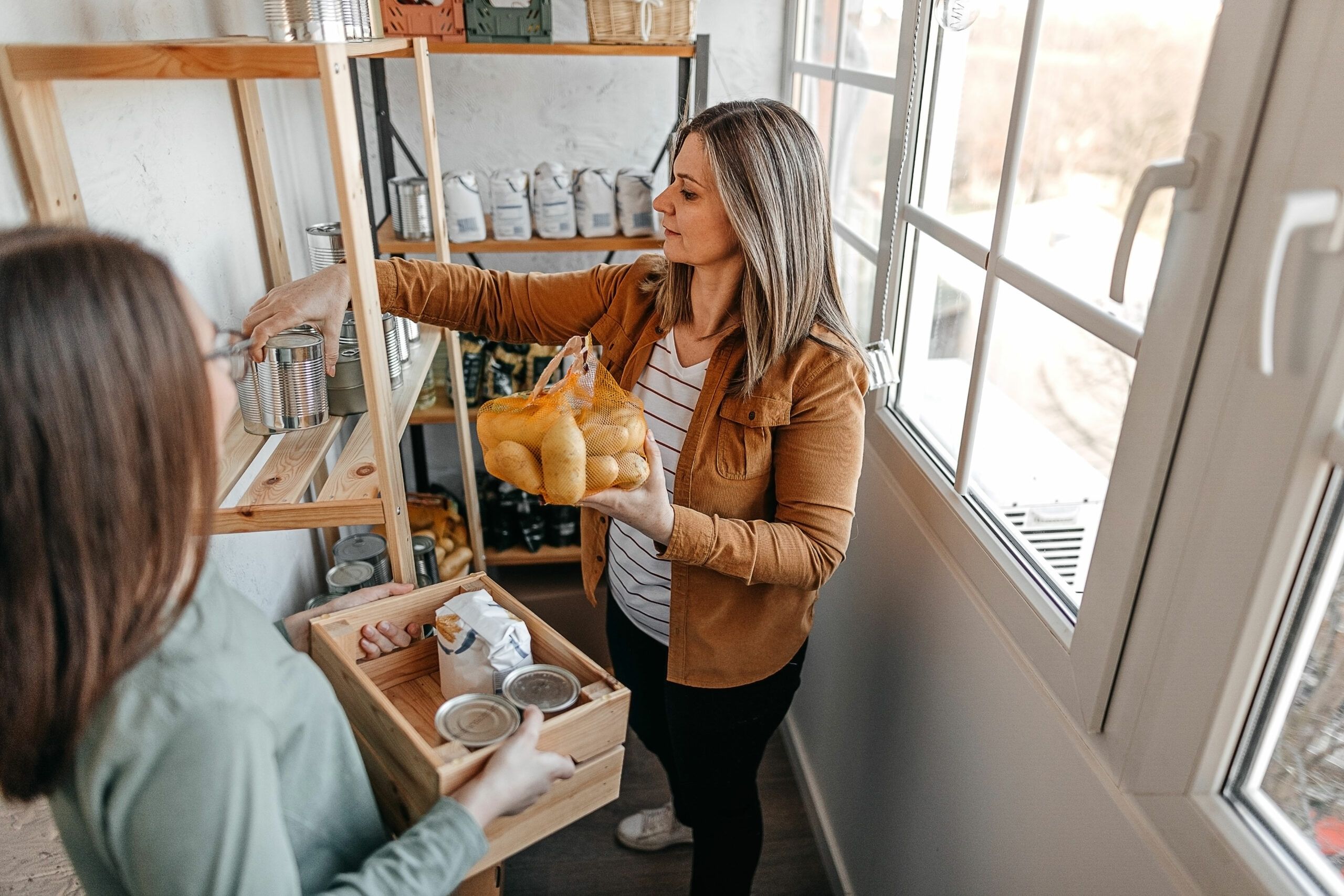 Attempting to organize the pantry piecemeal is an exercise in futility. Instead, devote the kitchen island or table to all current contents.
Clean the pantry top to bottom—sweeping, vacuuming, washing the floor, walls, and shelves as needed. Consider laying paper or liners (typically made of clear plastic with non-slip, cushioning ridges to stabilize and protect items).
Categorize your cache
If staples had been stored willy-nilly, now's the time to pay the inventory attention. Classify items in a way that best suits your daily doings.
That can mean keeping canned, boxed, and bottled goods separate from each other; grouping items by meals (breakfast staples separate from dinner stuff); or sorting according to recipe ingredients (all baking needs together, supplies for Taco Tuesday and Italian Sunday in their own area). Some folks even find it wise to arrange by a household member (which can often offset any "who ate my…?!" squabbles).
Identify "must go" items
While reviewing fodder, check expiration and "best by" dates so that when you replace items in the pantry, you'll put almost past-their-prime things front and center, so they'll get used.
Study the space
Take a good look at the empty pantry to decide what belongs where. A long lower shelf might make a great kid zone, where little ones can fetch their own goodies. A blank wall or the inside of the door could be called upon for vertical storage, housing a spice rack or bag dispenser.
Practice transparency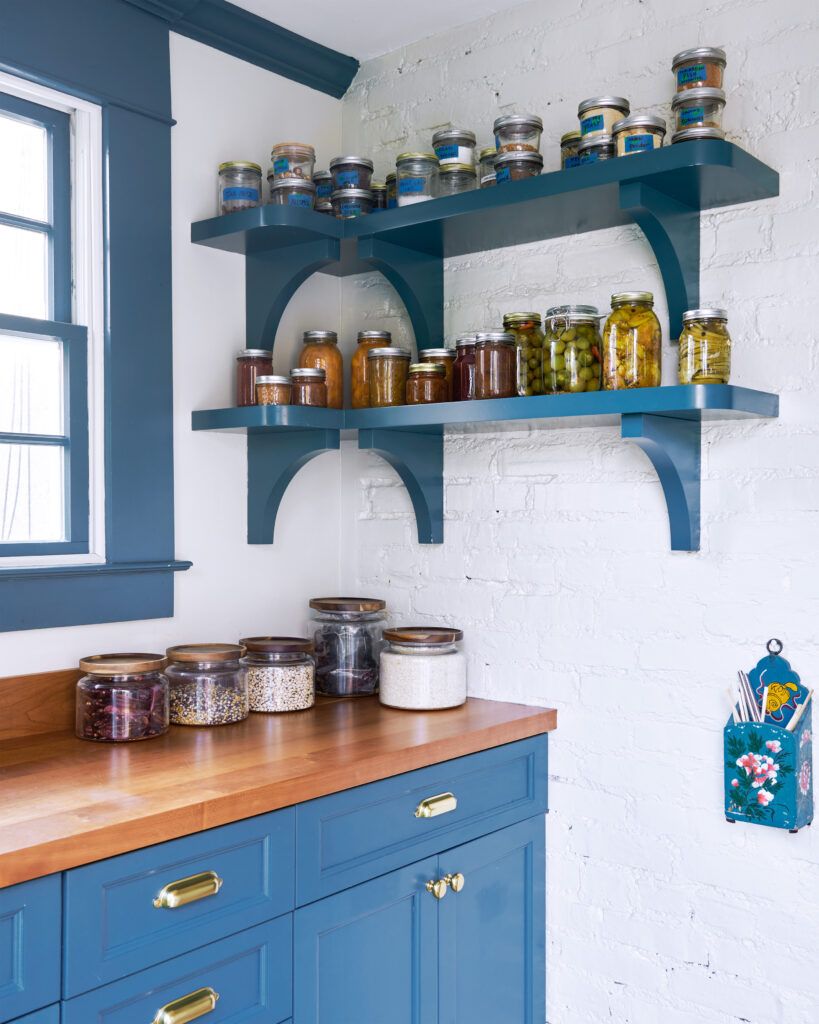 Decant the contents of food packages to airtight transparent canisters or jars for at-a-glance info; you'll know not just what you have but how much is left. Stackable containers are a plus since they're space-efficient and designed not to topple.
For extra-easy identification, label containers (this set includes waterproof vinyl labels for 179 pantry items, plus a shopping checklist). See-through bins and wire baskets are suitable for bulky or oddly-shaped supplies, like cooking oil bottles and vinegar.
Think about the boxes
If a pantry full of new organization bins doesn't fit your budget, improve your placement of boxed goods, like cereal, pasta, and crackers. It may be more efficient to stack boxes sideways instead of standing them upright. Or consider removing the inner food bags, rolling them gently, securing each with a rubber band, and storing the lot in one clear bin or drawer.
And think outside the box(es)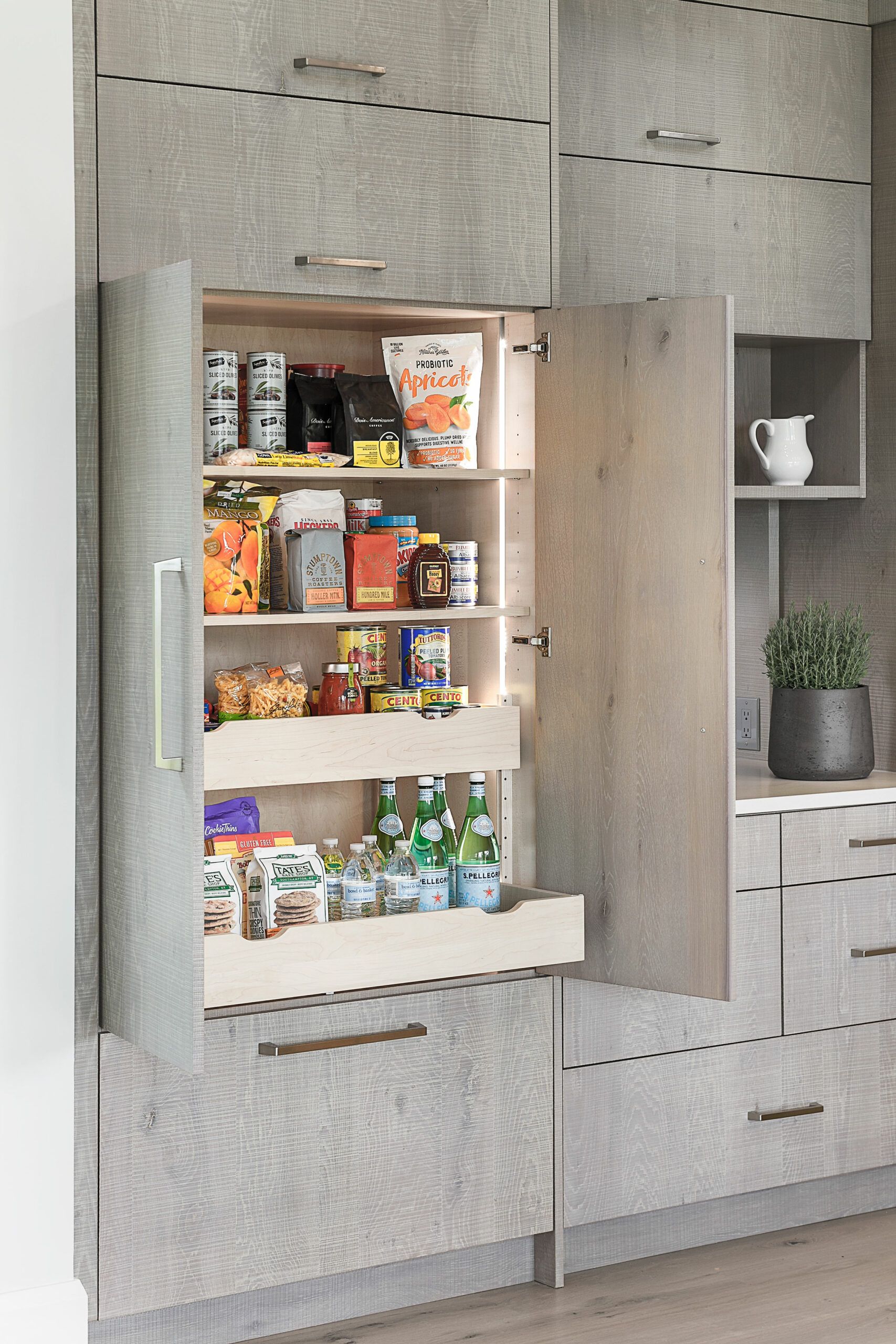 If you really know your stuff and your space, perhaps you're ready for customized shelves, like the ones this brilliant blogger built. Those planning a kitchen renovation may find gliding shelf systems with slide-out drawers a worthwhile investment. And if you think you haven't got room for a proper pantry, think again: Savvy DIYers are creating pantries in a hallway, out of a bookcase (simply curtain it off, for au courant "grand millennial" style), and under the stairs.
Keep it neat
Organizing your pantry is great; maintaining it is even better. A few tips: Avoid using the space for anything other than food and food-related storage.
Tidy the pantry as part of your weekly cleaning routine. Remind family members to put items back where they belong after use. Follow these rules, and your pantry will serve your household well and look good doing it.