Affiliate Disclosure:This Old House's Reviews Team is committed to delivering honest, objective, and independent reviews on home products and services. To support this business model, This Old House may be compensated if you purchase through links on our website.
Purchasing a quality knife minimizes the effort needed to chop foods and reduces frustration while in the kitchen. While a sharp and durable knife is the first piece of a well-stocked kitchen, a reliable knife sharpener is a close second. Sharpeners help ensure that you receive the most out of your knives and help you get the job done more efficiently and safely.
Knife sharpeners come in a variety of models, including electric machines, pull-throughs, stones, and sharpening kits. While the type of knife sharpener doesn't dictate the result, each unique model comes with its own sharpening method and routine. To save you time and effort, we've researched and tested top knife sharpeners of various designs to help you make a selection that's right for your kitchen.
Top 5 Knife Sharpeners
---
Review Standards
To begin our review process, we scoured Amazon for top-rated knife sharpeners. To ensure that we encompassed the range of sharpeners available, we selected a top product from four different knife sharpener categories: sharpening stone, electric, manual, and rod. Using a balance of availability, customer ratings, cost, and style of sharpener, our team ordered five knife sharpeners for testing.
To test the effectiveness of each knife sharpener, our team decided to use the top-rated PAUDIN Pro Kitchen Knife to cut through a tomato. We selected tomatoes because of their tough, outer skin and soft, flexible inside that makes the fruit a great litmus test to a knife's sharpness.
Before using each knife sharpener, a team member scratched and scraped all sides of the knife against 60-grit sandpaper to dull the blade in preparation for sharpening. Once dull, they ran the blade through the tested sharpener, cleaned it, and then tested its sharpness by cutting two slices of a tomato.
After each test, the team member scored each knife sharpener on its installation difficulty and ease of use. Additionally, the sharpener was scored based on the amount of pressure the knife required to go through the tomato and the cleanliness of the slice. These four factors were scored out of a possible five points and then averaged to produce an overall score for each sharpener.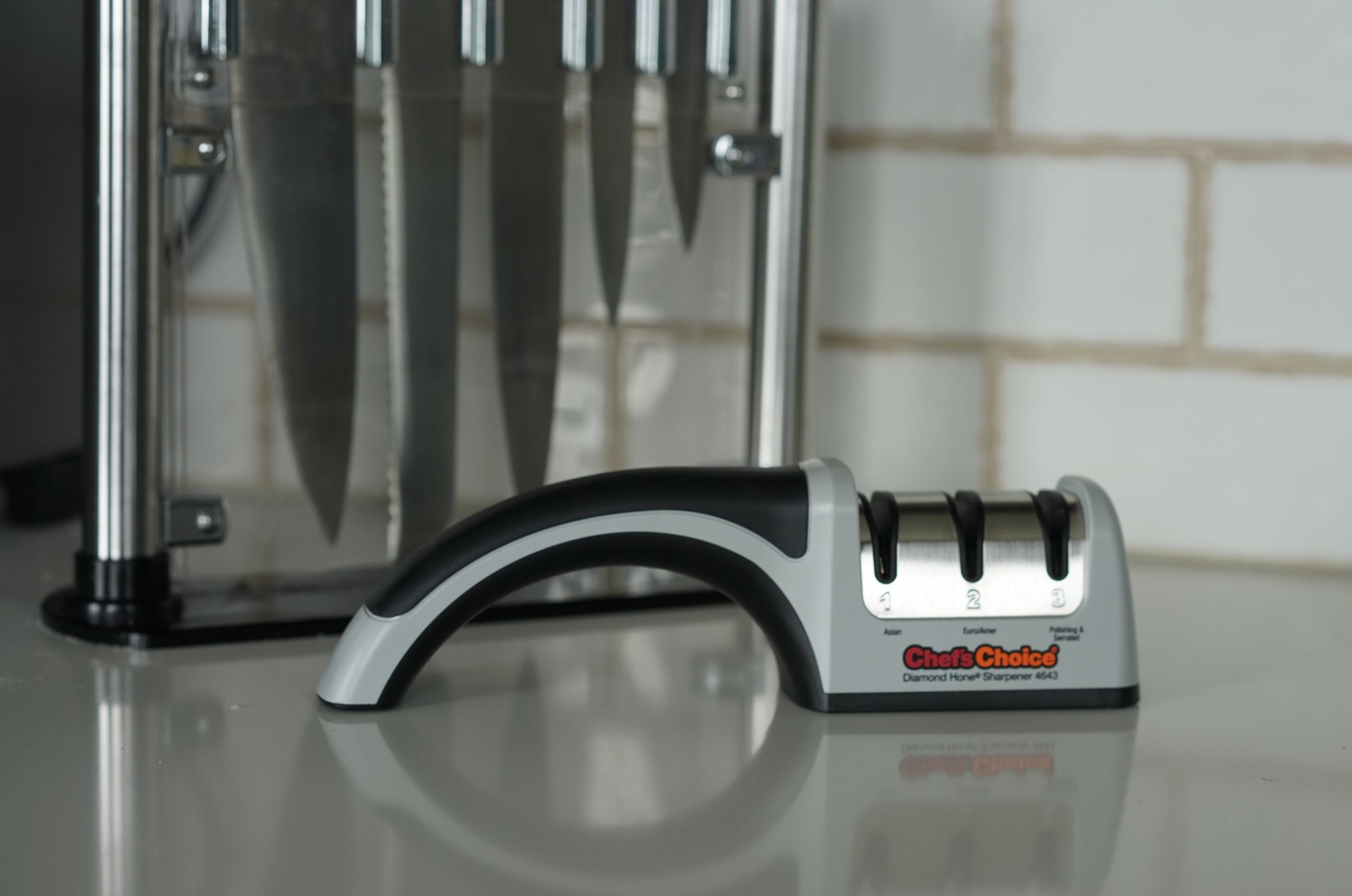 The Chef'sChoice ProntoPro Knife Sharpener is a manual model that incorporates three different ceramic wheels to sharpen 15- and 20-degree knives of all styles. The sharpener comes out of its packaging ready-to-use which makes it a great choice for customers looking for an effective, low-maintenance product.
Key features
Includes sharpening stages for Asian, European, and American knives
Diamond abrasive wheels used in each sharpening stage
Lightweight at around half a pound
Cuts both 15- and 20-degree knives
Our Experience
Setup
In terms of set up, this Chef'sChoice knife sharpener was removed from its package and immediately ready for use. Its included instructions were straightforward, describing the saw-like method required to sharpen the knives and including information on its three different stages.
Use
To test the sharpener, a team member secured the product using its attached handle and inserted the blade into the appropriate slot. The knife was then continuously pushed and pulled through the stage while adequate pressure was applied. Compared to our other tested products, some of which required in-depth sharpening procedures, this product was easy to operate.
Performance
This sharpener performed the best of all tested products and required little pressure to cut a clean slice through the tomato. The blade cleared through the fruit on one quick pass, demonstrating the sharpener's effectiveness in delivering a quality blade.
Our Score
| Stars (out of 5) | Chef'sChoice ProntoPro Knife Sharpener |
| --- | --- |
| Cutting power | 3.5 |
| Cleanliness of cut | 5 |
| Ease of use | 4.5 |
| Ease of installation | 5 |
| Average score | 4.5 |
| Stars (out of 5) | Chef'sChoice ProntoPro Knife Sharpener |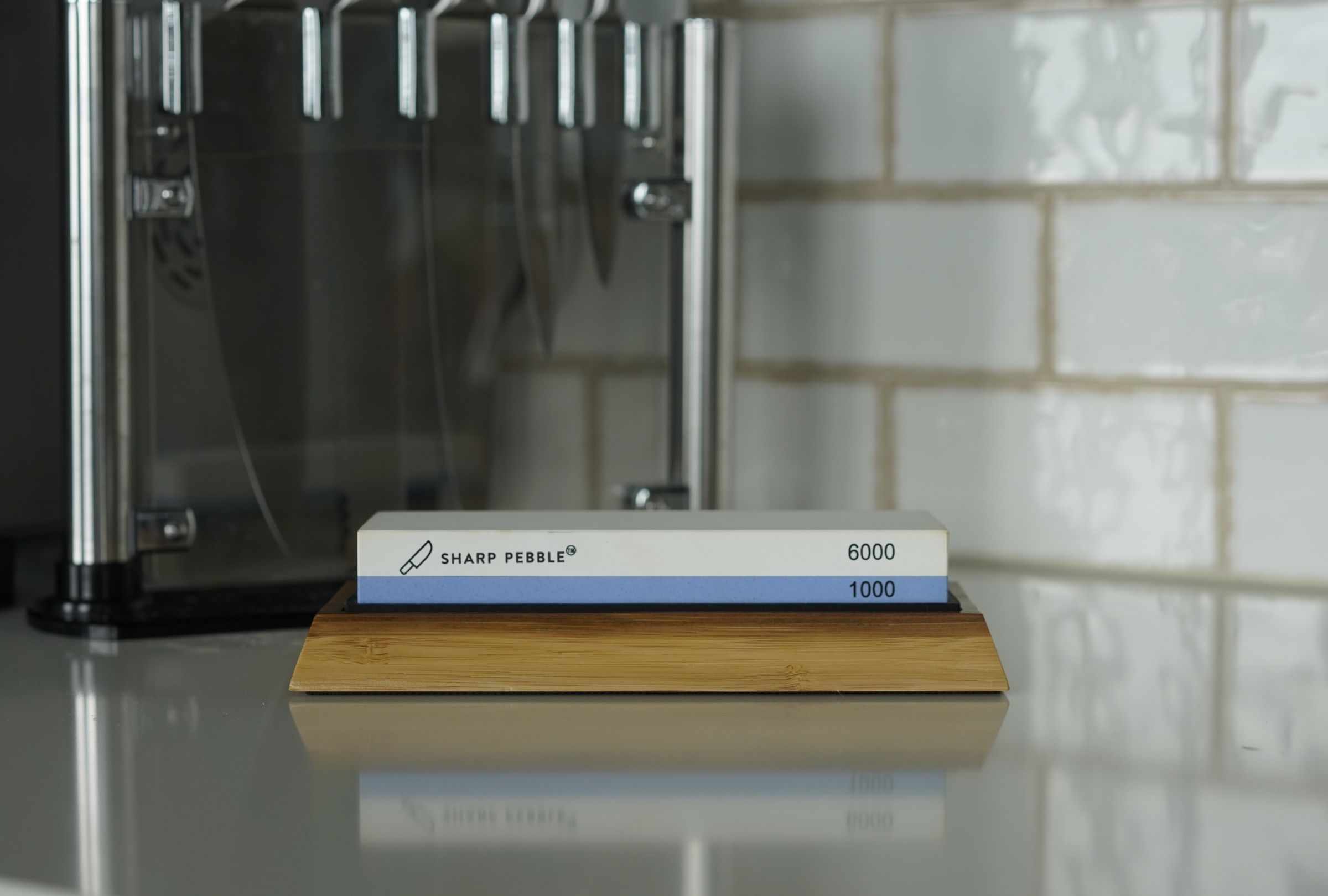 This Whetstone sharpener from Sharp Pebble offers a double-sided stone for precise sharpening housed in the modern aesthetic of a non-slip bamboo holder. This sharpener is for knife enthusiasts looking for a hands-on way to sharpen their knife set.
Key features
Double-sided whetstone for sharpening and polishing blades
Suitable for any blade, including pocket knives and straight edges
Sits in a non-slip bamboo holder for secure sharpening
Uses water for sharpening and doesn't require honing or sharpening oils
Our Experience
Set up
Preparing the whetstone for use only required 15 minutes, but was the most complex of all sharpeners tested. The stone needed to soak in a large bowl for about 10 minutes prior to use. Once submerged for the required amount of time, the stone was removed and secured onto its bamboo holder.
Note: This process is required before every use.
Use
After the stone soaked, we used the included angle guide to lift the knife's edge to the required 20 degrees. Once elevated, we slid the raised knife diagonally across the stone, starting with the tip of the knife and ending with the base. This process was replicated on the opposite side of the knife. To polish the knife, we flipped to the 6000-grit side of the stone to hone and polish the blade.
Performance
The Sharp Pebble sharpening stone produced average results when considering the effort put into sharpening the blade. Simply setting up the sharpener requires a 10-minute soak in water, a process that needs to be repeated after each use. While the sharpened knife produced a clean cut, significant pressure was needed to slice through the tomato's tough skin.
Our Score
| Stars (out of 5) | Sharp Pebble Premium Whetstone Knife Sharpening Stone |
| --- | --- |
| Cutting power | 2.5 |
| Cleanliness of cut | 3.5 |
| Ease of use | 2 |
| Installation simplicity | 4 |
| Average score | 3 |
| Stars (out of 5) | Sharp Pebble Premium Whetstone Knife Sharpening Stone |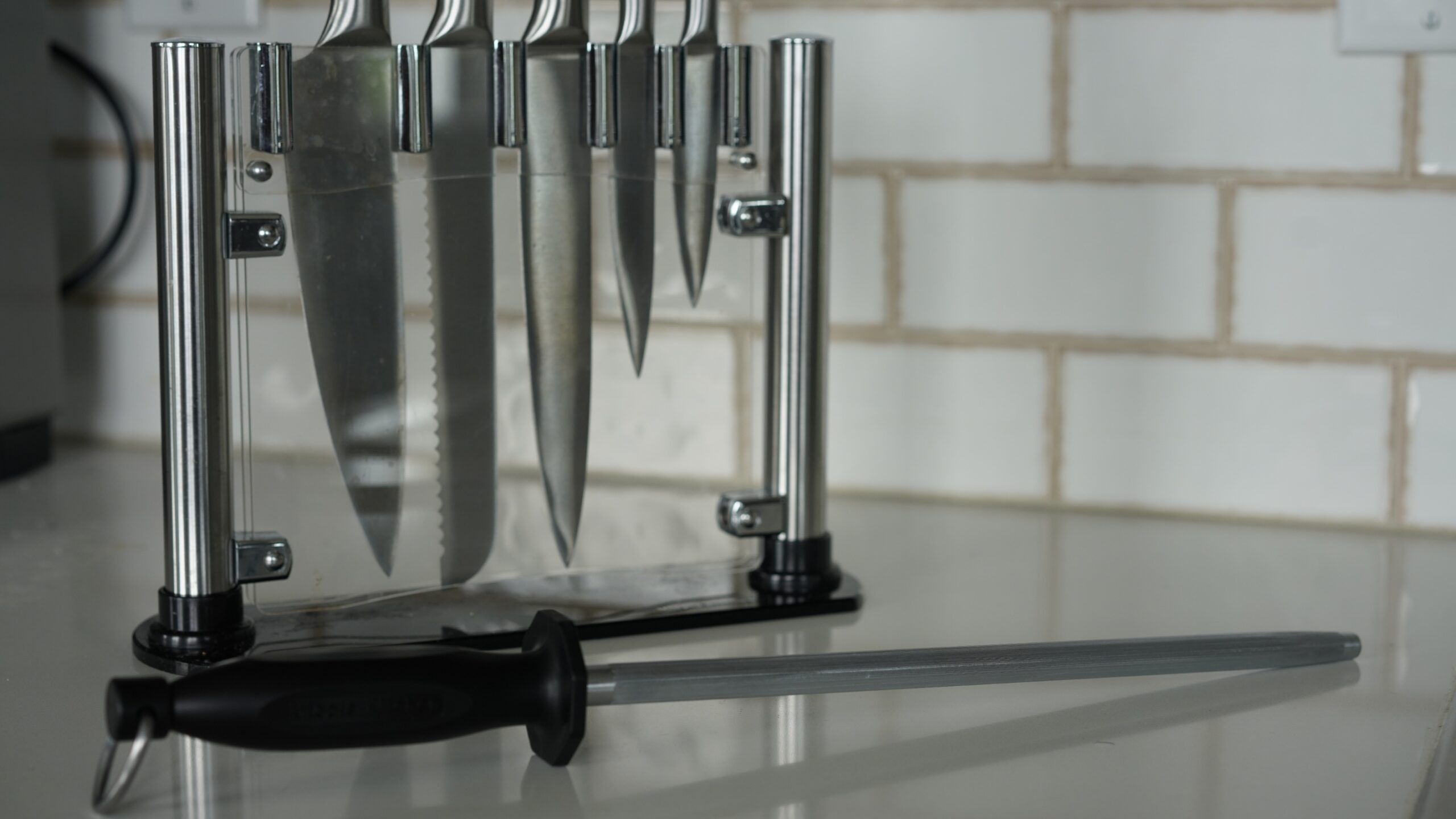 This steel honing rod from Utopia is an affordable product that produces a polished blade in minutes. The right- and left-hand friendly rod is equipped with an ergonomic handle that helps secure the rod while sharpening blades of all styles and sizes.
Key features
Comes in a 10- or 12-inch model
Made of carbon steel and plated with nickel chrome
Includes directions on four knife sharpening techniques that are compatible with the rod
Our Experience
Set-up
The number one benefit to the Utopia Kitchen honing rod is its accessibility. The rod required no set up and is ready to use immediately.
Use
Utopia Kitchen recommends four methods for honing knives with the steel rod. We selected the second method, which consisted of stroking the knife across the rod and away from its edge. After each stroke, the knife was flipped to ensure each side received a sharp and polished finish. While the procedure was simple, it took a few passes for us to become confident in our technique.
Performance
The honing rod produced a clean-sliced tomato but like the sharpening stone, the knife had some difficulty penetrating the tomato's skin. All things considered, the knife felt sharp and polished despite the minor starting difficulty.
Our Score
| Stars (out of 5) | Utopia Kitchen Steel Sharpening Rod |
| --- | --- |
| Cutting power | 3 |
| Cleanliness of cut | 4 |
| Ease of use | 2.5 |
| Ease of installation | 5 |
| Average score | 3.6 |
| Stars (out of 5) | Utopia Kitchen Steel Sharpening Rod |
The Presto Electric Knife Sharpener simplifies the process of sharpening by utilizing motorized wheels to deliver a sharp and polished blade. The sharpener incorporates a three-stage technology that provides separate ceramic wheels to allow customers to control the sharpening intensity. Additionally, the sharpener has built-in blade guides that secure the knife at the optimal angle for sharpening.
Key features
Three-stage sharpening system
Blade thickness selector
Extra-fine ceramic wheel
Built-in blade guides
Our Experience
Set up
As an advanced knife sharpener, this model required additional set up to ensure that the correct settings were applied prior to use. This involved an extensive reading of the included manual before we even plugged in the knife sharpener. Once we were familiar with the product, we plugged it in, adjusted the blade thickness to fit our medium-sized blade, and tested the product.
Use
To use the Presto knife sharpener, we turned on the motor using the front-facing switch. To sharpen our dull knife, we inserted the blade into the most intense sharpening stage. Even though it's an electric model, we were a bit surprised at the high level of noise produced by this sharpener, especially while pulling the knife through the grinding wheels. To get an even knife, we passed the blade through both guides three times.
Performance
Overall, the Presto electric knife sharpener produced a knife that performed well under our tests. While the sharpener wasn't our most effective product, its ceramic wheels are capable of producing a sharp blade with fairly little effort.
Our Score
| Stars (out of 5) | Presto Electric Knife Sharpener |
| --- | --- |
| Cutting power | 3 |
| Cleanliness of cut | 4 |
| Ease of use | 3.5 |
| Ease of installation | 2 |
| Average score | 3.1 |
| Stars (out of 5) | Presto Electric Knife Sharpener |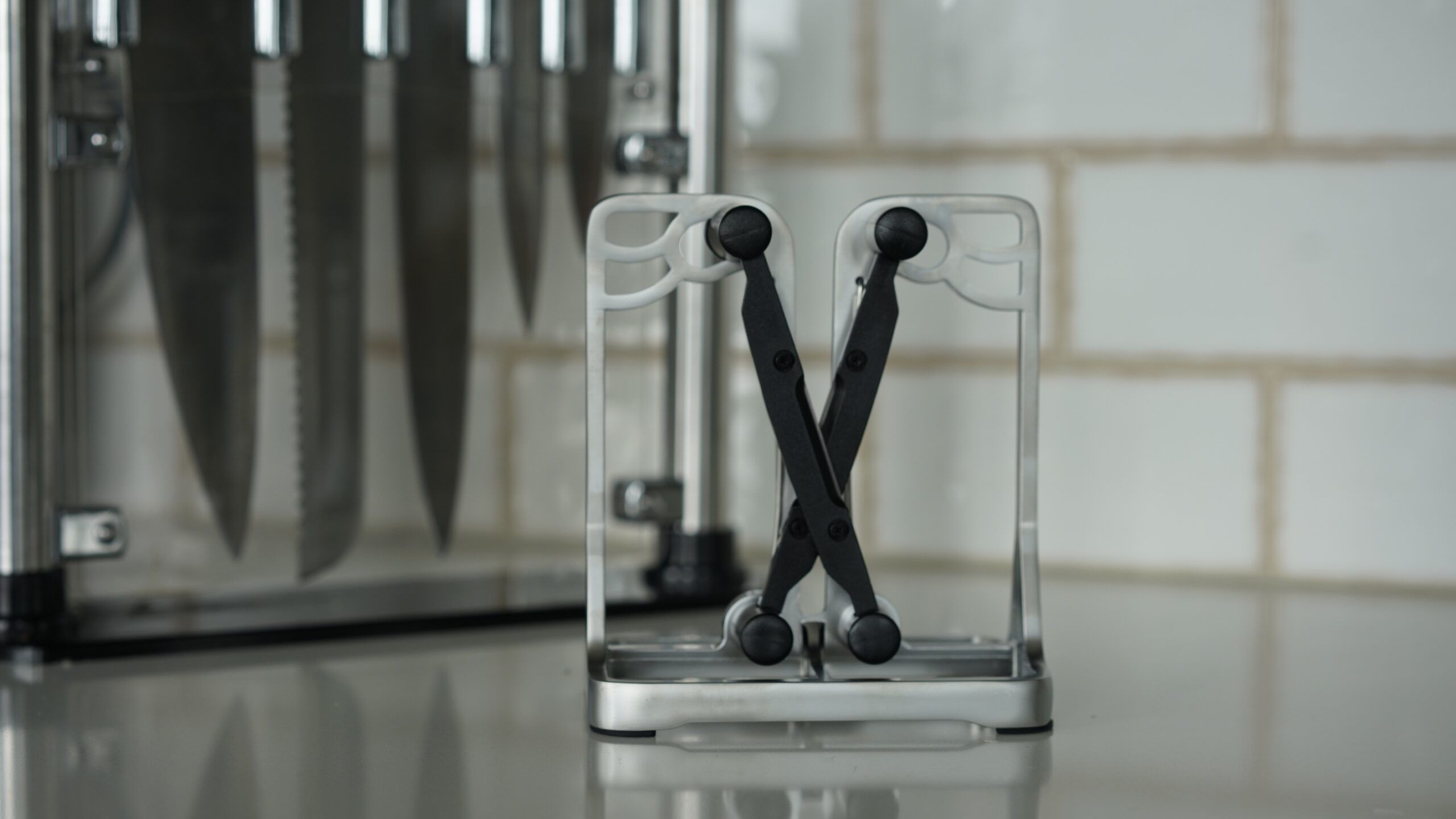 The Ehoyal Knife Sharpener is a pull-through model that sharpens a variety of blades in a few passes. The sharpener comes with two independent spring-action arms that adapt to your knife's blade size and allow for one- or two-side blade sharpening.
Key features
Dual spring-action arms allow for multi-angle operation
Upgraded metal bracket to improve service life
Compact design allows for easy storage
Our Experience
Set-up
The Ehoyal Knife Sharpener required no setup and was ready to use immediately after unboxing.
Use
To sharpen our knife, we tilted its point down and gently placed the knife between the two honing blades. We then slowly pulled the knife towards its handle to sharpen both sides of the blade. We repeated this process three times to ensure the blade was sharp and polished.
Performance
Despite its compact and simple design, the Ehoyal Knife Sharpener was one of our best performing products, producing a blade that sliced through the tomato with ease. Although the product produced a sharp knife, one roadblock we faced was the knife gripping the arms making for a choppy sharpen.
Our Score
| Stars (out of 5) | Ehoyal Knife Sharpener |
| --- | --- |
| Cutting power | 3.5 |
| Cleanliness of cut | 5 |
| Ease of use | 3 |
| Ease of installation | 4.5 |
| Average score | 4 |
| Stars (out of 5) | Ehoyal Knife Sharpener |
Buying a Knife Sharpener: Factors to Consider
When buying a knife sharpener, it's important that you understand the product and its varieties before purchasing so that you can make an informed decision for your kitchen. Here are three factors to consider when buying a knife sharpener:
Type
Sharpening stones
Sharpening stones, referred to as whetstones, are a labor-intensive but effective way to get a clean cut from your blade. Sharpening a knife with a whetstone requires you to push the blade against the stone at the correct angle using water or honing oil as lubricant.
Our recommendation for a sharpening stone is the Sharp Pebble Premium Whetstone Knife Sharpening Stone, which uses water and its two-in-one style stone to deliver a sharp and polished knife.
Electric
Electric knife sharpeners remove much of the manual effort that other sharpeners require. These sharpeners utilize a motorized wheel to edge knives for a precise cut. While electric sharpeners deliver a quick sharpen, they don't allow for as much control as a manual or stone sharpener.
Our recommendation for an electric model is the Presto Electric Knife Sharpener, which offers multiple sharpening stations and an adjustable blade selector for a controlled finish.
Manual
Like their electric counterpart, manual knife sharpeners use an abrasive wheel to sharpen knives. However, in manual sharpeners the wheel is turned by the user, typically by using a saw-like or pull-through motion.
Our recommendation for a manual knife sharpener is the Chef'sChoice ProntoPro Manual Knife Sharpener, which accommodates a variety of knife styles with its three-stage technology. We also recommend the Ehoyal Knife Sharpener if you're looking for a pull-through model that delivers a sharp blade with minimal effort.
Honing rods
Honing rods are used to edge a knife's blade between cuts. Honing rods work by straightening a dull edge and correcting it back into a proper position for cutting. Honing rods come in a variety of materials, including steel, ceramic, and diamond abrasive.
Our recommendation for a honing rod is the Utopia Kitchen Honing Steel Knife Rod. Its lightweight and easy-to-use design keeps the edges of your knives sharp and polished between each use.
Setup
Before purchasing, it's important to consider the time it takes to set up the knife sharpener. For example, manual sharpeners don't require a power source and are ready for use when needed. On the other hand, a sharpening stone or electric sharpener may take additional time to prepare for sharpening.
Cost
It's important that you balance cost with need and understand that cost doesn't always equate to effectiveness when it comes to knife sharpeners. If you're looking for a cost-effective sharpener that you can use infrequently to produce a polished blade, consider a quick and easy pull-through sharpener or honing rod. If you want a long-lasting sharpener with multiple features and don't mind the extra cost, consider a sharpening stone or electric sharpener.
Frequently Asked Questions About Knife Sharpeners
How many times should you run a knife through a sharpener?
The number of times you should pass your knife through the sharpener varies based on a number of factors, including the dullness of your blade and type of knife sharpener. In general, you should run your knife through a sharpener three to six times. If your sharpener is equipped with a fine grit polisher, you can run the blade through one or two more times for a polished finish.
Are knife sharpeners bad for knives?
In short, no. Occasional sharpening with a knife sharpener will not ruin your blade. However, it's important that you purchase a knife sharpener that's capable of sharpening your blade-type. For example, if you have a European-edged knife with a 20° bevel, ensure you get a product with that sharpening angle for optimal results.
Can you over sharpen a knife?
Sharpening a knife removes small amounts of steel each time, which is why it's important that you sharpen your knife only when necessary to maintain a razor sharp edge that's long-lasting.
How long does it take to sharpen a knife?
The time it takes to sharpen a knife depends on the method and type of sharpener you select. An electric knife sharpener takes under a minute to produce a fresh blade compared to a sharpening stone which can require 5-10 minutes.
Why Trust The This Old House Reviews Team
This Old House has empowered homeowners for more than four decades with top-notch home improvement content in the form of television programs, print media, and digital content on its website and social media platforms. The This Old House Reviews Team focuses on creating in-depth product and service review content to help inform your purchasing decision for just about any item or resource that you might need for your home. The This Old House Reviews Team has written over 1,000 reviews on products in the home space, from cordless drills to kitchen trash cans, lawn mowers, and dining room decorations.
We recommend products in each review using an intensive research process, spending hours combing through the best available models on Amazon. For a product to make our list of top picks, it must hold a solid sales record on Amazon, have consistently positive customer reviews, and offer unique features, among other factors. After narrowing down our list of recommendations, we conduct additional research and sometimes in-person testing to ensure that the products meet our standards. Once we conclude the research phase, we craft a well-rounded, user-friendly article that includes our recommended products and additional information to help homeowners like you make the right purchase.