Rapid Redo for a Growing Family: After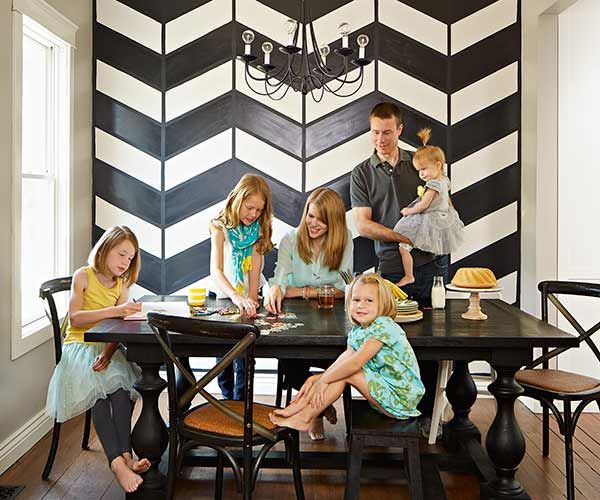 Who: Andrea and Jacob Faw
Where: Peoria Heights, Illinois
What they did: Rebuilt their kitchen, complete with DIY cabinetry, for less than $10,000—all while working full-time, homeschooling two kids, and expecting a baby
Shown: The Faws enjoy their new open dining area against the backdrop of a striking chevron wall. Andrea painted it in one day with leftover paint after spotting the idea online. From left: Ellie, 11; Sophie, 8; Andrea; Maddie, 4; and Jacob, holding Ava, 18 months
See the Kitchen finalists from the Search for America's Best Remodel 2015
Family-Built Cabinetry: During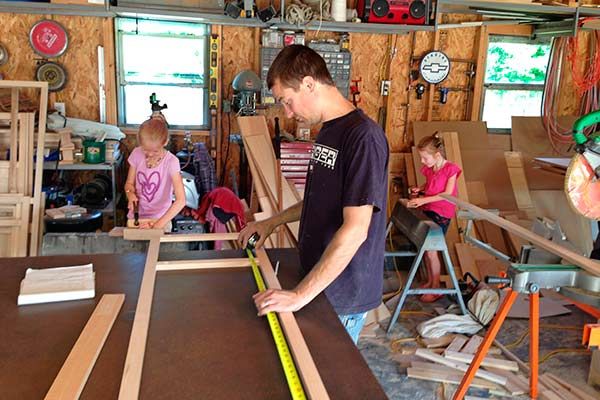 Their story: When we bought our 1926 farmhouse, in October 2000, Jacob and I knew that restoring it would be a challenge. It had been converted to a duplex, and years of renters had taken a toll, especially on the kitchen. We dove right in, tearing up the vinyl tile floor only to discover it had been installed over a layer of purple carpet. That's right: tile over carpet! Purple carpet! After that unpleasant surprise, we decided to wait awhile before doing any more work. We eventually knocked down a wall to a bedroom to create a larger, more open plan, but the big renovation was still on hold.
Shown: Jacob built the cabinetry himself—with a little help from his deputy carpenters.
First Cookspace, Then (Another) Baby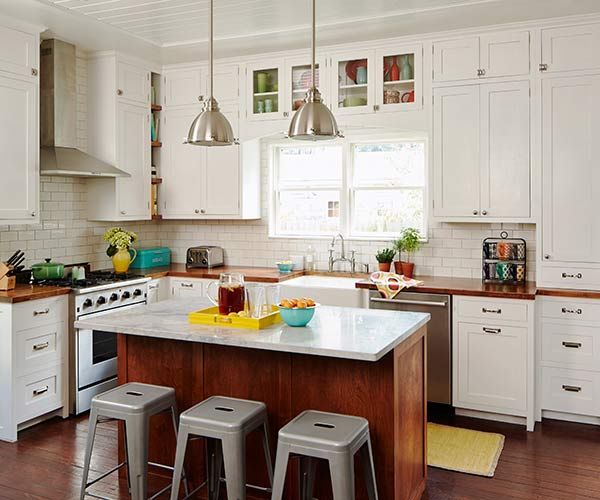 Fast-forward to 2013: We had three young girls and I'd just discovered that I was pregnant with daughter number four. I didn't want construction going on with a baby in the house, so we had to get serious.
Shown: The Faws painted the cabinets white but opted for birch butcher-block countertops and a maple island for added warmth.
Custom Cookbook Storage Shelves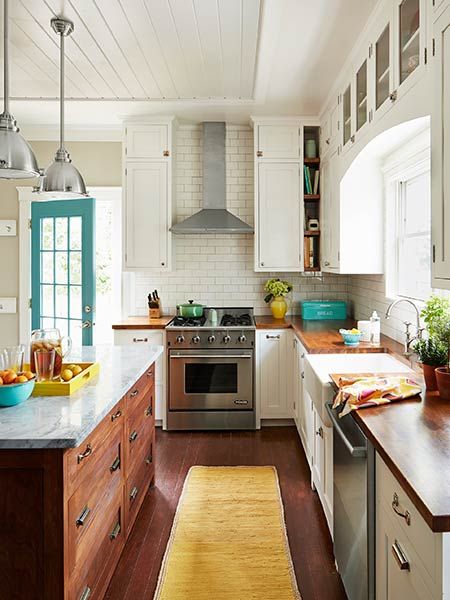 We wanted a kitchen that felt true to the era of the house, and a big part of that was honoring the look of the original cabinets, which had to be replaced because of water damage on the lower units. Jake had long dreamed of making his own cabinetry, and although he'd never done a carpentry project of that magnitude, he was game. We worked as a team: I sketched and he built. Over the next six months, he crafted cabinets in our garage on evenings and weekends. He also made a storage pantry and a prep island with easily accessible, kid-friendly drawers for sippy cups and the like. I had my heart set on marble for its top, but I worried it was too high-maintenance with little ones. I opted for a beautiful slab of quartzite I found at a Chicago-area stone yard and drove it home while eight months pregnant.
Shown: Andrea wanted the upper cabinets on each side of the stove to be equal in size, but there was an extra 7 inches on the right. The fix: custom cookbook shelves made from leftover butcher block.
Two Kinds of Labor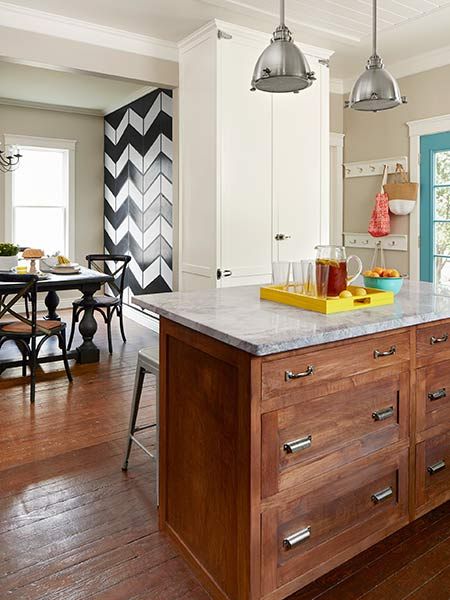 By the time we tiled the backsplash, I was nine months along. In fact, I was grouting just two days before I gave birth to my youngest daughter. It's funny:
I took a picture mid-renovation, when the floor and cabinets were ripped out and we were heating frozen meals in the microwave, to remind myself what it was like—just in case we ever got the urge to renovate again. I knew I would look at our beautiful kitchen and forget what the labor was like. I guess it's kinda like childbirth that way!
Shown: Deep island drawers and a floor-to-ceiling pantry offer plenty of storage.
No Kitchen Corner Goes to Waste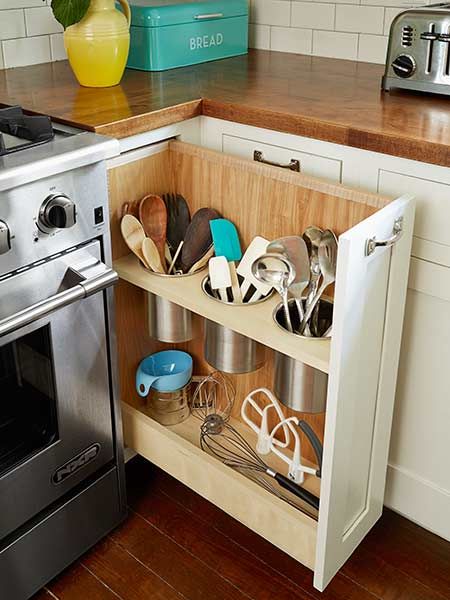 Andrea added plenty of mom-designed, mom-approved touches, like this pull-out utensil bin, right next to the stove. "It's a more efficient use of a corner cabinet than a lazy Susan," she says.