White Hot Kitchens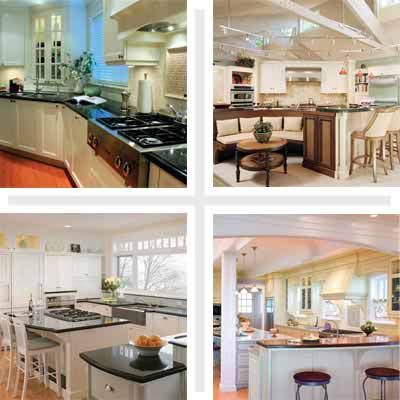 These aren't your grandma's white kitchens. Wait, maybe they are. White is making a comeback in the hub of the home, and designers say it's because the crisp, clean look offers the comfort and simplicity of the kitchens of yesteryear.
The resurgence also makes for unlimited design possibilities, serving as a ready canvas for affordable tweaks like candy-colored cabinet pulls, and easy-install backsplashes. Meanwhile, using white to open up dark kitchens in small spaces accounts for the white kitchen boom in apartments and cottage-style homes.
Here, we dig into the National Kitchen & Bath Association (NKBA) Design Competition archives to deliver great ideas from Certified Kitchen Designers that you can use in your next remodel.
Sensational Small Kitchen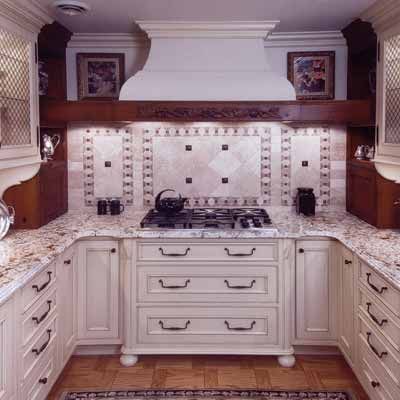 This kitchen features a French stucco hood flanked by butternut display cabinets. Maple-glazed white cabinetry and undercabinet lights keep things bright in the tiny room, where a sliding butcher block adds counter space as needed.
Designer: Thomas David Trzcinski, CMKBD Kitchen & Bath Concepts of Pittsburgh, LLC, Pittsburgh, PA
Stairway Challenge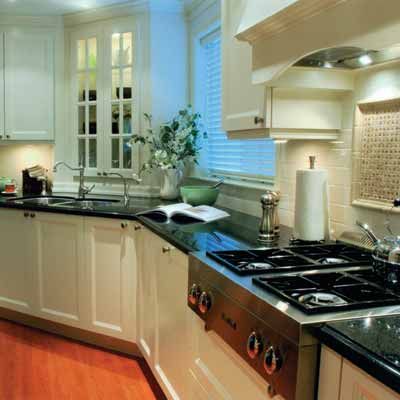 To open up this limited angled space, the custom cabinets were painted white and the fridge was moved across the room. The beautiful white ceramic backsplash and elegant fixtures finish the look.
Designer: Anthony Binns, CKD, CBD, Binns Kitchen + Bath Design, Pickering, Ontario
Open Up the Space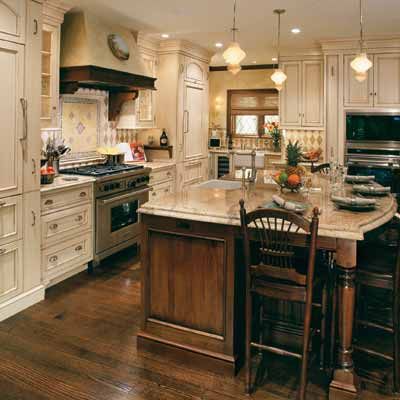 The owners of this condo kitchen longed for natural light, so they opted to take down a wall and replace it with an island. The use of light-reflecting pale colors further brightens the space, which features a Tuscan-style backsplash, creamy cabinetry, and pendant lights.
Room With a View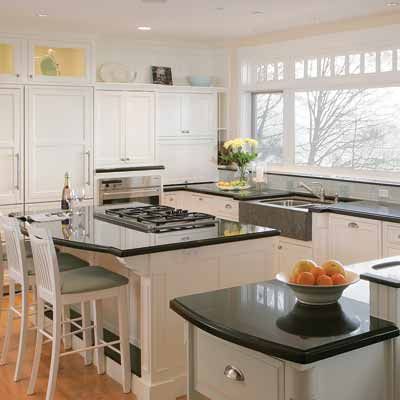 Simple, flat-panel white cabinets don't distract from the beautiful view, while columns, corbels, and a farmhouse sink add a dash of the traditional. A clutter-busting appliance garage keeps counters clear and the beautiful glass tile backsplash adds a touch of unexpected sparkle.
Designer: Heidi Schumann, V6B Design Group, Vancouver, British Columbia
Family-Friendly Design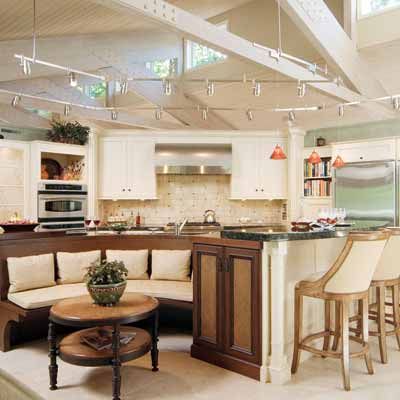 This kitchen isn't short on style—or seating. A natural stone backsplash and light green accent walls make the white cabinetry pop. Playing video games and watching TV are easy enough when the media center is just across the aisle.
Beadboard Beauty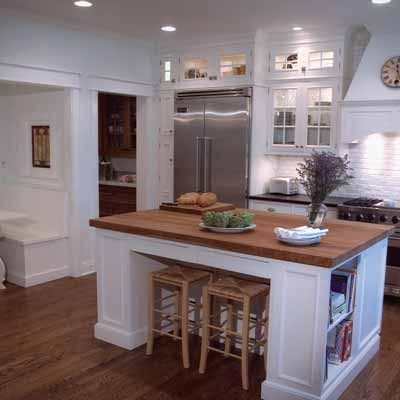 Three large windows centered over a farmhouse sink let the light pour in and make for great views while cleaning up after dinner. White inset cabinetry with glass fronts, a white island base, and a white beadboard-lined breakfast nook are offset with soapstone counters, a cherry butcher block, oak flooring, and rustic tile.
Pastels With Panache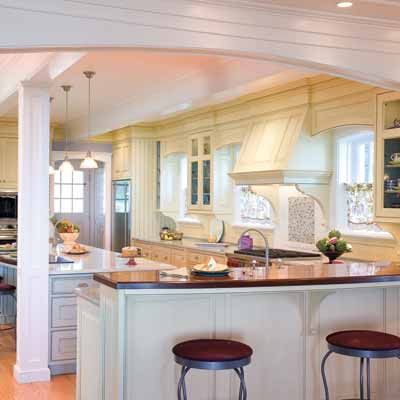 Vanilla wall cabinets add warmth to this white kitchen, with sage green island cabinets that echo the green-flecked granite on the perimeter counters.
Designer: Gerard Ciccarello, CMKBD Covenant Kitchens & Baths, Inc., Westbrook, CT
Pale With a Pop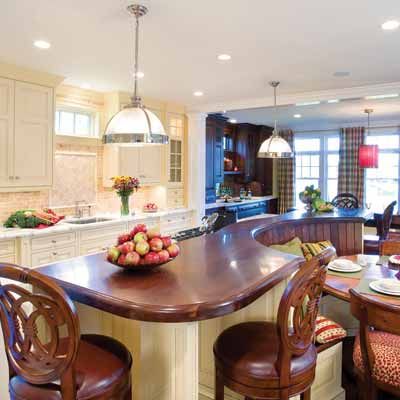 This kitchen boasts pale ivory cabinetry against a polished white onyx backsplash and an imposing wood island top. The white counters carry through to the bar with lighted glass cabinets. Bright upholstery and drapes pop in the pale room.
Designer: Gerard Ciccarello, Covenant Kitchens & Baths, Inc., Westbrook, CT
Comfortable and Contemporary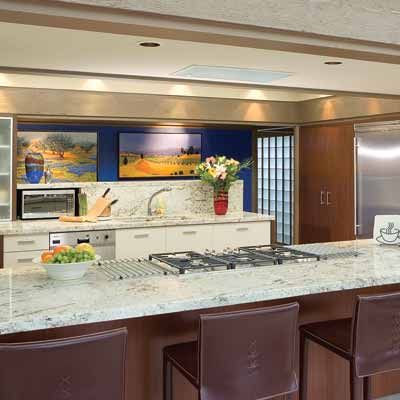 White stone countertops against white cabinets keep the prep area of this kitchen clean, white the same stone atop a dark wood island makes the seating area the focal point of the room.
Designer: Heidi Schumann, V6B Design Group, Vancouver, British Columbia
Black and White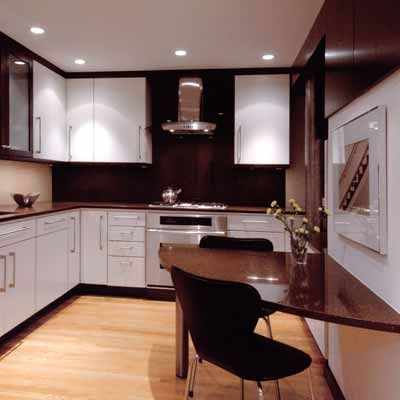 These clients requested minimalist design. But, with no window and a support column interrupting the floor plan, achieving an uncluttered look proved difficult.Scaling down appliances opened up the entire right wall for design, while the contrast of dark wood and white cabinet doors distracts from the lack of a window.
Designer: Jennifer L. Gilmer, CKD Photo: Bob Narod Photography, LLC