Cape Kitchen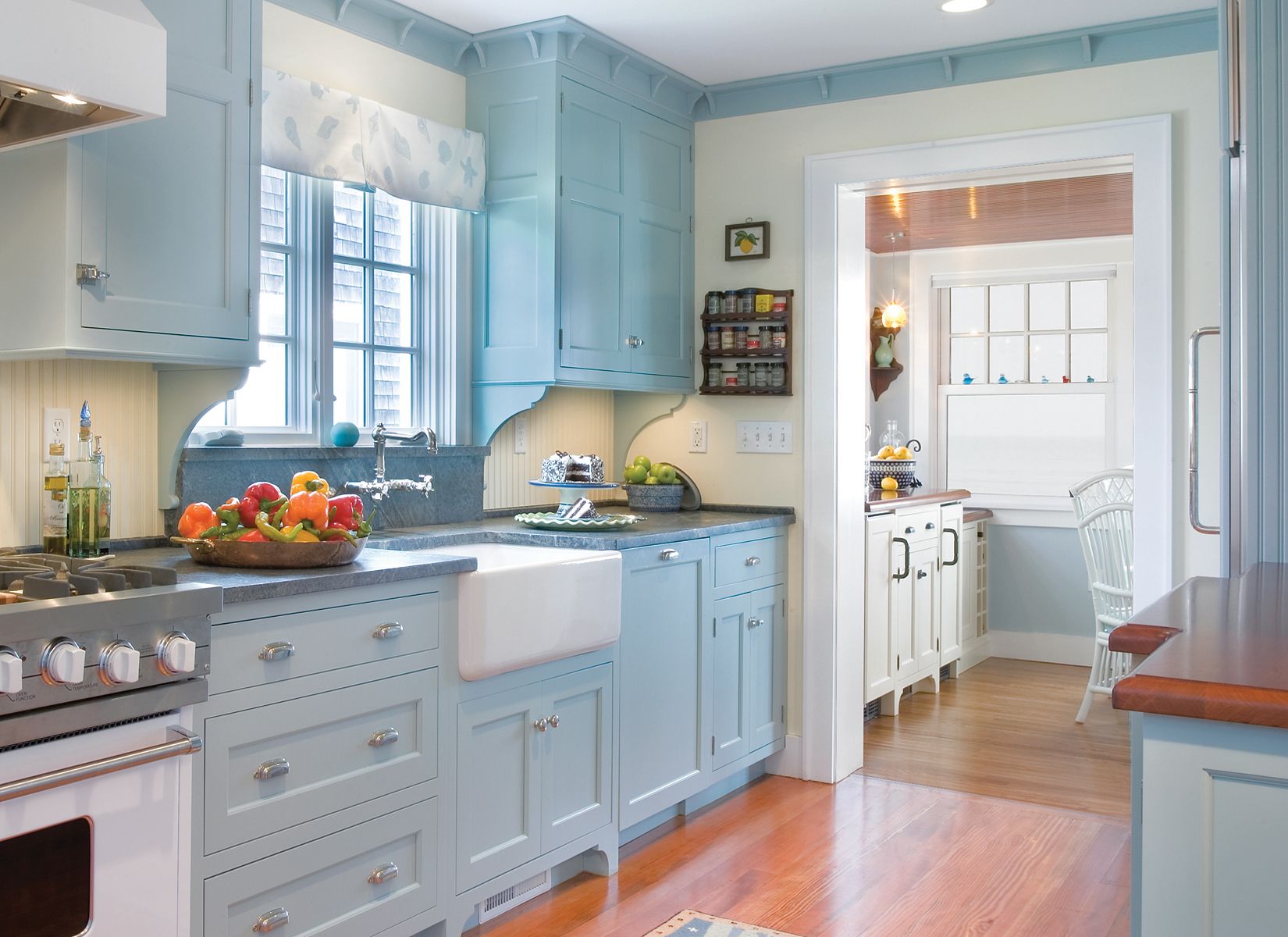 In an effort to maintain the period look of this 1932 Cape Cod remodel, close attention was paid to details like the intricate bracketed molding and drawer pulls. It is the robin's-egg-blue cabinets, though, that really grab attention and create the illusion of space in the small room.
Designer: Gerard Ciccarello, CMKBD, Covenant Kitchens & Baths Inc., Westbrook, CT
Glittering Galley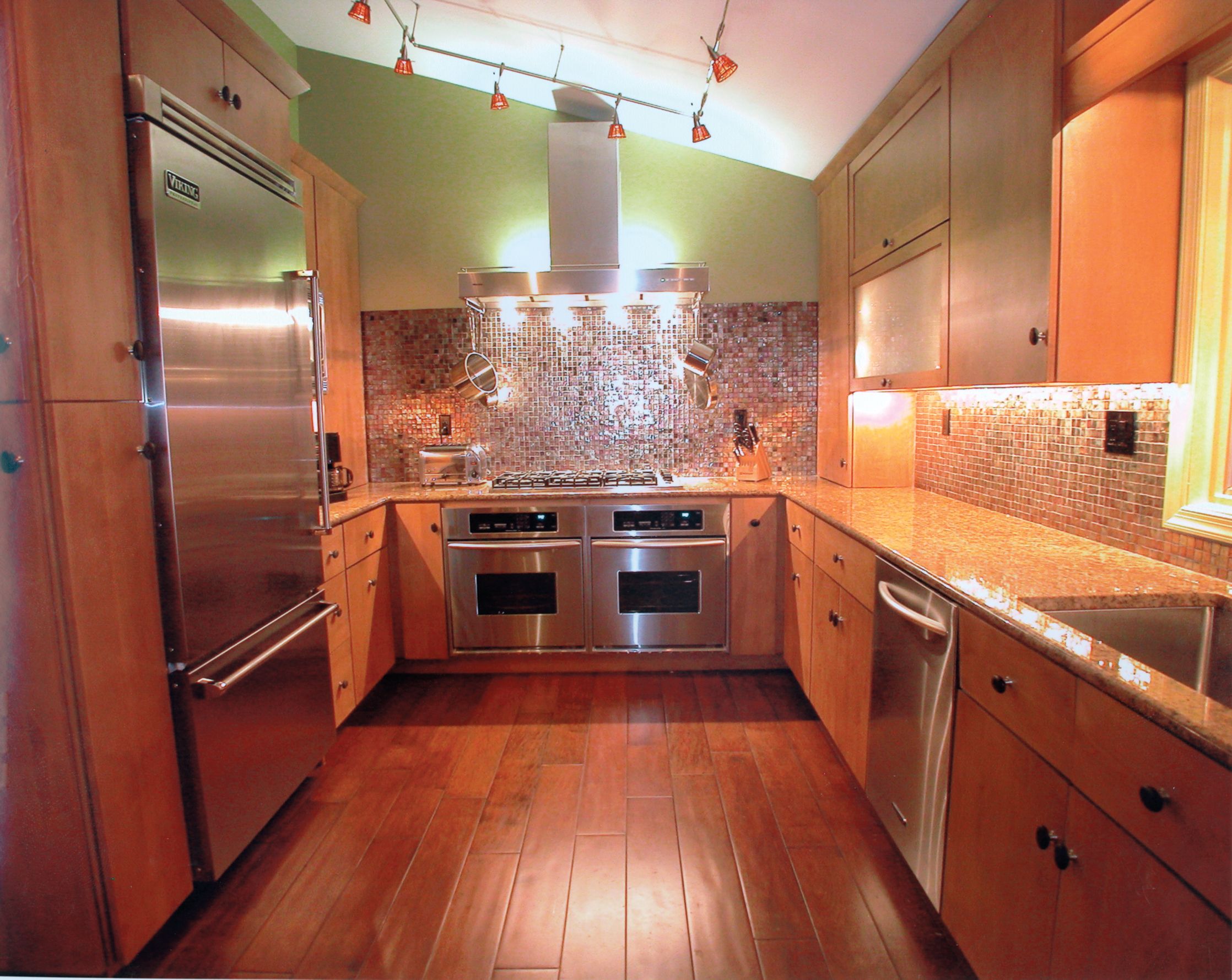 The old cabinet doors that were once in this galley kitchen couldn't take another coat of paint, so the homeowners brought in a design pro for a complete overhaul. The new layout called for the removal of a wall between the small kitchen and family room to open up the space. Scraped maple floors and simple cabinetry with river-stone hardware give the room a clean, uncluttered vibe. The glass-tile mosaic backsplash twinkling beneath undercabinet lighting is a bold focal point that draws the eye.
Designer: Blue Arnold, IV, CKD, Kitchen By Request Inc., Jarrettsville, MD
Light and Bright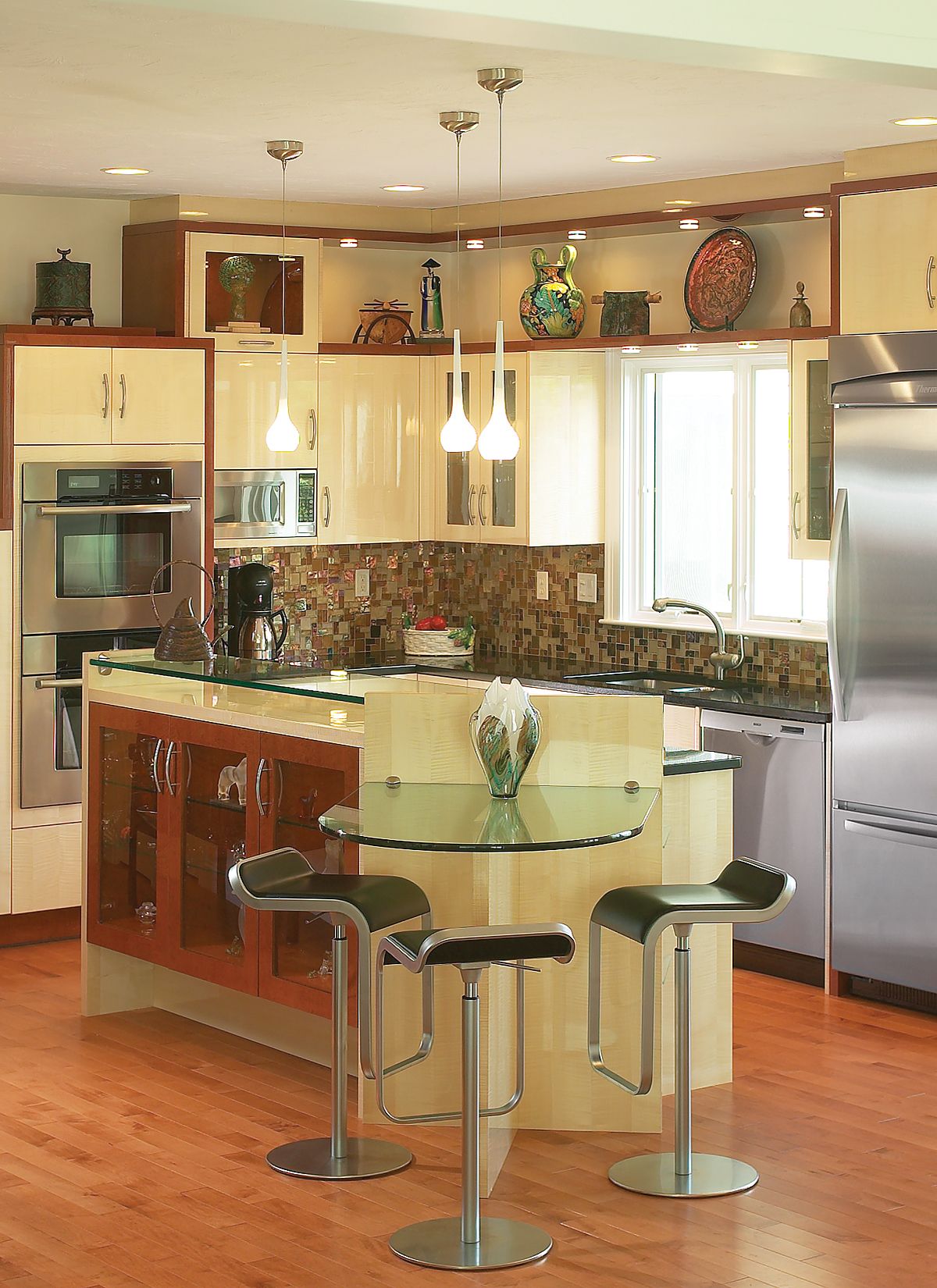 This kitchen packs every homeowner's most-wanted features into a small space: a storage-filled island with seating, double wall ovens, pendant lights, and a beautiful mosaic backsplash. Light English sycamore and dark maple trim play nicely in the custom cabinetry, creating a striking but natural balance. Recessed lighting and open shelving above the cabinets create a perfect home for collectibles.
Designer: Glenn Meader, AKBD, Kitchen Concepts Inc., Norwell, MA
Space-Saving Sensation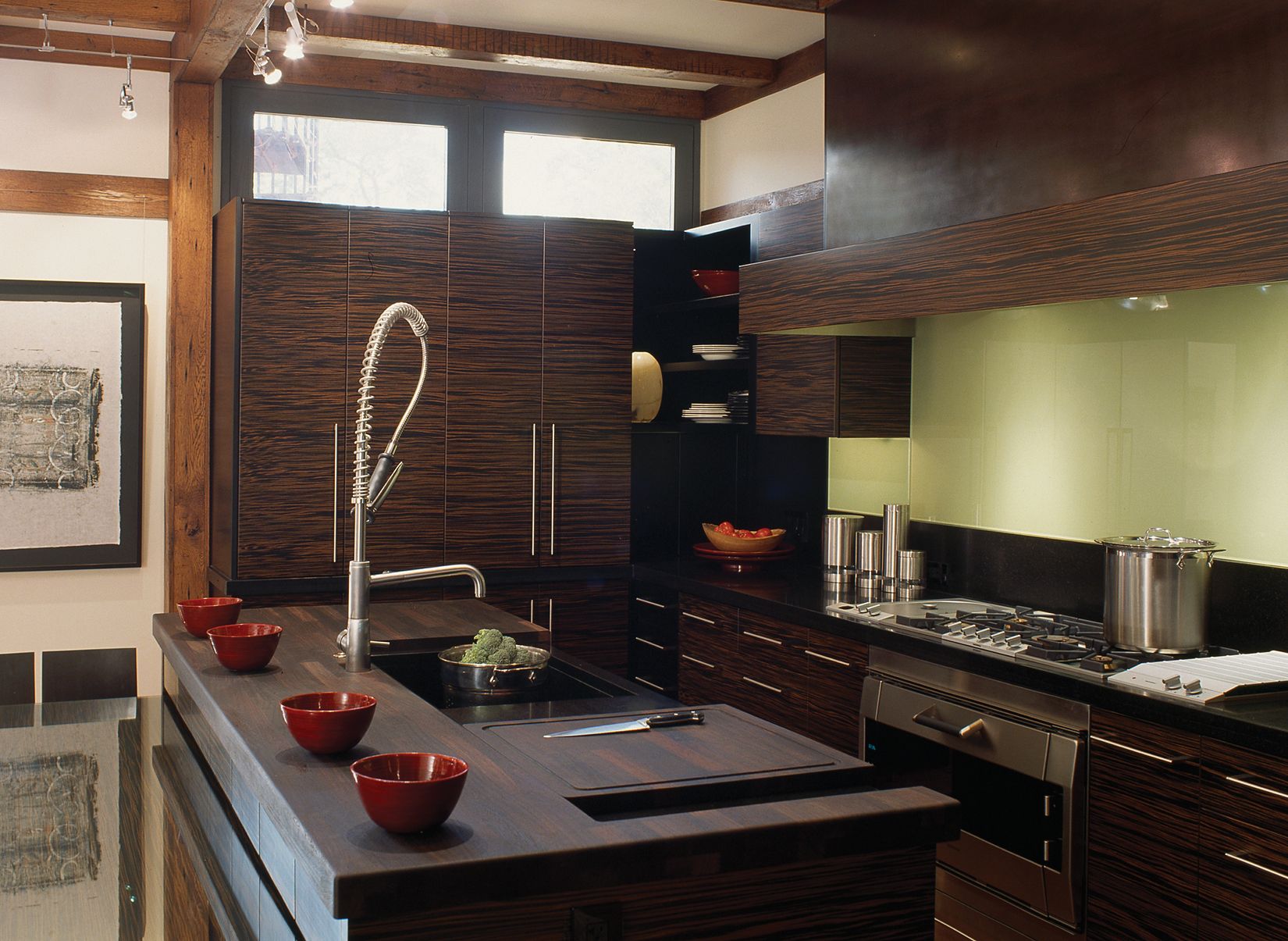 The owners of this American bungalow wanted to make their small kitchen more exotic. Dark cabinets with brown-and-black tiger striping makes for a sleek, contemporary look, while the pale solid-surface backsplash creates a bold contrast. The design makes the most of very little countertop space with a wenge butcher block that slides over the sink. A dining table on casters allows an eight-seater to slide under the island when not in use.
Designer: Jennifer L. Gilmer, CKD, Jennifer Gilmer Kitchen & Bath Ltd., Chevy Chase, MD
Brilliant Backsplash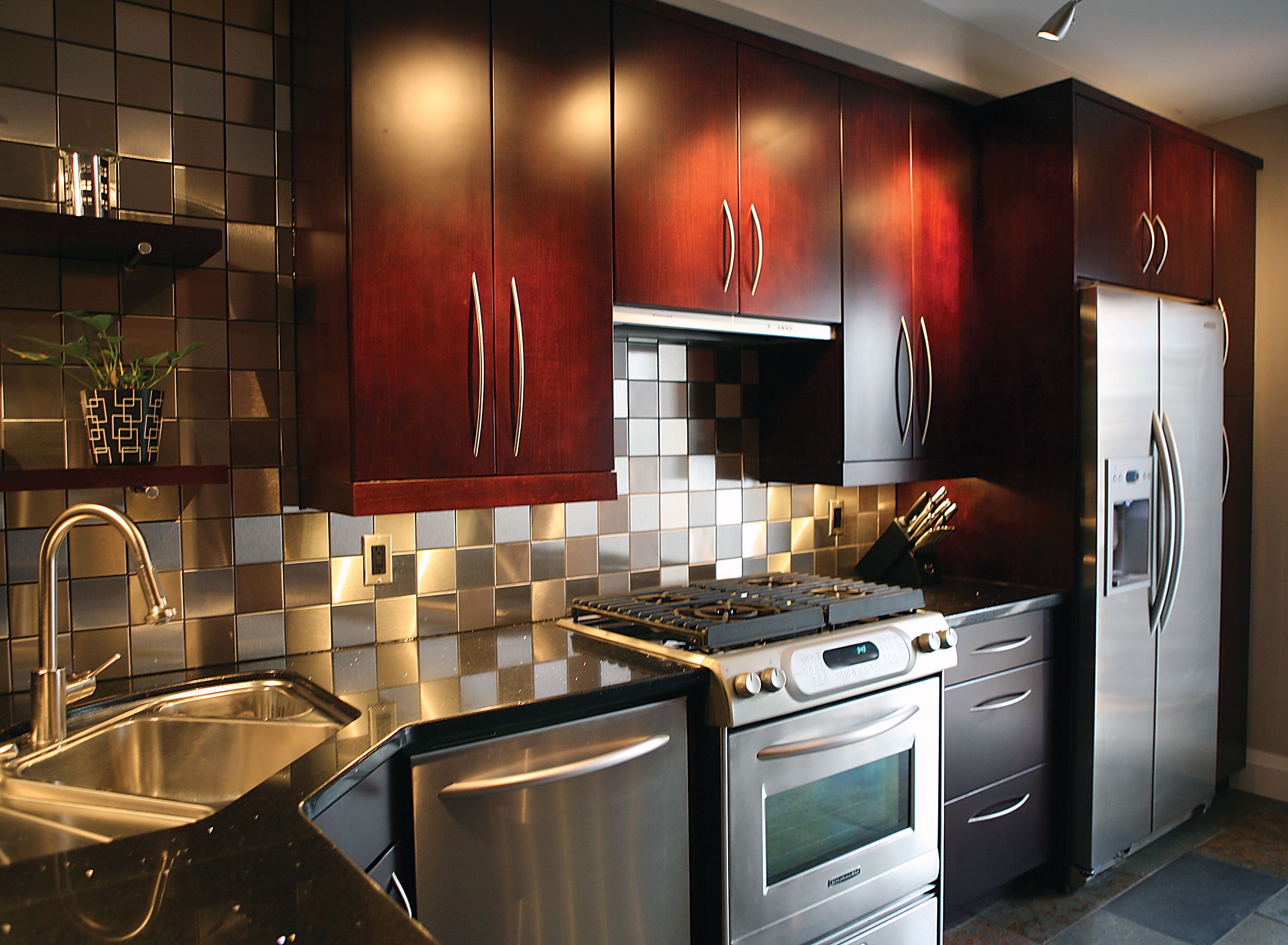 The wall between this tiny kitchen and an adjacent living space was removed to make room for more storage. Visual separation between the rooms was maintained with an island-breakfast bar. Placing the sink in the corner of the room made for more food prep space, while brushed and polished stainless tile forms a standout backsplash.
Designer: Areti Tanya Rentzos, Andros Kitchen & Bath Designs, Mississauga, Ontario, Canada
Room for Two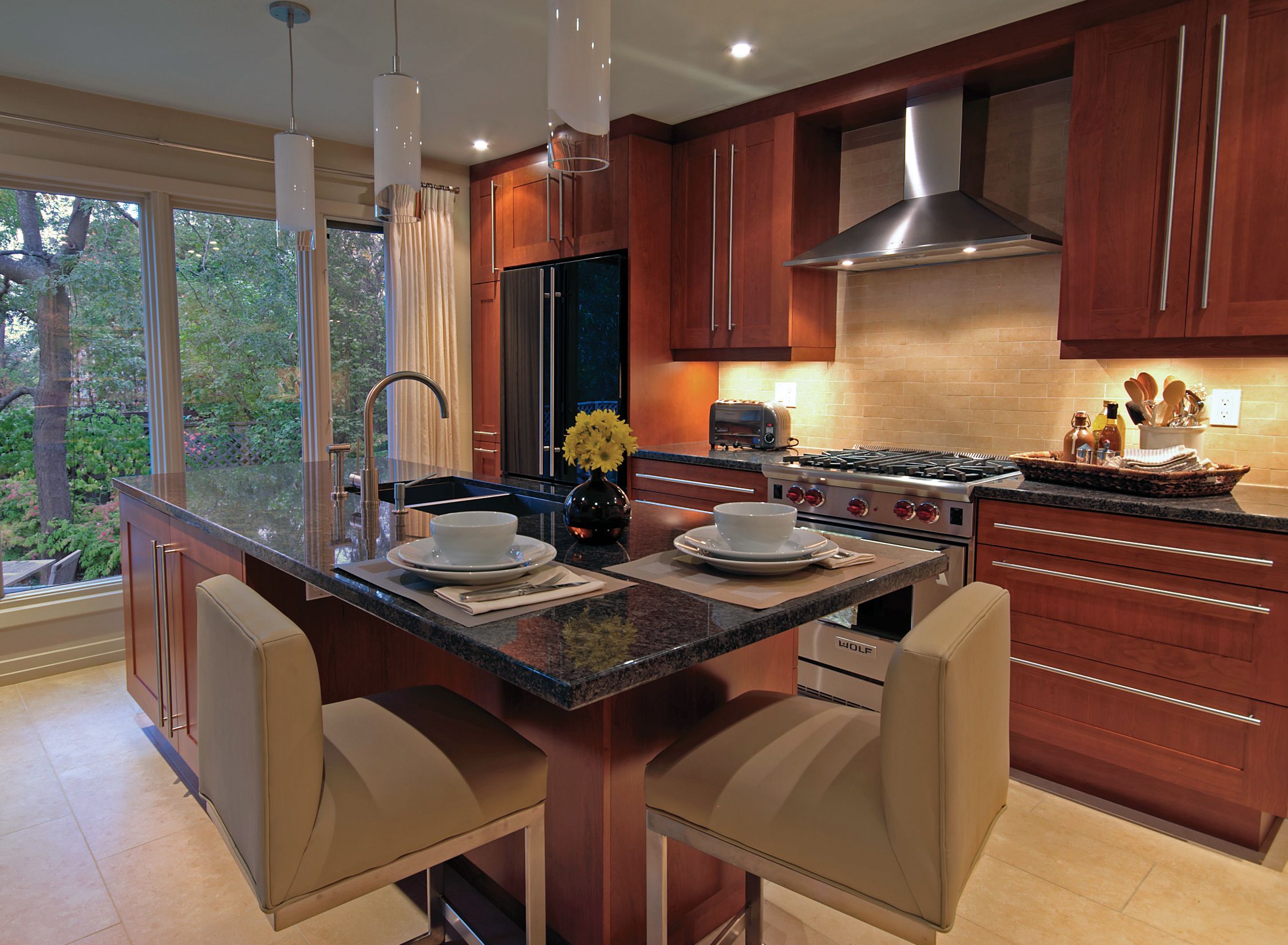 This small kitchen boasts floor-to-ceiling windows that flood the place with natural light, opening up the space, so the design of the once-cluttered kitchen—in which the refrigerator door hit the dishwasher or stove when it opened—was planned around them.
Reorganization of the footprint and a few clever island design tweaks allowed for counter-height seating. Rich, stained cabinets and dark granite counters form a bold contrast with light porcelain floors.
Designer: Tony Hunt, CKD, CBD, Binns Kitchen + Bath Design, Pickering, Ontario, Canada
Small Wonder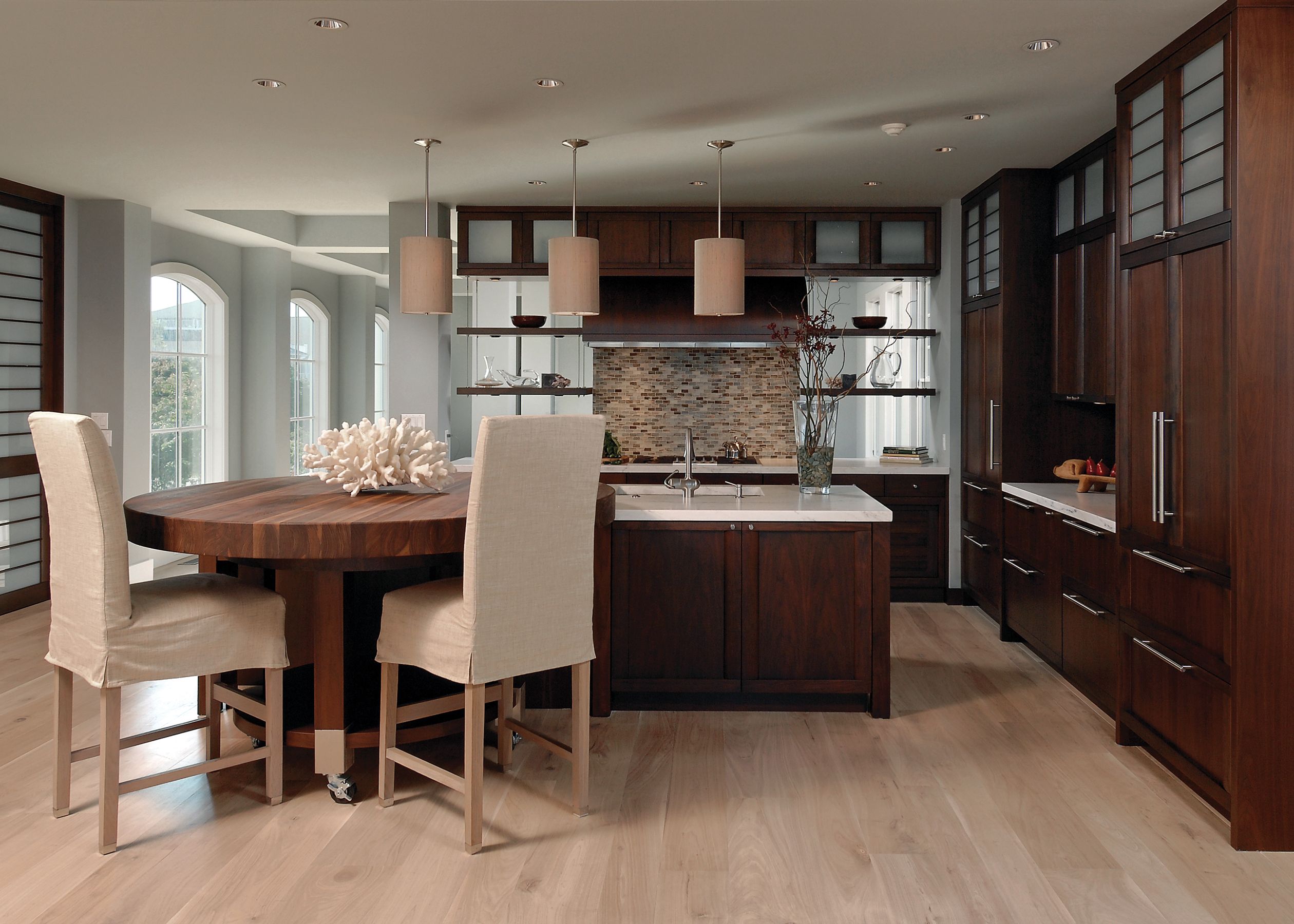 This homeowner, a top Realtor in the area, wanted a unique small space to show off to her clients. That's just what she got with the dark shoji-style cabinets and custom round butcher-block table on casters. The cooking range is flanked by floating shelves, which help to open up the tiny kitchen.
Designer: Jennifer L. Gilmer, Jennifer Gilmer Kitchen & Bath Ltd., Chevy Chase, MD
Classic White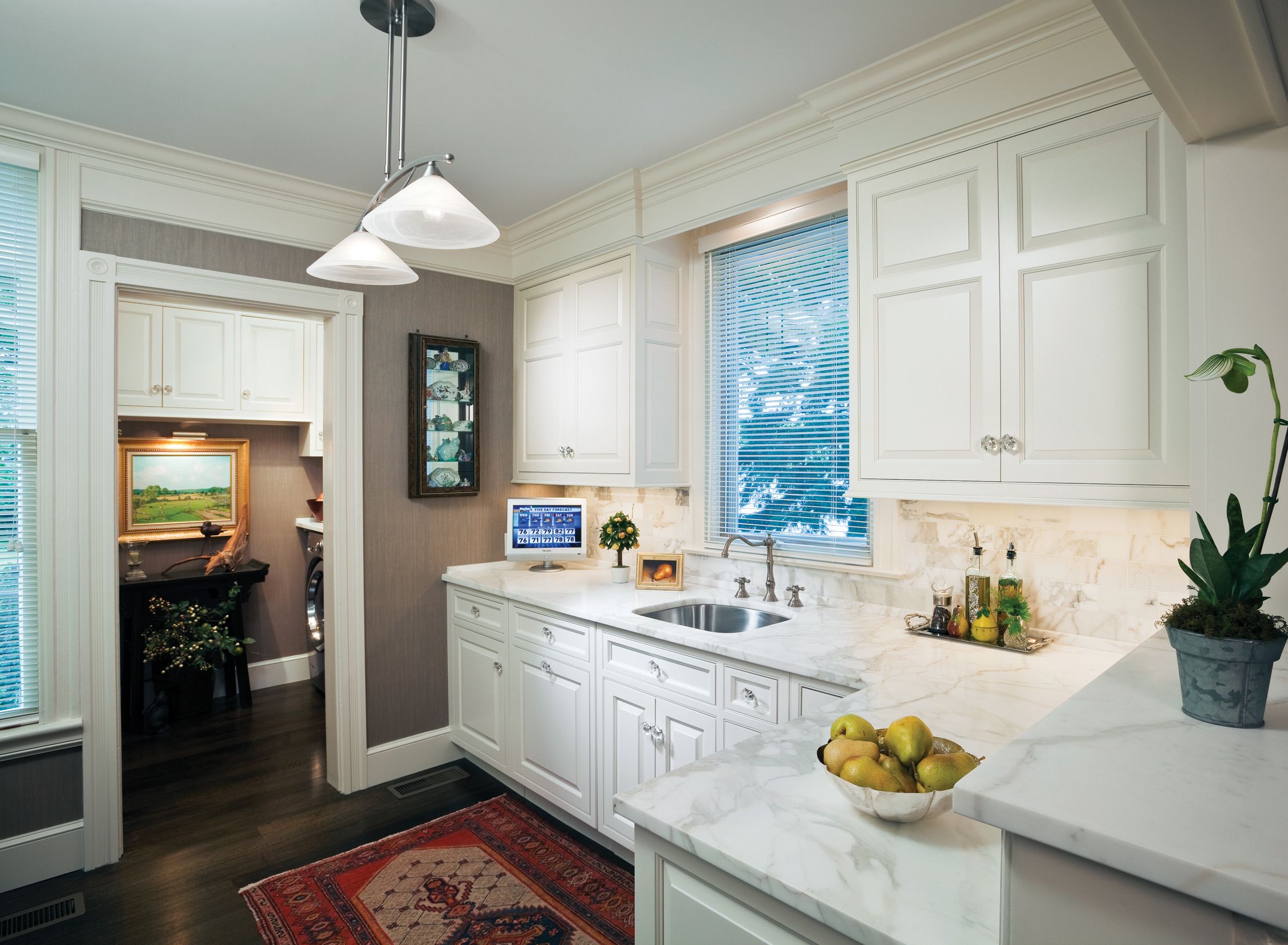 This 1800s Federal-style home features a contemporary white kitchen. The smallness of the room allowed the homeowners to splurge on luxurious materials. Crystal cabinet pulls and knobs, a Turkish marble subway tile backsplash, and taupe silk wall coverings make for a classic, indulgent space.
Designer: Gerard Ciccarello, CMKBD, Covenant Kitchen & Baths Inc., Westbrook, CT
Space-Smart and Sleek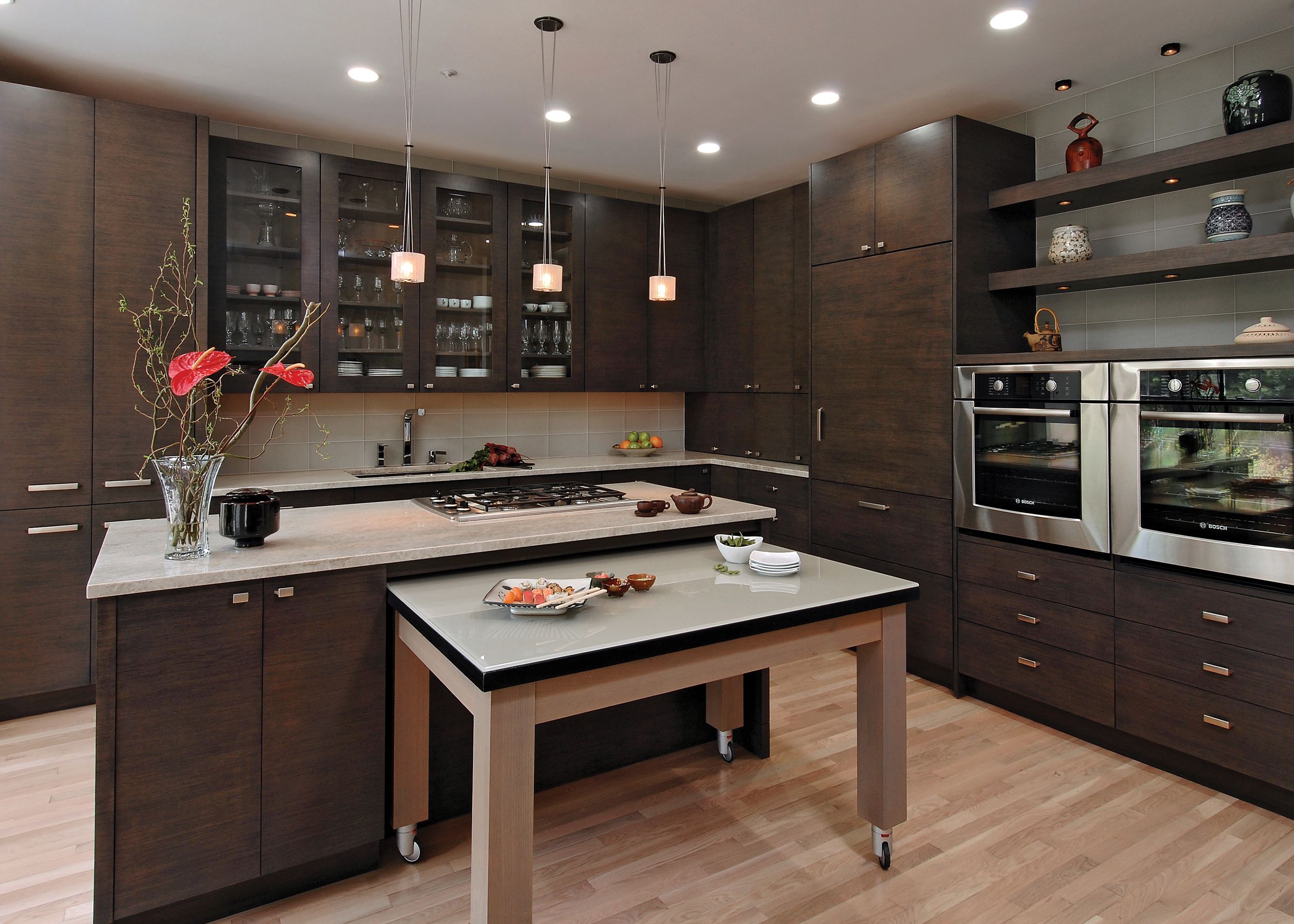 Though her old home is old—as well as tiny—and traditional, this homeowner requested a contemporary cooking space. The clean design makes the perfect backdrop for collectibles. Mother-of-pearl granite countertops and frosted-glass tile contrast with dark cabinets, while a custom-built, space-saving table on casters nests into the back of the island when not in use.
Designer: Jennifer L. Gilmer, CKD, Jennifer Gilmer Kitchen & Bath Ltd., Chevy Chase, MD
Stylish Storage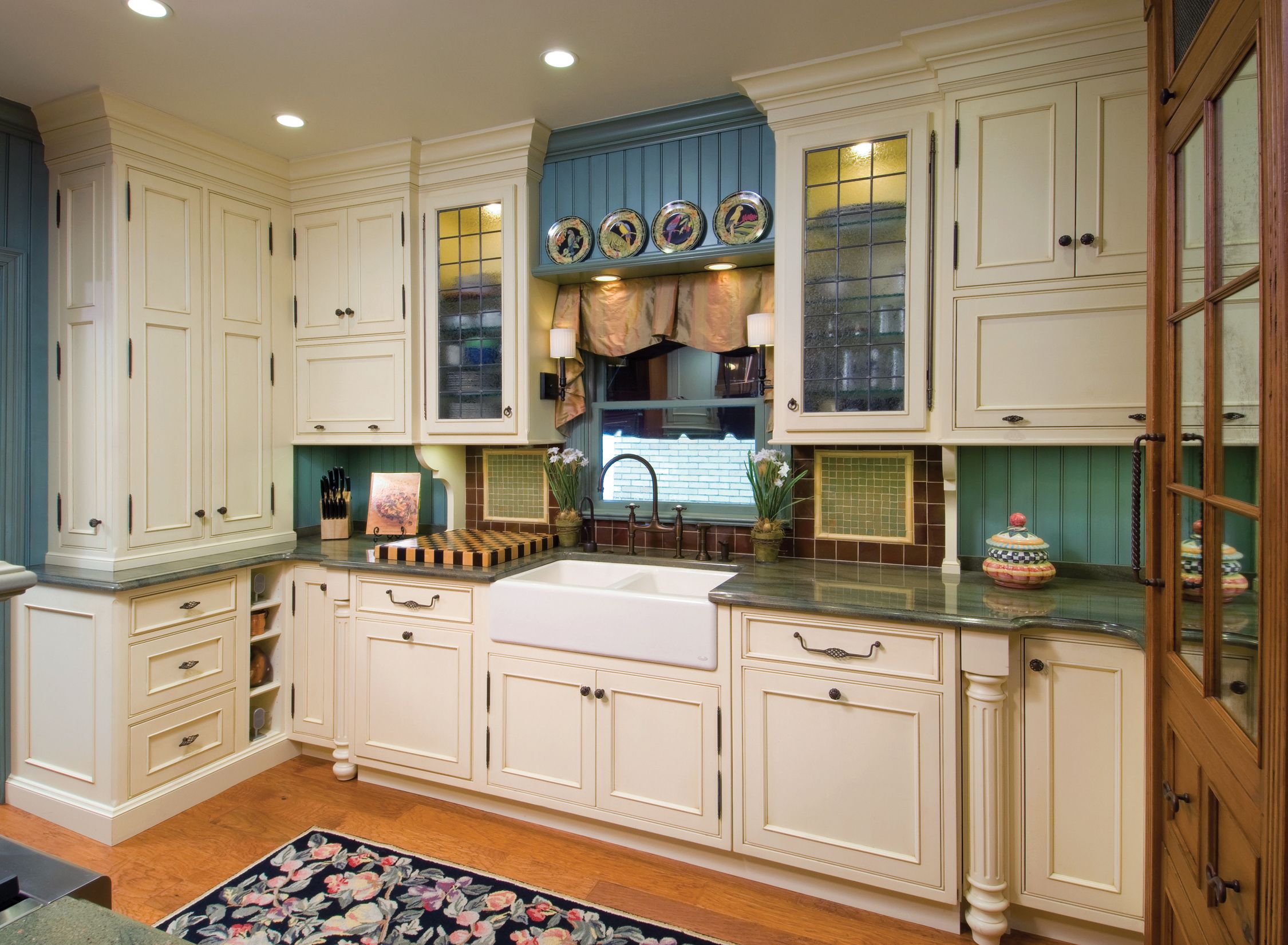 This hardworking small kitchen features two space-smart pull-out pantry units and hidden stepladder storage for upper cabinets. The use of butternut wood, copper, hickory, and antiqued bronze give the room warmth, while a rich blue beadboard backsplash delivers a shot of color.
Designer: Thomas David Trzcinski, CMKBD, Kitchen & Bath Concepts of Pittsburgh LLC, Pittsburgh, PA