Kitchens of Convenience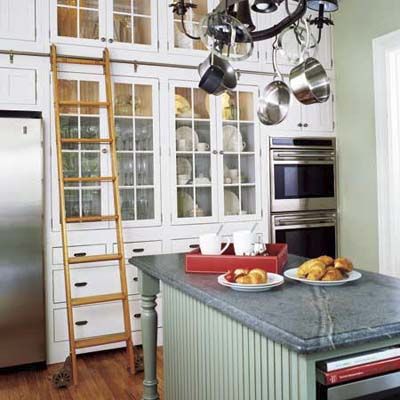 Your customers will love custom details you can put into their kitchen. Here's a gallery of ideas you can pass along. Most are easy to add to the cabinetry on your next job.
Shown: A track mounted library ladder makes it easier to get to upper cabinets than hauling a step stool out of the broom closet. The ladder can be rolled to a corner when not in use or even used as a makeshift seat for kitchen visitors. But think twice if you have a climbing cat.
No Visible Means of Support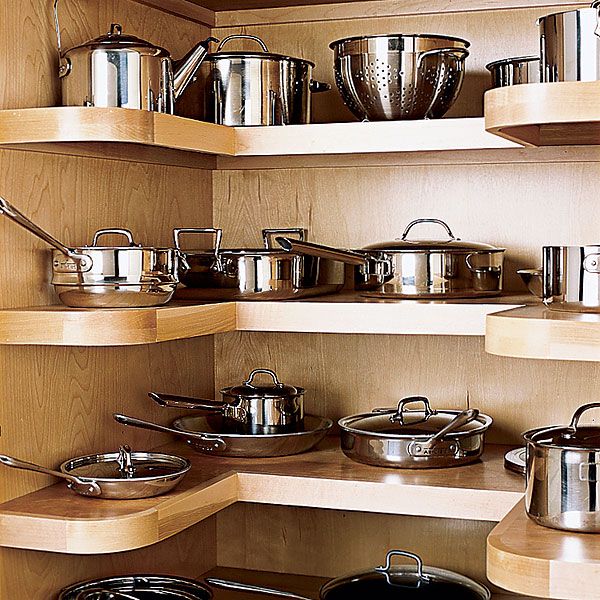 No sharp corners on these shelves will prevent dinged knuckles. And the lack of vertical supports in the inside corners make the storage space more usable.
Cutaway Shelf Partitions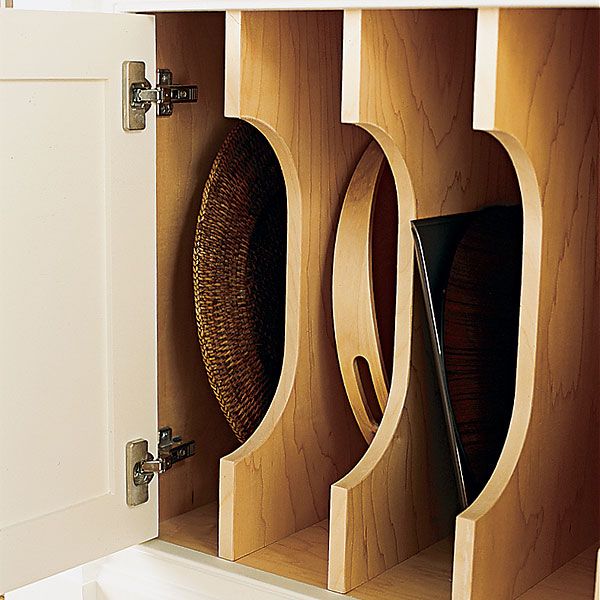 Dividing a lower cabinet with vertical partitions makes an excellent place to store and organize platters, cutting boards and serving trays.
What You Need Near the Stove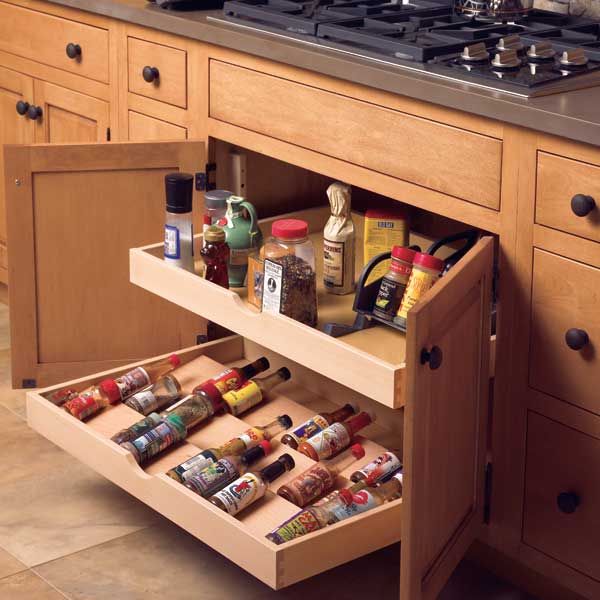 Installing drawers behind lower cabinet doors uses space wisely. Condiment bottles are highly visible when stored on raised racks inside a drawer.
Pots in Their Place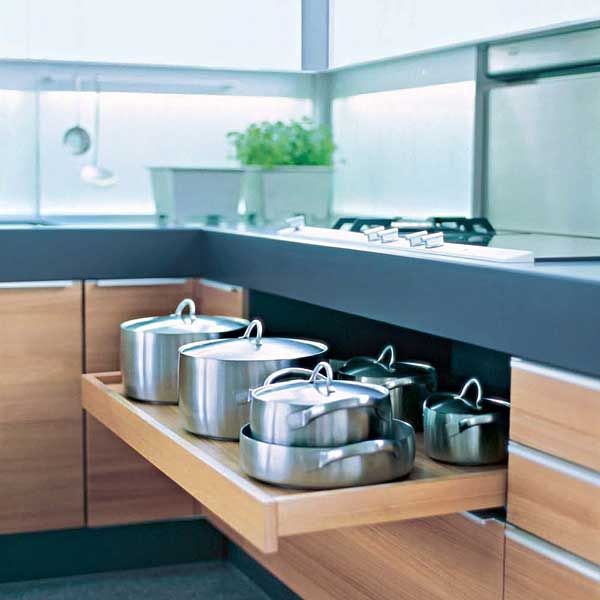 Heavy-duty, under-mount drawer slides hold heavy pots near the cooktop.
Articulating Shelf for Upper Cabinets
KraftMaid's Contempo pull-down storage unit has a cushioned grip handles that pulls forward and downward for easy reach and comfortable use.
Built-In Countertop Knife Rack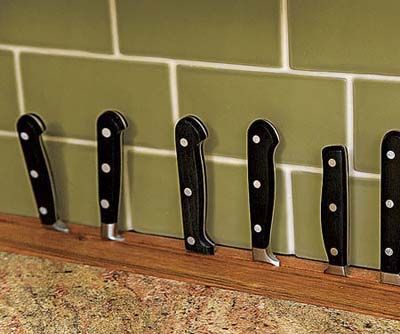 Instead of a standard backsplash, ask your customers if they want a custom made space for their knives. It's a nice extra to offer.
Pull-Out Pantry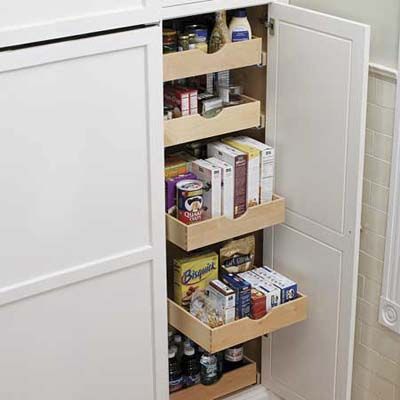 Sliding shelves make for easy access to dry goods in a tall, deep cupboard.
Stackable Washer and Dryer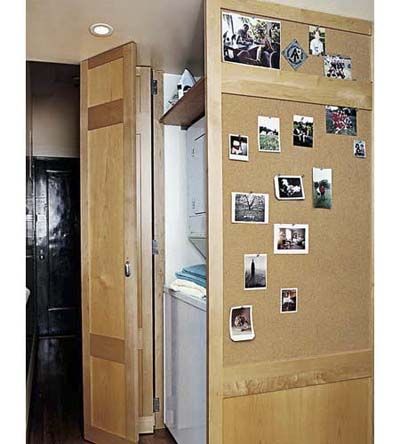 Hiding a stackable washer and dryer in a nook off the kitchen allows your client to throw in a load while dinner is cooking. A corkboard on the side of the cabinet improves the use of the otherwise dead space.
Drawer Partitions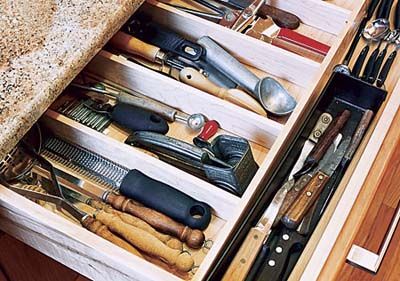 Adding partitions to kitchen drawers is a fast add-on extra that customers love. They'll think you're a genius.
Double-Duty Hutch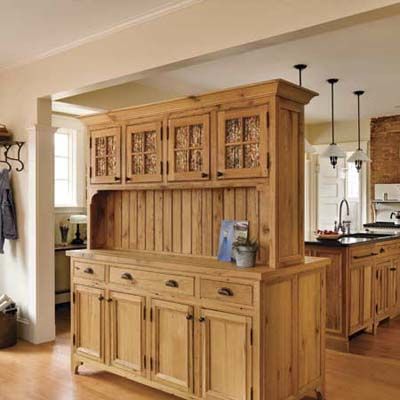 Of course, this won't work with every floor plan, but a built-in hutch between a kitchen and dining area breaks up the two spaces. One side can have kitchen gear, and the other store dishware, silverware and serving items.
Hidden Vacuum Cleaner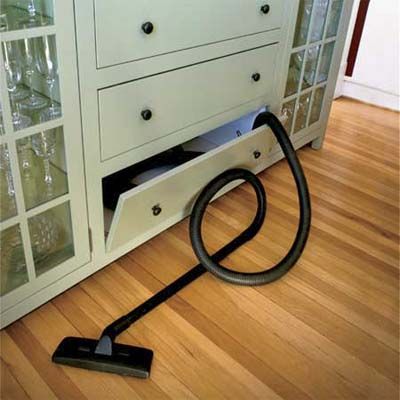 What a cool idea! Hidden behind this hinged faux drawer front is a vacuum hose that's attached to a canister vac hung from the floor joists in the basement below. It's a perfect crumb picker-upper for the kitchen.
And where there are kids, there are cookie crumbs, so Eric rigged up his own spin on central vac, using a $40 shop vac and some ingenuity. After hanging the canister from the basement ceiling, he threaded the hose up through the floor and into a bottom drawer in the island that faces the dining area. A drawer front flips down to reveal the hose and wand, and a switch built into the cabinets turns it on. Now the kids take turns vacuuming as part of post-dinner cleanup.