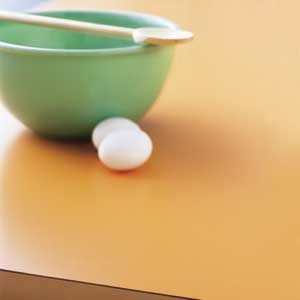 There's been a counter revolution in this country over the past 25 years. What used to be just a work surface has become a design element as integral to the look of our homes as the furniture.
The Past
The neon-orange plastic laminate used in the first This Old House TV project was typical of its time. In 1979, when the show launched, laminate brands such as Formica and Wilsonart commanded 90 percent of the countertop market. The '80s saw the rise of another synthetic marvel, solid surfacing, which was durable, stain resistant, and could be molded in a single, seamless piece with sink and backsplash. Soon it supplanted laminate as the countertop favorite.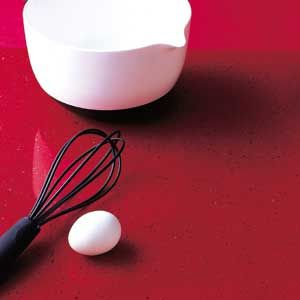 The Present
If '70s homeowners had a dozen or so styles of laminate to choose from, today they have that many materials: concrete, copper, Corian, cherry, ceramic tile, Carrara marble—and that's just the Cs. (Even laminate is available now in hundreds of colors and patterns.) While today's market is dominated by granite, which exploded in popularity as prices dropped in the '90s, it's being challenged by a new contender: engineered stone, which resembles the real thing but has lab-perfect consistency.
To complicate matters further, a typical kitchen of 2004 might have not just one countertop but several—say, the usual straight run, plus a granite-topped island, a marble baking station, and a stainless prep area with built-in butcher-block cutting board. The design pros call such mixing and matching "surface synergy."
And it's not enough for counters to sit around looking pretty. They have to work, too. Counters are becoming ever more functional, with such features as integrated drain boards—grooves routed directly into the surface that channel water into the sink—and even hydraulic lifts that let you vary the height for maximum comfort.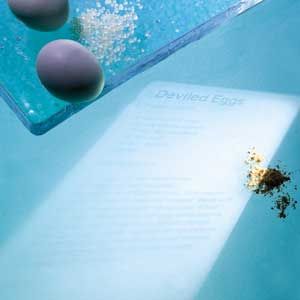 The Future
Countertop PCs are common; why not countertop as PC? Tell it the dish you want to prepare, and up comes the recipe. "Smart" kitchens, equipped with Internet-enabled appliances that can scan product labels and download cooking instructions, are already here. With new applications will come new choices for materials — such as glass, for instance, which makes for an ultramodern but surprisingly sturdy countertop surface.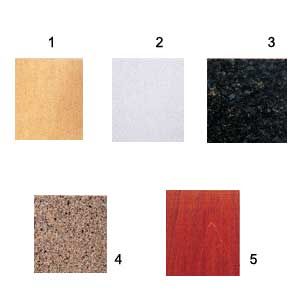 Major Players
PLASTIC LAMINATE
Developed in 1913 as an industrial insulation material
SOLID SURFACING
Still the number one choice in bathroom counters
GRANITE
New Hampshire may be the Granite State, but most of the material mined in the U.S. comes from Minnesota
ENGINEERED STONE
Invented in Italy in 1977, it's often called quartz, one of its primary ingredients
WOOD
In the '70s it was butcher block; now it's teak, mahogany, and other exotic species
On the Fringe
METAL
Stainless steel is impervious; copper, zinc, and bronze take on a "living" patina
CONCRETE
Poured in place to any shape or color
PAPER
Super-fine sheets glued together to 1-inch thickness
LAVA
Natural volcanic stone with a kiln-fired enamel glaze
FOSSIL STONE
Collected from a 50-million-year-old lake bed in Wyoming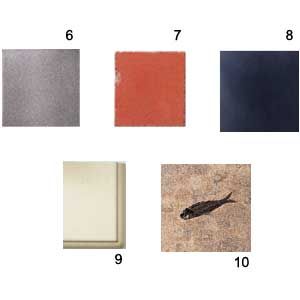 Where to Find It
Decorative laminates:
Formica Corporation
800-367-6422
Wilsonart International
800-433-3222
Solid surfacing:
Corian by Dupont
877-229-3935
Avonite
800-428-3935
Natural stone:
Poma Marble Inc.
Rosemon, IL
847-678-7662
Engineered stone:
Cambria Quality Quartz Surfaces
866-226-2742
Zodiaq by Dupont
877-229-3935
Wood:
Jack's Custom Woodwork Shop
Woburn, MA
781-935-1907
Metals:
Noble Metal Products (through surface techniques)
Norwalk, CT
877-784-8677
Concrete:
Buddy Rhodes Studio
877-706-5303
Cheng Design
510-849-3272
Glass
Joel Berman Glas Studios Ltd.
888-505-4527
Lava stone:
Pyrolave USA
919-788-8953
Fossil stone:
Green River Stone Company
435-753-4069
Paper:
Richlite
888-383-5533
For further information: