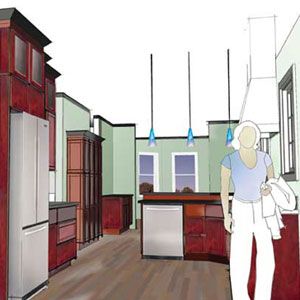 It seemed like a simple request: Give my space a "cottage by the sea" feeling. That's what Christine Flynn said when describing her dream kitchen to Kathy Marshall. Marshall is the kitchen designer charged with transforming Chris's dated space in the upstairs apartment of the two-family house that is this season's renovation on This Old House television. Marshall is doing double duty: She must also design a kitchen for Chris's niece, Liz Bagley, who owns the downstairs apartment and wants her kitchen to look like a contemporary loft.
That may not seem like much to go on, but for a designer, turning vague descriptions into fully functional dream kitchens is a daily challenge. A homeowner who's new to the process, however, has plenty to learn. Marshall's designs didn't appear overnight—the three women put in months of back-and-forth, with meetings, drawings, mock-ups, and more drawings. Every designer needs this time to truly understand what the client wants. "You can take the same space and get ten completely different kitchens," says Dana Jones, a kitchen designer from Long Beach, California. "So when people say 'Give me a nice kitchen,' I say, 'Which nice kitchen?'"
One Footprint, Two Kitchens
The house featured this season on TOH TV is a two-family. The kitchens in each apartment started out
with almost identical footprints. However, the homeowners have entirely different tastes.
Chris and Liz's kitchens are good case studies in the homeowner-designer relationship. Both rooms started out with similar footprints and ended up reflecting individual tastes. "I realized that Liz's 'modern' wasn't stainless steel and high-tech," says Marshall. "It was really about minimalism, neatness, and storage." With Chris, "cottage" was not just about white beadboard, but plenty of natural light.
So how can you get your kitchen designer to find meaning in your musings? Here's a 9-step plan that will help you get the most out of the designer-client partnership, turning your time, money, and ideas into the kitchen you've always wanted.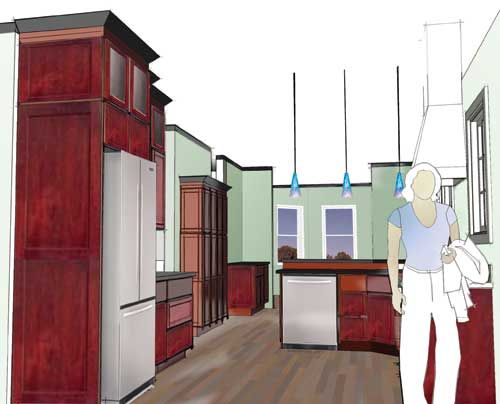 1. Leave time for the planning
A kitchen is the sum of many parts, not just cabinets and a faucet. Decisions must be made about layout, proportion, storage, and myriad other things.
Give yourself at least six weeks just to brainstorm, discuss, plan, refine, and—just as important—compromise. "You should know going in that the design process requires numerous meetings—there's a lot to discuss," says Rebecca G. Lindquist, a kitchen and bath designer in Duluth, Minnesota. After that is the neverending wait for plumbing, cabinets, countertops, appliances, flooring, fixtures, and paint. Ordering and installing each can put another three to six months between a final design and a finished kitchen.
Before Marshall ever talked about any finishes, she asked Chris and Liz to fill out an nine-page questionnaire she uses to find out everything from whether homeowners are right- or left-handed to whether they have collections to display. She ended up showing the women several plans over three months. But it was this constant exchange that helped the two women refine what started out as two general ideas, until each was satisfied that she was getting the kitchen she wanted.
2. Start off thinking big
Details are important in any kitchen, but designers like to start with the big picture—how you use your kitchen—and let details emerge. Even if your budget will inevitably call for compromises (join the club), get your wish list on the table. "I want clients to empty their heads," says Patricia Gaylor, an interior designer in Little Falls, New Jersey. "The budget should come later." Similarly, Marshall sees good kitchen ­design as a process of reduction: "It's easier to go down than up, so I tell people to throw everything in; later, when we strip out the budget breakers, it will still be a great kitchen."
It helps to think about what you don't want, too. Make a list of things that bother you about your current kitchen—the mail piled up on the counter, the stockpot you can never reach. Designers say these negative lists are just as helpful at driving the details as having an extensive wish list.
3. Set the scene
To pull your dream kitchen into focus, designers recommend thinking in terms of activities. Some people envision rolling out pies with their kids; others see a big informal dinner party with guests in the kitchen. Those images could mean the difference between a low marble baking counter and a raised island bar.
Chris Flynn wanted to still be able to look out the window when standing at the sink. This became one of Marshall's biggest challenges—the budget didn't allow for moving windows, and the sink couldn't fit where it had been. She solved it by putting the sink in an island positioned where Chris would have a view through her family room to the windows beyond. The bonus: That configuration fit in with another vision Chris had—of being able to interact with guests as she entertained.
4. Know what you need—and don't need
There are dreams . . . and there are needs. Just as important as defining your dream is setting a bottom line—things you'd really rather not live without. "There's always one thing that people generally know they want," says Gaylor. "The rest is a puzzle that goes together around it. You have your heart set on an island with stools? Okay—you'll need at least two feet of cabinet depth in the island and three feet of space between the island and the counter."
But you also should know where to set the cutoff. Designers have encyclopedic knowledge of fixtures and materials, and you can get drawn in as they introduce you to the latest gadgets. Be clear about what's an unnecessary extravagance. "Some people find a $1,000 warming drawer very useful," says Jones. "Others end up storing paper cups in it."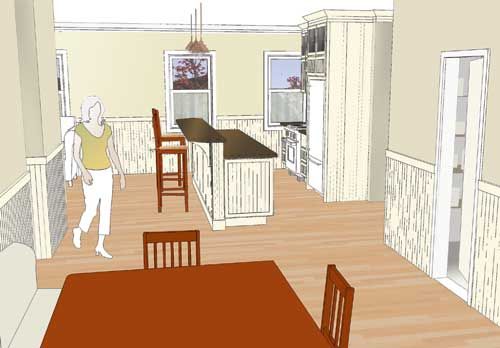 5. Think structure, not just finishes
Kitchen designers know about more than countertops. They are trained to know how to work with flow and traffic patterns and room proportions. They might be able to make you see a space in a whole new configuration by moving doors or walls, so you need to be open to rethinking your layout.
Dana Jones says that what often keeps people from thinking about structural changes is budget concerns. But when a kitchen is already completely torn out, sometimes the added cost of moving a door or window is minimal. A kitchen designer can help you figure out the most efficient and least costly way to make footprint changes within the scope of the work you're already planning to do—and might even save you money if a new configuration means fewer custom cabinets and odd-size appliances.
6. Be smart about scrapbooks
Most designers recommend clients clip photos of kitchens they like. But there's a right way and a wrong way to do it. Jones says that all too often, "a new client will pull out five different kitchen photos and say 'I like the faucet' in every one. Okay, I get the faucet."
A better strategy is to collect pictures showing a range of preferences. One might have your favorite sink/island combination, even if you hate the cabinets; another could have the cabinets you've always wanted, but a refrigerator you don't like. Collect photos with an eye to details like lighting, backsplashes, and hardware.
Some people don't know what they like about a picture until prodded—and that's where the designer comes in. Lindquist recalls a client with a stack of seemingly unrelated kitchen pictures who couldn't verbalize what she liked about them. "Finally I realized they all had thicker-than-standard countertops," she recalls. "When I mentioned it she said, 'You know, you're right; I like the beefed-up look.'"
7. Ask for a walk-through
Designers are very good at taking a paper drawing and understanding how it will look in 3-D. But if you're not the kind of person who can translate lines on a page into ­real cabinets, consider asking for a full-size mock-up, a rendering in cardboard of your kitchen's structures. There will be a fee for this, but it gives you a chance to walk through everything and test out placement, sizes, traffic flow, and clearances before everything is permanent.
Just after the walls came down to make a bigger space for Chris's kitchen, she had a small panic. She had grown up in the apartment and immediately missed her childhood kitchen. So Kathy Marshall and TOH general contractor Tom Silva made her two mock-ups—one with everything she wanted squeezed ­into the old space, and one that conformed to the new drawings. "In the old space, everything would end up becoming smaller," says Marshall. "Her banquette area wouldn't exist, the island would be tiny, and, because of traffic through the back door, it would be in the middle of everything." It didn't take long for Chris to see the light.
8. Spend money to save money
There may be times when a homeowner feels he or she has overwhelmed the designer with info. But that's actually good—the more the designer has to go on, the better.
Which is why, if there are any parts of the design that aren't working, speak up now—and avoid correcting a mistake down the line. It's worth going back to the drawing board until it's all perfect, even if it means more money in design fees. "You have to feel one hundred percent well and good about every decision," says Gaylor. "If you have any hesitation, ask the designer to change it, get a variation. It might cost a couple hundred dollars, but it's worth it."
9. Move on if it's not working
Then there are the times when, no matter how much discussion you have, the design just isn't gelling. "If a designer keeps coming back with something that doesn't work, then there's a point where you have to stop giving them the benefit of the doubt," says Jones. "Cut your losses and move on." After all, it's your ­vision, and you need someone who can give you that kitchen you've always dreamed of.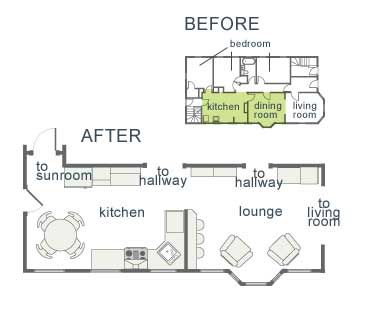 Get started designing your new kitchen.
Download our