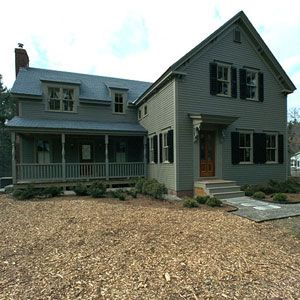 Whether you are a first-time home buyer or a veteran of many years of mortgage payments and house upkeep, chances are your home is your single most expensive budget item and your most valuable investment. But few homeowners ever think twice about the homeowners insurance that protects their investment, let alone take the time to read their policy. Knowing what is covered and what's not can make all the difference when disaster strikes.
The basics
Homeowners insurance evolved in the late 1950s, when the insurance industry needed a single comprehensive policy to cover a house, its contents, and liability. The standard package policy has two components: property insurance and personal liability. Although the over 900 U.S. insurance companies write many different policies, 80 percent of them are based on a form called HO-3, which provides coverage on the house and other structures for all risks except those excluded by the policy—most commonly floods and earthquakes. HO-2, a cheaper policy, and HO-1, a bare-bones option, cover only those risks that are specifically included. HO-4 is a policy designed for renters while HO-6 covers condominium owners.
What's Covered
Standard homeowners insurance (form HO-3) customarily covers damage to both structures and personal property caused by fire or lightning; windstorm (including hurricanes and tornadoes) or hail; explosions; riot or civil commotion; aircraft; vehicles; smoke; theft or vandalism (sometimes called malicious mischief); falling objects; weight of ice, snow or sleet; and freezing of plumbing, heating, air conditioning or other household systems. It also covers personal liability: if you, your family or your property injures someone. In fact, your coverage is likely to be more comprehensive than the above list. Many homeowners policies cover damage by "just about everything," unless the coverage is specifically excluded. In these cases, it is even more important to understand what is not covered.
What's Not Covered
Although floods and earthquakes are widespread in the U.S., the damage they cause is not covered by the standard HO-3 policy. Almost 90 percent of the U.S. population lives in earthquake-prone areas; since 1900 earthquakes have occurred in 39 states and caused damage in all 50. If your home is located in a flood-prone area, you are 26 times more likely to suffer a flood loss than a loss from fire. Of course, the cost of flood and earthquake coverage reflects the high risk involved. If you live along a shoreline, you can expect to pay a higher premium for flood coverage than someone living in the mountains. Other exclusions can include neglect, intentional loss, earth movement, general power failure and even damage caused by war. A costly exclusion is the ordinance or law exclusion, which refers to changes in building codes that can drive up the cost of rebuilding or repairing. Thus, if you discover when replacing damaged property that current law requires a higher grade of electrical wiring, the difference in cost between the old wiring and the new wiring is your responsibility.
Loss and Recovery
The value of the real property—your home, garage, shed and other structures—is generally based on the value of your house. Homeowners insurance also covers your personal property, including the contents of your home and any personal belongings you or members of your household use, own, wear or carry—basically everything and the kitchen sink. This coverage is also based on your house's coverage, and there are limits on the losses that can be claimed for certain items, such as cash, furs or jewelry—limits that can be increased with supplemental premiums. You can also pay an additional premium to cover living expenses if your home is not habitable for a period of time. Most insurance companies now offer guaranteed replacement cost coverage —the coverage that helped the Silva family rebuild their home after the fire. Replacement cost coverage pays to repair or replace damaged homes without a deduction for depreciation or a dollar limit. If an old TV set damaged in a fire costs $500 today, replacement coverage will pay the full cost. Because the Silvas had guaranteed replacement cost coverage, the insurance company paid out the full cost of rebuilding their home and replacing their possessions. Without it, they would have only received the actual cash value—the replacement cost minus depreciation. In the case of the old TV, if its value has depreciated 50 percent, actual cash value coverage would pay only half of the replacement cost, $250. Unless a homeowners policy specifies that property is covered for its replacement value, the coverage is for actual cash value. An upgrade from actual cash value to replacement coverage typically raises your premium 10 to 15 percent. If you were to suddenly lose your home due to fire or a tornado or have the contents damaged or stolen, you probably could not afford to replace everything all at once. By becoming familiar with your homeowners insurance policy, you will be sure to have the coverage you need when you need it.