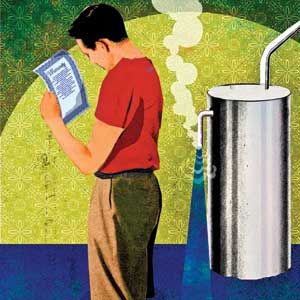 When she put her six-year-old Seattle home on the market a few months ago, This Old House reader and real estate broker Reba Haas knew darn well she needed an edge. Sure, the housing market isn't as grim there as it is in other parts of the country—but it ain't what it used to be, either. That's why Haas sweetened the pot by spending $360 on a one-year home warranty that covered items such as the HVAC system, plumbing, and most major ­appliances. The policy will give the new owner the confidence that any problems will be covered for one year after closing. "For me, it was a no-brainer," says Haas, who just sold the house.
A Smart Strategy for Sellers
As a real estate agent, Haas knows home warranties are an effective way to entice buyers in an increasingly com­petitive market. American Home Shield, one of the country's largest providers of them, saw a 20 percent ­increase in sales from 2006 to 2007. About a quarter of U.S. home sales now have warranties attached to them.
"It's definitely a selling tool," says John Fister, a real estate professional in Lexington, Kentucky, "especially if a house is more than 10 or 12 years old. That's when things like the water heater and furnace are reaching the end of their life spans. It's a big positive knowing those things are covered, so you don't get stuck replacing them." A few years ago, when the real estate market in Lexington was hot, home warranties were a rarity; now, says ­Fister, they're all but expected.
What They Cover
Unlike homeowner's insurance—which covers theft and damage to your property caused by fires and storms—home warranties will take care of appliances and mechanical ­systems that might break down because of normal wear and tear. A basic policy costs somewhere between $300 and $500 a year and covers plumbing, electrical work, HVAC ­systems, and most major appliances (washers and dryers may be excluded). You can ­also buy additional coverage, a la carte, for things like hot tubs and swimming-pool mechanicals. If something goes wrong, the policyholder simply calls the home warranty ­com­pany, which then dispatches an approved contractor to inspect the damage. If it's covered, the homeowner pays a deductible of around $30 to $50—and the repair or ­replacement is done free of any ­additional charge.
Home warranties aren't just for buyers and sellers. They're great for homeowners as well—especially if they live in older houses. Say you purchased your house 10 years ago. Even though you've taken good care of it, some of the systems and appliances are probably showing their age. Shelling out for a warranty could work in your favor, since most companies that offer them don't take the age of covered items ­into account. So if your furnace dies, and your warranty picks up the $2,000 it would cost you to replace it, the ­policy more than pays for itself.
How to Protect Yourself
Like all insurance policies, home ­war­ranties come with their share of ­restric­tions, exemptions, and, yes, head­aches. Michael Marshall, a ­buyer's agent in Worthington, Ohio, says homeowners often discover that things they thought were covered are, in fact, not. "Home war­ranties are a good ­value, but they can be difficult to deal with," says Marshall, who has success­fully challenged insurers on behalf of clients denied coverage for reasons that include improper care and maintenance, ­ex­cluded parts and services, or dollar ­limits for certain repairs. He likens ­warranty companies to HMOs, "trying to do the cheapest fix."
The best way to protect yourself is to read the fine print, says Heather Wilson of American Home Shield:
"We cover normal wear and tear, so maintenance is required on the part of the homeowner." In addition to exclud­ing mold and weather-related damage, the company's basic warranty does not cover certain appliances, such as ­solar panels and solar water heaters.
For most people, the question of whether or not to renew a warranty that came with the house depends on the age of the appliances and whether a claim was successfully filed during the first year. You just have to decide if you're willing to pay a premium for services you may not need—and what that peace of mind is worth to you.
New Orleans ­residents Nicole Eiden and Michael Harvey received a warranty from Michael's parents as a housewarming gift after they bought their first house last year. And it's a good thing they did. They're now ­using it to ­absorb the costs of some unexpected repair work on a refrigerator and dishwasher that started showing signs of decline just ­after they moved in. "If you use them right," says Nicole, who plans on renewing the policy next year, "they can be pretty helpful."
Homeowner Tip:
"Keep good maintenance records. If you can't show you've taken care of items covered by your policy, your provider might refuse to replace them if they break."
—Reba Haas, Seattle, Wash.