Pray It Goes Away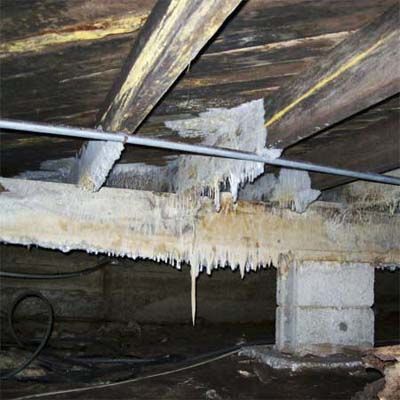 This is under an 85-year-old church. Lordy, lordy this church is moldy.
Danny Blankenship
The HomeTeam Inspection Service
Ocala, Fla.
All images courtesy of the ASHI Reporter
Get a Stretcher
Shoot! I switched the spigot and the handle!
Claude McGavic
Home Check
Bradenton, Fla.
Tennis, Anyone?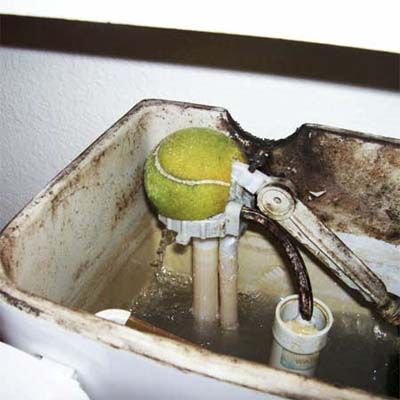 First, it was a grocery-bag-toilet-filler valve repair, now it is a tennis-ball-filler valve repair.
Timothy Hemm
Eagle Home Inspections
Yucaipa, Calif.
Short a Few Circuits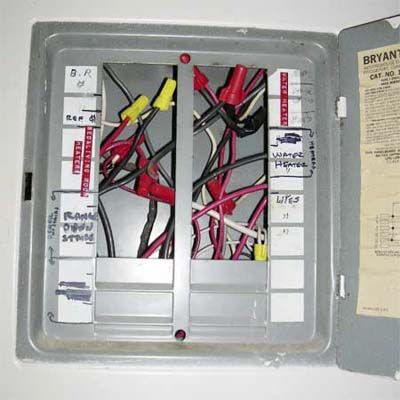 Do those pesky circuit breakers keep tripping? Just remove them! Never mind the fire that comes from the overloaded circuit…
Ted Gossard
Fine Tooth Home Inspections
Flagstaff, Ariz.
Call Security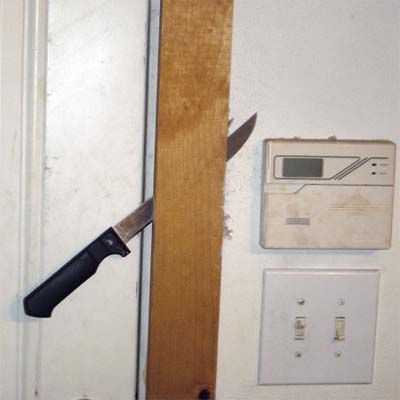 The knife is serving as the "security system" at the back door in the kitchen by blocking the door from opening. Notice the keypad for the central security system mounted on the wall. The service was not activated. Why pay a monthly fee when the knife is free?
David Sipple
Duke Inspection Services, Inc.
Avon, Ohio
U-turn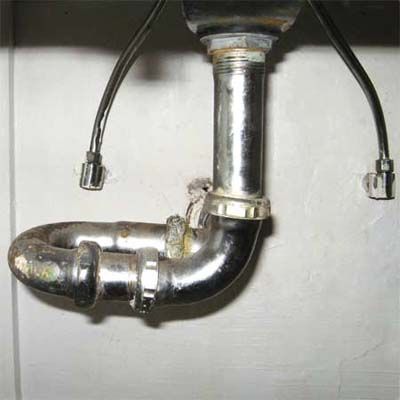 Usually sink traps hang down in a 'U' so water collects at the bottom and keeps air from coming back from the sewer. But this new "sideways" trap installation allows for much more storage under the sink, as long as you don't mind a little sewer-gas smell!
Frank Friedel
Affordable Inspection Service
Cleveland, Ohio
Cooking and Cleaning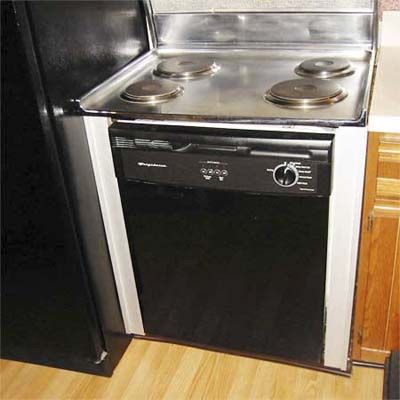 I love my job. Always something new. I have NEVER seen this before—a dishwasher installed directly under an electric cook top that's right up against the refrigerator. You can cook and wash dishes at the same time! A great way to make the "kitchen work triangle" more efficient!
Ken Salvo
Ridge Home Inspection, Inc.
Basking Ridge, N.J.
Blasted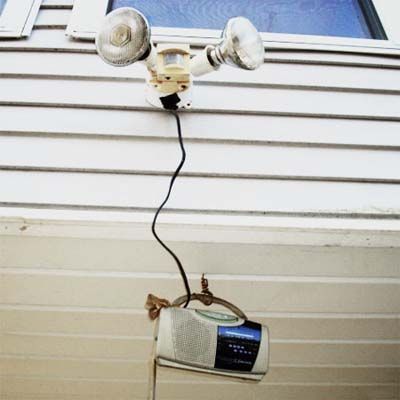 This radio was hard-wired with its power cord to the motion-detector light. When the light came on, so did the radio—at full volume. This is one way to keep the deer out of your yard and your neighbors up all night.
Jay Creasy
Benchmark Testing & Inspections
Columbia, Mo.
Snaky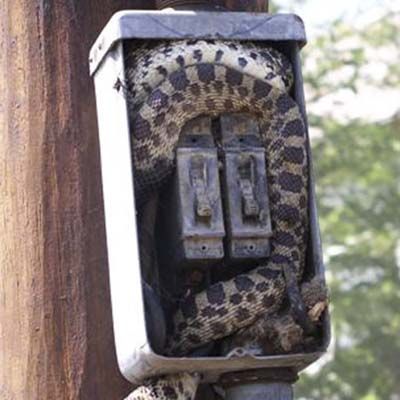 This comes to us from Tucson Electric Power. Look for any opening in breaker boxes, as they are likely to house something we do not want to come in contact with. The picture shows what one lineman came across while checking a meter. The critter had climbed up through the knockout hole and was after a mouse. Needless to say, neither he nor the mouse made it.
Mark S. Londner
LBI Home Inspection
Purcellville, Va.
Ol' Sparky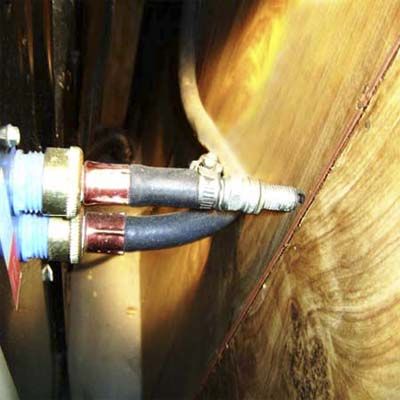 Rather than connect the cold water line on this washing machine, this "plumber" decided to just stop up the hose with an old spark plug so water couldn't leak back out.
Terry Grube
Seacoast Inspections, LLC
Hampton, N.H.
Doesn't Inspire Confidence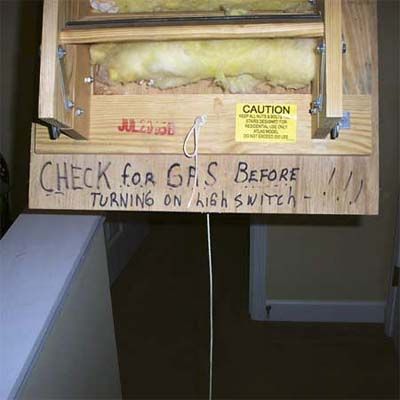 OK—making sure the spark from the light doesn't cause an explosion from a chronic gas leak—that we get. But how do you read the warning without a light?
John Guy
Guy's Home Inspection Services
High Point, N.C.
The Old Heave Ho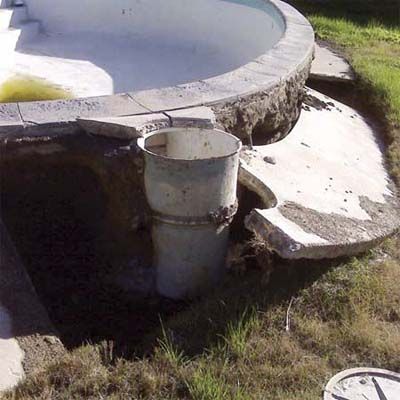 Here's what can happen when you have a pool that you drain and let sit for a week in an area with a high water table. The water table pressed upward on the empty pool bottom and, without the weight of the water in the pool, it floated up out of the ground.
Cliff Sims
All City Inspections
El Cajon, Calif.
The Guest Room?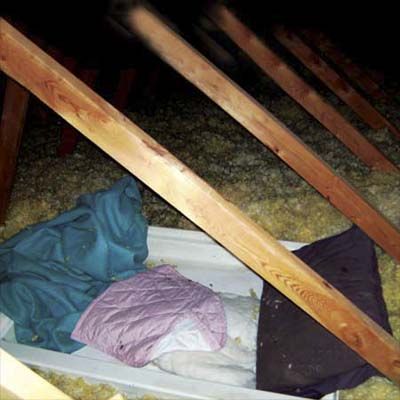 And you thought squirrels making nests in your attic were bad…
Ron Larson
Residential Inspection Services
Minneapolis, Minn.
It's Off Already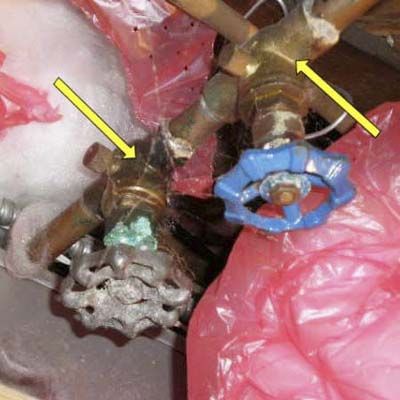 This is one way to make sure the water is off. Just keep adding shut-off valves to the same cold-water line.
Stephen P. Tyler
STAT Home Inspections
Garnerville, N.Y.
This One's the Kicker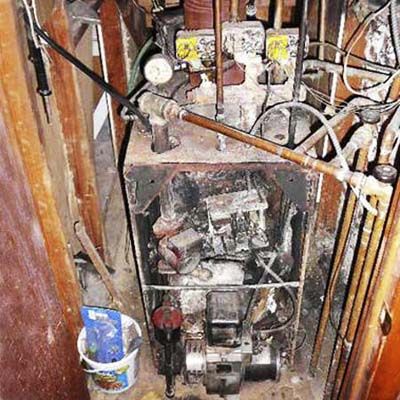 This had to be the worst inspection I've ever done. A lender referred me to a woman who was looking to get a loan to purchase the house she's renting from her father. When asked if this jerry-rigged oil-fired radiant furnace was in operation, the client said, and I quote, "Lately, it only works when I come down and kick it." She proceeded to kick it into submission. There are holes in the venting system and at the burn chamber door. I just looked at her blankly—at a loss for words.
Matthew Merlino
Homeworks Inspection Services, LLC
Boise, Idaho