10-cent quality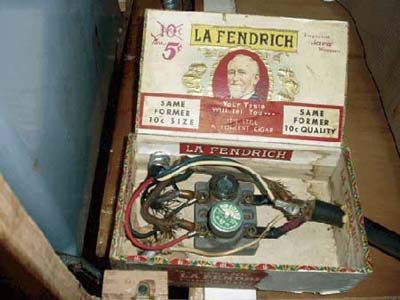 No need to ground this box. The cigar box is located under a kitchen cooktop. Fendrich was a local cigar company here in Evansville, Ind. I would call this a classic case of Indiana frugality.
Rob Cahill
National Inspection Service of Indiana, Inc.
Evansville, Ind.
Seriously crazy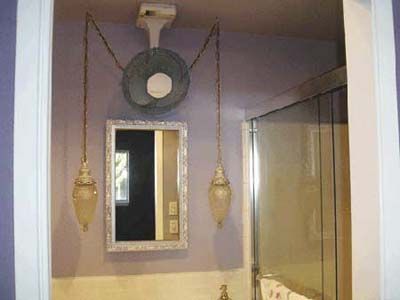 This is a nice clean bathroom fan installation. It is wired to the wall switch and I don't even know how they attached it to the ceiling. It even doubles as a hair dryer because it blasts air in the face of the person in front of the sink. Nice….
Corey Folsem
Corey Folsom – Property Inspector
Ben Lomand, CA
A cozy fire hazard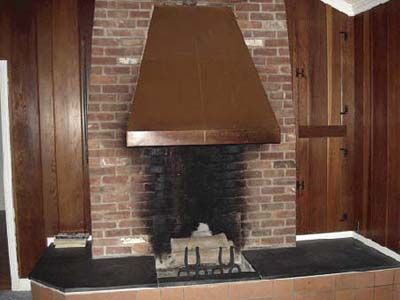 This picture is of the exterior of a chimney that has been enclosed by an addition. The fireplace is built on the exterior side of the chimney, with the "hood" loosely attached to the brick. But not to worry. The homeowners used silicone caulk on the seam openings. A damper door was installed near the top of the hood, with a pull chain to open and close the vent. It is quite the engineering feat and very unsafe. As you can see by the photo, it was used often.
James Quarello
JRV Home Inspection Services, LLC
Wallingford, Conn.
Bother-in-law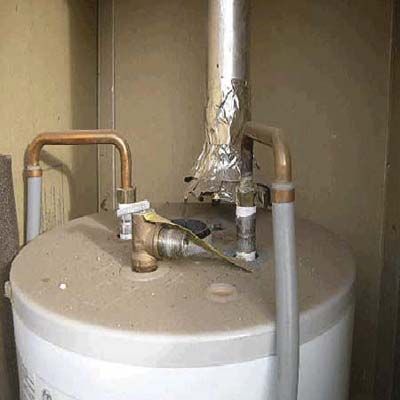 This is the quote from the seller in whose manufactured home the installation was observed: "My brother-in-law installed the water heater. Is there anything wrong?"
Jim Sutton
Mountain View Home Inspections, Inc.
Flagstaff, Ariz.
Hmmmm…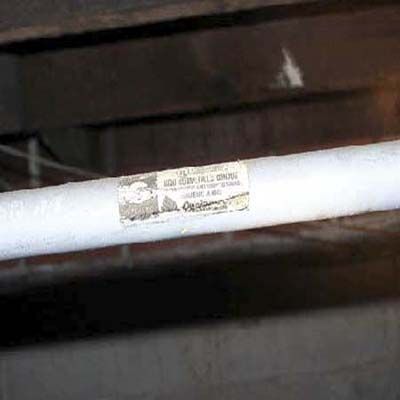 This is a water supply line running through the crawlspace of an apartment building utilizing plastic electrical conduit. Must be a recent change in the plumbing code.
Peter G. Hitt
A-2-Z Home Inspection Services, LLC
Jacksonville, Fla.
Death's staircase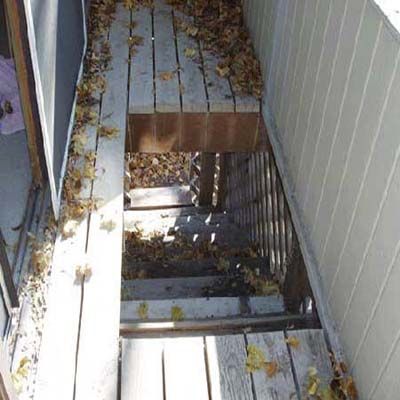 These balcony stairs were added to let the dog out! I hope no one sleepwalks.
Ed Massart
Speaker of the House
Glen Ellyn, Ill.
Scorched!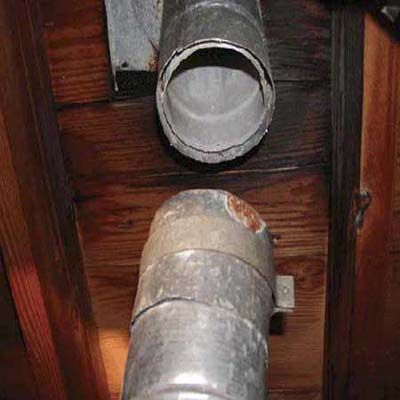 Want to know what happens to wood framing when it is within 2 feet of the furnace exhaust? The wood becomes charred. I was shocked the house had not caught fire. A few inches to the right and we could have had s'mores.
Brandon Dyles
Picture Perfect Inspections
Bartlett, Tenn.
Another cozy fire hazard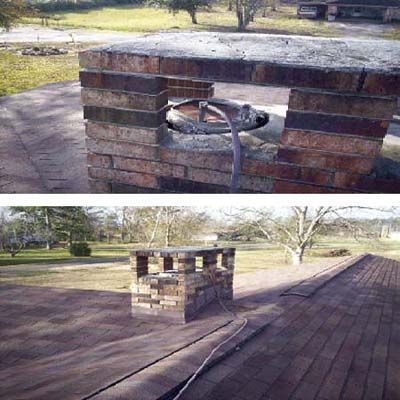 I saw this gas line from ground level and could not believe it. I'm sure glad I accessed the roof. The owner stated that his wife wanted gas logs and this was the quickest, easiest way to install them. That is duct tape securing tin plate at top of flue!
Andrew N. Fugett
Andy's Inspection Company
Jasper, Texas
And now…a moment to appreciate spring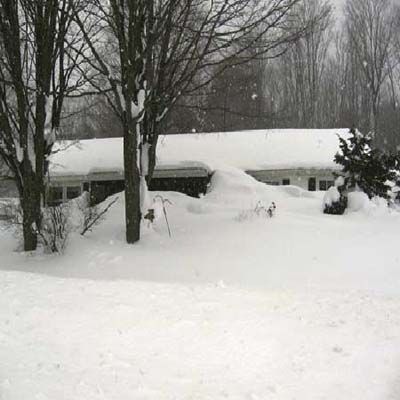 Winter home inspections, Upstate New York-style. You don't walk around the house, you "snow swim." At least you don't need a ladder to access the roof!
Dave Hartpence
Cornerstone Building Inspection, Inc.
Liverpool, N.Y.
That is saying the least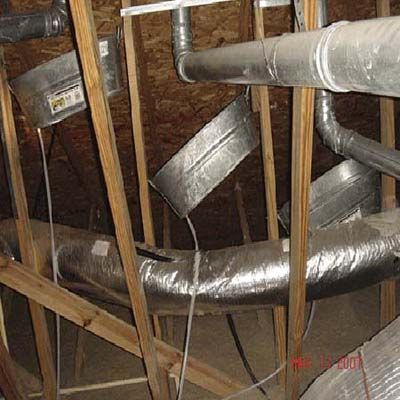 I found this in an attic of a home I inspected. The homeowner was…well…inventive, to say the least.
Paul Vaughn
Lowcountry Home Inspection
Hanahan, S.C.
A stretch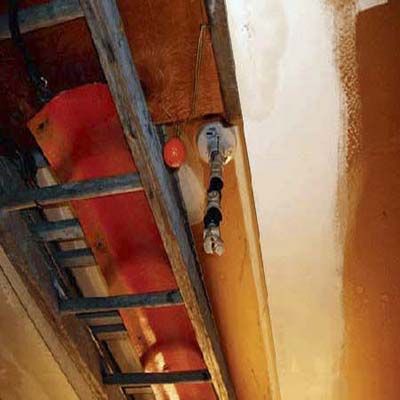 "If I add a few more adapters, I can reach the bulb."
Ed Massart
Speaker of the House Inspection Services
Glen Ellyn, Ill.
What the…?!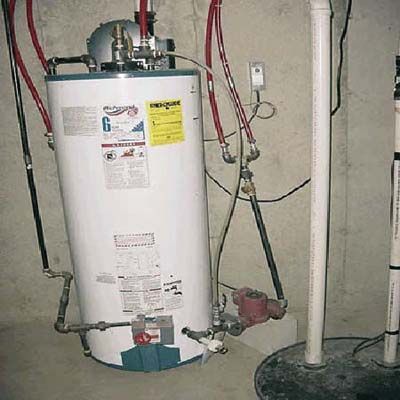 Spend a few moments looking at this before you make up your mind or read the answer. Is the T.P. valve and discharge line removed/modified? No gas shut off? Cold water inlet connected to drain? OR: Is this a modified 40-gallon gas water heater with a pump attached and run under a slate floor to radiant heat a 950-square-foot addition? The thermostat is on the wall. I asked about a permit for the installation. They were checking.
Tom Hermes
Amerispec Home Inspection Service
Racine, Wis.
It is freshly painted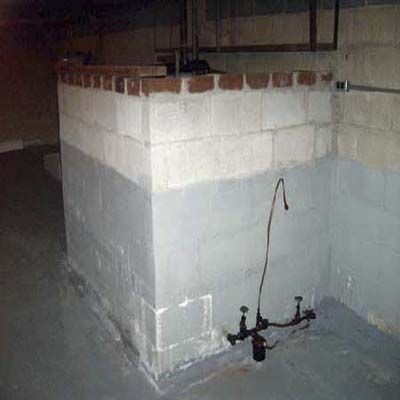 A builder completed a total redo of a 40-year-old colonial and left the original oil tanks encased in a block vault in front of a leaking wall. Note the painted-over efflorescence. You could smell the oil as soon as you walked into the house.
Gene Autore
Pillar To Post
Norwalk,Conn.
Termite territory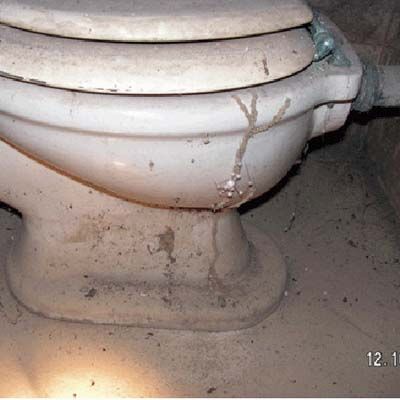 These photos were taken at a house I inspected in Milan, Ind. I was surprised that the agent and the client needed me to tell them that there was a termite infestation. How bad do you think it is when there are tubes up the side of the basement toilet and behind the tub tiles in the 1st-floor bath? This is only a fraction of the
infestation.
Chris Andler
Your Whole House Inc
Cincinati, OH
Cut it out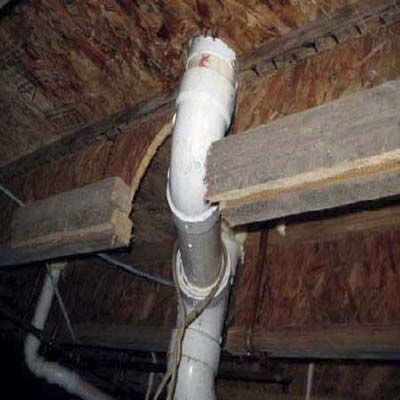 Here's a photo of floor joists cut away for plumbing drains.
Chris Harr
National Property Inspections
Pickerington, Ohio
Double yuck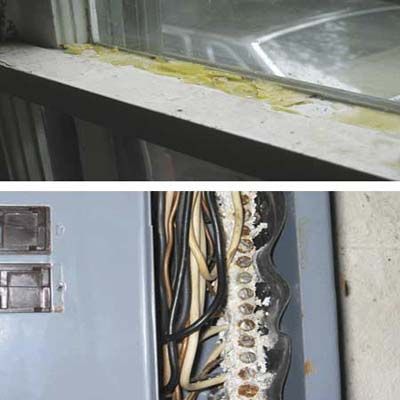 What is the substance that is on the window sash? Hint: it's not soap, wax or glue. Believe it or not, it's an accumulation of cat urine from 26 cats that lived in the house. They also caused the damage done in the electrical panel by urinating on the floor in the room just above it.
Lon Grossman
Technihouse Inspections, Inc.
Bloomfield Hills, Mich.
Storage problems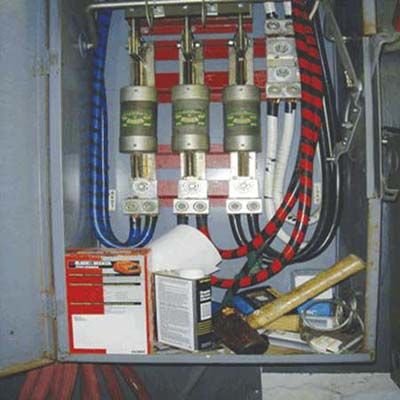 Store nails, hammer and solvents wherever you can.
Lawrence Ubell
Accurate Building Inspectors
Brooklyn, N.Y.