Shocker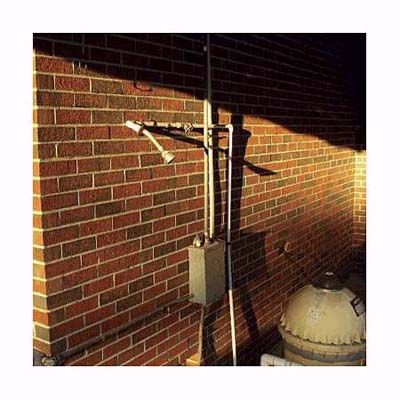 Nothing feels better than a good shocking shower before going for a swim. A showerhead placed directly over an electrical junction box does the trick.
Stephen Wilson
Professional Inspection Services, LLC
Columbus, Ga.
The environment is so overated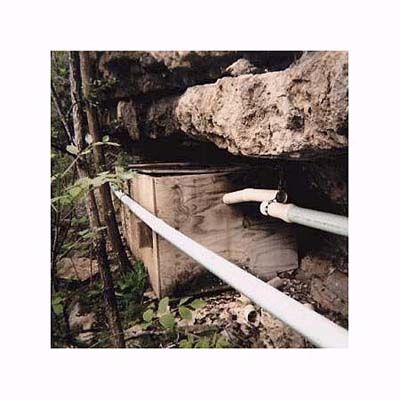 This is a plywood septic tank on the banks of a river. Notice the inlet pipe has been disconnected—I guess the tank didn't work as well as they thought it would. Interestingly, the real estate agent, owner and county officials did not seem to care, and it is still in use today, as shown on this photo. Float trip, anyone?
Kevin Sullivan
Eagle Eye Inspections, Inc.
Washington, Mo.
Classy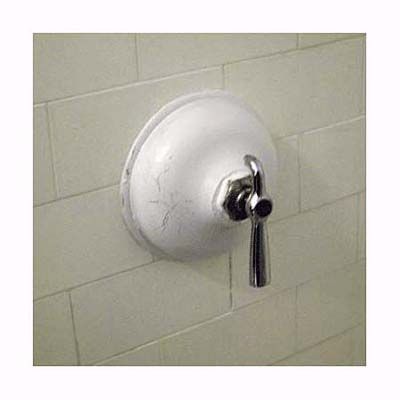 This is a creative use of a toilet plunger. The tub diverter body is a rubber toilet plunger, painted white. This was found in a 120-year-old, $750,000 home that was just rehabbed.
Tom Quinn
Quinn Building Consultants
North Dartmouth, Ma.
Shorty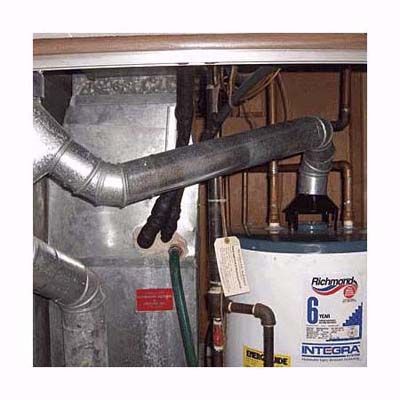 Gee, do you think the old water heater was shorter? Exhaust fumes should go up and out, so a downward facing pipe is not going to do any good.
Kim Thormodsgard
Thor Home Inspection
Sioux Falls, S.D.
Fantraption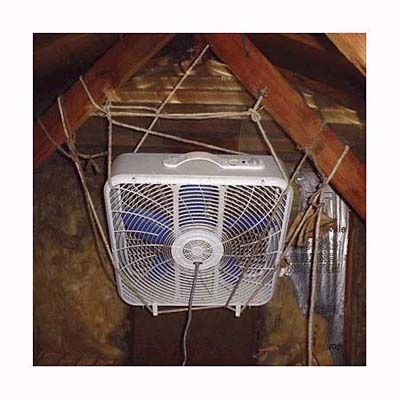 Here in Virginia, no matter how you hang it, an attic fan is an attic fan.
Dan Gartrell
Homestar Real Estate Services, Inc.
Gainesville, Va.
Treed House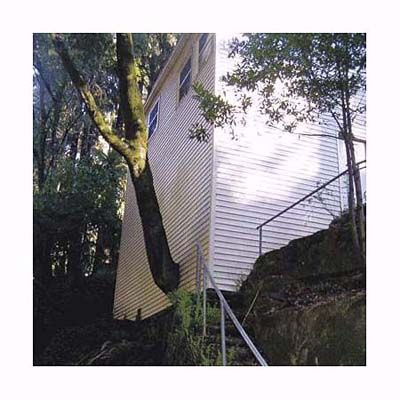 Here in California, we love trees! We would rather just build the house around a tree. But, does the tree add safety or stress to this steep slope?
Corey Folsom
Corey Folsom Property Inspector
Ben Lomond, Calif.
Roof vent periscope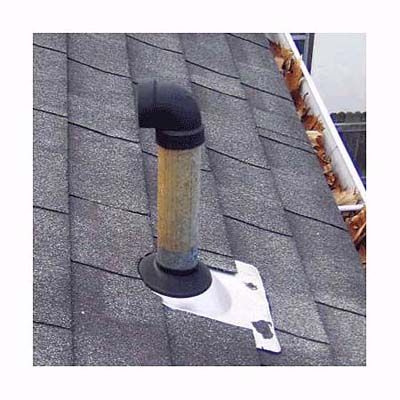 Dive! Dive! Dive!
Shane R. Pouch
Outlook Inspection Services, Inc.
Olathe, KS
The plumber did it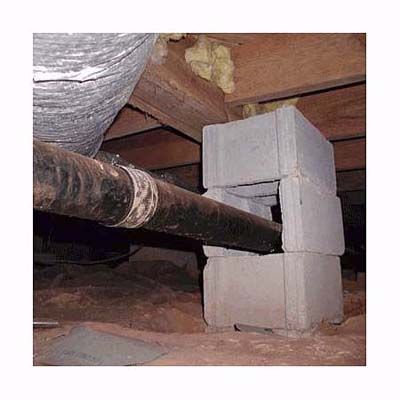 Here is a picture of a concrete block pier that has been field-modified by the plumber. The seller could not understand why it needed any additional support. "It's been that way for 40 years and we have not had any problems."
Rod Harrison
Christian Building Inspectors, Inc.
Duluth, Ga.
Let's play 'hide the chimney'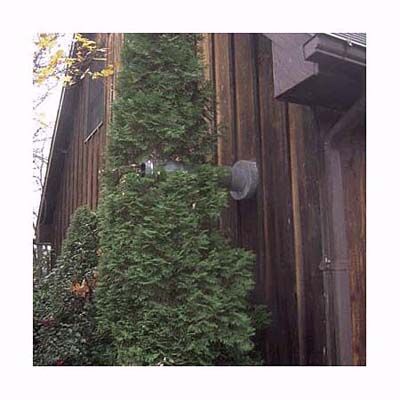 I would call this a camouflaged chimney.
Michael R. Conroy
Alpha Home Inspection
Duncannon, Pa.
Ouch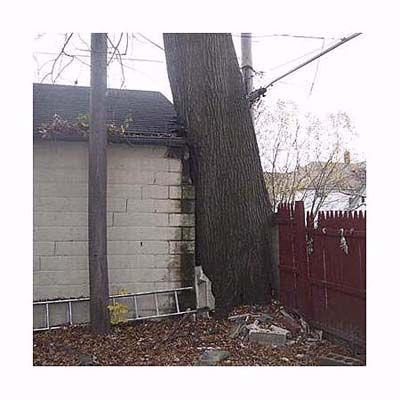 This tree is about 100 years old and is being supported by the garage. As you can see, the tree did some damage to the roof, block, and trim. This tree will be costly to remove. The main utility pole is next in the tree's path.
Dave Macy
Home Safe Home Inspections
Broadview Heights, Ohio
Sunk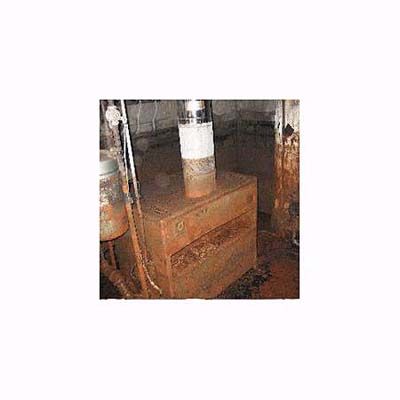 This is why you need an alternate-energy, back up sump pump. A battery or generator would surely help avoid floods like this one.
Lon Grossman
Technihouse Inspections, Inc.
Bloomfield Hills, Mich.
Topless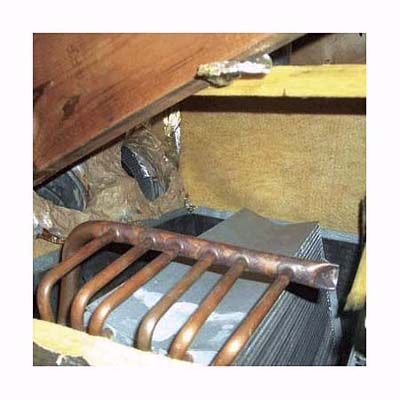 The top of the cabinet is missing from this new HVAC system in a recently renovated Cape Cod-style Atlanta home. An exposed air handler not connected to ducts would explain why there was no heat coming out when I checked! It will be a nice house when they finish it.
Jim Radcliffe
Medallion Inspections
Atlanta (Suwanee), Ga.
Close it up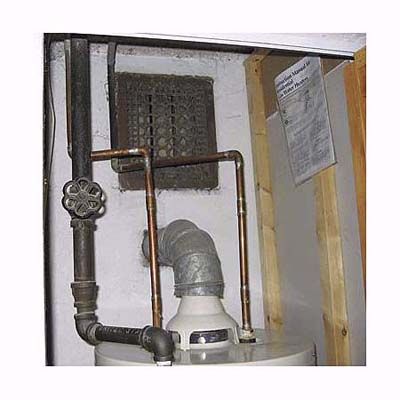 That register used to be a pathway for passive heat from the boiler to be transported to the living space above. Now, it's a way to transport the back-drafting water heater's gas fumes.
Malcolm Whipkey
1st Home Inspections, Inc.
Allison Park, Pa.
Tired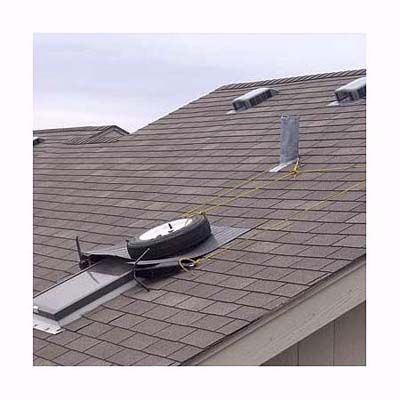 I was on the roof of the house next to this one during an inspection and had to take a picture of this. It is of a skylight with a tire, bungee cord, and tin over it to prevent water from coming in.
Keith Nelson
Amerispec Home Inspection Services Inc.
Omaha, Neb.
Just look upstairs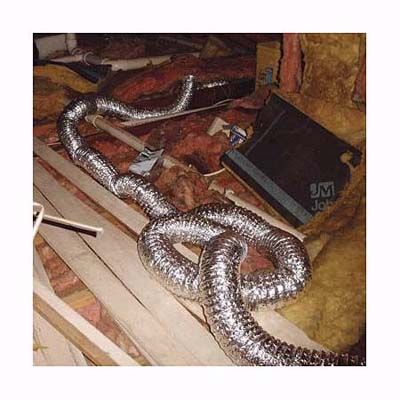 No wonder the bathroom exhaust fan does not work.
Bob Mulloy
Allsafe Home Inspection Service, Inc.
East Bridgewater, Ma.
What a drip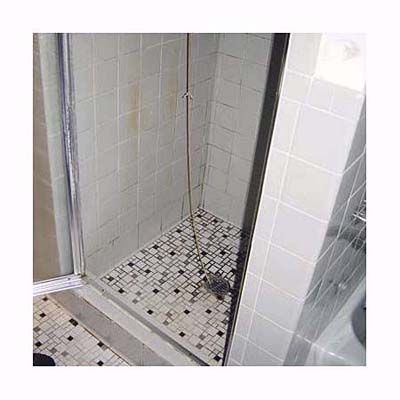 This is a homeowners version of "Can You Fix the Drip?" They tied a string from the shower head to drain. Ingenious! Never mind that there is mold everywhere in the shower.
Warren Tomek
Five Star Inspection Services
Madison, Conn.
Don't even ask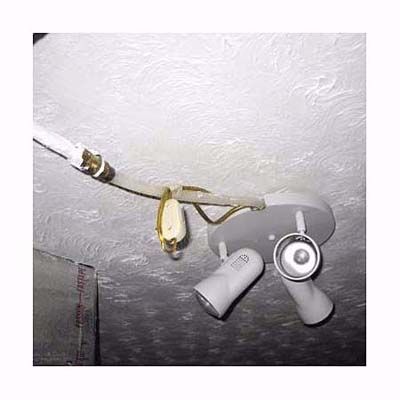 Is the switch for the light or to turn the water off? The wires for this fixture are snaked through a garden hose.
Butch Upton
Upton Enterprises, LLC dba Housemaster
Gastonia, N.C.
A fork in the stove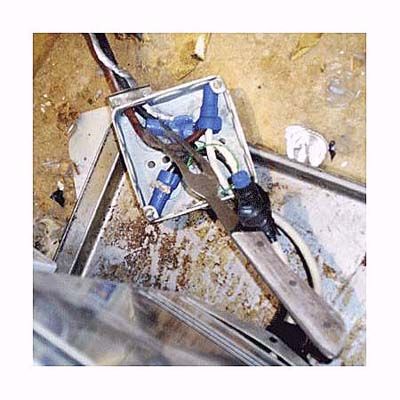 My customer pulled the stove out to see the electrical and this is what we found! Ladies and gentlemen, this is what cover plates are for.
C. John Limongello
Southern Home Inspection Services
Jasper, Ga.
Timber!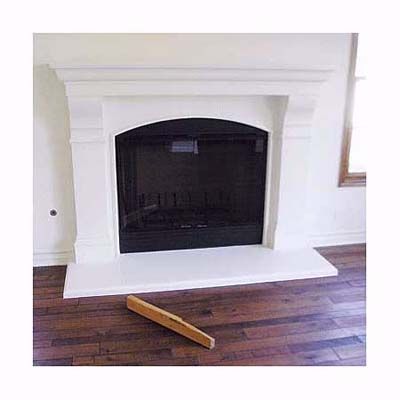 Never be looking up the chimney when you open the damper. Here is photo of a new home that came equipped with its own firewood. A 2-foot section of framing lumber fell out of the chimney when I opened the damper. This was moments after the superintendent said I would find nothing wrong with his custom home.
Bruce R. White
BUYERS PROFILE
Laguna Beach, Calif.