I Smell a Rat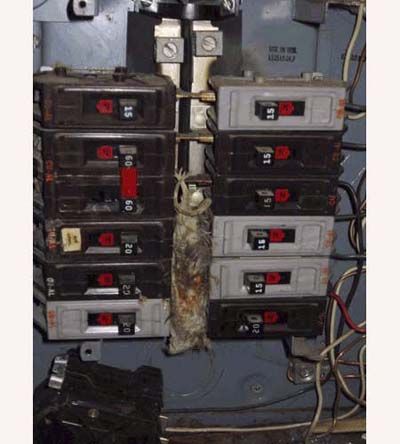 This is a photograph of a rat that entered an electrical panel through an open knockout. When it came in contact with the grounded box, it got fried! I show this picture, which I carry to all inspections, to homeowners who pooh-pooh my complaint of open knock-outs at electrical panels.
Luciano Marquez
Mr. Home Inspector
Union City, N.J.
A Plumbing Odyssey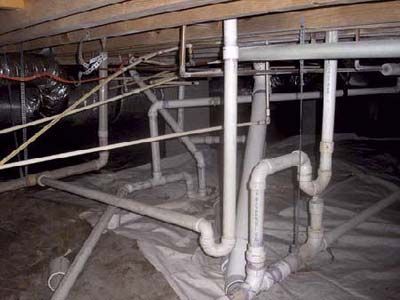 Wasn't there a screen saver like this? This is a picture of some amateur plumbing work for the drain system of a home.
Tom Smith
The HomeTeam Inspection Service
Hermitage, Tenn.
Wrenching
Generally, a solid shim block or steel plate is used between a support column and girder. When not available, is it ok to use a rusted old pipe wrench and weightlifter's plate?
Al DeLong
Double Check Home Inspection Group, L.L.C.
Spartanburg, S.C.
Duct!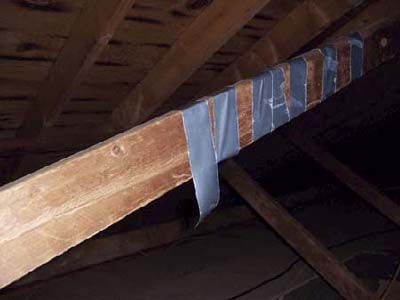 If you have a broken framing member in your attic, use the all-purpose structural repair kit—duct tape!
Stefanie Brandenburg
Upstate Home Detectives
Taylors, S.C.
Shockingly Hot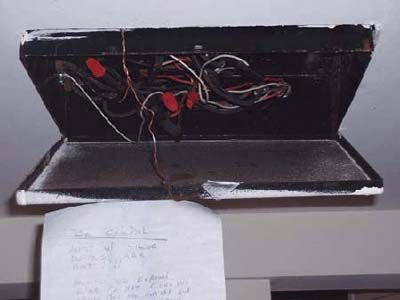 I guess we would call it a 1921 oversized junction box (1-foot-by-1½-feet)! Someone left a note attached indicating some of the wires were hot!! This 'box' was located on the basement ceiling and open when I found it! It's an electrocution waiting to happen.
Pete Jung, Hinson & Jung
LLC Home Inspections and Services
Germantown, MD
First Hot Water Heater in Space?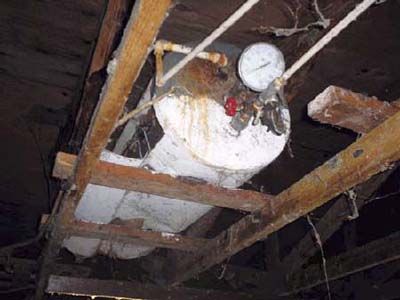 Not only did the homeowners install the water heater on its side, but they replaced the tank pressure relief valve (which allows the heater to let off steam) with a large pressure gauge. So now you can just watch the pressure build. Ever seen an explosion turn a hot water into a missile? Fortunately, the house was vacant and the heater not pressurized at time of inspection.
Chris Brown
Florida HomePro
Jacksonville, Fla.
Fire Waiting to Happen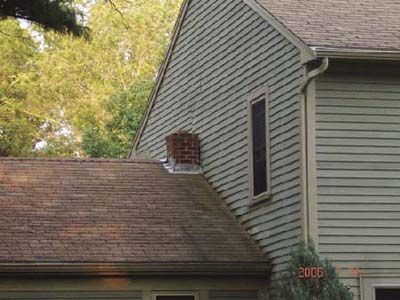 I had to stop while driving by a home to take this picture. What comes out of a chimney? Hot sparks, heated flue gases…guess they've got good fire insurance.
Bob Mulloy
Allsafe Home Inspection Service, Inc.
East Bridgewater, Mass.
Recycling Gone Too Far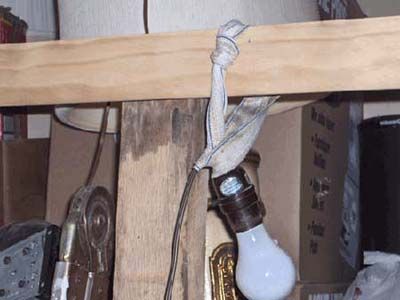 The homeowner thought: "I knew I could find a use for that old jockstrap someday."
Kim Thormodsgard
Thor Home Inspection Service, Inc.
Sioux Falls, S.D.
Where There's a Flue, There's a Way!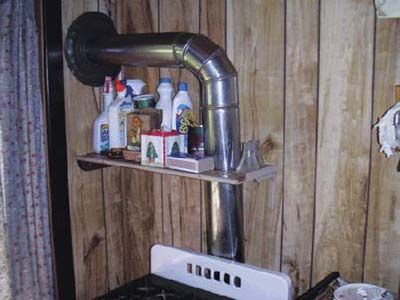 So much for creative storage solutions.
Corey Folsom
Property Inspector
Ben Lomond, Calif.
Bag It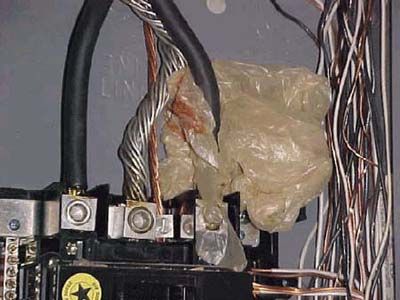 This is what was found inside a 200-amp electrical panel: a plastic shopping bag wrapped around the service-entrance cables.
Dave Kent
Added Value Home Inspections, LLC
Portage, Mich.
Linty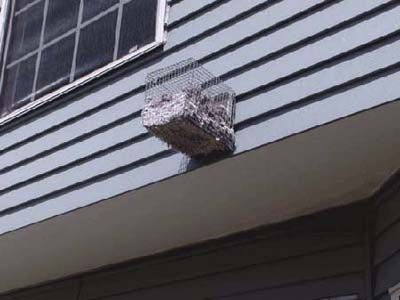 Here is a photo of a dryer vent showing why they're not supposed to be screened. I've heard of saving your pocket change for a rainy day, but saving the pocket lint? This was someone's idea to keep out the birds; it took quite a bit of work to make it this nice.
Russ Augustine
Augustine Home Inspections
Russ Augustine & Assoc. Inc.
Schaumburg, Ill.
Cornered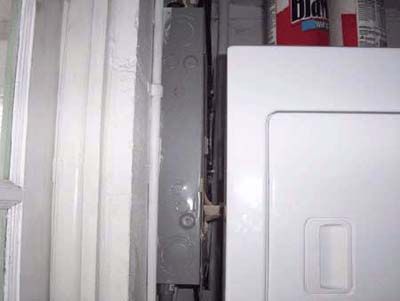 This is a pic of a grey electrical panel with an apartment-size washer/dryer combo sitting right in front of it. Hope the owners don't have to get into it in a hurry in case of an emergency.
Chris Wunderler
Tru-Blu Home Inspections
St. Petersburg, Fla.
Airborne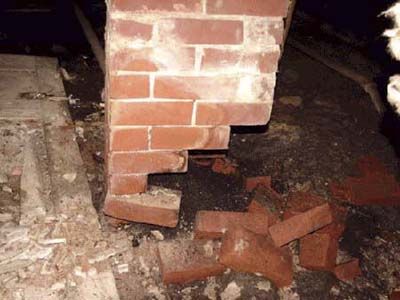 The client had never looked inside the crawl space. This chimney was mostly supported by air. She was grateful for the discovery and was going to call a mason after the inspection was completed.
Jeff Leighton
Inspect-It 1st Property Inspection
Scarborough, Maine
Treed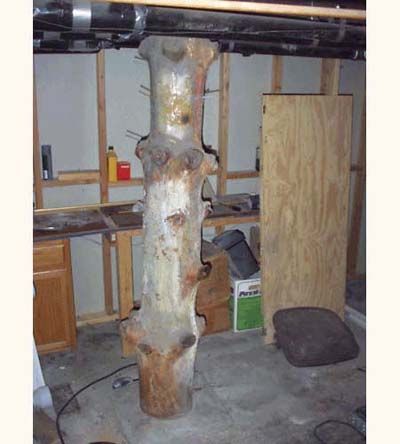 I found this tree, used as structural support, at a recent inspection.
Mark Oldroyd
A Realty Check
Wildwood, Mo.
Unhandyman Special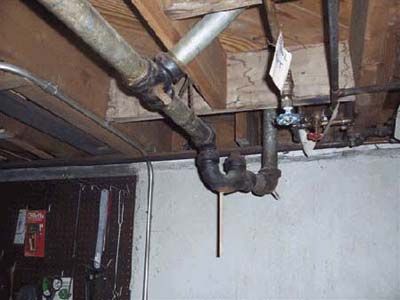 I was surprised to see these wooden dowels plugging holes in the plumbing pipes. There were no active leaks.
Dave Macy
Home Safe Home Inspections
Broadview Heights, Ohio
Have a Seat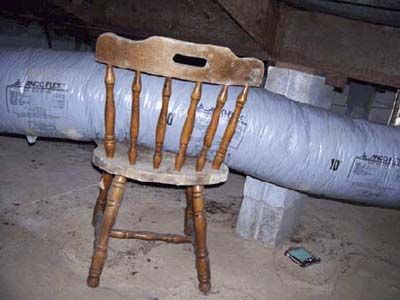 Have a seat and tell me about proper flex duct support. I found this in the crawlspace of a
manufactured home.
Todd Moelker
Alert Inspection Services LLC
Hudsonville, Mich.
Full Exposure—How Shocking!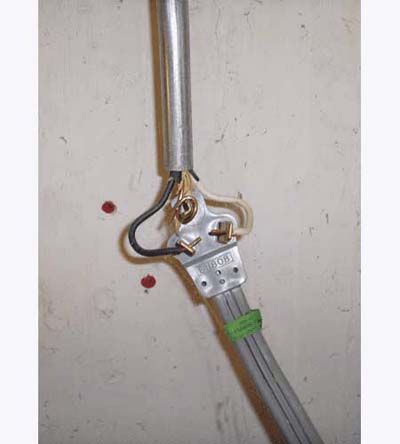 Here is the latest in electrical wiring techniques for dryer hookups. I guess he ran out of electrical tape in the middle of this project. It is interesting to note that this had been this way for some time, and that the recent inspection by the municipal inspector failed to mention it as a problem. My guess is that the homeowner turned off the breaker before connecting this, or he never would have survived the 240-volt jolt.
courtesy of the ASHI ReporterCharles H. Nance
P.E., CHN Inspections, LLC
Wildwood, Mo.
Cheapness Knows No Bounds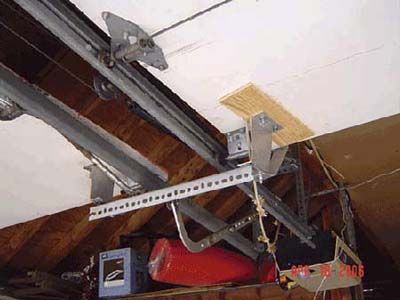 The homeowner of this house apparently did not want to buy two garage door openers and installed one in the center of the two doors and connected them.
Ron Cook
Close-Up Home Inspection
Hopedale, Mass.
Marketing Opportunity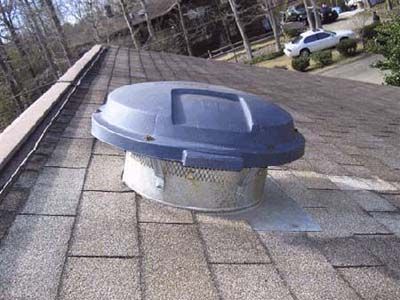 The people at Rubbermaid may be proud of a new-found use for a garbage can lid! Who knows what happened to the original cap to this attic fan.
C. John Limongello
Land America Property Inspection Services
Marietta, Ga.
Roomy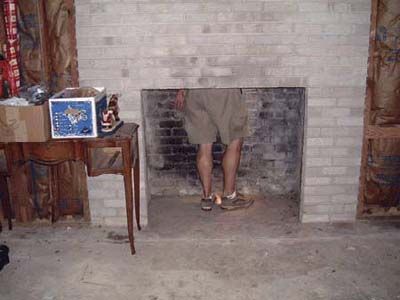 Some fireplaces are easier to inspect than others…
Jim Krider
House Smart
Atlanta, Ga.