Chimney Driller Needed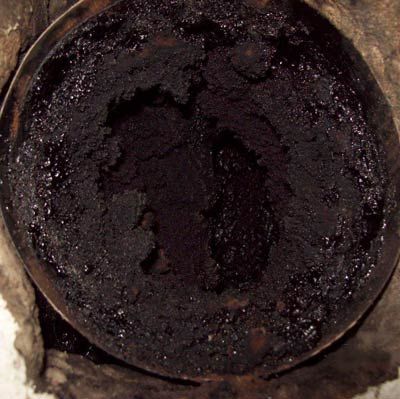 I have seen some chimneys that need to be cleaned, but this one will need a tunnel-boring machine. This is the flue for the wood stove in a house I inspected. The owners reported that the wood stove was smoking a lot. I wonder why?? How this did not catch fire is beyond me.
David Grudzinski
Advantage Home Inspections
Cranston, R.I.
Courtesy of www.ASHIReporter.org
Roof-Top Grill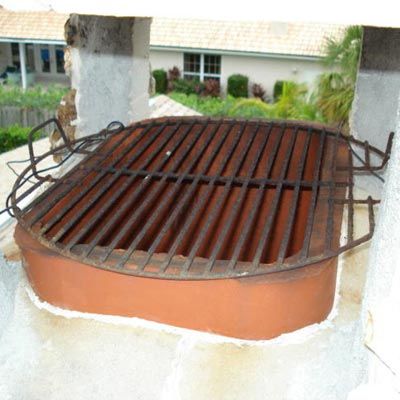 This is from a recent inspection. Spark arrestor or BBQ?
Greg Bertaux, P.E.
Vero Beach, Fla.
Courtesy of www.ASHIReporter.org
Batty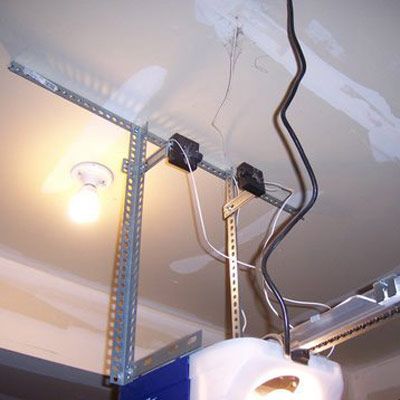 Normally you mount the two black boxes of a garage door safety sensor a few inches up from the floor on the sides of the door so you know if something is in the way as the door is closing. This is a much more creative way to install one. Maybe it would work for bats or birds in your garage.
Bob Pyne
AmeriSpec Inspection Services
Colorado Springs, Colo.
Courtesy of www.ASHIReporter.org
Leak Management System #1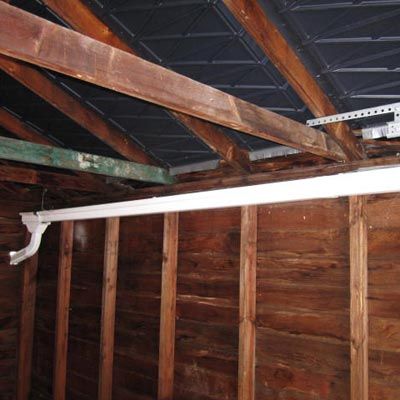 I call an indoor gutter a garage roof leak management system.
Pat Norton
Norton Inspection Co.
Bloomfield Hills, Mich.
Courtesy of www.ASHIReporter.org
Leak Management System #2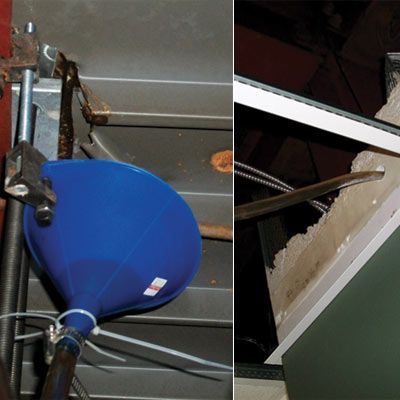 So, when there is a funnel collecting water from a roof leak and the hose from the funnel goes through the side wall, is it a roof leak or a siding leak?
Dan Howard
Home Inspections By Dan Howard
Freeport, Pa.
Courtesy of www.ASHIReporter.org
A Little Short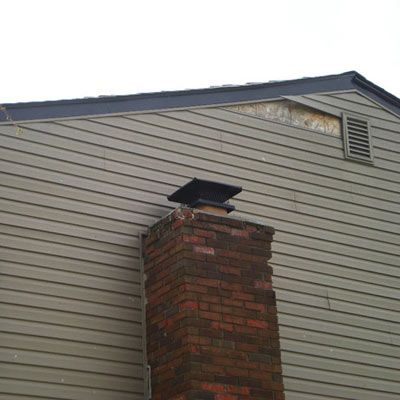 Budget cuts? Say no more.
Jerry Linkhorn
Linkhorn Home Inspections
Thornville, Ohio
Courtesy of www.ASHIReporter.org
It Gets a Good Night's Sleep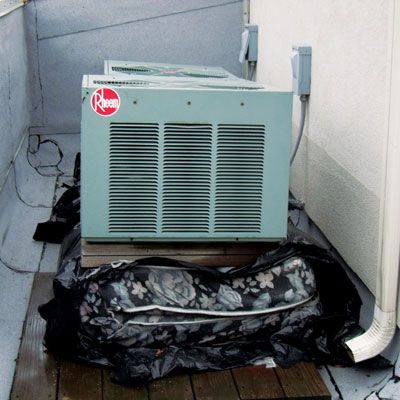 5,800 inspections and this folded mattress under the compressor is one of the strangest things I've ever seen. I guess this does take the vibration noise out of the bedroom below.
Steve Hier
Miller-Hier Home Inspection
Chicago, Ill.
Fuzzy Logic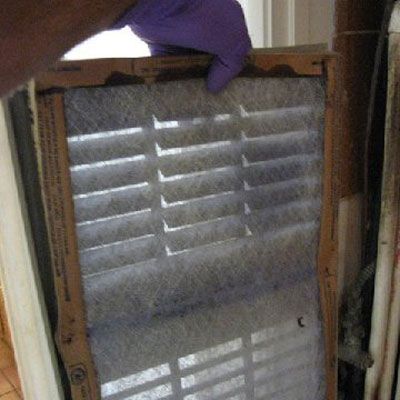 Someone must have misplaced the owner's manual and figured, "I guess the filter just goes where the air goes through these louvers in the front of the furnace."
Chris Shupp
Holmes & Watson Real Estate Inspection, LLC
Santa Clara, Calif.
House Guest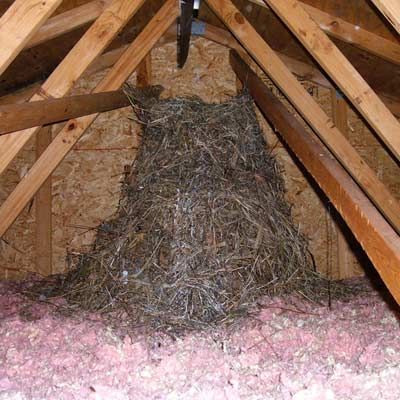 I would imagine the guests have learned about the new habitable attic provisions in the 2009 International Residential Code!
Jacob D. Troost
Buyers 1st inspection Service Inc.
Brodheadsville, Pa.
Double Wacky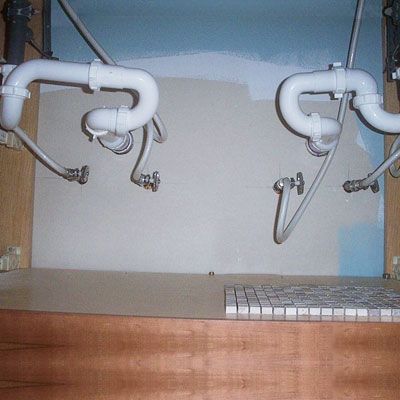 DIYers always have more fun! Drains that connect in a straight line and use gravity to help move water are soooo boring.
Phillip Timothy
1ST Choice Home Inspections
Nebraska City, Neb.
Anchors Away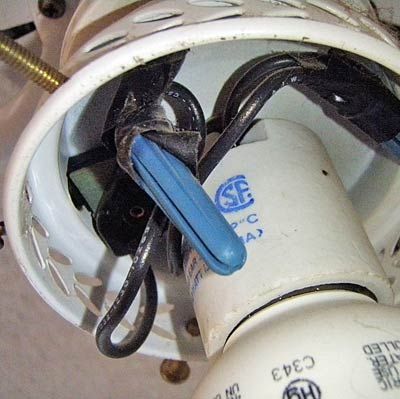 I call this photo "repurposed wall anchors." Who needs code-specified wire nuts? It's just electricity.
Ken Meyer
Portico Home Inspection LLC
Portland, Ore.
Roof Surprise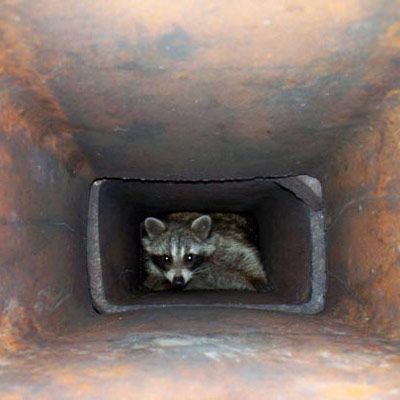 I've read articles about whether or not inspectors should climb on roofs. I do, and from the roof of this house, I found Roy Raccoon in the chimney.
Lawrence F. Nies
National Property Inspections
Wattsburg, Pa.
Cutbacks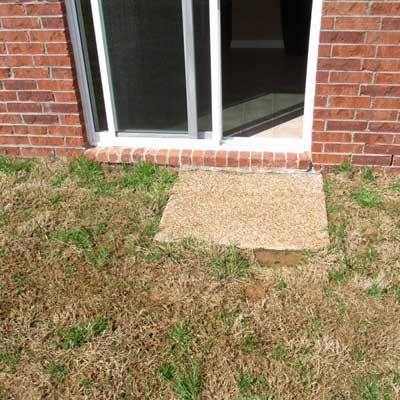 How do you tell builders are cutting back? The patio slabs keep getting smaller.
Brandon Dyles
Picture Perfect Inspections
Bartlett, Tenn.
Drained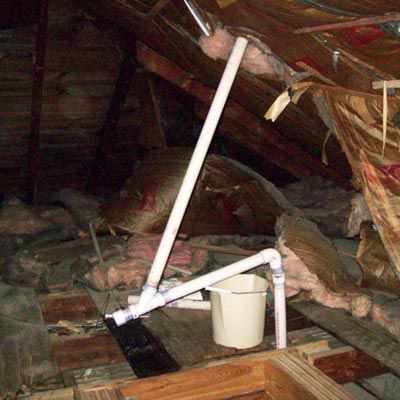 Well, looking at this vent setup, we know why the tub won't drain.
David Grudzinski
Advantage Home Inspections
Cranston, R.I.
Coffee Can Lighting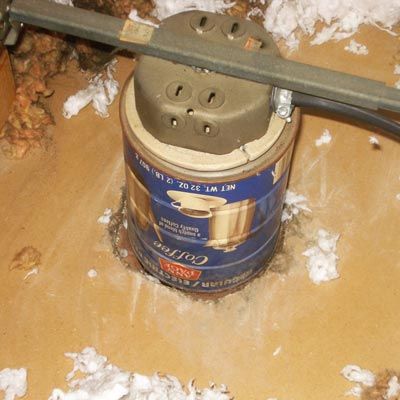 I found this under 10″ of insulation. Do you think this is where the term "can lights" for recessed lighting came from?
Nicholas Dominick
Buyer's Guide Home Inspections LLC
Gambrills, Md.
Feet First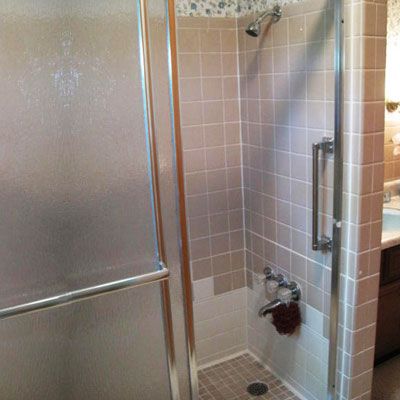 Converting a tub to a shower is easier than you think, and you even end up with an innovative foot-washing station!
Mark Kelsey
American Home Inspection Service, Inc.
Columbia, Mo.