Toad noted at ridge vent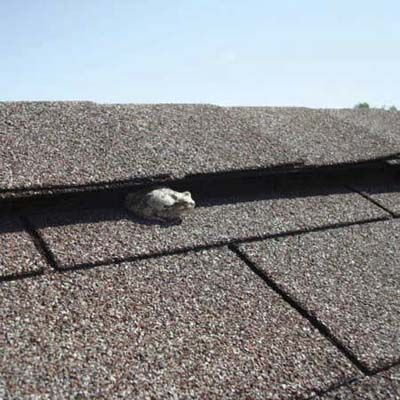 We had the wettest April on record.
Eric Engebretson
Midwest Inspection Service
St. Louis, Mo.
(Photos courtesy of the ASHI Reporter)
Shimmy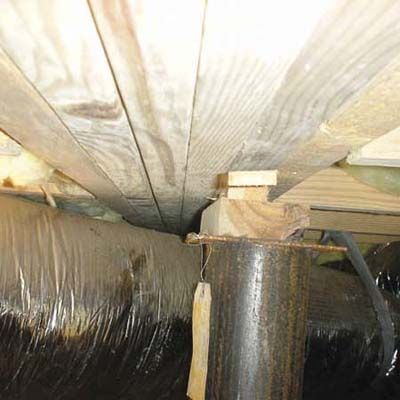 This post is supposed to be supporting the beam in the center of the house. Unfortunately, it is in the wrong location. I wonder what the psi is on those shims?
Matt Koch
HouseSmart Home Inspection
Chamblee, Ga.
Trapped again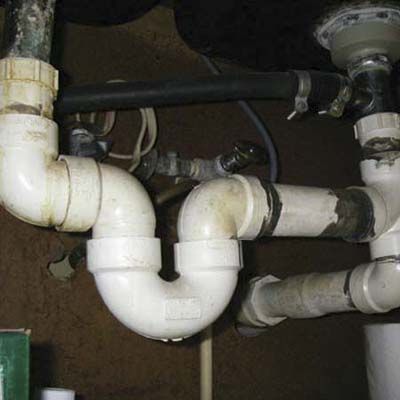 There is no trap on one side of kitchen sink, T-fitting upside down on right side, mystery substance used in place of PVC cement.
Chris Brown
Florida HomePro
Jacksonville, Fla.
Interesting reading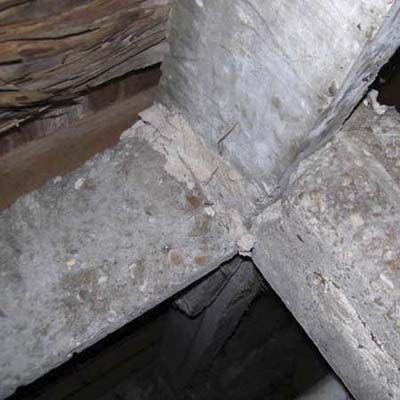 These preformed concrete post and beams were poured on site using the local newspaper in the molds. I couldn't make out the date, but the article was interesting.
Porter Elder
Elder Home Inspections, LLC
Mobile, Ala.
A drain line with a view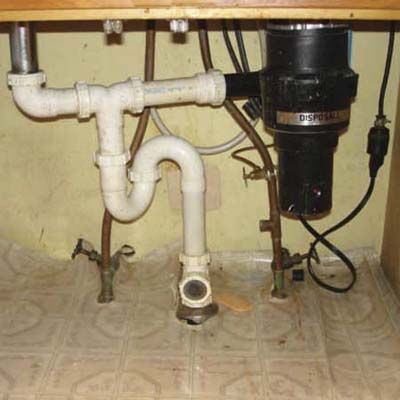 Let us not focus on the extension cord for the disposal or the "S" trap. It is the drain line site glass to view any backups that I thought was creative.
Thomas A. Gaba
Buyers Home Inspection Service, Inc.
Cleveland, Ohio
Ready to burn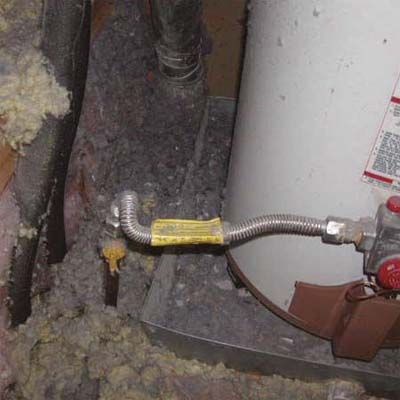 I found an accumulation of about 2 inches of lint around this gas water heater from a crack in the dryer vent pipe in the background. The house has been vacant for 18 months, lucky seller.
Brandon Dyles
Picture Perfect Inspections
Bartlett, Tenn.
Through the vent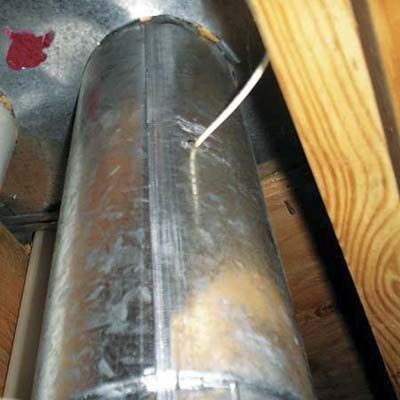 It seems like we find something new and different every week in this business. If you can't find a route for your phone and alarm system wire from the basement to the attic in a two-story house, why not just use one of those convenient furnace vent pipes?
Charles H. Nance, P.E.
CHN Inspections, LLC
Wildwood, Mo.
Interesting combo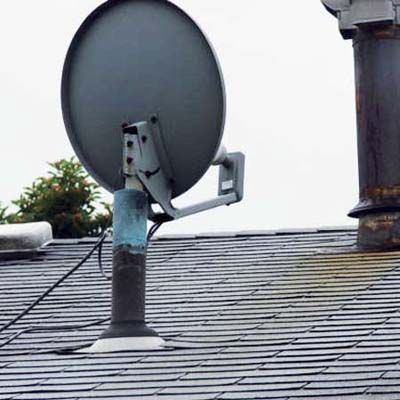 This is a combination plumbing vent pipe and satellite dish mount. Gets crappy reception when the toilet is flushed. The crappy reception!!! And the service stinks.
Rick A. Harrington
Patch Independent Home Inspections, LLC
Pickerington, Ohio
Food chain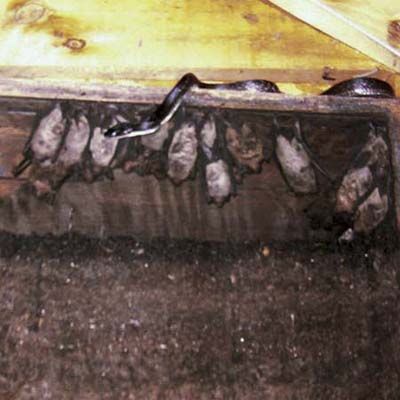 This is an attic gable vent with about 15 bats on the outside of the vent screen. The other 15 or so left when I lit them up with my flashlight. However, check out the 2′ black SNAKE on top of the vent inside the attic, trying to figure out how to have one of the morsels (or is that marsupials?) for dinner. So, do I tell my buyer to get rid of the snake or keep it to help keep the bats out of the attic?
Andy Hilton
Hilton Home Inspection, Inc.
Yadkinville, N.C.
More fun with puns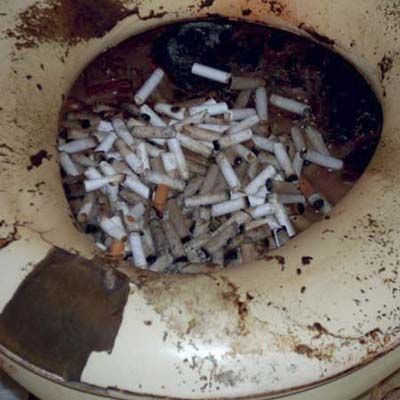 I guess the owner figured this receptacle was for "butts."
Jeff Hicks
Sherlock Homes Inspection Service Inc.
Reeders, Pa.
Togetherness should have a limit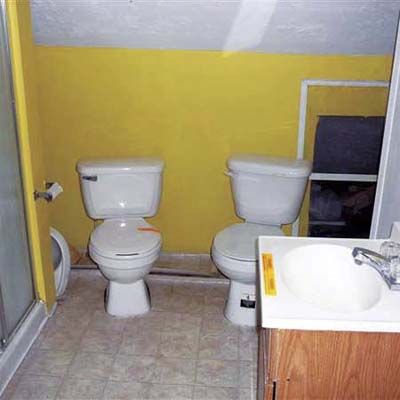 What is there to say? Yes, they both are hooked up and functional. No, the second toilet does not have bidet
fittings. What you can't see is there is no plumbing vent.
Mike Gardocki
Allspect, Inc.
Milford, Conn.
Snake trap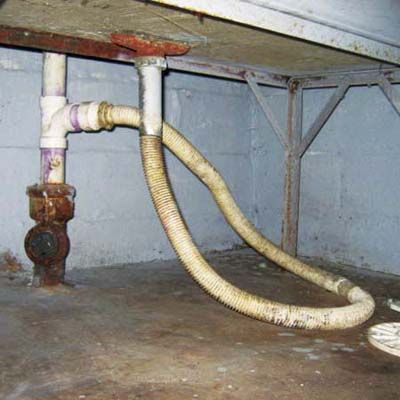 I told my client that he was looking at an "S" trap, as in snake trap!
Luis Alcaraz
InspectuCasa IC Inspections LLC
Minneapollis, Minn.
Truly unhinged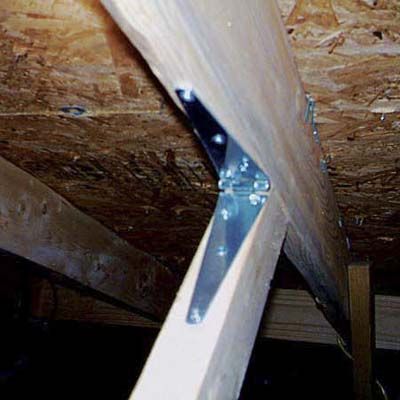 This picture is from a house that has site-made trusses for the roof framing. Hinges were used to connect truss members.
Matt Koch
HouseSmart Home Inspection
Chamblee, Ga.
Multi-tasking delight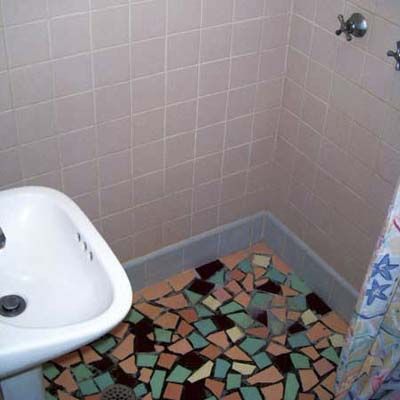 I call this photo "multitasking in the morning."
Tony Marino
National Property Inspections
Clearwater, Fla.
Careful!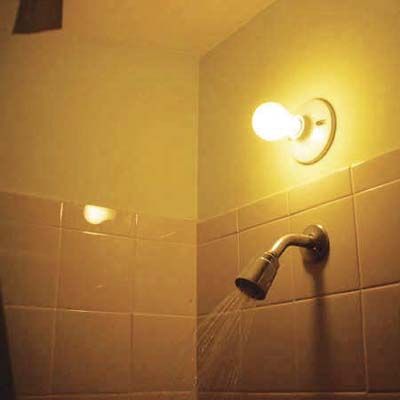 The shower enclosure was a little dark. The new light works great.
Guy Becker
Florida Home Inspection Professionals, Inc.
Chuluota, Fla.
Fried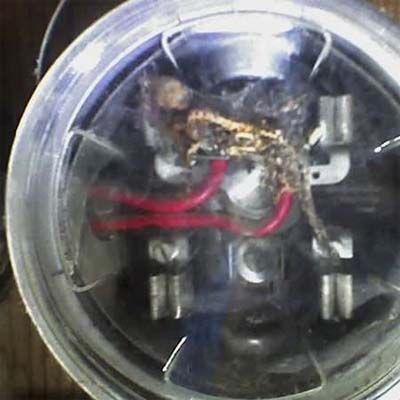 This mouse thought he'd like a room with a view. He hadn't counted on the exposed wiring.
Randall S. Cook
RSC Electrical & Mechanical
Springfield, MO. 65803