Plug In, Turn On, Lights OUT!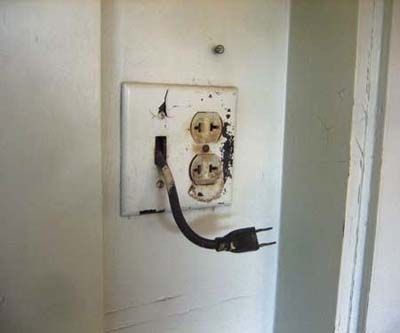 California has always been a leader in new technology, and the San Francisco Bay area and Silicon Valley are considered by many to be premier locations for creative minds and innovation. This innovative "flex-a-switch" design hasn't caught on yet—caught on fire, that is—but who knows!
John Fryer
Fryer Consulting
Oakland, California
Scraping by with a Spatula Fix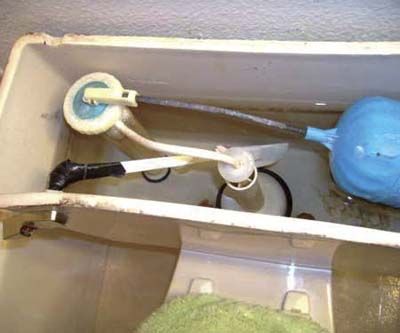 I found this in the guest bath toilet. The seller had just repaired it and hoped I would not find out about his ingenuity. I think he hoped his wife wouldn't either.
Danny Blankenship
The HomeTeam Inspection Service
Ocala, Florida
Shrooms!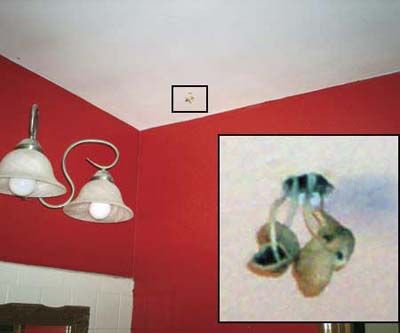 This is the best argument for proper bathroom ventilation I've ever seen! The shot of the room shows a dot on the ceiling. The close-up is of that dot. It's a cluster of mushrooms growing from the ceiling of a 1950s bathroom, with no exhaust fan and a barely operable window in the shower.
Joe LeCron
Seagate Inspections, Inc.
Toledo, Ohio
Hot Lunch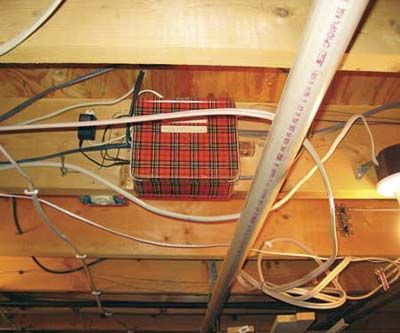 You were probably wondering where all the old, really cool, plaid lunch boxes went. Here is one in a basement ceiling being used as a 120V electrical junction box. The temptation to peek inside subsided when I read the labels listing the "STEPS to DISARM."
Bill Gray
All Star Home Inspection, Inc.
Gaithersburg, Maryland
Coupled Up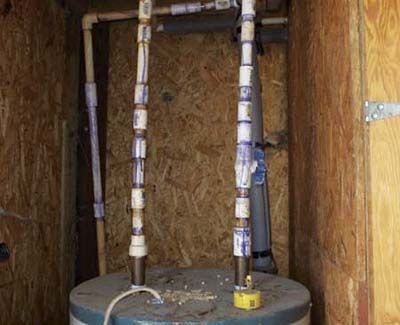 It would have been cheaper to run to the store for a solid piece of PVC pipe than to use all of the couplings on this water heater.
Tom Oliver
Oliver Home & Building Inspections, LLC
Montrose, Colorado
Post Too Short? No Problem!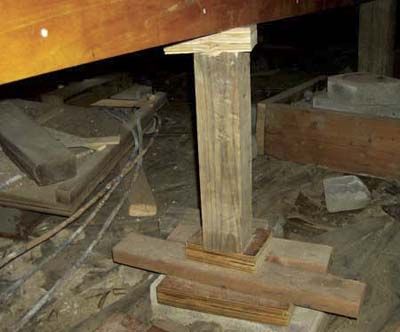 The contractor probably didn't plan on a home inspector entering this nasty crawl.
Gene Autore
Pillar To Post
Norwalk, Connecticut
Rooftop Garden
I didn't know if I should tell my client he needed a roofer—or a landscaper.
Dave Clegg
House Inspect
Mt. Laurel, New Jersey
Tread Very Lightly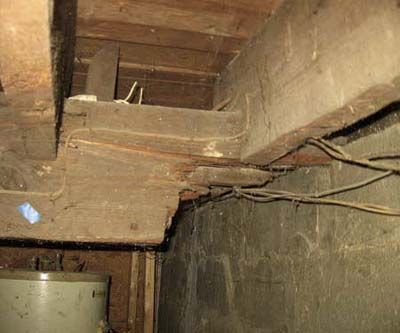 With the center beam in this condition, I didn't stay in the basement too long!
Clint Bissell
Sandy Spring Inspections
Ashton, Maryland
DIY Venting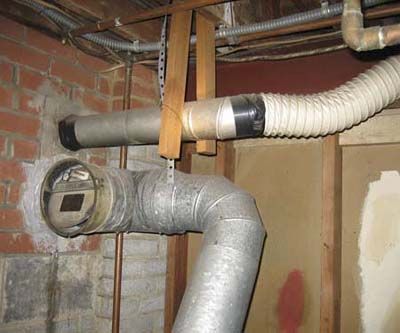 This is clothes dryer that vents directly into a chimney, above the boiler vent. Nothing like adding more moisture to the hydrocarbons from the oil-fired boiler to really eat the insides away!
Arthur S. Lazerow
Alban Home Inspection Service, Inc.
Bethesda, Maryland
Look Before You Rinse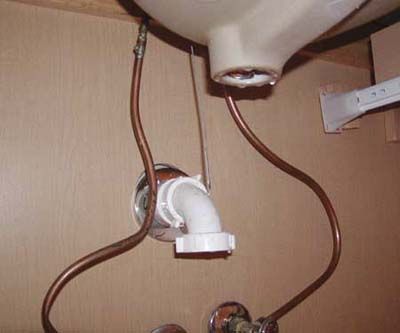 I remember during training I was instructed to look under the cabinet before turning on the water. During this foreclosure, someone took out the drain and P-trap on this bathroom sink. Now I bring spare towels just in case.
Brandon Dyles
Picture Perfect Inspections
Bartlett, Tennessee
Bet It Smells Good, Too!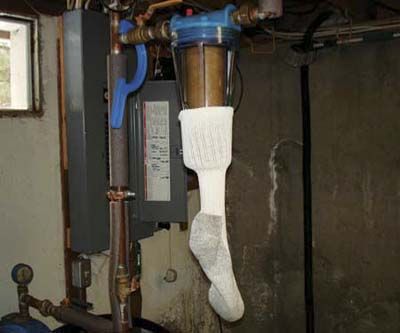 This is one unique condensation collector.
Bob Mulloy
Allsafe Home Inspection Service
East Bridgewater, Massachusetts
One Flue Pipe Short of a Full Deck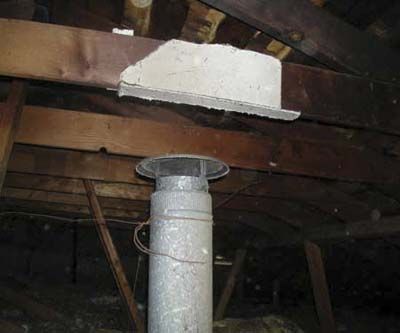 Seems they ran out of furnace flue pipe before they got through the roof. Nice cap, though—I guess it's there in case the roof leaks. And yes, that's asbestos cloth above as a safety precaution.
Andy Wallace
National Property Inspections
San Luis Obispo, California
Where's the Fire?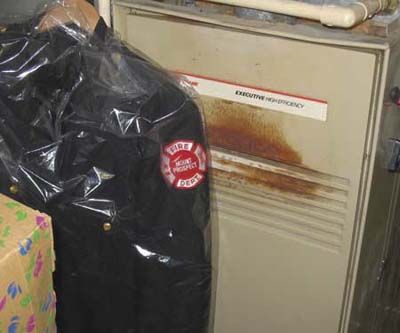 Irony defined.
Jeff Nathan
Building Inspectors Consortium, Inc.
Highland Park, Illinois
Call in the Hazmat Team
Kitchen looks okay to me!
Brion Grant
Northland Home Inspection, Inc.
Flagstaff, Arizona
Empty Nesters?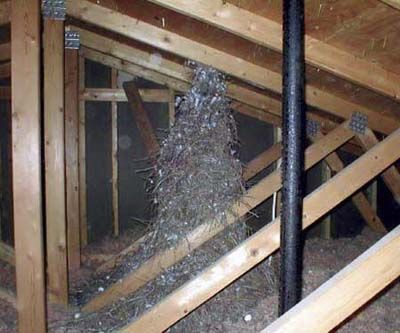 I found this bird's nest in an attic area. It was about 4 to 5 feet tall.
Mark Walters
InspectPRO
Littleton, Colorado