Drive-In Theater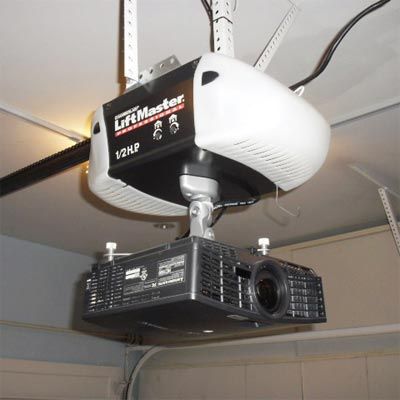 "On a recent inspection, I found a projection TV mounted to the bottom of a garage door opener. Most inspectors probably are not aware of this projection TV upgrade from the manufacturer. Please note: vehicle garage door can only be opened during commercials or halftime!"
Tim Hamilton
Associated Building Inspectors of Florida
Miami, Fla.
Ready for His Close-Up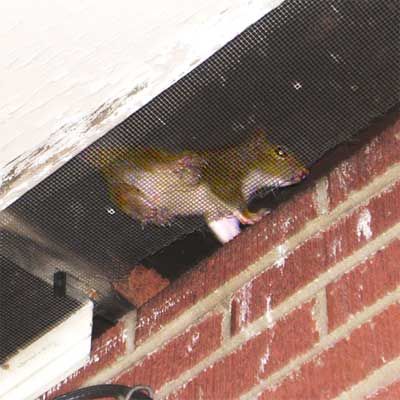 "I found this squirrel in the attic posing for the camera."
Dan Schuerman
Schuerman Inspections, LLC
Cincinnati, Ohio
What a Drip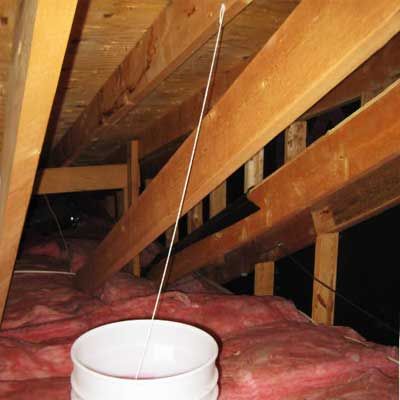 "Clever way to control a roof leak: String-to-bucket water collection system?"
Kirk Bingenheimer
B-Sure Inspections, LLC
Charleston, S.C.
Too Close for Venting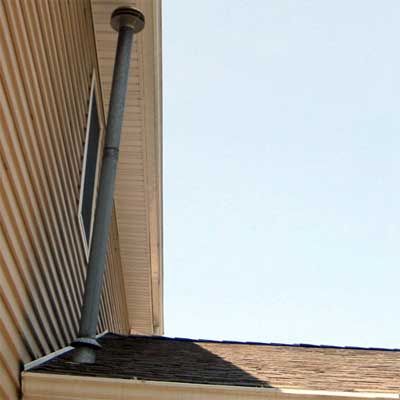 "Do you think this water heater chimney vent is too close to the house, soffit, or window?"
Gerard Poster
Arrow Home Inspections, Inc.
Morganville, N.J.
Foiled
When you run out of electrical tape to cover exposed wires, just use foil.
Dennis Pinciaro
All American Home Inspections High Country LLC
Sedona, Ariz.
Where's the Electrical Panel?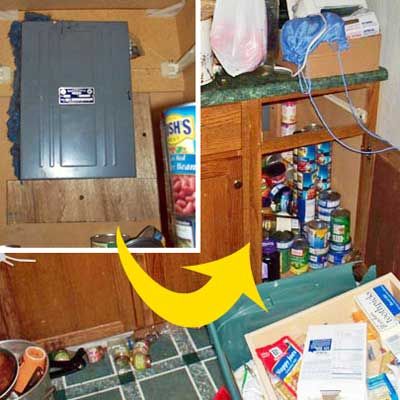 "Why, behind the beans, of course. That's not going to be any problem in an emergency, is it?"
Lawrence Nies
National Property Inspections
Wattsburg, Pa.
Get Outside and Play, Kids!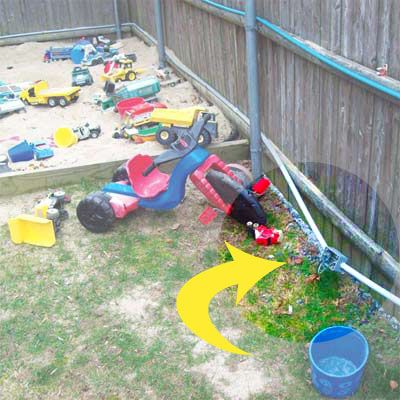 "I found this live 220-line feeding a distant garage. At some point, the kids ripped off the cover to a junction box and had the wires out and damaged. I went over to test with a voltage detector and saw that the wires were burned, but still live."
David Grudzinski
Advantage Home Inspections
Cranston, R.I.
Ribbit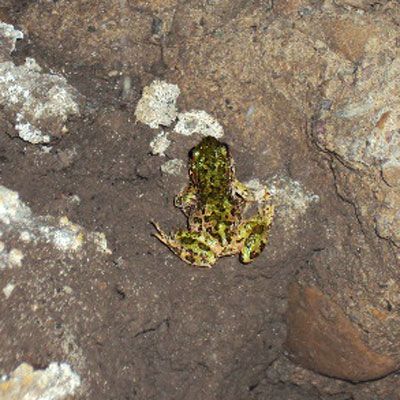 "I found this frog in a crawl space. Seems this particular crawl space has some ground water issues."
Boyd Meyer
Premier Advantage Home Inspections, Inc.
Clinton, Utah
Plumber: 1; Electrician: 0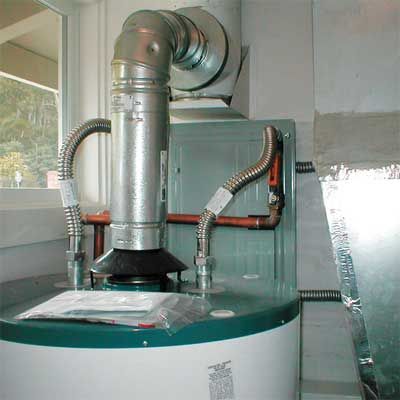 "Here is an electrical sub-panel I could not get at. Maybe the plumber and electrician did not get along, and the plumber won."
Jay de Wolf
de Wolf Inspection Services
Burlingame, Calif.
All Wrong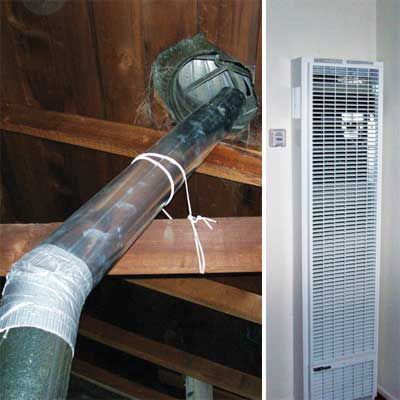 "I inspected this furnace in a newly remodeled house. That is a single-wall vent pipe in the attic, sealed with duct tape, attached to the framing with electrical cord and terminating in a turbine vent. In the photo on the right, you can see the clearance issues with the temperature control and the wall unit. The whole thing is wrong!"
Timothy Hemm
Eagle Home Inspections
Yucaipa, Calif.
One Temp Fits All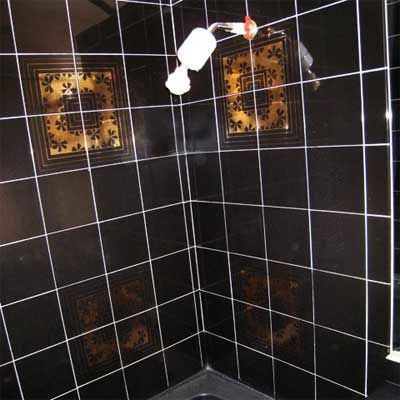 "This is that new shower head where apparently one temperature suits all. Notice there is no water control valve on the wall. The red knob turns the water on. Permits and approvals, anyone?"
Gerard Poster
Arrow Environmental Services, Inc.
Jackson, N.J.
Fido's Furnace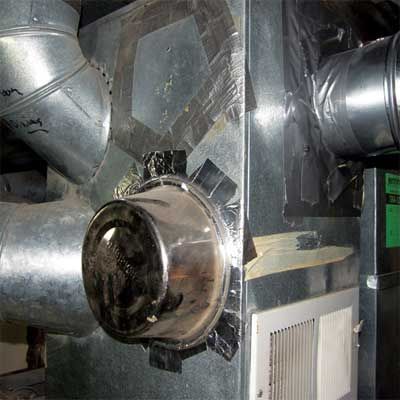 "Is your dog looking for his dish? Well, we found the dog food dish being used to cover the duct port to the furnace."
Brenda Julian
Full Service Property Inspections, LLC
Clinton, Ohio
A Daring Fix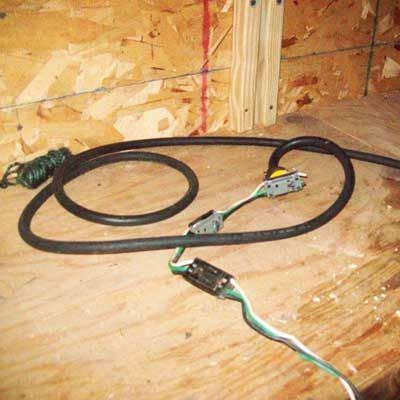 "Yes, those are live wires, spliced together and exposed. Go ahead, touch it! I dare you."
David Grudzinski
Advantage Home Inspections
Cranston, R.I.
Elegant AND Dangerous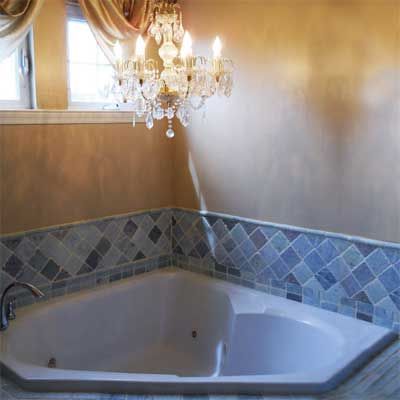 "How many times do we have to say this: No electrical fixtures in the shower or bath area! For ambiance (and safety), candles may be a better choice…"
Pete Wilden
Tri-County Inspection Co., Inc.
Woodbury, N.J.
Tight Fit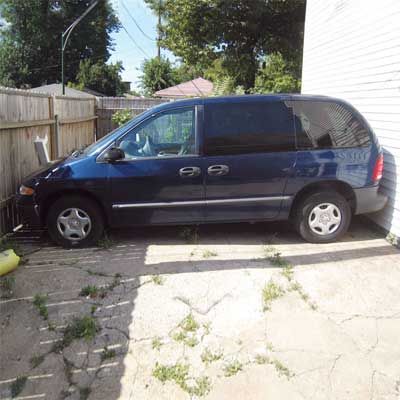 "Parking is a little tight in this neighborhood."
Jim Clark
True Blue Home Inspections, Inc.
Chicago, Ill.
Tilty as Charged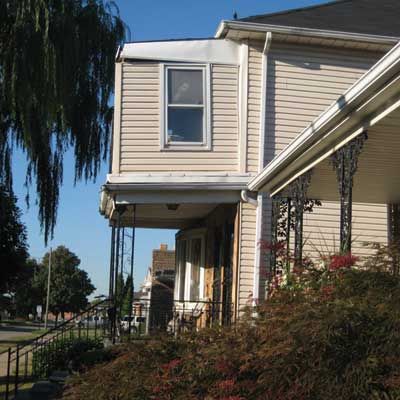 "Architect? Who needs to waste money using an architect? Our overhange will look just fine without one!"
Lon Grossman
Technihouse Inspections, Inc.
Bloomfield Hills, Mich.