Corny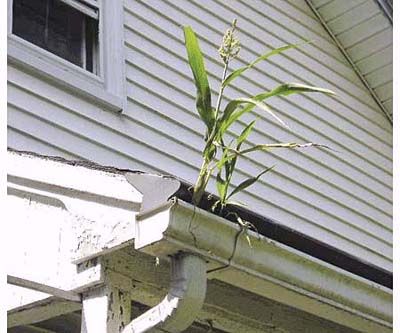 This ain't Iowa! Here's a corn stalk growing from the "corn"er of a porch roof, in the rain gutter, at a property in Connecticut. Probably from bird droppings. In my 23 years as a general contractor and eight years as an inspector, I've seen a lot of things growing in rain gutters in Connecticut, but this one is a first for me.
Charles G. Nai
Quali-Tech Northeast, LLC
Enfield, Conn.
Don't Blame California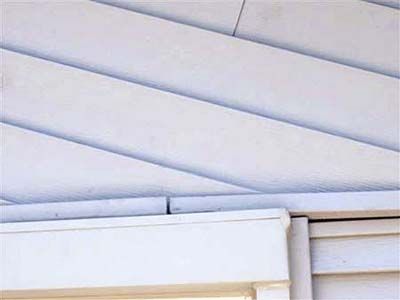 Recently, I was called in to remediate a water intrusion problem. According to the homeowner, the contractor installed the siding bottom-side up. He called this installation the "California style." So far, the homeowner has replaced one set of French doors and the dining & living room hardwood floors. The contractor recaulked (shown in photo), but water still comes in!
Emil B. Monge
API Services, Inc.
Pekin, Ill.
S is for Silly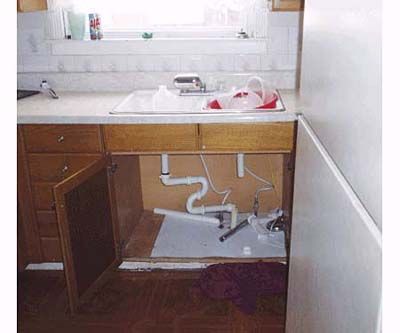 This is a true "s" trap. Don't use the right side sink! He had all the parts, just lost the assembly instructions.
Ted Greenberg
HouseInspect
Media, Pa.
Trapped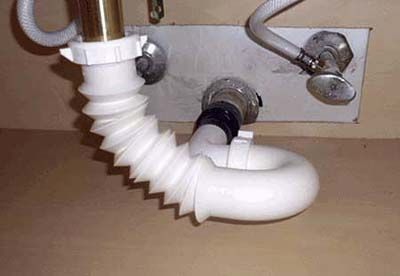 A horizontal drain trap. What's wrong with that, you say? Not only won't this drain properly, but the slug of water that would sit at the bottom of the pipe, if it were installed vertically as it should be, would keep sewer gases from coming up through the drain. And the crud that will collect in that accordion pipe? Eeeww…
Thomas R. Battoe
Performance Home Inspections
DeBary, Fla.
Jacked up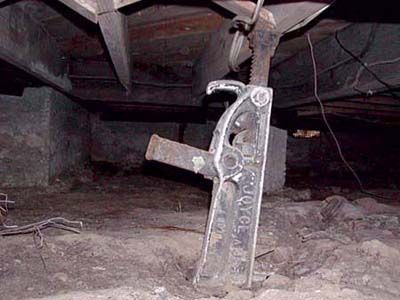 I found a tire jack being used for structural support in a crawlspace.
Brandon Dyles
Picture Perfect Inspections
Bartlett, Tenn.
Green Roof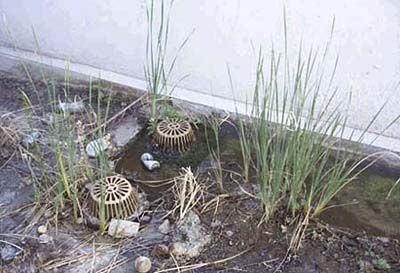 This is what can happen in the southern California desert when the rooftop drains are not cleaned regularly.
Timothy Hemm
Eagle Home Inspections
Yucaipa, Calif.
Door Jam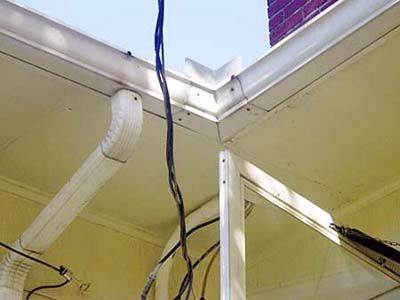 If you use this door, PLEASE do not open it all the way and do not raise your arms, lest you get tangled in electrical wires. (And don't be shocked when you find out that aluminum is a conductor.)
Natalie DiMauro and Rich Madore
Pillar to Post
Newington, Conn.
More Duct Trouble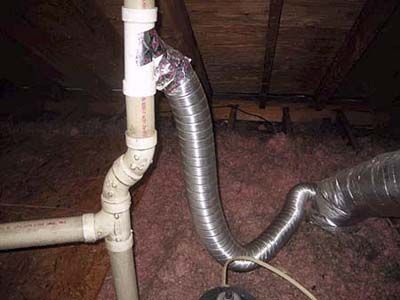 This photo illustrates yet another innovative use for plumbing vents! Why terminate a bathroom vent at the exterior when a plumbing vent is nearby and so handy? Can you guess where rain water was diverted?
Larry Park
Home Inspection Professionals, Inc.
Cumming, Ga.
No Tricks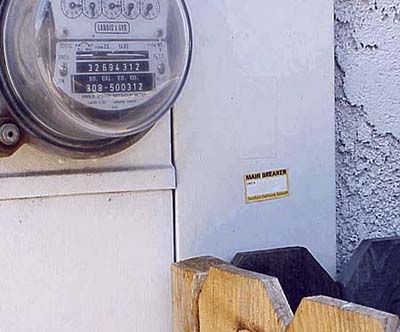 Yes, the sign does read "Main Breaker" and yes, that is a 3″x3″ post blocking the panel-door access. Those pesky kids won't be shutting off the po
Through the Chimney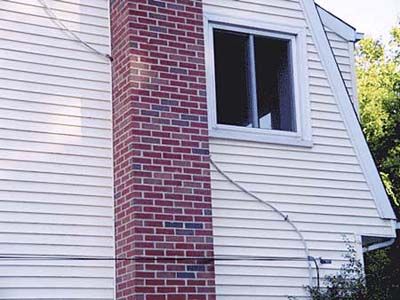 This photo shows a main exterior 100-amp electrical cable passing through a chimney in a 1968 colonial in Connecticut. The shortest distance between two points is through a chimney!
Bill Camosci
National Property Inspections of Central CT
Cromwell, Conn.
Out the Door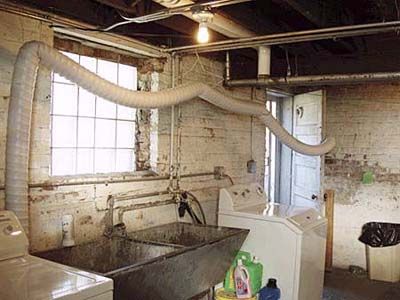 When the owner replaced the window, he forgot about venting the dryer. "No problem," he thought. "I have some tie wire, coat hangers, a hole saw and 25 feet of plastic vent. It's okay if it's trapped by the screen door, isn't it?"
Cheryl Pomeroy
Spotlight Home and Property Inspection, Inc
Oak Park, Ill.
Doh!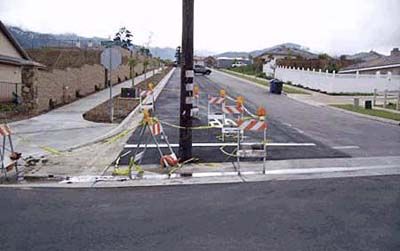 Yes, that is a utility pole in the street!
Timothy Hemm
Eagle Home Inspections
Yucaipa, Calif.
Duct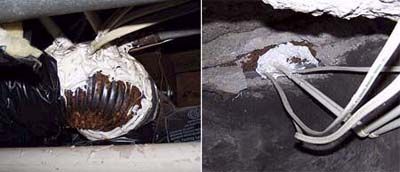 This duct line carries more than air. The homeowner used the current duct line to run his plumbing and electrical over to another part of the house. Here are photos of both ends.
Jim Jost
Jost Home Inspections
Watertown, S.D.
Nice Shot!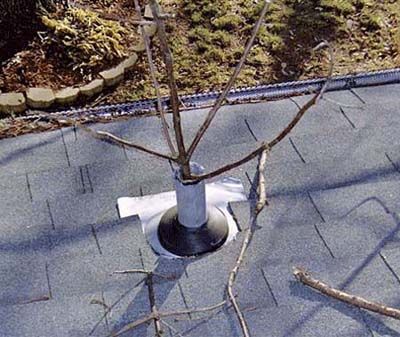 Normally, I tell clients to trim back the overhanging trees to protect the roof. In this case, one loose branch never made it that far! What are the odds on that? It looked like about 9-11 inches of the branch had traveled straight down the drain waste vent.
Rick Michalicek
Moore Home Inspection Services
St. Louis, Mo.
Bee Careful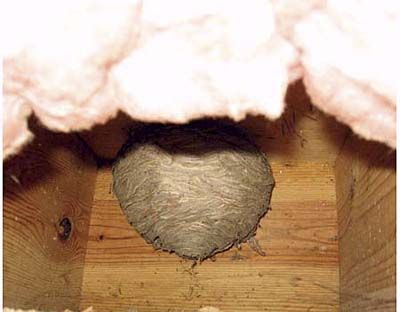 This is a yellow jacket nest in a crawl space. I stumbled on it and was so glad it was a cold morning.
John Cranor
Cranor Inspection Services, LLC
Glen Allen, Va.
The Latest Hybrid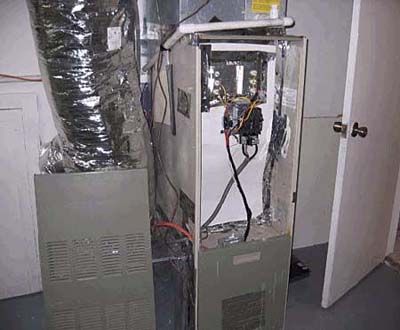 I ran across this last week. Someone had taken an old gas furnace shell and installed electric heat strips for the "new heat pump" system they advertised. The shell was 1990, the outside unit was 2004 and the inside coil was 1999. There were enough things wrong with this setup that I got writer's cramp.
Jack Feldmann
Clayton Inspection Service, Inc.
Knoxville, Tenn.
Very Professional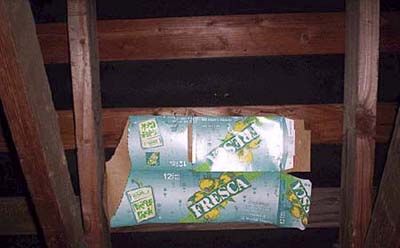 When I reported a leak in the roof that needed repair, this is not the fix I was expecting on reinspection. Needless to say, the roof still was leaking.
Hartley Moore
The BrickKicker
Auburn, Wash.
Exhausted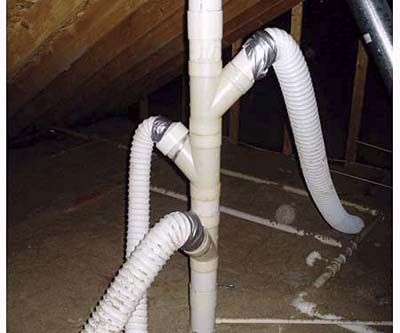 How's this for bathroom exhaust fan venting? A schedule-20 pipe assembly that penetrates the roof with a cap on the bottom to trap all the condensate that flows "down" into the pipe from the multiple exhaust fans.
Bill Barnes
Seagate Inspections, Inc.
Toledo, Ohio
Location, Location, Location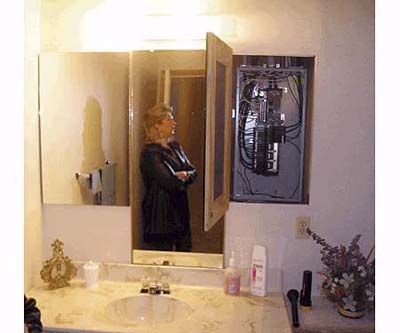 I searched all over the basement trying to find the main electrical panel. I finally found it behind the mirror that is over the bath sink. Electrical panels are never to be in a bathroom, as per ICC code. It could be a shocking situation.
Seth Hurlbert
Hurlbert Home Inspection, LLC
Centreville, Va.
Pole Outlet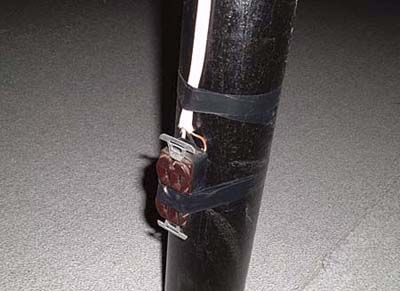 This receptacle was mounted to a steel support post in the basement of the home I inspected. We have a saying we like to use: "Everyone in Michigan is an electrician; they're just not all licensed electricians."
Bob Bowling
LandAmerica Property Iinspections
Plymouth, Mich.
Grin and Bear It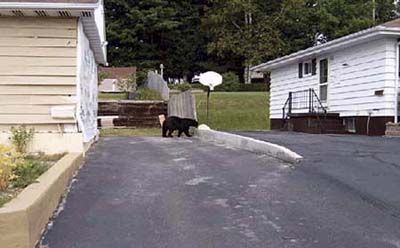 This is not a dog, but a black bear. It is best to give him space. He was down the block in about 10 minutes.
Alden E. Gibson
R.H.I., Inspections by Gibson Inc.
Breslau, Ontario