This lovely porch sign can be decorated on both sides to celebrate more than one holiday or season. I'm also adding a hook for a hoop wreath on each side to make it easy to transform as the seasons change.
Read the step-by-step instructions below and scroll down for a list of tools, materials, and cut list needed for the project.
Steps for Making a DIY Reversible Porch Sign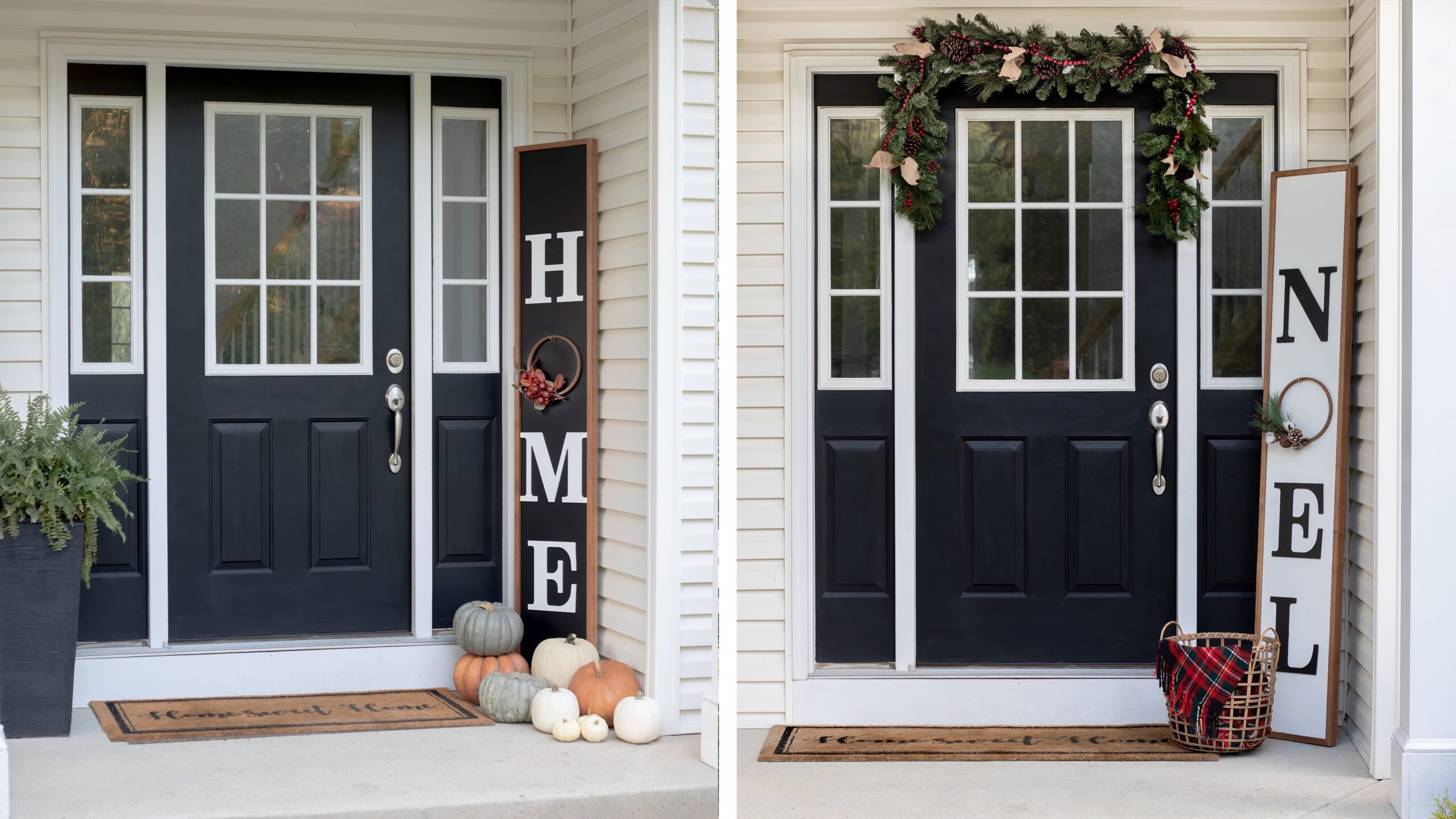 1. Size the Frame Pieces
Starting with the 1×12 board at its full 6-foot height, measure and miter the 1×2 frame pieces on edge so that they wrap around the corners of the board.
2. Apply the Finishes
Using a foam roller, cover one side of the board with two coats of white paint, and the other side with two coats of black paint.
Finish the letters with two coats of a contrasting paint color starting with their edges, and then working across the flat sections.
Lastly, coat the 1 x 2 frame pieces with stain followed by a protective coat of polyurethane.
3. Add the Letters
Measure and mark the location of each letter on one side of the board, leaving a gap for the "O" where the wreath will hang.
Apply glue to the backside of each letter and then nail it into place with 5/8″ nails.
Fill and touchup the nail holes as needed.
Repeat to attach the letters to the opposite side of the sign.
4. Attach the Frame Pieces
Apply glue to one edge of the board. Place the coordinating frame piece centered on the thickness of the 1 x 12 board so that it overhangs its face equally on each side.
Nail through the frame and into the edge of the board with 1 ¼-inch nails to secure the board in place.
Apply glue to an adjacent edge and to the exposed miter, and secure the next piece.
Repeat to attach the remaining frame pieces.
5. Install the Cup Hooks
Drill a small pilot hole for the cup hook centered on the width of each side.
Twist a cup hook into each pilot hole.
6. Add a Wreath
Purchase a wreath at the store or make your own like I did using an inexpensive embroidery hoop and a sprig of faux stems or branches. RELATED: How to Make an Embroidery Hoop Wreath
---
Tools
Materials
Cut List
1 x 2 Frame – 2 @ 73 ½" (mitered on edge at 45-degrees)
1 x 2 Frame – 2 @ 12 ¾" (mitered on edge at 45-degrees)