Affiliate Disclosure:This Old House's Reviews Team is committed to delivering honest, objective, and independent reviews on home products and services. To support this business model, This Old House may be compensated if you purchase through links on our website.
Indoor security cameras have evolved over the years from bulky, expensive systems that require professional installation to small, user-friendly devices that can be plugged into the wall and set up in minutes. With the increase in do-it-yourself security cameras and hidden cameras that range from $30 to over $300, it's important to understand the variance between models and select an indoor camera that's right for your situation.
Security cameras work to monitor motion and sound in rooms throughout your home using high-quality video and two-way audio communication. Many also incorporate real-time alerts to keep you updated on people and animals that cross the camera lens. To save you the hassle of researching the numerous indoor security cameras on the market, we've researched and tested top indoor security cameras to give you a selection of devices to fit your budget and requirements.
Top 4 Indoor Security Cameras
---
Testing and Review Standards
To start the review process, we searched Amazon for indoor security cameras. We researched numerous products and weighed factors like customer reviews, cost, and functionality before deciding to order four of the best products for testing.
To begin testing, a team member unboxed and set up each security camera, taking note of its installation process and look and feel. After installation, we went through each camera's mobile application and looked at available settings and controls. Once the installation was complete and we were familiar with the cameras, we tested their performance. Performance testing included analyzing the following features:
Motion detection
If a video camera provided a motion detection feature, we tested its effectiveness by simulating movement inside the room. This was done while the camera was switched to "away" or "armed" mode to monitor the speed and clarity of its push notifications. Additionally, we measured the length of the recorded video and the number of images the camera took when a motion was detected.
Clarity of video and camera screengrab
While the camera was both armed and disarmed, we analyzed the clarity of its captured images and video. Additionally, we measured each camera's ability to adjust recorded video quality and zoom into the footage.
Two-way audio
Each camera came with two-way audio capabilities. We tested this ability by measuring the clarity of sound produced by the camera in addition to how well it picked up sound. We produced sound by talking through the camera's app and playing background music in the room to simulate sound within the environment.
---
Best Indoor Security Camera Overall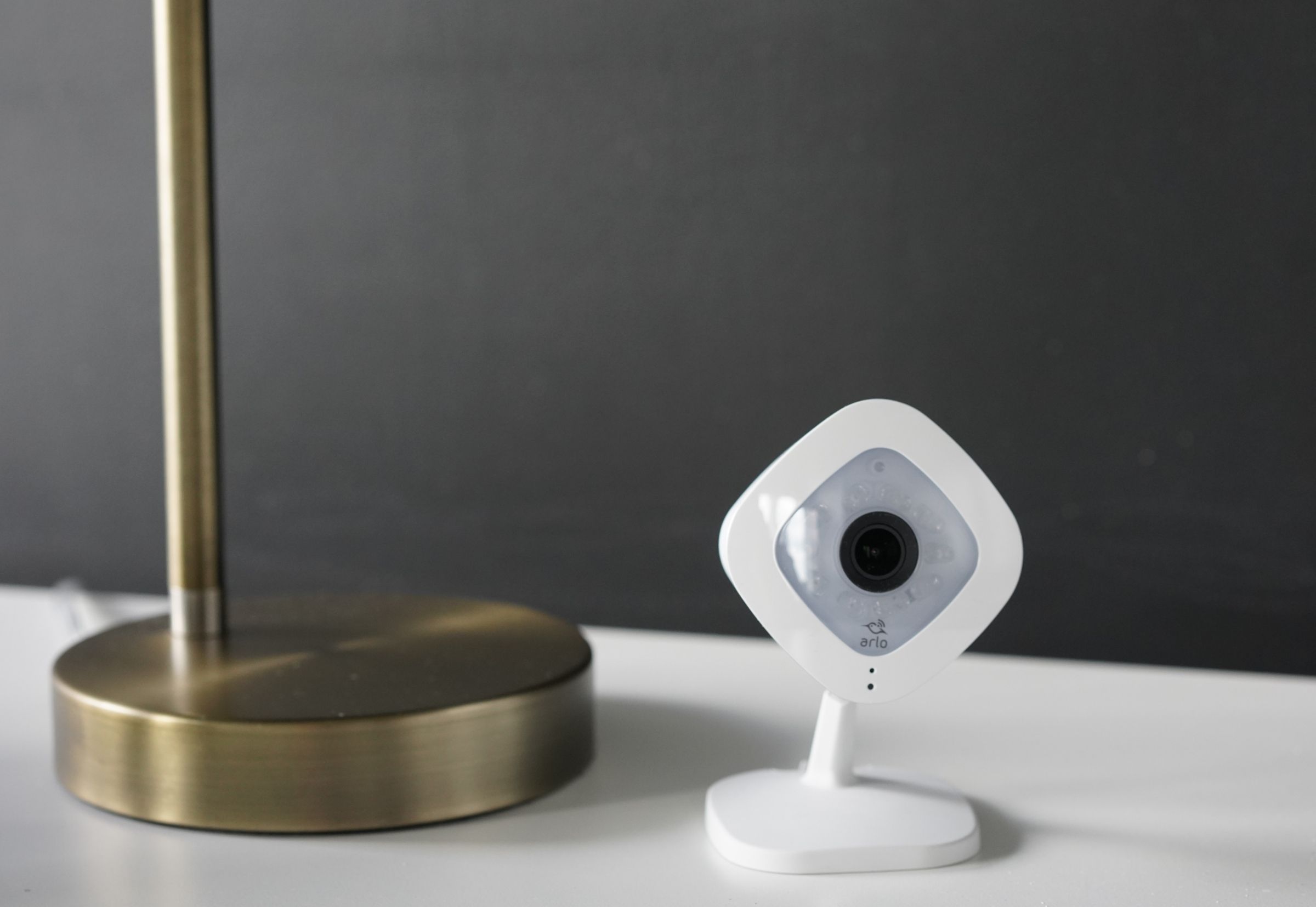 Arlo Q is one of the few Arlo home security devices that doesn't require the additional purchase of an Arlo Ultra BaseStation or Home Base. This camera provides whole-room coverage with a 130-degree field of vision and an 8X digital zoom.
Setup
Setting up the Arlo Q was simple. Our team unboxed the product, plugged it in, and connected it to the Arlo mobile app using an onscreen QR code. Arlo offered a free trial of their premium subscription, Arlo Smart, but unlike some of the devices we tested, a credit card was required to begin the trial.
Specs
The Arlo Q is a 1080p HD video camera with night vision capabilities and multiple notification options. The camera produces clear video and is compatible with smart home devices like Alexa and Google Assistant. The Arlo Q also comes with free seven-day cloud storage with no contract or fees.
Performance
Daytime snapshot: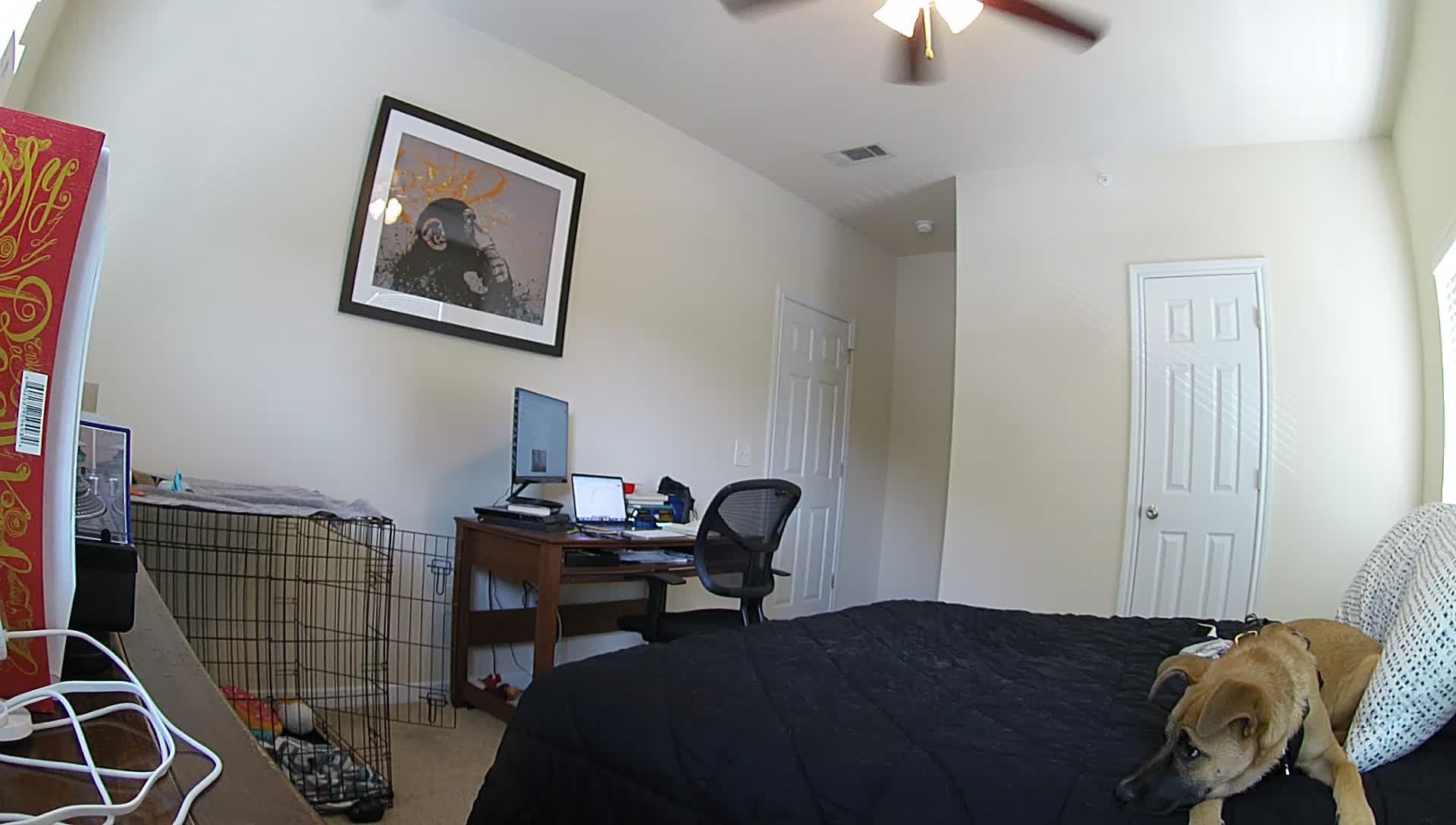 Nighttime snapshot: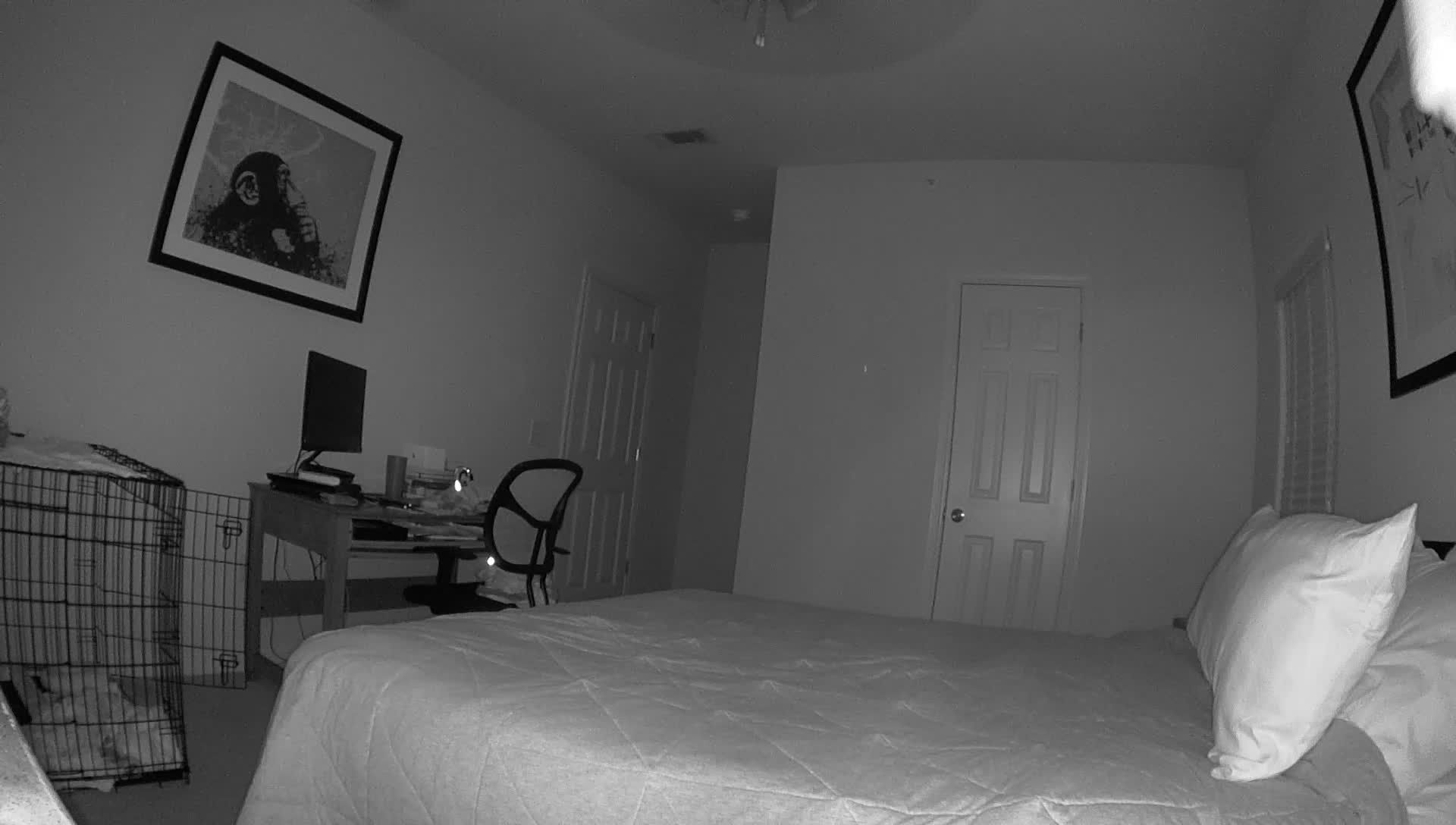 The Arlo Q performed well during our testing. The security camera is backed by an intuitive mobile app that allows users to communicate via two-way chat, adjust video quality, and view previously recorded video for up to seven days. Additionally, we were impressed with Arlo Q's ability to detect motion within our designated activity zones and the picture clarity produced during the night. Though the Arlo Q was effective at detecting motion, it took over 10 minutes for a push notification to reach our phone.
See how the Arlo Q performed:
| Stars (out of 5) | Arlo Q |
| --- | --- |
| Motion detection | 4 |
| Clarity of video and photo | 4.5 |
| Two-way audio | 3.5 |
| Night vision | 4.5 |
| Average score | 4.5 |
| Stars (out of 5) | Arlo Q |
---
Best Indoor Security Camera – Budget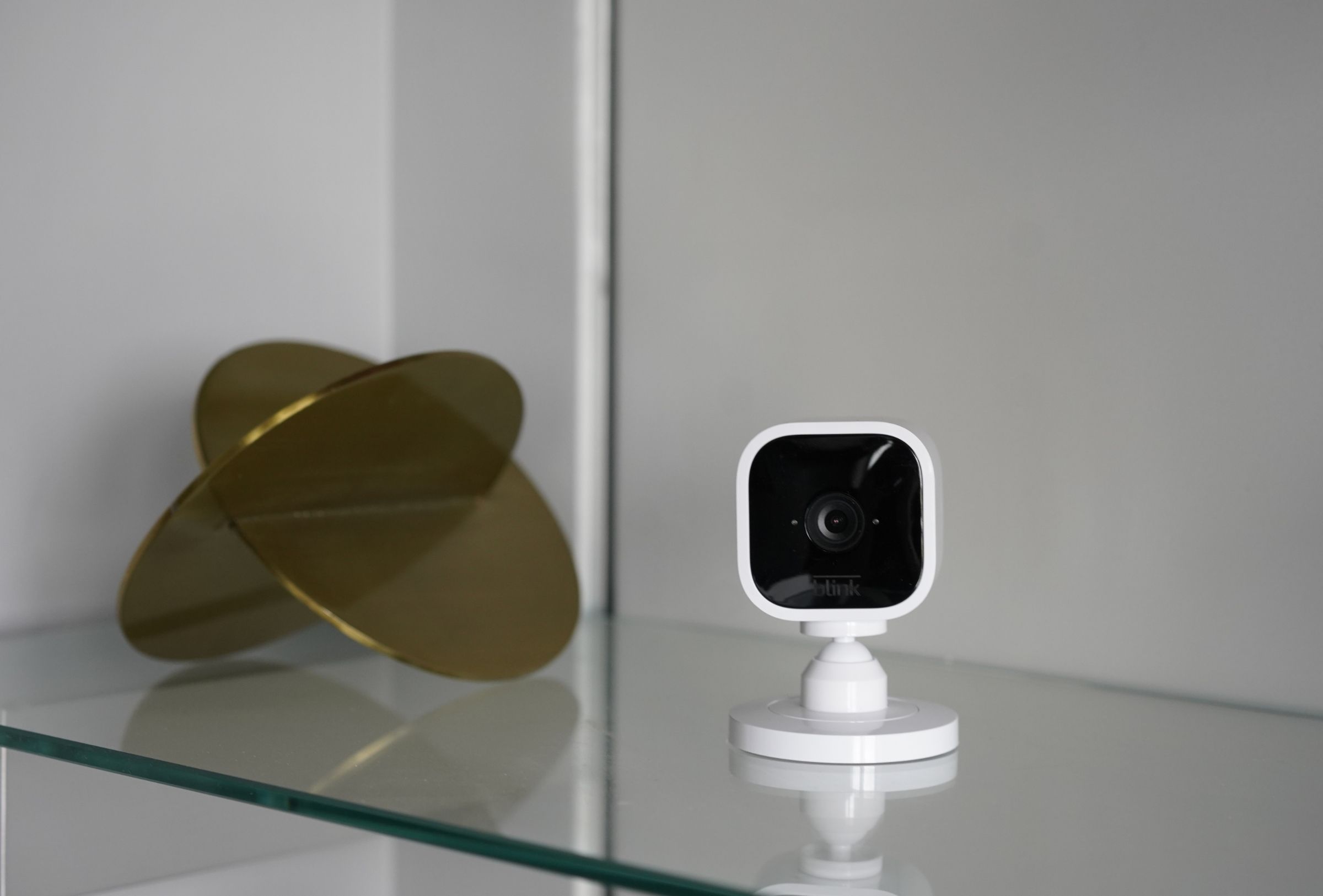 Blink offers a small but powerful camera in its Blink Mini. The camera is capable of blending in to any room and offers all the features expected from a quality security camera, including two-way chat and cloud storage.
Setup
Blink Mini setup lasted less than three minutes. Our team unboxed the product, plugged the camera in, created a Blink account, and added the device to the mobile app. Once the camera was initialized, we were all set to peek around the app and start using the device.
Specs
The Blink Mini comes equipped with two-way talk and the ability to pair with any Alexa-supported device. This becomes particularly handy if you own an Echo Show, which allows you to view footage on a 10.1-inch screen.
The Blink Mini only supports cloud storage at this time but has plans to incorporate local storage through an SD slot on its future models. While cloud storage is useful, Blink only offers this through its premium subscription, which currently comes free through December 31, 2020. Without a premium subscription, the camera only supports live video.
Performance
Daytime snapshot: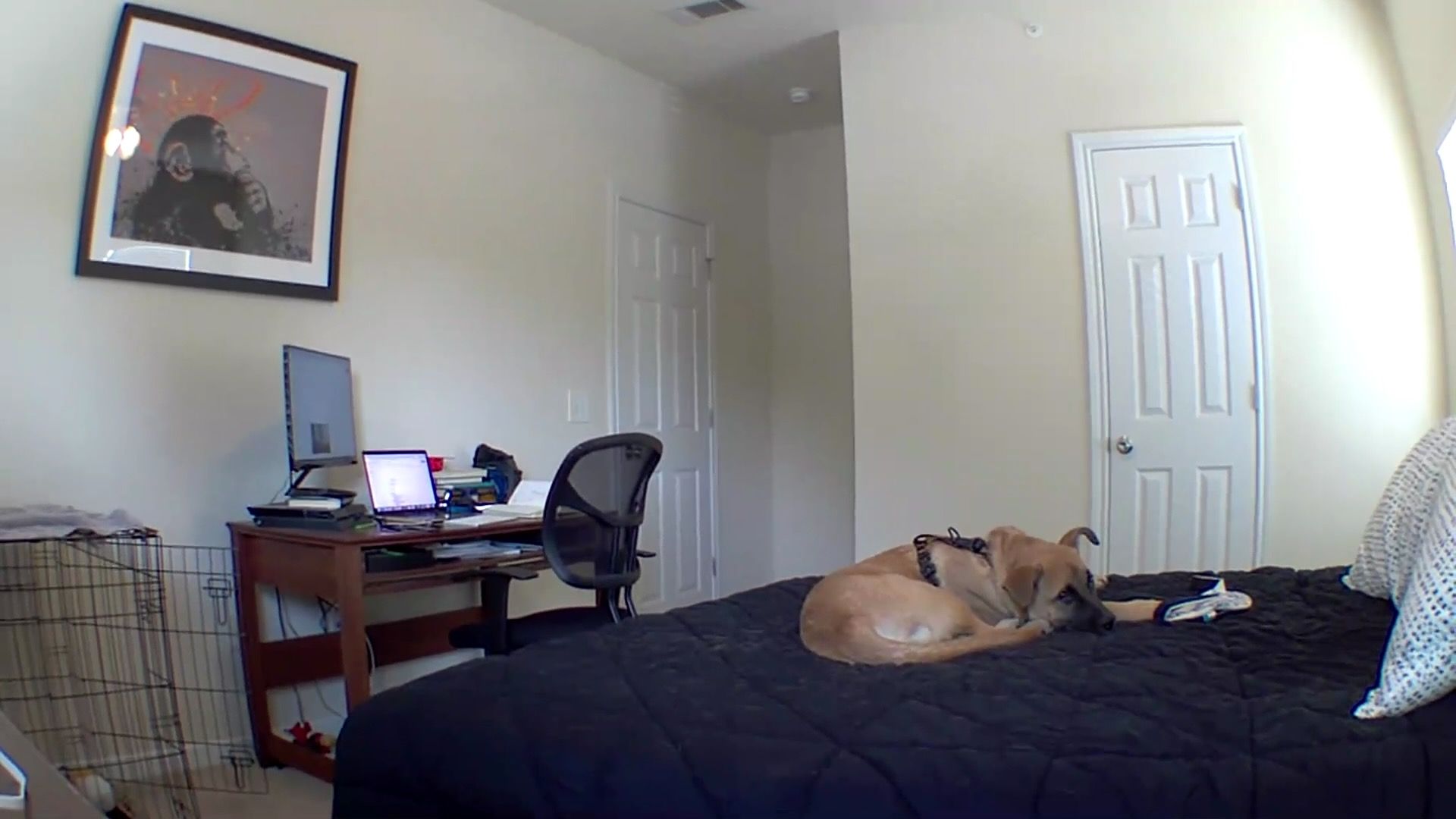 Nighttime snapshot: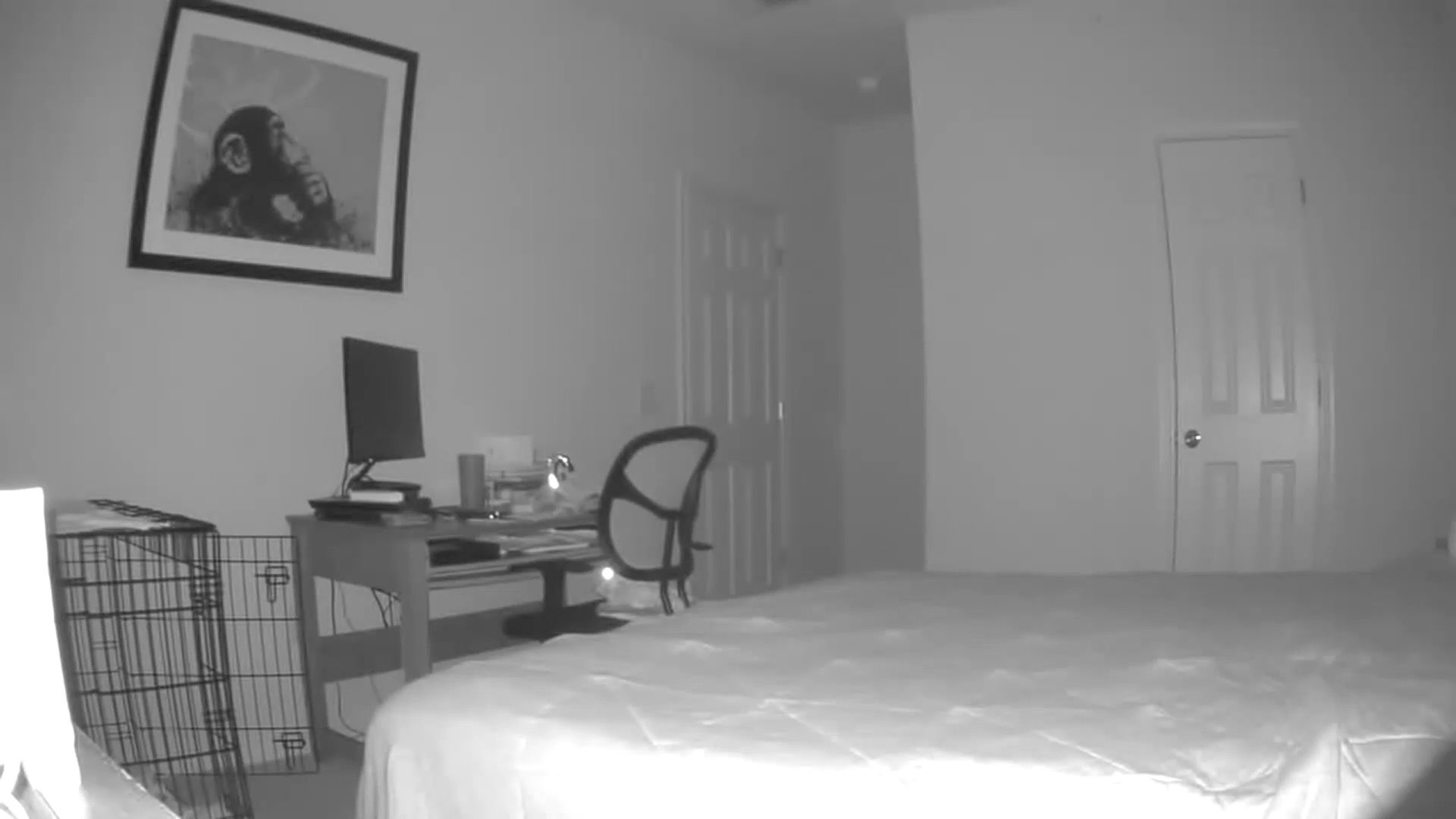 At an affordable price and small size, the Blink Mini surprised us with its 1080p video resolution and solid night vision capabilities. The camera produced a sharp image that matched the quality of similar models we tested. However, we didn't like the inability to take screengrabs within the app. Instead, Blink Mini only allows you to save videos, which required us to grab a video frame to produce the above photos.
Despite great video quality, the Blink Mini underperformed with its two-way chat function. While the camera was effective in picking up background noise, the sound produced when talking through the app was muffled and hard to understand.
Check out how the Blink Mini performed:
| Stars (out of 5) | Blink Mini |
| --- | --- |
| Motion detection | 4 |
| Clarity of video and photo | 4 |
| Two-way audio | 3.5 |
| Night vision | 4 |
| Average score | 4.3 |
| Stars (out of 5) | Blink Mini |
---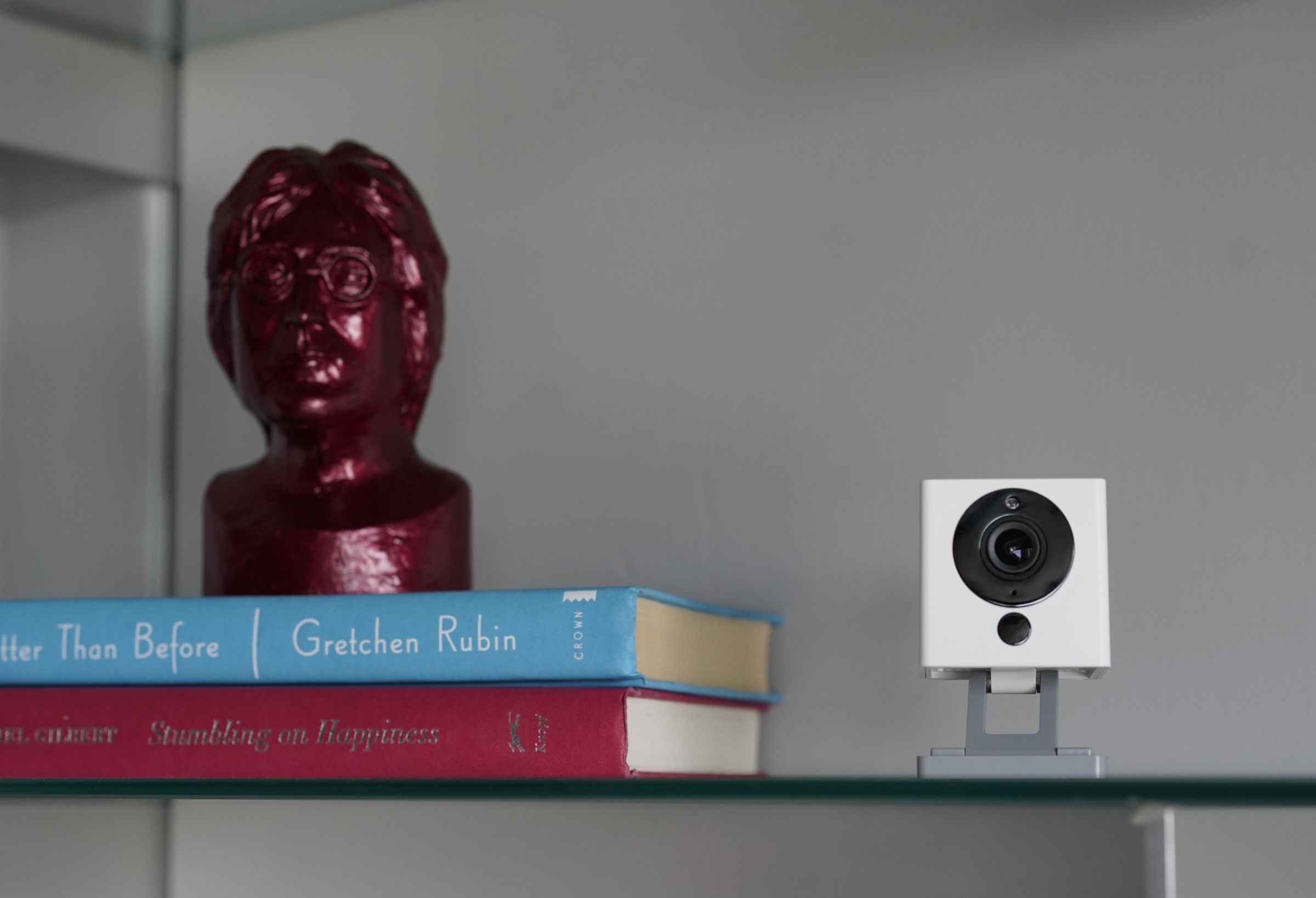 The Wyze Cam 1080p is a simple indoor camera that covers essentials like two-way chat and motion detection at an affordable price. The camera comes with a 14-day free trial of Wyze cloud storage but also allows local storage through an SD card. The Wyze camera comes with a wall plate and mounting tape for convenient placement in any room.
Setup
Setting up the Wyze Cam 1080p was simple and took less than five minutes. We took the device out of its box, plugged it into the wall, downloaded the free Wyze application, and brought the device online by scanning an in-app barcode.
Specs
Wyze is controlled directly from a mobile application, where users can view live footage, communicate using two-way talk, and take screengrabs of live video. With the included free trial of Cam Plus, users can also view recent motion-detected events that are recorded when the alarm is armed.
Users can also customize video recording through the app's scheduling feature, allowing them to schedule video surveillance during work hours or when they're asleep. Additionally, the camera's motion and sound sensitivities can be adjusted to fit its environment.
Performance
Daytime snapshot: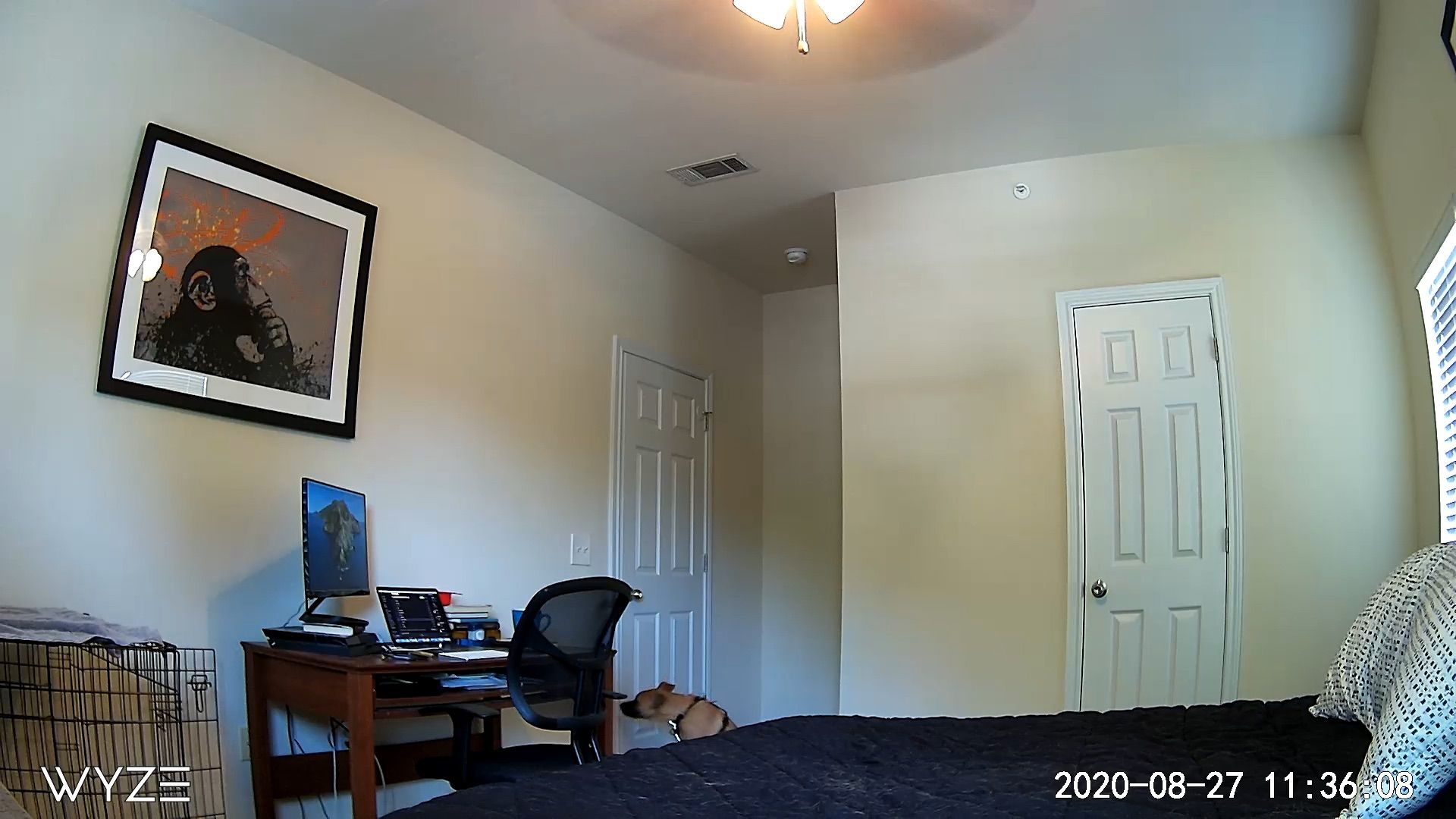 Nighttime snapshot: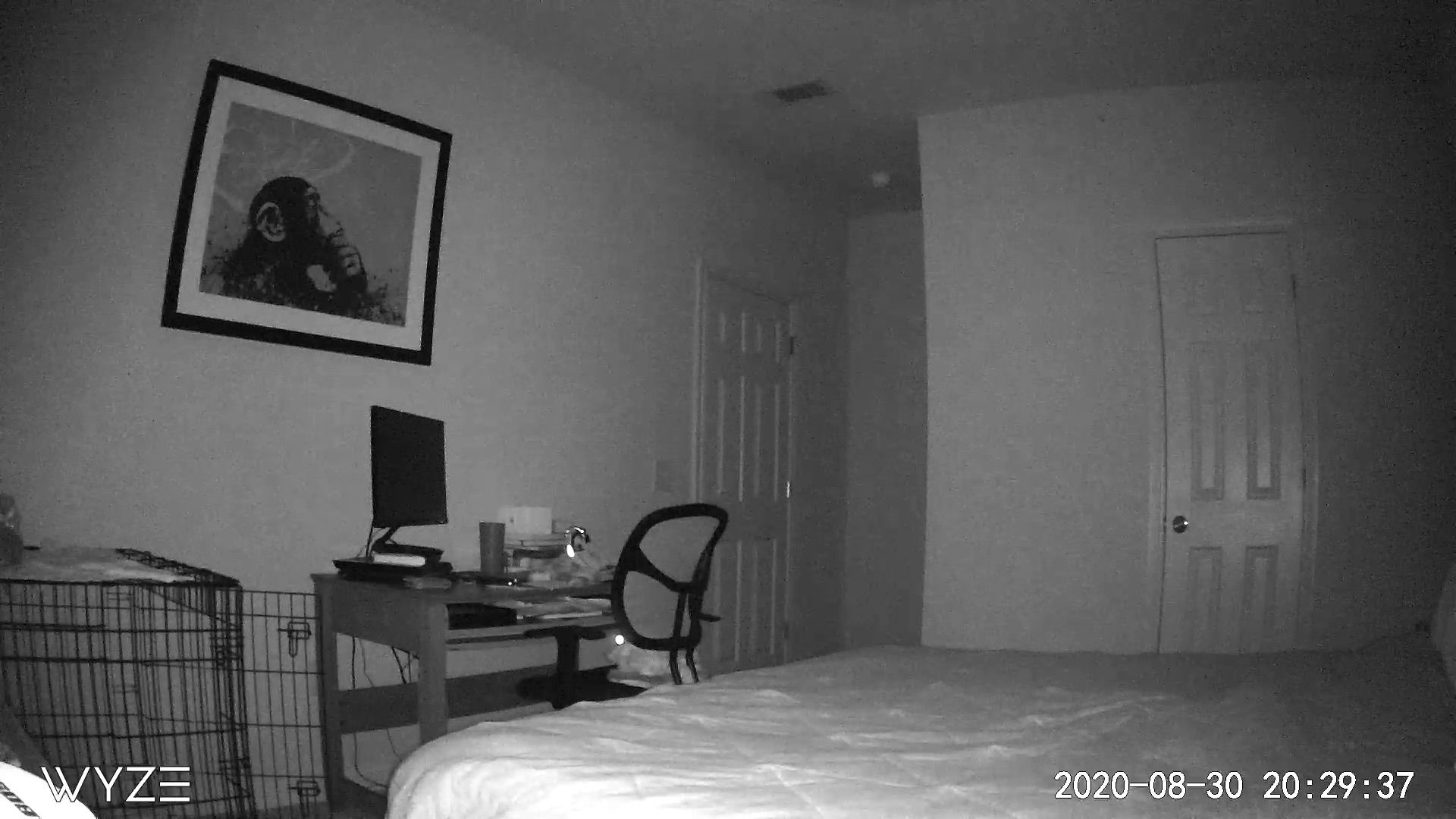 We were impressed with how quickly Wyze alerted us to motion within the room during testing. We received push notifications seconds after deliberately triggering the video camera. We were not as impressed with the audio delivered during two-way communication as both the camera and phone produced muffled audio. Additionally, the night vision underperformed compared to similarly-priced products.
Take a look at our complete rating of Wyze below:
| Stars (out of 5) | Wyze Cam |
| --- | --- |
| Motion detection | 4.5 |
| Clarity of video and photo | 4 |
| Two-way audio | 3.5 |
| Night vision | 3.5 |
| Average score | 3.9 |
| Stars (out of 5) | Wyze Cam |
---
The YI Dome Camera is an affordable security device with useful features like motion tracking, baby crying detection, and night vision. Its wide-angle lens captures a clear picture with little distortion and can be remotely moved in all directions using the mobile application.
Setup
Like all the indoor security cameras we tested, the YI Dome Camera required our team to set up an account. Once we inputted our information, we scanned a QR code within the mobile app and were ready to start testing it out.
Specs
Within the application, YI allows users to shoot panoramas, capture video and photo, change video quality, and zoom in to the recorded video all from the "live look" menu. The security camera is equipped with useful features like auto-cruise, which moves the camera based on pre-set patrol paths, and motion tracking, which allows the lens to lock on and follow movement within the frame.
Unlike many of the cameras, the YI security camera didn't come with a free trial of its cloud storage function. Instead, users must sign up for a monthly or annual plan, with the annual option including one month for free.
Performance
Daytime snapshot: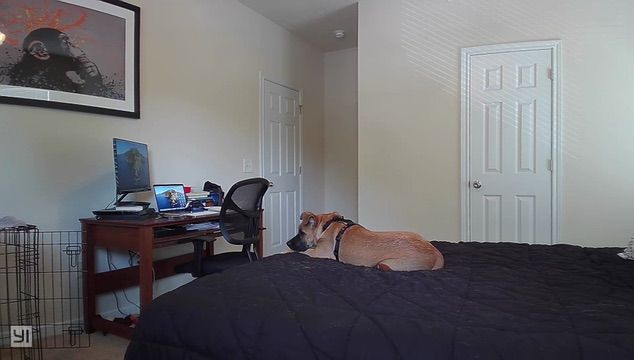 Nighttime snapshot: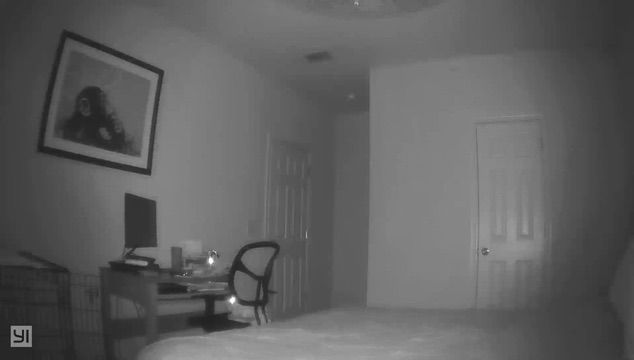 We were impressed with the YI Dome Camera's clear two-way audio and instant motion detection push notifications. One feature we found particularly useful during testing was the camera's alert center, which captured six-second videos after the motion was detected.
While moving the camera around in live view, the app experienced a lag that made camera adjustments difficult. We were disappointed in the motion-tracking feature, which was only effective at close range. Additionally, while the camera produced a crisp picture during the day, the product delivered a blurry and dark picture when switching to night vision.
Take a look at our complete rating of the YI Dome Camera:
| Stars (out of 5) | YI Dome Camera |
| --- | --- |
| Motion detection | 4 |
| Clarity of video and photo | 4 |
| Two-way audio | 4 |
| Night vision | 2.5 |
| Average score | 4 |
| Stars (out of 5) | YI Dome Camera |
---
Compare Top-Rated Indoor Security Cameras
| Compare | Wyze Cam 1080p | YI Dome Camera | Arlo Q | Blink Home Security Mini |
| --- | --- | --- | --- | --- |
| Resolution | 1080p | 1080p | 1080p | 1080p |
| Field of view | 110 degrees | 112 degrees | 130 degrees | 110 degrees |
| Notifications | Push | Push | Push, email | Push |
| Storage | Cloud, micro SD | Cloud, micro SD | Cloud | Cloud |
| Free trial of premium subscription | ✓ | | ✓ | ✓ |
| Cost of premium service | $1.99 per month | $5.00 per month | $2.99 per month | Basic Plan: $3 per month Plus Plan: $10 per month |
| Compare | Wyze Cam 1080p | YI Dome Camera | Arlo Q | Blink Home Security Mini |
---
Indoor Security Camera Factors
When looking into an indoor security camera, there are a few factors you should consider before purchasing. Understanding these factors will help you decide the features you need to have in a camera and narrow down your selection to cameras that meet that criteria. Here are six factors to consider when shopping for indoor security cameras:
Video Quality
Video resolution is critical to the effectiveness of a camera. Without proper video quality, it can be difficult to identify faces and other objects inside the room. Most video cameras provide high-definition video, or 1080p. Some advanced models even offer an upgraded 2K resolution, which produces a clear picture in real-time. While 2K cameras offer superior video quality, this can come at a more expensive price.
Field of view
The field of view is how wide of a picture the security camera can record. The field of view is particularly important if you want to use one camera to monitor an entire room, as a wide field of vision allows you to capture the majority of the movement inside an area. Most cameras have a field of view between 100 and 180 degrees.
Night Vision
While night vision is a feature that's primarily discussed when mentioning outdoor cameras, night vision capabilities are important for indoor cameras as well. This prevents your camera from relying on natural or artificial light to capture footage.
Two-way talk
Two-way talk lets users hear what's going on in a room and talk directly through the device. Two-way talk is particularly important if you're going to use the camera as a baby monitor or to keep a watchful eye on kids or pets.
Alerts
An indoor security camera is only effective if it alerts you to motion or sound in the monitored area. Most security cameras send alerts through push notifications, though some devices incorporate SMS and email notifications.
Storage
Most security cameras store footage in the cloud for a set period, with some models allowing users to permanently store footage for a monthly cost. Other cameras have an SD card input for physical storage.
---
Premium Subscriptions
Most indoor security cameras offer you the option to subscribe to a premium service to receive additional benefits like upgraded cloud storage or access to emergency response. Take a look at the premium services provided by our reviewed cameras:
Arlo Smart
Arlo Smart is offered for the Arlo Q and provides benefits like 30-day cloud storage and advanced object detection. Additionally, the service includes access to package detection and the ability to set activity zones for specific motion tracking.
Wyze Cam Plus
This subscription service allows owners of the Wyze Cam to record full-length videos with no restrictions. Additionally, the service lets pet owners receive people-only motion notifications.
YI Cloud Service
YI offers Dome Camera customers access to seven days of recorded videos, zero motion alert cooldowns, and entire motion recording.
Blink
Blink gives its customers two choices for premium services: a Basic Plan and a Plus Plan. The Basic Plan adds 60 days of rolling video storage and the ability to share the video. The Plus Plan includes everything from the Basic Plan, plus 10% off Blink devices on Amazon and the ability to support unlimited devices.
---
Frequently Asked Questions About Indoor Security Cameras
Do security cameras record all the time?
Some indoor security cameras we tested didn't support continuous recording. This is due to the capacity that's required to store large amounts of video. Instead, these cameras started recording when they detected motion, typically for a set period. These short clips were then stored for later viewing.
The Arlo Q and YI Dome Camera are the two devices that currently support continuous recording, though a premium subscription is required.
How can my security footage be stored?
All cameras we tested support cloud storage, which places your recorded videos inside the device's supported application for future viewing. However, some devices like the YI Dome Camera and Wyze Cam support local SD storage.
Will my pet trigger the motion detector?
Animals can trigger the motion detector while you're out. However, some cameras have activity zones. These allow you to set where the camera looks for motion. That way, the camera's motion detector won't pick up a pet's movement while in the kennel or walking along the ground.
---
How We Selected the Best Indoor Security Cameras
To provide our readers with the best recommendations possible, we rely on several key sources of information to help guide our selection process.
Initial Research: Our research process began by generating a list of indoor cameras with a significant number of verified buyer reviews and an average customer review rating of 4–5 stars. We looked at positive and negative reviews alike, focusing on information from both satisfied and critical buyers. 
Expert Insights: Through our years of experience, we've learned that listening to what others have to say is key to building accurate, well-rounded articles. To complement our in-house expertise, our team looked at reviews and videos from trusted publications and independent testers, spoke with subject matter experts, and drew insights from reader contributions.

Final Product Selection: We then began fine-tuning our list by replacing older models with the latest versions and eliminating any discontinued models. From there, we pared the list down further by comparing each model's feature set and selecting the best-in-class options for various buyers, budgets, and scenarios.
---
Our Testing Process
Our reviews team rigorously tested each [product] in our final lineup to recommend products that provide our readers with the best overall user experience in a fair, balanced, and transparent way. 
During testing, we evaluated each item for the following:
Initial setup/installation
Clarity of instructions from the manufacturer
User-friendliness
Overall performance
Bonus features and components
Areas for improvement and potential deal-breakers
---
Why You Can Trust Us
This Old House has empowered homeowners and DIY-ers for more than four decades with top-notch home improvement advice in the form of television programs, print media, and digital content.
The This Old House Reviews Team focuses on creating in-depth product and service review content. To date, we've published over 1,600 reviews on products in the home space, from doorbell cameras and dining room decor to circular saws and snow blowers.
Once we conclude our research and testing phases, we craft a comprehensive, user-friendly article of recommended products and additional information to help our readers make the right purchase.
Questions or Comments?
To share feedback or ask a question about this article, send a note to our Reviews Team at reviews@thisoldhousereviews.com.