What is a Ring Home Security Kit?
The Ring Home Security Kit provides you with an alarm system that can be tailored to your home's security needs. The system comes in 5-, 8-, or 14-piece kits that are compatible with a variety of Ring products and easy to install without the help of a professional.
Alongside the prepackaged kits, Ring allows users to customize their security system and purchase additional add-ons such as a Smoke & CO Listener or Spotlight Cam.
While this article originally reviewed the Ring Security system's first-gen models, Ring has since released its second-gen models in 5-, 8-, and 14-piece sets as well as updated add-ons such as a base station, keypad, range extender, motion detector, and contact sensor.
Our Findings
Summary
Ring offers homeowners a user-friendly and effective alarm system at an affordable price. Their application allows you to monitor your home wherever you are and even provides regular updates on criminal activity within your neighborhood. In addition, if you choose not to self-monitor, Ring offers professional monitoring services from $3 to $10 per month, depending on your plan.
Ring's DIY alarm system is a scalable security solution, as additional devices can be purchased as needed. It's compatible with a range of Ring products, such as Ring's video doorbell cameras, so that you can incorporate pre-owned devices into your new system. Plus, they allow third-party accessories so that you can complete your smart home security system without compatibility issues.
Pros
Affordable compared to other DIY security systems
Integrated app simplifies the use and monitoring of your system
Compatible with Amazon Alexa and Google Assistant
Allows third-party integration
Easy to install
No long-term contracts
Cons
Limited number of devices in starter kit
Keypad isn't wireless
Motion detectors occasionally malfunction
Ring Security System Unboxing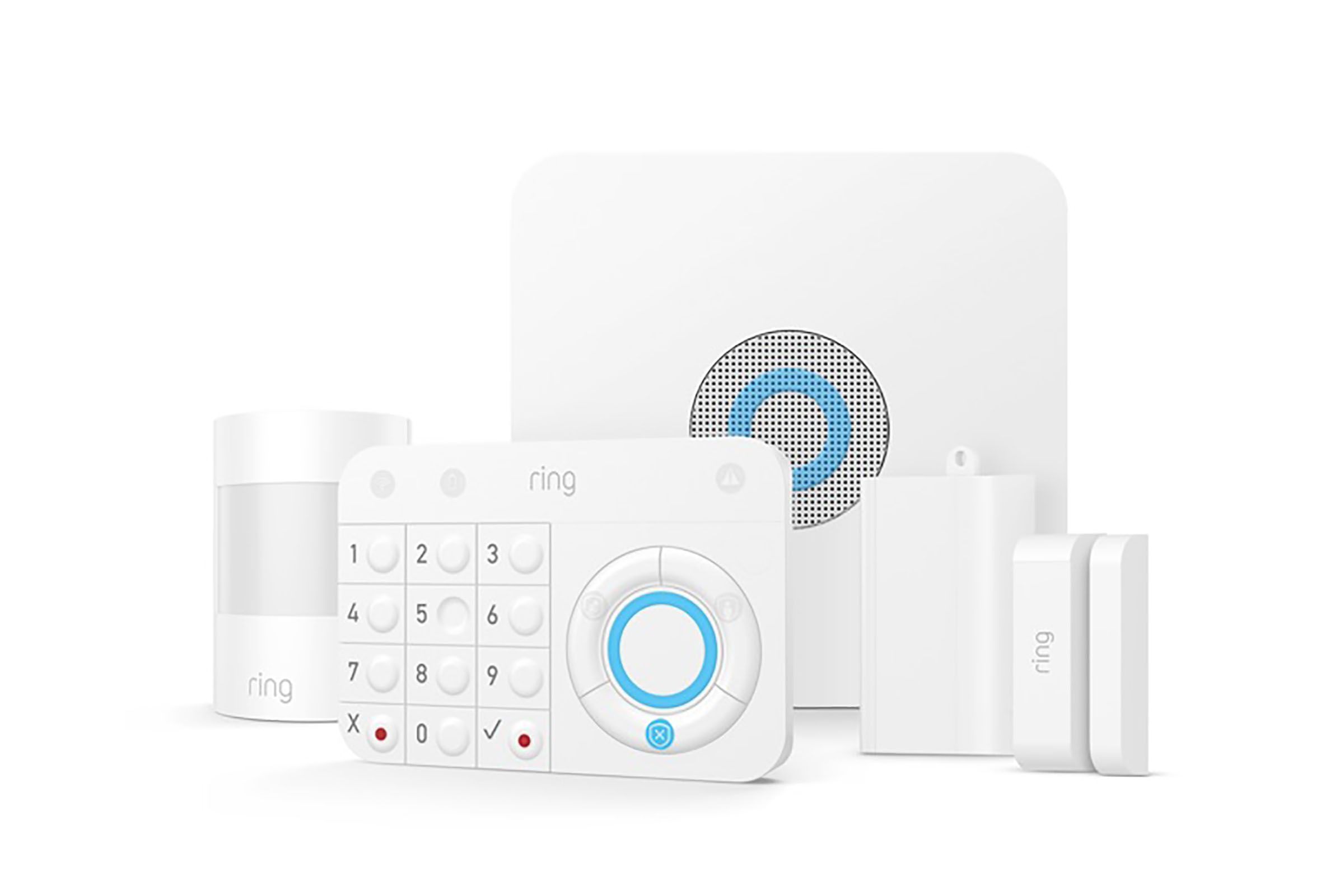 Features
Internal, rechargeable Lithium Ion battery that lasts up to 24 hours on one charge
1-year limited warranty
6.65 inches x 6.65 inches x 1.46 inches
Function
The Base Station acts as the command center for your entire security system. It connects all security devices to the Ring app so that you can control your system remotely. The central hub also functions as the security system's speaker, sounding the alarm or notifying you when a door is opened.
Design
The Ring Alarm Base Station is small, only about 6 inches in length and width. With its compact size, the Base Station can be placed in your home without drawing too much attention. An LED light ring is situated at the top of the station, lighting red for armed and blue for disarmed. The smart base needs a wireless connection to operate and supports Wi-Fi, ethernet, Zigbee, Bluetooth, and cellular backup (only included with a Ring Protect Plus Plan).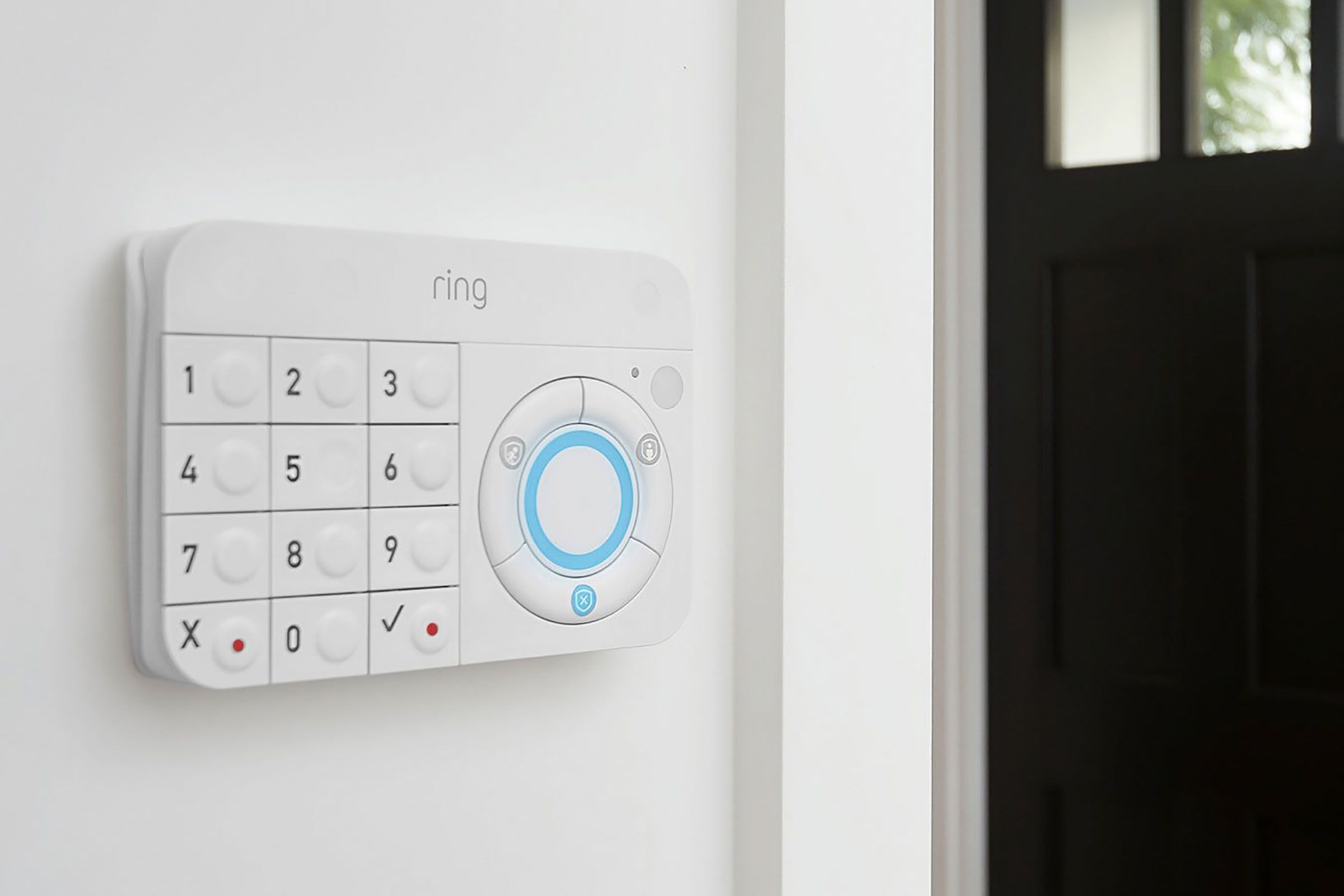 Features
4.13 inches x 4.41 inches x 0.75 inches
Disarmed, Away, and Home Alarm Modes
1-year limited warranty
Function
The keypad gives you hands-on control of your alarm system outside the Ring app. Similar to the Base Station, the keypad contains a rechargeable Lithium Ion battery and connects to a power outlet through the included USB and cable.
Design
The keypad is designed to mount on a wall or lay flat on any surface. Its numeric buttons are large and visible, so you can arm and disarm the system with your unique access code. To the right of the numbers, the pad displays a ring with three buttons that correspond to three alarm modes: Away, Stay, and Disarm. Additionally, the keypad contains X and ✓ buttons that can be pressed and held together to trigger a panic button for emergencies within the home.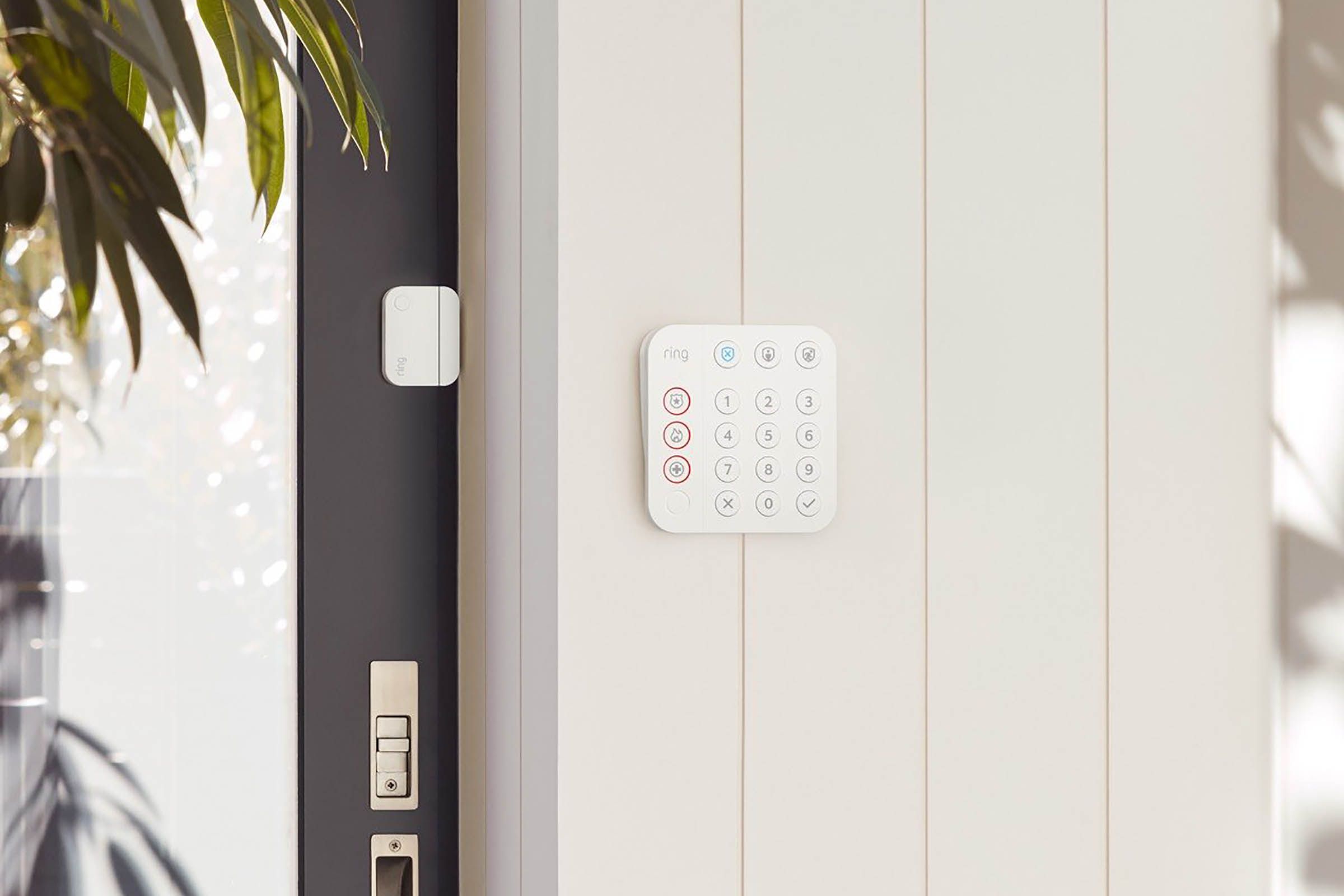 Features
1.56 inches x 2.09 inches x 0.55 inches
Uses two CR2032 batteries that are included and designed to last up to 3 years
1-year limited warranty
Function
The entry sensors alert you and your system to a window or door opening. The sensors link to your system using Z-Wave connectivity, giving you about 250 feet of range from the Base Station.
Design
The contact sensors are a bit bulky at over half an inch. They mount to windows and doors using the included tape or screws and must remain within 0.5 inches of each other to function correctly.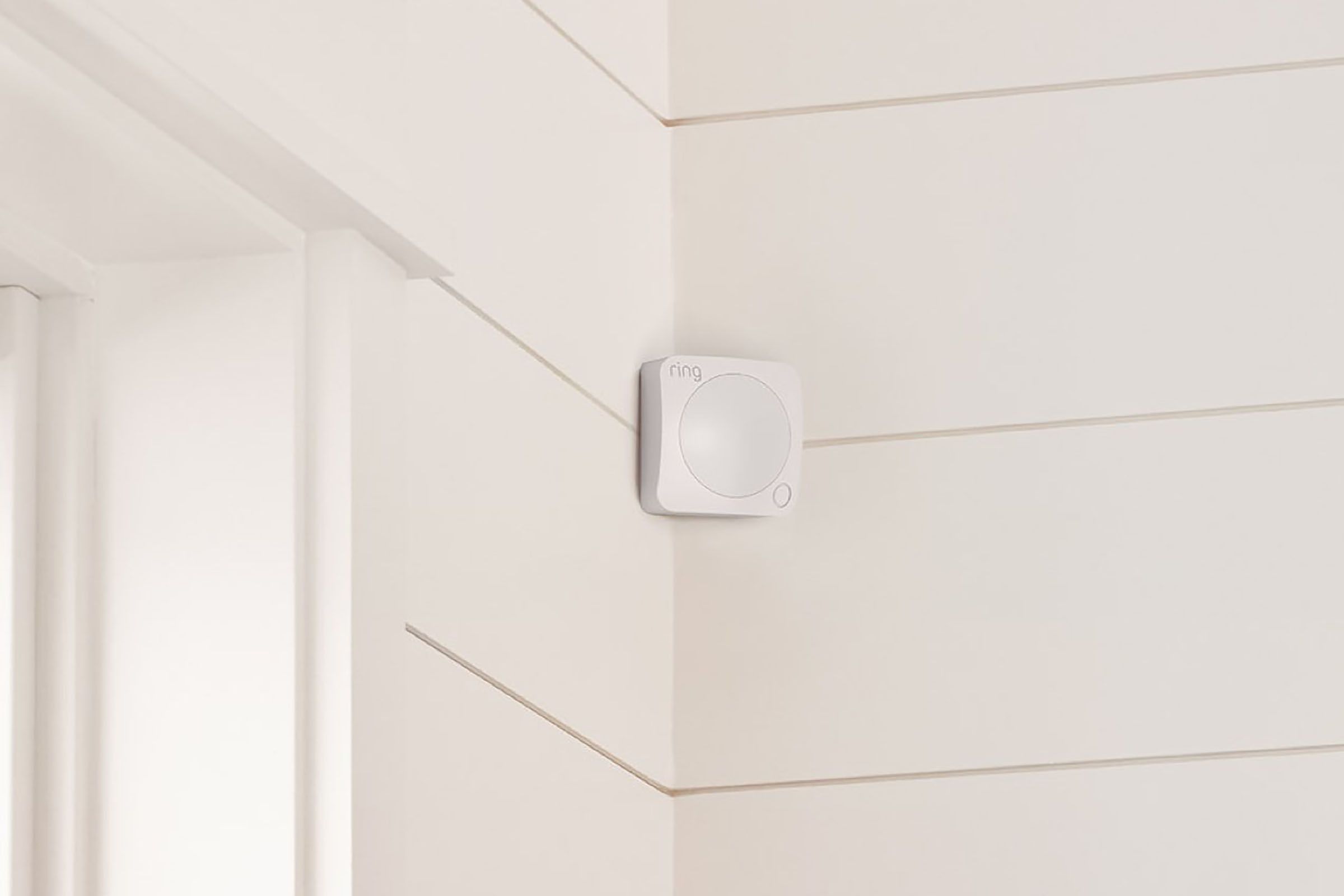 Features
2.60 inches x 2.60 inches x 1.53 inches
2 AA batteries are included
1-year limited warranty
Function
The motion sensor alerts you to movement within its range of view. Similar to the contact sensors, they utilize Z-Wave connectivity to allow for use up to 250 feet from the Base Station.
Design
The Ring Motion Detectors are recommended to be installed 7 feet above the floor and are capable of mounting flush on a wall or in a corner. They can be mounted using the included screws or tape.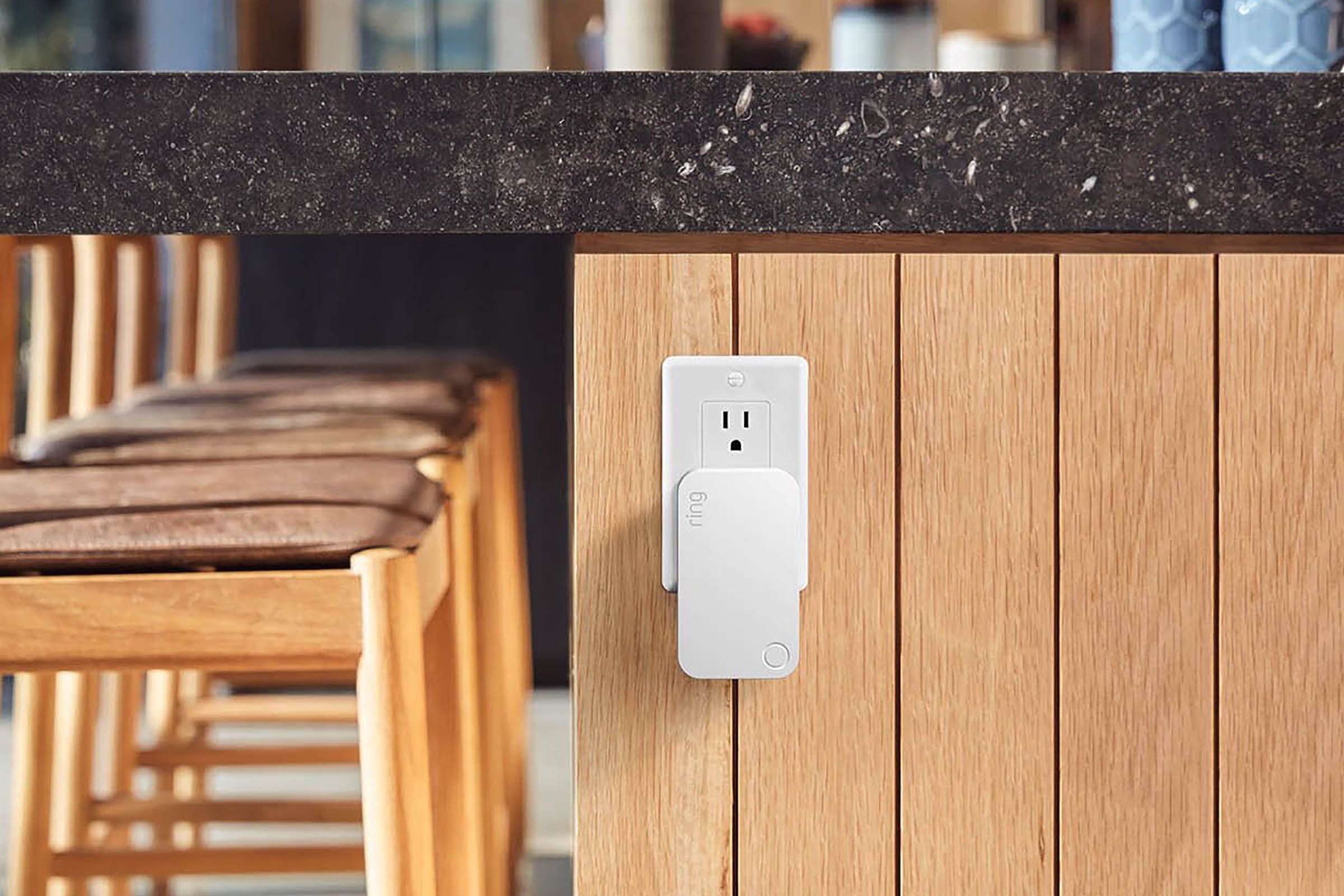 Features
3.19 inches x 1.86 inches x 1.66 inches
1-year limited warranty
Powered by AC Adapter
Rechargeable, 24-hour battery-powered backup
Function
The range extender widens the reach of the Z-Wave wireless network, connecting out-of-reach Ring devices to the Base Station. By extending the wireless connection an additional 250 feet, the extender prevents the need for purchasing an additional Base Station for connecting distant security devices.
Design
The small extender plugs into any standard outlet, but Ring recommends placing it between your Base Station and the most distant device.
---
Ring Security System Set-up
The Ring Alarm Security Kit is a straightforward set-up. Ring provides a concise manual that gives direct instructions on how to get your system up and running without needing professional installation.
The first step we took during installation was to install the Ring app, which is available for iOS and Android devices. We were then prompted to create an account and input our location, though you can skip this step if you already have a Ring account. Once our user account was created, the set-up process began by selecting to install the Ring alarm, tapping security devices, and choosing Base Station. From there, most of the installation was done through the mobile app, with the installation guide providing additional information as needed.
Note: Tests below were done on Ring's first-gen products.
Alarm Base Station (5 minutes)
Ring suggests the Base Station be placed in a central location where alerts and sirens can be heard. Since the Reviews Team was testing the system in an entryway and living room, we placed it on a side table about 10 feet from the front door.
After plugging the station in, we turned on its pairing function, located at the back of the device. The Base Station's ring turned blue and began to spin. We then selected our Wi-Fi router to establish the system's internet connection. We chose to connect to Wi-Fi, but an ethernet connection is also supported. Once connected, the Base Station's ring turned green, and it needed a quick update before coming back online.
Before installing the remaining devices, the Ring app displayed its terms and conditions, requiring us to agree before moving on. From there, we were prompted to sign up for professional monitoring. This is an optional service, as Ring supports self-monitoring at no charge.
Contact Sensor (5 minutes)
To connect the contact sensor, we used the app to scan the device's QR code, registering the device with our system. You can also connect a device by removing its battery tape or plugging it in. Once the device was connected, we identified it as a sensor for the front door, assigned it to the living room, and named it. The app suggests device names for you but also allows custom naming.
Using the included installation kit, our team attached the sensor and its magnet to the front door, making sure they remained the recommended 0.5 inches apart. Though we chose adhesive tape for installation, the kit contains screws that can be used to secure the brackets. However, the kit doesn't come with a screwdriver, so that must be provided.
Installation was quick and straightforward, and the adhesive tape gripped the door frame firmly. Though the app was sufficient in directing our installation of the contact sensor, it does provide additional instructional videos if needed.
Motion Detector (5 minutes)
The installation of the motion detector was very similar to that of the contact sensor. We connected the device by removing its battery tape, assigned its location and name, and installed it on our wall using adhesive tape.
Ring suggests installing the motion detector 7 feet above the floor, flush on the wall, or in a corner. Our team chose to install it in a corner, and we were very surprised by how secure the device was, even with just a small amount of adhesive contact on both edges. Like most of the devices, the motion detector can still be secured via the screws and brackets provided by Ring.
Keypad (5 minutes)
The Ring Keypad uses a USB-to-wall adapter for its power, so we simply plugged in the device to connect it to the system. As with the other devices, we identified the keypad's location and gave it a name for easy identification.
Though the motion detector and contact sensor allowed mounting via adhesive tape, the keypad can only be mounted to the wall using screws or placed flat on any surface. We placed the device on the corner of the kitchen counter, footsteps away from the front door. The keypad takes up counter space and could look out of place, so mounting the device may be more functional and aesthetically pleasing.
After installation, we created a unique access code for arming and disarming the system and were ready to start testing it.
Range Extender (1 minute)
The Range Extender wasn't necessary for our system's setup; however, we went through the installation process to see how it worked. Its setup was simple—we plugged it into an outlet and were done.
Though we didn't need the extender, if you are installing devices that are outside of the 250 feet of range the Base Station provides, it's needed.
Installation Takeaways
In total, installation only took around 25 minutes. Although setup can be quick, we suggest thoroughly reading the rest of the installation guide to learn more about how your Ring alarm functions. The guide provides key information, such as how to arm and disarm your system, the differences in alarm modes, and entry and exit delays.
---
Ring Security Performance
Our team tested the Ring Home Security Kit over three days. We went through all aspects of the alarm system, testing each alarm setting and the capabilities of both the Ring application and Keypad. We even conducted some test "break-ins" over the three days.
We were able to set and disarm the alarm using both the app and the keypad. When set, the keypad and Base Station both displayed red on their LED rings and transitioned to blue when disarmed. During the test break-ins, the alarm was triggered and set to go off after a 60-second delay.
The Base Station delivered a sound notification every time the front door opened, and we were able to adjust its volume through the Ring application. We also tested the Ring Alarm Siren, whose volume is not adjustable. However, the siren was loud enough to be heard throughout the first and second floors of the home.
---
Ring Security System Specs
The Ring App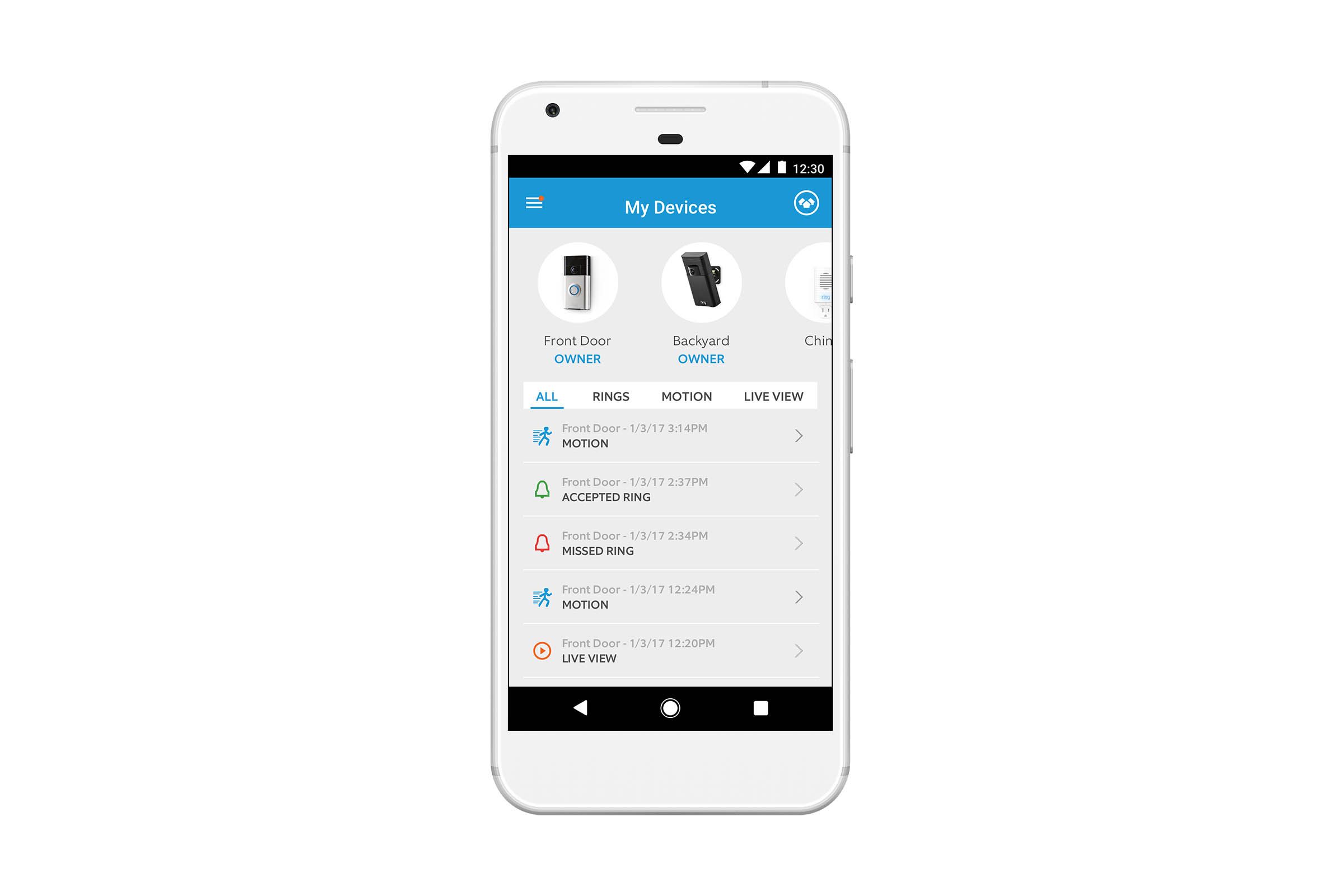 The Ring application, which is available through the IOS and Android marketplace, is a one-stop shop for maintaining your entire security system. From the touch of your phone, you can arm or disarm your system, set up new system-compatible devices, and receive neighborhood crime updates and reports. In addition, all devices can be updated and managed through the app so that you can modify specifications like volume and brightness. And with the new features tab, you can stay up-to-date on what's new with your system.
Customer Service
The app offers customer service through its help function. From there, users can contact support, request spare parts, and even propose questions to the Ring community. Help can also be received outside the app, with Ring providing online support through their website.
Subscription Options
Ring is convenient because you can use the system without subscribing to a monitoring service. If you choose to use the system as a way of notifying yourself of intruders so that you can call the proper authorities, you can. However, if you are worried about missing alerts or having the time to self-monitor, Ring offers protection plans that do the job for you.
With subscription service options like Ring Alarm Pro and Ring Alarm Plus, you get access to features such as video history, extended warranties, temporary cloud storage, and 24/7 monitoring to help dispatch the appropriate authorities.
Ring Alarm Professional Monitoring Plans
| Feature | Ring Alarm Basic | Ring Alarm Plus | Ring Alarm Pro |
| --- | --- | --- | --- |
| Price | $3.99 a month | $10 a month | $20 a month |
| Video History for up to 180 days | X | X | X |
| Video Saving and Sharing | X | X | X |
| Snapshot Capture | X | X | X |
| Person Alerts | X | X | X |
| Notifications | X | X | X |
| Camera Home and Away Modes | X | X | X |
| Digital arming and disarming | X | X | X |
| Security automations with alarm | X | X | X |
| Alarm Notifications | X | X | X |
| Alarm Event History | X | X | X |
| 10% off at Ring.com and Amazon.com | X | X | X |
| Download up to 50 Videos At Once | | X | X |
| Extended Warranties for All Devices | | X | X |
| 24/7 Alarm Professional Monitoring | | | X |
| Alarm Cellular Backup | | | X |
| 24/7 Backup Internet with Optional Extra Data | | | X |
| Digital Security with eero Secure | | | X |
| Ring Edge with Local Video Storage | | | X |
| Home insurance savings | | | X |
| Feature | Ring Alarm Basic | Ring Alarm Plus | Ring Alarm Pro |
Ring Security System Add-ons
To complete your home security system, Ring offers a variety of additional products to help your home feel safe and secure, like a Ring security camera or floodlight cam.
The company also offers a list of products from various manufacturers that are compatible with the Ring product line to help simplify your smart home integration.
Ring offers additional gadgets and smart home devices like:
Pricing as of May 2023
---
When Using Your Ring Security System
As we were reading through the provided handbook, we came across some best practices that Ring suggests when using its security system.
Practice
Make sure that everyone in your home is comfortable with arming and disarming your system. This includes ensuring that everyone has downloaded and knows how to use the Ring app and confirming that all users know the unique passcode. This will help your family adjust to the new system as well as reduce the chance of a false alarm.
Causes of False Alarms
When false alarms do occur, they are usually caused by:
Using entry and exit delays that are too short
Not answering calls from the monitoring center
Forgetting your verbal passcode
Arming in Away Mode instead of Home Mode while in the house
Preventing False Alarms
To help prevent a false alarm from occurring in your home:
Choose an easy-to-remember verbal password
Ensure everyone is comfortable using the system
Customize your entry and exit delays to provide enough time for you to enter and exit your home
Test your motion detectors to make sure they are not pointed at a heat source or windows, which can trigger the alarm
---
Bottom Line
This alarm system is best suited for homeowners looking for a DIY home security system that covers a small area. The Ring Alarm System is an effective security system; however, the 5-piece kit only comes with one motion detector and contact sensor. That's only enough to cover one room and a door or window. However, upgrading to the eight- or 14-piece kit could give you more flexibility.
Although the system can expand to fit any home, the cost increases with area as additional contact sensors, motion detectors, and base stations need to be individually purchased to cover the entire home.
If you are looking to secure a small area of your home, or don't mind purchasing additional devices as needed, this system is a top pick.