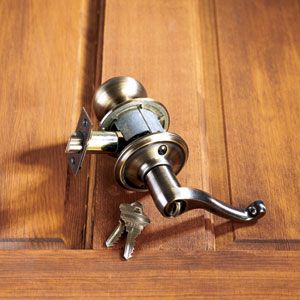 Modern lock technology has been around for a while: since 1861, in fact, when Linus Yale Jr. patented the now-familiar flat key with a serrated edge that is cut to conform to a set of pins in a cylinder. But like everything else around the home, that basic lock has given rise to a dizzying array of choices. Today's manufacturers use powder coating and physical vapor deposition, or PVD, to create dozens of permanent finishes, from satin and antique nickel to hand-rubbed bronze. Traditional brass has been joined by zinc and space-age metals like titanium to make components that are light yet strong. Maximum-security features and high-tech electronics once seen only on commercial locks are now available to homeowners. And all those options come in a nearly limitless range of styles. Here we provide the rundown of lock types and features.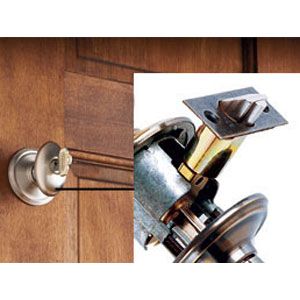 Basic Locksets
How Secure Is It?
A lock's security is denoted by its American National Standards Institute (ANSI) grade, with Grade 1 the most secure and Grade 3 the least. A builder-quality tubular lock will likely be a Grade 3, a good-quality handleset a Grade 2. Only the most secure deadbolts earn a Grade 1 rating, by incorporating such features as antipick pins, extra-long bolts in extra-tough alloys, and reinforced strike plates with long screws to secure them to house framing. When choosing a lock, get the most security you can afford. Manufacturers don't always list lockset grade, so you may have to ask. Be skeptical of a lock that boasts Grade 1 "features" — just because it has one or two high-security features doesn't mean it has earned the ANSI grade.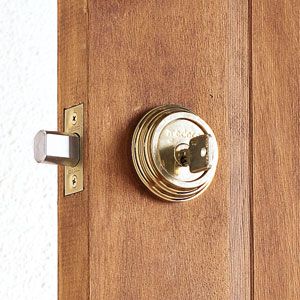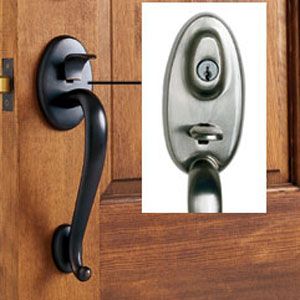 Mortise Locks
Mortise locks, which predate today's tubular models, have a spring-loaded latching mechanism and deadbolt in a single rectangular housing. The lock gets recessed, or "mortised," into the edge of the door. It is the strongest of residential locksets and an expensive piece of precision hardware that takes a pro to install correctly. Door hardware for mortise locks comes in just about any style. Expect to pay from $350 to $700 or more per lock, before installation.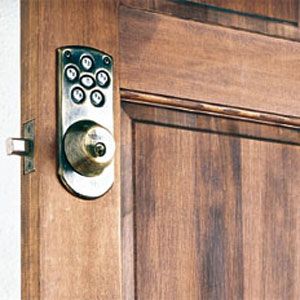 A New Look for Keys
One day, technologies like fingerprint readers, iris scanners, and voice-recognition systems may make keys obsolete. (Just look
at what's happened to cars. Not long ago, everyone had a car key; now most cars unlock with an electronic fob.) Until that day arrives, manufacturers continue to introduce new keying systems, designed for maximum security and convenience.
Where to Find It
Introduction:
Lockset with Georgia Knob and Flair lever in #609 Antique Brass
Schlage Lock Company
Olathe, KS
Basic Locksets —
Key in knob:
Sienna in Artisan Series brushed knickel
Schlage Lock Company
Stand-alone deadbolts:
BX122, double-cylinder captive deadbolt
Medeco
Salem, VA
800-839-3157
Entry handleset
Logan 5315.122ENTR
Baldwin Hardware Corp.
Reading, PA
800-566-1986
Keyed thumblatch:
553 GNXSY Single-cylinder Keyed Handleset
Kwikset Corp.
Lake Forest, CA
800-327-5625
Electronic deadbolt:
Powerbolt 1000
Weiser Lock
Lake Forest, CA
800-677-5625
Interconnected entry set:
Normandy
Monolithic Style entry set with Harrisburg lever inside
Emtek Products, Inc.
City of Industry, CA
Mortise lock:
Baldwin Hardware Corp.
Copyproof keys:
Mul-T-Lock USA, Inc.
Lodi, NJ
800-562-3511
Smart keys:
The E-Bolt Key Management System
Schlage Lock Company