Inviting, Productive Office: After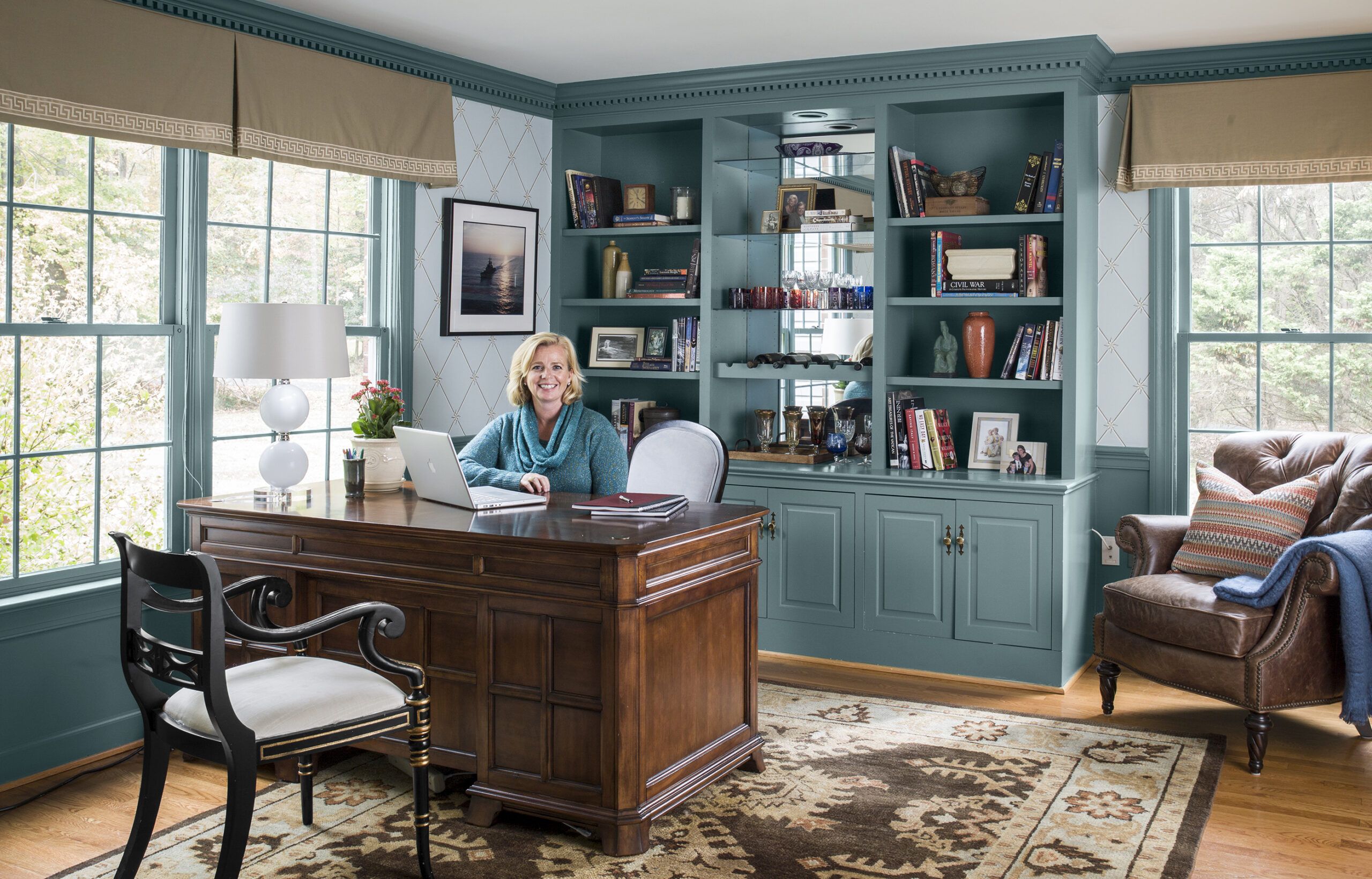 Home offices, like their occupants, thrive on order. When Coleen and Randy Gallagher moved into their 1987 Federal-style brick home, in Oakton, Virginia, they were pleased it had a ready-made home office. The space's built-in cabinetry, abundant natural light, and handsome wainscoting would serve Randy, a self-employed systems engineer and a captain in the Navy Reserve, well. But its lackluster decor and mess of wires cried out for attention.
Shown: Concealed cables, a desk with a built-in power strip, and a blue-and-brown color scheme tidy—and brighten—the space.
Designer: Rachel Bauer
Paint: Benjamin Moore's Caribbean Teal (woodwork)
Roomy, But Messy Space: Before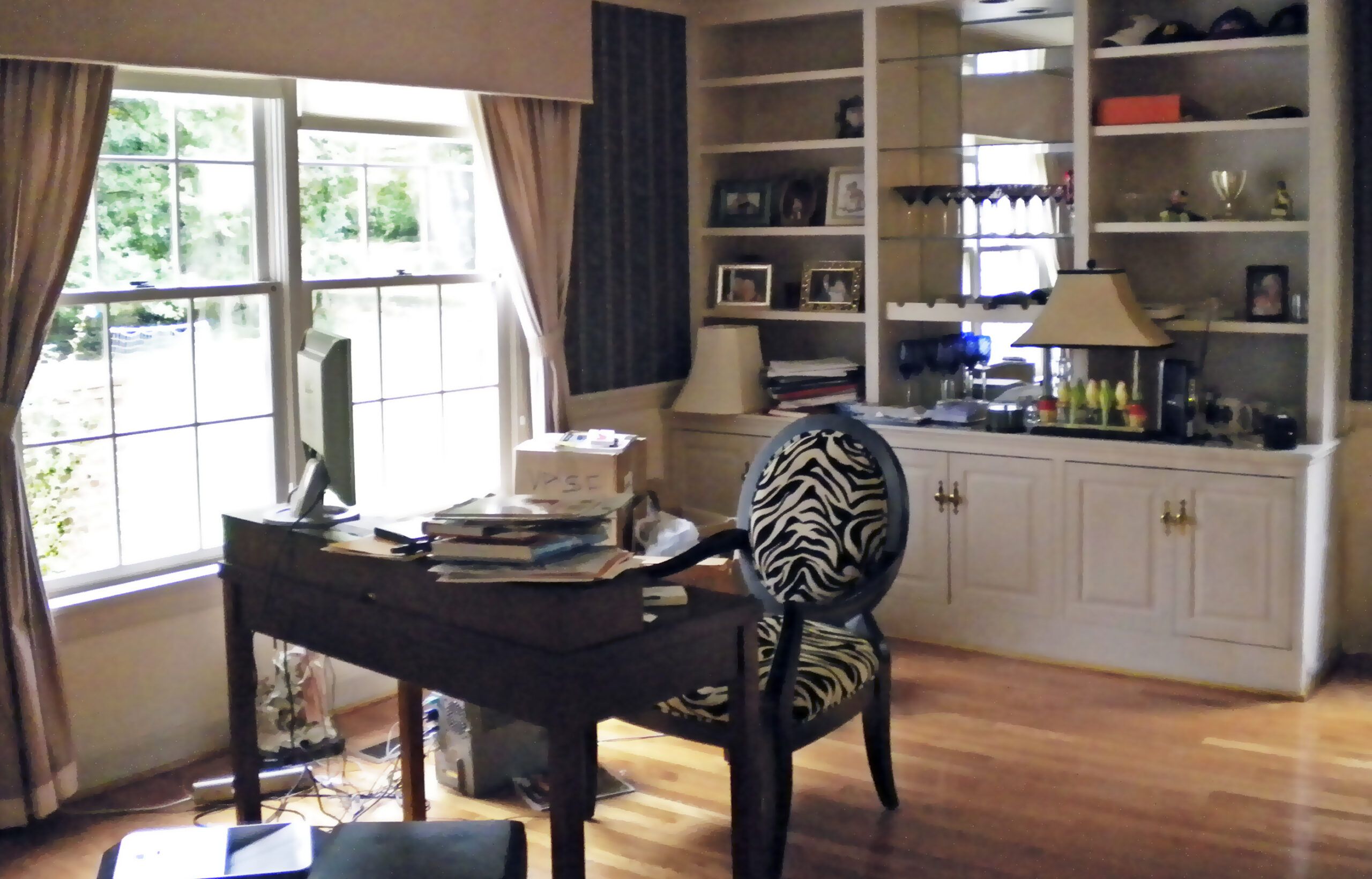 Working with designer Rachel Bauer and carpenter Tim Bowers, Coleen first devised a plan to tuck the wiring out of sight. Bowers drilled a small hole in the side of the built-in to feed the Internet cable into, then added holes in two concealed shelves to thread the router/modem and printer wires through. A banker's desk with deep drawers, fitted with a power strip that plugs into a floor outlet, anchors the work area. Teal paint and light-blue wallpaper make the room snap to attention while keeping it serene. "My only problem now is getting our three sons out of there when Randy's home," Coleen says. "After school, they want to hang there, too!"
Shown: Tangles of wires and dark walls hindered productivity.
Undercover Outlet Covers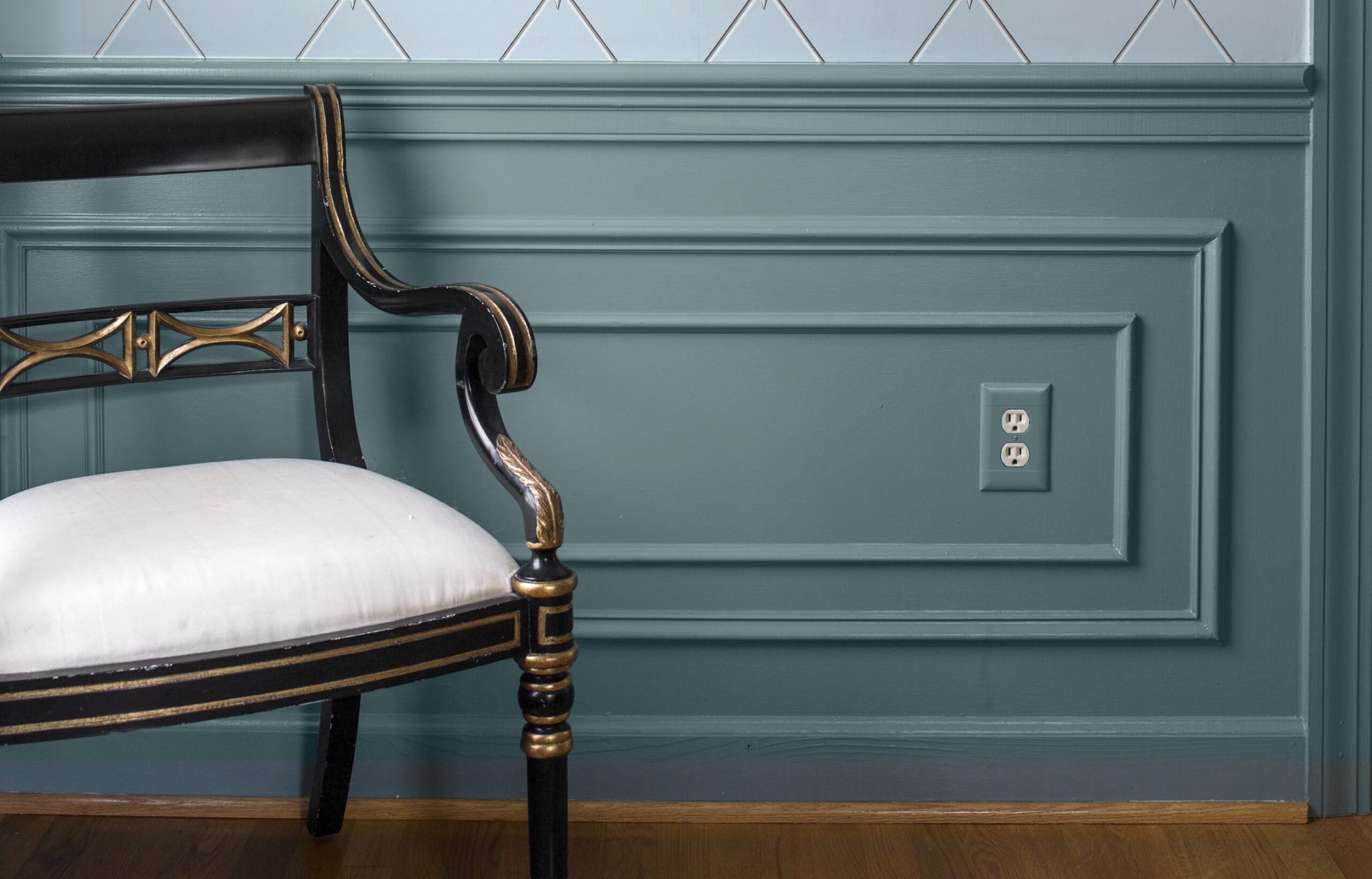 Painting the outlet covers to match the molding helps them to almost disappear. The diamond-patterned wallpaper with compass emblems salutes the husband, a Navy captain.
Chair: Kincaid
Art: Paragon
Handsome, Multitasking Valances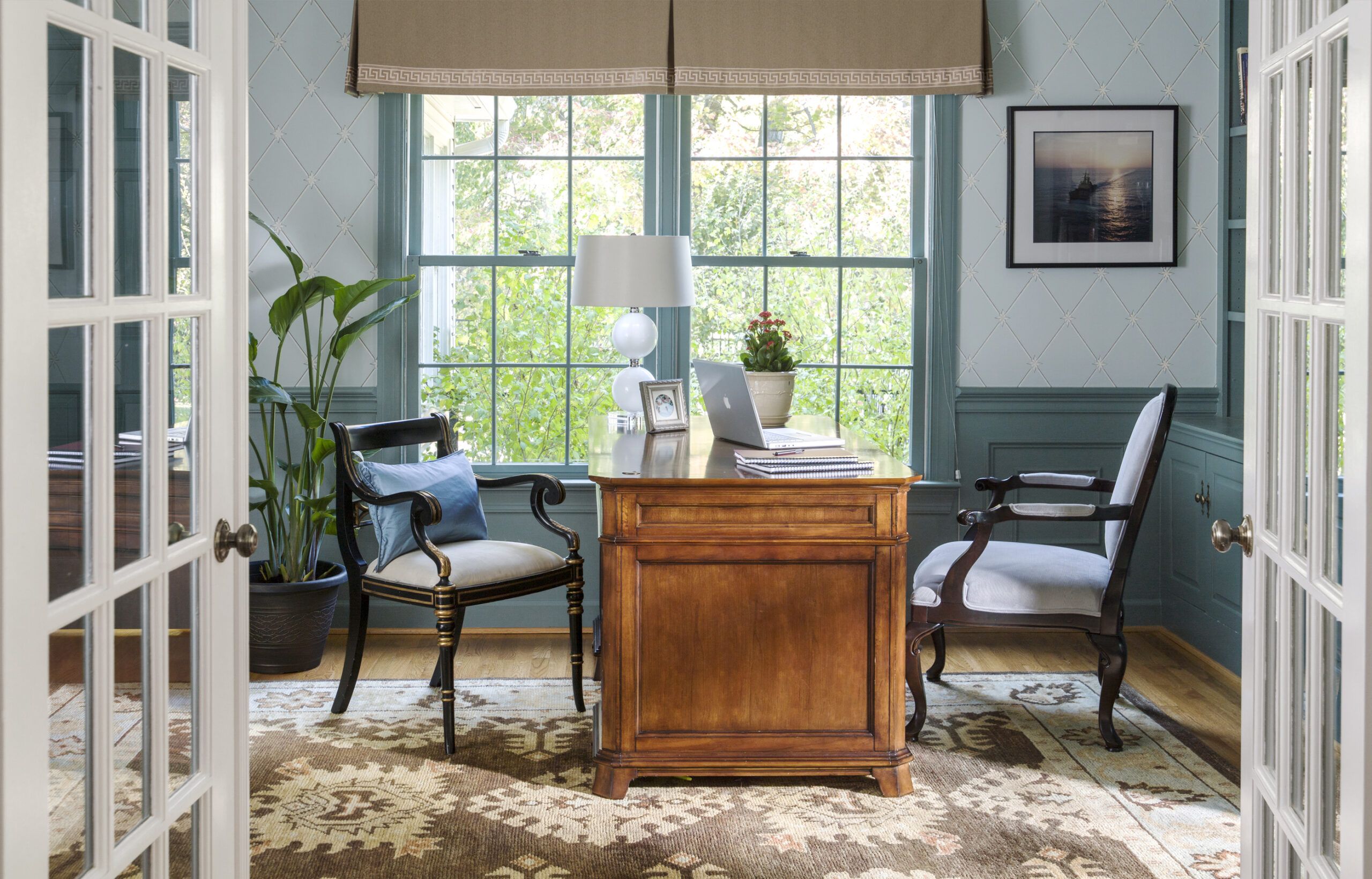 Tailored valances hide blinds that reduce computer-screen glare. The wool rug's muted blues and browns pull together the colors of the furniture, wallpaper, and paint.
Wallpaper: Thibaut
Rug: Surya
Federal-Style Design Touches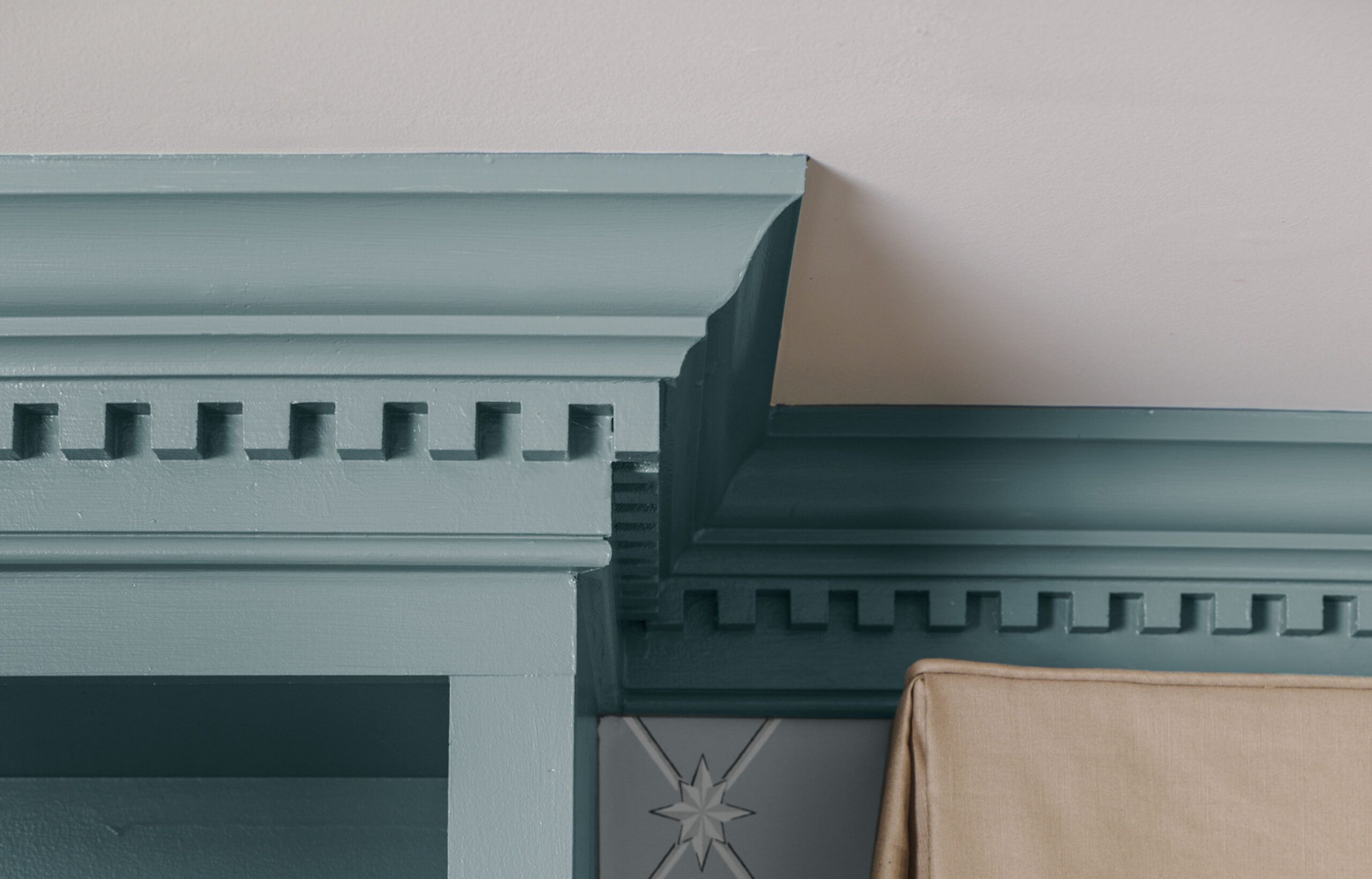 Classically inspired dentil molding and Greek-key trim on the valances pay tribute to the home's Federal style.
Fabric and trim: Fabricut
Hidden Cables for a Streamlined Look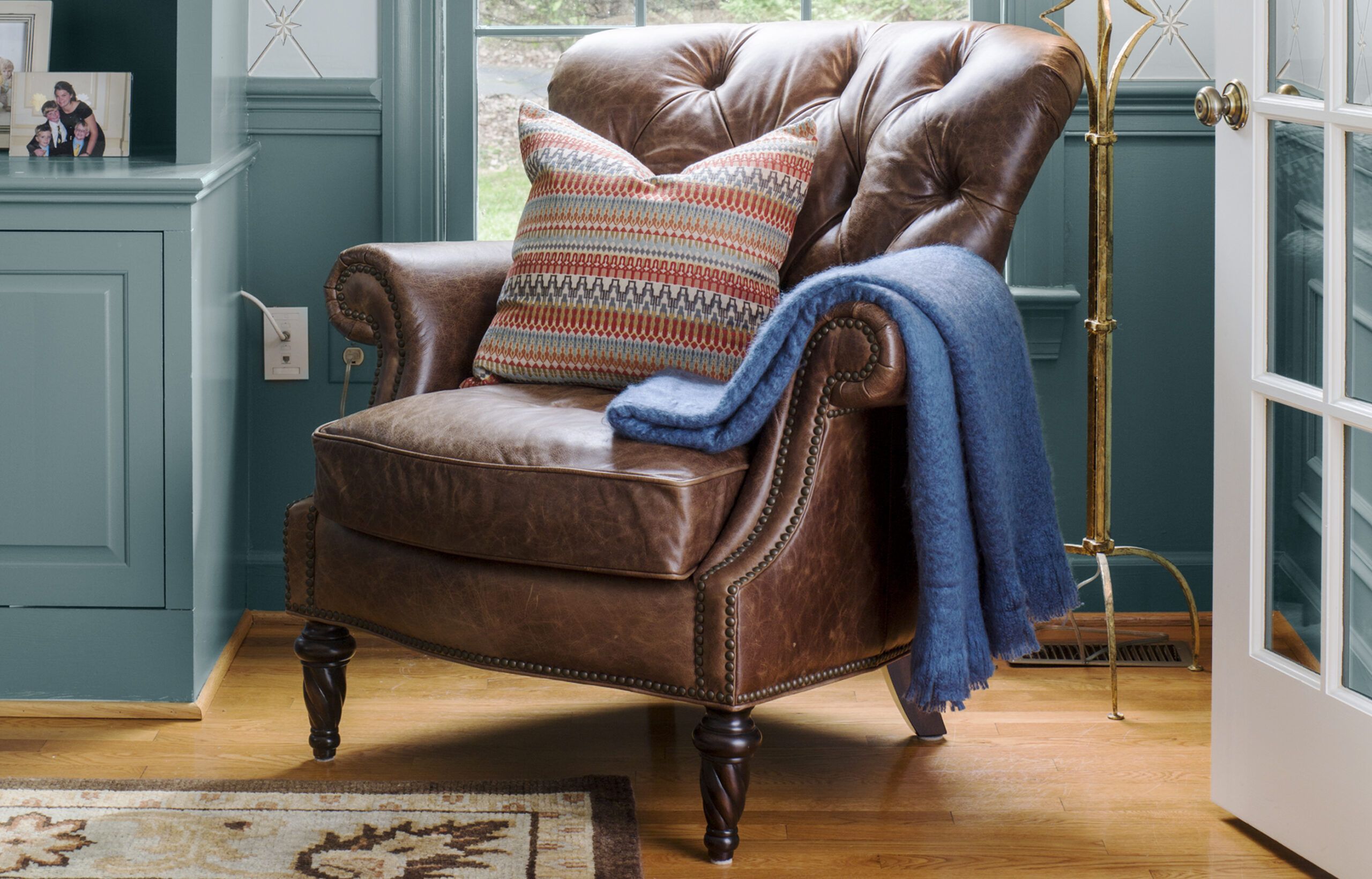 The Internet cable disappears into a hole drilled into the side of the cabinet, where it connects to a wireless router behind doors. Also hidden: the outlet for the concealed printer. An armchair and lamp by a window allow reading day and night.
Blue and Brass for a Refined Nautical Look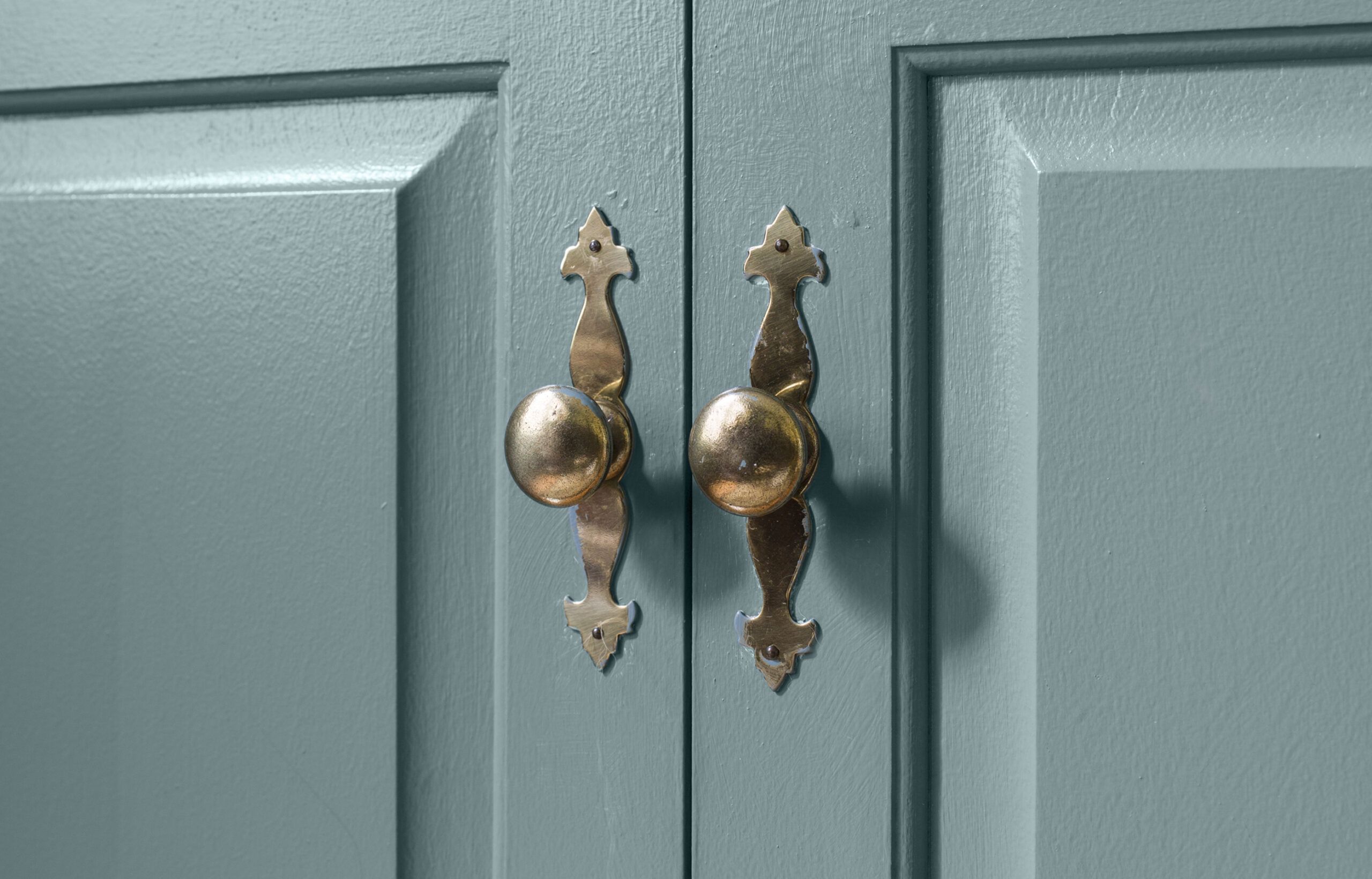 A lively blue paint in a semigloss finish covers all the woodwork to maintain a calm mood in the room. Brass knobs reinforce the nautical theme, and back plates discourage fingerprints on painted surfaces.
Homeowner tip: "Don't be afraid to use a bold paint color if you love it. As long as the furniture and fabrics remain neutral, you can't go wrong."
Floor Plan After: Spacious Work Area
Built-ins and a parallel desk carve out the work zone in a 208-square-foot office with multiple doorways.
1. Kept existing openings, including French doors that channel light while blocking noise.
2. Placed an armchair in a corner with a window to create a reading alcove.
3. Chose a small guest chair that's easy to move when the boys use the office to do homework.
4. Swapped a leggy writing desk for a storage-packed banker's model. Its spot adjacent to windows and in front of built-ins offers lots of light and access to cabinets.