Adjacent Homework Station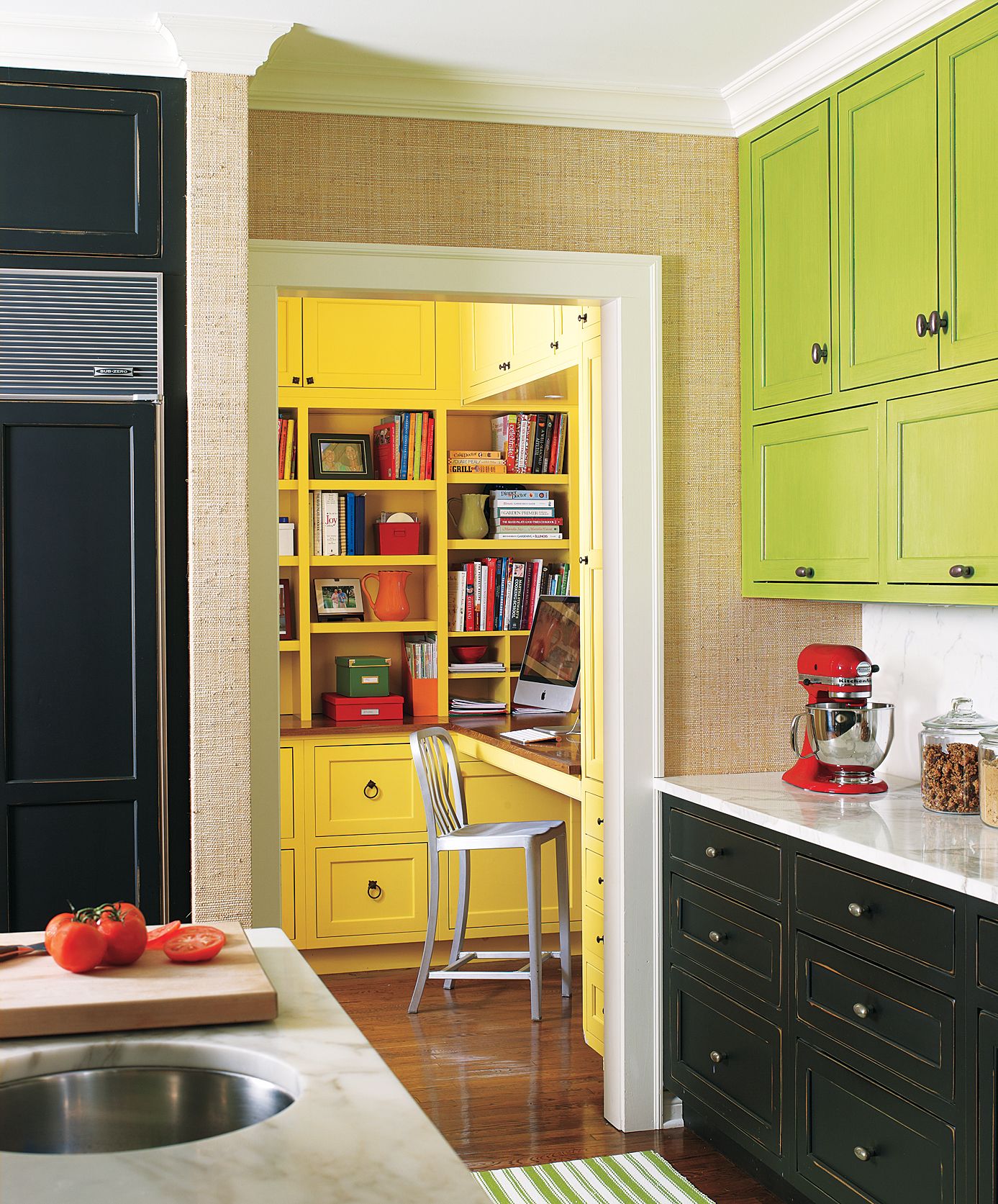 Create a bright and lively space that'll get your kid's creative juices flowing! The cabinets used here were ordered in a factory-applied yellow that echoes the hutch across the room. There's no reason you can't get this look with some vibrant paint and a weekend of DIY. Putting a desk in a space just outside the kitchen provides a bit of privacy for independent workers but keeps them close just in case they need homework help. Easy access to snacks is also a plus.
Storage-Loaded Homework Alcove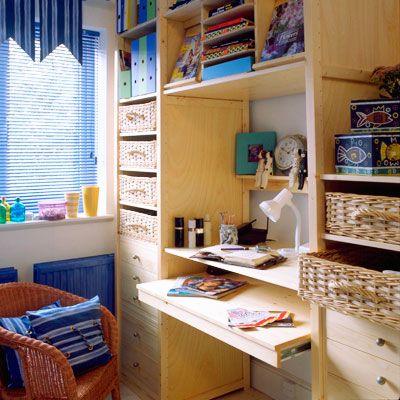 Build a space-smart little office right in your kid's room. All you'll need is some stock lumber, storage bins, and tracks for a sliding work surface.
Creative Closet Space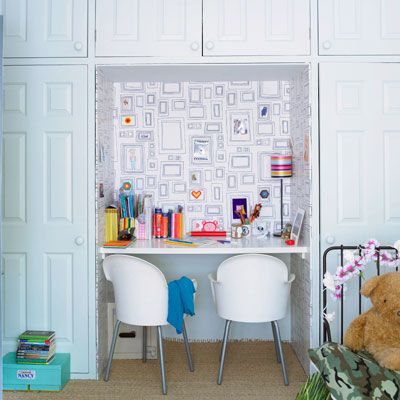 Take the doors off of a little-used closet and line the walls with a fun pattern to create a handy homework alcove. Your kid's design ideas may not match your own, but applying their feedback will make the space—and studying—more appealing to them.
Armoire Office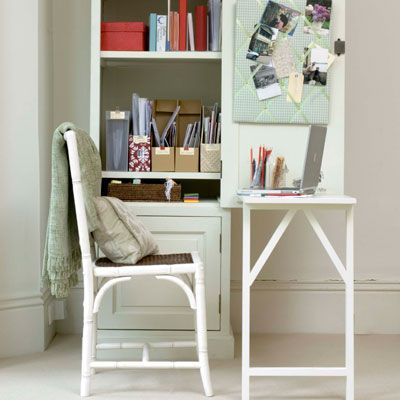 This clever contraption features a door with a fold-down table for a work station that can be tucked away when the studying is done.
Cozy Corner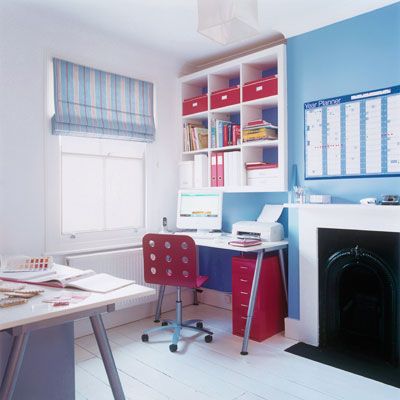 Some wall-mounted shelves or cubbies and a small computer desk makes for a quick and easy study station.
Corkboard Wall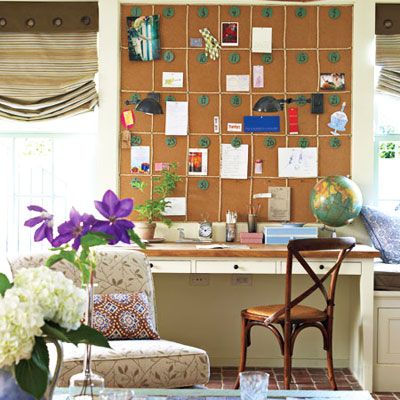 Cover an entire wall in cork tiles or chalkboard paint to make a bold—and functional— design statement.
Kitchen Counter Homework Station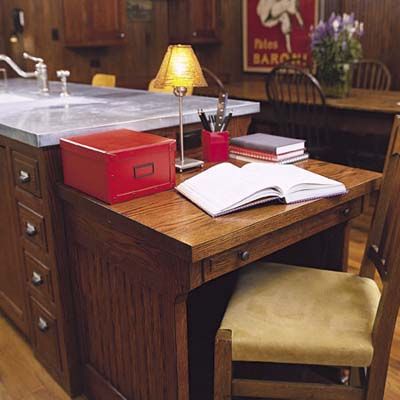 This tiny desk at the end of a counter makes for an open-yet-compact workspace that isn't tucked away into a cabinet or closet. It's perfect for younger kids who need homework help and supervision while working.
Plugged-In Study Nook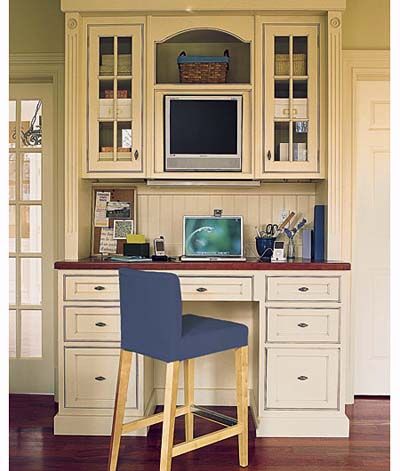 Carved into a kitchen, this desk faces a wall to limit distractions for students trying to complete their assignments. Built-in cabinetry makes for ample book and supply storage.
Great Room Homework Station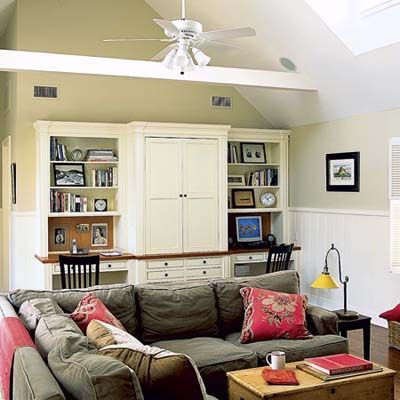 If you don't have a dedicated room for a home office or study space, you'll have to learn how to share. Living spaces can lend themselves nicely to multiple uses. Put a vacant wall to use with a built-in work unit. But if there's a television in the room, make sure it's turned off at homework time.
Light, Bright Desktop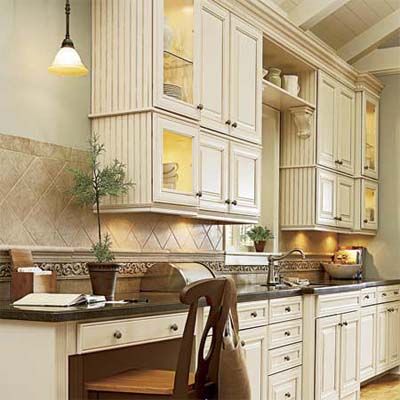 For sit-down kitchen desks, like the one shown here, leave about 30 inches between the bottom of the lampshade and the counter.
Budget Home Office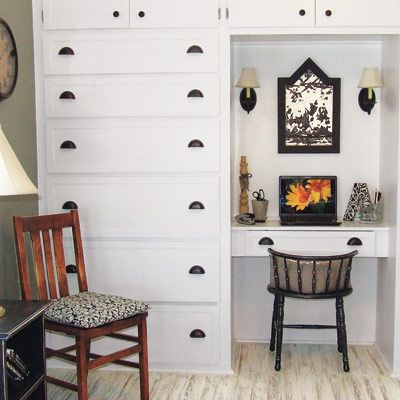 Kelly and Wayne Averbeck of Jerome, Idaho, used leftovers and bargain buys to age their office to perfection. Similarly, you can use what you've got to incorporate a homework nook to your existing built-in storage. See An Office Update With Vintage Appeal to learn more about this budget remodel.
Rustic Reclaimed Study Station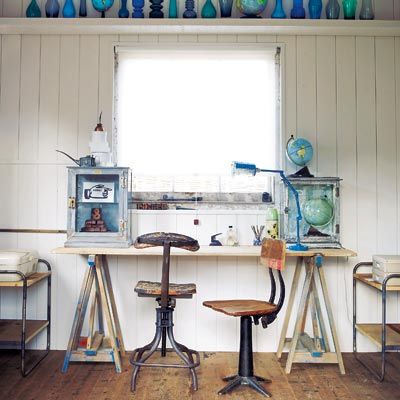 Outfitting a room almost entirely with recycled or reused finds can prove a challenge. Too much salvage, and your space starts to look like a junkyard—which is why interior designer Sally Bailey lets simplicity reign in her home studio, shown here. This interesting space makes a great study station for older kids, while teaching the importance of eco-friendly design. For more on how you can get this look, see How to Create a Rustic Reclaimed Workspace.
Side-by-Side Seating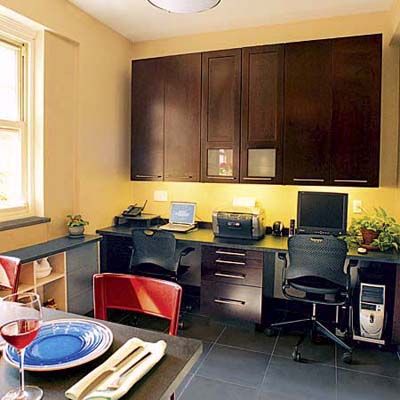 This kitchen office was designed for a mom who wanted a space she could share with her 12-year-old son. Key features include outlets for two computers, a cordless phone, and a single printer, undercabinet task lighting, and a dividing column of drawers to stow craft and office supplies. This arrangement makes a great cooperative learning area for homes with multiple students, too.
Creative Catch-All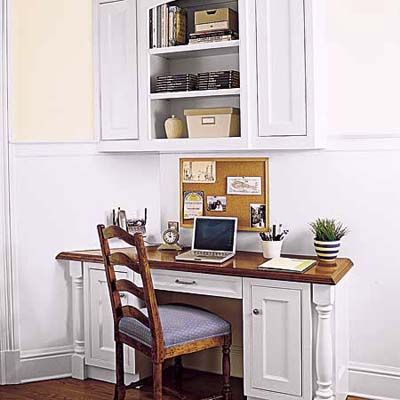 When kids are in the picture, the kitchen office can be part homework desk, part high-tech hub, part first-aid center. That's the case with this multitasker designed by Greenwich, Connecticut, architect Jay Haverson: The lower cabinets in the teak-topped desk store office supplies, phone books, and recipes. Emergency supplies, including medicines and flashlights, as well as electronics, are hidden up high behind touch-latch cabinet doors. A corkboard "backsplash" creates a home for memos.
Space-Saving Station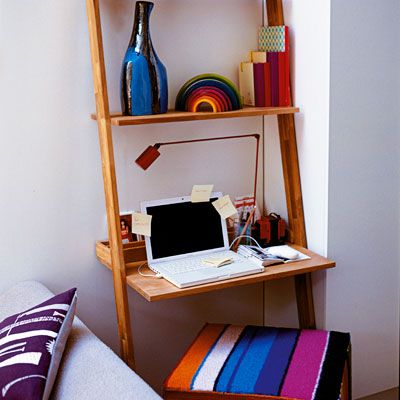 If you're really short on space, adding a dedicated homework station can be as easy as building this. Like a ladder-rack, this clever unit props up against a wall and can be anchored or left portable.
Modern Home Office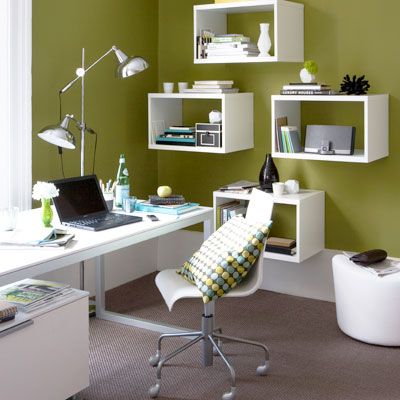 Lift storage units off the ground! Build and hang large, high-impact shadowboxes instead of mounting traditional shelves.
High Impact Work Station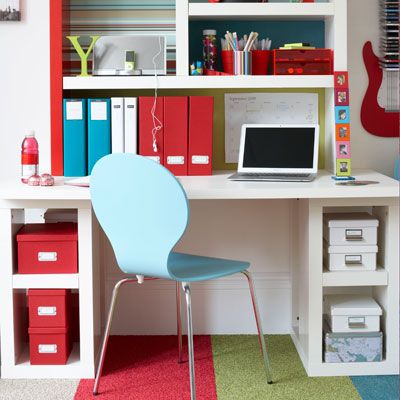 Boldly colored storage boxes are great for stashing supplies and matching binders are perfect for filing graded papers.
Hidden Study Station
Slim bifold doors make it easy to hide a workspace that's in a common area.
Wall-Mounted Wonder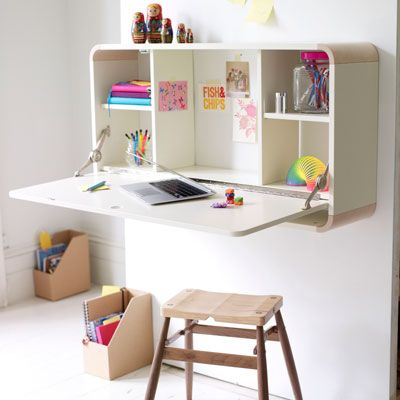 This compact, folding work surface doubles as covered supply storage unit. Create a similar space with easy-to-install wall-mount desks.
Adjustable Storage Station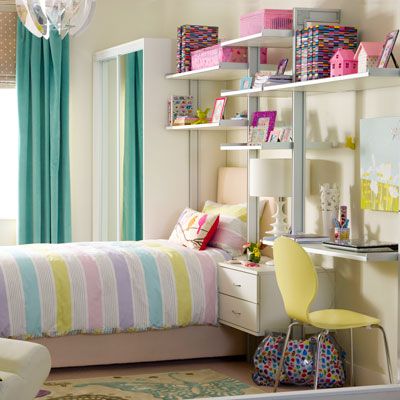 Create a nook with a network of adjustable wall-mounted shelving if built-in storage is out of your budget.
Catch-All Cubby Bins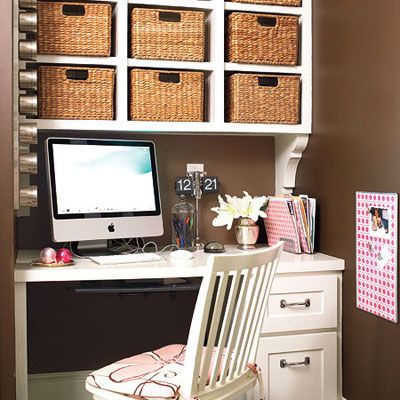 From wicker to brightly-colored fabrics, choosing the right storage bins for open shelving can add to the look of your space.
Pretty and Punctual Homework Area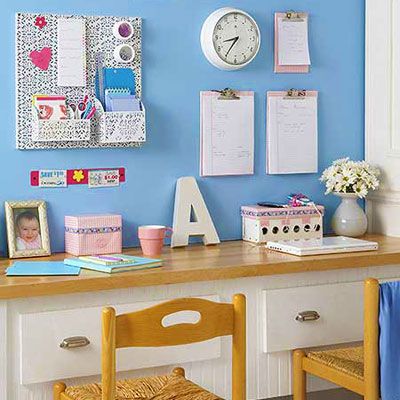 Be mindful of clutter, but allow your child to pick a few decor items to personalize her space. A wall-hung clock will get your kid into the habit of scheduling and getting work done in a timely manner—or at least in time for their favorite TV show.
Walled-Off Study Station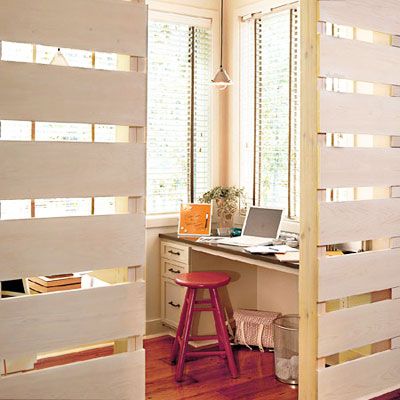 Throw up some wall frames and create built-in room dividers, like the ones shown here, in a larger rooms.
Work Space With a View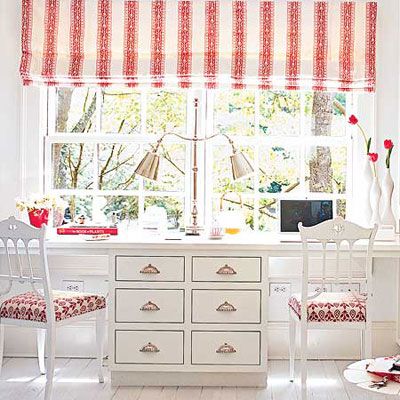 Make homework time pleasant with desks facing a window. You'll eliminate the need for using a lamp or overhead lighting in the daytime.
Kid's Corner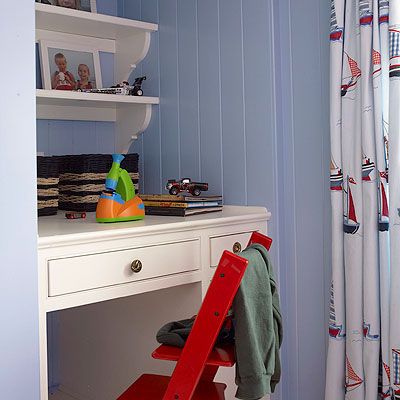 A small corner of a kid's room is all you need to create a homework station.
In-House Computer Lab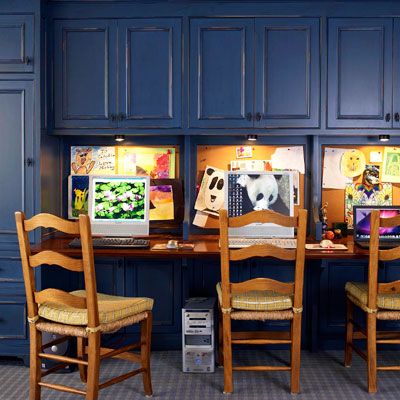 Make sure your study stations have enough outlets to power computers and charge gadgets. In homes with more than two kids, a set up like the one shown here ensures all of your young learners have an equal amount of real estate.
Reader-Created Study Station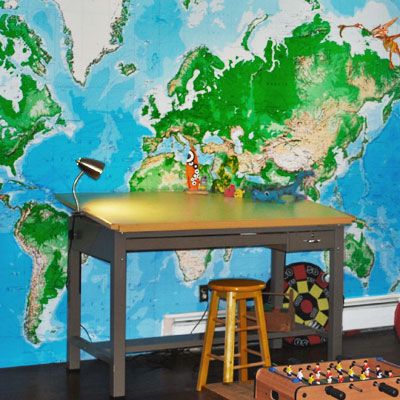 Reader Carol Dregne of Galena, Illinois, created this vibrant work station for her two boys to share. The world-map wall covering makes a great learning tool—and beats an ordinary atlas any day of the week.