If you're like most gardeners, you can't resist fantasizing about the bountiful produce and beautiful flowers you can grow in your yard. To make your garden thrive, you know you must consider things like your area's plant hardiness zone, the amount of light your yard gets, and the plants that will work best for those environments.
But there may one factor you have overlooked in your planning: Learning what type of soil you have will tell you what can and cannot flourish on your property. That's why it's wise to become acquainted with your soil and the kind of plants that can flourish in it. Beyond that, you can also determine whether your soil is lacking nutrients so you can figure out how to boost it to achieve the best gardening results. Use this guide to understand your soil and get started on the garden of your dreams.
Learn the Types of Soil
The soil that's native to your yard is comprised of organic material and mineral particles. There are four types of soil you will most commonly encounter. Three are named for their dominant mineral—sand, clay, or silt. Then there's loam, which is a combination of the three.
The size of the soil's mineral particles largely determines its texture, and that has a lot to do with the plants it can support. All soil types have beneficial characteristics, but some are simply better than others. So to get a sense of what you'll be working with, head out to your yard, dig down six inches or so, and give it a good feel.
Sandy soil has large particles. It is typically tan and feels lightweight, coarse, and gritty in the hand. It will slide through your fingers if you try to mold it into a ball. While this quality promotes drainage and won't strangle roots, it also means the soil doesn't retain water or nutrients very well.
Clay soil has fine particles and may be red in color due to its iron oxide content. Squeeze it in your hand; it will feel sticky and hold together. Clay soil may be more fertile than other types, and it retains nutrients and moisture. But because it's dense and heavy, clay can be challenging to work with and prone to choking roots.
Silt-y soil, with its medium-sized particles, is usually brown and feels fluffy and silky in the hand. A happy medium between sand and clay, it tends to hold nutrients and moisture fairly well, yet it can become compacted and drain poorly.
Loamy soil is about 40 percent sand, 40 percent silt, and 20 percent clay, with a rich brown color. It will typically have a tactile sense of smoothness from the silt and clay, yet with tangible grit from the sand. Loamy soil has the ideal texture for most garden plants, thanks to its ability to retain moisture and nutrients without getting compacted. Alas, delightfully loamy soil is somewhat rare.
Why You Should Test Your Soil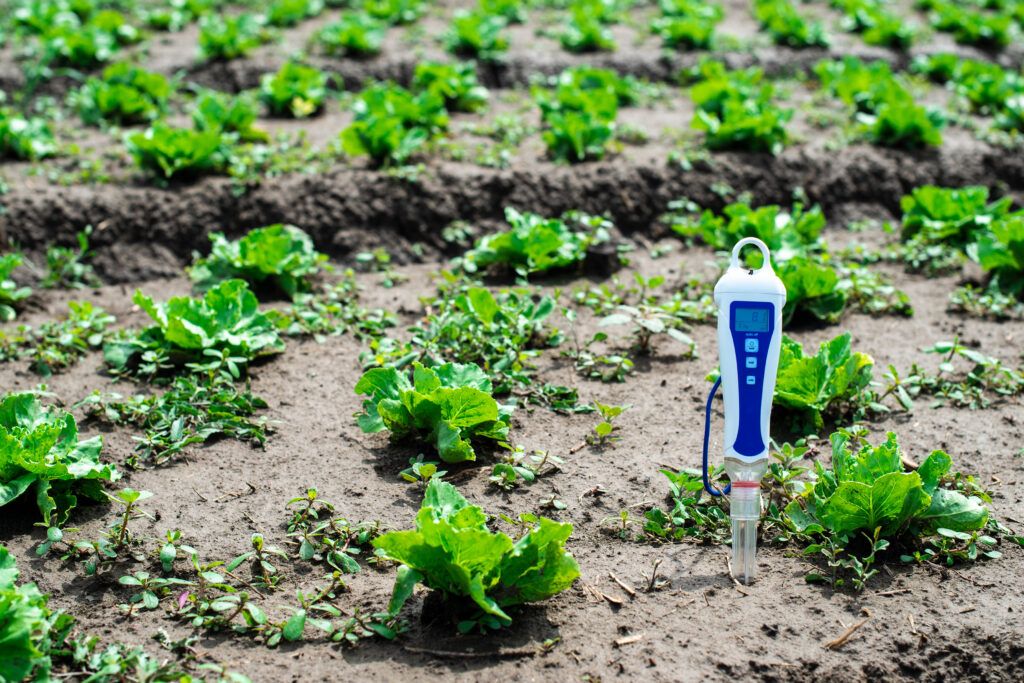 Your observations are an excellent start, but a soil test will confirm your findings and deduce the soil's pH level and nutrient status.
Soil's pH (potential Hydrogen) level refers to how acidic or alkaline it is, with acidic soils lying between 4 to 6.5, alkaline soils 7.5 to 9, and 7 neutral. While the pH level influences how well plants can absorb nutrients, some plants are better suited to alkaline soils (e.g., hydrangea, lily of the valley, cabbage), and others prefer acidic conditions (e.g., holly, azalea, peppers). Soil that proves to be highly acidic may benefit from the addition of garden lime to raise pH; highly alkaline soil may be improved by adding aluminum sulfate to lower pH.
Learning your soil's nutrient status will guide you toward choosing the right fertilizer for your garden. Fertilizer addresses nutritional deficiencies, and a particular formula's N-P-K ratio (for nitrogen, phosphorous, potassium) indicates the amount of these essential nutrients. Nitrogen helps plants green up, phosphorous encourages root development, and potassium boosts the ability to fight diseases.
Some fertilizers include secondary nutrients, such as calcium, sulfur, and magnesium. Fertilizers may be given at different stages of plant growth; info on the product package typically explains when and how much to feed.
A soil test, which should be done every three years or so, can be performed by your county extension office, typically for free or at a low price; this state-by-state list can help you find yours. But you can also pick up a home soil test kit from a home improvement store.
Which Plants Suit Your Soil Best
Those lucky enough to have loam or silt will likely have success with a large variety of perennials, annuals, veggies, herbs, and shrubs. Sand and clay can be trickier to work with, so it's important to choose plants that will mesh well with the soil type. Read on for some general recommendations, but consult seed packets or plant tags for guidance regarding sunlight requirements, fertilizer, and other specifics.
Sandy soil is disease-resistant and easy to work with, but its fast drainage means it can dry out quickly and become overly warm—so look for drought-tolerant plants. Veggies, such as carrots, radishes, lettuce, cucumber, and beans, usually do well in sandy soil, as does oregano, rosemary, and thyme. For flowers, consider giant allium, salvia, rose of Sharon, and butterfly bush.
Clay soil, which is naturally wet and dense, undoubtedly has its issues. But because it holds moisture, it may support damp-loving produce, such as Brussels sprouts, broccoli, cabbage, cauliflower, peas, and beans. Herbs best able to withstand "wet feet" include sage, dill, and parsley. Consider daylilies, bearded iris, goldenrod, black-eyed Susan, and blazing star for flowers.
Why Tilling Soil is Important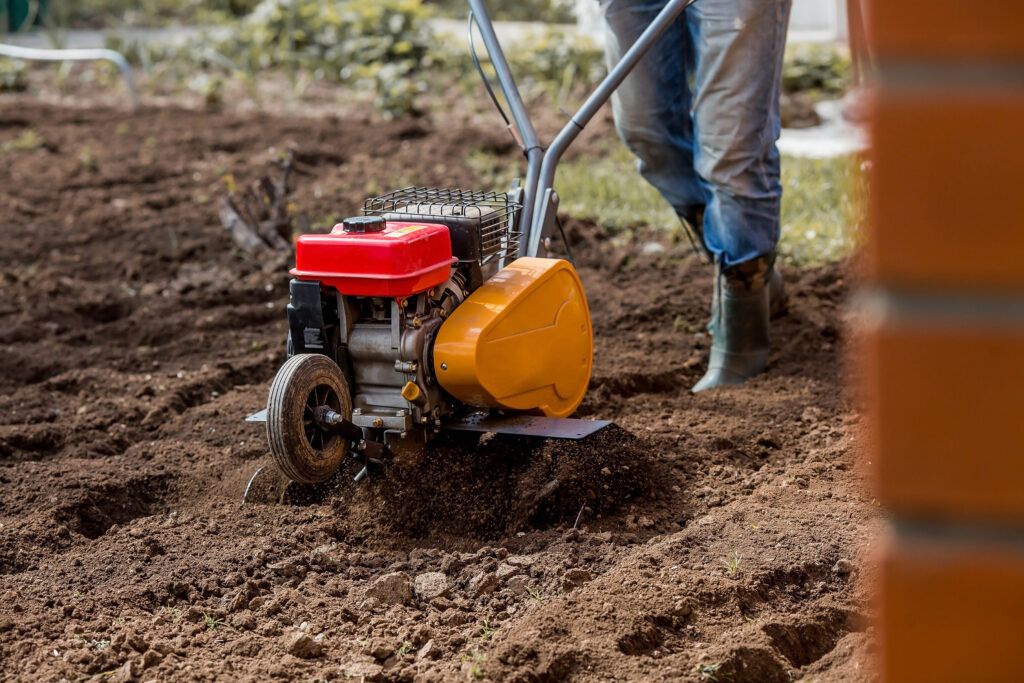 Regardless of the type of soil you have, it's a good idea to till it to prepare for planting. Tilling helps break up the soil and aerate it so that roots have room to grow. Grab a garden tool, such as a spade, a hoe, or a cultivator, and work the soil over thoroughly to release rocks, sticks, weeds, and roots, and then remove the debris. Continue to fluff the soil to break up clods, making it easier for roots to stretch out. For a previously established garden, you don't have to dig deeper than two to three inches. If the area hasn't been planted before, you'll need to dig up the soil to a depth of eight inches to a foot.
How to Improve Your Soil
Beyond feeding the right fertilizer as needed, gardeners can also add amendments to improve overall soil texture. Amendments are particularly beneficial for sandy and clay soil. There are many different types of amendments.
Organic matter includes compost (e.g., grass clippings, leaf mold), humus, coconut coir, or well-aged manure—any of these can enhance the microbial level of any soil type. If you have sandy soil, you can add one of these materials to better retain moisture and nutrients.
On the flip side, adding one of these organic materials will loosen and lighten up clay soil to be better aerated and less prone to compaction. When adding compost to a new garden, work it into the top two or three inches of soil. For an established garden, simply spread it on top of the soil's surface.
Mulch is another type of amendment that can help improve sandy or clay soil. Adding a layer of mulch on top benefits sandy soil by reducing evaporation and keeping the soil cooler. Mulch aids clay soil by accelerating water runoff, staving off hardening and cracking in hot weather, and inviting worms and other insects that aerate the soil.